On the island of Kyushu and in the Miyazaki Prefecture, is the major city and capital, Miyazaki. For this area in Japan, Miyazaki is the center of domestic tourism.
The city is tucked away on the south-eastern coast of Kyushu and is renowned for its beautiful beaches, watersports, and resorts.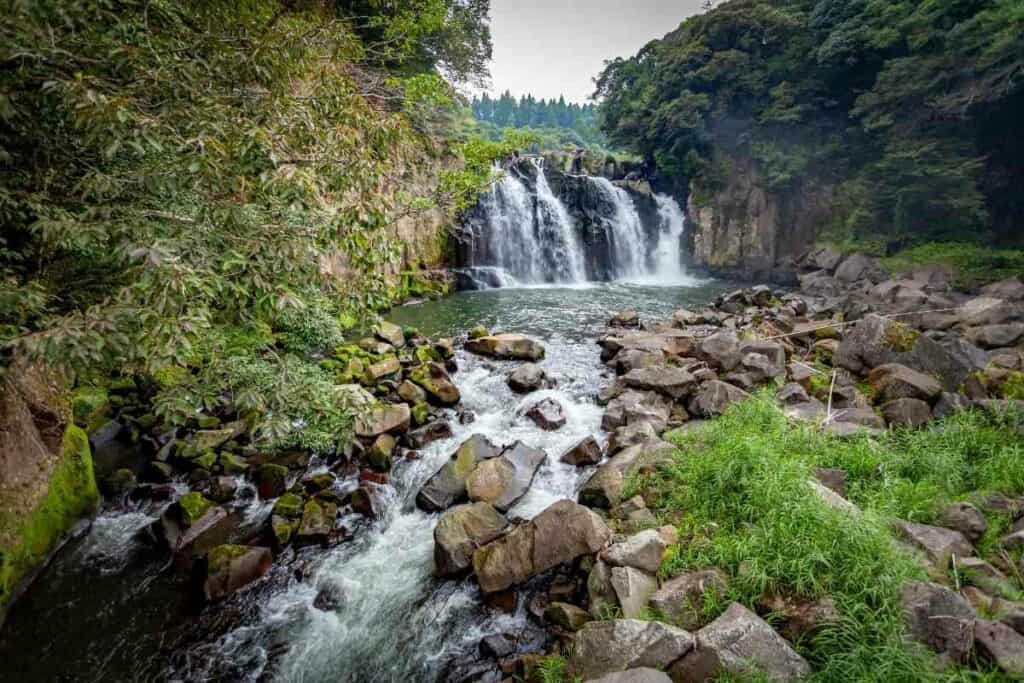 Visiting the city means you're really spoilt for choice. There are lots of day trips to be had, fun activities, and some well-deserved down time.
What to Expect? In this article, we'll introduce you to some of the best things you can put on your Miyazaki itinerary
Miyazaki itinerary: 15 best things to see and do
Here are our top 15 things to include on your Miyazaki itinerary:
Visit Florante Miyazaki for the flowers
Go surfing
Go to Aya Shusen-no-mori for a drink
Play golf
Visit Seagaia Resort to relax
Visit Takachiho
See Udo Shrine
Visit Miyazaki Prefectural Museum of Nature and History
Go to Aoshima
Go to Kirishima
See Miyazaki jingu
Go to Miyazaki Science Center
Go to Phoenix Zoo
Take a walk in Heiwadai-koen
Take a walk in Misogi-ike
1. Visit Florante Miyazaki for the flowers
The aptly named Florante Miyazaki is a flower park with bright blooms all year round.
The flowers are carefully chosen so that they each bloom in different seasons.
This means it doesn't matter what time of year you visit; you'll always get to see something beautiful.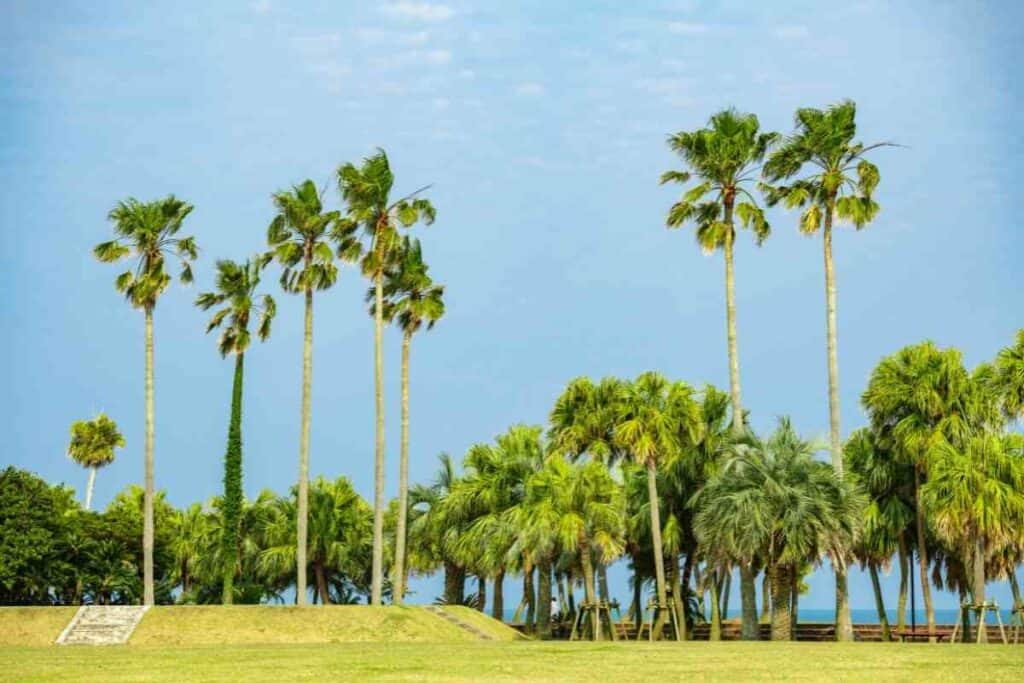 If you visit in winter, the gardens are adorned with lights and look like something out of a fairy-tale.
The park is large enough to house a small wooden train which means you can enjoy the flowers without having to walk so far.
For people who enjoy walking, you can easily spend a few hours walking around the area.
2. Go surfing
Miyazaki is renowned for its surfing.
In fact, it's one of the best surfing places in Japan as a whole.
With Miyazaki being on the coast, it has excellent conditions and for anyone staying in the town, you have a huge choice of beaches around to try!
Though people typically come during the summer, the waves are good all year round.
Even Better – If you ask local residents, they'll tell you not to head straight back after a full day of surfing. Instead, you should stick around and watch the legendary sunset on the beach.
3. Go to Aya Shusen-no-mori for a drink
Like lots of places in Kyushu, Miyazaki is known for its alcohol.
In Miyazaki, the liquor is called shochu and it's a bit like vodka.
It's recommended to go to a neighboring town called Aya to try this local tipple.
Aya is around 13 miles away from Miyazaki and there you can taste shochu directly where it's brewed: at the brewery Aya Shusen-no-mori.
The brewery is home to shochu and well as many local wines and beers. You can learn how they're made and sample them too!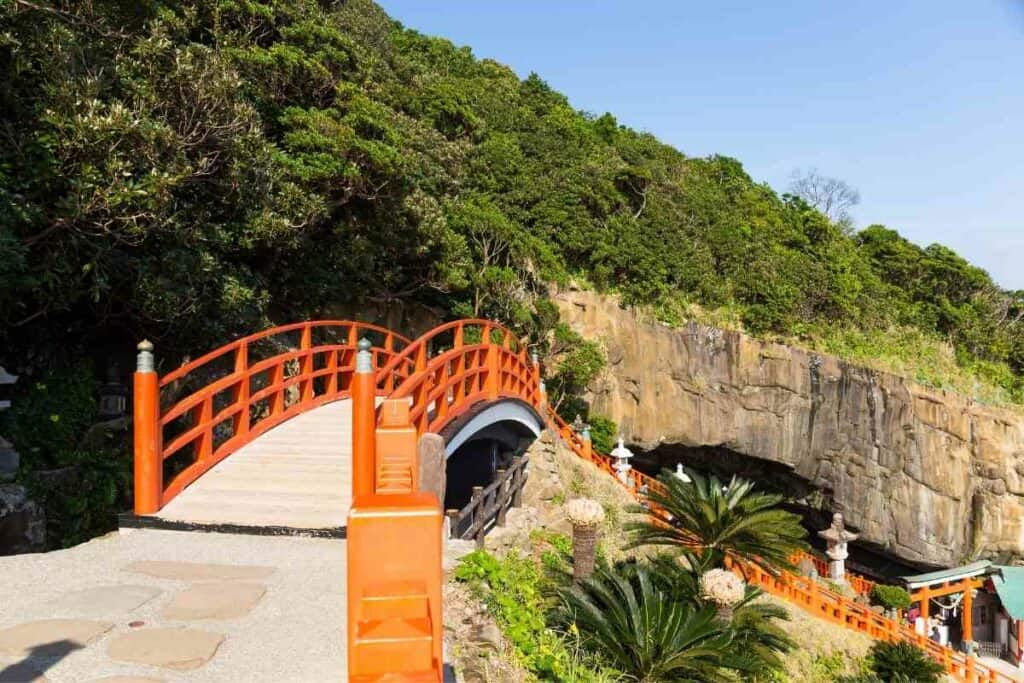 If Aya is too far away, or you don't have the time to go there, there are lots shochu bars in Miyazaki itself.
4. Play golf
Whether you're already into golf or would like to try something new, the Tom Watson Golf Course is a great place to get a little exercise while you're in Miyazaki.
The golf course gets its name from Tom Watson, an American golfer who helped to design the golf course.
The Miyazaki golf course is one of the most well-liked courses in Japan.
There are lots of tournaments here each year and the golf course also has some beautiful views across the greens.
5. Visit Seagaia Resort to relax
Sometimes, all you want to do on your vacation is relax.
The Phoenix Seagaia Resort is ideal for enjoying the sun, sand and sea.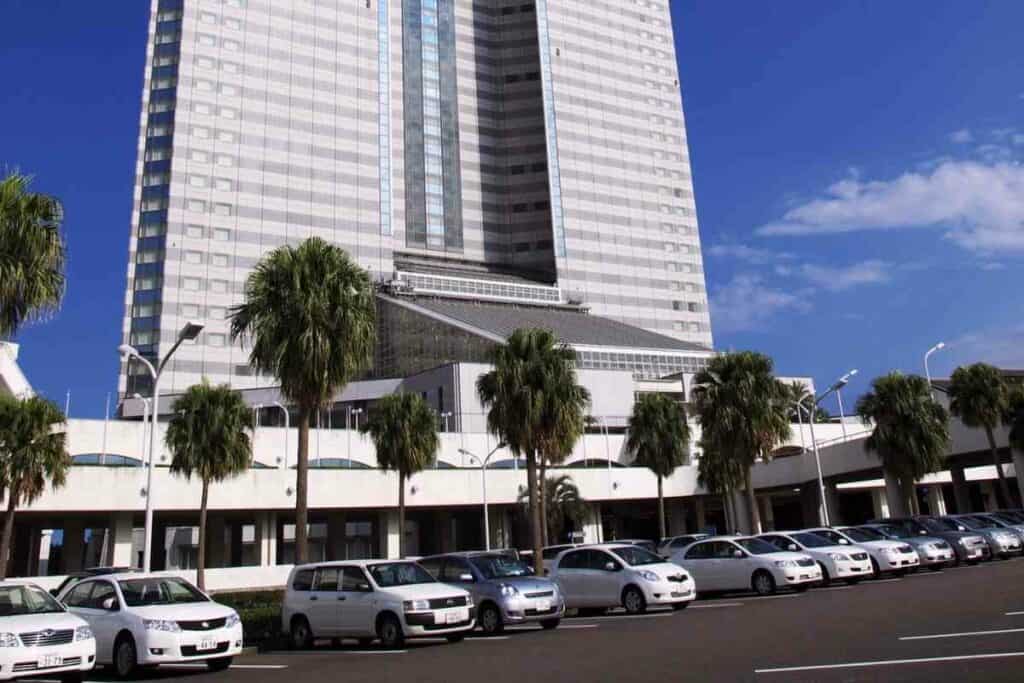 You'll find this resort along the north coast of Miyazaki, it's a huge complex that covers around 6 miles!
There are lots of things to do and see including zoos, beautiful beaches, and local onsen.
Seagaia Resort is also one of the best places in Miyazaki to try your hand at water sports!
6. Visit Takachiho
The town of Takachiho is very important for its history.
It is located north of the city.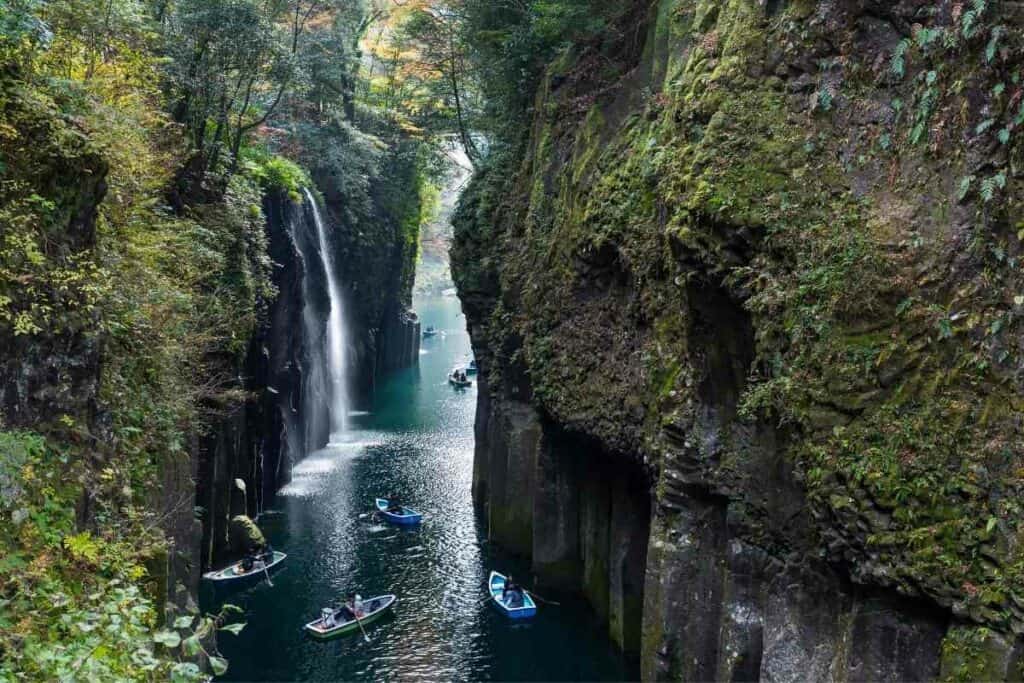 There are many local legends here, including one about the Sun Goddess Amaterasu from the Shinto religion and her grandson Ninigi no Mikoto.
Because of these legends, there are lots of temples and shrines here. You can visit the Amano Iwato shrine as well as others.
The Takachicho Gorge is exceptional in its beauty and not to be missed.
7. See Udo Shrine
The Udo Shrine, also known as Udo Jingu in Japanese, is located to the south of Miyazaki city, on the Nichinan coast.
This shrine is a temple honoring Emperor Jimmu. Jimmu was the first emperor of Japan. The shrine is renowned for its interior and pretty walls.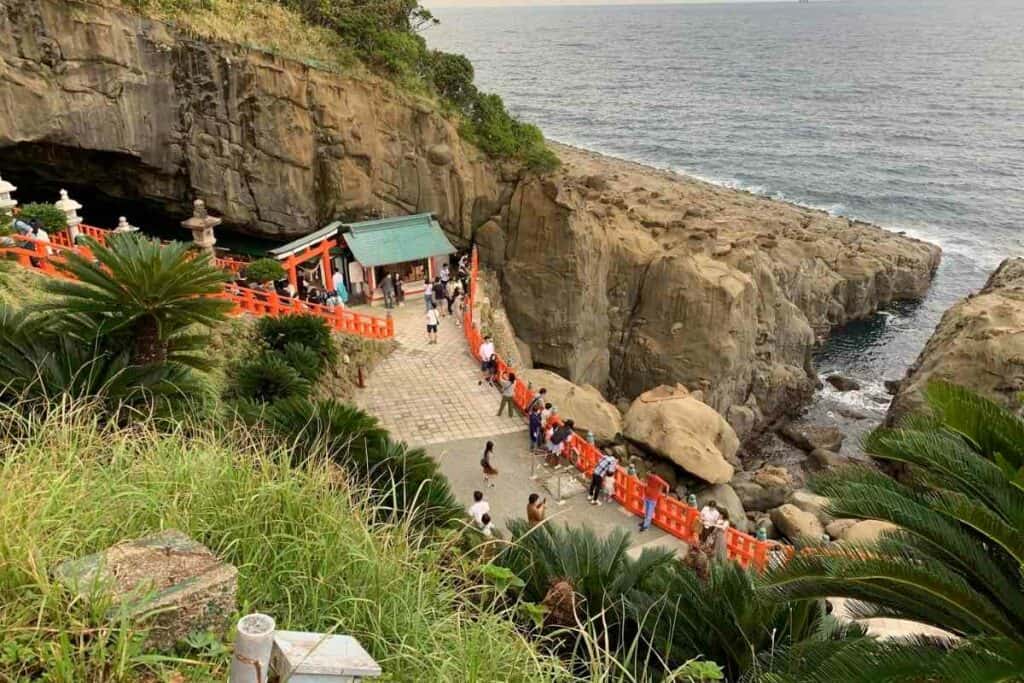 Another thing that's special about this shrine is that it's in a café on the side of a cliff.
The whole place has sea views and it's a great place to take them in. This area of Japan is famous for these spectacular views!
8. Visit Miyazaki Prefectural Museum of Nature and History
If you're interested in learning about Miyazaki's history, then you can't miss the Miyazaki Prefectural Museum of Nature and History.
The museum is home to various galleries that are dedicated to the culture and history of Miyazaki Prefecture.
There are also lots of collections of crafts and arts created in traditional ways, and you'll also find archeological relics too.
For Example – Besides the typical museum stuff, the site has a few old farmhouses that show what life was like for those who worked and lived in them in times gone by.
9. Go to Aoshima
Aoshima is an island with pretty beaches and water.
It looks like something you'll find on a postcard!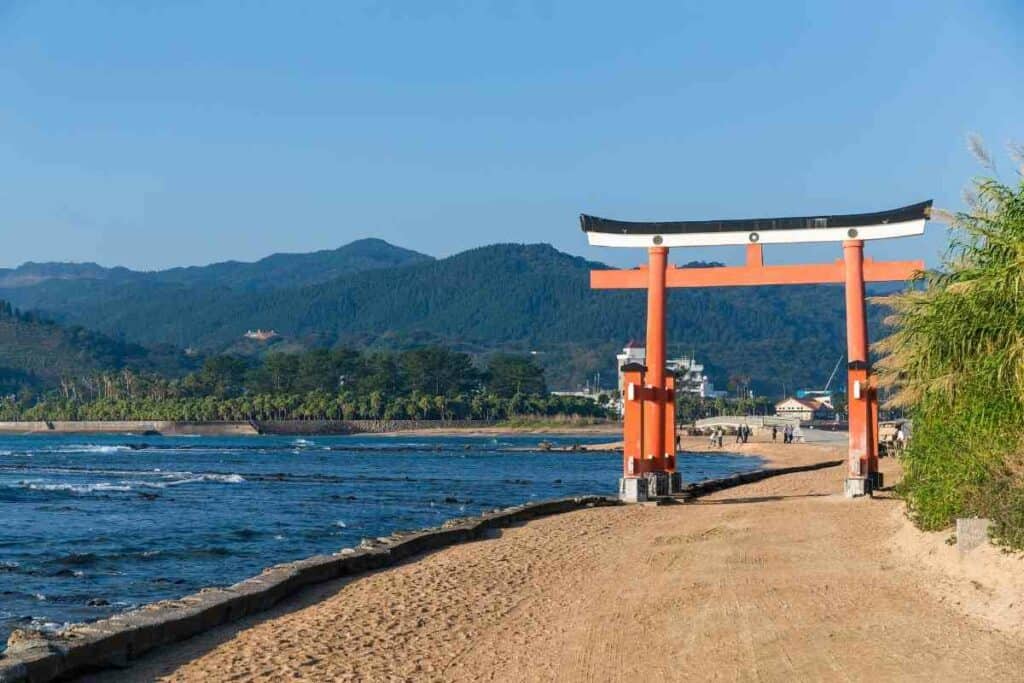 Aoshima is why lots of people visit Miyazaki in the first place. It's a great place to swim in the ocean and relax.
As well as the pretty sights and relaxation, there are famous rock faces that make for great photos.
Finally – Many Japanese residents believe that if you visit the temple here to pray, you'll find yourself a spouse within the next year. Consequently, many people visit the temple!
10. Go to Kirishima
Kirishima is located between Miyazaki and Kagoshima Prefecture.
It is a Florante Miyazakiwith hot springs, mountains, and lakes. The area is also quite active volcanically too!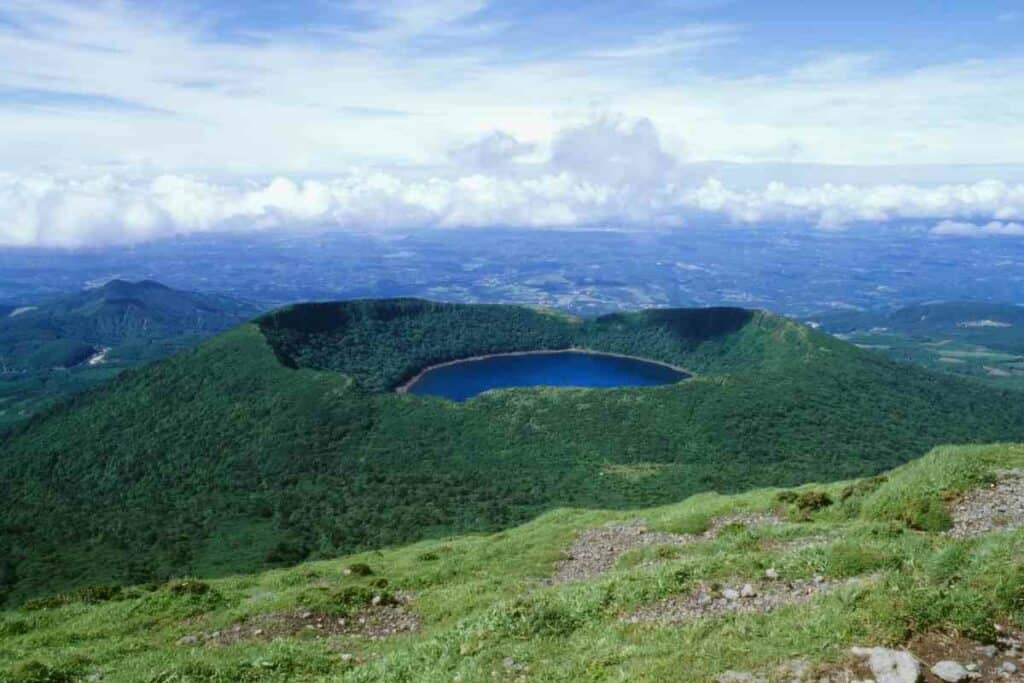 If you enjoy hiking, Kirishima is a great place to go. After your long hike, it's fun to relax in an onsen too.
Onsen are hot springs that are naturally heated due to the underground volcanic activity.
11. See Miyazaki jingu
Miyazaki jingu is a shrine built to honor the first Japanese emperor, Jimmu.
This shrine is supposedly around 2,600 years old, which makes it one of the oldest things to see in Miyazaki.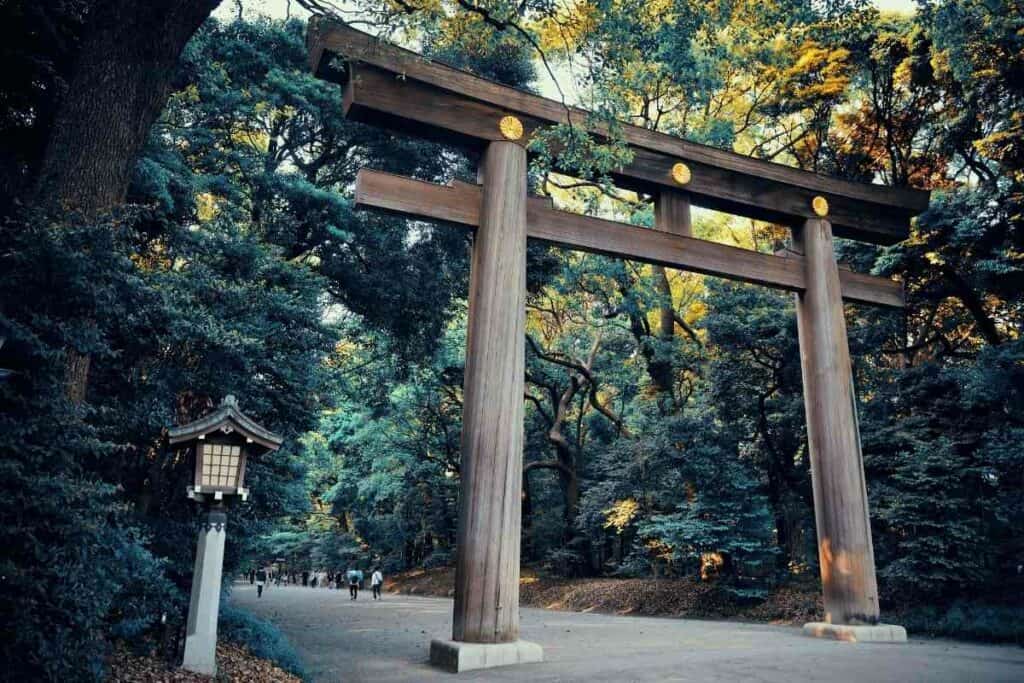 If you're lucky enough to visit Miyazaki in April, visiting here is a must as the wisteria is in full bloom and looks stunning.
The shrine is a beautiful place regardless and its gardens are very serene.
12. Go to Miyazaki Science Center
If you're traveling with children or you really love science, the Miyazaki Science Center is a great place to go in Miyazaki City.
There is a huge range of interactive activities so that you can have a direct learning experience.
The Science Center also has a large planetarium – it's among the biggest in the world.
Here, you can look at lots of different exhibits, including robots and rockets as well as other exciting scientific wonders of Japanese origin.
13. Go to Phoenix Zoo
Phoenix Zoo is a huge attraction in Miyazaki.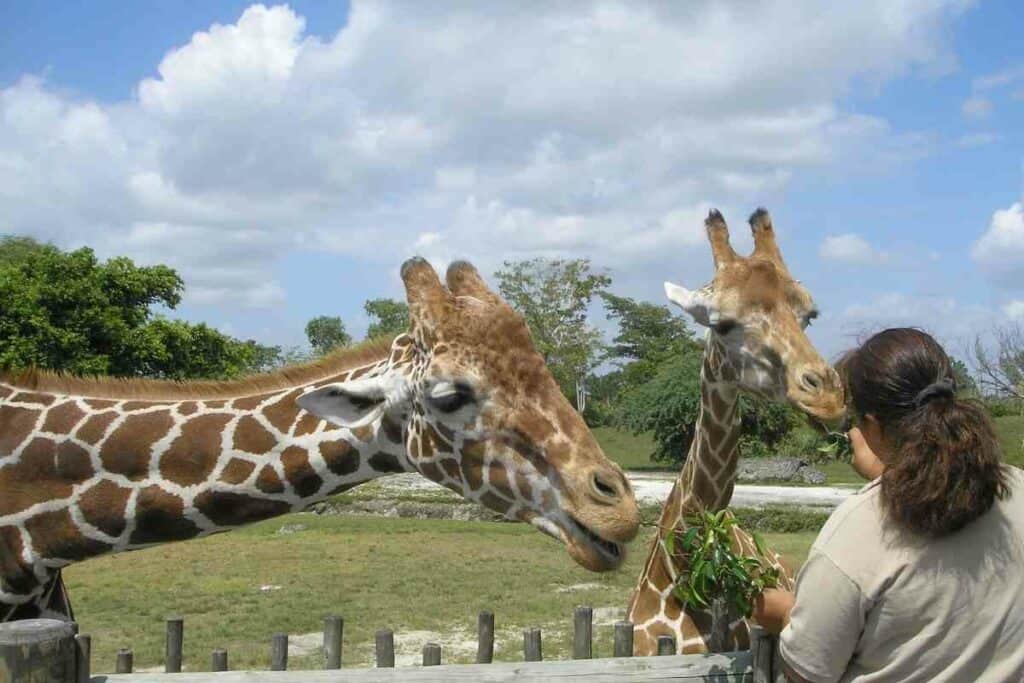 It covers around 13 million sq. mt. and has around 1,200 different animals from 100 species.
Here, you can see:
giraffes
zebras
flamingos
tigers
elephants
and much more!
The zoo also does animal shows and times when you can see the animals being fed.
You can also go on a horse and cart ride.
In summer, there is a swimming pool with lots of water slides so the whole family can cool off!
14. Take a walk in Heiwadai-koen
Heiwadai-Koen Park in Miyazaki is iconic.
It is home to the Peace Tower, which reaches 37 meters in height. This is a special tower as it was erected in 1940, just before the devastation of WWII in Japan.
The design is meant to be reminiscent of Cambodia's Khmer Kingdom. It was built with stone that was imported from various different countries.
If you enjoy a quiet stroll, Heiwadai-Koen Park is a great place to go for an afternoon enjoying the hills.
15. Take a walk in Misogi-ike
Misogi-ike is within Awagigahara Forest Park.
In English, this means Citizen's Forest Park. Misogi-ike itself is the beautiful pond lying in the center. It is fed entirely by spring water and in summer, is covered in lilies.
Like lots of Japanese sights, Misogi-ike has an ancient legend linked to it. Here, it's a purification legend.
Misoki-ike is a lovely place to spend the late afternoon to watch a beautiful sunset.
Final thoughts on Miyazaki itinerary
So, there you have it, 15 things to see and do to add to your Miyazaki itinerary.
We hope you've got a long stay ahead of you as there's a lot to fit in in this beautiful area of Japan!
Read Next