If you have been roaming the world in search of the perfect wave, this selection of the 10 best surfing destinations in Japan will show you why you need to take a closer look at Japan.
After all, Japan was the first country in history to host surfing as an Olympic sport!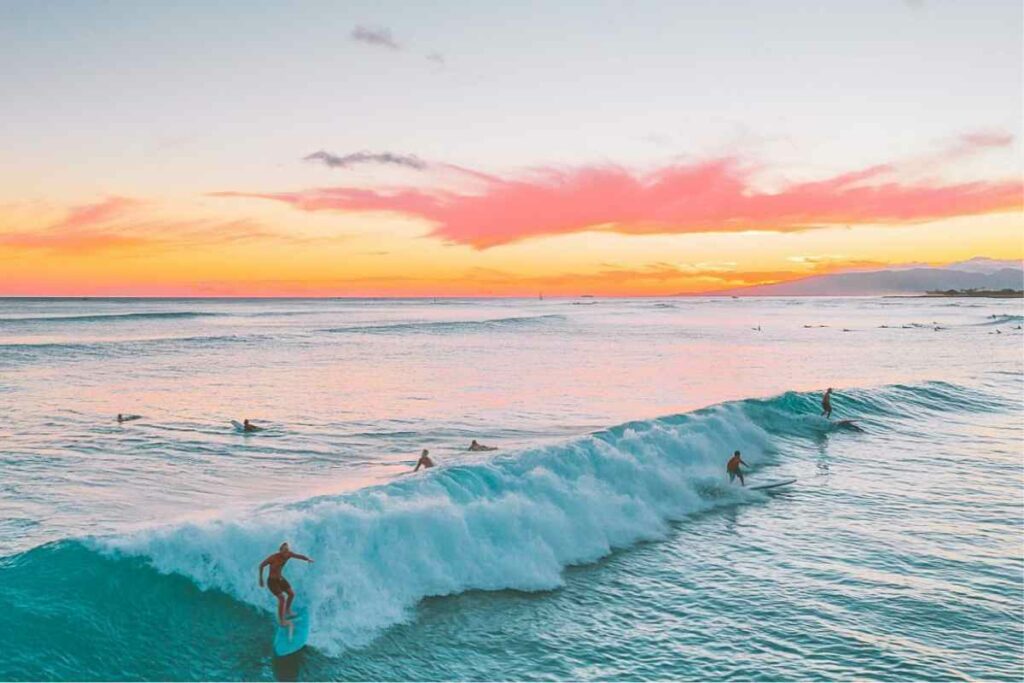 Get all the inspiration and motivation you need to wax your surfboard, catch some amazing waves and immerse yourself in Japan's thriving surf culture. 
10 Best Surfing Destinations in Japan
These are some of the best spots for surfing in Japan.
The selection not only includes pristine beaches but also great surf culture and community for you to connect with.
Enjoy these breathtaking images while you plan your Japanese surfing trip!
10. Kansai
The historic Kansai region in southern Honshu has a vibrant surf culture that is fuelled by surfers from Osaka, Nara, Kyoto, and Kobe.
The coastline offers many surfing schools and the less populous beaches, usually accessible by car, are ideal for surfing. Check out Isonoura Beach, which is a regional surfing hub.
---
9. Chigasaki, Kanagawa Prefecture
The Kanagawa Prefecture coastal city of Chigasaki is another destination that attracts Japanese surfers and can get pretty crowded at times.
One of the best spots is the Chigasaki Jetty which is wind-exposed with consistent surf and a wave angle from the southeast. 
---
8. Tanegashima, Kyushu, Kagoshima Prefecture
Tanegashima aka surfers paradise is one of Japan's top surfing destinations and many surfing enthusiasts live full-time on the island to save costs.
The elongated shape of this island and the swells coming in from both the Pacific and East China Sea are perfect for generating amazing waves. Surf spots to check out include Chinbotsu, Kazamoto, and Azakou.
Learn more about Tanegashima in my neat guide: 10 Things to Do and See on Tanegashima Island.
---
7. Okinawa Prefecture
The Okinawa Islands are the spiritual home of surfing in Japan. It has perfect warm waters with consistent swell and epic breaks that a surfer will journey for.
Plus there are miles upon miles of pristine coastline to explore and the locals are friendly and chilled. Spots to check out include the Sunabe Seawall (Naha), and Aha Point (Okinawa).
---
6. Chiba Prefecture
The expansive Chiba coastline attracts surfers from all over Japan, with a vibrant surfing community that has been established in the region for many years.
Chiba surfing was on the world stage in the 2020 Tokyo Olympics where Japanese surfer Kanoa Igarashi took silver, surfing the waters of Tsurigasaki Beach where his father had surfed decades earlier. 
---
5. Shikoku Island
Shikoku Island is a destination that many Japanese surfers recommend due to its accessibility, great swell, breaks, and consistent waves.
There are loads of surfers living, teaching, and surfing here, especially around Kochi and Tokushima in the southeast of the island.
---
4. Miyazaki, Miyazaki, Kyushu
Wow! Amazing year-round surfing keeps this surfing destination front and center!
You've got miles of coastline with consistently great waves and the room to find more secluded spots. Your fellow surfers and locals are also friendly and chilled. 
---
3. Shimoda, Shizuoka Prefecture
The Izu Peninsula is amazing for surfing and Shimoda is the location to experience the best of this iconic region.
One of the best spots in Shimoda is Shirahama Beach. It has strong surf but gets crowded during the summer. 
---
2. Kamogawa, Chiba Prefecture
This quiet fishing town in Chiba is trending as the latest Japanese surf destination.
It has not yet been colonized but local surfers have always appreciated the clean, well-shaped waves with a summer season that favors newbies and a typhoon season that challenges more experienced surfers. 
---
1. Fujisawa, Kanagawa Prefecture
Fujisawa has gorgeous beaches and breathtaking views that draw surfers from around the world.
There are a lot of surfers in this city, so it's easy to get lessons and tips on the best surf spots. 
---
Best Surfing Destinations in Japan FAQs
Where is the best surf spot in Japan?
Uchiumi Point on the island of Kyushu is the best surf spot in Japan because of its consistent surf, with the best waves coming from the southeast at high tide. This exposed reef break can get fairly crowded due to its popularity. 
What is the surfing capital of Japan?
Chiba Prefecture, which hosted the Surfing competition in the Tokyo 2020 Olympics is the surfing capital of Japan. 
What month is best to surf in Japan?
Experienced surfers rate the typhoon season, between September and November, as the best time to catch amazing waves. 
Where can beginners surf in Japan?
The best destination for beginner surfers in Japan is the Chiba coastline. This is because it is the surfing capital of Japan. Onjuku Beach, in Chiba, has lots of surfing schools, surfboard hire, and great waves to try. If you are new to surfing make sure that you surf during the swimming season in July and August, because that is usually the only time when beaches are manned. 
Does Japan have good surfing?
Yes, and the Japanese are waking up to just how good their surf scene is. Japan's massive coastline, spread across multiple islands in the Pacific Ocean offers consistent waves and peaceful beaches that attract surfers from around the world. 
Where is the closest surfing spot to Tokyo?
Tokyo seawater is not great for surfing but Chiba Prefecture offers some of Japan's best surfing, so you do not have to travel far to find great waves. Chiba is the epicenter of Japan's surfer culture and boasts great beaches like Ichinomiya and Onjuku beaches that are under an hour away from central Tokyo.
Can you surf in Kyoto?
Yes! Kyoto has a great surfing scene with some great surf spots along Kyoto's Tango-Hanto Peninsula. Yuhigaura Beach in Kyoto Prefecture has decent waves with a surfing school that also has surfboards for hire. 
Do people surf in Okinawa?
Yes, surfing is one of Okinawa's most popular watersports and the island has a thriving surf culture, centered on great Okinawa surf spots like Aha Point, Maeda, and  Sunabe Seawall.
Who is Japan's most famous surfer?
25-year-old Olympic surfer Kanoa Igarashi is Japan's most famous surfer. He has been a celebrity in Japan since 2016 when he joined the World Surf League (WSL) Championship Tour. He was taught to surf by his father Tsutomu, an avid surfer, as he grew up in Huntington Beach, California. Learn more about Kanoa in my article: Kanoa Igarashi Net Worth.
Rounding Up
I hope these amazing images have inspired you to try Japan as a surfing destination. Surfing is the perfect watersport to complement the outstanding natural beauty of Japan's coast.
The Japanese surfing culture is remarkably inclusive, so you'll be able to get lessons, reach out to other surfers and enjoy surfing as a way of life with like-minded individuals.
Now you've found the most beautiful, chilled, and surf-friendly spots in Japan, it's time to plan your trip. Don't get wiped out! Plan an amazing surfing holiday in Japan with zero stress with the flights, accommodation, car hire, and travel insurance you'll need to immerse yourself in Japan's surf culture.