The Japanese see the value in collections. From anime card collections to the famous Pokémon slogan: "Gotta catch 'em all!", the art of collecting runs deep through the culture.
Bearing in mind that Japan has what is quite possibly the most advanced and efficient railway system in the world, it is no surprise that they collect Eki Stamps when traveling the rails.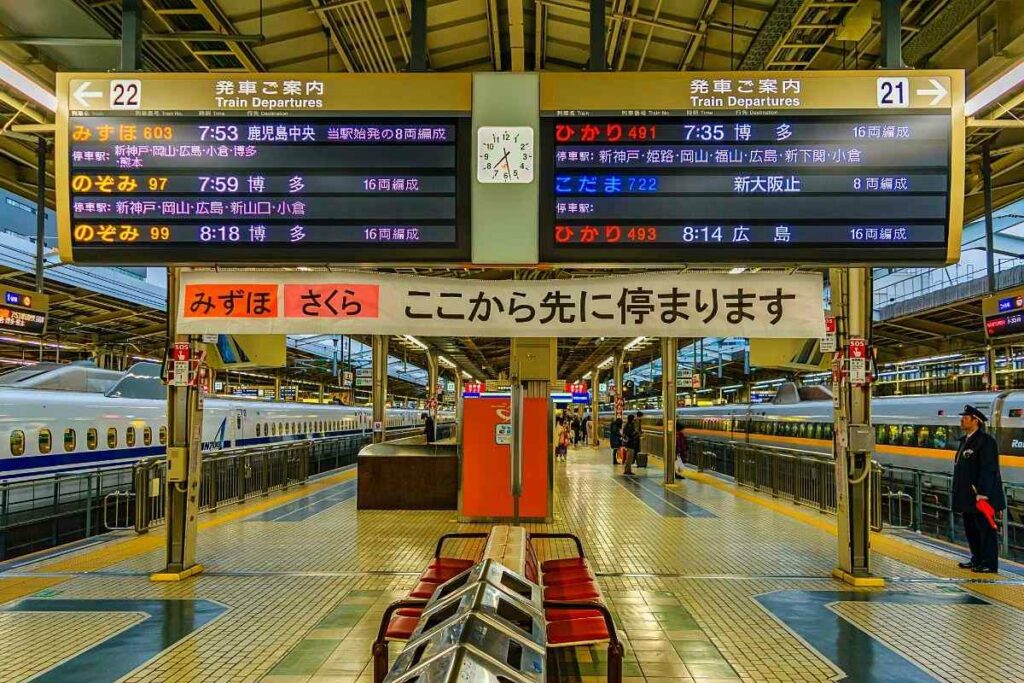 Here, we will detail what Eki Stamps are and how you can join the quest to collect them all!
What Are Eki Stamps?
Considered to be a fun activity in Japan, Eki Stamps are rubber inked stamps which identify the station to which they belong.
This is done symbolically with emblems that link directly with local areas. Collecting them, much like collecting stamps on a passport, has become an established Japanese tradition.
People collect them in their masses, in a dedicated Eki Stamp Book that comes in varied styles and sizes.
When Did People Start Collecting Eki Stamps?
Established in 1931, the first stamp appeared at Fukui Station by the West Japan Railway Company.
It has grown in popularity ever since and there are in excess of nine thousand available today, across Japan.
Some stations even design special, limited edition stamps for Christmas and other seasonal periods and local events.
Festivals, for example, are very popular and ubiquitous across the country and some will even be honored with one of these.
Interesting Fact: As you might expect, there have been many Pokémon themed stamps to collect.
Do All Japanese Train Stations Have Eki Stamps?
Some stations are run by independent companies, and you can't even use a Japanese Rail Pass, so no.
However, the vast majority do have them, especially in major hubs like the capital of Tokyo, the old capital of Kyoto and Osaka, all have their distinctive designs.
How Do You Get an Eki Stamp Book?
This you will have to pay for, and they are sold widely in bookstores across Japan.
Usually around fifty pages and a similar size to that of a passport, they come in different sizes and a multitude of differing designs. One will cost you around 650 yen.
You can, alternatively, collect the stamp on just about any piece of paper you like.
Key Fact: A lot of stations will have a stack of paper just in case you don't have a book.
How Do You Get an Eki Stamp?
Simply ask at any Japanese Railway Station. In the majority of them, you will even find a delightful little stamp station in a corner somewhere.
This consists of both the stamp and ink, placed on a table for self-use. Staff will usually assist you, should you struggle in any way.
Stamp Stations are usually easy to spot and are found in some common areas in a station:
By Ticket Gates
In Waiting Areas
With Staff
…in some, you may need to ask.
Does the Eki Stamp Book Have Blank Pages?
Rarely. It usually has pages divided into sections for stamp placement, the date, and some notes.
People like to write any personal experiences, thoughts, or feelings around specific stamps. It becomes a small travel journal, essentially.
Eki Stamp Book FAQs
How do I use an Eki Stamp Book in Japan?
To use an Eki Stamp Book, visit train stations that offer them. Look for stamp stations usually located near the ticket gates. Purchase an Eki Stamp Book if you don't have one. At each station, locate the stamp station, use the provided ink pad and stamps to mark your book with the station's unique stamp design.
Can I collect Eki stamps from different railway companies in the same book?
Yes, you can collect Eki stamps from different railway companies in the same Eki Stamp Book. These books are designed for collecting stamps from various stations across Japan, regardless of the railway company operating them.
Are there special Eki stamps for seasonal events or holidays?
Yes, many train stations offer special Eki stamps during seasonal events or holidays. These stamps often feature limited-time designs that commemorate specific festivals, seasons, or local celebrations. Keep an eye out for announcements from the railway companies about such events.
What are Eki Stamp Books in Japan?
Eki Stamp Books are souvenir notebooks available at many train stations across Japan. Travelers can collect unique station stamps by visiting different train stations and imprinting their books with these stamps. It's a popular way to document and remember their journey.
How do I start collecting Eki stamps?
To start collecting Eki stamps, first, acquire an Eki Stamp Book. You can usually find them at major train stations or souvenir shops. As you travel, visit different train stations and look for stamp stations. Use the provided stamps and ink pads to mark your book with each station's distinct stamp.
Which train stations in Japan offer Eki Stamp Books?
Kyuhoji Station 久宝寺駅 Kyuhoji Station: Before exit.
Namba Station 難波駅 JR Namba Station: Next to fare adjustment machine (before exit)
Nara Station 奈良駅 …
Osaka Station 大阪駅 …
Shin-Osaka Station 新大阪駅 …
Universal City Station ユニバーサルシティ駅 …
Saitama Shintoshin Station さいたま新都心駅 …
Akihabara Station 秋葉原駅
Plus many more: Examples include stations in Tokyo, Kyoto, Osaka, Hokkaido, and along the Shinkansen lines.
What are some popular Eki Stamp Book routes in Japan?
Some popular Eki Stamp Book routes in Japan include the Yamanote Line in Tokyo, the Kansai region loop line, the JR Hokkaido routes, and scenic routes like the Hakone Tozan Railway. These routes offer a variety of unique station stamps and picturesque views.
How much do Eki Stamp Books cost?
The cost of Eki Stamp Books can vary depending on the design, size, and location. On average, they might range from 1,000 to 2,000 yen. Some books come with a few initial stamps, while others require you to purchase stamps separately at each station.
Final thoughts
Stamp Collecting is quite a widespread phenomenon throughout the world. From mailing stamps to passport stamps, it is considered something fun to do by many.
Eki Stamps, however, are unique to Japan and provide an interesting and visual method of documenting your Japanese journeys.
Should you be fortunate enough to visit Japan and do some traveling by rail, be sure to collect your stamps, even if you can't collect them all…