Japanese snow monkeys (Macaca fuscata) are native macaque monkeys that live in some of Japan's snowiest regions.
In the winter months, you'll find these resourceful primates strolling around many villages and towns in the north of Japan, and even keeping warm in natural hot springs and dedicated onsen.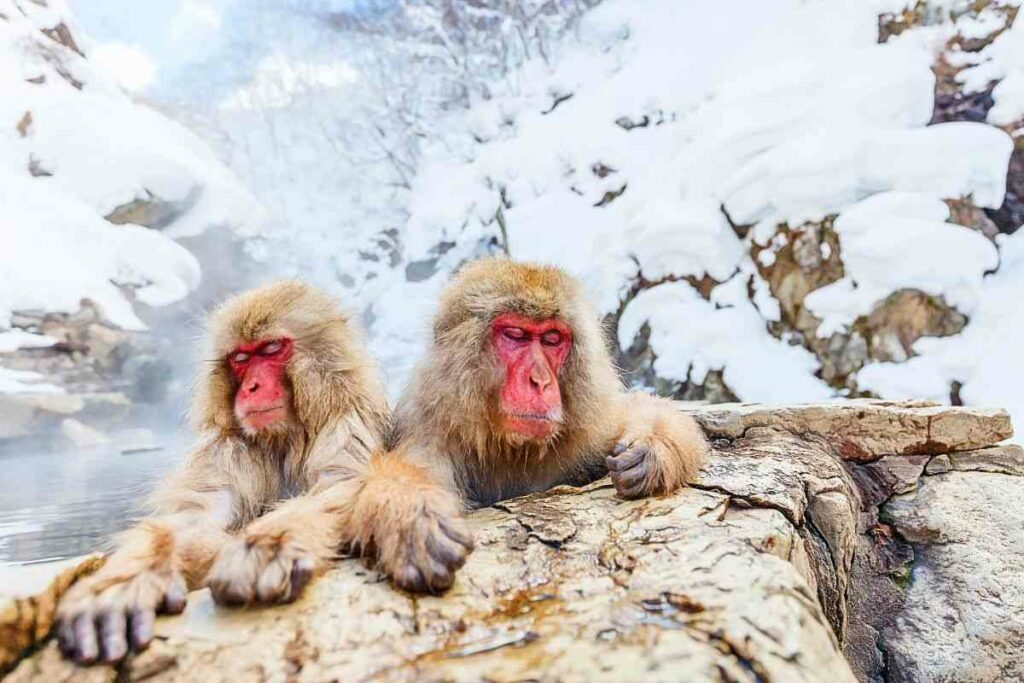 Want to see them?
Here are six of the best destinations to meet the snow monkeys of Japan!
Japan's Best Snow Monkey Destinations
These cheeky macaques can be a little tricky, so it's always best to observe them in a dedicated park or reserve where they are fed and less likely to behave unpredictably.
Here six of the best locations in Japan for seeing these hardy monkeys up close in their winter habitat:
6. Mount Takasaki Monkey Park, Oita
This small monkey park on the slopes of Mount Takasaki is worth the journey. Take a short funicular ride with impressive views.
The natural scenery is really beautiful and perfect for forest walks and hiking through the monkey habitat.
There is also a Zoological center that provides information on wild monkeys. Here are some great accommodation options for this Beppu favorite: 5 Best Hotels in Beppu.
Address: 3098-1 Kanzaki, Oita, 870-0802
5. Osaru-no-yama Monkey Park, Nikko
Nikko has a long history with the snow monkey and is even thought to be the location where the ancient Japanese proverb of the three wise monkeys originated.
Head over to Osarunoyama Monkey Park or watch them roam through the Nikko area. Check out these Nikko hotels for your stay: 5 Best Hotels In Nikkō.
Address: Kinugawaonsentaki, Nikko, Tochigi 321-2526
---
4. Awajishima Monkey Center, Awaji Island
This is Awaji island's monkey center and a haven for these lovable macaques. It has been open since the 1960s and is currently home to around 350 monkeys.
Be sure to visit in August when the baby snow monkeys are born for super kawaii pics! Here are some Awaji Island hotels and a great Awaji Island day trip where you can see the impressive Naruto Whirlpools.
Address: 289 Hatadagumi, Sumoto, Hyogo 656-2533
---
3. Choshikei Monkey Park, Shodoshima
Choshikei Monkey Park, also known as Chōshi Valley Monkey Kingdom Natural Zoo is a monkey haven on Shodoshima Island in Kagawa Prefecture.
Visit their mountain home and watch them from viewing decks with amazing coastal views. 
Address: 〒761-4151 Kagawa, Shozu District, Tonosho, 土庄町肥土山蛙子3387-10
---
2. Iwatayama Monkey Park, Kyoto Arashiyama
Iwatayama Monkey Park on Mount Arashiyama, by the Ōi River in Kyoto, Japan. There you'll find a lively and inquisitive troop of over 120 wild monkeys.
If you want to feed the macaques, you can purchase special food from the park.
Address: 〒616-0004 Kyoto, Nishikyo Ward, Arashiyama Nakaoshitacho, 61
---
1. Jigokudani Monkey Park, Nagano
Jigokudani Monkey Park the Yokoyu River valley of the Joshin'etsu Kogen National Park in northern Nagano Prefecture is the #1 destination for encountering ruddy-faced snow monkeys in their snowy habitat.
This high-altitude snow destination has many natural onsen that are used by the snow monkeys to keep warm for up to five months of the year when the snow is deep.
See this amazing herd that has lived in the region for hundreds of years. One of the best ways to visit this outstanding park is on a guided tour like the Nagano: Snow Monkeys, Zenkoji Temple & Sake Day Trip, which includes a temple visit and warming sake tasting!
Address: 6845 Hirao, Yamanochi, Shimotakai District, Nagano 381-0401
Japan's Best Snow Monkey Destinations FAQ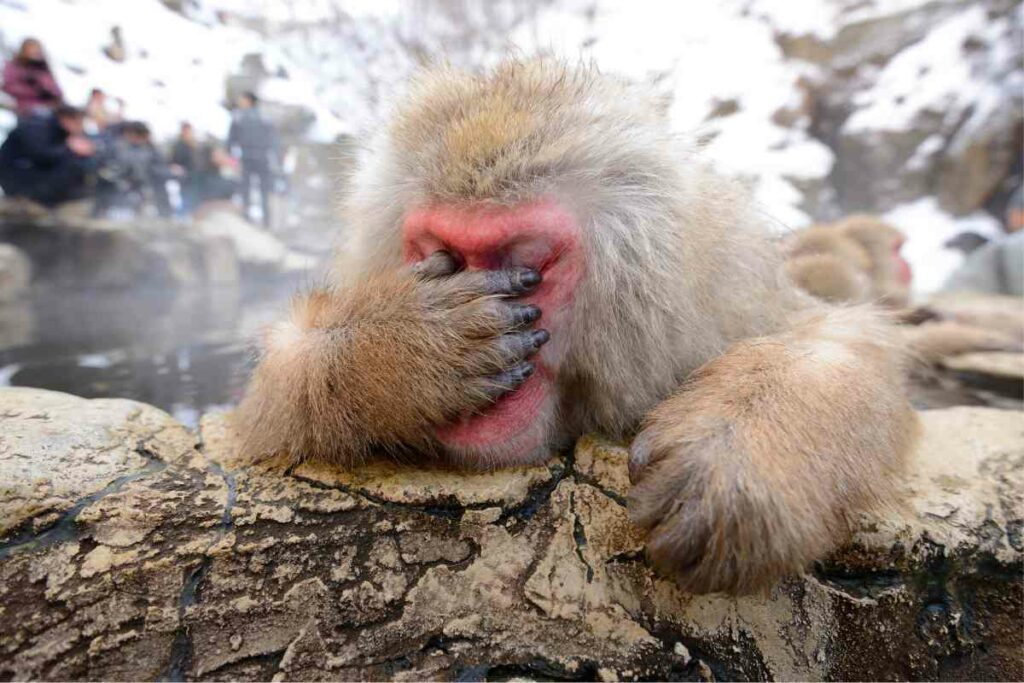 Where do Japanese snow monkeys live?
Snow monkeys are Japanese macaques, which have a wide distribution in Japan. These monkeys can be found in Honshu, Shikoku, and Kyushu.
The snow monkeys live in the more northern, subarctic, and alpine regions of Japan. One of the most renowned locations for snow monkeys is Yamanouchi in Nagano prefecture, particularly the Jigokudani Yaen-koen Park.
How much does it cost to go to Jigokudani Monkey Park?
Jigokudani Monkey Park entry (which is valid for a single day) currently costs 500 yen for adults and 400 yen for children. 
Is Yudanaka worth a visit?
Yudanaka in Yamanouchi, Nagano Prefecture is a charming snowy town that has many onsen. It is primarily an onsen resort.
Many people want to see the snow monkeys that roam the streets, but thankfully they cannot get into the ryokans or bathhouses. The monkeys have their own hot spring to enjoy in the town.
Are there snow monkeys on Mount Fuji?
No. Mount Fuji is home to at least 37 unique animal species but there are no snow monkeys. There is an excursion from the Mount Fuji region to Jigokudani Monkey Park provided by some tour operators. 
What do snow monkeys eat?
In the wild, snow monkeys forage for their food. They eat a varied and opportunistic diet that includes fruit, young tender plants, rodents, and insects.
They have been considered a pest because they will go into farmers' fields and eat crops. In the winter they survive by eating bark from coniferous trees. 
Now that the monkeys have been tamed, with large populations in parks, they are fed fruit and wheat by the park owners.
By feeding the monkeys, fewer trees are debarked and farm crops are spared. 
Can you feed the snow monkeys in Japan?
No. Feeding and touching the snow monkeys is discouraged, especially in the snow monkey parks where they are fed daily. 
Do snow monkeys steal?
Yes. Like other monkeys in tourist areas, Japanese snow monkeys are capable of stealing items from tourists like phones, glasses, hats, and of course, food!
So make sure that your personal possessions are fully insured if you encounter them. Monkeys in the parks are less likely to do so because they are being regularly fed.
They are not as bad as Gibraltar's Barbary macaques or the thieving monkeys of Bali. 
Final thoughts
Visiting snow monkeys is a fascinating activity for a winter holiday in Japan.
I loved how they enjoy their own onsen and take time to groom and care for each other in the chilly weather.
These cheerful chimps aren't as troublesome as monkeys in other parts of the world, but their antics will amaze you.