Bubble Tea and Boba are two extremely refreshing drinks with the added satisfaction of jelly balls to add a whole new sensation to the drink.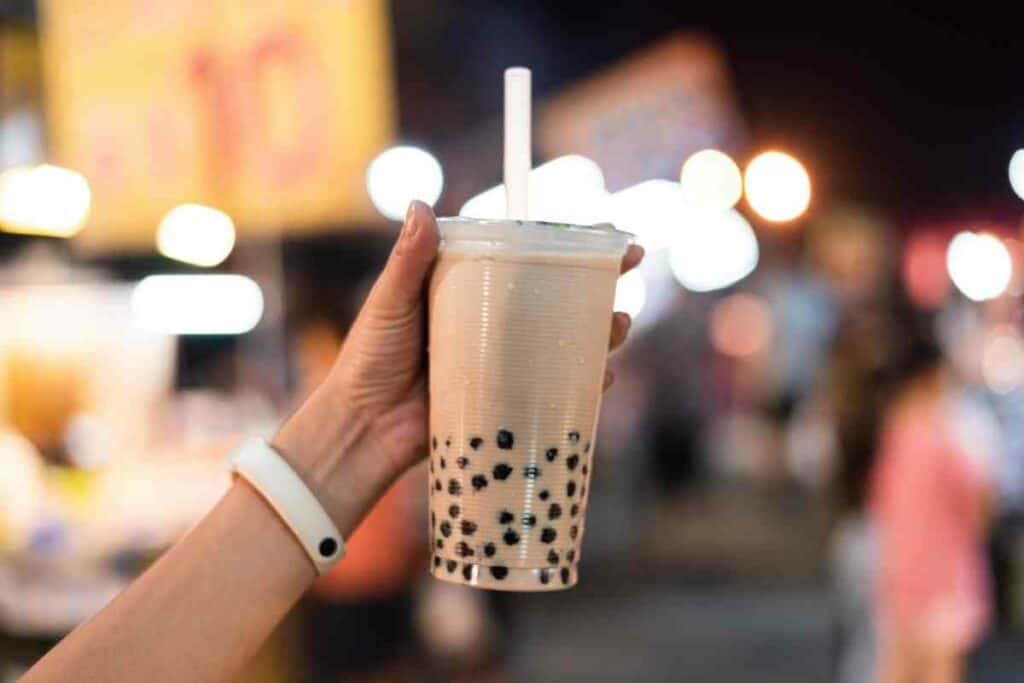 While there are two separate names for them, they are, in fact, the same thing.
What Is Bubble Tea?
Bubble tea, also known as Boba, is a sweetened tea beverage that usually contains tapioca pearls.
The tea itself has a very light flavor, while the sweetness of the drink comes from the added syrups.
The tapioca pearls add a chewy texture and a slight sweetness to the drink.
What are Tapioca Pearls?
Tapioca pearls are little balls created from tapioca starch that have a rubbery texture.
They are cooked in sugar water until they float to the surface and then are left to cool and harden.
Once they are cooled, they are soaked in a syrup made of brown sugar or honey before being added to bubble tea.
History of Bubble Tea
Bubble tea came from Taiwan in the 1980s.
The tale goes that a group of friends was hanging out at a local tea house when one of them decided to add some chewy tapioca balls that she had been snacking on into her glass of iced milk tea.
The friends liked the new drink so much that they started adding tapioca balls to their own drinks and bubble tea was born!
Word quickly spread about the new drink and it soon became popular all over Taiwan.
From There – It spread to other countries in Asia like China, Japan, Thailand, and Vietnam before making its way to Europe and North America in the early 2000s.
How to Make Tapioca Pearls from Scratch
Have you ever wanted to make tapioca pearls from scratch?
Making the tapioca pearls from scratch is not as difficult as you might think!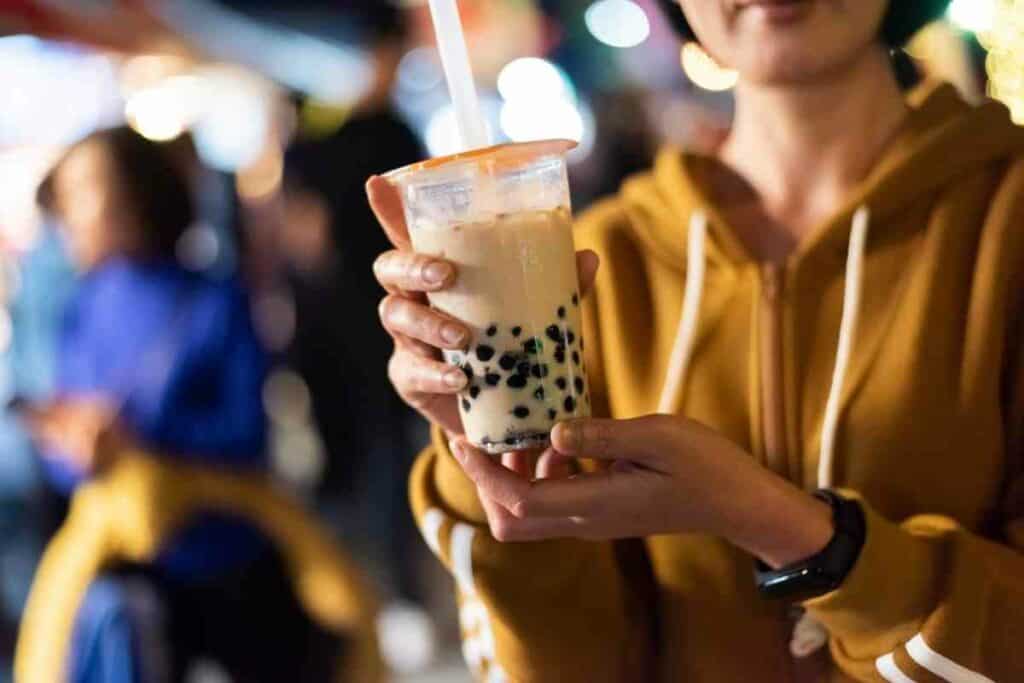 With just a few elements and some patience, you can enjoy delicious boba tea at home anytime you want.
Ingredients:
9 tablespoon tapioca flour
3 tablespoons boiling water
Instructions:
In a small bowl, add the tapioca flour and boiling water. Stir until the mixture forms a dough.
On a clean surface, knead the dough for 3-5 minutes.
Divide the tapioca dough in half and roll each piece into a long "snake".
Cut the snakes into small pieces, about 1/2 inch long.
In a large pot of boiling water, add the tapioca pieces and cook for about 15 minutes or until they are cooked to your preferred consistency, softer, or chewier.
Remove from the pot with a slotted spoon and add them to a bowl of water to prevent them from sticking together.
How to Make Bubble Tea
Are you ready to make bubble tea at home?
All you need is a few simple ingredients and a bit of time and you'll be on your way to enjoying this delicious drink in the comfort of your own home.
Ingredients:
1 cup of black tea
1/2 cup milk
1/4 cup sugar
1/2 teaspoon vanilla extract (optional)
1/4 cup tapioca pearls (uncooked)
Instructions:
In a small saucepan, bring the water to a boil and add the tea bags. Let the tea steep for 3-5 minutes without stirring it.
Remove the tea bags and add the milk, sugar, and vanilla extract. Stir until well combined.
Add the uncooked tapioca pearls to the tea and cook for an additional 20 minutes, stirring occasionally.
Remove the pot from the heat and let the tea cool slightly before serving.
If you made your tapioca pearls from scratch and they are already cooked, add them to a cup and pour the tea from step 2 over top.
Different Bubble Tea Flavors
One of the best things about bubble tea is that there are so many different flavor combinations to choose from.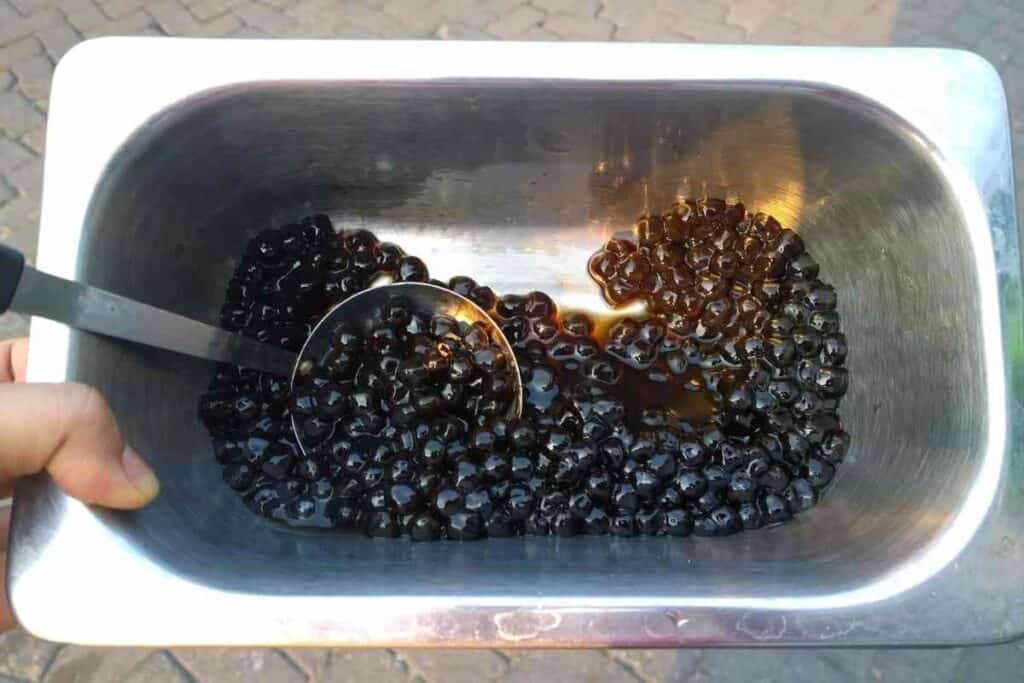 Not sure what flavor to try first?
Here are some of the most widespread bubble tea flavors to get you started.
Taro Bubble Tea
Taro is a type of root vegetable with a mildly sweet flavor that is often used in Asian cuisine.
It's a popular choice for bubble tea lovers because of its sweetness and creamy texture.
Taro bubble tea is often made with taro powder or taro puree, giving it a strong taro flavor. If you're looking for something unique, give taro bubble tea a try.
Honeydew Bubble Tea
Honeydew is a type of melon with green flesh and a mildly sweet taste.
Honeydew bubble tea is a refreshing choice for those hot summer days.
This flavor is best made with honeydew puree or honeydew powder for the strongest flavor possible.
Give it a try if you're looking for something sweet and fruity.
Passionfruit Bubble Tea
Passionfruit is a tart and tangy fruit with a distinctive taste.
Passionfruit bubble tea is perfect for those who like their drinks on the sweeter side.
This flavor is usually made with passionfruit syrup or passionfruit powder.
If you're looking for something exotic, give passionfruit bubble tea a try. Trust us, you won't be disappointed.
Almond Bubble Tea
Almond bubble tea is a nutty and creamy choice that is perfect for those who love the taste of almond milk.
This flavor is best made with almond syrup or almond powder. If you're looking for something rich and creamy, give almond bubble tea a try.
Should Bubble Tea be Served Hot or Cold?
Depending on your personal taste, you may enjoy your bubble tea served hot or cold.
There is no right or wrong way to drink bubble tea, it is purely preference.
If you need help selecting take a look at this list of pros and cons for each.
Hot Bubble Tea Pros:
Hot bubble tea is perfect for cold winter days.
hot bubble tea can help soothe a sore throat.
Some people find that hot bubble tea has a more intense flavor than cold bubble tea.
Hot Bubble Tea Cons:
Hot bubble tea can burn your tongue if you're not careful.
Hot bubble tea can make the tapioca pearls hard and chewy.
Some people find that hot bubble tea doesn't taste as good as cold bubble tea.
Cold Bubble Tea Pros:
Cold bubble tea is refreshing and perfect for hot summer days.
Cold bubble tea can help you cool down after a workout.
Some people find that cold bubble tea has a more refreshing flavor than hot bubble tea.
Some flavors pair better when bubble tea is served cold, specifically the fruity flavors.
Cold Bubble Tea Cons:
Cold bubble tea can give you a brain freeze if you drink it too fast.
Final Thoughts
So, what's the difference between bubble tea and boba?
Absolutely nothing, they're two different names for the same drink.
Whether you call it bubble tea or boba, just make sure to add lots of tapioca pearls and flavor it however you want.