The springtime Japanese custom of hanami is one of Japan's most beautiful.
The Japanese love to admire hundreds and thousands of cherry blossoms when they come into full bloom in March or April.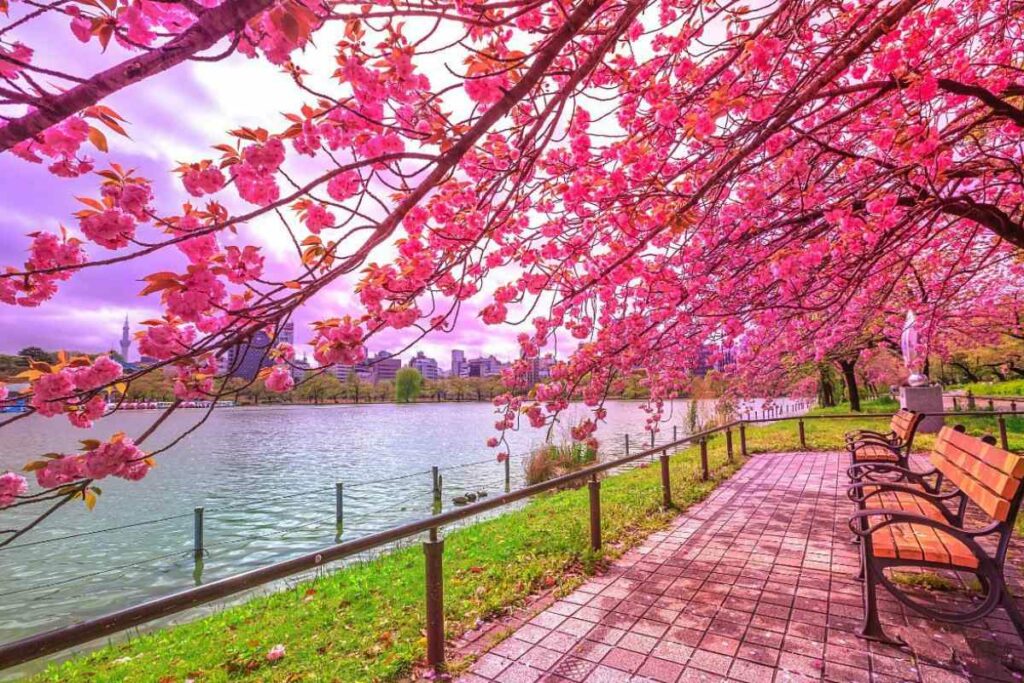 The spectacle of pillowy pink blossoms is an event, with thousands of people heading to parks to admire the blooms and enjoy delicious picnics beneath the trees.
If you would like to watch the flowers, here are 10 best hanami destinations in Japan, with spectacular blossoms and amazing views.
Japan's 10 Best Hanami Destinations
Hanami has become a worldwide trend, with millions of people heading over to parks to enjoy beautiful cherry blossoms during the spring month.
However, it is in Japan that you will see these beautiful blooms at their finest.
Pack a bento-box banquet and head to one of these must-visit spots:
10. Inokashira Park, Tokyo
Inokashira Park puts on one of Tokyo's liveliest hanami displays, bathing the skyline with the sakura blossoms of over 500 cherry blossom trees.
Taking a swan boat pedalo ride across the beautiful lake offers magnificent views, and if you have energy the Ghibli Museum is at the south end of the park.
---
9. Shinjuku Gyoen Park, Tokyo
Shinjuku Gyoen Park is another famous Tokyo spot that will wow you with over 900 cherry trees in full bloom between late March and April.
Don't let a visit here pass you by. I really enjoyed visiting this spot with Aki, my friendly Tokyo guide who showed me the best hanami stops and shared a special bento-style lunch party by the cherry tree-lined banks of the Meguro River. Take a look at the Sakura in Tokyo: Cherry Blossom Experience.
---
8. Garyu Park, Nagano
Nagano is probably the only place in Japan where you can see snow monkeys and cherry blossoms in a single place.
Northern Nagano benefits from some of the latest blooms in Japan, giving you plenty of time to visit them during mid to late April.
Check out the hanami spots that only Nagano locals know by taking the 5-star 1-Day Snow Monkey & Cherry Blossom Tour in Spring.
---
7.  The Keage Incline, Kyoto
This 600-meter slope with disused railroad tracks from a water transport line has beautiful cherry blossoms that are perfect for a selfie. It would be a great stop on a special Kyoto tour.
---
6. Takato Castle Park, Nagano
The 1500 Kohigan cherry trees put on a breathtaking display, which transforms these ancient castle ruins.
The annual Takato Cherry Blossom Festival runs throughout April and attracts locals from all over Nagano Prefecture.
---
5. Mount Yoshino, Nara
This beautiful mountain in Yoshino District, Nara Prefecture is a historic location that has inspired Japanese artists and essayists for hundreds of years.
The 30,000 blossoming cherry trees make this location one of Japan's most famous for hanami!
---
4. Kema Sakuranomiya Park, Osaka
Take your time and roam over four kilometers of parkland, filled with 5,000 blossoming cherry trees in one of Osaka's premier hanami spots.
You can literally nest in drifts of sakura petals while you picnic on lush lawns alongside the Okawa River. 
---
3. Fukuoka Castle, Fukuoka 
The ruins of Fukuoka Castle are a beautiful hanami spot with over 1000 trees in these grounds to enjoy each spring.
You can also walk around the illuminated sakura in the evenings and enjoy the blossoms in the neighboring Maizuru Park.
Here are my top tips for nearby accommodation: 5 Best Hotels in Fukuoka.
---
2. Chidorigafuchi Moat, Tokyo
Tokyo's Chidorigafuchi Moat is a stunning hanami spot by the grounds of the Imperial Palace. There is a picturesque 700-meter-long path that is lined with cherry trees.
---
1. Kakunodate, Akita
This pleasant town in Senboku District, Akita Prefecture, is a legendary seat of the samurai, with hundreds of gorgeous weeping cherry trees.
This Edo-period gem is an outstanding historic site and is known throughout Japan for its annual cherry blossom festival. 
---
Best Hanami Destinations FAQs
What is the English name for hanami?
Hanami (花見) is literally translated into English as 'flower viewing'. 'Hana' (花) means 'flower' and 'mi' (見) means 'look'. Hanami usually refers to cherry blossoms but can refer to plum blossoms too. 
What is the English name for the flower sakura?
A sakura (桜, さくら、 or サクラ) is a cherry blossom. The Japanese appreciate sakura (cherry blossoms) during the hanami festival. 
What foods are eaten during hanami?
Hanami brings the Japanese outdoors for the springtime, so the foods eaten are classic bento box picnic foods or delicious street foods served by vendors at the larger parks and festivals.
Common hanami foods include:
– Hanami Dango, pretty pink, white, and green dango, colored for hanami
– Futomaki, a thick, well-filled sushi roll
– Matcha and Warabi Mochi, a delicious Japanese sweet made with bracken starch or glutinous rice and coated in sweet toasted soybean flour (kinako)
– Cherry Blossom Milk Pudding, a milk pudding decorated with sakura blossoms
– Sakura Mochi, a special hanami wagashi that features a pink rice ball filled with red bean paste and wrapped in a pickled cherry blossom leaf
Where is the best place to see hanami in Tokyo?
The best hanami location in Tokyo is undoubtedly Ueno Onshi Park in Taitō which has more than a thousand cherry trees, and attracts crowds from all over Japan.
Which month is best for hanami in Japan?
The best time to visit Japan for hanami is between late March and early to mid-April as you travel northward in Japan.
This is when the blossoms will have opened in the majority of locations and be at their finest. If you have a specific hanami destination in mind, parks usually share the timing of maximum blooms online.
Where is hanami celebrated in Japan?
Hanami is celebrated throughout Japan and by Japanese people across the world. Wherever there are beautiful cherry blossoms and Japanese people, you have hanami.
What is the history of hanami?
The observance of hanami dates over a thousand years in Japan.
There is evidence that the admiration of blossoms was being practiced in the Nara period (710 to 794 AD), with people admiring ume (plum blossoms).
What do Japanese people do during hanami?
The Japanese literally watch the flowers during hanami. After traveling to a stunning parkland or cherry blossom location, visitors walk and sit among the trees as the soft petals fall.
Most Sakura admirers will enjoy a delicious picnic that includes popular seasonal dishes or buy street foods from vendors at the park.
What do you wear to hanami?
The Japanese try to look their best during hanami as they walk among exquisite pink blossoms.
This is one of the best times to wear a kimono, or a more relaxed yukata as you enjoy the beauty and festival atmosphere. 
Final thoughts
Hanami is an elegant and peaceful festival of nature that really enriches your experience of Japan. It is also very inclusive, so don't feel afraid to put on that yukata, grab a bento box, and head to one of these exquisite parks and gardens to immerse yourself in the pink-petaled natural scenery.