Golden Week is one of Japan's biggest holiday periods, that gets the entire country out and about in great spring weather.
Traveling to Japan during Golden Week is an amazing experience as you'll find yourself among many Japanese travelers and tourists and enjoy lots of fascinating cultural celebrations.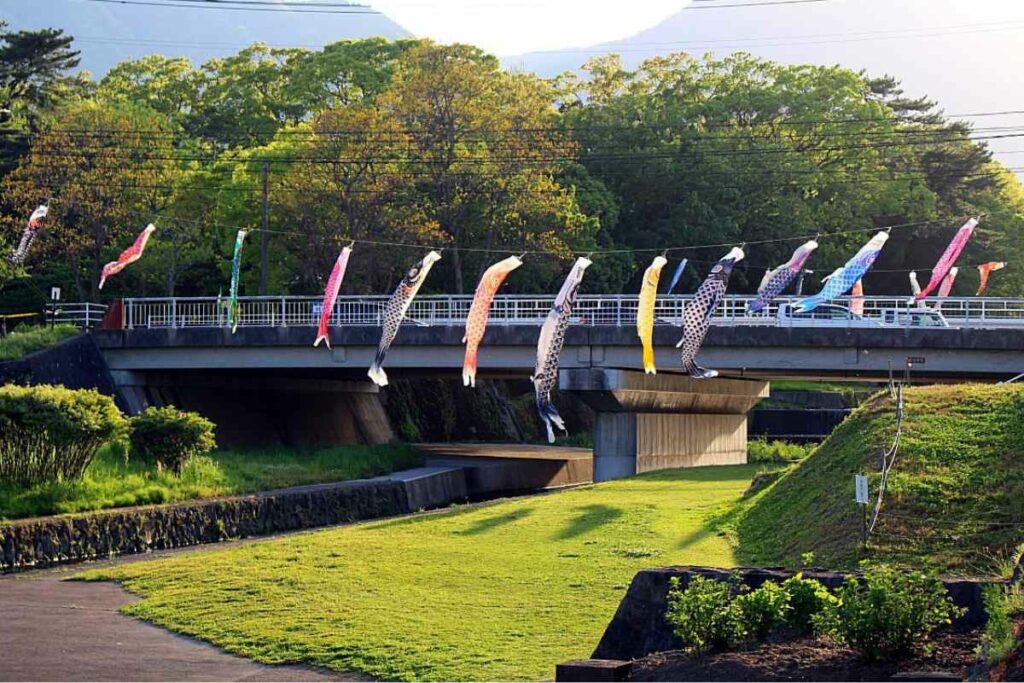 On the other hand with over 100 million Japanese taking a break, you may find it hard to line up all-important flights and accommodation in Japan.
To help you get the most out of this special time of year, we've lined up 10 of the best Golden Week destinations in Japan. 
Japan's 10 Best Golden Week Destinations
If you can find flights and accommodation during one of Japan's busiest seasons for domestic tourism you're in for a great atmosphere with lots of sightseers.
Conversely, if you head to Japanese theme parks, you'll have to brace yourself for crazy queues.
Here is my take on the best destinations to visit during Japan's Golden Week: 
10. Hakata Dontaku Festival, Fukuoka
Fukuoka is Japan's second-largest port city, and like Yokohama, it knows how to party.
Every year residents anticipate the Hakata Dontaku, a massive local festival that has taken place for more than 840 years.
You'll see the Meji-Dori, one of the biggest thoroughfares in the city, shut down to traffic to put on a big party with lots of participants and performers.
If you're keen to book, I have rounded up excellent accommodation options in my article: "5 best hotels in Fukuoka"
---
9. Lake Motosu
Golden Week takes place at the perfect time of year for getting close to nature, so it's no surprise that the Fuji-five lakes are a popular destination.
Lake Motosu in southern Yamanashi Prefecture offers some outstanding views of Mount Fuji, perfect for hiking, boating, and angling. 
---
8. Hachijojima Island
Arouse your sense of adventure with an escape to this impressive volcanic island that offers a tropical escape with amazing surfing.
This island is part of the Izu island chain in the Philippine Sea. This former penal colony has now become a hot Golden Week destination with charming ryokans and restorative onsens.
---
7. Kawachi Wisteria Garden
Wisteria in Japan is just coming into blossom during the Golden Week period, making it the ideal time to look at some of Japan's most impressive Wisteria blossoms.
The best thing about visiting gardens like Kawachi Wisteria Garden is that you can take your time and enjoy the beautiful surroundings. 
---
6. Tateyama Kurobe Alpine Route
Golden Week explorers looking for an adventure will enjoy the Tateyama Kurobe Alpine Route, a mountainous trail that spans Tateyama, Toyama and Ōmachi in Nagano, Japan.
The 37 kilometer route offers outstanding natural beauty, an elevation of up to 1,975 meters and interesting sites like the Midagahara Plateau and ponds, or the Kurobe Dam.
---
5. Kamikochi
By Golden Week, the magnificent Japanese Alps are starting to thaw, drawing thousands of hikers to explore the beautiful alpine scenery.
Kamikochi in the Azusa River Valley in Nagano is another beautiful mountain resort, but it is only accessible by bus or taxi. 
---
4. Amanohashidate
Amanohashidate is a bucket list destination for most Japanese because it is one of Japan's famous three scenic views.
This iconic sandbar has been the inspiration for art, poetry, and culture and doubles up as an amazing coastal resort.
If you would like accommodation in Amanohashidate, check out my post "5 Best Hotels for Amanohashidate Viewland".
---
3. Hakone Gora Park
Many Tokyo dwellers escape beautiful parks and gardens like Hakone Gora Park, which is part of the Fuji-Hakone-Izu National Park.
More than a century old, this classically designed garden boasts impressive rose gardens, a large fountain, and the Hakuun-do Chaen teahouse.
---
2. Kinosaki Onsen
A visit to an onsen resort is a must when the Japanese take a break and Kinosaki is one of Japan's best!
This Golden Week gem boasts seven public onsens and impressive ryokans where you will be generously fed and watered.
Don a yukata and stroll the single main street where all the onsens are located after purchasing a ticket for access to each onsen. 
---
1. Lake Kawaguchi
Lake Kawaguchi in Yamanashi Prefecture is one of Japan's most popular Golden Week destinations.
It has a stunning location in the foothills of Mount Fuji and has developed into an outstanding resort with lots of activities for holidaymakers.
You can hike, shop, cruise, barbecue, and enjoy outstanding natural scenery and great birding. Learn more in my post, Complete Kawaguchiko Hiking Guide!
---
Japan's Best Golden Week Destinations FAQs
What is Golden Week?
Golden Week, known as Ōgon Shūkan (黄金週間) or Haru no Ōgata Renkyū (春の大型連休) is a holiday week that falls between the last week of April and the first week of May.
It is special because it contains several of Japan's most popular public holidays including:
– Shōwa Day (29th April)
– Constitution Memorial Day (3rd May)
– Greenery Day (4th May) 
– Children's Day (5th May)
The combination of these four national holidays and some well-placed weekends means that the Japanese can enjoy a bumper holiday at a great time of year for recreation and travel.
Why do the Japanese celebrate Golden Week?
Golden Week is centered on Showa Day (29th April), the memorial birthday of Hirohito, Emperor of Japan (1901 – 1989), who gave rise to the Showa period of history.
This day provides the Japanese people with a period of reflection on the challenges of the Showa era, which included WWII and the recovery and future of Japan.
What happens during Golden Week?
For a workaholic nation like Japan, Golden Week provides the opportunity for the Japanese to down tools, relax, and have fun.
The Japanese will use Golden Week to take a variety of excursions across the country, visiting theme parks, and the beach, and attending historical parades and celebrations!
Do they celebrate Golden Week in China?
Yes, but the Chinese Golden Week is different to the Japanese version. The Chinese have a seven-day Golden Week celebration on the 1st of October that celebrates the founding of the People's Republic of China. 
Is it worth going to Japan during Golden Week?
Late April is the perfect time to enjoy great weather and natural beauty in Japan, as so many of the trees and flowers will be in bloom.
The atmosphere is also amazing as everyone is relaxed and looking forward to their holidays and travels. However, you'll have to book everything way ahead as demand for domestic flights and accommodation will be crazy!
Where do Japanese people go during Golden Week?
During Golden Week, the Japanese will undertake domestic and international travel, perhaps making visits to friends and family.
Others will watch films and spend time in local parks or open spaces. Bars and restaurants will also be heaving as Golden Week is the busiest Japanese holiday of the year. 
Rounding up
Late April is the perfect time of year to explore Japan, and the Japanese know it. Golden week has an amazingly relaxed atmosphere which is ideal for your travels. Just remember to make all your bookings well in advance, and brace yourself for massive crowds!