Furoshiki (風呂敷) are traditional Japanese wrapping cloths that are an elegant and reusable alternative to the sheets and sheets of wrapping paper we throw in the trash each year.
These elegant cloths come in a range of designs and can even be used as stylish grocery bags.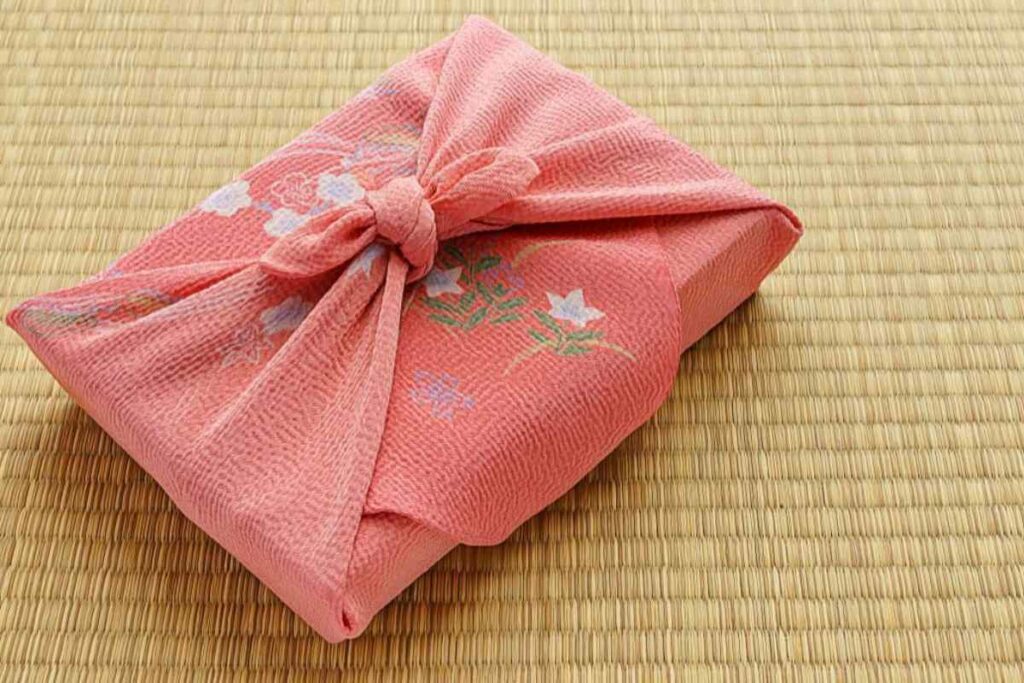 Take a look at ten beautiful furoshiki wrapping cloths including some gorgeous designs that you can buy right now. 
The Best Furoshiki Wrapping Cloths
Get inspiration for your gift-giving with these ten lovely Japanese furoshiki ideas:
10. Kyoto Furoshiki Wrapping Cloth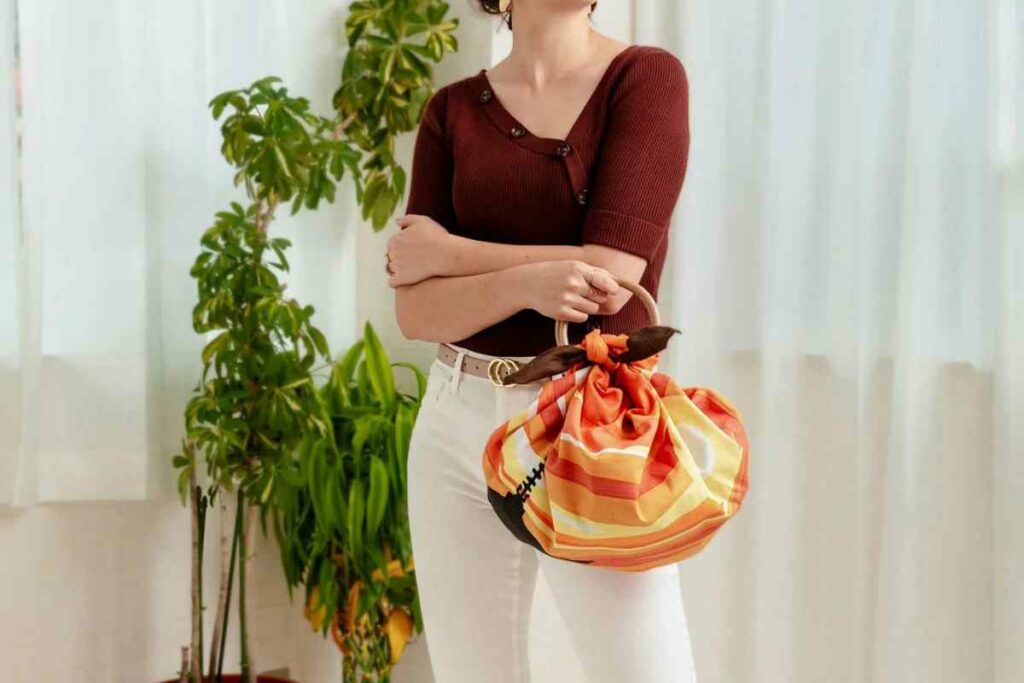 This stylish wrapping cloth features a striking image of the pagoda of Toji Temple, which dates back to 8th-century Kyoto and is a UNESCO World Heritage Site.
This cloth is so dressy that you can style it as a dress scarf or even turn it into a bag with Furoshiki Handles.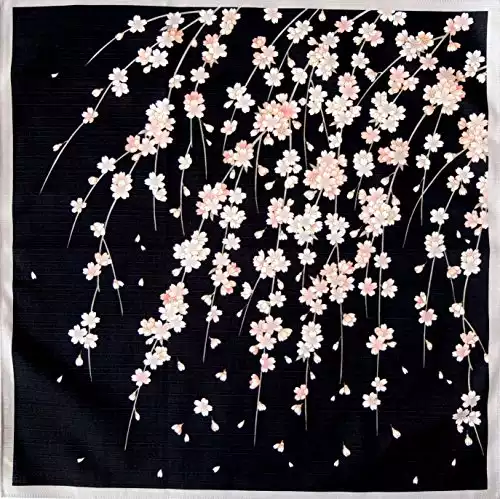 We earn a commission if you make a purchase, at no additional cost to you. Thanks!
---
9. Hundreds of ways to fold and tie a furoshiki cloth
Furoshiki are at the forefront of Japan's push for environmental sustainability.
To encourage people to ditch plastic and wrapping paper, The Japanese Government has produced public information with infographics on the many ways you can fold, wrap, or tie a furoshiki wrap.
---
8. Dress up a bottle in an elegant furoshiki
A furoshiki can make the mundane special. I love this gorgeous kimono-style furoshiki wrap for a bottle.
Furoshiki are a popular way to dress up a bottle of wine or sake for gifting!
---
7. Furoshiki Traditional Japanese Fabric
This versatile and traditional cloth features a characterful Japanese design. It is perfect for a collector and can be even used as wall art.
These crazy cats were drawn by Kuniyoshi caricature artist and the cotton cloth is 100% made in Japan. Perfect for toting your bento box!
---
6. Furoshiki handbag tutorial 
This cool cloth folding makes it easy to create something wonderful, no matter your budget.
The folding steps are simple and there are so many interesting tutorials online. 
---
5. Red Samekomon Reversible Furoshiki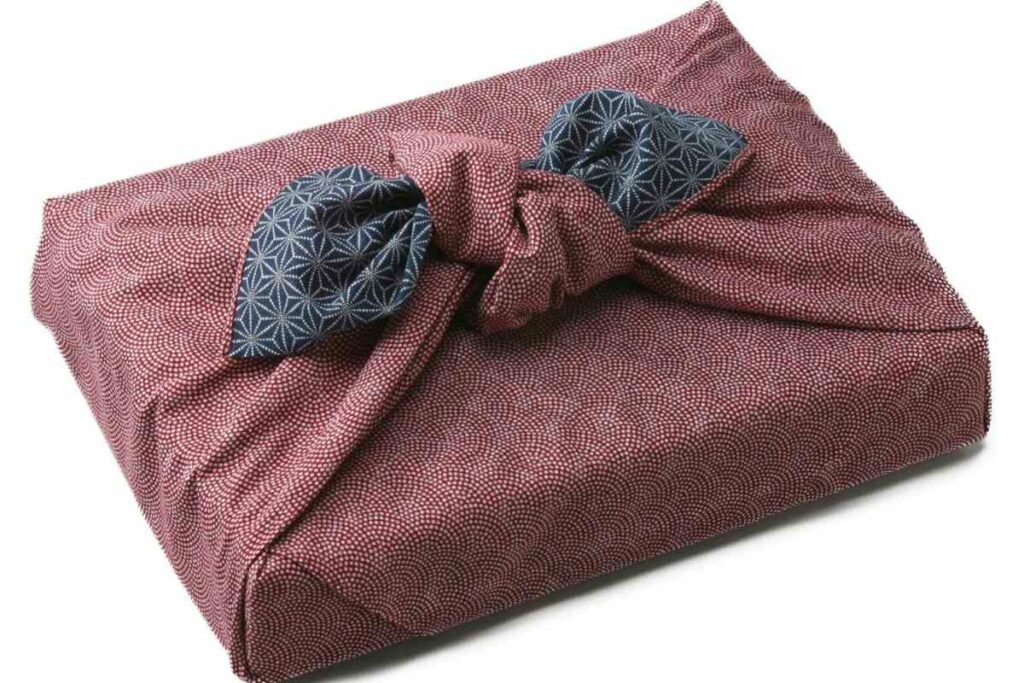 This tasteful furoshiki is definitely a keeper!
The traditional design with the classic maroon and navy samekomon sharkskin-like pattern and alternate entwined hexagonal motif is intricate and traditional.
You'll find yourself using this 90 cm by 90 cm cloth again and again, if not for shopping, for a trip to the store!
100% cotton
Red Samekomon Reversible Furoshiki
Elegantly designed furoshiki showcasing a classic motif. One side boasts a maroon sharkskin-inspired pattern, known as samekomon, while the other displays interlocking hexagons against deep navy. Perfect for encasing bento boxes or gifting.
Authentically produced in Japan
Complimentary wrapping in traditional Japanese washi paper
Screen-printed artwork
Wash separately to avoid color bleed. Avoid tumble drying.
Dimensions: 35" x 35" (90cm x 90cm)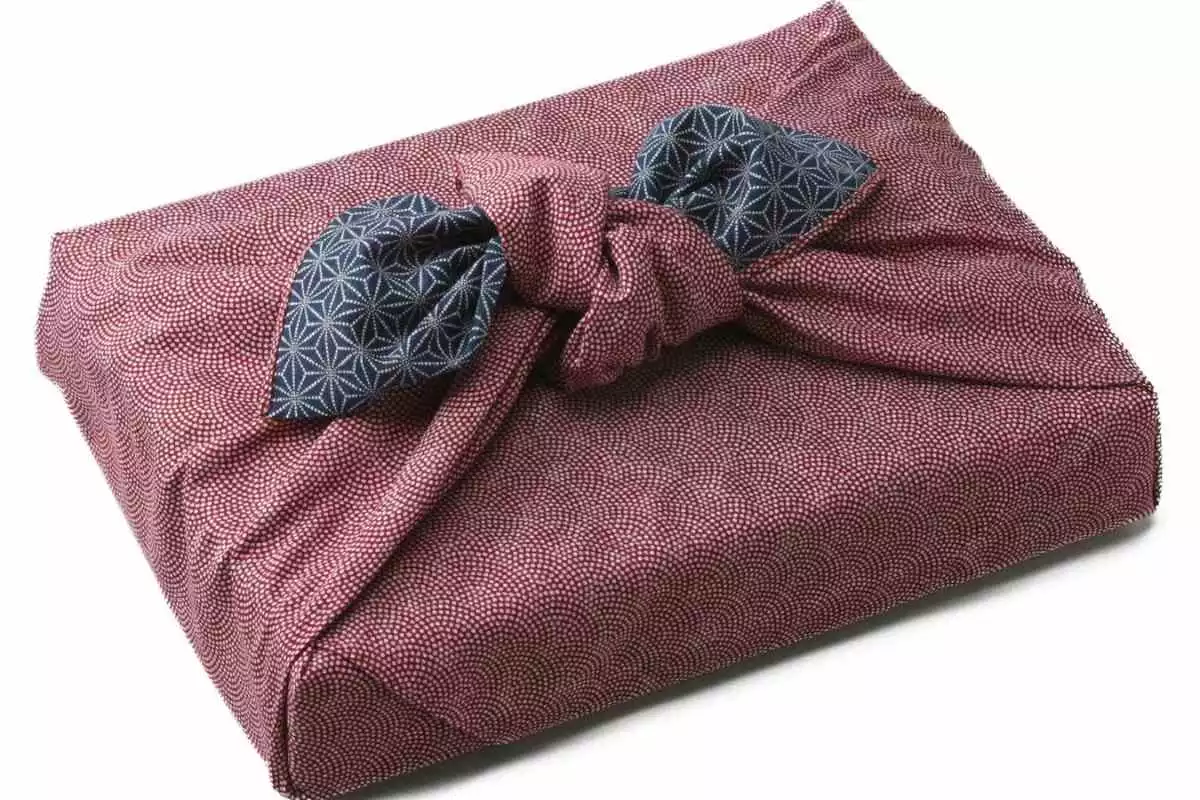 We earn a commission if you make a purchase, at no additional cost to you. Thanks!
---
4. Stylish furoshiki bag
If you've seen styling Japanese furoshiki handbags and want to know how to make one of your own, this tutorial is ideal.
This design with a classic 90 cm by 90 cm cloth is perfect for a roomy bag that will turn heads when you wear it!
---
3. Falling Cherry Blossom Furoshiki Cloth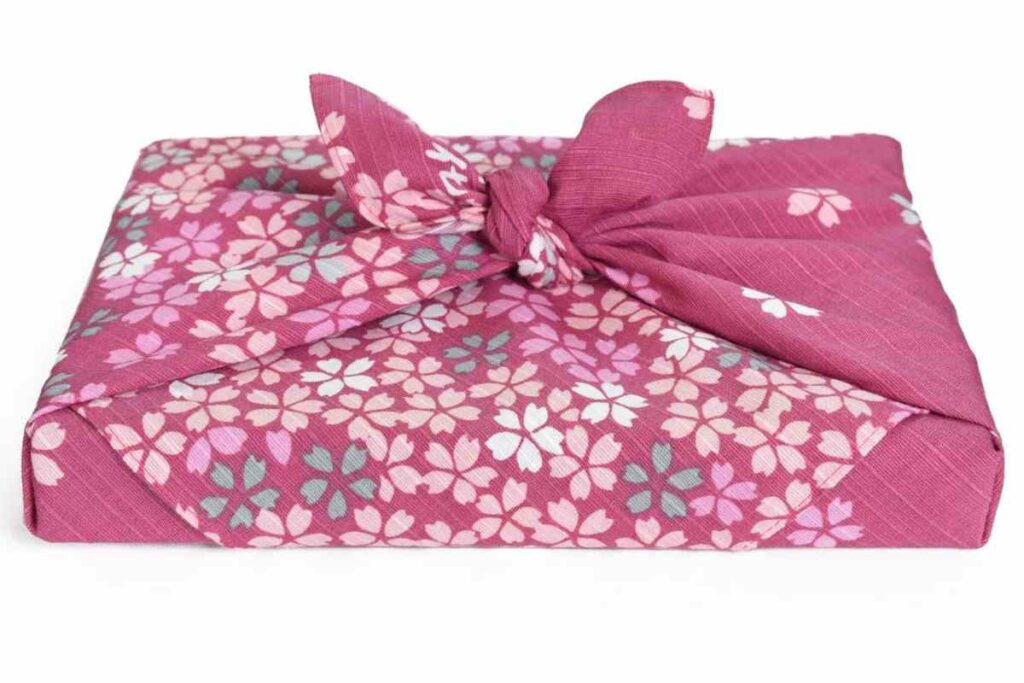 The sakura (cherry blossom) takes center stage with this elegant pink furoshiki with a healthy dose of kawaii.
It is made by the celebrated kimono designer and textile artist Chiyo Uno, who has put Japan's national flower at center stage.
With this cute and colorful furoshiki, you can celebrate hanami every day!
100% Cotton Furoshiki
Falling Cherry Blossom Furoshiki Cloth
Renowned author and kimono artist, Chiyo Uno, beautifully captures Japan's iconic cherry blossom in this exquisite pink furoshiki. Adorned with a breeze-kissed cascade of petals from Uno's 'flowers of happiness', this petite furoshiki is the ideal touch for wrapping a lunchtime delight on a spring afternoon.
Fabricated from 100% cotton
Proudly crafted in Japan
Complimentary wrapping using traditional Japanese washi paper
Detailed with a screen-printed design
Ensure separate washing to avoid color blending. Refrain from tumble drying.
Measurements: 20" x 20" (50cm x 50cm)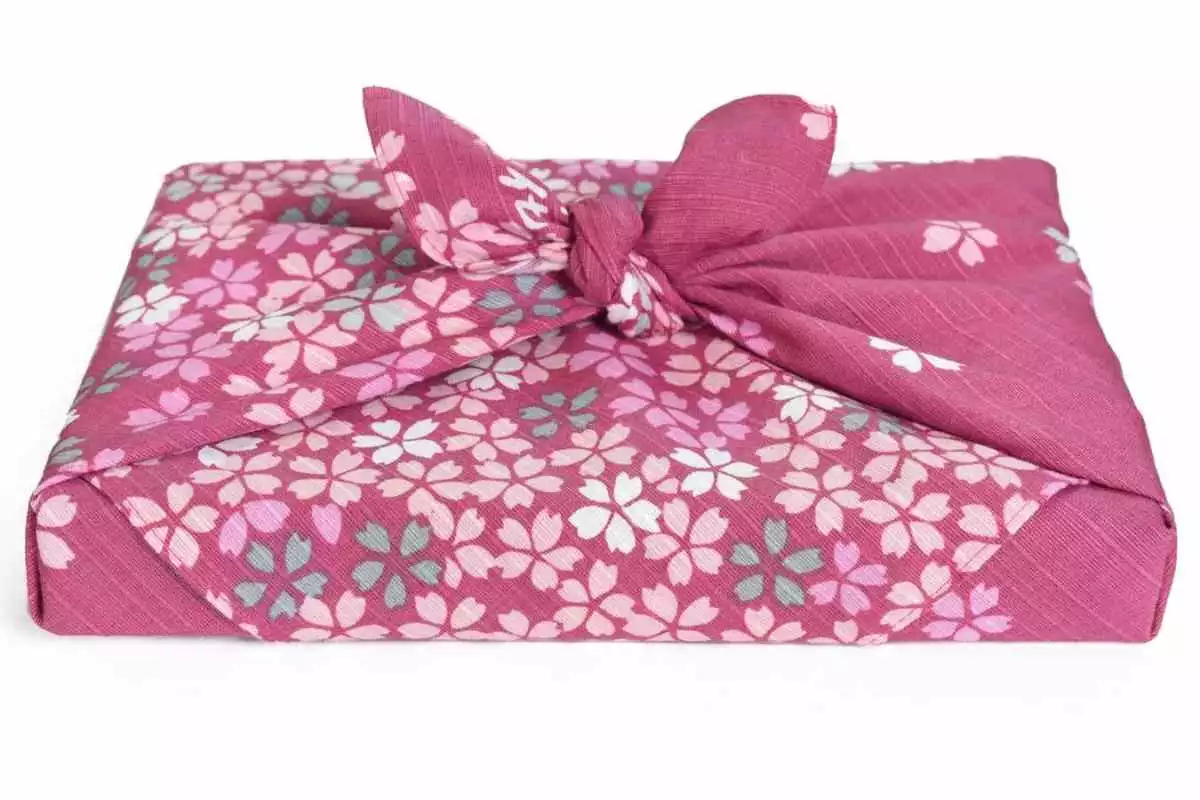 We earn a commission if you make a purchase, at no additional cost to you. Thanks!
---
2. JAPANDIPITY Large Pink Grapefruit Furoshiki Wrapping Cloth 
Have fun with this cool and colorful furoshiki that features a juicy and refreshing pink grapefruit design.
It is made from polyester, so will not stain easily and will wash and wear well. This furoshiki is affordable enough to be given to the recipient of your gift as an additional present!
---
1. Adjustable Leather Strap for furoshiki bag
Japanese minimalists like Samurai Matcha love the utility of a furoshiki cloth.
If you like to travel light, just pack a few of these cool cloths and purchase some of the ingenious hardware that is available.
Best Furoshiki Wrapping Cloths on Amazon
09/15/2023 07:08 am GMT
---
The Best Furoshiki Wrapping Cloths FAQs
How do you wrap a gift in a furoshiki?
1. Take a square cloth with a diagonal length that is three times the size of the gift
2. Place the gift in the center of the cloth.
3. Take one corner of the square and fold the fabric over the gift, tucking in the fabric on the opposite side of the gift. 
4. Repeat with the opposite corner of the fabric square.
5. Narrow the remaining corners of the furoshiki so that they can be neatly tied. 
6. Tie the narrowed corners in a square knot and create a bow.
What is the best fabric to use for furoshiki?
An authentic furoshiki from Japan is usually made from high-quality pure cotton.
The Japanese appreciate the quality and aesthetics of these wrapping cloths, looking for cloths that have good weight, hemmed edges, and a beautiful color-rich design.
Cheaper furoshiki may be made from synthetic materials like rayon or polyester.
Can you use any cloth for furoshiki?
Yes, but some cloths will work better than others. The best furoshiki cloths are made from cotton, silk, or cotton blends.
However, it is possible to create beautifully wrapped gifts with fabrics like satin, crepe, wool, and even felts. Double-faced fabrics are especially beautiful when used for wrapping.
Just make sure that the cloth's diagonal length is at least three times the length of the gift. 
What is the best fabric for gift wrapping?
Cotton is the best fabric for gift wrapping as it is sustainable and versatile.
It is flexible, easily dyed with a variety of patterns and colors, and soft, making it ideal for creating a memorable wrap. 
How big should furoshiki cloth be?
The size of the furoshiki you need is determined by the size of the gift. Aim for a square cloth with a length that is at least three times the length of the gift you have chosen.
Common furoshiki sizes are 45 cm, 50 cm, and 75 cm. An excessively large cloth will add unnecessary bulk to your wrap, and a cloth that is too small won't be able to adequately cover the gift. 
Does furoshiki have to be square? 
Most furoshiki are square, but traditional furoshiki are actually not perfectly square.
The length of a traditional furoshiki, known as the 'take', is slightly longer than the width, known as the 'haba'. 
Do you ask for furoshiki back?
Japanese tradition dictates that the furoshiki should be returned to the gift sender, so you should expect your cloth to be returned.
However, directly asking the gift recipient for it back may be considered rude. In Japan, the wrapped gift is opened in front of the gift-giver meaning that the wrapping cloth can be retained. 
Do you wrap omiyage?
Yes. If you have omiyage (souvenirs) for friends and family, you can present them beautifully in a furoshiki. 
How do you reuse furoshiki?
Of course! Furoshiki is a sustainable alternative to wrapping paper because you can reuse a single wrapping cloth again and again.
You can also turn a gorgeous furoshiki cloth into a shawl, bag, or elegant wall hanging.
Rounding Up
Furoshiki is a beautiful enhancement to the art of gift wrapping. A stylish cloth makes gift-giving memorable and keeps all that wrapping paper out of the landfill. So if you're looking for a sustainable holiday season or a cool Japanese cloth bag, a furoshiki is a must-have!