Wisteria is a native Japanese family of leguminous flowering plants and trees that have a special place in the hearts of the Japanese.
These woody twining vines produce dramatic racemes, covered in flowers, called Fuji in Japanese, that range in color from white, to pink, to deep purple.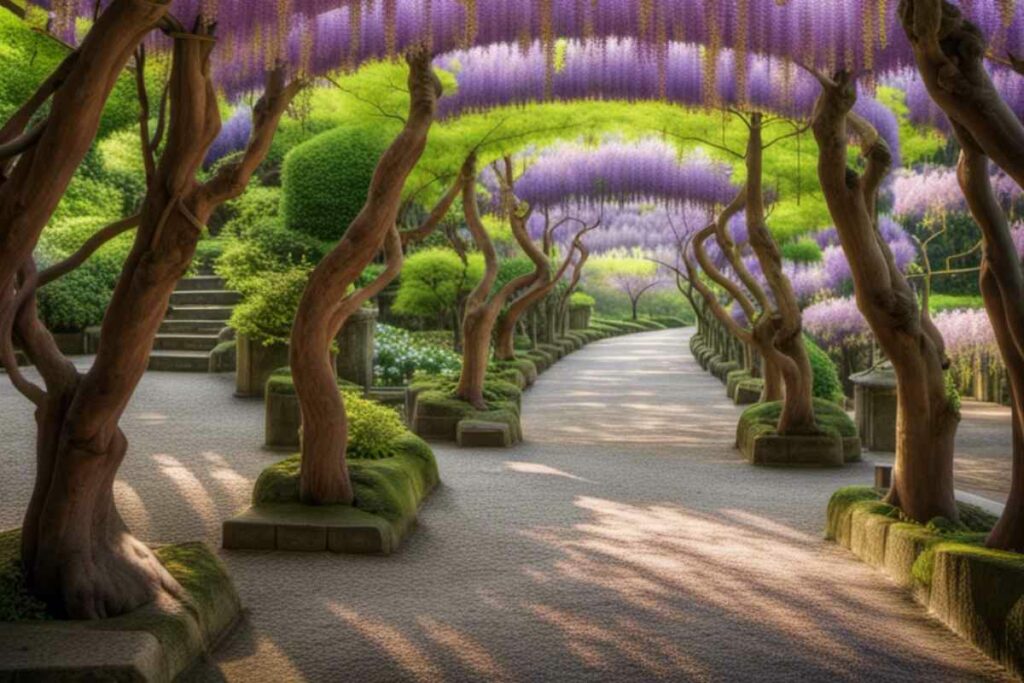 Every Spring, thousands of Japanese are drawn to parks, gardens, and shrines around the country to appreciate the spectacular Wisteria blooms, which represent love, longevity, and good fortune.
Here are 14 of Japan's most beautiful Wisteria gardens, with breathtaking images that capture this stunning Springtime inflorescence.
14 Best Wisteria Gardens in Japan
Take a look at these charming Japanese Wisteria gardens and plan your visit to see the blooms which are at their best between April and May in most parts of Japan. 
1. Shindachijuku Wisteria Garden
Shindachijuku Wisteria Garden in Sennan, Osaka holds an annual Wisteria Festival that only lasts a week. This private garden in the remains of an old ryokan has a remarkably productive Wisteria tree that yields up to 50,000 clusters each year. 
熊野街道信達宿の野田藤 – 泉南市: 1338 Shindachimakino, Sennan, Osaka 590-0522, Japan
2. Ashikaga Flower Park あしかがフラワーパーク
Ashikaga Flower Park is arguably Japan's most beautiful great wisteria park. The cascading tendrils of wisteria are now an iconic sight that attracts more than 1.5 million visitors to the 23-acre park each year. The Wisteria season sees more than 350 Wisterias erupt with purple and white blossoms, including a 200-year-old Wisteria tree. 
Ashikaga Flower Park: 607 Hasamacho, Ashikaga, Tochigi 329-4216, Japan
3. Kawachi Wisteria Garden (河内藤園, Kawachi Fujien)
Kawachi Wisteria Garden in southern Kitakyushu has world-famous tunnels made from wisteria trees that create a spectacular display, with colors ranging from creamy white to dark purple when they bloom. The hillside location of this garden also has an amazing view of the Wisteria and lush bamboo groves.
Kawachi Wisteria Garden: 2 Chome-2-48 Kawachi, Yahatahigashi Ward, Kitakyushu, Fukuoka 805-0045, Japan
4. Tonogayato Gardens 殿ヶ谷戸庭園
Tokyo's Tonogayato Gardens, an officially designated Place of Scenic Beauty, is just minutes from Kokubunji Station on the JR Chuo Line. It is a peaceful oasis with gorgeous floriferous Wisteria trained on a bamboo trellis. Visitors can also enjoy the stepped bamboo forest, elegant pond, and Japanese tea house. 
Tonogayato Gardens 2 Chome-16 Minamicho, Kokubunji, Tokyo 185-0021, Japan
5. Tennogawa Park, Aichi Prefecture
This beautiful park is set on the Tenno River and has an iconic bridge over its pond (Maruike – river remnant) that is set against copious quantities of blossoming Wisteria. This garden is at its best during Golden Week when the Owari Tsushima Wisteria Festival is held.
Tennogawa Park: 〒496-0853 Aichi, Tsushima, Miyagawacho, 1 Chome, 地内外
6. Wake Fuji Wisteria Park, Okayama Prefecture
This Okayama Park was opened in the 1980s and has Japan's largest collection of Wisteria varieties. There are at least 100 types of Wisteria cultivated on these grounds. The blooming season in late April to early May attracts visitors in their thousands who want to take selfies beneath the 500-meter-long Wisteria trellis.
Wake Fuji Wisteria Park: 1893 Fujino, Wake, Wake District, Okayama 709-0412, Japan
7. Kameido Tenjin Shrine, Tokyo
This Tokyo Shrine is known for its impressive Wisteria trellises. It holds the annual Wisteria festival, with impressive views of blossoming Wisteria set against the Tokyo Skytree. 
Kameido Tenjin Shrine:  3 Chome-6-1 Kameido, Koto City, Tokyo 136-0071, Japan
8. Manyo Botanical Garden, Kasuga Taisha Shrine
The Wisteria at Kasuga Taisha, Nara shrine is another great reason to head over to the amazing city of Nara. You'll find delightful Wisteria growing in the sand in front of the shrine. Dance among the petals of over 200 Wisteria trees that have been carefully cultivated for centuries. 
Kasuga Taisha Shrine: 160 Kasuganocho, Nara, 630-8212, Japan
9. Byōdō-in Temple
This Buddhist temple in Uji is known for its three Wisteria trellises, including a tree that may be more than 280 years old. The scene is impressive when the Wisteria is in bloom with the Phoenix Hall appearing to float on a sea of wisteria.
Byōdō-in Temple: Renge-116 Uji, Kyoto 611-0021, Japan
10. Byakugou-ji Temple
This Nara temple is also famous for its lovingly tended Wisteria, a highlight of the botanical calendar for the region. The Byakugo-ji Temple Wisteria Festival displays trees that are laden with 120 cm long Wisteria clusters called 'kushaku-fuji'. The nighttime illuminations of the Wisteria are breathtaking. 
Byakugou-ji Temple: 392 Byakugojicho, Nara, 630-8302, Japan
11. Shirai Omachi Fuji Park
Roam over 7,000 square meters of Wisteria trellises with at least 150 trees in bloom. The park's annual Wisteria festival runs throughout May. In addition, you can explore grounds with daffodils and a charming watermill and carp stream. 
Shirai Omachi Fuji Park: 1008 Wadayamacho Shirai, Asago, Hyogo 669-5220, Japan
12. Mandaraji Park
Beautiful purple and white Wisteria has been blossoming in the donated parklands of the 14th-century Mandaraji Temple since 1970. It is now a regional epicenter for the appreciation of its delightful Wisteria. 
Mandaraji Temple: Teramachi-202 Maehibocho, Konan, Aichi 483-8336, Japan
13. Haijima Park
Haijima Park is another great option for seeing beautiful Wisteria in Tokyo and is easily accessed from Haijima and Akishima stations. It is renowned for its 800-year-old Wisteria trellis, which is a National Monument of Tokyo. 
Haijima Park: 1 Chome-10 島町 Akishima, Tokyo 196-0002, Japan
14. Nakayama Kumano Shrine
This Fukuoka shrine is famous for its amazing wisteria tunnel, woven by a 300-year-old Wisteria tree called Nakayama no Ofuji. Local legends say that this aged tree grew from seeds that a local man brought from Osaka. As such a grand tree, the authorities have designated it as a  prefectural natural monument.
Nakayama Kumano Shrine: 538-1 Mitsuhashimachi Nakayama, Yanagawa, Fukuoka 832-0811, Japan
Rounding Up
Wonderful Wisteria evokes such romance and sentimentality. Make a visit to one of these delightful gardens a part of your Japanese adventure!
If you would like to travel to Japan, book your flights during the Wisteria Festivals that take place right across Japan.
You should be able to find cost-effective accommodation, including hotels, ryokans, and vacation rentals nearby these beautiful locations.