Honshu, which means 'main province' in Japanese, is the most populous and largest island of Japan.
Historically, the island was called Hondo. To the west and north of the island, you have the Sea of Japan (East Sea), and to the east and south, the North Pacific Ocean.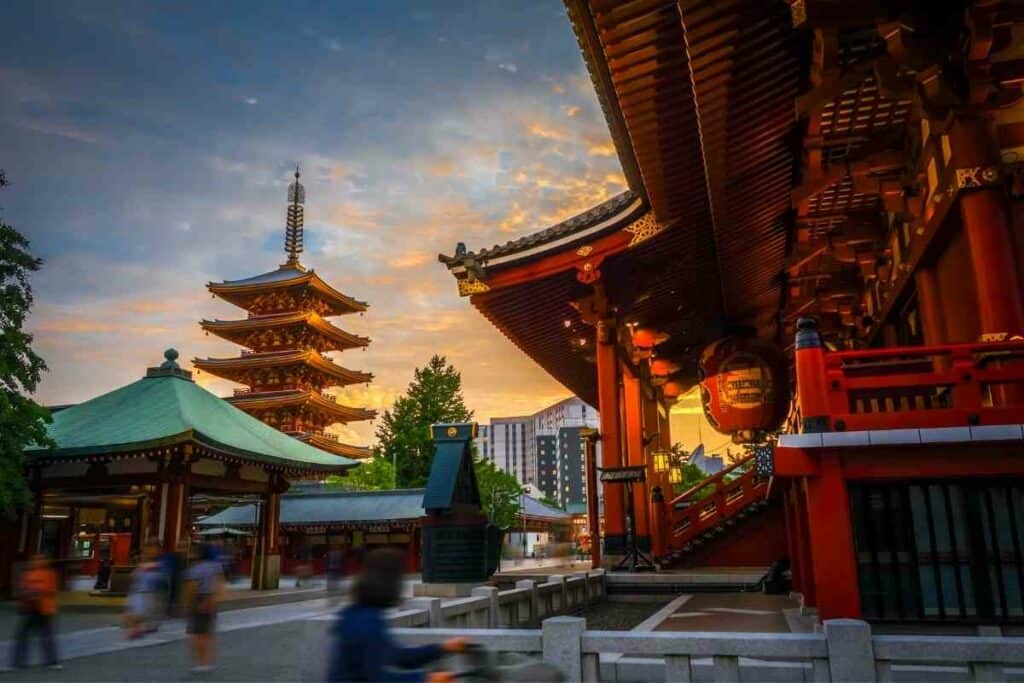 This island is 810 miles long (1,300 km) and between 31 and 143 miles wide (50 – 230 km) and accounts for 60% of Japan's total area.
Its highest point is, of course, Mount Fuji, which stands at an impressive 12,388 ft (or 3,776 m), which makes it the 7th highest island in the world.
Honshu Regions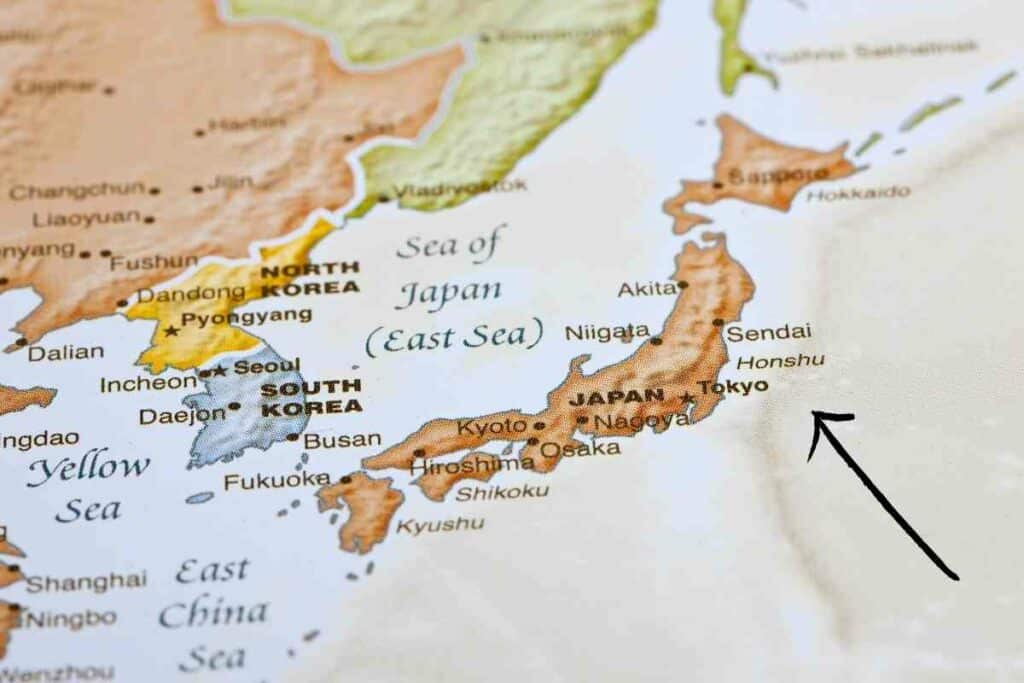 Japan has eight regions in total and five of these are located on Honshu Island:
To the north, you have Tohoku with Sendai as the biggest city in the region.
To the east, you have Kanto, which is the most developed and urban part of Japan. This region is home to Yokohama and Tokyo.
To the west of the Tokyo metropolis and in the center of the island is Chubu, which is home to Mount Fuji.
Southwest Honshu is home to the Kansai region, which encompasses three major cities: Kobe, Kyoto, and Osaka. This area is the historical and cultural center of Japan.
Finally, Honshu's westernmost region is Chugoku. Here you've got Okayama and Hiroshima.
Honshu's major cities
Honshu has lots of big cities, with each having great things to offer.
Let's look explore these individually:
Tokyo – the country's capital is a sprawling metropolis that is a modern and exciting place to visit. It's an awe-inspiring city that's not to be missed.
Kyoto – this is Japan's old, imperial capital. It's famous for its preserved monuments, numerous temples, and kimonos. If you're interested in historical Japan, Kyoto should be on your list. After Rome in Italy, Kyoto has the largest number of UNESCO World Heritage Sites. Many consider Kyoto to be the most beautiful city in Japan.
Yokohama – if you like visiting large cities, Yokohama is the second largest after Tokyo. It is also Japan's largest port.
Nagano – the city hosted the 1998 Winter Olympic Games and it's a great place for anyone who likes the outdoors thanks to its fantastic scenery.
Himeji – if you're visiting Osaka, you'll find this city just an hour away to the west. Himeji Castle is a must-see for anyone visiting this region. It was designated a UNESCO cultural site around thirty years ago and is the most well-preserved castle in the country.
Read later – 5 Best Hotels in Himeji
Popular tourist sites
Aside from the big cities, Japan has a  lot to offer tourists.
Let's take a look at the most popular things for tourist in Honshu Island.
Mount Fuji
The iconic mountain really is a sight to behold.
It is one of Honshu's and Japan's most well-known natural features thanks to its instantly recognizable shape.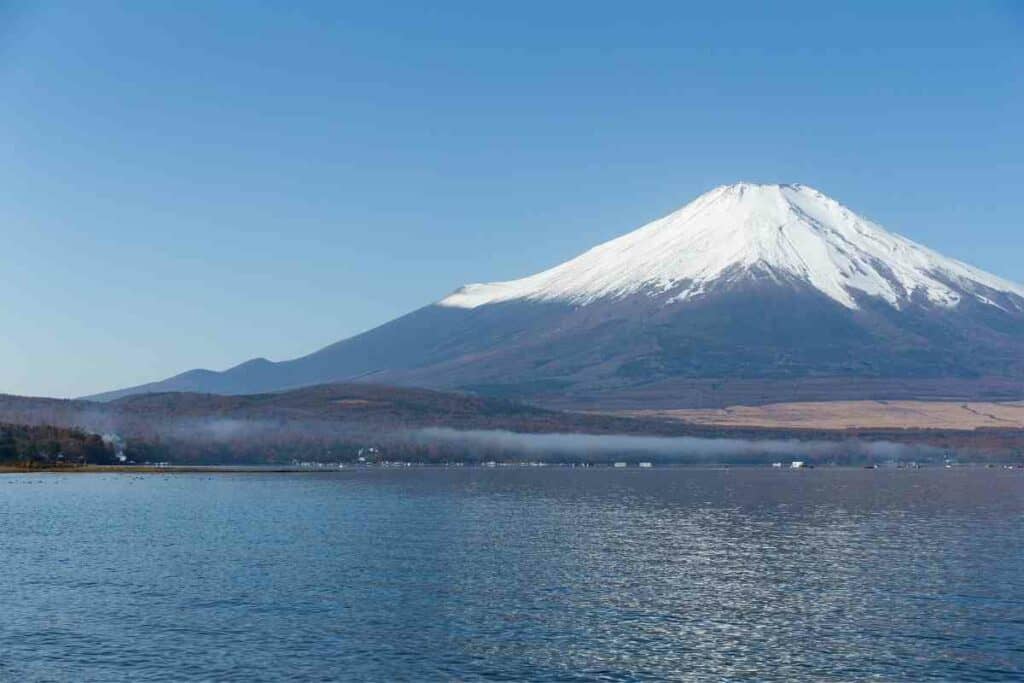 Each year more than 200,000 people climb this mountain, with most of them choosing to do so in July and August when the mountain huts and facilities are open.
Although there hasn't been an eruption for around three hundred years, Mount Fuji is actually a volcano.
It is also a part of Fuji-Hakone-Izu National Park and has five lakes surrounding it. These lakes are also worth a visit as the views of the mountain are exceptional.
In winter, Mount Fuji is covered in snow.
EasyGuide to Tokyo, Kyoto and Western Honshu
Beth Reiber's career as a full-time freelance travel writer has spanned more than three decades and taken her to 35 countries. She's the author of eight guidebooks and her articles have appeared in more than 55 publications and websites.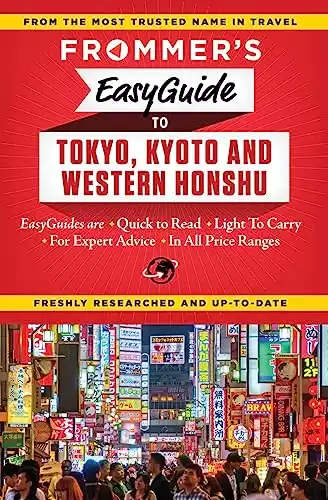 We earn a commission if you make a purchase, at no additional cost to you. Thanks!
Shirakami-Sanchi
This mountainous expanse of forest covers a huge area straddling both Aomori and Akita Prefectures.
Its name means 'white God mountain area' and was declared a UNESCO World Heritage Site in 1993.
Here, there are only paths for mountain climbers, and you actually need permission to enter the heart of the area.
If You Want to Fish – You'll also need permission from both the Forest Management and the Fishing Cooperative.
Popular Honshu Island Festivals and Events for Tourists
Honshu is home to lots of huge events and festivals.
In terms of traditional festivals, the first one that springs to mind is Japanese New Year, which is on the first of January.
New Year here is a family affair and Honshu can feel a little empty as the locals tend to stay home with family.
Lots of things also shut down at this time too.
Seijin No Hi
Shortly after New Year, on the second Monday of the month is Seijin No Hi, which is a 'coming of age' holiday for women.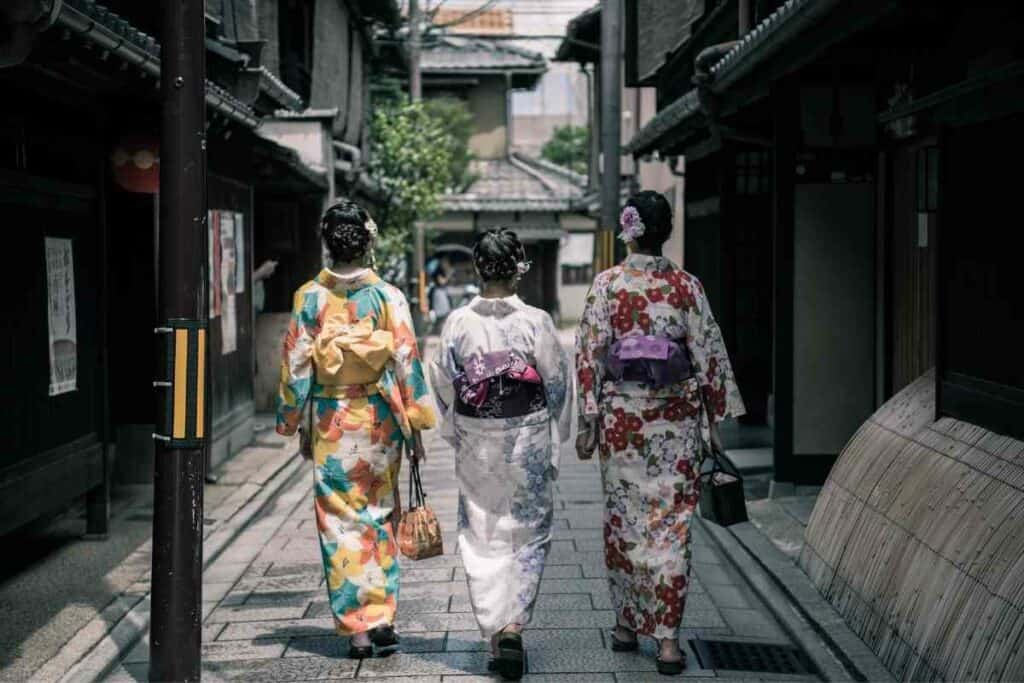 The tradition is that any young women who turned 20 during the previous year will be bought a kimono.
Seijin No Hi is great for tourists because all women tend to wear kimonos on this day.
Hina Matsuri
Another popular festival for young women in Honshu is the Hina Festival.
This takes place each year on 3rd March.
This day is also called 'girls' day' or 'dolls festival' and is celebrated by families where there is a daughter – no matter their age.
---
Originally: The festival was a day to pray for prosperity and health, but it has since developed into a harbinger of spring.
---
Golden Week
Golden week, often referred to as the Japanese version of Spring Break, is a combination of lots of state holidays.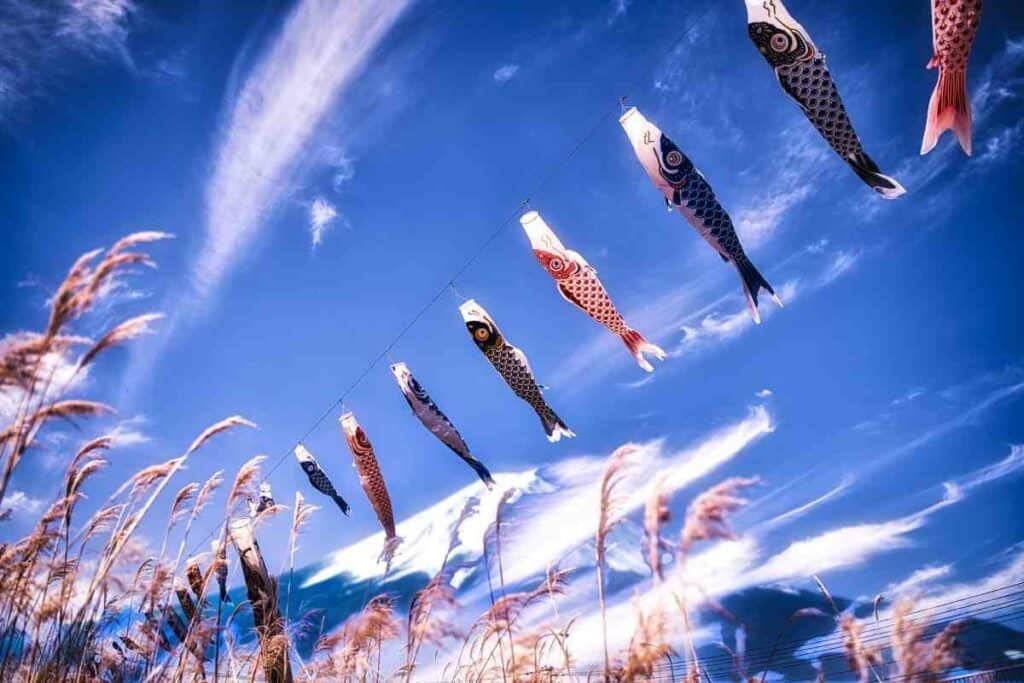 These include:
Constitution Memorial Day
Children's Day
Greenery Day
Showa Day
This week is in the first full week in May and all Japanese people are off this week.
Though there are great things to see, it's also a very difficult time to travel because hotels tend to get full and lots of things are crowded.
O-Bon
This national holiday is Japan's Festival of the Dead.
It is usually in August and according to Buddhist tradition, this is the day that dead relatives return to visit their loved ones.
Traditionally, people will hang lanterns outside their homes and leave offerings for the spirits.
When it's dark, they go to the river to float their lanterns to guide their deceased loved ones back to their place of rest.
Hanami
Hanami means 'viewing flowers'.
This is a seasonal festival that takes place in March when the cherry blossom (Sakura) is out.
People tend to walk through the parks and take picnics under the blossom trees.
Take a look – 10 Best Hanami Destinations In Japan
Honshu Island Weather
Lots of tourists choose to visit Honshu Island in spring and fall due to the beautiful blossoms and flowers and autumn colors, respectively.
It's also at these times that the weather tends to be sunny and dry – though not too warm.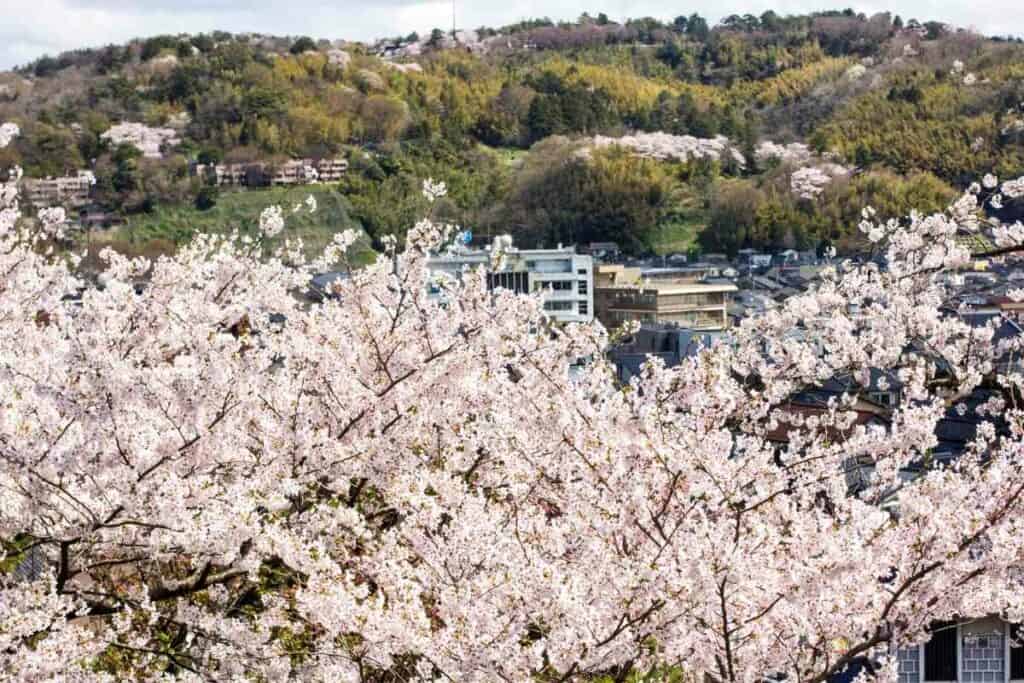 Between May and September, you'll find it humid and hot in the cities and June and July often see heavy rainfall.
In the winter months, you can expect the days to be crisp and cool with snow in the Japanese Alps.
In terms of temperatures, the Japanese Alps and northern Honshu have cooler temperatures in winter and the average temperature is 0 °C (32 °F).
To the west and south, you're more likely to see the average temperature be between 4 and 5 ° C (39-41 °F).
In the Summertime – The temperatures in the major cities like Osaka, Kyoto, and Tokyo can reach 35 °C (95 °F).
Getting Around Honshu Island
By Air
If you're visiting lots of places on Honshu, it's usually quicker to fly between cities.
All Nipon Airways and Japan Airlines both have interconnecting flights.
Book your next flight through Expedia.com
By Train
If you don't fancy flying, the railway system in Japan is excellent.
The train services are extremely efficient, comfortable, and fast.
You can get yourself a JR Pass (Japanese Rail Pass), which is specially devised for visitors to the country.
It's possible to get a seven-day, 14-day, or 21-day pass and these allow you to travel freely for the period – and not just on trains but affiliated ferries and buses too.
The only catch to this is that you have to buy it overseas and you need a tourist visa.
By car
If you enjoy driving, you'll find Japan a relatively safe place.
If you're visiting the countryside, this is a great option.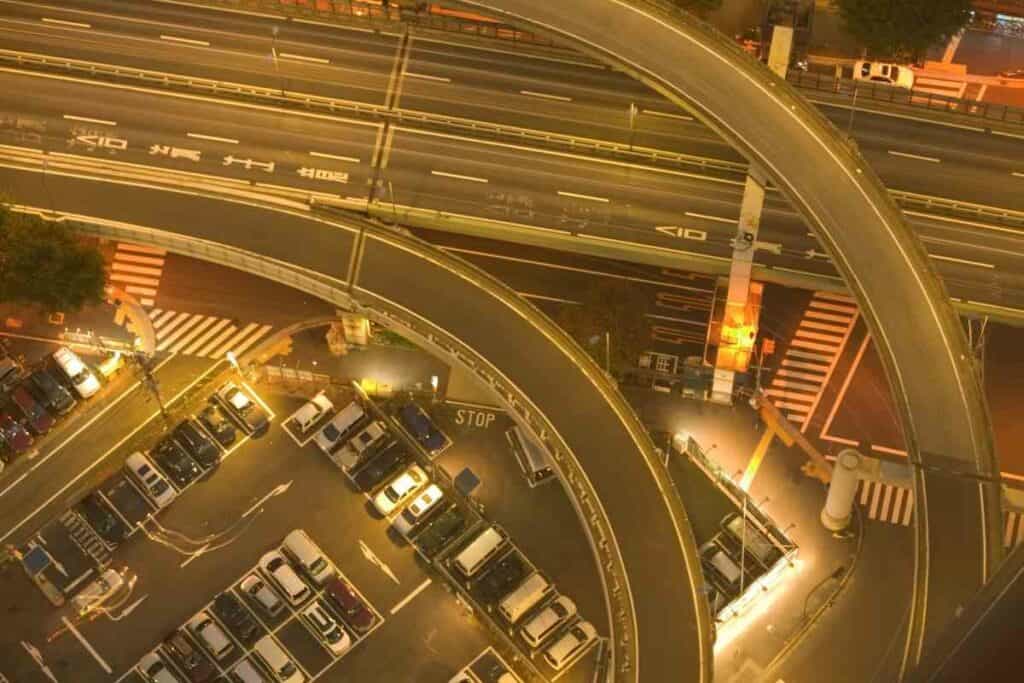 If you're just visiting Tokyo, I wouldn't advise it!
Renting a car isn't that expensive but Japanese roads often have tolls and you'll also need to consider parking and fuel charges too.
The biggest problem with driving is understanding the road signs!
By Bus
Since the rail system is so comprehensive, many people often overlook traveling by bus.
However, the long-distance bus system is cheap.
The buses are also comfortable with toilets, and often food and drink.
Honshu accommodation
Accommodation can be expensive in Japan but there are cheaper alternatives.
These include the Ryokan, which is a traditional inn.
Here, you'll sleep on a futon on a mat floor and share a bathroom. Another cheap alternative is a capsule hotel.
These are so interesting but not for anyone who is claustrophobic!
Your individual capsule will be around 2 meters deep, one meter high, and one meter wide.
It will contain a radio, small TV, clock, and lamp, which will be all built into the walls.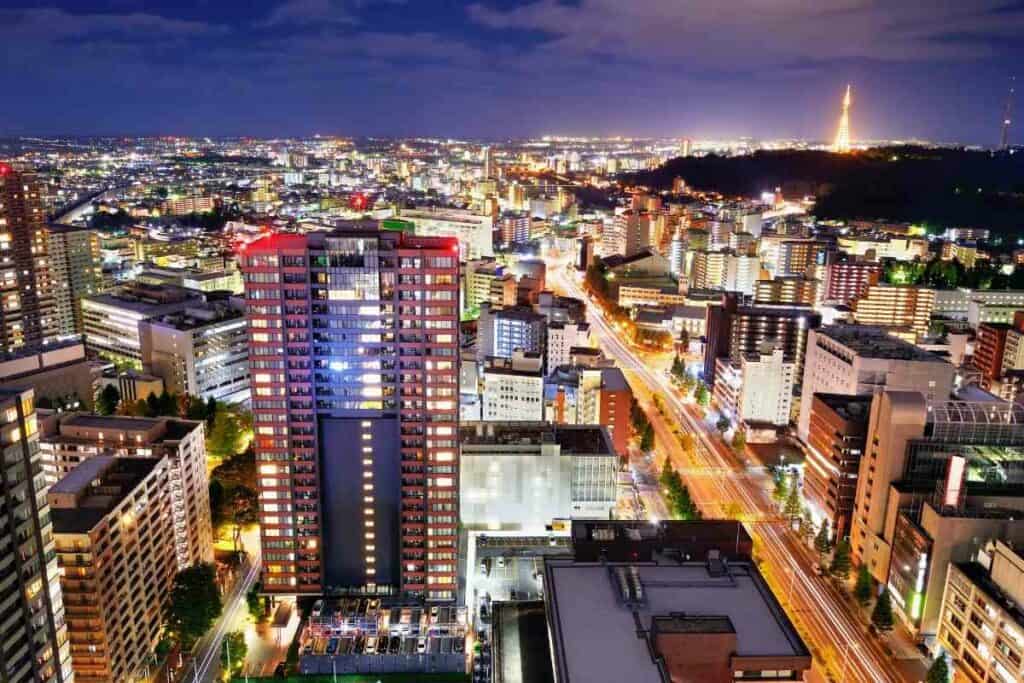 15 Facts about Honshu, Japan
Honshu is the largest and most populous island in Japan, with a total area of approximately 225,800 square kilometers.
Honshu is home to several of Japan's largest cities, including Tokyo, Yokohama, Osaka, and Nagoya.
Mount Fuji, Japan's highest mountain, is located on Honshu and is a popular tourist attraction.
Honshu has a diverse climate, with areas of heavy snowfall in the north and subtropical climates in the south.
The island is home to numerous national parks, including the famous Fuji-Hakone-Izu National Park.
Honshu has a rich cultural heritage, with many historic temples, shrines, and castles located throughout the island.
The island is known for its traditional arts and crafts, including pottery, lacquerware, and textiles.
Honshu is also home to several important universities and research centers, including the University of Tokyo and Kyoto University.
The island is connected to other parts of Japan by a network of high-speed trains, including the famous Shinkansen bullet train.
Honshu is the birthplace of many famous Japanese cultural icons, including sumo wrestling, kabuki theater, and samurai culture.
The island has a long history of earthquakes and tsunamis, with several major disasters occurring in recent history, including the 2011 Tohoku earthquake and tsunami.
Honshu is known for its delicious cuisine, including sushi, ramen, and udon noodles.
The island has a strong economy, with many major corporations headquartered in Tokyo and other cities on Honshu.
Honshu is also home to several popular festivals and events, including the famous Gion Matsuri in Kyoto and the Sapporo Snow Festival in Hokkaido.
The island has a well-developed transportation infrastructure, including airports, highways, and ports, making it easy to travel to and from other parts of Japan and the world.
Conclusion and final thoughts
If you're visiting Japan, the chances are you'll visit Honshu Island.
Though it's an island, it's a pretty big one and to travel it extensively, you'll need a lot of time.
This island has so many things to offer tourists that you're really spoiled for choice.
The only recommendation is that you should visit in spring or autumn where possible, as Honshu is at its best during these times.
Read Next