No, I'm not Jeff Bezos, I'm a bit too old to be a yacht girl, and I don't know my keel from my aft.
But I love soaking up the atmosphere at marinas, people-watching, and of course, drooling over glamorous super yachts.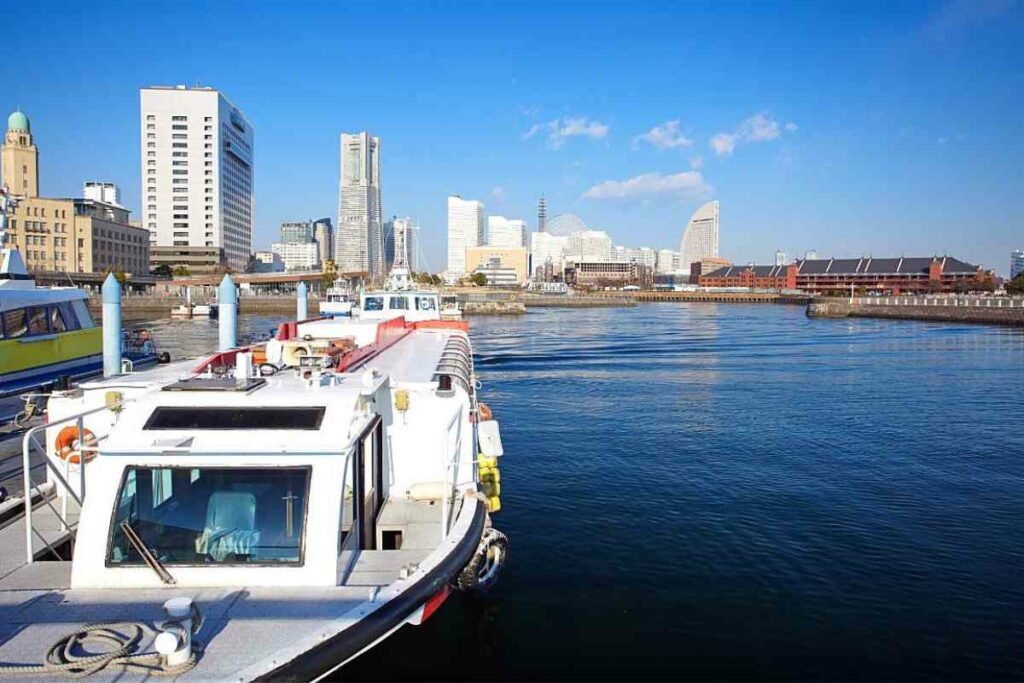 Marinas combine luxury with the love of the sea, so if you want to see how the Japanese live it up, check out these 10 gorgeous marina destinations in Japan. 
10 Best Marinas in Japan
Have an amazing day by the water at one of Japan's pristine marinas.
These destinations are ideal for chartering a boat, enjoying a ferry ride or short cruise, or like me, simply enjoying the view.
If you want to hire a boat in Japan, you won't require a license if the boat is under 3 m in length with engine power equal to or under 1.5 kW, however, it's vital you have comprehensive travel insurance before heading out onto the water.
10. Tokyo Yumenoshima Marina, Koto City, Tokyo
Tokyo Yumenoshima Marina in the special wards of Tokyo is one of Japan's best places for spotting luxury boats.
Luxury is the watchword for this marina, which features amazing shopping and restaurants featuring international cuisine.
While you're at the marina, take the time to visit the Yumenoshima Tropical Greenhouse Dome, a greenhouse botanical garden that overlooks the marina. 
---
9. Imazu Marina, Nishi Ward, Fukuoka
This Fukuoka's main marina, has pontoon berths, moorings, and a powerboat saleroom. 
Nearby the marina is the amazing NOW'S Market, a farm store that sells fresh produce and serves up a delicious barbecue to customers daily. 
Check out nearby accommodations in my article: 5 Best Hotels in Fukuoka.
---
8. Yatsushiro Marina, Kumamoto
This Kumamoto maria is popular with boating enthusiasts and anglers.
The facilities are simple but there are opportunities to get out onto the water if you want to. Nearby, there are lots of great city sights like Yatsushiro Castle.
---
7. Ine Marina, Kyoto
Ine Marina is located near the charming boathouses that have made Ine famous.
This northern Kyoto marine haven lies on the Sea of Japan, and its boathouses, known as funaya are the historic dwelling places of fishermen.
Head to the marina to enjoy delicious shrimp and pleasure-boat trips to explore this interesting coastline. 
---
6. Nio Marina, Mitoyo, Kagawa 
This is an outstanding marina with some of the best facilities in Japan.
It was built for a national yacht competition and continues to attract serious sailors. Locals and tourists head to the wharf where they can fish for bream, gashira, and chinu.
Take time to enjoy the amazing scenery and impressive views of Tsuta Island. 
---
5. Choshi Marina, Chiba
This well-maintained marina, beach, and esplanade is a tourist magnet and venue for triathlons.
There are some beautiful boats moored here, so you can have an interesting walk around the locality.
Again there are some beautiful sunsets, and views of Byobuura and even Mt.Fuji.
---
4. Fukuoka City Yacht Harbor, Fukuoka
This is western Japan's largest yacht harbor, with space for 540 yachts and easy access from Fukuoka. At night, the yacht harbor is illuminated with colorful lights.
This is a real yacht haven with stunning panoramas of Imazu Bay and the Itoshima Peninsula.
The harbor only serves Fukuoka residents and is for yachts only, but visitors are welcome to access the many yacht classes run in the summer season. 
---
3. Shin Nishinomiya Yacht Harbor, Nishinomiya
This luxury marina in Nishinomiya, Hyogo Prefecture is well worth a visit if you're traveling in from Osaka or Kobe.
Shin Nishinomiya Yacht Harbor is famous as the departure port of the eminent Japanese yachtsman Kenichi Horie when he sailed the Pacific in the 1960s.
The visitor facilities of this marina are excellent and if you have the opportunity to charter a yacht, you can sail over to Awajishima Island, Kii Channel, or Naruto Channel.
---
2. Urayasu Marina, Urayasu, Chiba
This marina attracts a lot of people from Tokyo and is great for lifestyle boaters.
You'll find it near Maihama Ikspiari, Urayasu City. Boat rentals are also available and the staff are extremely attentive.
The marina is also home to the Manohiva Japan Tahitian Dance Shows, and other events held at the La Ohana Urayasu Marina East Hawaiian restaurant. 
---
1. Yokohama Bayside Marina, Yokohama, Kanagawa
Yokohama Bayside Marina is Japan's #1 marina and an international sailing hub that attracts sailors and marine enthusiasts from around the world.
It is the largest marina in Japan with over 1500 berths and all the equipment and facilities for lifting and storing large boats.
The marina hosts The Japan International Boat Show and has a great shopping mall and fabulous restaurants.
Have a look at recommendations for where you can stay in Yokohama in my article: 5 Best Hotels In Yokohama.
---
Best Marinas in Japan FAQs
Are there marinas in Japan?
Yes, Japan has over 600 marinas, with at least 100 marinas able to receive visiting vessels.
Most of Japan's marinas are located in and around the Seto Inland Sea which separates Honshu, Shikoku, and Kyushu. But big cities like Tokyo and Yokohama also have impressive marinas.
Is pleasure boating popular in Japan?
Yes, but not to the same extent as the US. According to the Japan Marine Industry Association (JMIA), there are only 250,000 registered pleasure boat owners in Japan, with 600,000 people enjoying boating in Japan each year. This smaller market still has a substantial economic footprint, contributing over $250 million to the Japanese economy.      
What is the most popular marina in Japan?
Yokohama Bayside Marina is undoubtedly Japan's most popular.
This 1,500-berth marina is Japan's most glamorous, offering restaurants, outlet shopping, and superb views of beautiful boats and yachts as they come and go. Its layout and atmosphere are similar to the yacht haven of Nantucket on America's East Coast. 
Can I charter a yacht in Japan?
Yes! Skippered and skipperless yacht charters are an increasingly popular way to tour Japan.
There are a variety of charter brokers who offer every type of boat, up to staffed superyachts with luxury catering and itineraries. 
Is there sailing in Japan?
Of course! As an island nation, the Japanese have been sailing for millennia. However, the Japanese sailing culture is nowhere near as developed as the US or UK.
The Inland Sea attracts the most Japanese and international sailors. International sailors will find knowledgeable Japanese sailors, port, and marina staff who can advise on dangerous straits and other challenging waters. 
How long does it take to sail from Japan to the US?
The 5,150 nautical mile journey across the Pacific Ocean from California to Japan takes 30 days.
Are there sailing races in Japan?
Yes! The Japanese absolutely love a unique form of powerboat racing called 'Kyotei' (Boat Race). The races involve timed races in a dedicated stadium with a giant 600-meter race pond, where onlookers watch from a grandstand.
Kyotei racing is one of Japan's few legalized forms of gambling making it popular, with huge turnouts at the 24 Kyotei stadia across the country.
Learn more about the fascinating sport of Kyotei in my article: Kyotei: Your Essential Guide to Japanese Boat Racing.
Where do cruise ships dock in Japan? 
The main cruise ship ports in Japan are Yokohama, Tokyo, and Kobe. There are several transpacific cruises that sail to Japan docking in these major ports. 
What are Fisharinas? 
Fisharinas are a Japanese invention of a fishing port combined with a marina.
It is hoped that by providing berths for pleasure craft, a fisharina will attract tourism and economic growth in traditional fishing ports. So these areas are being redeveloped with the facilities for recreational boating. 
Rounding Up
As you can see, you can chill out at several marinas across Japan and even charter a yacht for your own private cruise.
As for me, I'm cool with my feet on dry land, preferably indulging in a delicious meal or browsing the marina's luxury shopping outlets!