Many people around the world recommend Japanese sunscreen. Even more generally, the methods and ingredients in Asia are slightly different from those in other parts of the world.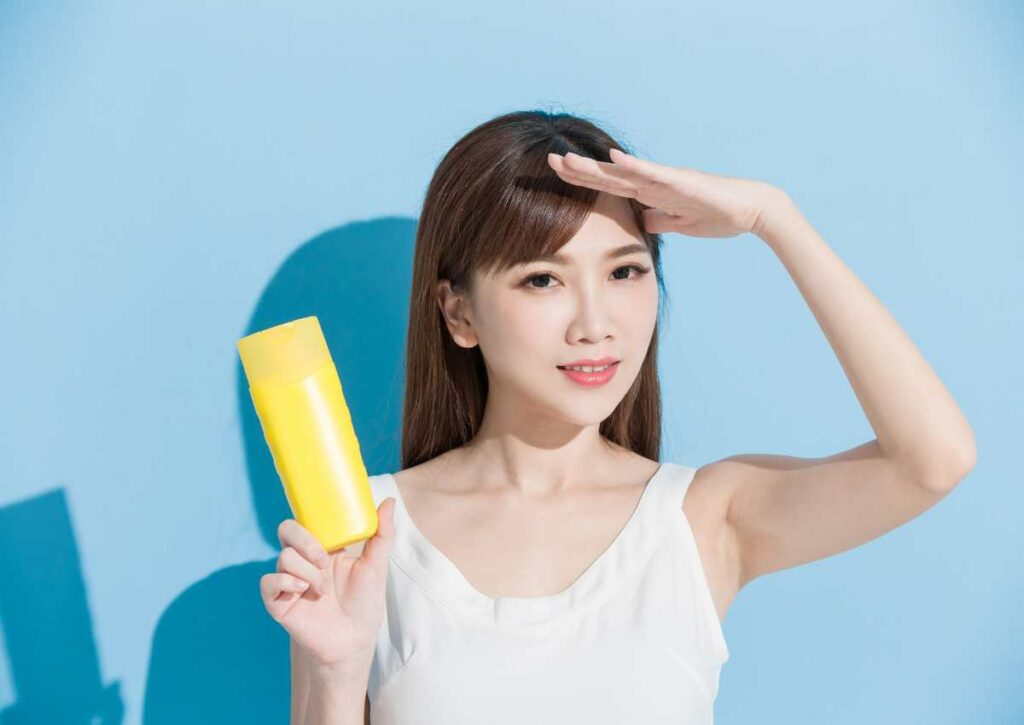 Products have a much thinner consistency, can be less greasy than western types and will be favored because they can be absorbed by the skin much quicker and can be used more often, as a result.
Here we will outline the 7 best Japanese sunscreens for different skin types.
7 Best Japanese Sunscreens OVERVIEW
09/16/2023 07:59 am GMT
Let's take a closer look at these Japanese sunscreens.
They offer more than just protection, they're a game-changer in skincare.
Ready to learn more?
Let's dive in!
#7 The Best Japanese Sunscreen for Fair Skin
This reef-friendly formula is free of oxybenzone and octinoxate and compliant with Hawaii regulations. 
Best for Fair Skin
Shiseido Ultimate Sun Protector Lotion – 150 mL
Expert Sun Protection Lotion (SPF50+) from Shiseido, is purportedly best for fairer skin types that are more photosensitive and therefore prone to sunburn. Used for both face and body, it is so effective that it is recommended for those who do not want to tan whatsoever. This one also leaves a primed finish for those who wear makeup.
Pros:
Good for all skin types, including mature skin. Provides high protection and has a nice scent.
Cons:
Not fragrance free, it can be expensive and can be similar to cheaper alternatives.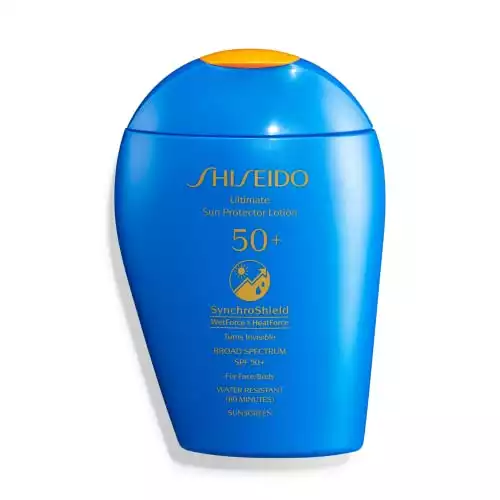 We earn a commission if you make a purchase, at no additional cost to you. Thanks!
#6 The Best Japanese Sunscreen for Combination Skin
Listed as one of the best products for combination/combined skin types, NIVEA UV Super Water Gel (SPF50) consists of two variations in hyaluronic acid, that works to deepen the delivery of moisture.
Best for Combination Skin

Japanese Sunscreen SPF 50/PA+++ Super Water Gel Sunscreen 4.22floz(125g) Refil Pack

Also good for mature skin types, this a gentle formula that protects the skin while also being very lightweight and comfortable.

WATER GEL SUNSCREEN-Feels gentle on bare skin, melting into the skin
SUNCUT UV PROTECT GEL SPF 50-Gently protects bare skin from daily strong UV rays
MAKEUP BASE-It can also be used as a makeup base.
FOR FACE AND BODY




Pros:

Free from oils, fragrance, and color. It is also easy to remove with regular soap.

Cons:

Can cause reactions in sensitive skin types, test before use and keep clear of your eyes.

We earn a commission if you make a purchase, at no additional cost to you. Thanks!
#5 The Best Japanese Sunscreen for Sensitive Skin
UV Milk (SPF30) from Curél, is considered a leading sunscreen product for sensitive skin.
Best for Sensitive Skin
Curel UV Essence SPF30 PA+++ 50 g
Intensively moisturising and specially formulated to enrich and soothe, this product is both hypoallergenic and free from abrasive alcohol and fragrance. Containing eucalyptus and ceramide, it is also good for dry skin conditions.
Pros:
Soothing eucalyptus means that it feels very cooling on sensitive skin and people report that it is intensively moisturising.
Cons:
Some believe that it is a little overpriced for the amounts that you get and applying too much can leave a white residue.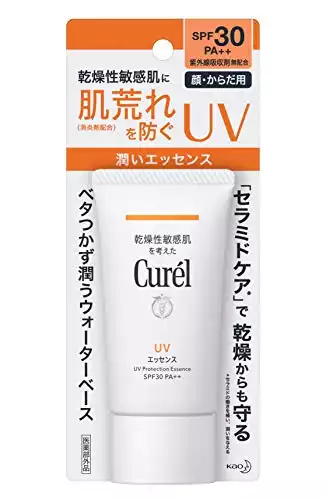 We earn a commission if you make a purchase, at no additional cost to you. Thanks!
#4 The Best Japanese Sunscreen for Dry Skin
ALLIE Extra UV Gel (SPF50+) from Kanebo, comes highly recommended for those who experience dry skin.
Best for Dry Skin
Kanebo ALLIE Extra UV Perfect SPF50+/
One of the best-selling Japanese products of its type, this lotion has a gel-like consistency and can feel soothing when applied to dry skin. It both protects and hydrates.
Pros:
Very Popular Sunblock in Japan. Highly rated on Amazon with great customer reviews.

It's not completely watery and though it doesn't spread well, it does feel like it covers your skin adequately.
Cons:
It's not fragrance free and carries a citrus scent which some people reportedly do not enjoy.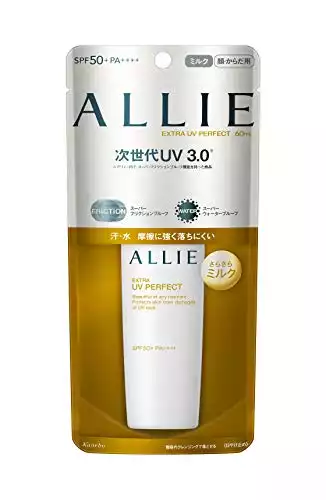 We earn a commission if you make a purchase, at no additional cost to you. Thanks!
#3 The Best Japanese Sunscreen for Acne-prone Skin
Watery Essence (PSF50+) from Kao Bioré, is recommended for those who suffer from skin conditions like Acne.
Best for for Acne-prone Skin
Bioré Japan Aqua Rich Watery Essence Sunblock Sunscreen Blue Spf50+ Pa+++
It is so hydrating for your skin that it might as well be a moisturiser. Being 'Aqua Rich' means that it has a higher water content, making it a cooling agent in the heat of the Sun and both simple to apply and to absorb.
Pros:
As the name suggests, it is mostly water and free from irritants.

Contains microcrystals of water that hydrate the skin when applied.

You don't need to use much.
Cons:
It's not fragrance free and some people report that they have had mild reactions to it.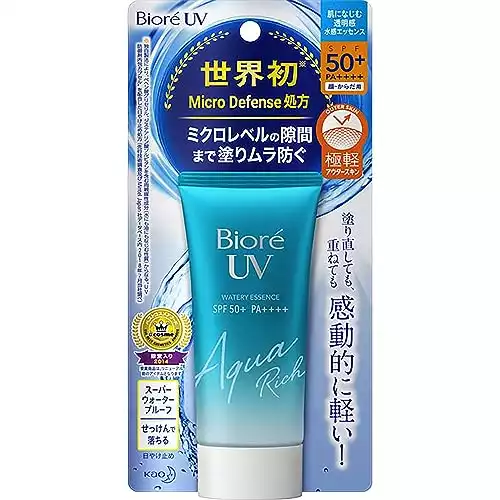 We earn a commission if you make a purchase, at no additional cost to you. Thanks!
#2 The Best Japanese Sunscreen for Oily Skin
ANESSA Perfect UV Skincare Milk (SPF50) sits atop many lists as the most effective and comfortable sunscreen for oily skin types.
Best for Oily Skin
Japanese sunscreen uv samurai Anessa
Often, using sunscreens will double the presence of grease on your skin. This, however, is a mattifying and waterproof product that is light and non-greasy, making it much nicer for those who tend to already have some oil present on their skin.
Pros:
Milky consistency makes it easy to apply and quick absorbing.
Cons:
Can leave a light powdery residue on skin and has fragrance.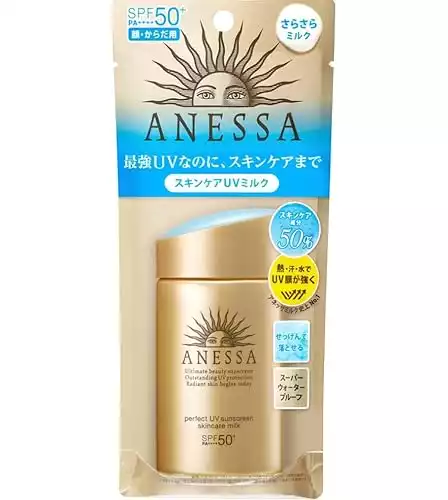 We earn a commission if you make a purchase, at no additional cost to you. Thanks!
#1 The Best Japanese Sunscreen for Your Face
KANEBO CREAM IN DAY SPF20 or their VEIL OF DAY SPF50 are considered the Japanese sunscreens that are the very best for your face.
Best for Your Face
Japan Kanebo Sunscreen Global Skin Protector
Their formulas, containing mostly water, create 'baby soft' skin and have a freshly floral scent that makes it perfect for everyday use.
Pros:
It is a product that can be used with/under makeup and so it is very popular.
Cons:
It is very expensive in comparison to similar products and made specifically for use with makeup.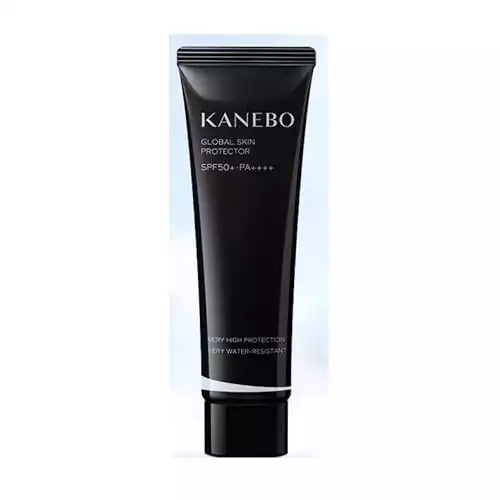 We earn a commission if you make a purchase, at no additional cost to you. Thanks!
FAQs
Where Can You Buy Japanese Sunscreen Products?
All the products that have been listed above are available on Amazon, but there are many places where they can be bought.
A quick Google search will reveal a number of online retailers. Some drugstores might even stock them and you can get them in Japan should you ever visit.
Are Japanese Sunscreens Expensive?
Ranging from as low as $15.00 to $60.00 on average (excluding delivery) might seem a little pricey, but this differs little from prices at home.
You can get some smaller sample-sized products for less than &20.00, but you can't put a price on protecting your skin against UV damage. #1 in our list even sells at around $100.00 for 40g.  
Which Factor Sunscreen has the Best Protection?
It is little known that most sunscreen products provide almost exactly the same level of protection from the Sun. Sun Protection Factor (SPF) refers to the length of time that protection will last.
So, if a product that you apply has SPF20, the time limit on its protection once applied is a simple mathematical formula (factor x 10 minutes).
SPF50 products protect your skin for the longest period of time: 50 x 10 = 500 minutes of protection (over 8 hours). 
How Long do Sunscreens Last After the Expiration Date?
Some products do not even have an expiration date. If they have a date, you should adhere to it because the SPF will no longer be guaranteed by the manufacturer.
However, if it does not then you should discard it after three years of the purchase date, according to some sources.
Final Thoughts
There are many Japanese sunscreen products to chose from and the ones listed here are but some of the many recommended for each skin type.
Because is its generally lighter consistency, Japanese sunscreen is becoming much more popular all over the world. Which one will you choose?