A visit to Tokyo Disneyland is always going to be an amazing adventure. It may have just turned 40 years old, but this Japanese theme park is one of the world's best!
When you're planning a trip to Tokyo Disneyland you'll want to make sure you see and experience everything.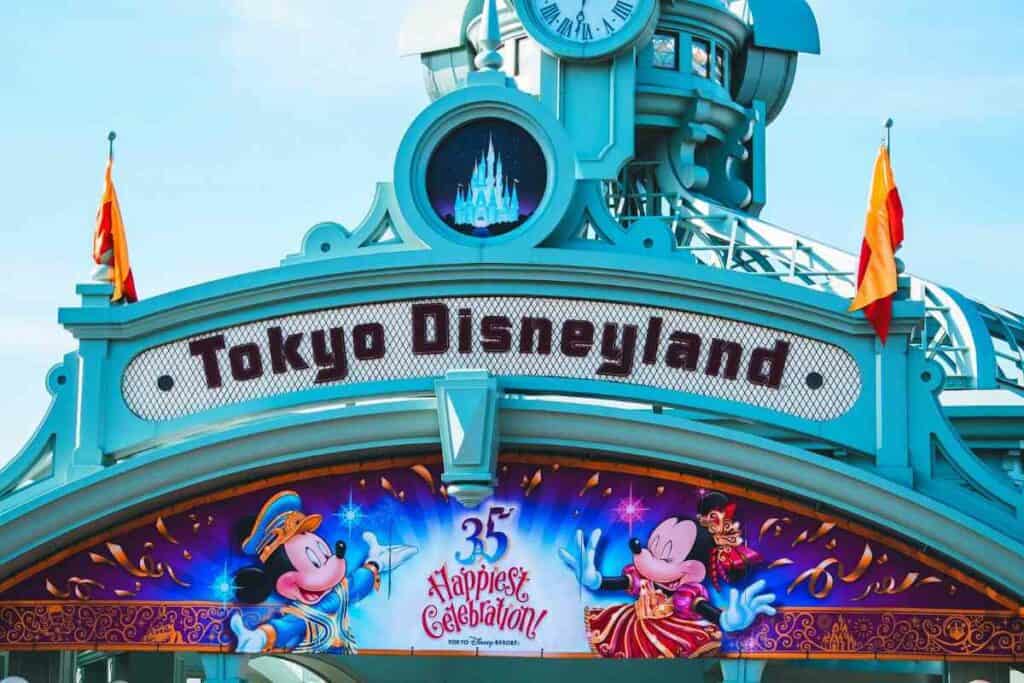 These 15 tried and trusted hacks will ensure that you have a stress-free visit that you can really enjoy!
15 Need-to-know Tokyo Disneyland Tips, Tricks, and Hacks
Planning a stress-free visit to Tokyo Disneyland is totally doable with a little bit of strategy, prep, and a chilled-out approach.
Just follow these simple and laid-back tips to make the most of your time there.
Take it easy and research the park's layout and attractions beforehand to create a loose itinerary that suits your vibe.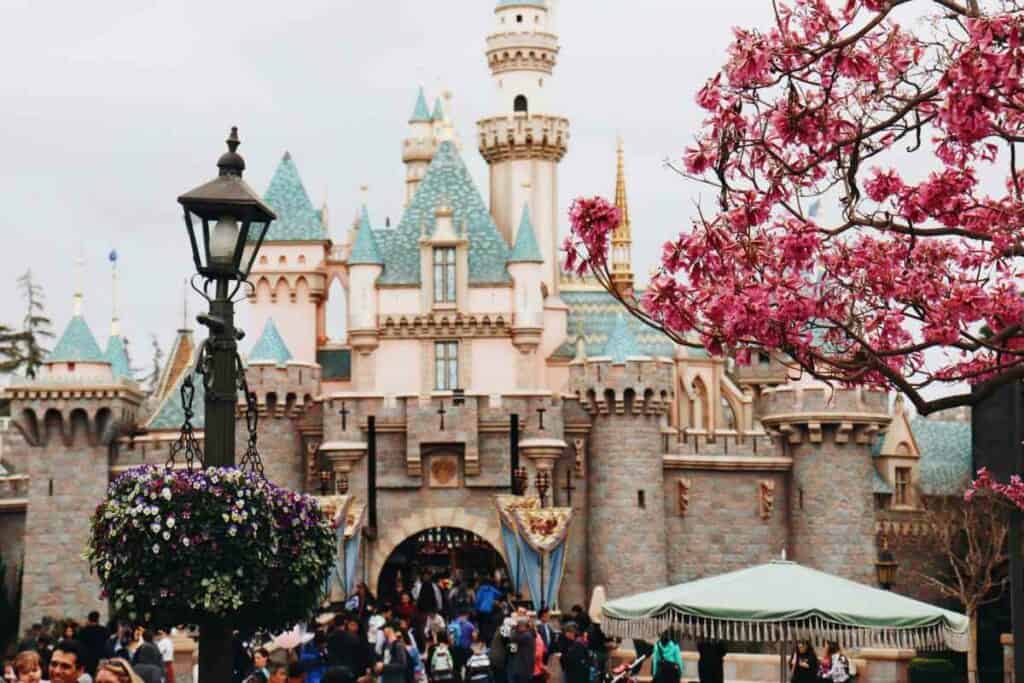 Grab your tickets in advance to skip the lines and enjoy a carefree entry. Arriving early can give you a head start and snag FastPasses for the popular rides.
Don't forget to pack essentials like sunscreen, comfy shoes, and snacks for a relaxed day. Lastly, brush up on park rules and etiquette to ensure a chill visit.
Now, follow these easy and accessible tips for a smooth visit.
1. Always buy your Tokyo Disneyland tickets online
Queues are an inescapable feature of a trip to Tokyo Disneyland Resorts.
So why put yourself through an additional frustrating queue before you even get through the entrance?
Save yourself the hassle – buy ahead online and turn up early to beat the queues.
2. Have a game plan for Wi-Fi coverage during your visit
If you were expecting to be able to access Wi-Fi, stream video, or listen to music while in the queues at Tokyo Disneyland, you'll be disappointed.
Wi-Fi coverage in Tokyo Disneyland is super limited and only available around the Main Entrance and Main Street House.
If you must stay 'connected' during the day, make sure you hire a Mi-Fi mobile internet device.
3. Pick up your Disneyland Resorts Celebration sticker from Guest Relations or Main Street House!
If it's your birthday when you visit Tokyo Disneyland, you can receive a special name sticker to wear all day long.
Cast members that see you will head over and greet you personally! Make sure you stick your sticker somewhere prominent so you can be the center of attention all day!
4. Visiting Tokyo Disneyland Resorts during the 2nd, 3rd, or 4th week in April is a smart move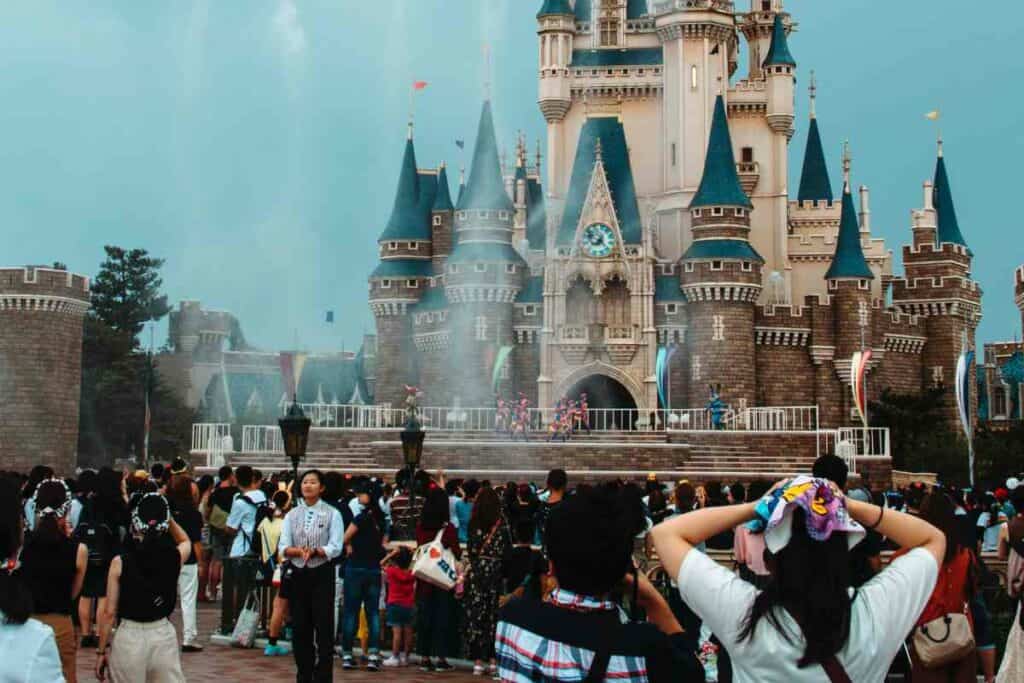 Veteran visitors recommend booking your holiday between the second and fourth week in April.
By visiting TDR at this time, you'll skip the manic Sakura (cherry blossom) week AND get your trip in before Golden Week starts. It's worth it to skip the crowds!
5. Opt for weekdays for a less congested Tokyo Disney Resort visit
Heading to Tokyo Disneyland during the weekend is asking for trouble. Every salaryman and his wife and kids will be ahead of you in the queue.
If you are determined to have a congestion-free trip to Tokyo Disneyland, book your tickets for Tuesday through Friday.
Of course, this does not apply to Spring break in March, Golden Week in April, Obon Week in October, or New Year. 
6. Keep a look out for Disney characters that you only see at Tokyo Disneyland (and have a chat)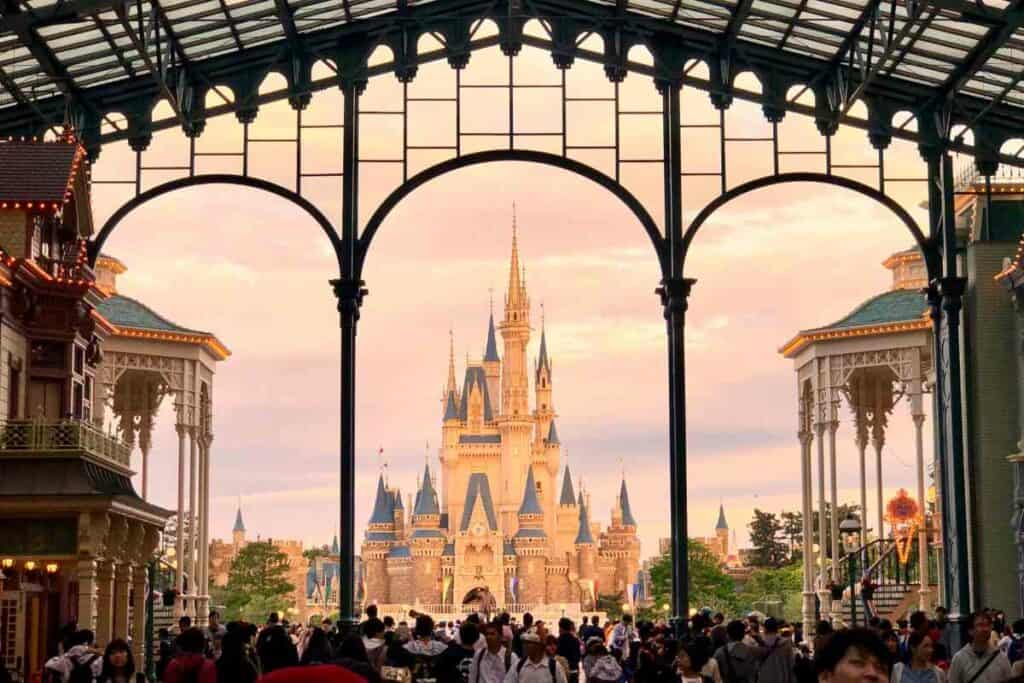 Die-hard Disneyland fans will enjoy seeing characters that aren't usually featured in the U.S. in Tokyo Disneyland.
American visitors have been charmed by meeting a super kawaii Marie from The Aristocats and the Three Little Pigs.
You can also talk to face characters in Japan which can be super exciting if you are an English speaker. Many of the character actors come from U.S. parks and will speak to you and your family in English!
7. If you're planning on eating at a Tokyo Disneyland restaurant, book ahead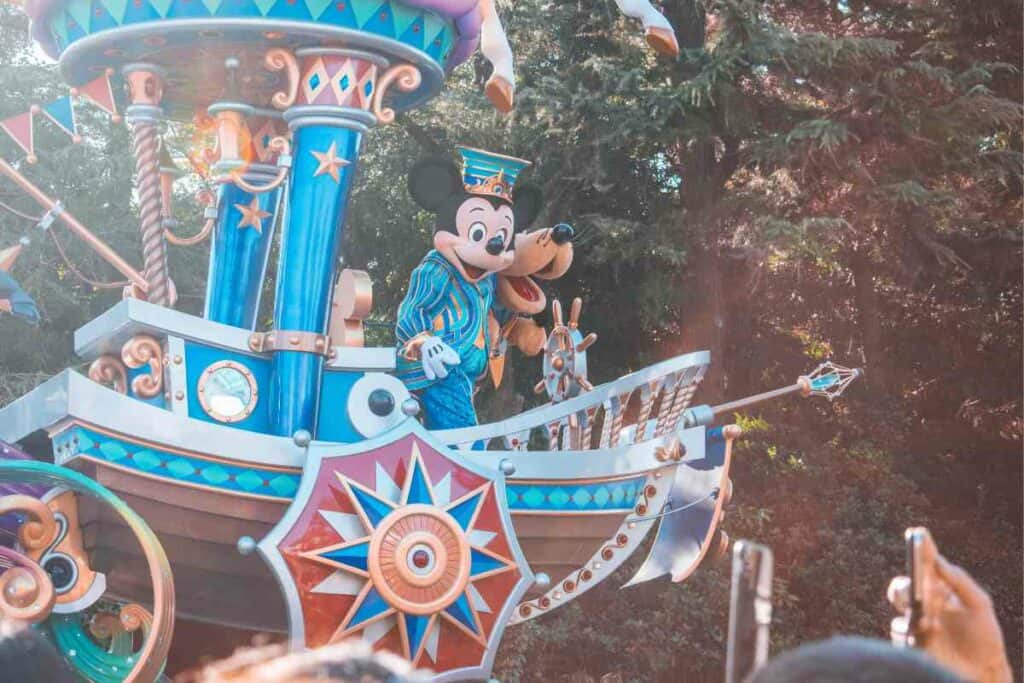 You can enjoy table-service meals with service at many of the restaurants in Tokyo Disneyland including: 
Blue Bayou Restaurant (beef, pork, and seafood American cuisine)
Restaurant Hokusai (Japanese cuisine)
Table service options are more limited at Tokyo Disneyland than at Tokyo DisneySea, so book well ahead of your trip. You can obtain priority seating for your meal via the Tokyo Disney website. 
If you leave it late, you can also make a same-day reservation by phone or online from 09:00 am, or go to the restaurant at 10:00 to see if you'll be able to sit down.
8. Don't eat at peak hours!
Everyone will want to head to the nearest restaurant at lunchtime.
By having your lunch or dinner outside of peak hours, you'll escape the long waits of 30 minutes or more for seating or your order. Have your lunch or evening meal outside of peak hours.
9. Save cash at Tokyo Disneyland by buying these cheap and tasty snacks
Keep costs down on the big day by ensuring that you don't splurge on big meals at the counter service or table-service restaurants.
Tokyo Disneyland has loads of cheap snacks that you can use to supplement a bento box you bring in. Look out for these super-cheap snacks:
Mickey Castella cake – 350 yen
Honey popcorn – 400 yn
Mickey ice bar – 300 yen
Cheesy spring rolls (available in pizza flavor and shrimp and egg) only – 350 yen
Green Alien mochi (3 per serving) – 350 yen
10. Use the TDR Wait app!
Don't wait around or wander on your Tokyo Disneyland trip. Use the official Tokyo Disney Resort App to coordinate your entire day, so you don't miss anything you want to enjoy!
Use this dedicated smartphone app for Tokyo Disney to:
Buy resort tickets online (Japanese app)
Book slots for attractions in advance
Make restaurant reservation
Check and receive alerts for your wait time
Track your location to help you get the best out of your visit
The Tokyo Disney Resort App is available for iOS and Android phones. 
11. Stay at one of the official Tokyo Disney Resort hotels!
Travelers who have made Tokyo Disneyland the center of their Tokyo trip should seriously think about booking their stay at one of the official Tokyo Disney Resort hotels. 
We've got to be honest. Staying on Tokyo Disney Resort property makes a massive difference to your experience at Tokyo Disneyland.
You won't have to get up at 4 am to head over to the park early on public transport. The Disney monorail stops nearby each hotel, saving you time and energy for enjoying yourself!
Consider staying at one of these two leading Tokyo Disney Resort hotels.
Hilton Tokyo Bay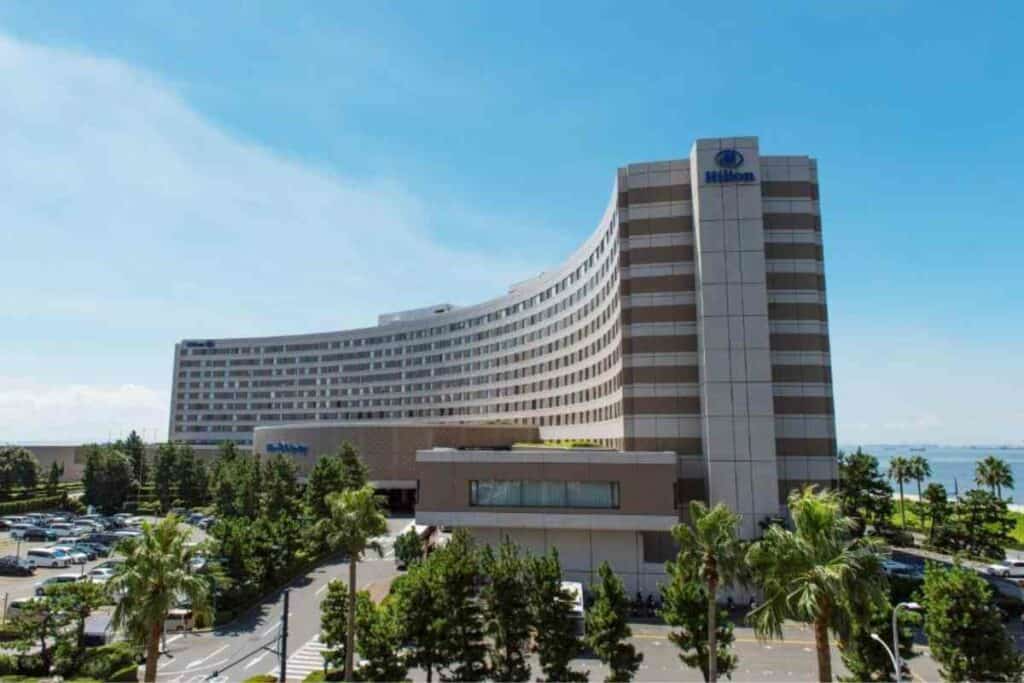 | | |
| --- | --- |
| Location | 79-0031 Chiba, Urayasu, Maihama 1-8, Japan  |
| Star rating  | ⭐⭐⭐⭐⭐ |
| Property type | Hotel |
| Book today | booking.com |
| Are children welcome? | Yes |
| Are pets welcome? | No |
Sheraton Grande Tokyo Bay Hotel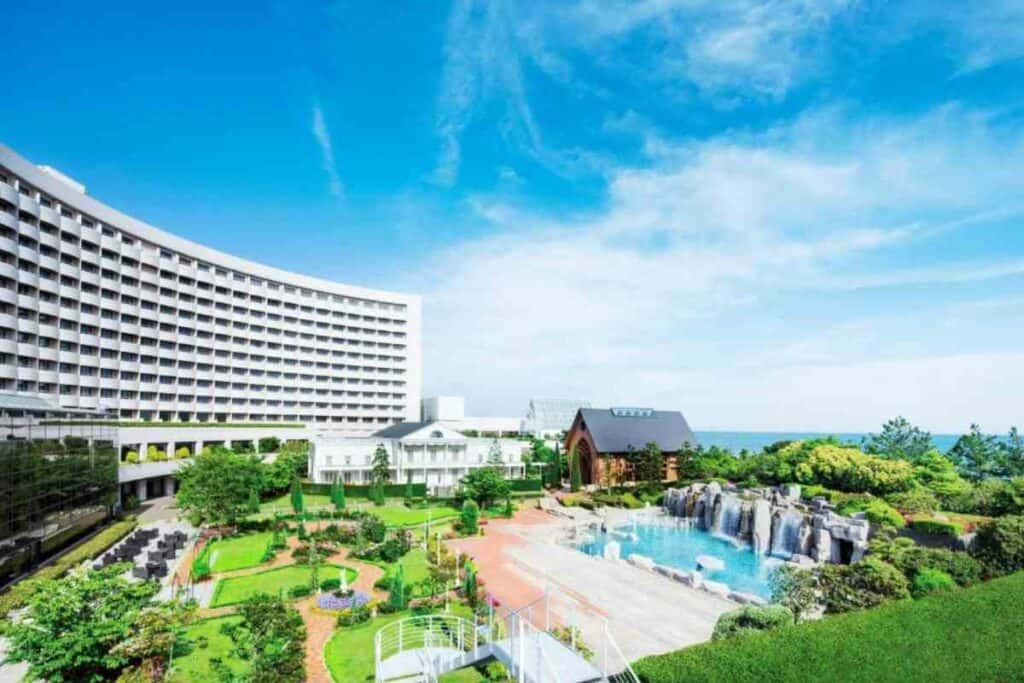 | | |
| --- | --- |
| Location | 279-0031 Chiba, Urayasu, Maihama 1-9, Japan  |
| Star rating  | ⭐⭐⭐⭐⭐ |
| Property type | Hotel |
| Book today | booking.com |
| Are children welcome? | Yes |
| Are pets welcome? | Yes |
12. Target the right FASTPASSES
Having a FASTPASS makes waiting for rides so much easier if you want to go on the most popular rides like Monsters, Inc. Ride & Go Seek! 
However, FASTPASS slots run out quickly, especially when the park is busy, so you need to be strategic and prioritize the rides you would like a FASTPASS for. 
Prioritize rides where using a FASTPASS will save you a wait time of 30 minutes or more. There are no tech shortcuts, the passes are paper passes so you'll have to walk over to each ride.
Here are the key rides to target for FASTPASS access:
Pooh's Hunny Hunt
Monsters Inc. Ride & Go Seek
Buzz Lightyear's Astro Blasters
Space Mountain
Big Thunder Mountain Railroad
13. Grab a Tokyo Disney Resorts monorail pin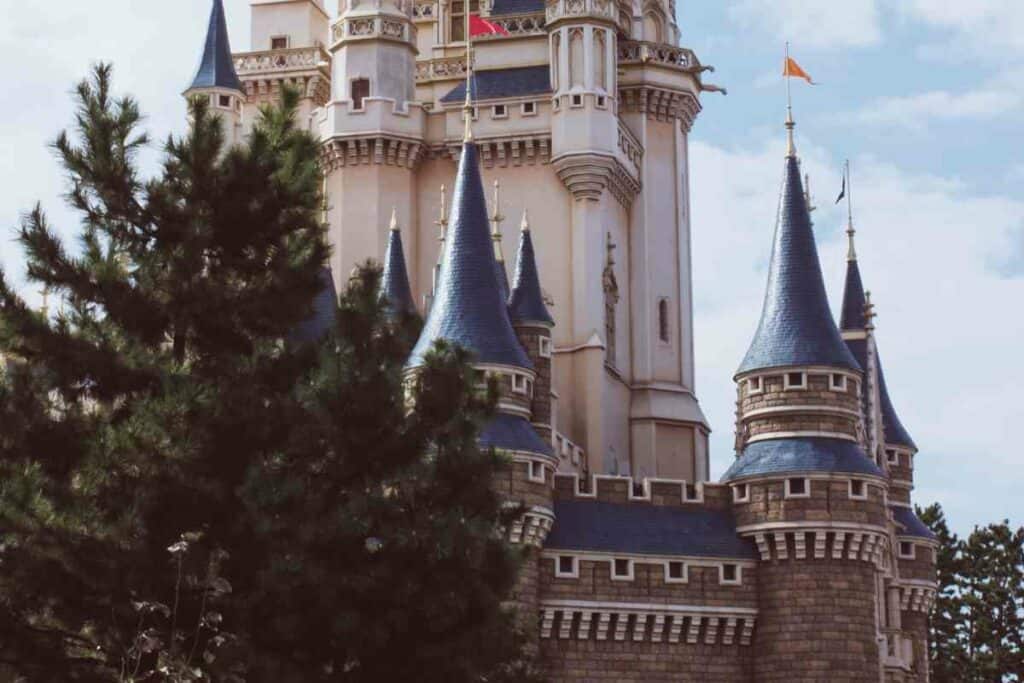 Tokyo Disney Resorts visitors with lots of monorail tickets can exchange them for an exclusive Tokyo Disney Resort Monorail Pin.
This enamel pin has become quite the collector's item, with new designs released each year.
To get your hands on a Tokyo Disney Resort monorail pin, simply hand in at least three expired one-day or multi-day monorail passes to the ticket booth. Your limited edition pin awaits!
14. If you want to stay outside Tokyo Disney Resort to save cash, book at a nearby hotel
As I said above, staying in an official Tokyo Disney Resort hotel will save you time, hassle and get you that much closer to all the Disney fun.
However, if you are looking to maximize your budget, staying at a non-TDR hotel that is nearby the park will save you money. 
One of the best picks for a cheaper hotel that is super close to Tokyo Disney Resorts is Hotel MyStays Maihama.
It is only a few minutes walk from Tokyo Disneyland and offers a complimentary shuttle to and from the park.
Hotel MyStays Maihama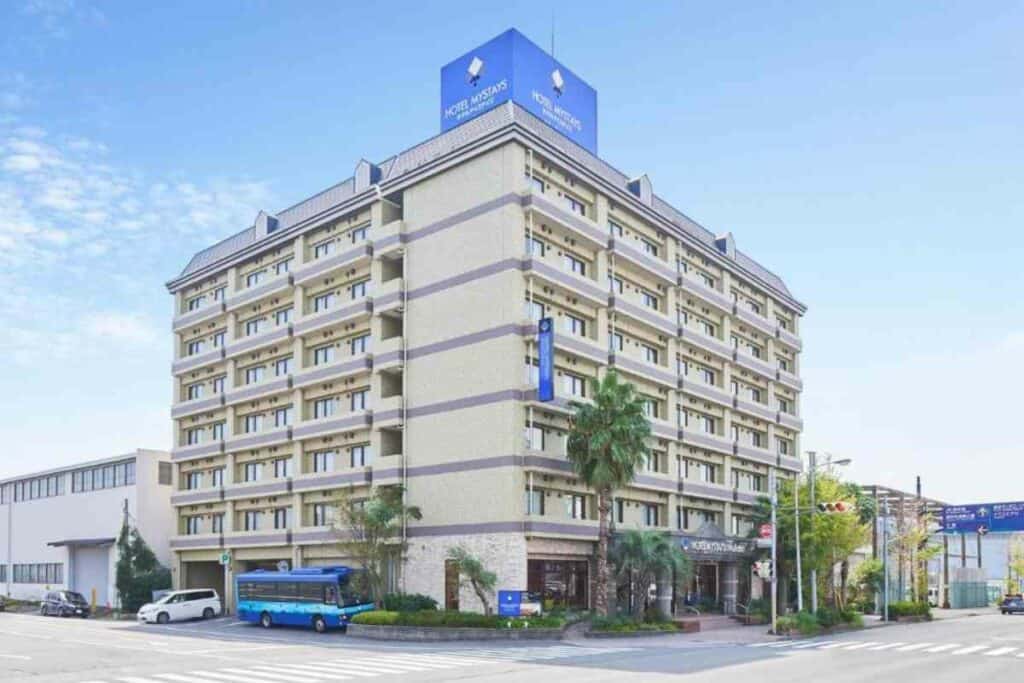 | | |
| --- | --- |
| Location | 279-0025 Chiba, Urayasu, Tekko-dori 3-5-1, Japan  |
| Star rating  | ⭐⭐⭐ |
| Property type | Hotel |
| Book today | booking.com |
| Are children welcome? | Yes |
| Are pets welcome? | No |
15. Have a game plan for parades vs rides
A highlight of any Disneyland visit is the roster of wonderful parades featuring all your favorite characters.
Tokyo Disneyland has parades at the following times daily:
10:50 am
12:15 pm
1:40 pm
3:45 pm
5:10 pm
Now, it's all about priorities. If rides are the most important thing for you, these are the times to hit your must-visit attractions. The queues will evaporate during parade times, so get your rides in then!
[BONUS] Remember to relax and have a good time!
If you're anything like me, you'll have downloaded and completed Tokyo Disneyland proformas, and scheduling apps and watched a zillion YouTube videos to coordinate the perfect TDR day for you and your crew.
However, with all the planning it's easy to forget to enjoy a great day out at one of the world's most amazing theme parks. Don't worry if you don't get everything on your checklist ticked. A visit to Tokyo Disney Resort is all about the amazing experience.