Oshōgatsu (お正月), or New Year is Japan's most important festival.
This is the one time of the year when everyone in Japan takes a break from the usual frenetic activity for traditional observances that date back hundreds of years.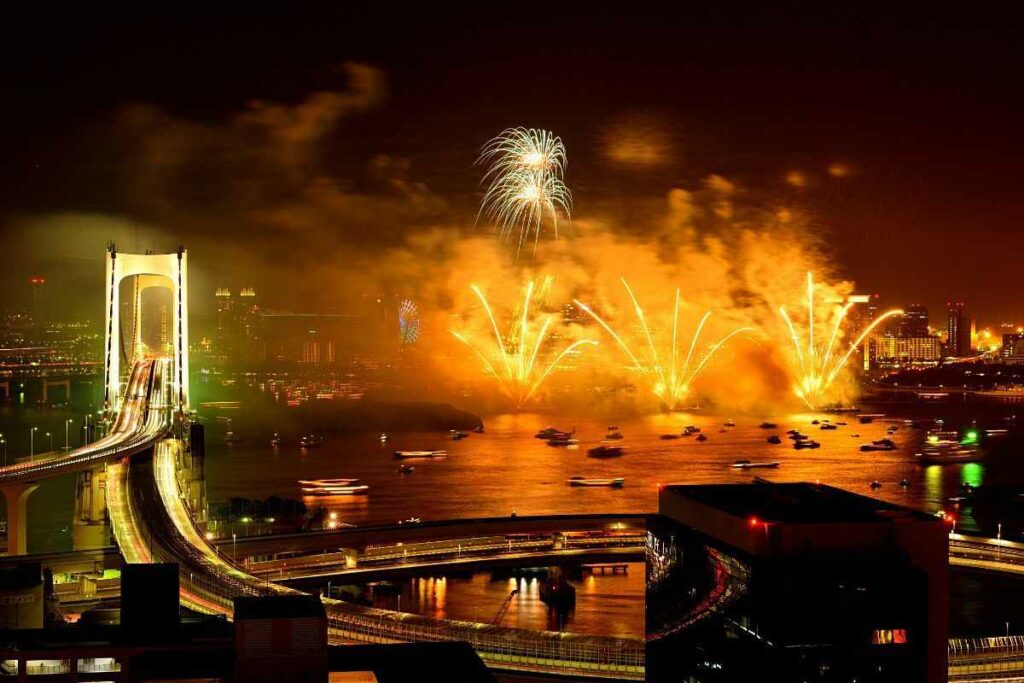 So if you're in Japan at this special time, here are 10 destinations where you can soak up the atmosphere and get a great bowl of soba!
10 Best New Year Celebrations in Japan
New Year in Japan can be a little tricky if you're from overseas, but there are many places where you can soak up the atmosphere and gain insight into this special time.
Here's my round-up of 10 places to visit during the New Year celebrations:
10. Tokyo Disney Resort
New Year celebrations at Tokyo Disney Resort are epic with fireworks and a New Year's Greeting parade where all the characters are out and about in kimonos!
It is well worth making the Tokyo Disney Resort hotels your destinations for a hassle-free New Year's stay as you can enjoy a great atmosphere, full park access, and decent transport connections for travel to central Tokyo during the New Year holiday. 
---
9. Yokohama Hakkeijima Sea Paradise
This popular Yokohama theme park is known throughout Japan for its epic New Year firework display.
The countdown party has a great atmosphere and attracts large crowds so be sure to book tickets in advance.
---
8. Tokyo Tower
The Tokyo Tower is a beacon for celebrating New Year in Japan's capital.
You can join crowds for an epic countdown, with the lights on the tower changing color as the clock strikes midnight and the new date displayed in lights. 
---
7. Roppongi
Roppongi seems to be the place to party hearty in Japan, with wild raves and parties that attract an international crowd.
This is where you go if you're used to hitting nightclubs on New Year's Eve and surfacing a few days later worse for wear!
---
6. Diamond Fuji at Mount Ryugadake
Seeing a New Year's diamond Fuji is definitely a bucket list endeavor. For New Year's Day, many Japanese people put in the effort to watch the first sunrise of the day.
At Mount Fuji, the ascent of the sun over the peak of the volcano creates a spectacular sparkle known as 'Diamond Fuji'. One of the best locations for viewing is at Mount Ryugadake, with maps and forecasts available so you don't miss it!
---
5. Kasai Rinkai Park
The Diamond and Flower Ferris Wheel New Year's Eve Countdown at Kasai Rinkai Park in Edogawa, Tokyo also draws crowds.
You can ride the Ferris wheel throughout the night and enjoy amazing views across Tokyo.
---
4. Shibuya 
The Shibuya New Year Countdown Event is Tokyo's biggest and attracts a large international crowd. Where better to ring in the new year than the world-famous Tokyo Scramble Crossing? 
It has been canceled in recent years due to COVID issues, but here's hoping that this massive event returns for New Year 23/24. 
---
3. Asakusa Hanayashiki
Japan's oldest amusement park does a great job of putting on a fun New Year's celebration.
On New Year's Eve, the park opens late with a deal that includes entrance and unlimited rides between 8 pm and 1 am.  There is also a live comedy show, a countdown, and pleasant illuminations around the park. 
---
2. Tokyo Philharmonic Orchestra Concert
The Tokyo Philharmonic Orchestra puts on a New Year Concert on the 3rd of January every year.
I love this orchestra and make every effort to attend their performances at the Bunkamura Orchard Hall.
---
1. Attend the Emperor's New Year Greeting
The Emperor's New Year Greeting is one of the best opportunities to catch even a glimpse of the Imperial Household in real life.
The public has the opportunity to enter the main gate of the Imperial Palace and offer good wishes for the New Year or sign the Greeting Book set out in front of the Palace. 
---
Best New Year Celebrations in Japan FAQ
Do Japanese people stay up all night for New Year? 
Yes! Staying up all night to welcome the New Year is an ancient tradition. Japanese TV channels broadcast popular films and shows for people to enjoy as they await the New Year. Many households will watch the first sunrise of the New Year as part of their celebration. 
What do the Japanese eat just before midnight on New Year's Eve?
Toshikoshi Soba (buckwheat noodles) are eaten by the Japanese on New Year's Eve. It is served as a steaming hot bowl of soup and noodles, often garnished with scallion and tempura. The noodles are known as 'year-crossing' noodles, and the Japanese reflect on the past year and hope for the coming year as they are eaten.
What do Japanese people eat on New Year's Day?
On New Year's Day, the Japanese tuck into a delicious bowl of O-zoni. Zouni (雑煮) is a savory soup that is made with toasted mochi rice cakes. This ceremonial meal varies in its other ingredients which can include chicken, tofu, and vegetables.
What do Japanese people drink on New Year's Day?
To celebrate the New Year, the Japanese bring out O-Toso (屠蘇) a festive spiced sake that is reserved for New Year celebrations. This delicious sake is flavored with Cinnamon, Japanese pepper, and Chinese Bellflower. 
Is Japan closed during New Year's?
Yes. Many businesses, attractions, amenities, and even ATMs will close during part or all of the New Year period in Japan. January 1st is usually the day when most shops and restaurants close. Tourist attractions routinely close at some point between December 29 and January 4. Always check before traveling during this period and it is best to assume businesses are closed. 
How do you say Happy New Year in Japanese?
"Akemashite omedetō" (あけましておめでとう)
Is the Japanese New Year the same as Chinese?
No. The current Japanese New Year celebrations follow the Western Gregorian calendar, with the New Year on the 1st of January. Before the Meiji Era (1868 to 1912), Japan also celebrated a Lunar New Year. 
Why do the Japanese give money on New Years?
The Japanese embrace generosity and give each other pochibukuro (envelopes) filled with money. They believe giving these gifts will bring good fortune for the coming year. Children, understandably, love to receive these envelopes which are traditionally red and white but now feature modern designs and patterns. 
Rounding Up
As you can see, the New Year celebration is Japan's biggest! It is an amazing time of year to be in Japan with all the festivity of the Holiday Season and more. These 10 destinations are perfect for a lively celebration in the Land of The Rising Sun.
Planning to be in Japan to celebrate the New Year? Make sure you book early as hotels fill quickly during the New Year period. Check out Japanese New Year flights, accommodation, and travel insurance to get everything lined up for an amazing Oshogatsu!