Tokyo Disney Resort consists of two of the world's leading theme parks, Tokyo Disneyland and Tokyo DisneySea.
Though these sister parks, owned by the Oriental Land Company, are side by side in Disney's Urayasu resort complex they offer different experiences to visitors.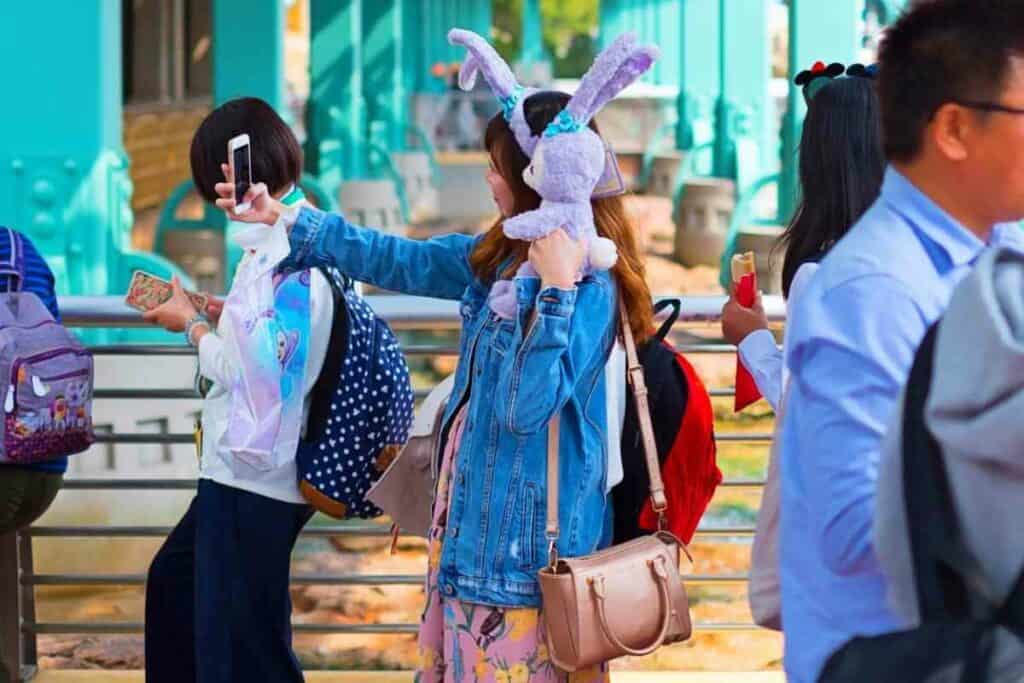 So if you had one day and a single ticket, which one would you visit?
In this article, we compare Tokyo Disneyland vs Tokyo DisneySea, so you can work out which of these theme parks you absolutely must visit!
Tokyo Disneyland vs Tokyo DisneySea: Side-by-Side Comparison
Tokyo Disneyland and Tokyo DisneySea are two of the most popular theme parks in the world!
They are located next to each other in the Urayasu area of Chiba Prefecture, easily accessible by Tokyo's efficient public transport.
Both parks offer a variety of attractions that cater to visitors of all ages. Here's a breakdown of what each park has to offer: 
Theme Park
Tokyo Disneyland
Tokyo DisneySea
Website
www.tokyodisneyresort.jp/en/tdl/
www.tokyodisneyresort.jp/en/tds/
Location
1-1 Maihama, Urayasu, Chiba 279-0031, Japan
1-13 Maihama, Urayasu, Chiba 279-8511, Japan
What is it
Tokyo Disney Resort theme park
Tokyo Disney Resort theme park
First opened
1983
2001
Owners
The Oriental Land Company
The Oriental Land Company
World ranking
10
11
No. of visitors each year
6.3 million
5.8 million
Park size
176 acres (71 ha)
115 acres (47 ha)
Lands
World Bazaar
Adventureland
Westernland
Critter Country
Fantasyland
Toontown
Tomorrowland
Mediterranean Harbor
American Waterfront
Port Discovery
Lost River Delta
Arabian Coast
Mermaid Lagoon
Mysterious Island
Number of rides
39
30
Number of restaurants
59
49
Tickets
Book here
Book here
About Tokyo Disneyland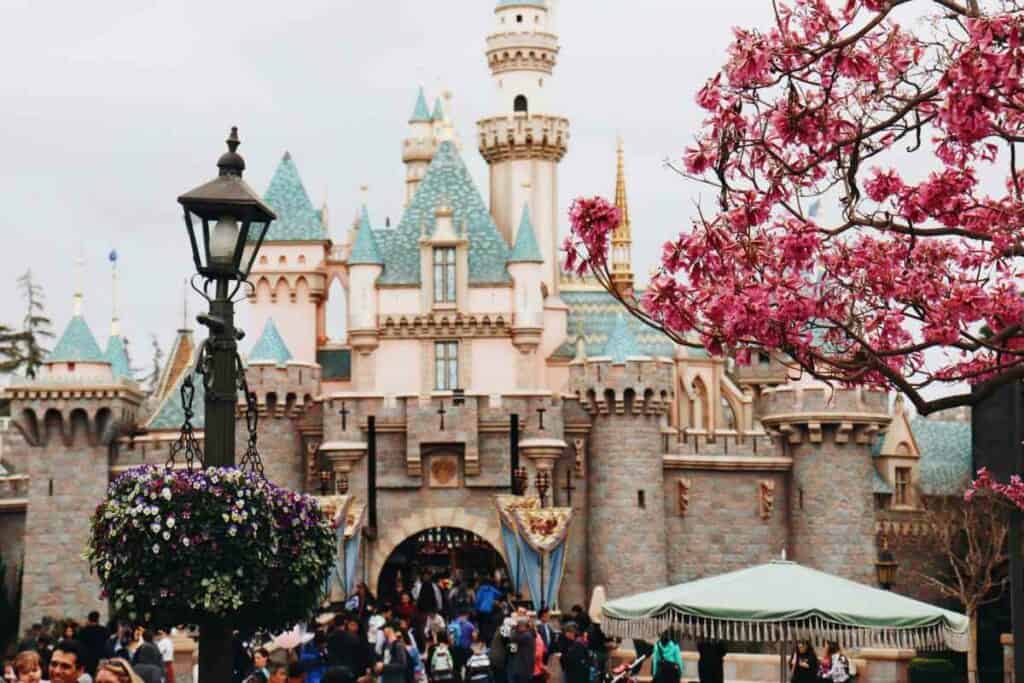 It's hard to believe, but Tokyo Disneyland just turned 40 this year! It was the first Disney park built outside of the United States, opening in 1983.
The park follows the conventional Disneyland layout with a classic Cinderella Castle that is almost identical to the one in the Magic Kingdom at Walt Disney World.
Tokyo Disneyland is very much a traditional Disneyland. It has seven themed lands featuring classic attractions like  Pirates of the Caribbean, parades, and breathtaking fireworks shows. 
About Tokyo DisneySea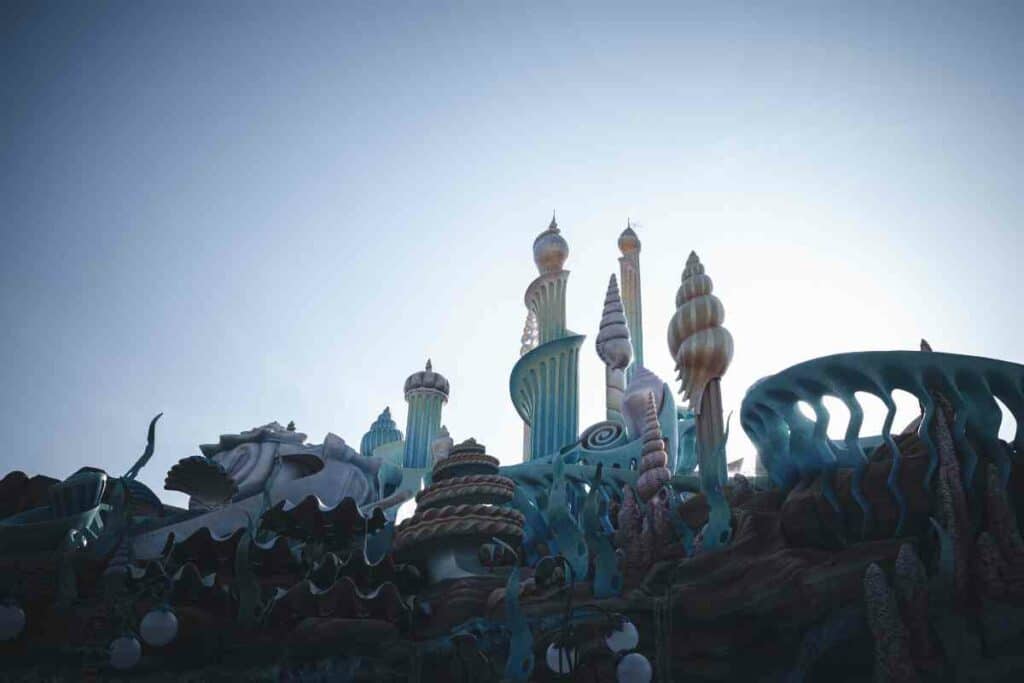 Tokyo DisneySea is a much younger and more revolutionary Disney theme park that opened in 2001. It has an exceptional design that is themed around exploration and adventure. 
Tokyo DisneySea takes advantage of its location on Tokyo Bay to create a truly marine theme park with seven themed ports of call, including Mediterranean Harbor and Arabian Coast.
Many of the attractions, like the Tower of Terror and Journey to the Center of the Earth, can only be found in the park. 
Disney fans from around the world flock to Tokyo DisneySea for its immersive experience, elaborate theming, and attention to detail. 
Tokyo Disneyland vs Tokyo DisneySea: Attractions
Tokyo Disney Resort parks have some of Japan's best theme park attractions.
However, this is the area where differences between Tokyo Disneyland and Tokyo DisneySea are most marked. Tokyo Disney Sea is completely unique with attractions that cannot be found anywhere on Earth.
Here's how the two parks compare.
Tokyo Disneyland Attractions
Tokyo Disneyland provides Asia with the classic Walt Disney theme park experience, executed flawlessly.
There are seven lands to explore with great rides and character encounters.
You can expect to enjoy Disneyland attractions that are popular around the globe including 
It's A Small World
Pirates of the Caribbean
Haunted Mansion
Time and time again, visitors to Tokyo Disneyland rave about Pooh's Hunny Hunt in Fantasyland where you can explore the 100-Acre Wood. 
It is one of Tokyo Disneyland's most popular attractions, seconded only by Monsters, Inc. Ride & Go Seek! in Tomorrowland.
This interactive ride takes visitors on a mission to help Mike and Sulley find Boo.
Tokyo DisneySea Attractions
Tokyo DisneySea ups the ante by being a totally different park.
The rides and attractions at Tokyo DisneySea carry a strong nautical theme across seven themed ports of call:
Mediterranean Harbor
American Waterfront
Port Discovery
Lost River Delta
Arabian Coast
Mermaid Lagoon
and Mysterious Island
Mysterious Island, in particular, will be an attraction that few Disneyland fans will have experienced before.
The Journey to the Center of the Earth in Mysterious Island takes visitors on a thrilling journey through the center of the earth inspired by Jules Verne's classic novel. 
American Waterfront also boasts some thrilling rides including the Twilight Zone-inspired Tower of Terror (ToT) with a terrifying elevator ride.
Before you say 'But you can do this ride at DisneyWorld!', due to cost and licensing issues, the Japanese designed and built their own version of the horror elevator with outstanding attention to detail:
Tokyo Disneyland vs Tokyo DisneySea: Entertainment and Shows
Anyone who loves Disney knows that it is the entertainment and shows that keep families returning year after year.
Tokyo Disney Resort does not disappoint, which is known for its high-quality entertainment and shows that cater to all ages.
Both Tokyo Disneyland and Tokyo DisneySea offer unique experiences that are worth exploring.
Tokyo Disneyland Entertainment and Shows
Romantics and dreamers will love Tokyo Disneyland's faithfully reproduced Disney entertainment. Be on the lookout for seasonal highlights when you visit, especially around the New Year period. 
This is the park where visitors of all ages can enjoy heartwarming shows.
Some of the most popular shows include:
Mickey's PhilharMagic – A 3D show that features classic Disney songs and characters.
Dreaming Up! – A daytime parade that features Disney characters and floats with lively music and colorful costumes.
One Man's Dream II – The Magic Lives On – A nighttime show in Tomorrowland that showcases Mickey Mouse as he travels through the world of Disney animation:
Tokyo DisneySea Entertainment and Shows
Tokyo DisneySea will not fail to amaze you with its immersive approach to shows and entertainment.
The Mediterranean Harbor is the main setting for a roster of truly world-class shows that include:
Fantasmic! – A nighttime show that features Mickey Mouse as he battles Disney villains in a spectacular water and light show.
Big Band Beat – A musical show with live jazz music and tap dancing.
The Magic Lamp Theater – A 4D show that featuring Genie from Aladdin that takes the audience on a magical journey:
Tokyo Disneyland vs Tokyo DisneySea: Food and Dining
Tokyo Disney Resorts has a great range of food options in both parks including, table-service, counter, and snack cart options.
Tokyo Disneyland and DisneySea have traditional Japanese food, alongside a diverse menu of food items inspired by dishes from around the world. 
Tokyo Disneyland food and dining
Tokyo Disneyland has an exciting range of meals that park visitors can enjoy throughout the day.
Alongside the restaurants and food counters, you can enjoy a wide range of traditional Japanese and Western snacks like churros at food carts throughout the park.
A must-try restaurant at Tokyo Disneyland is the Queen of Hearts Banquet Hall. It is designed to look like just the Queen's castle from Alice in Wonderland. At the Queen of Hearts, you can dine on Japanese and Western-style dishes, including curries, roast beef, and salads. 
If Cajun's more your thing, the Blue Bayou Restaurant inside the Pirates of the Caribbean attraction serves gumbo and jambalaya.
Tokyo DisneySea food and dining
Tokyo DisneySea has a selection of restaurants and cuisine. Each of its seven themed areas has its own unique dining experience.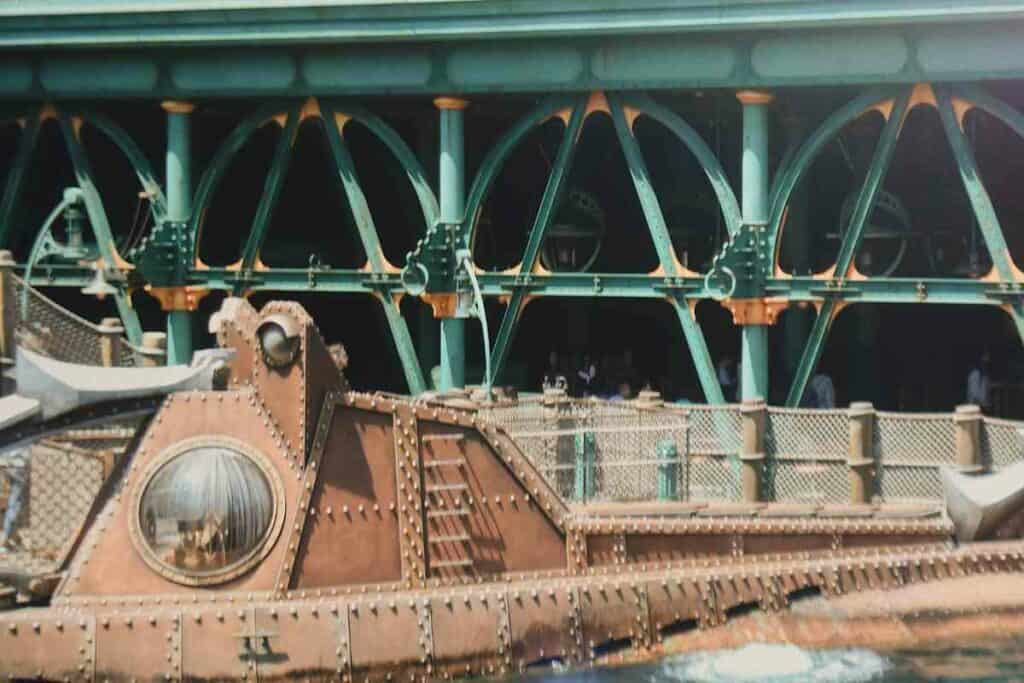 Be sure to visit the Magellan's, Tokyo DisneySea's fine dining restaurant which is located in the Mediterranean Harbor area.
This extremely popular sit-down restaurant offers French cuisine, such as lobster bisque and beef tenderloin. 
If you prefer Asian cuisine, try Vulcania Restaurant, located in the Mysterious Island area. There you can enjoy Asian-inspired dishes, like aromatic curries and stir-fry.
One of the best things about DisneySea is the great snack carts. The popcorn is especially good and comes in Japanese flavors that include shrimp, and matcha. 
Tokyo Disneyland vs Tokyo DisneySea: merchandise
No Disney theme park trip is complete without cute and cuddly souvenirs which you can usually buy anywhere.
Both Tokyo Disney Resort parks have highly collectible merch that goes well beyond a Minnie Mouse ears headband.
Tokyo Disneyland merch
Tokyo Disneyland sells typical cute and fluffy Disney merch featuring all of the classic characters. Buy branded souvenirs and gifts including plush toys, t-shirts, and keychains. 
You'll find popular Disney franchises including Mickey and Friends, Winnie the Pooh, and Toy Story. Plus there are shops that sell Japanese Disney merchandise, such as branded traditional Japanese clothing.
Many of the most interesting stores can be found in the World Bazaar, located at the entrance of the park.
Take your time and browse this indoor shopping area designed to look like a turn-of-the-century American town:
Tokyo DisneySea merch 
Tokyo DisneySea's nautical theme runs through its unique and upscale shopping outlets, which are much less mainstream than Tokyo Disneyland.
You can expect to buy nautical-themed merchandise, such as sailor hats, anchor-shaped keychains, and ship models.
There are also exclusive Duffy the Disney bear items and high-end merchandise, like designer handbags and jewelry.
Make sure you check out the Mermaid Lagoon Market, which features a wide variety of Little Mermaid-themed merchandise, including clothing, accessories, and home decor.
So, which Tokyo Disney Resort should I visit?
Overall, both Tokyo Disneyland and Tokyo DisneySea offer an amazing day out. But if you can only visit one of these outstanding parks, Tokyo DisneySea is the one to opt for.
This is because Tokyo DisneySea offers a one-of-a-kind experience that you cannot find anywhere in the world. It gives you a real taste of how the Japanese do Disney!