The Shikoku Pilgrimage is a pilgrimage to visit 88 temples in Japan.
It is a route that covers an impressive 1,200 km and is, in fact, a pilgrimage loop and is one of the only ones like this in the world.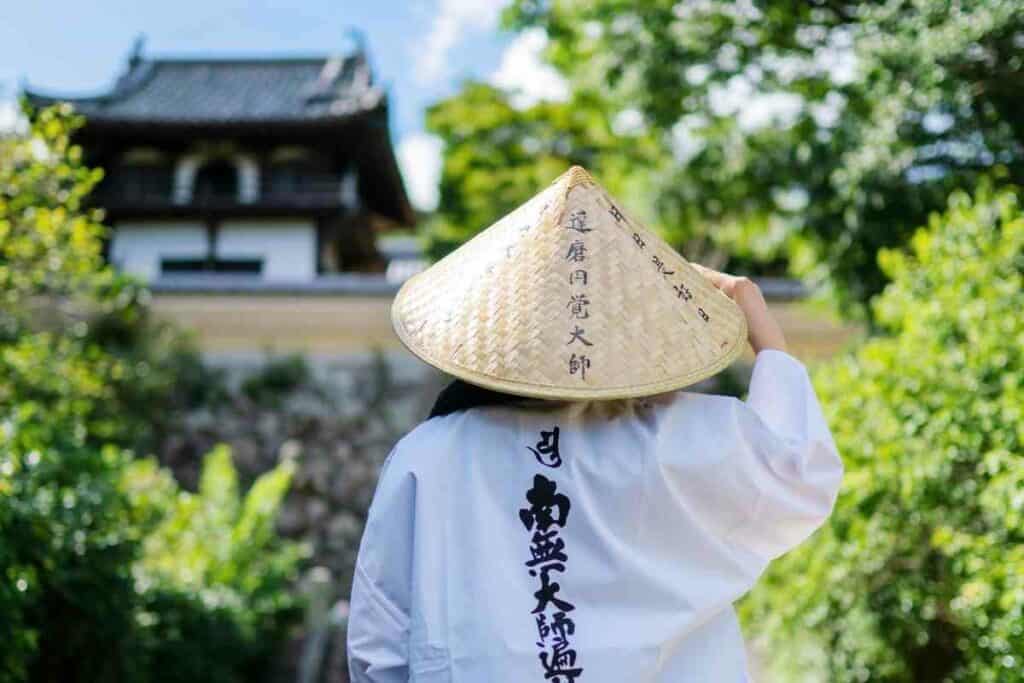 According to legend in Japan, the pilgrimage route follows the Buddhist monk Kukai's journey (after his death, he was referred to as Kobo Daishi).
People believe that he spent time on the route in the 800s. The route goes around Shikoku (as its name suggests), which is the smallest of the four main islands in Japan.
The history of the Shikoku pilgrimage
Kobo Daishi lived between 774 and 835 and was one of Japan's most influential religious and spiritual figures.
As well as being a monk, he was a poet and calligrapher. He also founded the Shingon School of Buddhism.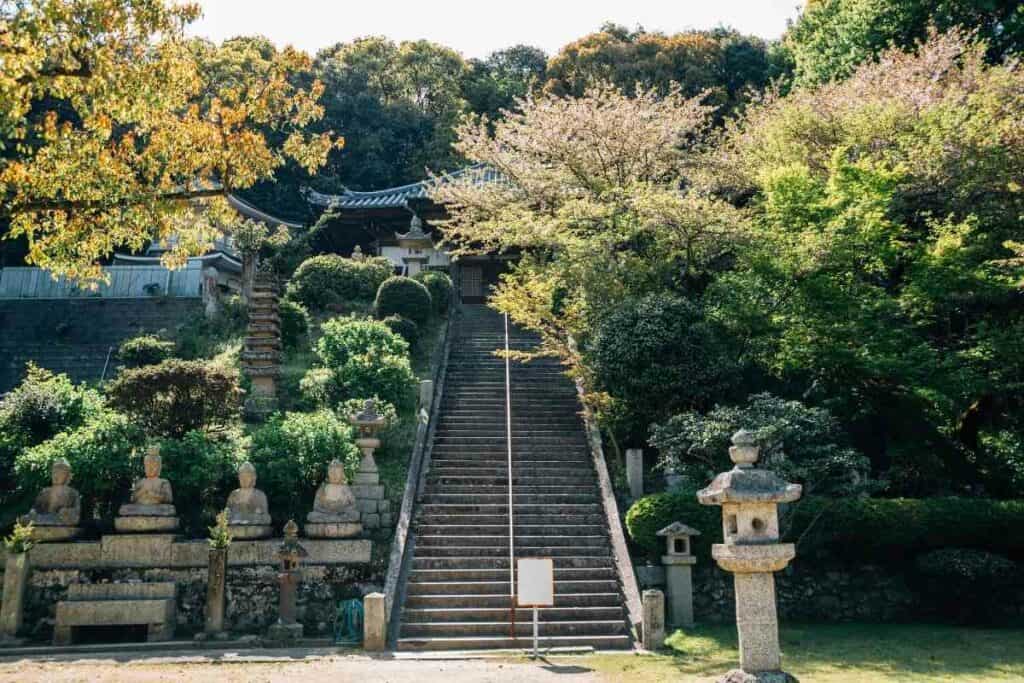 Kobo Daishi spent some time studying Buddhism in China.
On His Return to Japan – He set up many temples and spearheaded the Mount Koya development. This mountain is considered sacred and has a large complex of temples.
He is said to have settled in the Shikoku region and inspired many of the temple creations in the region.
It was in the 12th century when the Shikoku Pilgrimage started to be referenced in reports and documents, though these did not specify the exact routes.
A few centuries later (16th-17th century), the current pilgrimage as we know it came about.
Why people do the Shikoku Pilgrimage
Generally speaking, most people these days have varying motivations.
Some people choose to do the pilgrimage because they're religious or they want to send wishes to their loved ones who are no longer alive.
Many others, however, complete the pilgrimage just for fun.
The great thing about this pilgrimage is that there isn't a right way to go about it. It's possible to begin anywhere and go from temple to temple by any means.
However, the most popular and traditional mode of transport is on foot.
This is obviously quite a challenge and, depending on how fit you are, can take between 30 and 60 days.
Some people choose to break it up with buses, cycling or driving.
To Consider – For anyone who doesn't have a lot of time, there is a cheap JR Shikoku Pass, allowing travelers to go unlimited between the four prefectures of the region (Kochi, Tokushima, Kagawa, and Ehime).
You can buy a pass for different lengths of travel between 3 and 7.
The Shikoku Pilgrimage route
The pilgrimage route is a loop so there is no strict start and finish.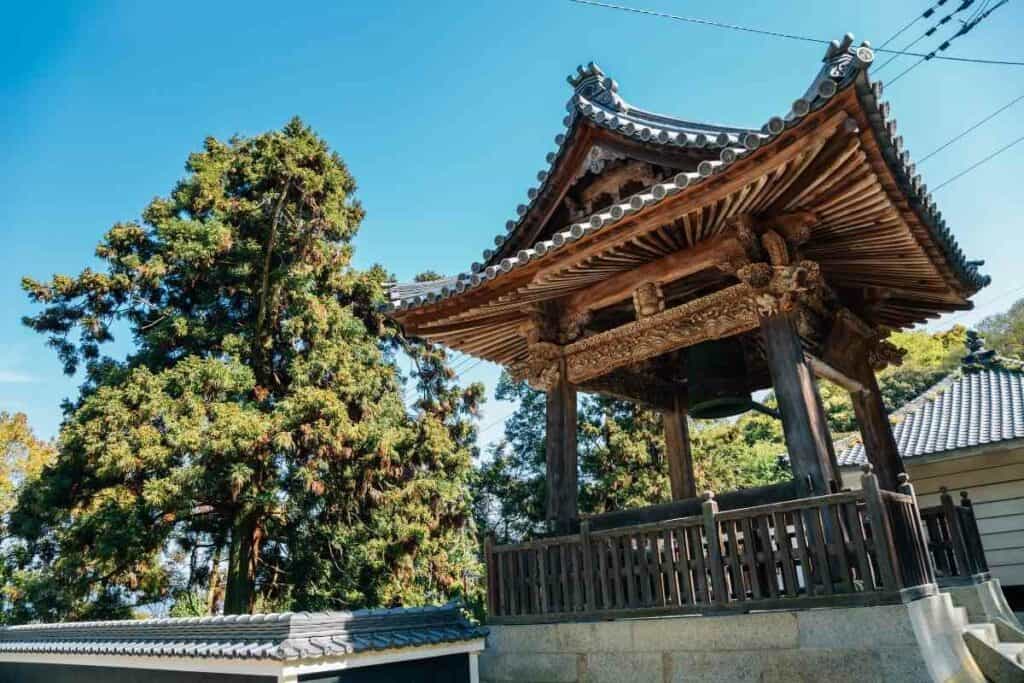 However, lots of people do like to start at Temple 1 and end at Temple 88.
This would have you starting in Ryozenji, Tokushima, and ending in Okuboki, Kagawa.
In terms of regions:
temples 1 to 23 (and 66) are in Tokushima
temples 24 to 39 are in Kochi
temples 40 to 65 are in Ehime
and temples 67 to 88 are in Kagawa
What do you do when you see a temple?
The temples nowadays are very much tourist destinations.
However, they still remain sacred sites and need to be respected.
Here is how a traditional pilgrim would act at a temple:
Stand to the left of the main gate, put hands together, and do a single bow
Wash the hands and mouth at the washbasin to prove you are free from impurities
Ring the bell on arrival (but not on departure). Also, check the times you're allowed to ring the bell.
Leave a donation in the box in the main hall then light three incense sticks and a single candle. Stand to the left and pray in silence.
Exit via the left, turn to face the gate and bow again.
There is an optional pilgrimage book that you can get signed and stamped.
To do this, you'd need to pay around 300 yen at the Administration Office.
Temple and Pilgrimage Clothing
It isn't a requirement to wear special clothing when doing the pilgrimage, but you will see people wearing specific clothing.
This includes:
A Sugegasa – a sedge hat. This is a sturdy hat that is great in all weathers. It needs to be removed at the temple.
A hakue or hakui – a white vest. This is believed to represent innocence and purity. In a traditional pilgrimage, it was also seen as a death shroud as pilgrims recognized that they were prepared to die at any given time.
A Kongozue – a staff. This is meant to symbolize Kobo Daishi himself. Staffs were also used as pilgrim grave markers for those who passed away while carrying out the pilgrimage.
A wagesa – a stole. This is a Buddhist robe, and it represents your devotion.
Pilgrimage Route Highlights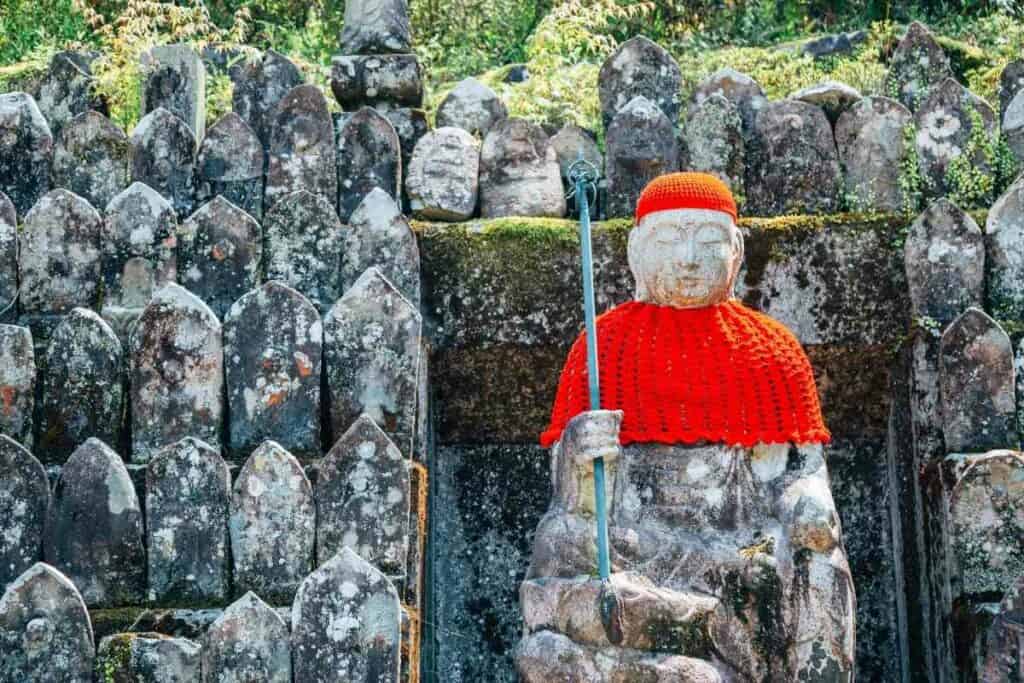 Obviously, with 88 temples to visit, there are lots of highlights.
However, we'll break down some of the best bits and discuss them by prefecture.
Tokushima
This is the pilgrimage's starting point if you're going from the first temple.
This place contains the spectacular Iya Valley, which is very mountainous. It has bridges that connect the peaks and feels very untouched.
Naruto is also in this prefecture. This is an area that's famous for whirlpools.
Kochi
Kochi is also mountainous and a great place to swim.
There is the beauty of Katsurahama beach as well as the Shimanto River, which is among Japan's clearest.
You can even kayak down the river to enjoy the beautiful views.
Ehime
This region is a fantastic place for R&R.
It has the Dogo Onsen, which is one of Japan's most iconic hot springs. According to local reports, it is what inspired Spirited Away.
The capital of the region is Matsuyama, which is home to an excellent castle.
If you head to the south of the region, there is an amazing national park called Ashizuri-uwakai National Park.
Kagawa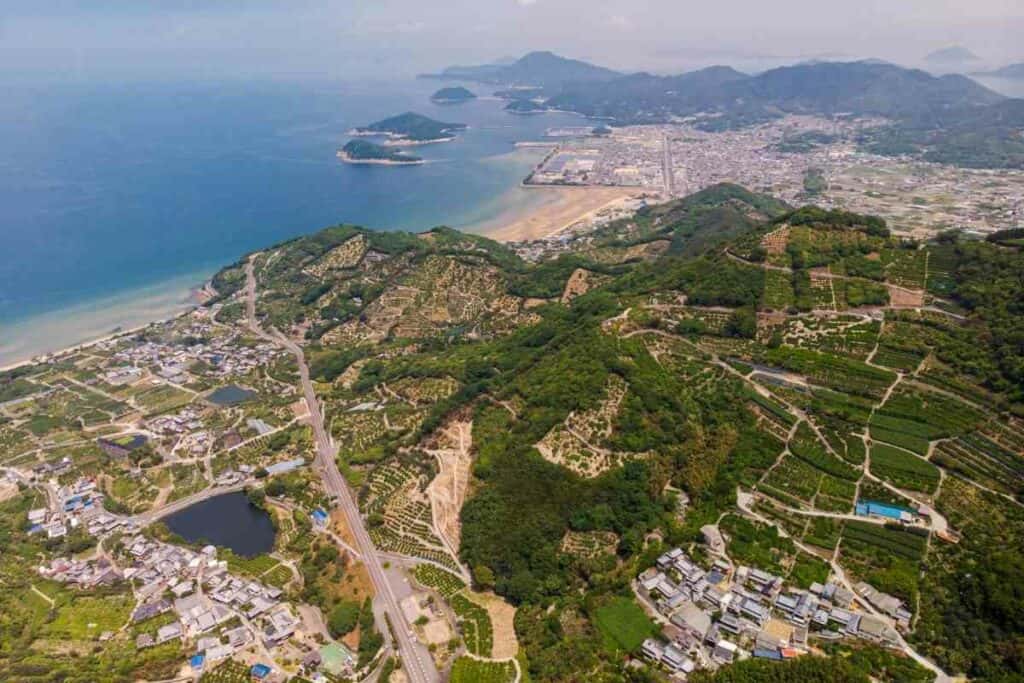 Kagawa is officially Japan's smallest prefecture – and it is thoroughly charming.
The capital, Takamatsu, was once the main Shikoku port until 1988 when the Seto Ohashi Bridge was constructed.
Best time of year for the Shikoku Pilgrimage
Shikoku is warmer earlier than the mainland so you should plan your trip to avoid mid-summer.
Most people think March to May is the best time for the pilgrimage. You're also going to get to see the cherry blossom at this time of year too.
Even Better – Another popular time is October to November. This is when the temperatures have dropped a little but it's not too cool.
Where to stay on the Shikoku Pilgrimage
This depends entirely on your preferences and your budget.
The most common type of accommodation used is a minshuku.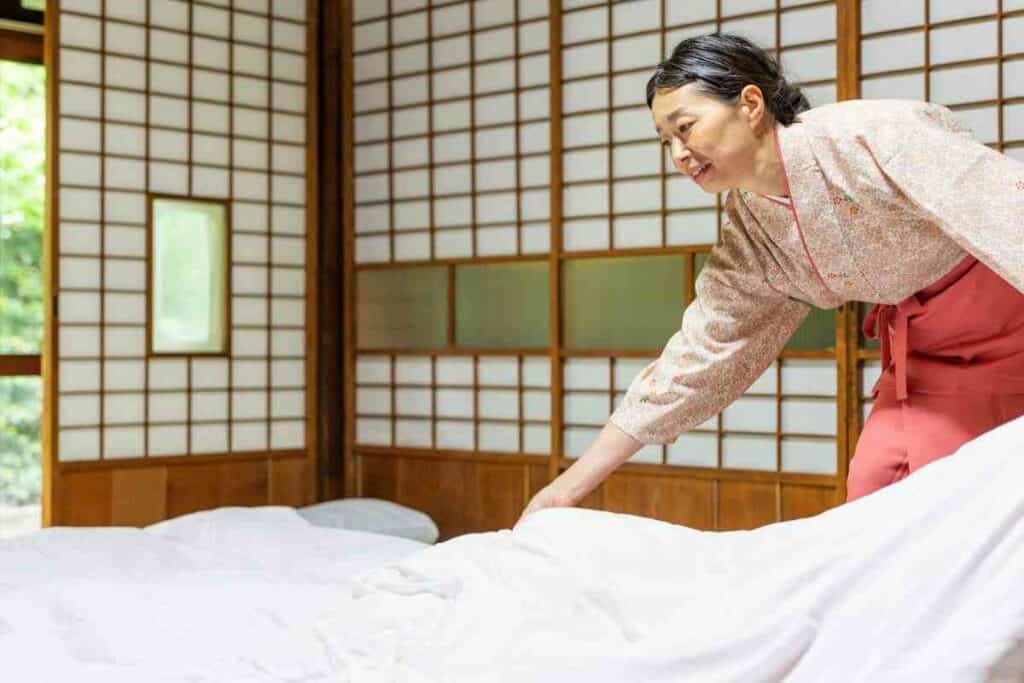 This is like a budget B&B. These usually have futon-style beds and basic facilities. You can usually add a meal or two for an extra charge.
If you prefer something a bit more upmarket, another common choice is a ryokan. This is a traditional inn.
In suitable weather, it's also possible to camp. However, you will need to carry your equipment.
How to get there
This depends on where you decide to begin your pilgrimage.
The most useful option is to fly to either Takamatsu airport or Matsuyama airport.
These both run domestic flights to Tokyo every day.
All of the 88 Temples
Ryozenji
Gokurakuji
Konsenji
Dainichiji
Jizoji
Anrakuji
Jurakuji
Kumandaniji
Horinji
Kirihataji
Fujidera
Shosanji
Dainichiji
Jorakuji
Kokubunji
Kannonji
Idoji
Onzanji
Tatsueji
Kakurinji
Tairyuji
Byodoji
Yakuoji
Hotsumisakiji
Shinshoji
Kongochoji
Konomineji
Dainichiji
Tosa Kokubunji
Zenrakuji
Chikurinji
Zenjibuji
Sekkeiji
Tanemaji
Kiyotakiji
Shoruji
Iwamotoji
Kongofukuji
Enkoji
Kanjizaiji
Ryukoji
Butsumokuji
Meisekiji
Daihoji
Iwayaji
Joruriji
Yakakaji
Sairinji
Jodoji
Hantaji
Ishiteji
Taisanji
Enmyoji
Enmeiji
Nankobo
Taisanji
Eifukuji
Senyuji
Kokubunji
Yokomineji
Kouonji
Hojuji
Kichijoji
Maegamji
Sankakuji
Umpenki
Daikoji
Jinne-In
Kannonji
Motoyamaji
Iyadaniji
Mandaraji
Shusshakaji
Koyamaji
Zentsuji
Konzoji
Doryuji
Goushoji
Tennoji
Kokubunji
Shiromineji
Negoroji
Ichinomiyaji
Yashimaji
Yakuriji
Shidoji
Nagaoki
Okuboji
How much does the pilgrimage cost?
The costs vary hugely.
This depends on how you choose to travel and where you choose to stay. It also depends on how long you take to complete the pilgrimage.
You can get free overnight stays, which is great! However, most of the time, you'll pay 7,000 yen each night in a ryokan – but it can be over 10,000 yen.
At the time of writing, 1000 yen is around $7.34.
Some people estimate that going on foot and walking around 19-20 miles a day will take around six weeks and add up to 400,000 yen, which is just under $3,000.
If You Travel by Car – You can do the route in around ten days – and you'll likely only fork out around 140,000 yen or just over $1,000.
Going on a pilgrimage bus tour takes between 9 and 12 days and will cost approximately 250,000 yen or $1,800.
Working out how much it will cost you
To work out your costs, you need to think about the following factors.
When will you begin?
Costs will be more in the popular season like spring and autumn.
How many days will it take you?
The more days it takes, the more you'll pay. It depends how many miles you can cover each day and whether you intend to take rest days.
Where will you be traveling from?
If you'll already be in Japan, it will cost much less compared to if you need to travel to Japan from the USA.
How much will it cost to get to Japan?
This depends on where you are entirely but does need to be factored into your costs.
Which airport will you arrive at?
This will determine your ongoing travel costs to your start line.
Will you need to store baggage anywhere?
You'll obviously have to pay a fee if you leave luggage anywhere.
How many temples will you visit?
Will you visit all 88 temples? In which case, you'll spend more than someone who visits ten.
Will you buy a stamp at each temple?
These cost around 300 yen.                 
Where will you stay?
Will you stay in a free lodging or mishuku or would you prefer a more expensive hotel?
How often will you take public transport?
This expense will be hugely variable and depends on how often you use public transport and for which distances.
Which pilgrimage items will you need?
Will you need candles (for burning at temples)? – expect to pay around 250 yen for sixty
Will you need incense (for temples)? – expect to pay 360 yen for 150 incense sticks
Will you need a pilgrim walking stick? – expect to pay between 1,500 yen and 2,500 yen
Will you need a guidebook? – expect to pay 1,600 yen
Will you need a stamp book (nokyocho) – 1,600 to 3,500 yen
Other prices:
Sugegasa (hat) 2,000 yen
Pilgrim pants 2,000 – 3,000 yen
Rain cover 500 – 800 yen
Hakui pilgrim jacket 2,000 – 3,500 yen
Final thoughts on Shikoku Pilgrimage
If you can get there and do the Shikoku Pilgrimage, it's a once-in-a-lifetime experience that you'll never forget.
Whether you're planning on doing the pilgrimage as a part of longer travel in Japan or whether you're just heading to Japan to do the pilgrimage doesn't matter.
What matters is that you're well prepared – both physically and financially.
Before you set off, though, you need to plan your trip carefully.
Think how many days you think it'll take you, how you intend to travel between temples and to the start and finish, then work out your daily living costs that include accommodation, food and things like laundry every so often.
You might also want to purchase some typical pilgrim things like a staff or clothing. Either way, it is an experience certainly worth achieving (and saving up for)!
Read Next