The cherry blossom season is a beautiful time in Japan and is celebrated by locals and tourists.
These breathtaking, delicate florals are welcome in the warmer weather, which appears sooner or later in the year, depending on the location you are visiting.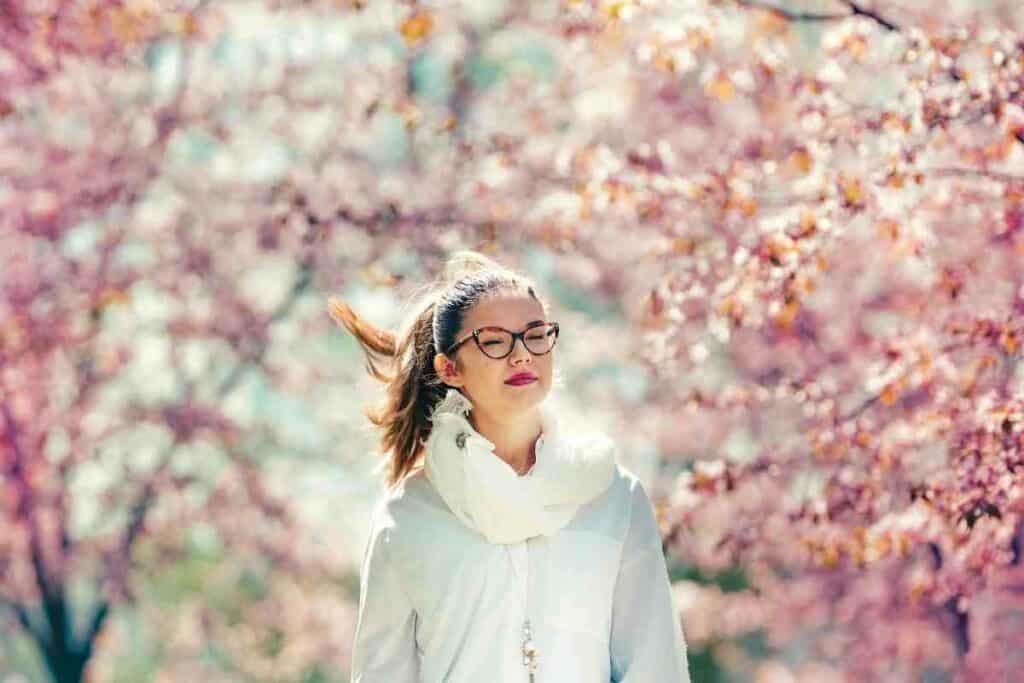 What to Expect – This article will explore the best times and places to see cherry blossoms in Japan and what to expect when paying a visit. 
What Month Is Cherry Blossom
This highly depends on what time of year you plan to visit and where you will travel.
For example, blooming time in Okinawa is in January, whereas up north in Hokkaido, it's around late May.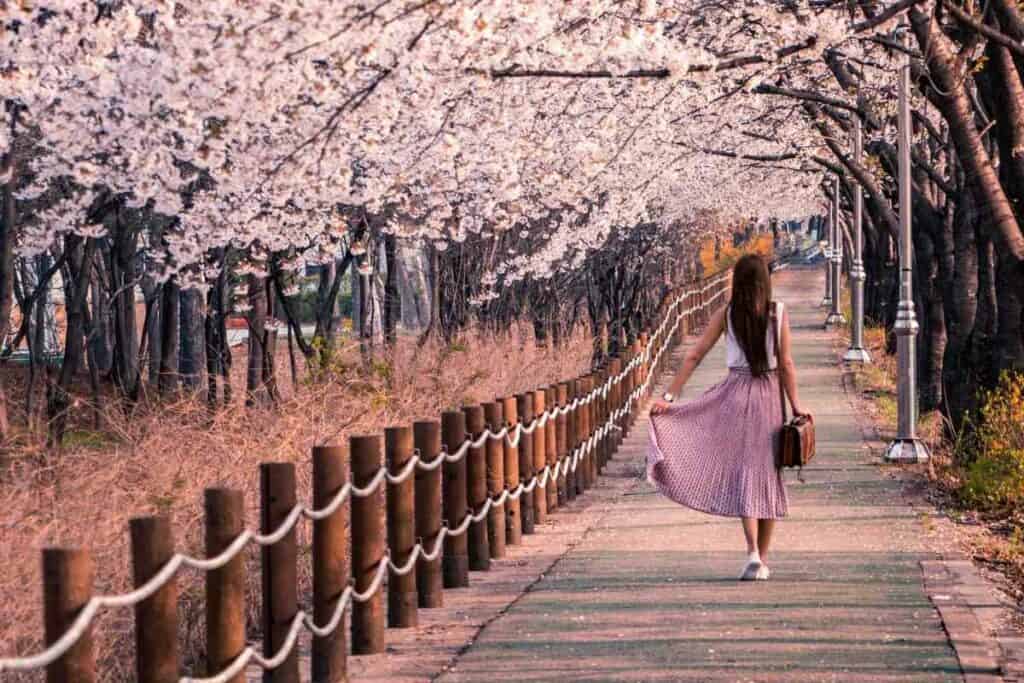 The time they begin to blossom is also highly dependent on the temperature.
This can alter the timing slightly by a week or two.
If the weather is mild, they will begin to bloom earlier, and if the temperature is still quite cool, they will often bloom slightly later.  
How Long Do They Stay In Bloom?
Sadly, the cherry blossom period is short and sweet.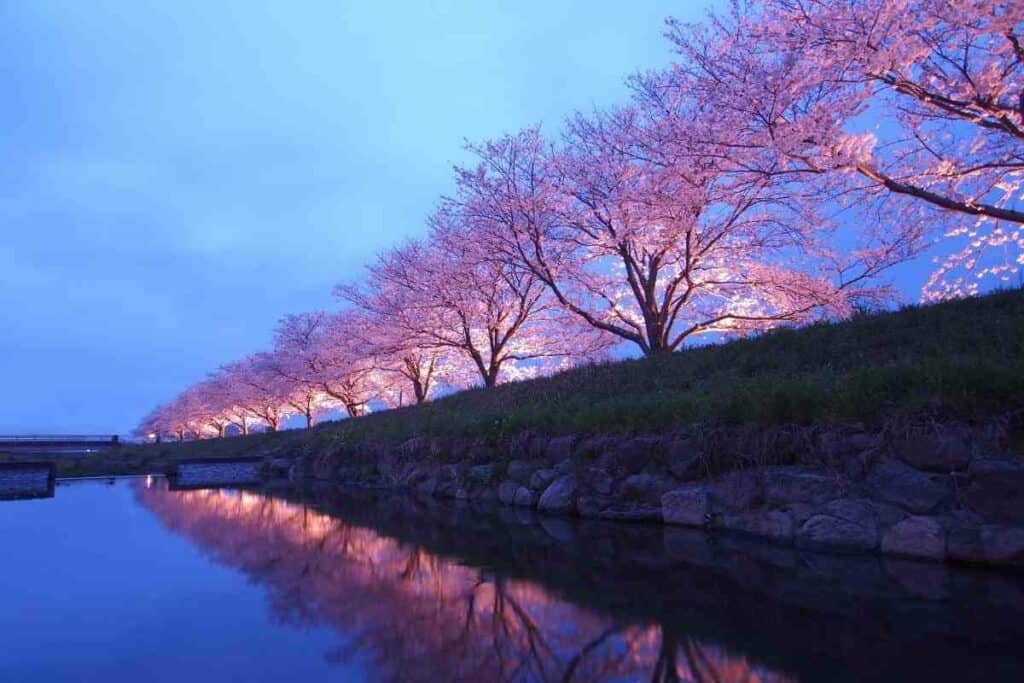 About a week after they have fully bloomed, it isn't long before the pastel-colored petals begin to fall to the ground. 
The weather also plays a massive role in how long the flowers stick around.
If it is rainy, windy, and wet, this shortens the blooming season dramatically. 
Where Is The Best Place To See Them?
It is hard to travel anywhere in Japan without catching a glimpse of these pastel pink trees.
Below are just a few places where celebrating cherry blossoms is most popular. 
Mount Fuji
The cherry trees at Lake Kawaguchiko are a sight to behold.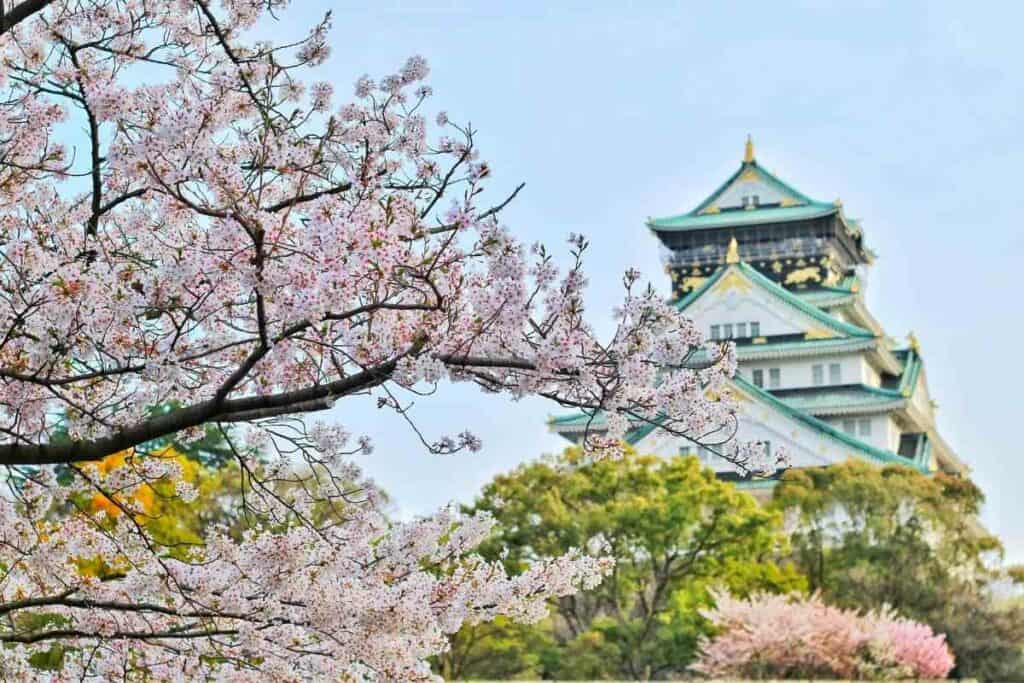 If you arrive early enough, you can even catch a glimpse of Mount Fuji itself towering above the Japanese skyline. 
Oshino Hakkai is another beauty spot located in a small Japanese village between Lake Kawaguchiko and Lake Yamanakako.
Explore the natural spring water ponds with the monstrous Mount Fuji as a background drop. 
Tokyo
Chidorigafuchi is one particular spot worth visiting.
Take a boat trip along the moats of the Imperial Palace for the very best cherry blossom views.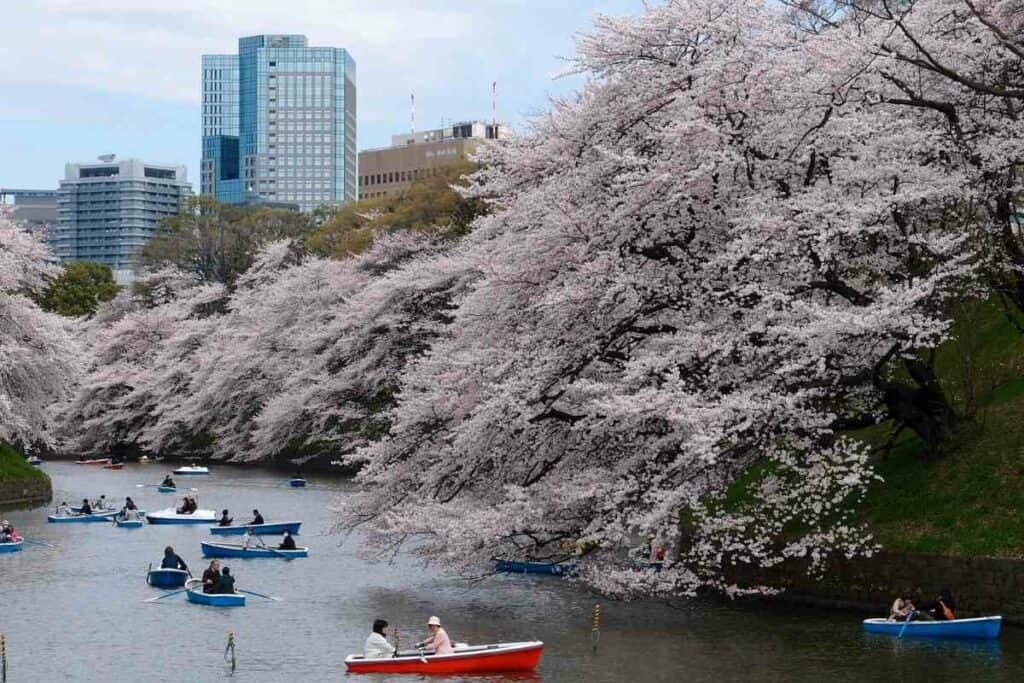 If you're looking for a place with a more lively atmosphere, head on down to Ueno Park in early April.
Brimming with pink blooms, here you will find over 1000 trees lining the streets.
This spacious park is the perfect spot for a celebratory picnic and a giggle or two. 
Okinawa
The cherry trees in Okinawa are pretty different from those on the mainland.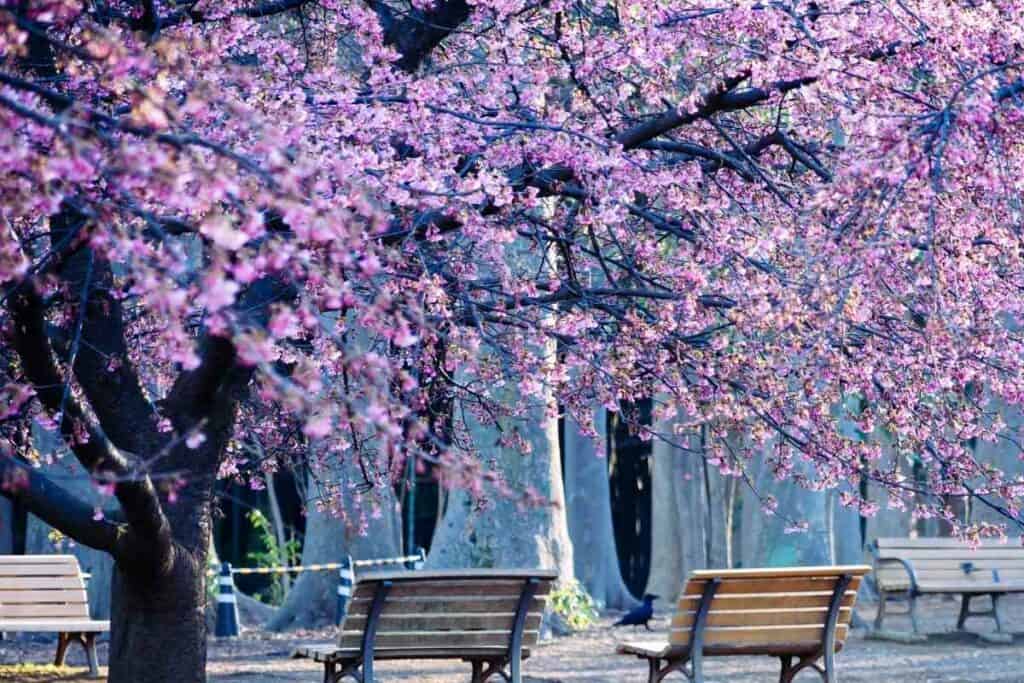 Not only are they darker in color, but they are also the first to bloom! 
The earliest blooms can be found in the small town of Motobu, located on the western peninsula of Motobu. Here you will find around 7000 cherry blossoms. 
Enjoy riverside blossoms by visiting Yogi Park for the annual Naha Sakura Festival.
Enjoy hula dance performances and live folk music followed by Japanese delicacies sold from local food stalls. 
Hokkaido
The blooming season in this area happens around late April, as this is probably the coldest region in Japan. 
Visit Matsumae park to witness the blossoming of these beautiful pink flowers.
The velvety petals offer a stark contrast against the rigid structure of historic Matsumae castle, which against all odds, work seemingly well together.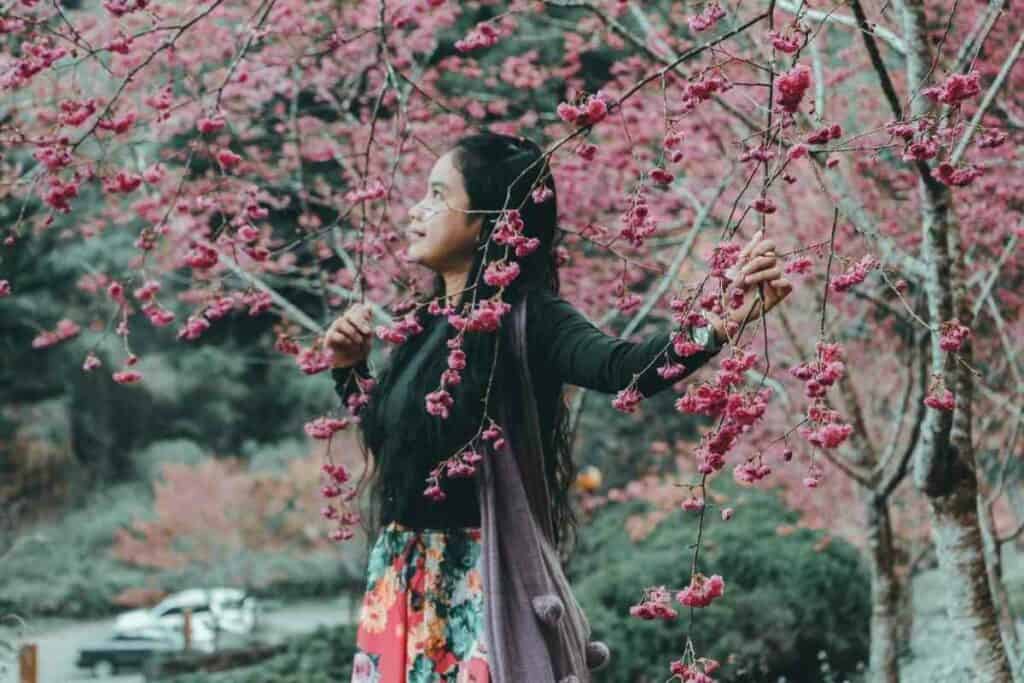 The most enormous cherry blossoms in Japan can be found lining the Nijukken Road Sakura Namiki.
You will need a car to explore the 7 kilometer run of trees, but it is worth the drive!
---
Initially: This road was built for the Royal family to travel along to get to the Imperial Farm. 
---
Why Is It Important?
Historically, the blooming of cherry blossoms indicated that it was the correct time for farmers to plant rice crops.
The budding flowers were, and still are, a symbol of new life, hope, and prosperity.
The fleeting beauty of these enchanted trees is often mentioned in ancient poetry and readings. 
What Is The Meaning Behind Cherry Blossoms?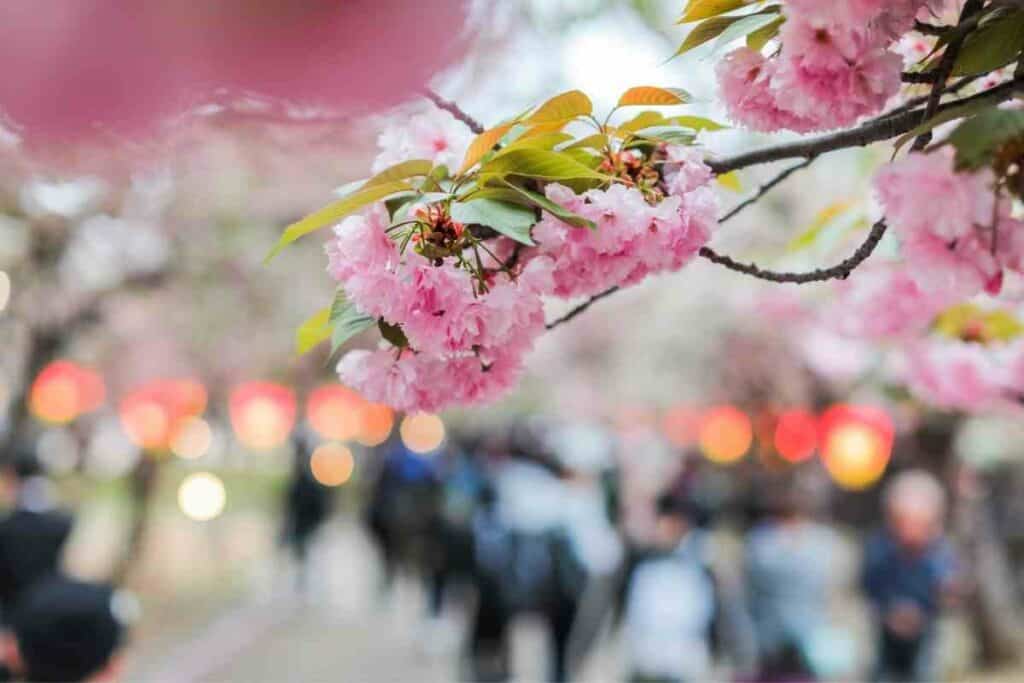 Popularly known as 'Sakura,' these spring flowers are deeply rooted in Japanese culture and history.
The celebrations around the blooming season are known as 'hanami' and can be traced back thousands of years. 
Take a look – 10 Best Hanami Destinations In Japan
Did You Know?
During World War II, Japanese war pilots painted images of the trees on their planes before departing on their missions.
The falling of the pink petals was often used to symbolize the death of samurai fighters. 
What To Expect 
There is no official etiquette to follow, and it is more about common sense than anything. 
When visiting a local park to witness the cherry blossom, you should bring a mat that is just big enough to seat the size of your party.
You should not take up more space than required. Your mat should never be left unattended. If so, the park keepers may remove it. 
You should also be careful not to sit on the roots of the trees or hang anything from the branches.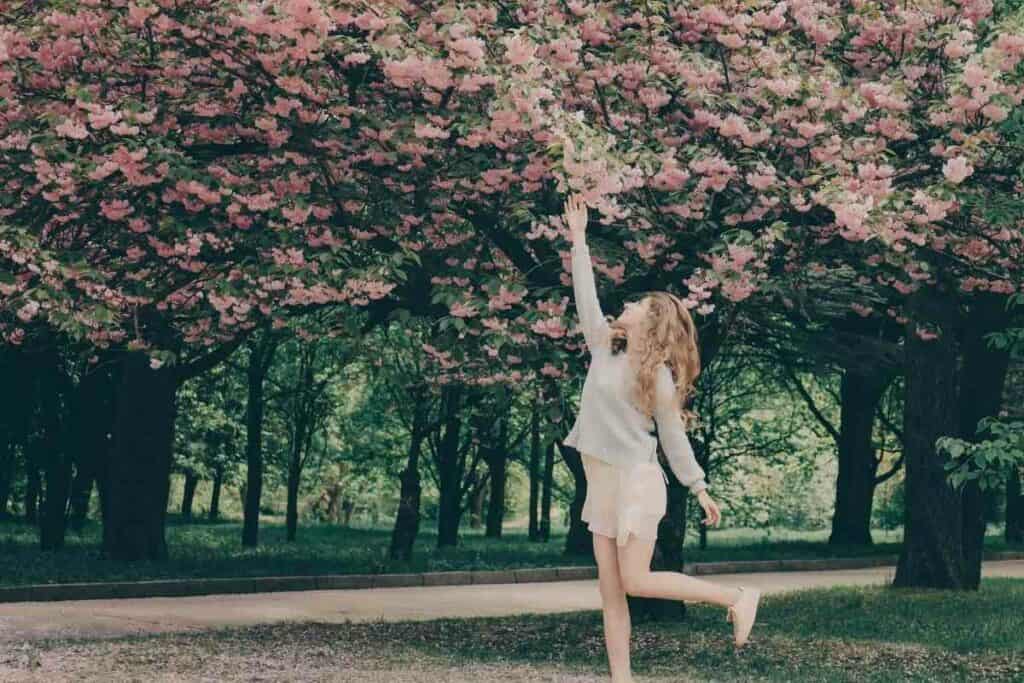 But, of course, it also goes without saying that you should refrain from shaking the branches. 
The spring weather can often be volatile, so bring along an extra layer just in case it begins to get slightly chilly.
Of course, it is always worth bringing along an umbrella too. 
---
Lastly: Don't forget to bring along some beer or sake (if not prohibited) to make a toast to this beautiful experience – But don't forget to take away your trash at the end of the day!
---
Before You Go
Thankfully, if you miss the blooming of cherry blossoms in your local area, at least you will know where to travel to catch a glimpse!
These stunning trees can be found in many locations throughout Japan. They are hard to miss! 
While the blooming season is generally short-lived, it is definitely worth the experience.
If you plan to travel to the Land of the Rising Sun between January and May, you won't be disappointed. 
You Might Also Like