The beautiful aroma of incense is appreciated across the world and the Japanese are some of the finest producers of this ancient substance.
Japanese incense is still made according to centuries-old traditions, with unique scents and formulations that refresh the body and mind.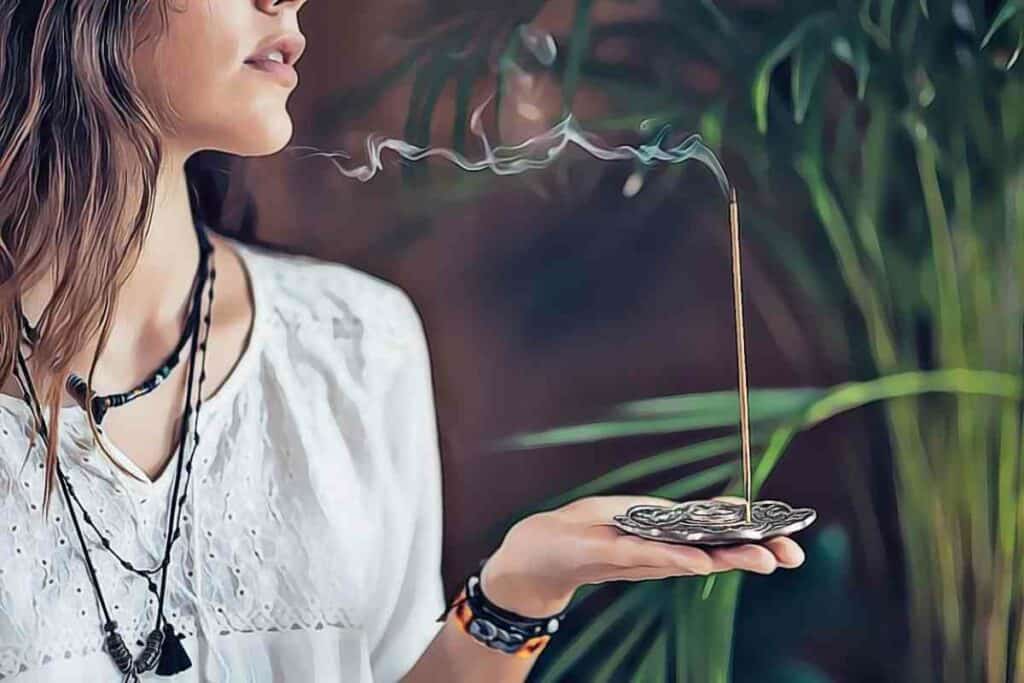 In this article, we profile the best incense producers in Japan and share quality Japanese incense products for you to try. 
All about incense in Japan
The Japanese call incense ko 香, meaning 'fragrance', or Kodo with do (道) meaning 'way'.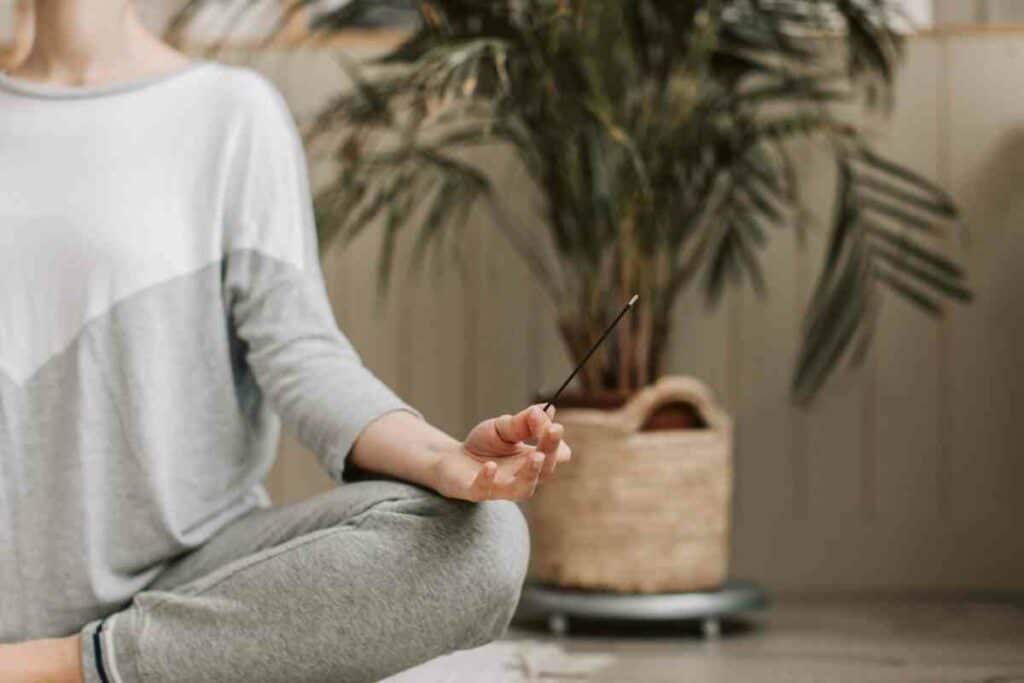 It has been used in Japan for many centuries and is widely enjoyed using various culturally codified practices. 
Though incense does not originate in the island of Japan, the country has risen to become one of the world's finest producers of this enigmatic aromatic.
The history of incense in Japan
The burning of incense is not a practice that is native to Japan. It was introduced to the court of Empress Suiko in 595 AD, not long after Buddism.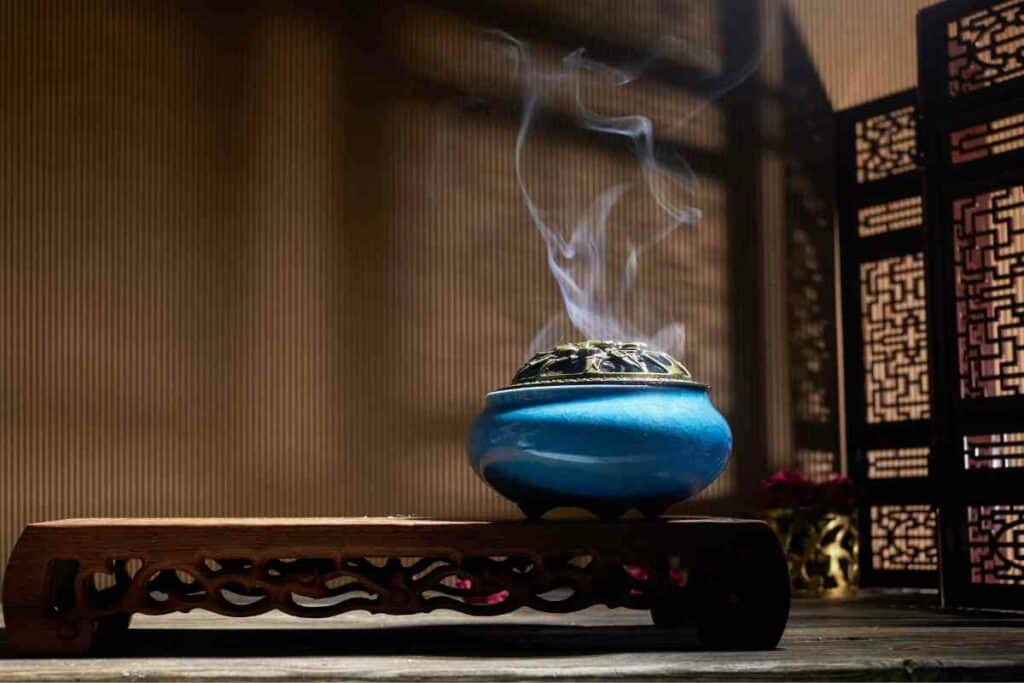 The incense, images, and chants fascinated the Japanese, who began to import incense wood. 
In Japan – Incense initially was not used for religion, but for admiration, with many courtiers enthusiastically burning the incense in their homes and using it as a hair and body fragrance. 
Incense became an indicator of fine taste and refinement and Japanese incense production began in earnest.
The Japanese would knead and shape incense balls with specially crafted lacquer instruments, creating signature blends of spices that included:
Aloes
Cloves
Amber 
Herbs
Sandalwood
Deer musk
By the 12th century (Kamakura shogunate), incense appreciation had become a permanent feature of Japanese culture with warriors using incense in the form of fragrant wood sticks to purify the mind and body.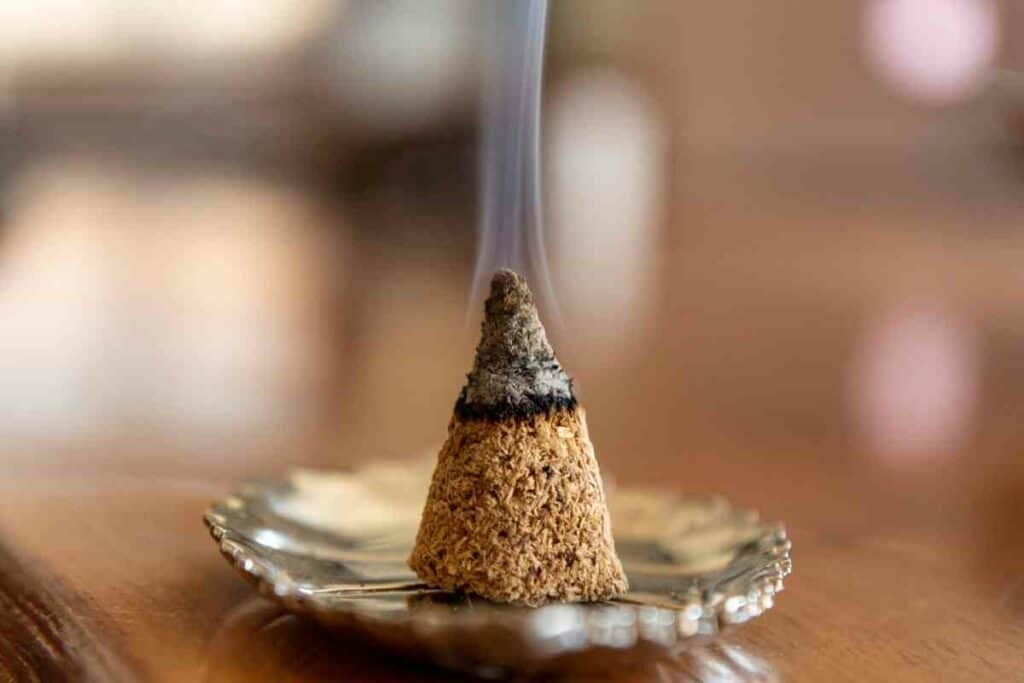 Incense ceremonies are known as the 'way of incense' and developed alongside the more widely known tea ceremonies throughout the  Muromachi period (1392–1573).
In later periods, the way of incense was revived and perpetuated by particular dynastic clans. This is reflected in the fact that some of today's best incense makers in Japan are over 300 years old.
Incense ceremonies and games became part of weddings and entertaining guests, with elaborate utensils to match.
Incense use was also intertwined with poetry and engraved art.
The introduction of Western cultural influences to Japan in the 19th century led to incense falling out of favor for a period, but the way of incense continues to the present day.
What does Japanese incense contain?
Japanese incense favors particular aromatic woods and spices in its distinctive blends.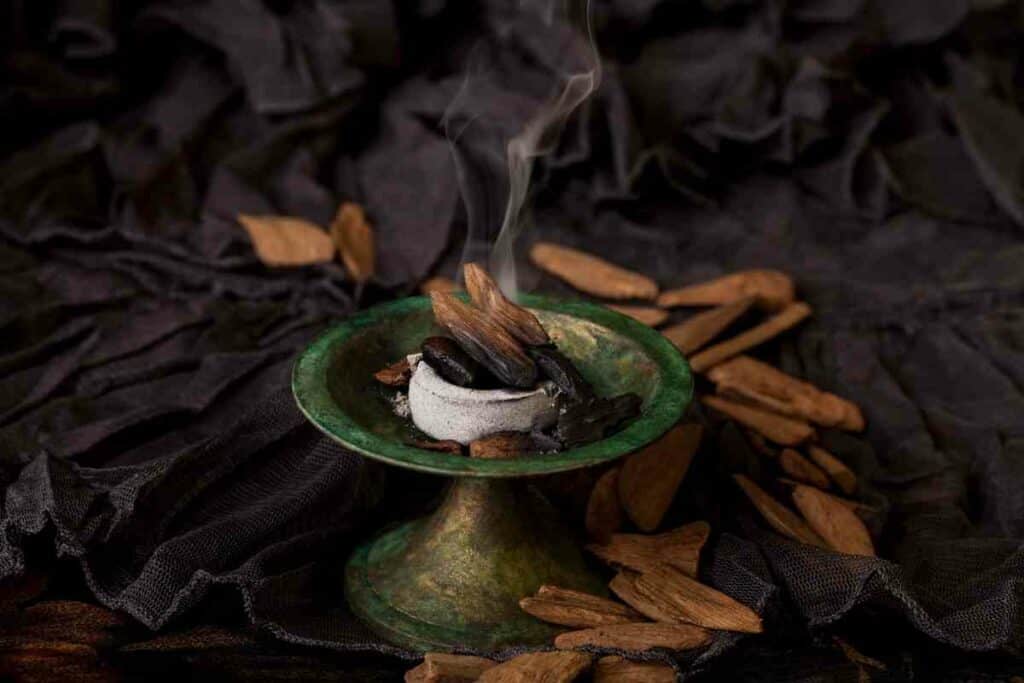 Many of the ingredients of Japanese incense are imported from other countries, adding to the cost of incense production. 
The main ingredients used in Japanese Ko are:
Sandalwood trees, of at least 60 years of age, imported from Indonesia, India, or China.
Agarwood, a source of kōboku (aromatic wood). Agarwood is specifically sourced and categorized according to its oil content and fragrance, with kyara being the most prized.
Makkō, an unscented incense powder that is used to bind the incense ingredients. 
Other exotic ingredients that are used by Japanese incense makers include:
Cinnamon bark
Star Anise
Cinnamon
Safflower
Patchouli
Spikenard
Ginger lily 
Lavender
Where is an incense made in Japan?
The majority of Japan's incense (70% +) is made on Awaji Island.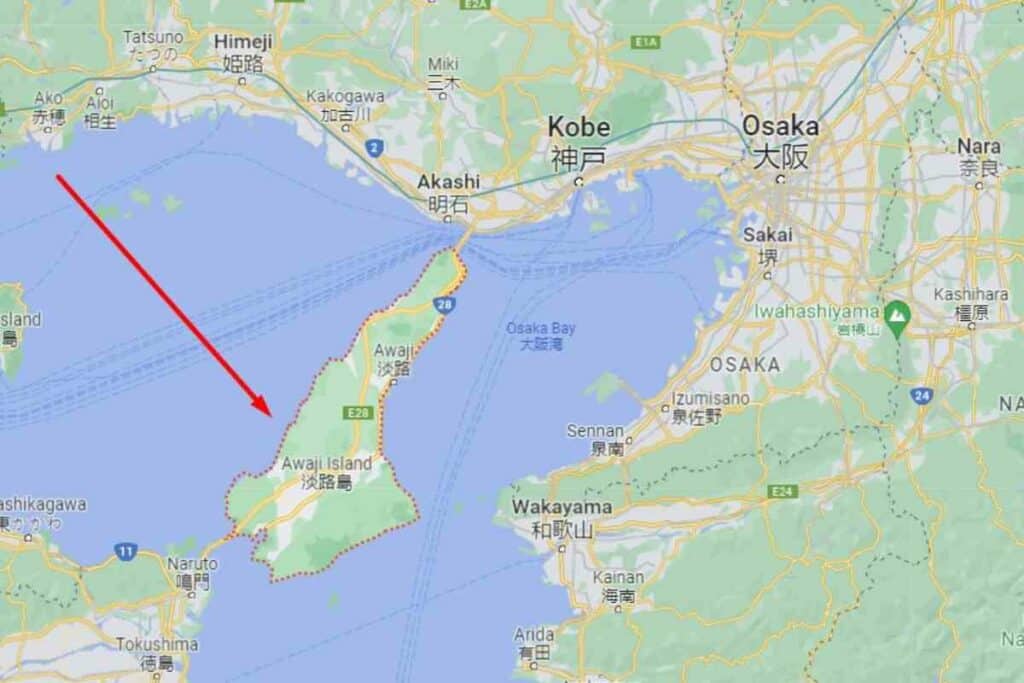 This small island is to the south of Osaka and had a military port which was advantageous for importing raw materials.
Awaji incense is renowned and has flourished beyond the fishing industries that are common in coastal areas.
Specialists have been making incense there since at least the mid-19th century taking advantage of the strong winds in the region that can dry the incense quickly. 
Types of Japanese incense
Historically, Japanese incense blends have been curated and organized according to the scent and origin of the incense compound.
A classification system was established in the 15th century called rikkoku gomi, which means 'six countries, five scents'.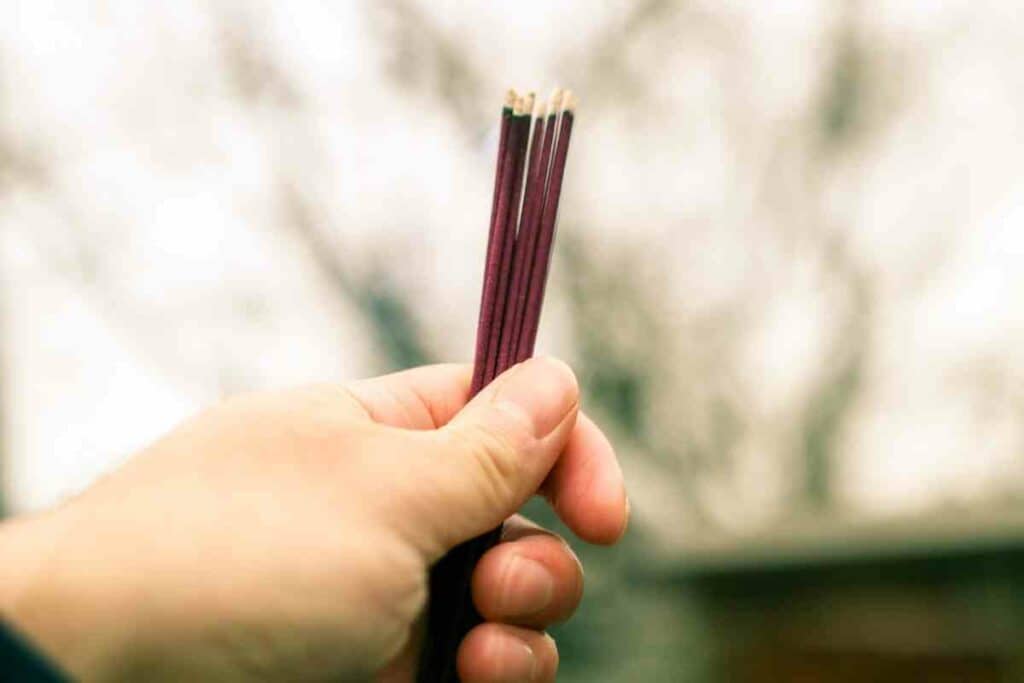 Elements of this system continue to the present day.
The six incense countries are:
Vietnam
India
Thailand
Malaysia 
Indonesia
Manaban (an unknown location)
The scents included descriptive words like bitter, sweet, salt, and hot. 
Contemporary Japanese incense is broadly divided into
Kunko (熏香) small pieces of resin-rich aromatic wood.
Shoko (焼香) sticks or cones created from ground, sieved and powdered aromatics that have been formed into a paste.
The Japanese incense ceremony, Kōdo
Japanese enjoy their incense in a traditional ceremony with specific steps that everyone observes.
In the way of incense ceremony, incense wood is heated or smoldered in a charcoal burner, or participants burn incense sticks or cones.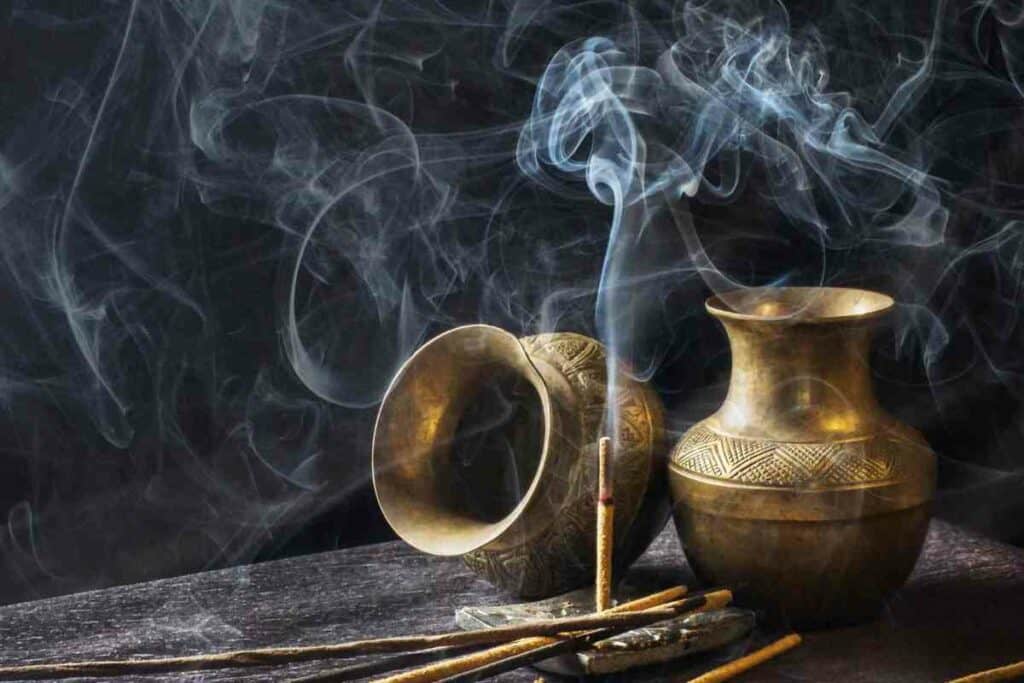 Unlike the tea ceremony, kōdo is not widespread in modern Japan.
However, interest is reviving and it is considered a high art activity in some circles. Incense may also be used as part of the tea ceremony.
The ceremony takes place in a quiet room where guests can escape distractions while guest sniff cubes of incense in a dedicated holder.
Participants can take turns to guess the fragrance that has been presented to them.
The significance of Japanese incense
In Japan, incense burning is extolled for its mental and physical health benefits.
The benefits of incense are listed in a 16th-century document called the Ten Virtues of Kō (香の十徳).
They include:
Purification of the mind and body (清浄心身)
Sharpened senses (感格鬼神)
Calming (塵裏愉閑)
Healing of loneliness (静中成友)
Elimination of pollutants (清浄心身)
The appreciation of fine incense is interwoven with the value Japanese culture places on the development of the senses, the human spirit, and the natural environment.
Best Japanese incense makers 
Despite the relative decline in use, incense manufacture continues as an artisanal craft in Japan.
The very best Japanese incense makers have worked at their craft for centuries and exported their incense around the world. 
You can buy common, mainichi ((毎日) incense from these incense makers for everyday use or experience the more exclusive, traditional incense blends.
Here are the leading Japanese incense companies.
1. Baieido
Baieido is the oldest and largest of Japan's traditional incense companies and is currently in its fourth century of operation.
It is a family-run company with the incense recipes handed down through the generations by oral tradition, shrouded in strict secrecy.
Its incense is renowned and exported globally. 
About Baieido
Baieido was founded in 1657 by Kakuuemon Yamatoya, but its roots go further back into the Muromachi period (1336 to 1573).
Headquarters 
Sakai-Ku, Sakai-City, Osaka
Founded
1657
Founder
Kakuuemon Yamatoya
Products
Incense
Censers
Incense burners
URL
www.baieido.co.jp/
Social Media
www.instagram.com/baieido_incense/
Kakuuemon Yamatoya was a merchant who sold medicinal herbs in the ancient trading port of Sakai.
In 1657 he renamed himself the first Jinkoya Sakubei, a trader in aloes, and started to sell incense and incense sticks. 
The 'Jinokya' name is a special name that only incense specialists and traders could use.
It is passed down generationally, with the knowledge of incense to the present-day leadership of Baieido. 
The best incense from Baieido 
You can experience the unique incense blends of Baieido with this delightful incense product for everyday use.
Baieido Japanese Kobunboku Incense 
Imported box of 250 fine incense sticks
Refreshing, long-lasting Sandalwood base
Incense contains 15 different plant extracts
Use to aid concentration and refresh the mind
Kobunboku fragrance reminiscent of the plum tree blossom
Burn only one stick at a time to appreciate the subtleties of the fragrance
Is Baieido the best Japanese incense?
Baiedo is certainly Japan's foremost incense producer, with rare expertise in processing and blending various aromatics that cannot be replicated.
Their Sakai base has always been advantageous for receiving imports from Spain, China, and Portugal and the company was heavily intertwined with aristocracy and the Imperial courts.
Through the centuries Baieido incense has been used for incense ceremonies and games including the mixing of fragrance (Takimono-awase) and incense blending, known as Ko-awase. 
2. Shoyeido
Shoyeido has been producing incense for over 300 years and is the second of the big three established incense suppliers and exporters.
This 12-generation family firm has a strong domestic market with stores in Kyoto, Tokyo, Yokohama, Sapporo, and Osaka.
The company is known for its annual incense competition where participants contribute poetry and essays about the incense fragrances. 
About Shoyeido
The Hata family who founded Shoyeido had been makers of incense for many centuries, working at the Imperial Palace in Kyoto.
Headquarters 
Nakagyo-Ku, Kyoto, Japan
Founded
1705
Founder
Moriyoshi Rokuzaemon HATA,
Products
Burning incense
Heating incense
Censer and burners
Fragrance sachets
URL
www.shoyeido.co.jp/english/
Social Media
www.instagram.com/shoyeido_incense_usa/
Moriyoshi Rokuzaemon Hata, a leader in the Tanba-Sasayama district of Kyoto prefecture opened the family's first store, Sasaya, in 1705.
The store sold incense blends that had been developed in the royal court, which had previously been exclusive to royalty.
The Hata family is now in its 12th generation of producing this rarified natural incense.
The best incense from Shoyeido 
Here is an incense blend from Shoyeido that delivers the unique fragrance notes and characteristics of Japanese incense while being suitable for everyday use.
Shoyeido's Moss Garden Incense
Is Shoyeido the best Japanese Incense?
Shoyeido still blends the exclusive incense blends partaken of by Japanese royalty.
It is a very old firm that is steeped in tradition and esteemed around the world.
If you are new to experiencing Japanese incense, the distinctive and invigorating scents of Shoyeido are a great introduction.
3. Nippon Kodo
Nippon Kodo is a 16th-century incense house that has continued to the present day.
It is internationally lauded for its diverse incense products and vast wealth of knowledge about the trade.
Nippon Kodo exports globally and is often the first company that overseas buyers of Japanese incense encounter. 
About Nippon Kodo
Nippon Kodo is over 400 years old.
The founder, Jyuemon Takai, also known as Koju, was a royal incense maker in the Imperial Household.
Headquarters 
Nakagyo-Ku, Kyoto, Japan
Founded
1575
Founder
Jyuemon Takai (Koju)
Products
Cone incense
Stick incense
Incense holders
URL
www.nipponkodo.com
Social Media
www.instagram.com/nipponkodo
The knowledge and secrets of Japanese incense blending were passed down to the founder of the contemporary company Tadanori Konaka who established Nippon Kodo in the 1920s.
The company later expanded to become the Nippon Kodo Group in 1965.
It has massively expanded through the acquisition of many international companies in the incense sector including businesses in Hong Kong, Vietnam, and Paris.
It produces premium Japanese incense under its brand name and for other companies across the world.
Experience Nippon Kodo incense
Here is an incense blend from Shoyeido that delivers the unique fragrance notes and characteristics of Japanese incense.
Kayuragi Incense Collection by Nippon Kodo
Is Nippon Kodo the best Japanese incense?
Nippon Kodo is one of the most accessible brands of Japanese incense.
They have an extensive inventory of stock with numerous varieties for everyday, traditional, and ceremonial use.
Nippon Kodo, through company acquisitions, has acquired some of the world's best incense resources, making their products well worth trying. 
Best Japanese incense FAQs
What is the Tale of Genji?
The Tale of Genji, written by Lady Murasaki for Empress Akiko in the 11th century, is one of Japan's greatest literary works. It describes in detail the aristocratic world of ancient Japan and the lifestyles of its elite courtiers. Readings are traditionally enjoyed with specific incense blends (Genji incense) for an immersive sensory experience. 
What is a kōro?
A kōro is an incense burner. These containers or sensors are exquisitely crafted from materials like lacquer, porcelain, or wood. Many old kōro have become extremely valuable. 
Are there any other Japanese incense makers?
Japan has numerous smaller incense producers, predominantly in the Osaka region. Kyūkyodō, Kunmeidō, and Kōkandō are also Japanese incense companies that export. 
If you want to buy incense directly from smaller companies and have it forwarded to you this is possible. This helpful Reddit post by an incense enthusiast lists the incense producers in Japan with information on how to buy incense directly from them. 
What's the difference between Japanese incense and Indian incense?
Japan and India are both incense powerhouses, but the incense from each country is distinctive. Japanese incense is less heavy than the Indian variety and does not have the bamboo core that tends to generate smoke. Use Japanese incense for a light, refreshing background fragrance. 
In Conclusion 
Japan produces some of the world's finest incense and has a wealth of knowledge of this ancient craft. Delight your senses with pure natural incense from the famed incense makers of Japan.