In the central north of the prefecture of Yamanashi, Japan; at the heart of Honshu, lies the ancient city of Kōfu.
Steeped in history, initial records show that it was established around 100 BCE. At approximately three hundred meters above Sea level, it is enveloped by mountainous terrain.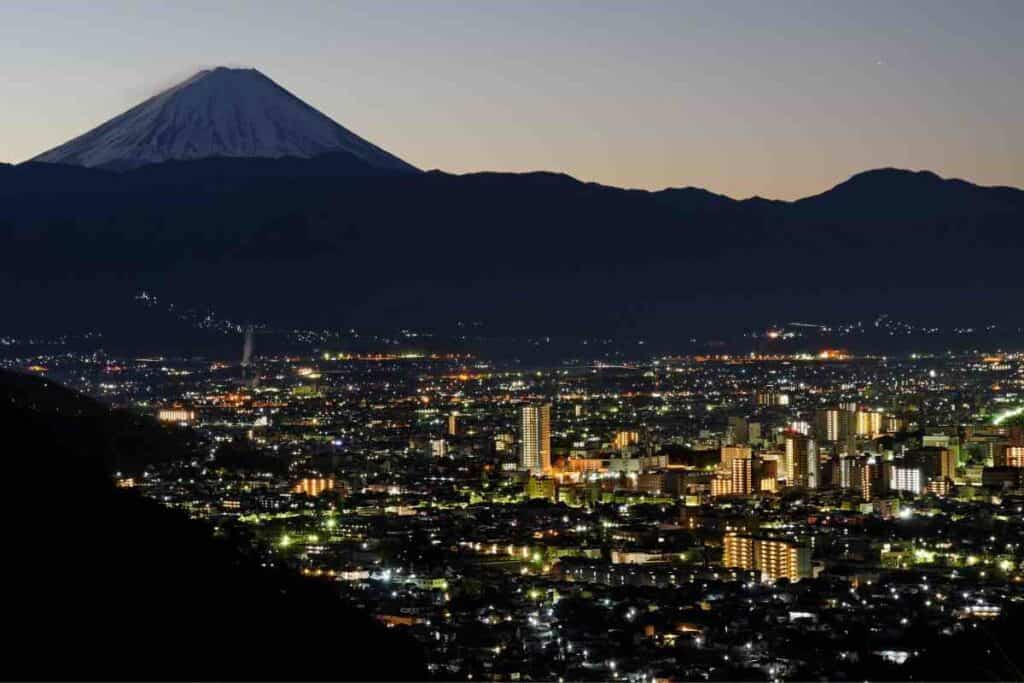 Such basins tend to create their own subtropical climates, being shielded from the shoreline, making Kōfu one of the warmest places to visit in Summer and a much sought after holiday destination.  
What to Expect? We will provide you with a detailed travel guide to this historic city, and the surrounding area, looking at travel, tourist attractions, local events, cuisine, and entertainment in order to provide you with an inclusive guide to Kōfu, from which you can begin to plan your perfect trip.  
What is Kōfu known for?
Kōfu has its roots in feudal Japan, rendering it one of the oldest across the whole archipelago.
The Land of the Rising Sun's most famous mountain can be seen in what are described as breath-taking panoramic views.
The majestic Mount Fuji stands to the south and can be seen from Shosenkyo Gorge, a canyon by River Arakawa.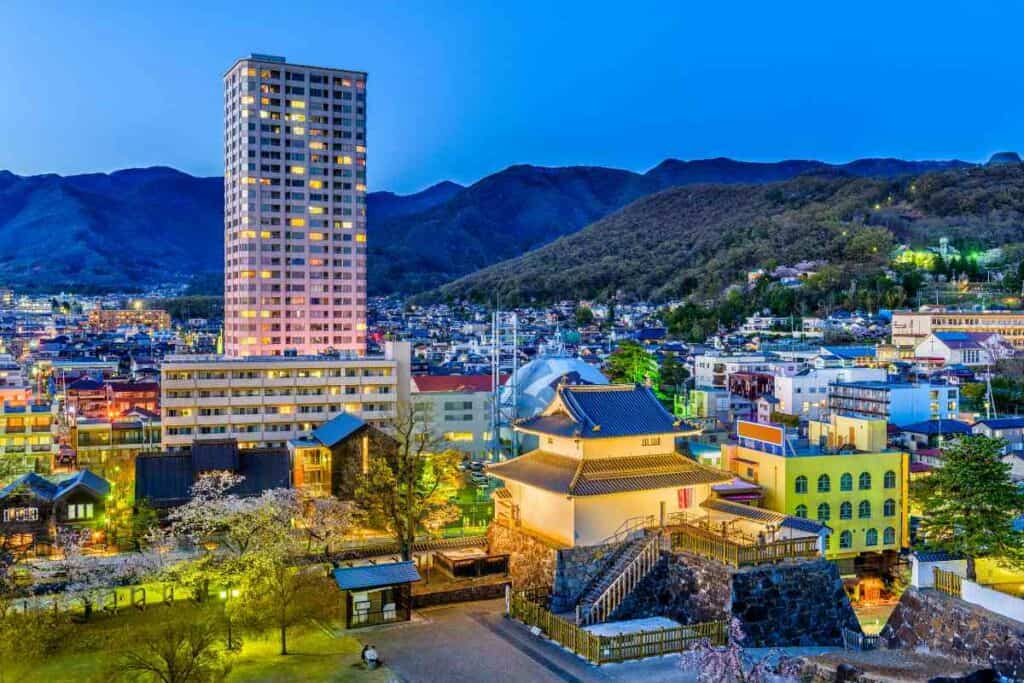 Kōfu's unique mountainous enclosure surrounds the capital of Yamanashi with beautiful countryside areas, incredible for hiking and outdoor adventures.
As with every city in Japan, Kōfu also hosts its own festivals and has an array of historical buildings like ancient castles.
Being a capital, it is and can be very busy, but in comparison to other cities like Tokyo and Kyoto, it is reportedly much quieter and calmer in its general atmosphere. It is, additionally, the most famous place for winemaking in the country.
What's the best time to visit Kōfu?
According to the National Oceanic and Atmospheric Association, the best time to visit Japan for good weather and much sunshine and heat, is between April and June.
This period coincides with the months which have the least rain.
The hottest and most popular months include, unsurprisingly, July, August, and September, although there is quite a lot of humid rainy weather throughout the latter.
As for Tourism – The quieter months are both January and February, should you prefer a less occupied destination. If you don't mind it busy, then festival season is in Springtime and Kōfu hosts Japan's largest Samurai festival: Shingen-ko.
Mitake Shōsenkyō (Shosenkyo Gorge)
Understandably unmissable and the most pertinent sight to see in the north of Kōfu, lies Shosenkyo Gorge: a large canyon and one of just 3 across all of Japan.
Residing within the grounds of Chichibu Tama Kai National Park, this stunningly scenic place contains rocks which seem sculpted in the shape of animals, boasts a sixty-foot waterfall (Sengataki), and brilliant views of a distant Mt. Fuji that you can enjoy from a specific vantage point, accessible only via a ropeway.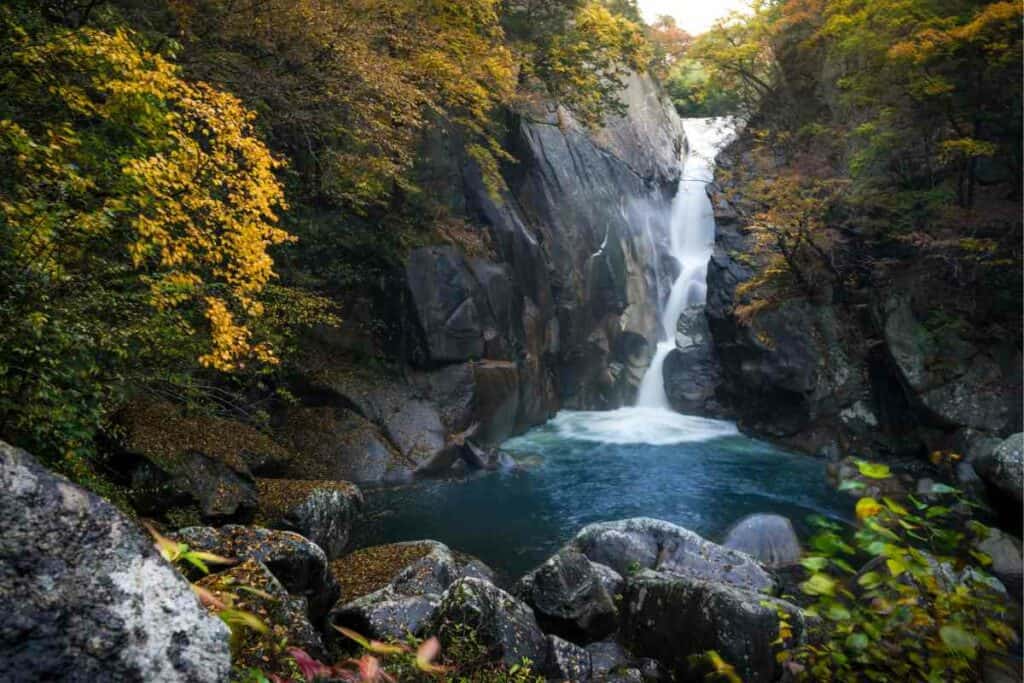 There is a small village consisting of places to eat, grab a drink, and a gift or two before paying a visit to the Shadow Art Museum located in the south end.
Easy to access by public transport, buses run regularly from Kōfu's bus station to Shosenkyo-guchi and then another bus takes you to Shosenkyo Taki Ue.
The second bus does not run in Winter, but taxi services are available throughout this time.
Nishizawa Keikoku
Also situated within Chichibu Tama Kai National Park, is the enchanting valley of Nishizawa Keikoku.
Home to a 5-level waterfall, with a number of smaller ones leading up to it, there is a stream to follow along the mountain path.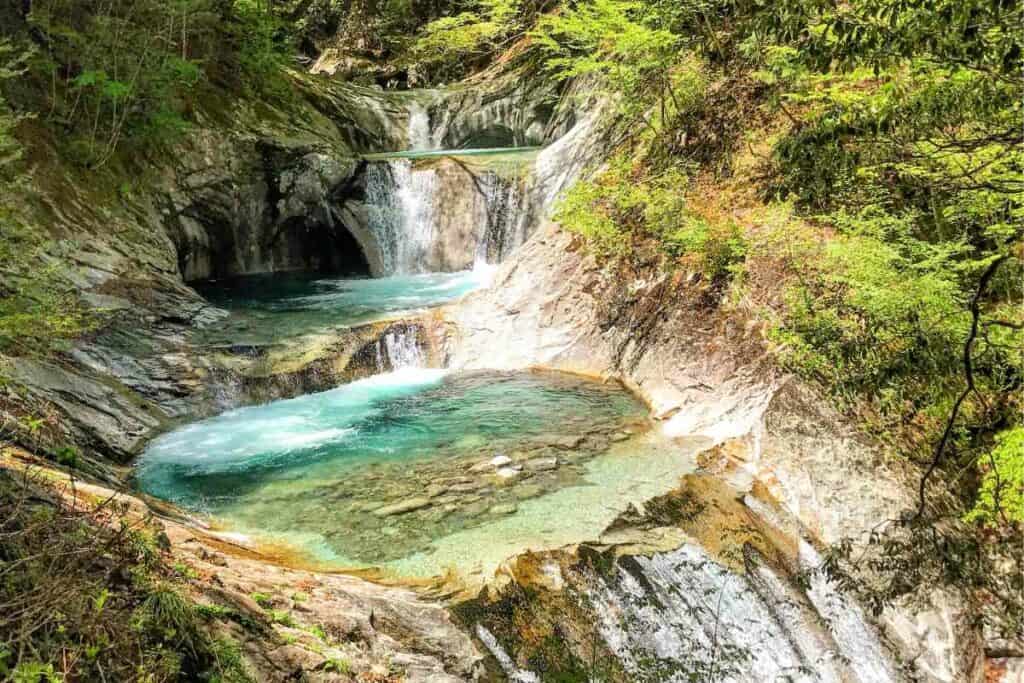 It does take a good hour and a half to hike to, and the path can be a little steep and difficult to manage, but it is a more accessible trail upon your return.
Logically at its most picturesque in both Spring and Autumn, it is one of the must-see destinations in Yamanashi prefecture.      
Shingen-ko
Aligning with blossoming cherry trees, the Shingen-ko Matsuri is the most colossal gathering of both Samurai and Samurai enthusiasts in the entire world.
A festival with three days of historic re-enactments of cultural traditions, Shingen-ko takes place on one of the two first weekends of April.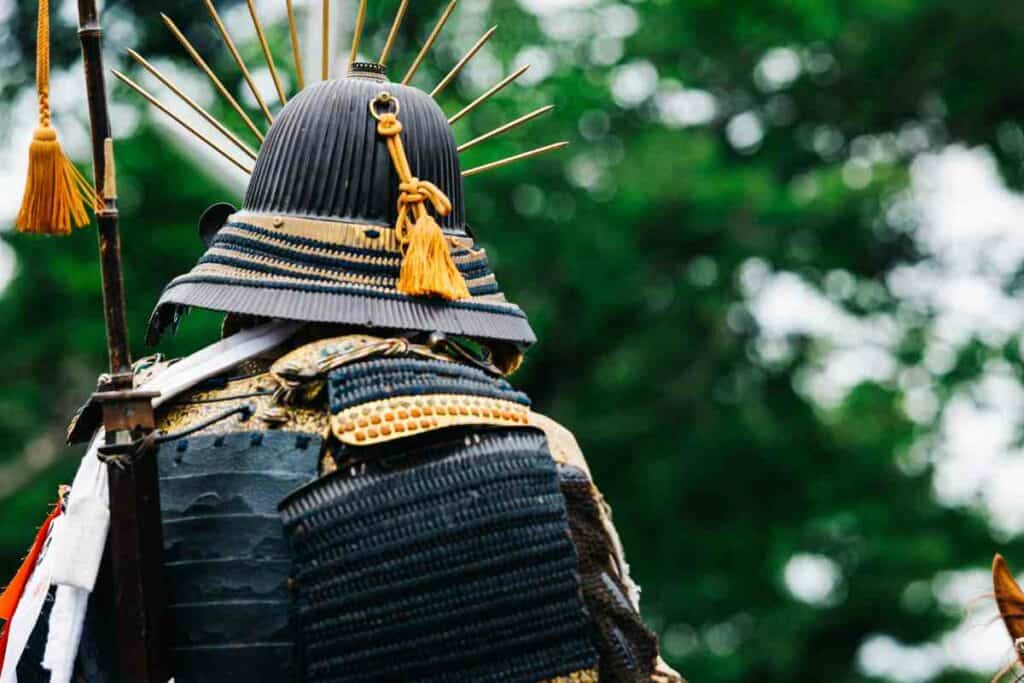 It celebrates Takeda Shingen (1521-1573).
A prominent figure in Japan's history, Shingen was a daimyō: a victorious feudal warlord and ruler held in high esteem.
Running for over fifty years, in excess of 1500 Kōfu locals don actual Samurai armour and proudly come together in the iconic Maizuru Castle's surrounding parklands.
Making a circular journey, via the streets of the city, they are led by someone dressed as Shingen in a march watched by thousands of locals and tourists each year.
With martial arts demonstrations, Kendo competitions, mini-Samurai youth parades for the kids, drum and other musical performances, and so much more, it is definitely something worth marrying up with the time that you visit.
Maizuri Castle
Named for its ancient stronghold, the park is literally a few minutes' walk from Kōfu Station's southern exit.
Once reduced to a mere pile of rocks, the castle suffered a catastrophic fire in the 18th century and was demolished by the late 1870s.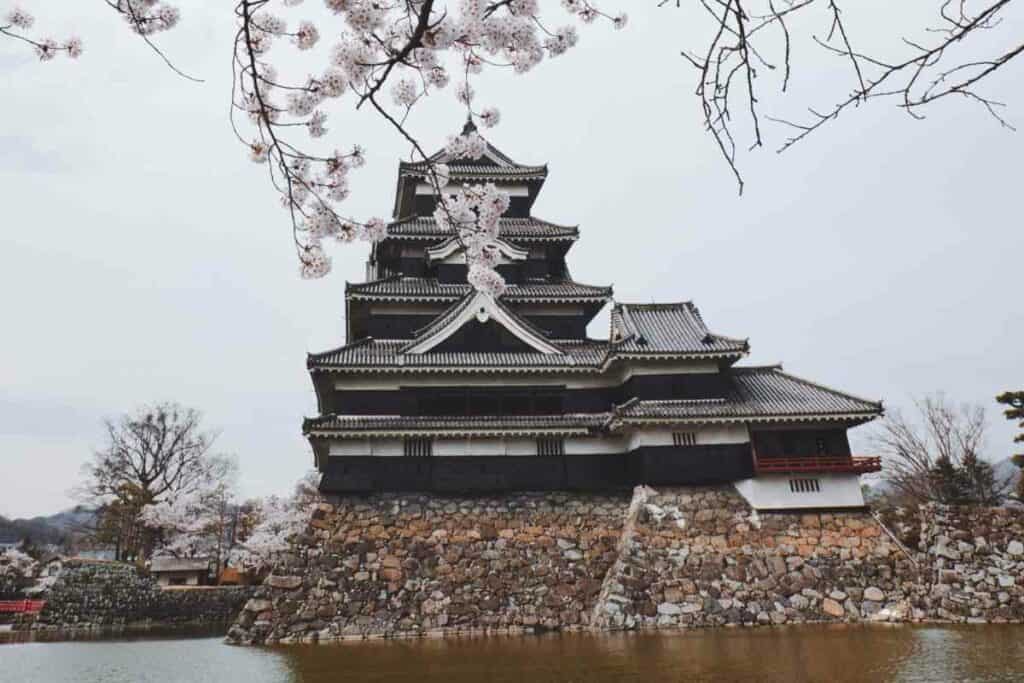 In its early days, it was second only to Edo Castle and stood as one of the strongest and most strategically placed buildings in Japan.
Parts have been reconstructed using modern materials, but with the guidance of original and very ancient plans.
Arguably a very interesting place to visit, without the surrounding scenic parklands to explore.       
Kanazakura Shrine
Being such an historical city, it is no surprise that local Shinto shrines date back thousands of years.
Kanazakura was reportedly established two millennia ago and is one of the most ancient in the prefecture of Yanamashi.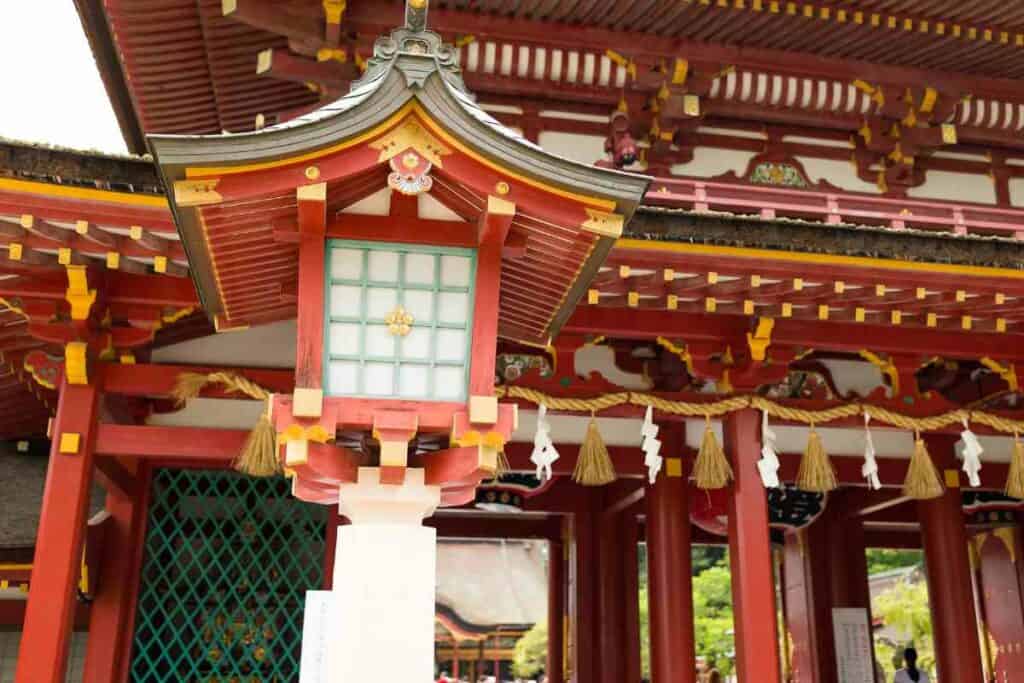 An enchanting place to visit, even the steps leading up to the shrine are lined with ancient trees which are believed to be close to a thousand years old.
In the sanctuary's grounds, stands the cherry tree for which the shrine is named.
Kanazakura tree is a sacred cherry tree, blossoming in a majestic golden shade.
The tree itself is enough to attract visitors, but there are also some fantastic dragon sculptures: notably gripping locally famous crystal balls with each of their tails.
Meotogi Shrine: Mount. Kinpu
Dedicated to the celebration of Fertility, Meotogi Shrine is located on the slopes of Mount. Kinpu and within the vicinity of Shosenkyo Gorge.
Another ancient tree stands within the grounds, but this one is a one-thousand-year-old, towering chestnut tree; the immediate grounds of which can be accessed for a small cost.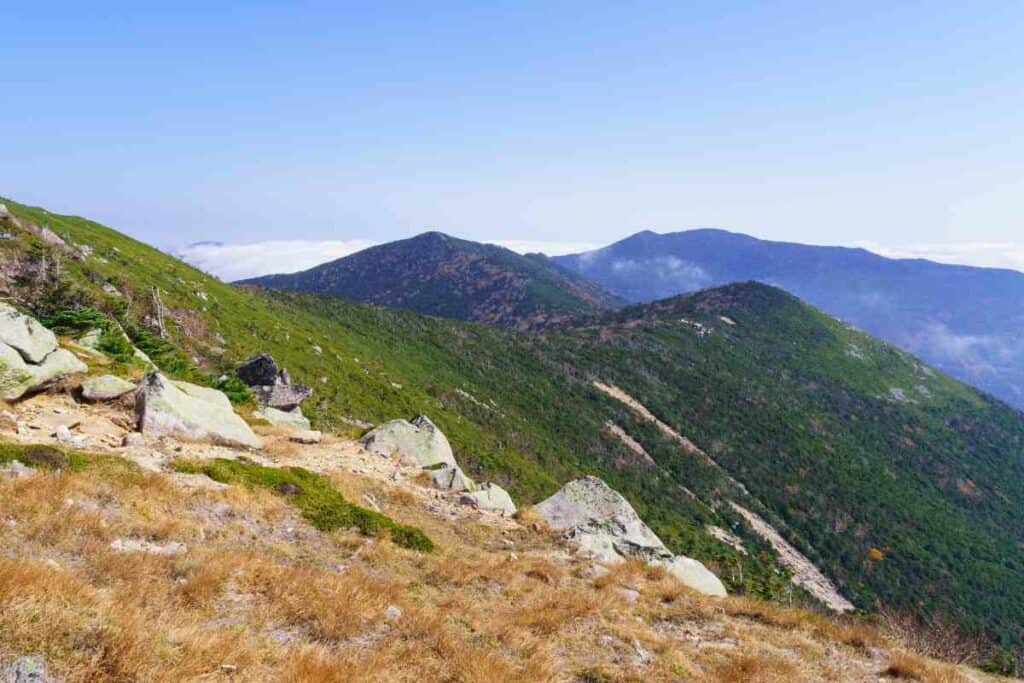 The tree itself is said to grant the benefits of prosperous marriage, family safety and the blessing of safe birthing.
Just a 45-minute bus journey from Kōfu Station, this shrine is coupled with the awe-inspiring beauty of the mountainous terrain.
Popular for hiking and close to Shosenkyo Gorge Ropeway, it is a quick visit which can be added to any day's itinerary.  
Mount. Kinpu
Sporting a 7-hour return hiking trail, Mt. Kinpu stands at a height of 2599 meters and is the second highest peak in the area.
Held as sacred, part of the grounds has been built upon and much of it preserved.
With patches of flowers of varying breeds and colors, humongous rocks, and cliff faces, camping grounds, and stunning views of the surrounding area, and Mt. Fuji, it is categorised in the top 100 peaks of Japan.
Neighbouring Mount. Mizugaki, as well, it truly provides some uniquely astonishing views.
Geijutsunomori Park
With a stunning backdrop of the distant Mount. Fuji, the park is home to culture and arts museums stood within flower-filled gardens, spotted with a number of sculptures.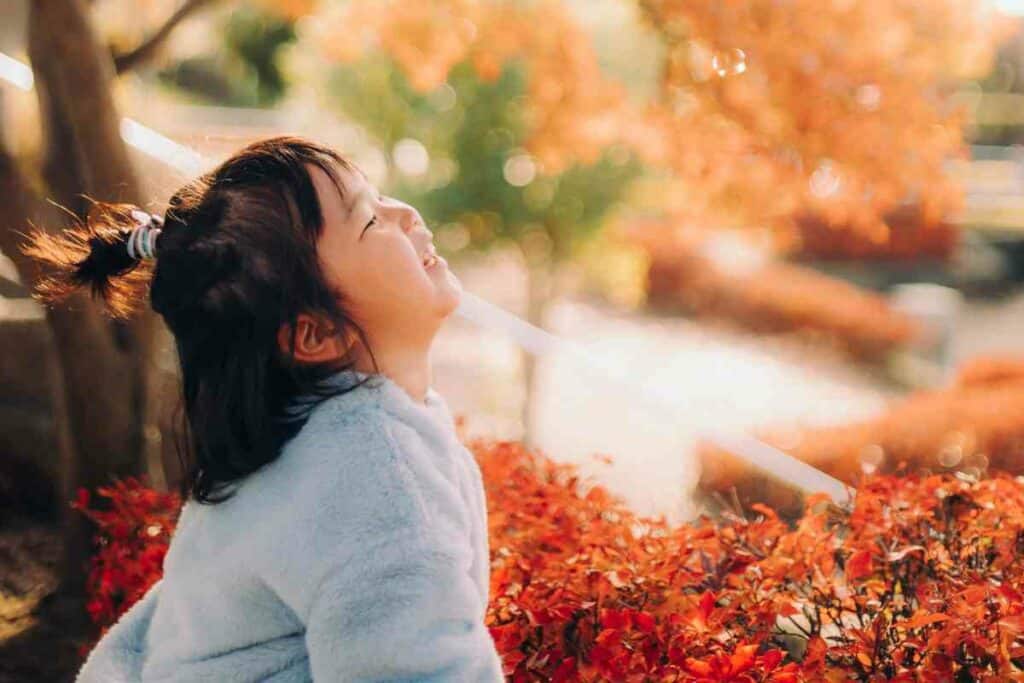 On the western side, lies Yamanashi's Prefectural Museum of Art or the Museum of Millet after a 19th century French painter with the same name.
Jean Francois Millet's works are on consistent display, along with modern Japanese artwork.
To the East – Lies the Museum of Literature, which exhibits details of the and works of prominent historical authors with connections to the local area. These include Ryunosuke Akatagawa and Osamu Dazai, to name just two of the many displayed.
Yamanashi Science Center and Museum
This is a perfect place for any Space enthusiast.
Boasting a huge, twenty-meter diameter projector screen on which an incredible show is displayed, take a galactic journey through the stars as part of you visit.
According to visitors, it can be difficult to find, but with a bus directly from Kōfu station it is recommended that you ask for current information there.
Exhibiting a number of scientific and technological gadgets to play with, it is reportedly worth the effort making the trip, should you have the time to do so.    
Kai Choshizuka Tumulus
With a modern bird's-eye view, these ancient burial mounds resemble the shape of a keyhole.
Now surrounded by road, it is the most prominent example in the East of Japan with an encompassing length of almost 170 meters.
Considered to be an equivalent to the ancient Egyptian pyramids, it is dated to the Kofun era (c. 250-552 CE).
The tomb beneath is some fifteen meters in height and excavations have uncovered treasures of Japan's ancient past buried deep below the mound's surface.
Any of these finds can be viewed in the Yamanashi Prefectural Archaeological Museum, one of many such museums to enjoy within the region.
Katsunuma Wineries
Katsanuma in the basin of Kōfu, is the heart of winemaking and foundation of the whole industry in Japan.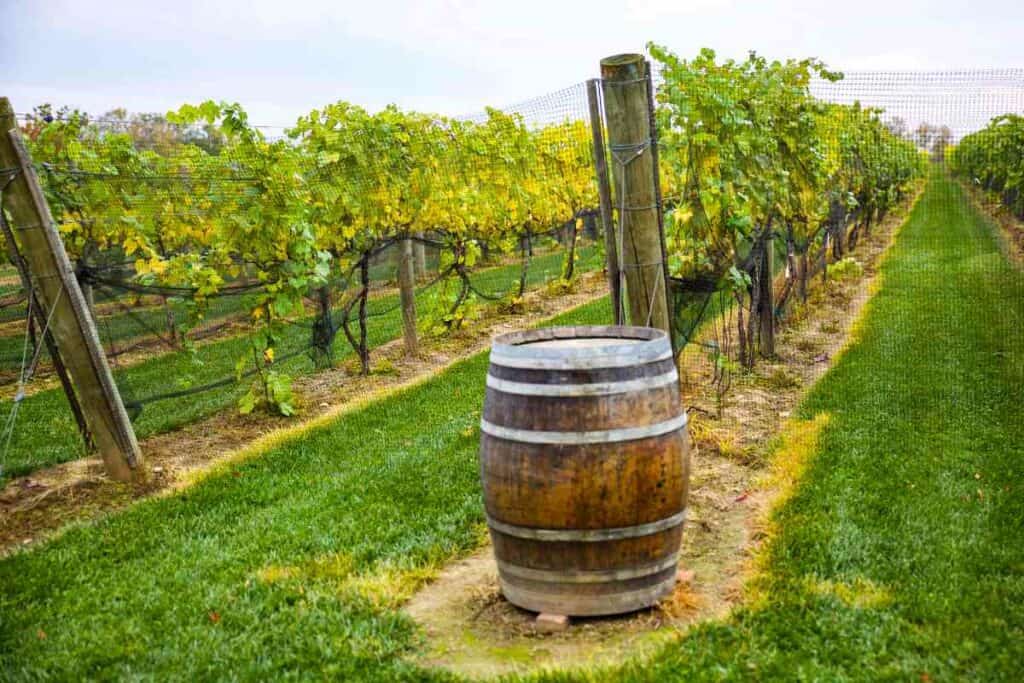 It is no coincidence that the area is well-known for the cultivation of grapes; specifically, the Koshu grape which is believed to have been imported over a millennium ago.
The creation of wine was started sometime in the nineteenth century, on the back of skills acquired from across Europe.
Since then, a large number of wineries have been established in and around the region, making it a great destination for wine connoisseurs.
Thanks to a now thriving industry, you can learn all about Japanese wine, as you taste your way through history.
Hottarakashi Onsen
There is no shortage of onsen throughout the many islands of Japan.
Few, however, have what this particular site has to offer. In the northern area of Kōfu, there lies a public hot spring which is uniquely out in the open mountain air.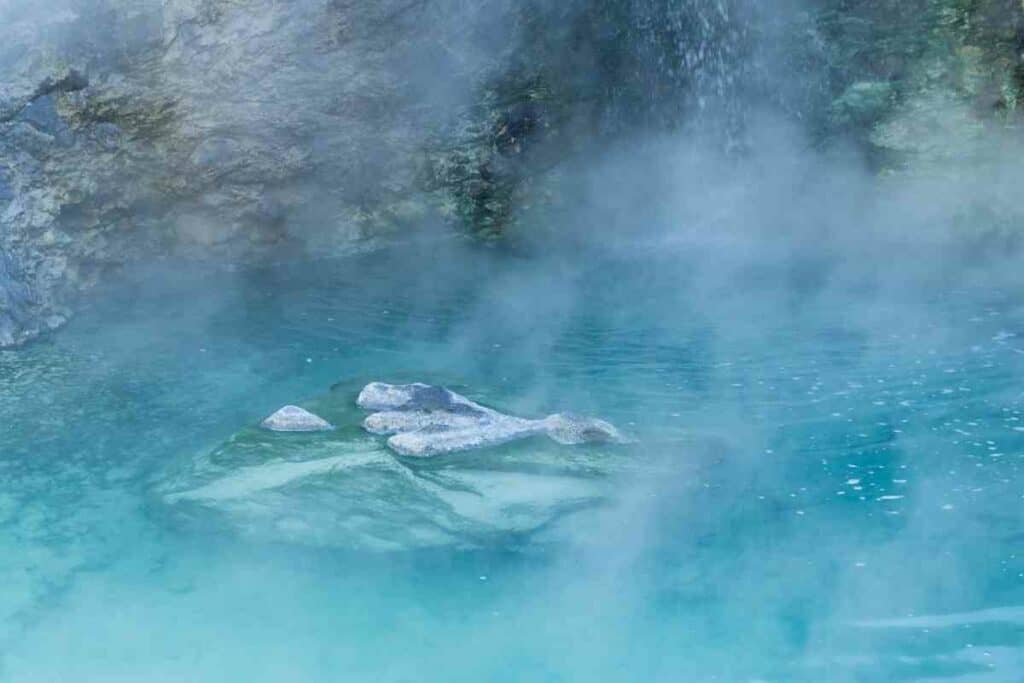 There, surrounded by eye-watering panoramic scenes including Mt. Fuji, you can soak yourself in the naturally heated, mineral-filled waters and relax as the sky rolls by.
Open quite late and open as early as just an hour before Dawn, this place can provide a magical experience for its guests should you plan your visit in time for either sunset or sunrise.
Having two separate baths available, there are two distinct prices as there is one which provides more advantageous views. There are even a few sheltered seating areas and vending machines close by.
Daizenji Temple
An impressive and historic site, this temple has sections which find their roots in the Kamakura era (1192-1333).
It is also referred to as the "Grape Temple" or "Temple of Grapes", due to the idea that cultivation of the wine-bearing fruit first began there way back in the eighth century.
Along with Buddhist Artifacts – It is also part of a large vineyard area, up on an elevated plane overlooking the Kōfu landscape. This can be accessed via a bus service from Enzan Station which runs directly to the temple grounds.
Final Thoughts
When staying in the city, Japanese public transport is both easy to access and reasonably priced.
Some bus services are less frequent than others, and bus routes and numbers have been known to change, so it is always best to check near to the time of your departure, that all your plans are still executable.
With a vast number of things to both see and do, in Kōfu and the Yamanashi prefecture as a whole, you will need at least a fortnight to cover it all, if indeed that is even enough!
However long you plan to stay for, you will be sure to fill your itinerary with a wealth of interesting and exciting excursions, immersing yourself in one of Japan's most historically cultural cities.