For thousands of years, the majestic Mount Fuji has been an iconic symbol of Japan. The symmetrical cone-shaped, snow-capped peak is a sight to behold.
Unsurprisingly, millions of people visit the region each year to view this beauty up close.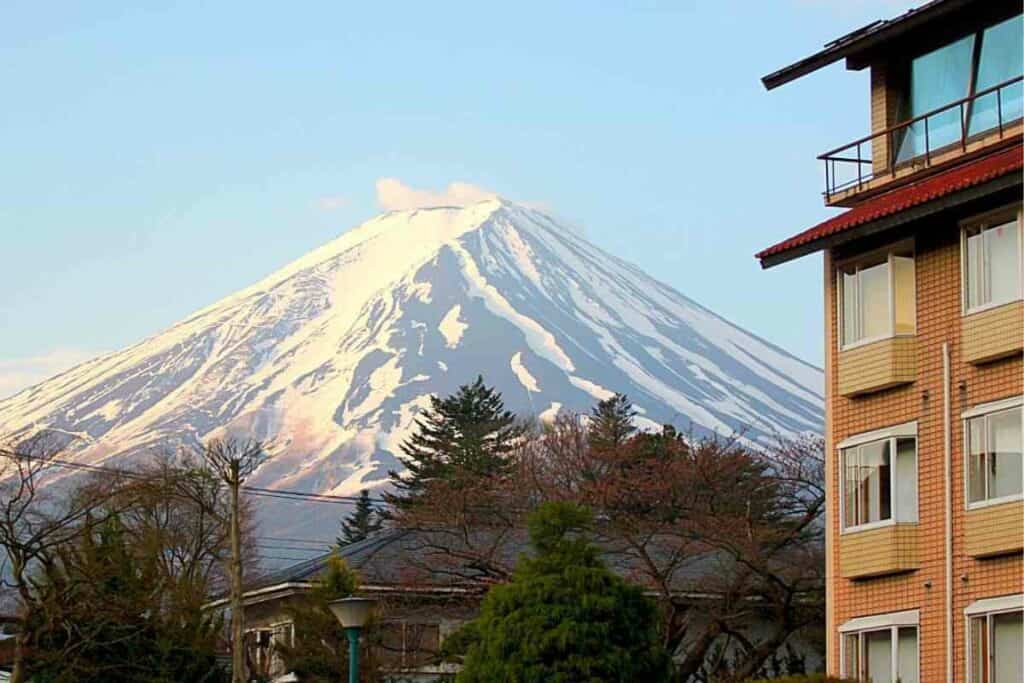 But where are the best hotels to stay that guarantee you that picturesque view of Mount Fuji?
Let's take a look.
1. Fuji View Hotel (Kawaguchiko)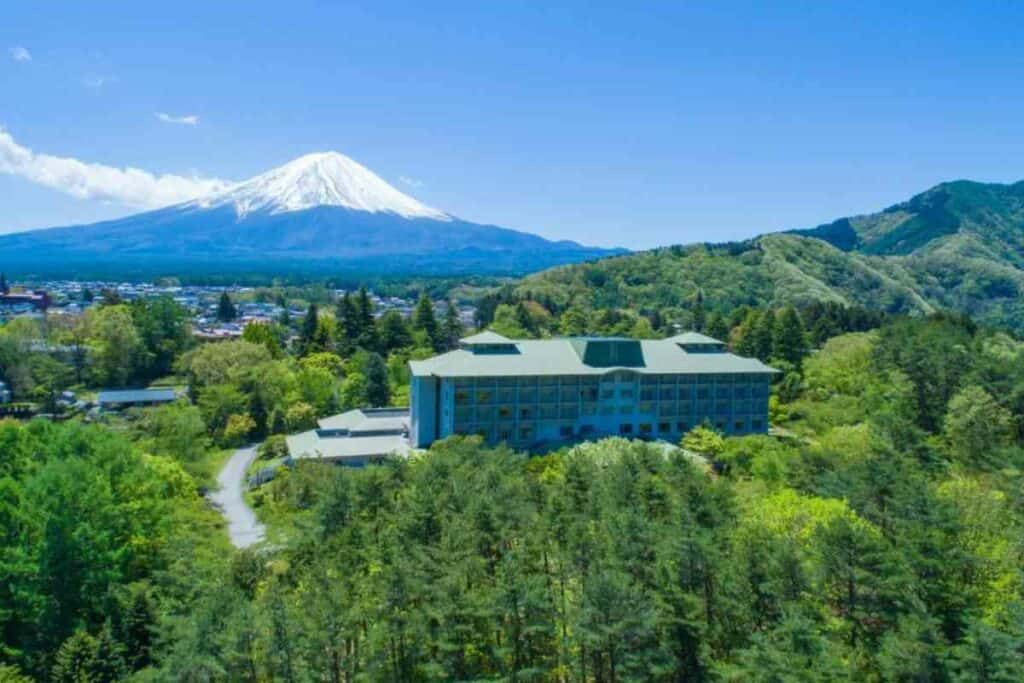 Unsurprisingly, due to its name, the Fuji View Hotel is one of the most popular choices for tourists wishing for a good view of Mount Fuji. It is well known for its stunning views of Japan's most famous and iconic natural landmarks.
A range of accommodations is available at the hotel, including several options to suit different budgets.
Both western-style rooms or traditional Japanese-style rooms with tatami mats and futon bedding are available. Many rooms look straight out over Mount Fuji, meaning guests get to view the magnificent scenery at their leisure.
In addition to a wide range of comfortable rooms, the Fuji View Hotel also offers the following facilities:
Gardens: Guests can wander the beautifully lush gardens, adorned with cherry trees, and take in the views of Mount Fuji and Lake Kawaguchi.
Onsen (hot spring bath): The hotel has its own onsen, where guests can go to relax and unwind in the hot, natural, bathing pool.
Traditional experience: Some rooms offer traditional Japanese futon bedding, and tatami (traditional woven flooring).
Free Shuttle Bus: The hotel offers a free shuttle bus to Kawaguchiko Station, a major transportation hub for the Mount Fuji region.
The main highlight of the hotel is without a doubt its views of the incredible Mount Fuji. Its location makes it ideal for admiring the mountain, which is especially stunning in cherry blossom season in the spring. Many people visit in autumn too to see the beautiful autumnal colors.
The hotel's large garden and lush greenery are a big attraction, making a perfect setting for guests to relax and soak up the natural beauty of their surroundings.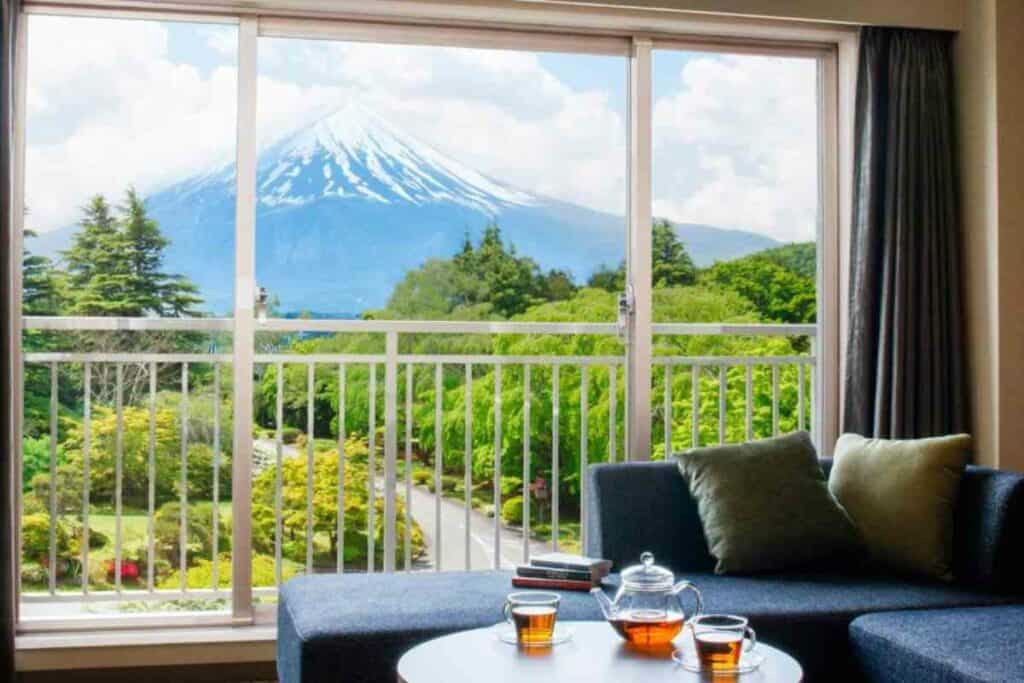 More photos on booking.com
There are many attractions nearby in the surrounding Kawaguchiko area. Including, the lake, the Fuji-Q amusement park, the Chureito Pagoda, and the Oishi Park, all of which are a short distance from the hotel.
The Fuji View Hotel is a popular choice with visitors to the Mount Fuji region who wish to take in the views of Mount Fuji whilst staying in a comfortable hotel with many traditional Japanese elements.
2. Konansou (Hakone)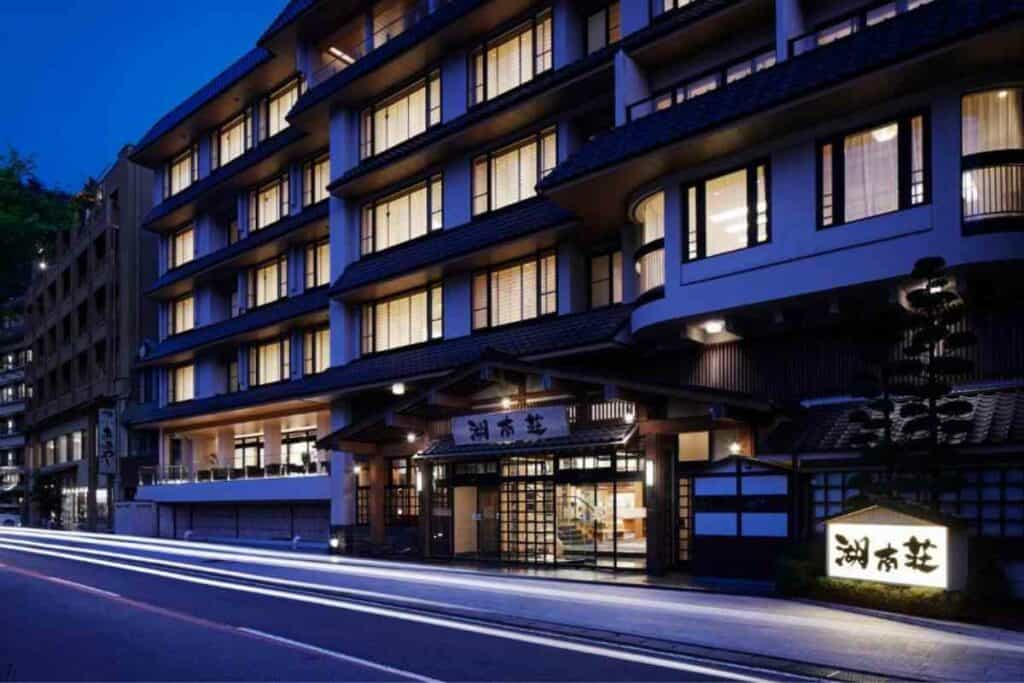 Konasou is a traditional Japanese ryokan in Hakone, Japan. A ryokan is a traditional Japanese inn that offers an authentic Japanese experience for travelers.
Inside a ryokan travelers can expect to find traditional woven flooring, low furniture, and futon beds. Everything is designed in a minimalist style with relaxation and tranquility being the main emphasis.
Konasou is situated next to a hot spring and Lake Ashi, and with its excellent view of Mount Fuji and beautiful scenery, it is very popular with tourists.
The traditional Japanese experience offered gives visitors an insight into the rich cultural heritage of Japan.
There are a range of amenities available at Konasou including:
Hot spring baths: Also known as an onsen, the natural spring water is full of minerals, leaving guests feeling relaxed and rejuvenated.
Traditional multi-course Japanese dinner: Known as kaiseki, this is served in traditional Japanese style and features a range of delicate flavors with meticulous presentation.
Tea lounge: Guests can experience a Japanese tea ceremony.
Traditional Japanese breakfast: Can be requested by guests and served to guest rooms in the mornings.
Massage services: These are available at Konasou and can be booked by speaking to guest services.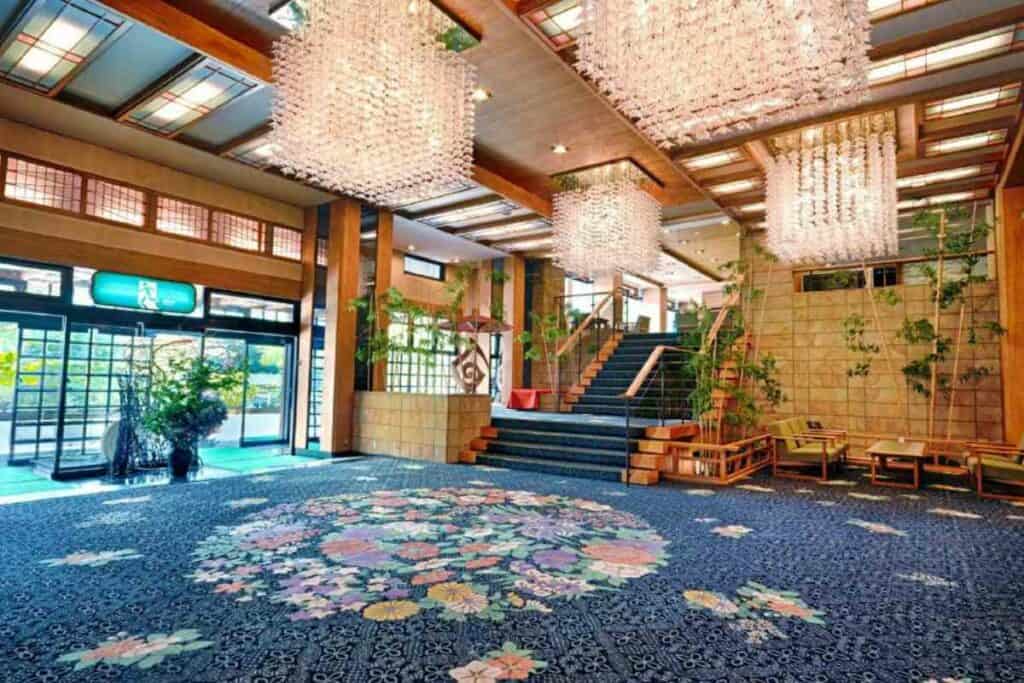 More photos on booking.com
Cruises are available to book on Lake Ashi, offering stunning views of Mount Fuji. A trip on the Hakone Ropeway gives lucky guests a wonderful panoramic view of the surrounding area. For history buffs, nearby Hakone Shrine is a must-see.
Konasou is the perfect place for guests to get a spectacular view of Mount Fuji whilst immersing themselves in traditional Japanese culture and cuisine.
3. Hoshinoya Fuji (Fuji Five Lakes)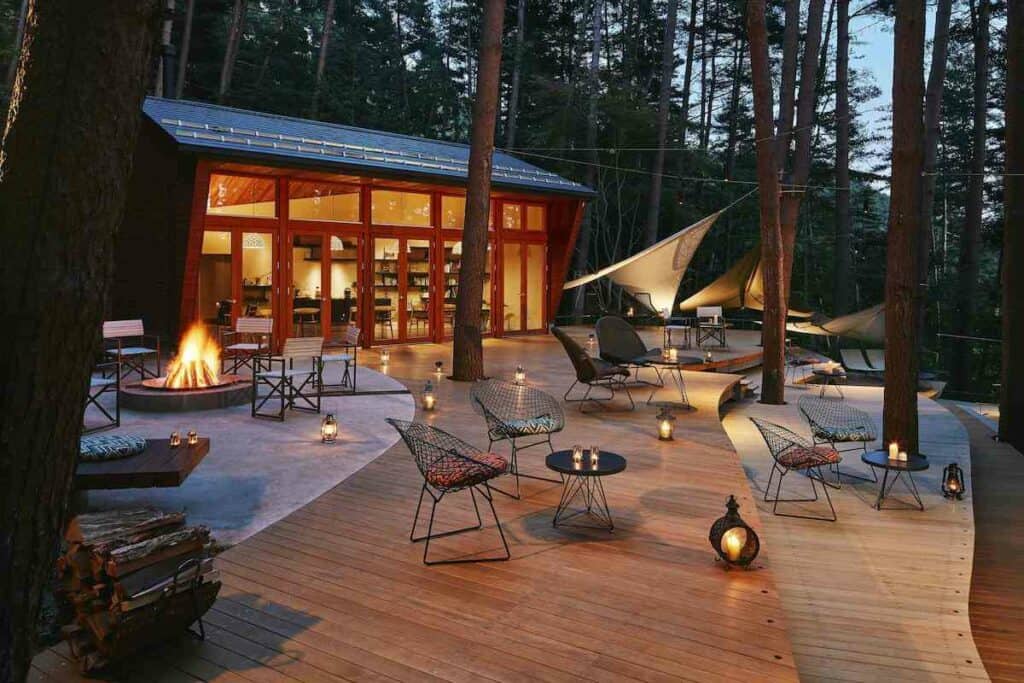 The most impressive and unique aspect of the Fuji Five Lakes resort is the collection of private cabins, called kominka, where guests can stay in the stunning natural setting.
The hotel is situated looking out over Lake Kawaguchi, one of the five lakes surrounding Mount Fuji. This location offers one of the best views of Mount Fuji and the majestic Lake Kawaguchi.
The combination of traditional Japanese elements and modern luxury is a huge appeal to tourists. The beautiful guest cabins are specially designed to blend in harmoniously with the surroundings whilst still offering modern amenities and comforts.
Each of the cabins has huge glass windows allowing guests the best view of the lake and the surrounding mountains. As well as these amazing views, guests can also enjoy their own private hot spring bath.
Aside from the incredible views, the dining experience at Hoshinoya Fuji is second to none. The focus is on seasonal and locally sourced ingredients, all prepared by a very highly regarded chef. Guests can choose from a wide range of deliciously prepared seafood, vegetables, and traditional mountain delicacies.
Guests can also partake in a wide range of activities and experiences, including:
Guided nature walks: Guests can venture into nature with their knowledgeable guide and immerse themselves in the lush forests and tranquil atmosphere.
Stargazing sessions: A truly magical experience. The picturesque landscape and low light pollution make it an ideal spot for star gazing.
Tea ceremonies: Tea ceremonies are deeply rooted in Zen Buddhism and focus on the finer details of preparing, serving, and consuming the tea.
Workshops and traditional crafts: Including calligraphy and pottery making.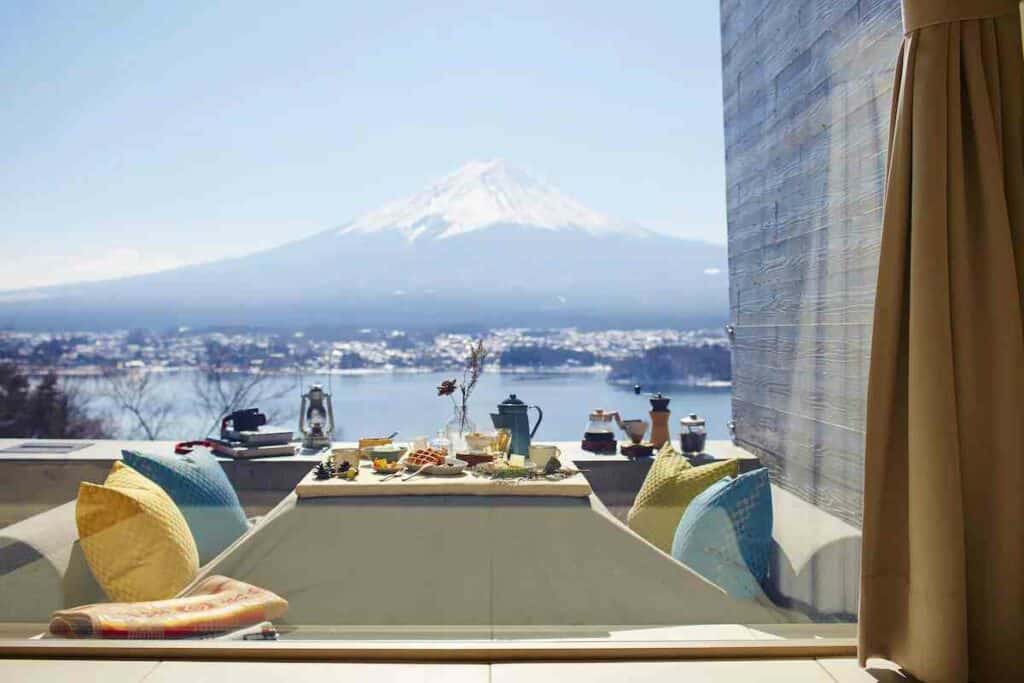 More photos on expedia.com
The stunning views, tranquil surroundings, and indulgent fine dining make Hoshinoya Fuji a luxurious treat for tourists wishing to connect with nature and enjoy a traditional Japanese experience.
4. Shuhokaku Kogetsu (Lake Ashi, Hakone)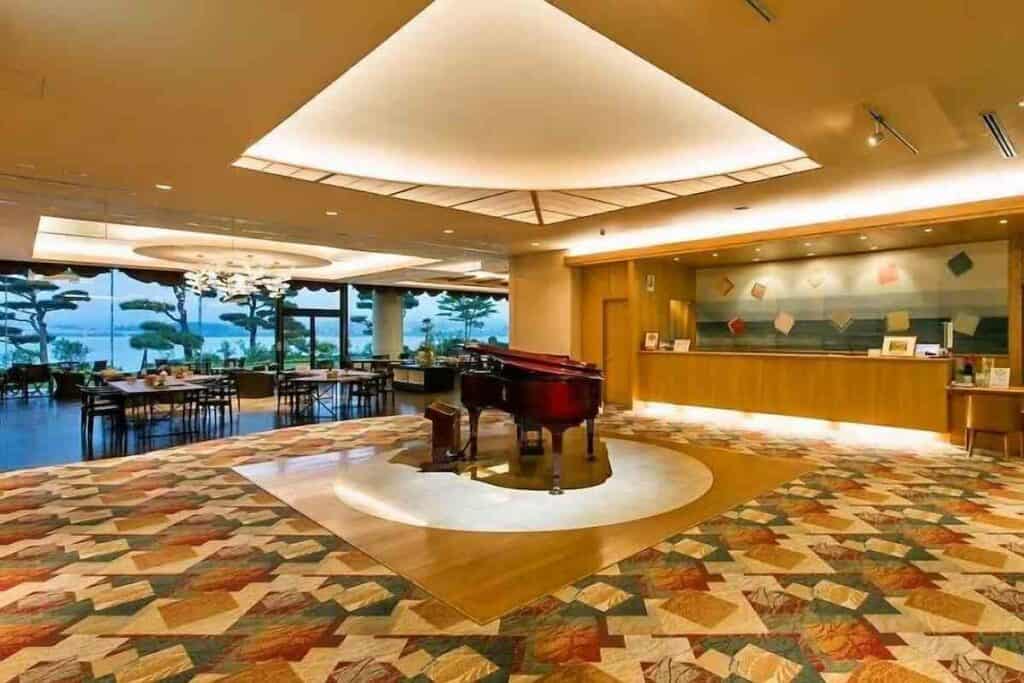 Shuhokaku Kogetsu is a ryokan, a traditional Japanese inn, situated in Hakone, Japan, close to the majestic Lake Ashi. It is well-known for its hot springs, stunning views of Mount Fuji, and beautiful landscapes.
Visitors can expect a lavish and authentic Japanese experience here, featuring tatami (woven) floors, sliding doors, and futon beds.
Each room has been thoughtfully and meticulously designed to offer the utmost in luxury and relaxation. Many of the rooms have views of Lake Ashi and the surrounding mountains.
Amenities include hot spring baths (both outdoor and indoor), where guests can relax and unwind whilst taking in the beautiful surroundings. Meals are served in the traditional Japanese style, known as kaiseki, and are beautifully presented, showcasing local ingredients and techniques.
Guests can also experience many traditional activities including, tea ceremonies, kimono rentals, and other cultural experiences to engage guests with Japanese traditions.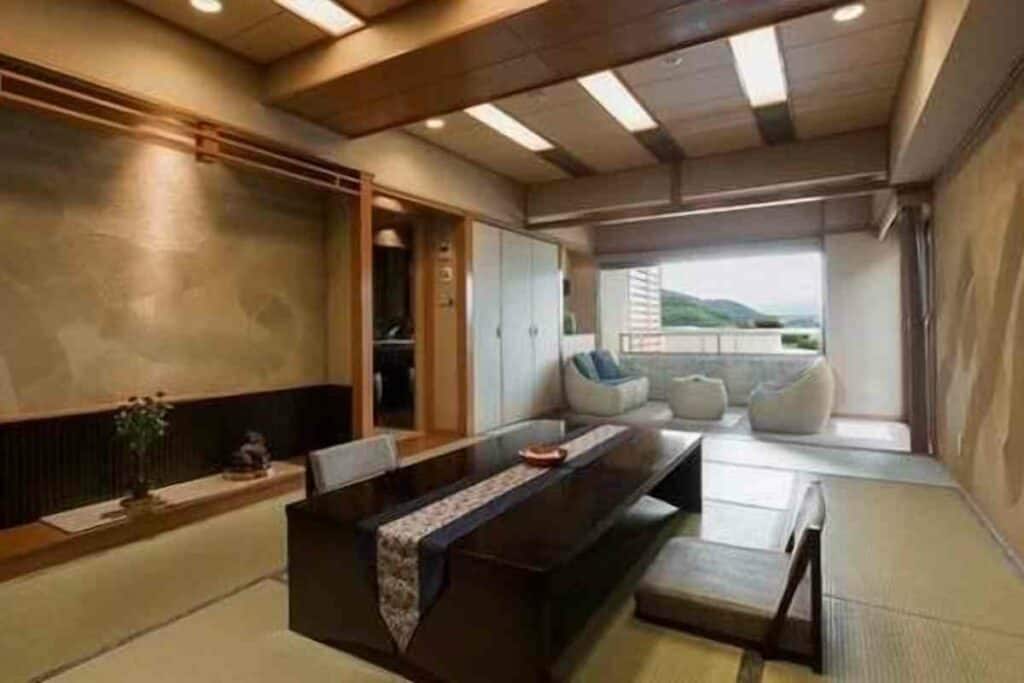 More photos on expedia.com
Lake Ashi, known locally as Ashinoko, is a beautiful lake located in the Hakone area. It is well-known for its beautiful views, especially when Mount Fuji is visible on clear days. Many people enjoy taking a boat cruise at Lake Ashi or going hiking along the shores, appreciating the natural beauty of the area.
Shuhokaku Kogetsu is a perfect accommodation for people wishing to be close to Mount Fuji in a relaxing atmosphere.
5. La Vista Hakodate Bay (Hakodate)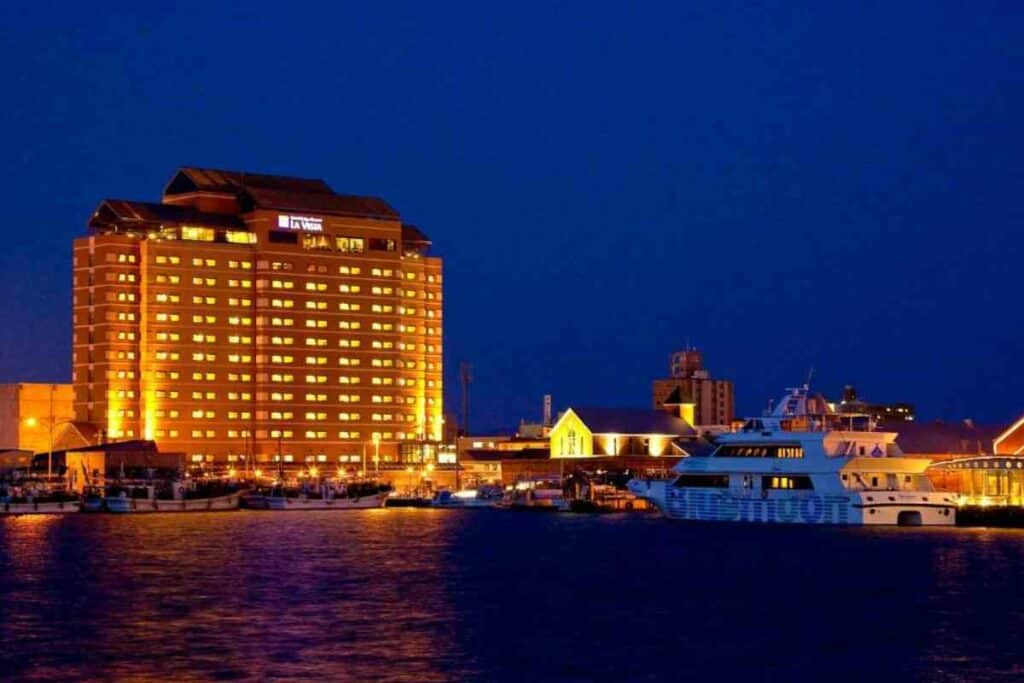 La Vista Hakodate Bay offers a stunning view of Mount Fuji from a distance. It is situated near Hakodate, Hokkaido, and has well-equipped rooms with large windows that show off the stunning view of the bay below.
Guests can also enjoy hot spring baths, sample the hotel's many restaurants, and explore the nearby city of Hakodate.
The most notable thing about this hotel is the view of the famous Hakodate city skyline, which is especially stunning at night.
The dazzling lights and the reflection of the cityscape on the waters of Hakodate Bay are magical to experience. The city is famous for its night view and is considered one of the best in Japan.
There are many facilities available including a spa and wellness center, a fitness center, and meeting rooms for business travelers.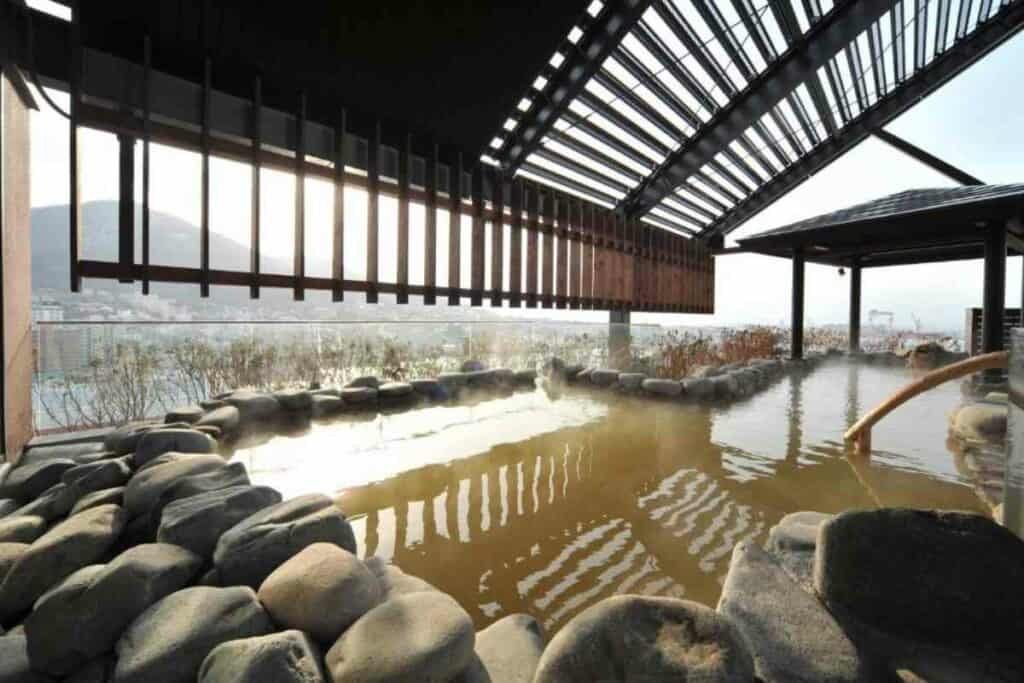 More photos on booking.com
The Hakodate Morning Market, Mount Hakodate, Goryokaku Park, and Hakodate Ropeway are popular attractions nearby. The fairly central location of the hotel means most of the nearby attractions are within easy reach.
La Vista Hakodate Bay is a lavish hotel that offers comfortable accommodation, as well as breathtaking views of the city of Hakodate, and the majestic Mount Fuji in the distance.
It's a great location for those wishing to travel around the area and see what Japan has to offer.
Final Thoughts on Best Hotels with a View of Mount Fuji
All of these hotels offer high-quality accommodation, and stunning views of the surrounding scenery, including the magnificent lakes and Mount Fuji itself. Catching the sunrise over Mount Fuji is said to be breathtaking and a once-in-a-lifetime experience.
Remember to plan your visit carefully as the climbing season on Mount Fuji is limited and weather conditions can be extremely changeable.