For over a millennium, the famous Japanese city of Kyoto was what Tokyo stands as today: the Land of the Rising Sun's historical Capital City of old.
Between the years of 794 and 1868 CE, Kyoto thrived as the center of commerce, with plentiful trade in thriving markets.
Its name directly translates as 'Capital City' and before the start of the 17th century, it was even Japan's largest city of all.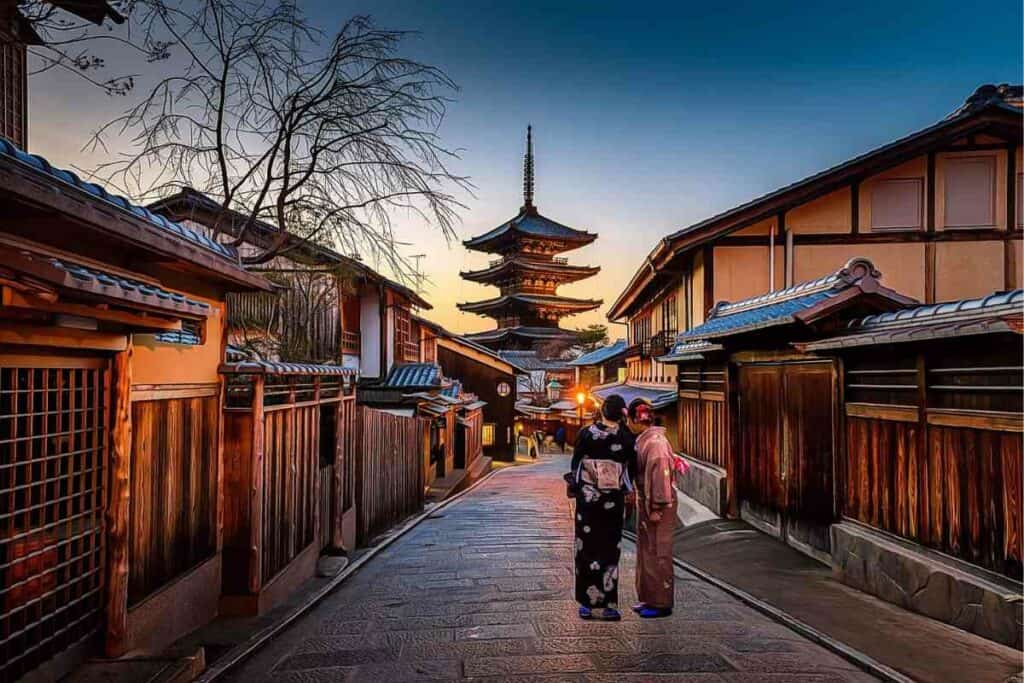 Home to more than three thousand Shinto and Buddhist shrines and temples, this popular tourist spot is otherwise nicknamed 'The City of Ten Thousand Shrines'.
Along with both Kobe and Osaka, forms what is known as the Kinki Region, and it is known as one of the most well-preserved cities in the world.
In This Article – We will provide you with a wealth of information to guide you, should you wish to visit this historically infused former capital of one of the most fascinating countries on Earth.
When is the best time to visit Kyoto?
With the weather in Kyoto being almost consistently temperate, there is no bad time to visit this amazing city.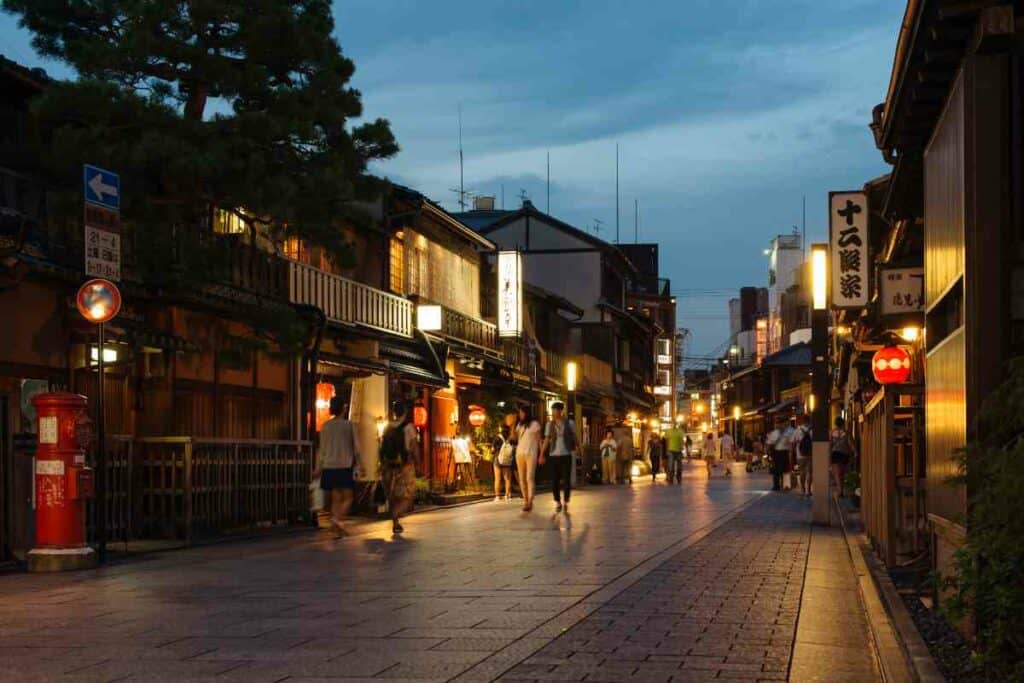 Nevertheless, as with numerous areas in Japan, the best times to visit are in both the Spring and Fall.
These times of year are popular thanks to the famous fields of fantastic blossoms in Spring, as well as the fiery shades of autumnal leaves blanketing the land in Fall.
Generally, the weather is as expected, hot throughout June, July and August and cold during the Winter months. Rainfall is at its peak throughout the latter half of June and most of July.
The Kyoto Festival Calendar
Sister city to Osaka, Kyoto has an annual festival calendar that is brimming with year-round festivals and celebrations.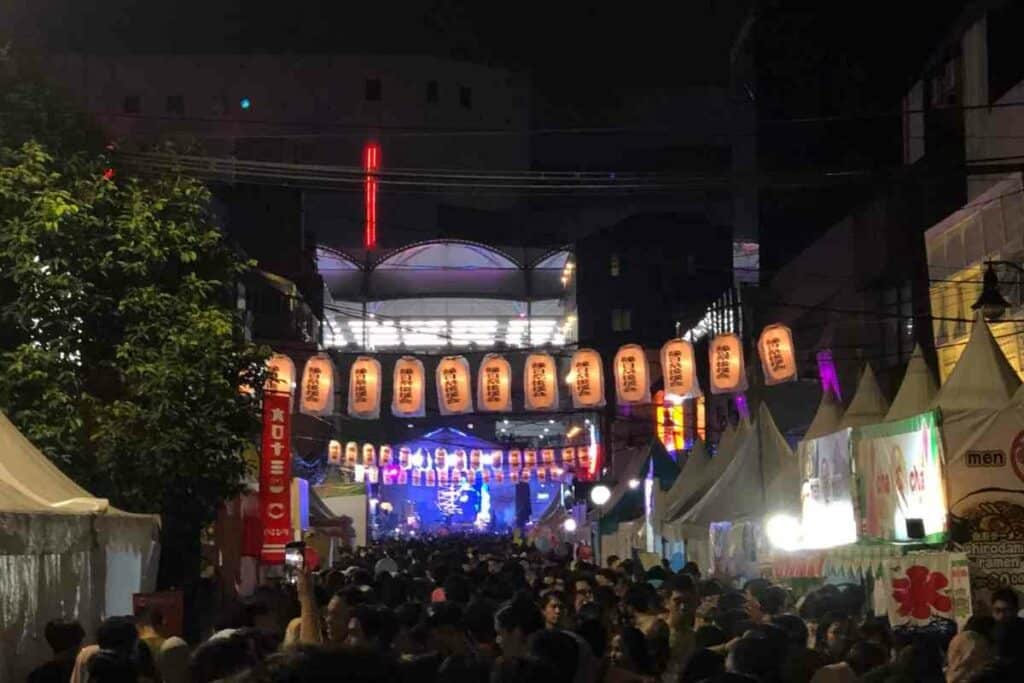 With some months consisting of as many as five separate events, it would be difficult to list them all in one place, but any time of the year that you chose to visit Kyoto, you will undoubtedly find something mind-blowing taking place.
Here's an overview of each month, so that you can make an informed decision when it comes to booking your trip.
January
Seeing in the New Year is a special time of year across the entire planet, and Kyoto certainly do themselves proud with a 4-day long festival.
Hatsumode (the initial visit to the shrine of the year) runs from New Year's Eve until January 3rd.
Local shrines are visited each day, in hope of gaining luck with both success and general health and well-being. Shrines can become quite crowded but the atmosphere is electrified.
Mid-January (between the 8th and 12th), Toka Ebisu takes place.
Held at the grounds of Ebisu-jinja Shrine, it is where those interested in wealth and riches visit to seek the blessings of a deity linked with prosperity and good fortune.
Most spectacular in the evenings, this 5-day event is the first major one of the calendar.
Visitors are encouraged to take part, even to the point of locals selling branches of bamboo known as Fuku-zasa that is used to receive a blessing from one of the maidens of the shrine.
There are specific rituals, such as a step-by-step prayer and a queue to take a charming knock on a board at the shrine, in order to alert the supposedly deaf deity.
February   
On the 2nd and 3rd of the month, the Setsubun Festival highlights and celebrates the birth of Spring with reference to Japan's Lunar Calendar.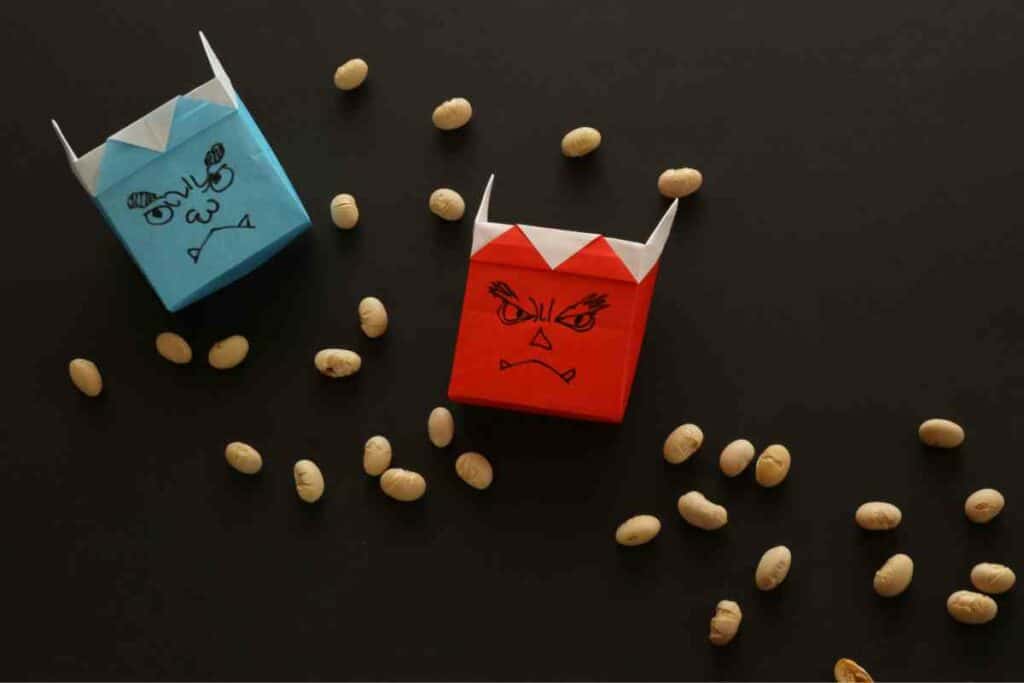 Marking new beginnings, the festival is all about saying "out with the old and in with the new" and many other places around the region hold Setsubun celebrations.
Roasted soybeans are ritualistically consumed, one representing each year of life, with an additional bean for extra luck.  
March
In early March, from the 3rd to the 12th, you can enjoy Higashiyama Honotoro, a festival of both art and light, it has been described as nothing less than magical by those who have attended.
Lines of lanterns lead locals to Maruyama-koen park, to which their light creates a path to a stunning display of art exhibits afforded by the local art school.
Students create sculptures and other artwork, illuminating the park at night.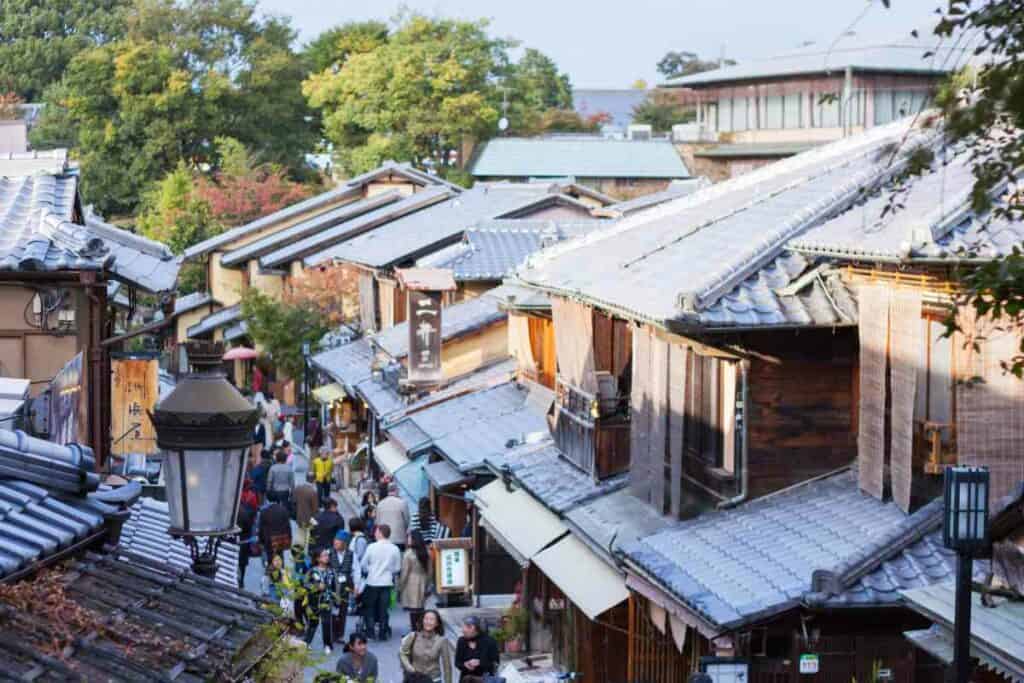 From mid to late March, the theme of light is carried forward as local temples spend the latter half of the month creating awesome light displays to behold.
Both temple structures and surrounding gardens are enveloped in light, creating a truly "fairy tale" environment.
Along with this – Running from March 25th into the beginning of April, the Kitano Odori Geisha perform in a fabulous dances in Kyoto's five Geisha districts. One of the most spectacular, Kitano Odori is performed by the Kamishichiken district.
April
Flooded with events, April is one of Kyoto's busiest months of the calendar.
From beginning to end, there is an event after event starting with Kyo Odori Geisha Dance overlapping with Kitano Odori and carrying the baton forward until April 17th with a series of performances.
Throughout the entire month, Higashiyama continue with their illuminations displays and the Miyako Odori perform for the majority of this month as well.
May
Another busy month, May's days are consumed by the Kamogawa Geisha Dance from the Pontocho district.
This particular event takes place within the halls of Kaburenjo close to River Kamo-gawa and usually runs until May 24th.
On May 3rd, Yabusame Shinji takes place. Should your visit coincide with this particular event, you will be witness to one of the most unique sporting events in all of Japan.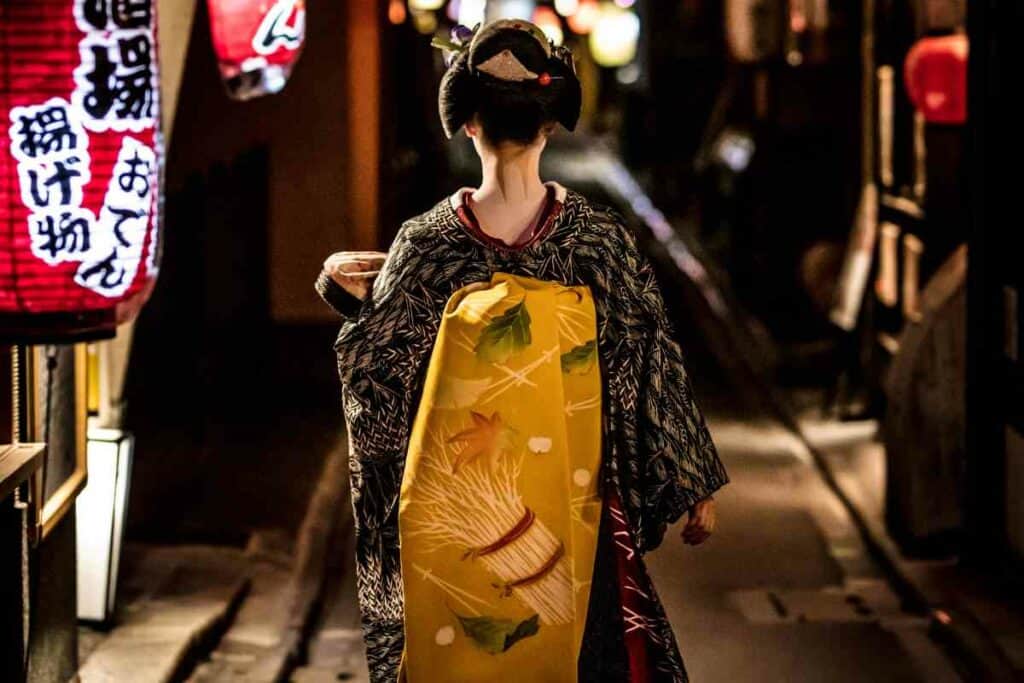 Along the main strip within Tadasu-no-mori woodlands, archers ride on horseback releasing an array of arrows in a mystifying performance.
May 15th brings Aoi Matsuri, one of three major festivals in the region which originally meant to appease the spirits and bring about an end to a ceaseless continuation of crop deaths in the 6th century.
A specific ceremony takes place, beginning at the Imperial Palace and closing at Kamigamo-jinja Shrine.
Running from 10:30 to around 16:00, it can be viewed from various places in the local area, including the Imperial Palace Park: Kyoto Gyoen.    
June
This month is filled with events to take advantage of.
Kifune Matsuri, a festival both celebrating and highlighting the transition from one season to the next, takes place on June 1st (as well as other times throughout the year) at Kifune Shrine.
Although it is a smaller festival, it does nevertheless have a number of parades and events throughout the day.
This site is also tucked away in the northern mountains and has some incredible scenery in the snowy months.
Along with other events, such as a rice cultivation festival on June 10th called Taue-sai, at Fushimi Inari Taisha, there is also a firework festival on the same day.
Kyoto Geijustu Hanabi is synced with music and is a stunning evening display. On June 15th, Aoba Matsuri is held within the grounds of Chishaku-in Temple.
This festival presents a unique opportunity to witness a fire ritual that is popular among the locals and tourists.
Ajisai Matsuri also takes place on the same day at Fujinomori Shrine in the south of Kyoto. The Shrine grounds are opened for exploration which includes two traditional gardens drenched in Hydrangea.      
July
From July 14th and for ten whole days, Gion Matsuri is one gigantic street party in the city.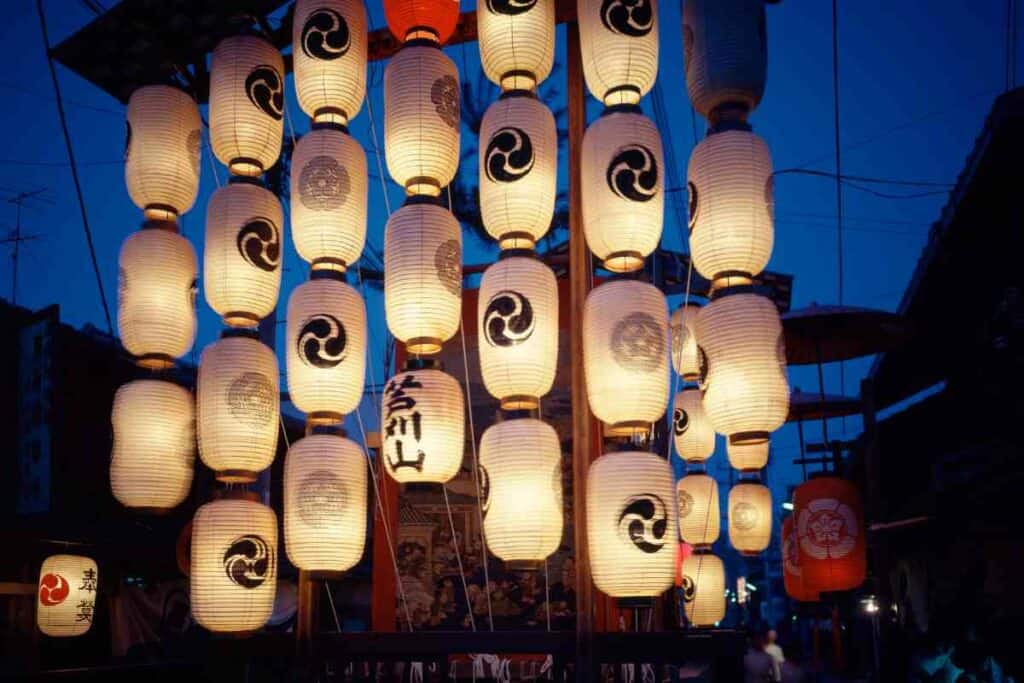 This festival is probably the region's largest event, as well as one of the most famous in Japan.
From July 17th, huge street parades take place with traditional floats and marching processions. Streets are packed with colorful kimonos and amazing local cuisine.
Originally a Shinto festival seeking blessings of purification and the riddance of disease-causing demons, it is now a massive celebration enjoyed by thousands each year.    
August
Gojo-zaka is a pottery festival which happens between August 7th and 10th.
Famous for pottery, Kiyomizu-dera Temple hosts the three-day event with merchant stalls striking some hard bargains, according to visitors.
August also sees in one of Kyoto's most impressive local events:
Gozan no Okuribi
Kyoto's Daimonji Festival of Fire
Hills and mountain tops are set ablaze, with displays of colossal Chinese emblems. Fire even roars above the Ginkaku-ji Temple.
From 8 pm, following the lighting of the temple display, surrounding mountain peaks are relit every fifteen minutes, creating a spectacular orange blaze in the evening sky.
September
As with many cultures around the globe, Japanese superstition with certain numbers is taken quite seriously.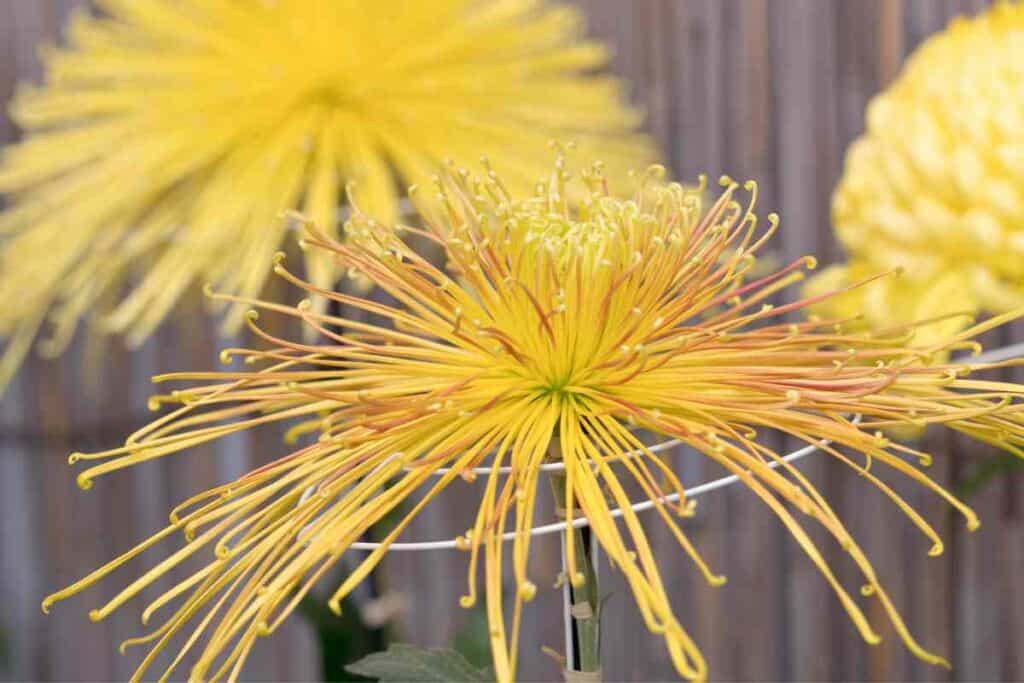 Shintoism sees the number 9 as being incredibly lucky:
In response to this, a Chrysanthemum festival is held at Kamigamo Shrine on the ninth day of the ninth month of each year.
Choyo-no-Sekku celebrates the number 9 and is used as an opportunity for the Saio-dai to make an appearance, a representative of the Imperial Princess, who also appears at Aoi Matsuri in May.
A number of events take place throughout the month of September. From the 14th to the 18th, three separate local festivals overlap.
Seiryu-e
First of these Seiryu-e – the festival of the Blue Dragon: one of four divine entities believed to guard the borders of Kyoto against doom.
Watch as huge dragons are paraded through the streets and around the grounds of Kiyomizu-dera Temple, at the foot of the eastern mountains of Higashiyama.
Seiryu-e takes place over two days: the 14th and 15th, overlapping with Yoshitsune-sai on the second day.
This festival features a martial arts display as its main attraction in the hall of the temple of Kurama-dera.
Ending the five-day period with Hagi Matsuri, this quaint two-day festival occurs at Nahinoki Shrine near the Imperial Palace and features traditional Japanese performances.
Kushi Matsuri & Meigetsu Kangen-sai
September 25th is when Kushi Matsuri – a festival celebrating both hairstyling and beauty traditions inspired by those from ancient times – takes place in a shrine entitled Tasui Konpiragu in Gion.
Towards the end of the months, you can enjoy views of the harvest Moon during the festival of Meigetsu Kangen-sai.
On September 29th, viewings of the moon are held which honor traditions repeated for thousands of years in Kyoto, as well as tea ceremonies and stage performances.
October
Jidai Matsuri is a festival that is held on October 22nd and one of the most prominent days of the Kyoto festival calendar.
Otherwise known as 'The Festival of Ages', parades and processions incorporate costume from various periods in Japanese history.
Established in reaction to the transference of the capital to Tokyo, it was meant to foot some of the losses expected as a result.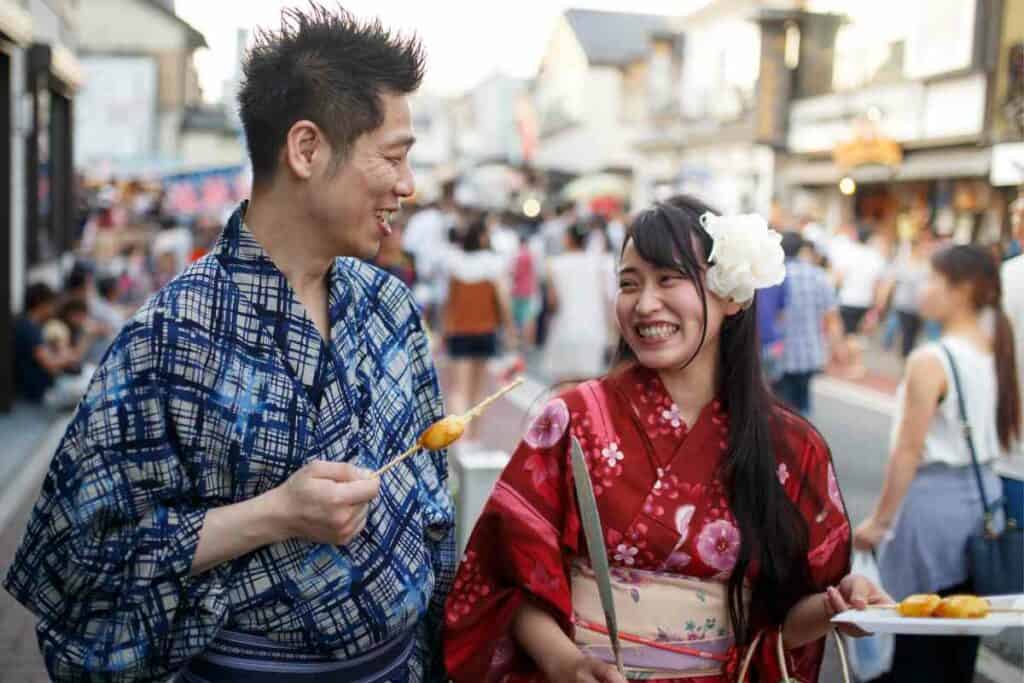 On the same day, the Kurama Fire Festival sees fire torches paraded and then used as a type of campfire for a party.
Described as an exciting event, this can get pretty busy, and trains both ways can be packed.
The advice is to plan well, get there on an early train from Kyoto Station and a later train back from Kurama village.
November
Similar to months in the Spring, Geisha dance performances take place from November 1st through November 10th and Temple illuminations are also repeated throughout the month.
Although it is a much quieter month than most, it is a perfect time to admire the beauty of the land of blossoms in Fall.  
December
As well as a magical lantern display in the middle of December, through the bamboo grove of Arashiyama, there is also a bell ringing ceremony which occurs after the New Year's feast.
Kyoto locals line up to bring in the new year with luck and rid themselves of bad karma from the year prior.
Where is it best to stay in Kyoto?
There is no shortage of accommodation in the city and its outskirts.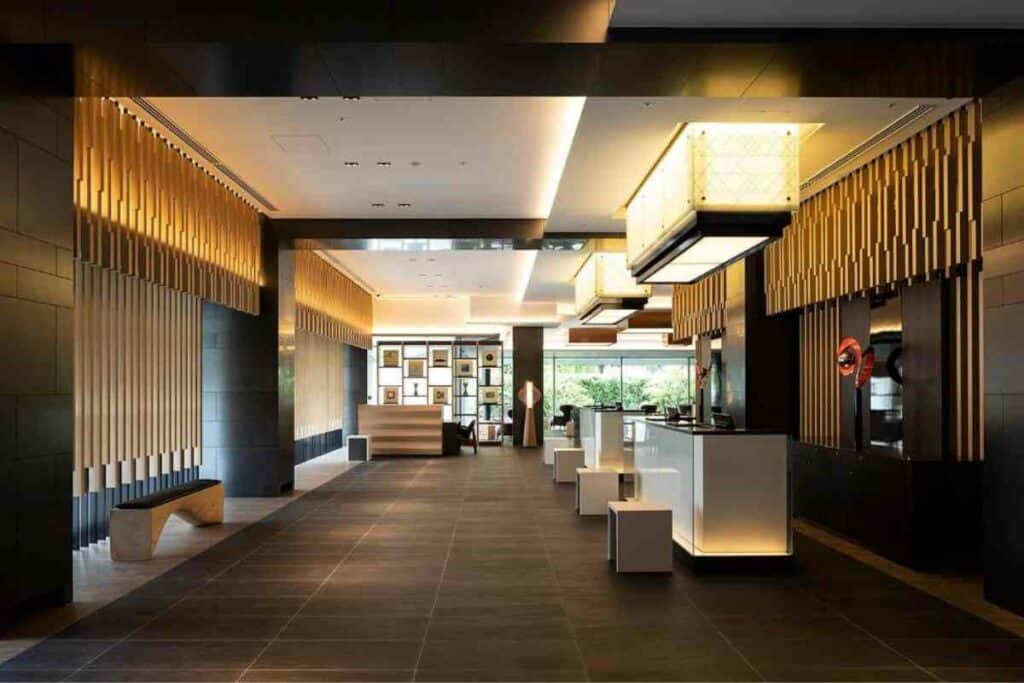 Along with Tokyo and other cities across Japan, you can experience the world-famous capsule or pod hotels, should you decide to.
Many travelers visit Japan solo, throughout the year, and prefer the compact space.
However, if it's the authentic cultural experience that you are seeking, then there are better, less technological options.
Situated in multiple parts of the city, Ryokan are likely the best choice for traditional Japanese accommodation.
These culturally enchanting inns provide an experience that is emblematic of Japan, but there are also a vast variety of fabulous hotels to choose from.
Should you prefer a self-catering vacation, then there is also the option of either a rented and restored Machiya (Kyoto townhouse in the traditional style) or there are numerous cheap hostels and guesthouses used by backpackers.
What are the main attractions in Kyoto?
Besides festivals there is much to do in Kyoto.
Aside from the obvious delectable cuisine, historical shrines, majestic temples, and enchanting Geisha, there are a multitude of museums, Zen gardens, stunning parks, and beautiful buildings to admire.
Plan your trip around favoured festivals, and you can set aside time to visit downtown Kyoto to take a walk down The Philosopher's Path.
This vibrant part of the city is additionally packed with:
shops
bars
clubs
restaurants
and markets
Known locally as Kyoto's Pantry, Nishiki Market is by far one of the most culturally rich experiences you can have.
Go Geisha spotting in Pontocho Alley, explore Shinkyogoku shopping mall and immerse yourself in both culture and comics, in Kyoto's International Manga Museum.
Take a walk through Arashiyama Bamboo Forest, take part in a traditional tea ceremony, visit the Samurai and Ninja Museum, or experience a day in the life of a Geisha first-hand.
Nijo Castle
Similar to Kōfu's reconstructed Maizuri Castle, this ancient structure was originally built hundreds of years ago, under the leadership of the Tokugawa Shogun: in power from 1603 to 1868.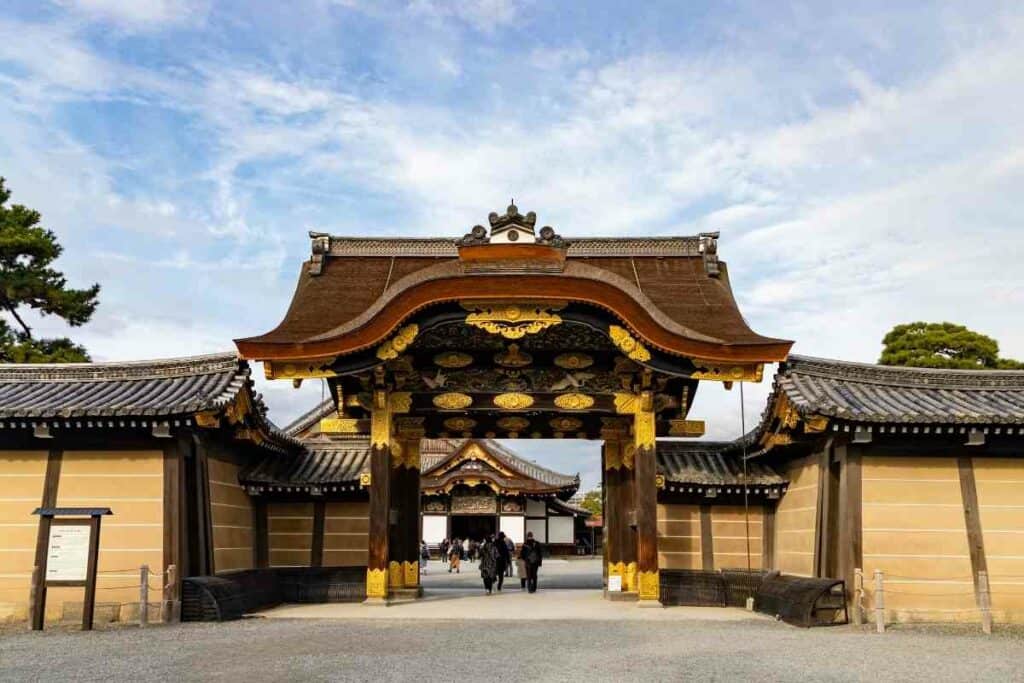 A symbolic expression of the shogun's power, the building stands on a foundation of walls of massive stones and is surrounded by a widely protective moat.
It is a breath-taking example of ancient Japanese architecture; a marvel to behold both inside and out.
It can be reached via public transport. A direct bus takes you from Kyoto JR Station to a bus stop in Nijo-jo-mae.
Tofuku-ji Temple
There are thousands of temples in Kyoto, many of which are awe-inspiring views.
None, however, rival the vibrancy and sublimity of the autumnal sea of leaves blanketing the grounds of this Zen paradise.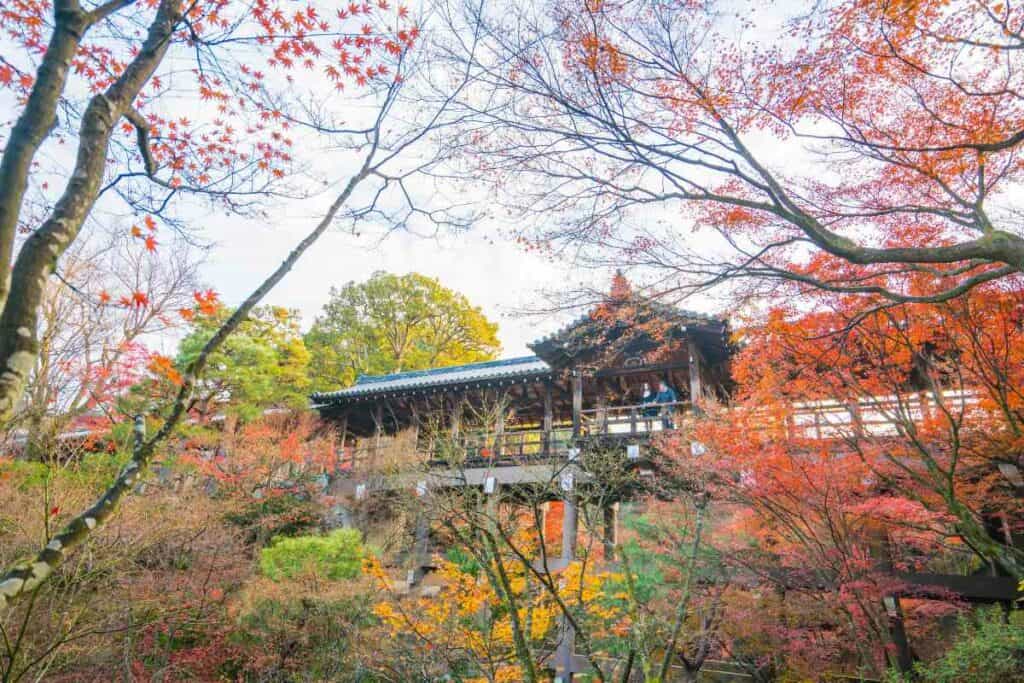 Brimming with tourists throughout November, the one-hundred-foot walkway bridge, Tsutenkyo, is a photographic sight in itself but from it, you can treat your eyes to extraordinary panoramic views.
Most of the temple is free to access and is a joy to simply explore.
This particular temple has some more modern adaptations but the Sanmon Gate here, is the most ancient of its kind, dating as far back as the early 15th century.
A brisk ten-minute walk once you arrive at Tofuku-ji Station, which can be accessed via train or bus from Kyoto JR.
Arashiyama Monkey Park Iwatayama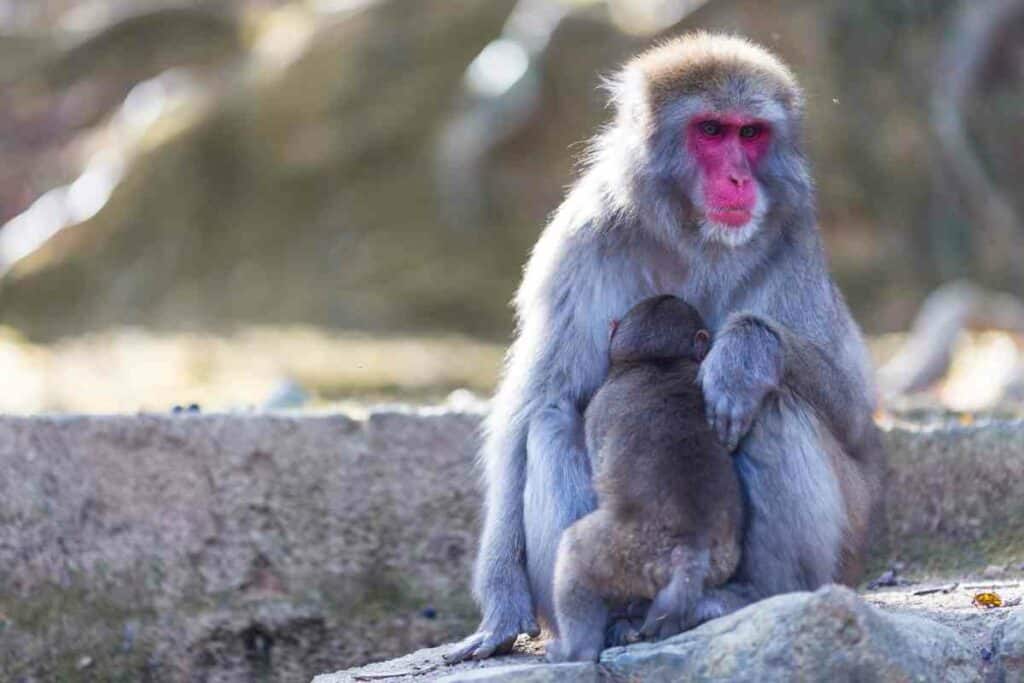 Get up close and personal with nature in this unique and fascinating park. Monkeys come down from the mountains, attracted by visitors and the opportunity for food.
Although referred to as a "zoo", by some, this is nothing like what would be recognised as one.
The place even closes if the monkeys decide to return to the mountains before closure.
What to Expect? At just 600 yen for adults and 300 for children over 4, it won't cost you much to see these cute critters as close to their natural habitat as you can get.
Located on the southern side of Togetsu Bridge, followed by a twenty-minute walk down the river.
You will come to Kubotani Munkata Shrine and the entrance is in the grounds. From Kyoto you can get either bus or train to Saga Arishiyama.
Museums in Kyoto
If learning about Japanese culture and history is your aim, then a museum tour might be for you.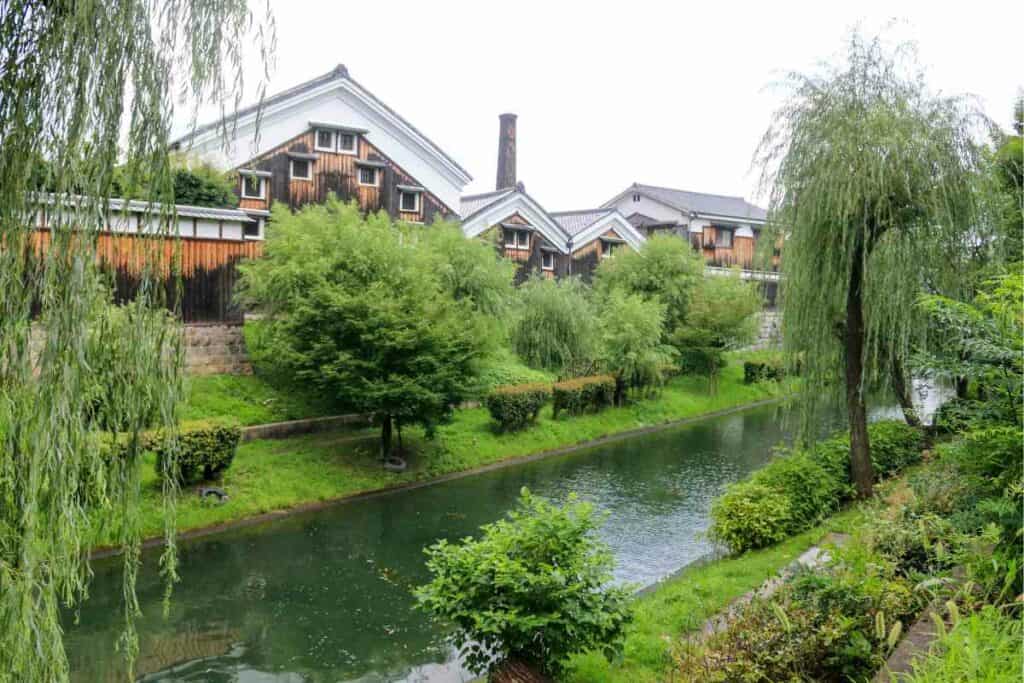 Japan is littered with museums, and Kyoto is no exception.
Choose from:
Kyoto National Museum
the Railway Museum
the Samurai and Ninja Museum
the aforementioned International Manga Museum
the Museum of Traditional Crafts
the National Museum of Modern Art
or even the Gekkeikan Okura Sake Museum
There are many more than this and tours can be purchased covering different combinations.
With enough planning, you can draw up an itinerary to suit your specific interests and timescales.
Getting Around Kyoto
Many people having visited Japan, highly recommend the public transport system.
The rail network is one of the most efficient in the world, and buses are purportedly very reliable and reasonably priced.
Kyoto's system is described as being second to none, making this relatively small city incredibly easy to travel within, once you get there.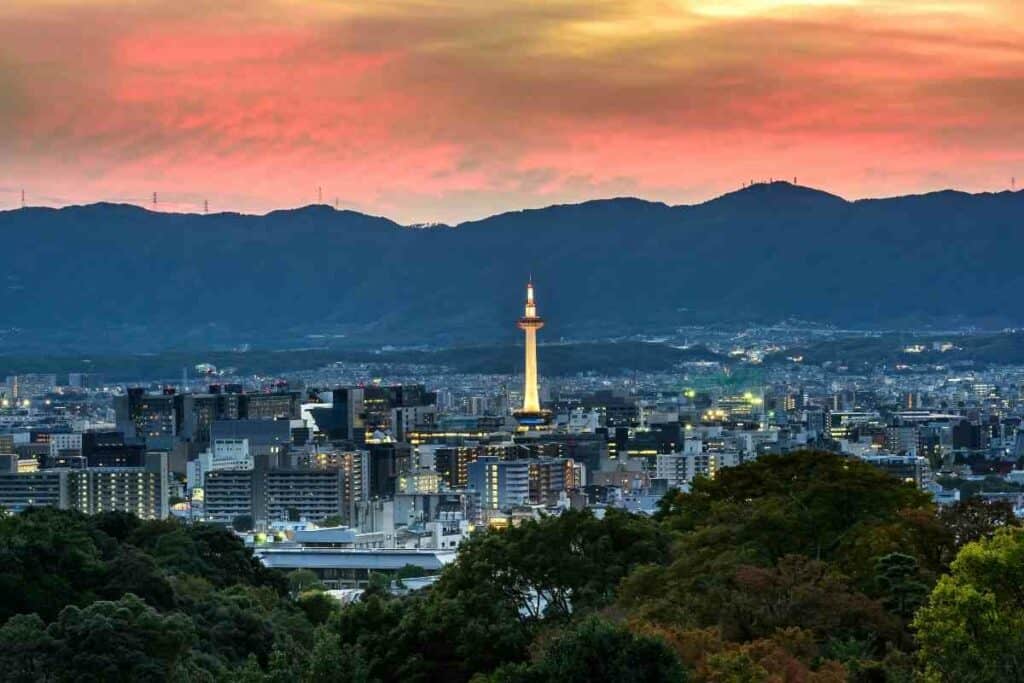 Without an international airport, traveling there can take up to three and a half hours from Tokyo, even by express train.
It is quite close to Osaka's Itami Airport and people often fly to Kansai, as well.
Getting the Japanese Rail Pass won't just save you a bit of money but it can be used on all JR trains nationwide.
This is something that you can only purchase outside Japan and is only usable by those with a tourist visa.
The cost of an adult pass for two weeks would only get you two return trips From Kyoto to Tokyo. It is definitely worth the money!
Final Thoughts
With literally thousands of things to see and do and hundreds of places to explore, Kyoto is unrivalled in its appeal. Being the original capital city, it is not only saturated with culture and history, but it is unique in a number of ways.
Whether you plan to visit in Winter, Spring, Summer, or Fall, you will fail to fall short of entertainment. Immerse yourself in mystical traditions, among the flickering flames of fire festivals.
Follow dragons as they parade the streets, experience geisha and Samurai like you've never done before! Kyoto really is the capital of culture that everyone should visit at least once in their lifetime.