It's the most wonderful time of the year!
The snow season in Japan is epic. I'm talking about deep powdery snow, beautiful mountain scenes, and world-class skiing and snowboarding.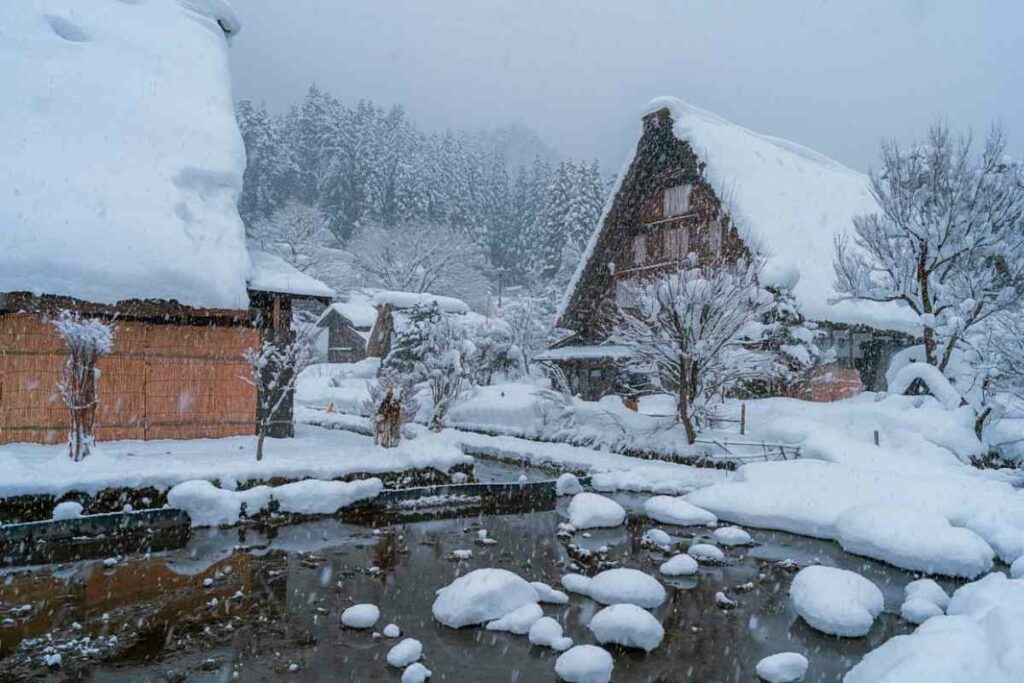 Take in the very best of the Japanese winter in this roundup of the 10 best destinations for snow in Japan!
10 Best Destinations for Snow in Japan
Plan your winter adventure in Japan in any of these beautifully snowy Japanese resorts.
Enjoy powdery snow and white mountain vistas with the best Alpine atmosphere outside of Europe at these 10 amazing snow destinations:
10. Niseko, Hokkaido
The ski resort of Niseko is one of Japan's most exclusive and international ski resorts. The town is located in Hokkaido in the foothills of Mt. Niseko-Annupuri.
The town has hot springs, great cuisine, and a fantastic off-piste atmosphere. Check out amazing accommodation options for Niseko in my article: 5 Best Hotels In Niseko.
9. Shiga Kogen, Yamanouchi
Shiga Kogen in the Jōshin'etsu-kōgen National Park is the largest skiable area in Japan! Its 18 ski resorts offer varied terrain with skiing for all abilities.
The Marulike Snowland snow play area and Yakebitaiyama Family Snow Park are great for youngsters. 
8. Aomori, Aomori Prefecture
The world's snowiest city has the world's warmest welcome. Despite getting up to 26 feet of snow per year, this city keeps running all year round.
Traveling to Aomori in winter is an amazing adventure. Take a look at amazing Aomori hotels in the post: 5 Best Hotels In Aomori.
7. Nagano, Nagano Prefecture
Nagano in the Japanese Alps hosted the 1998 Winter Olympics.
This heartland of Japan's snow country is a snow lover's paradise, with lots to do and ski lifts that give amazing access. 
6. Sapporo, Hokkaido
Sapporo, the capital of Hokkaido in northern Japan is a snow paradise, with the annual Sapporo Snow Festival that attracts 2 million visitors each year.
The amazing snow sculptures, beer, and skiing are amazing!  You'll also find ski hills and jumps from the 1972 Sapporo Winter Olympics across the city.
Here are some great Sapporo hotels to book your winter break: 5 Best Hotels In Sapporo.
5. Hakuba, Nagano Prefecture
Hakuba in the Japanese Alps is a popular destination for winter sports enthusiasts.
You'll find many resorts that are great for snowboarding, and the Hakuba Ski Jumping Stadium from the 1998 games is still operating. There's a great international vibe with plenty of hot springs for your apres-ski.
4. Mount Fuji, Shizuoka Prefecture
Where better to ski than the famous Fuji-san?
I didn't know you could actually ski the slopes of this iconic volcano, but there are actually two ski resorts called Fujiten and Snowtown Yeti. However, you won't be slalom skiing near the peak, both resorts are near Fuji's base. 
3. Appi Kogen, Iwate Prefecture
Iwate also gets great snow and Appi Kogen in Tohoku is the region's largest ski resort with 21 courses and terrain for all abilities.
You'll find deep powdery snowfall, well-maintained trails, and a relaxed apres-ski scene. 
2. Myoko Kogen, Niigata Prefecture
Myoko Kogen comprises nine ski resorts that surround the Akakura village, just an hour and a half by Shinkansen out of Tokyo.
The Akakura Kanko Hotel offers the best resort accommodation, in the European style, with a majestic location on the Akakura ski hill and fabulous onsen.
1. Rusutsu, Hokkaido
This is another Hokkaido gem that is popular with Japanese winter sports enthusiasts because of its plenteous, powder snow.
It has great terrain and trails that are beginner and intermediate-friendly. Advanced skiers have plenty of backcountry and untouched trails. There are shuttles between Sapporo and the resort for hassle-free access.
Best Destinations for Snow in Japan FAQs
Is Japan worth visiting during winter?
Yes. Japan has distinct seasons meaning that by visiting in winter you get to experience real snow. There are lots of things to do during the winter months including skiing and snowboarding, visiting onsen, eating delicious nabe cuisine, enjoying festivals, and participating in the massive New Year celebrations.
Where is the snowiest part of Japan?
Aomori, the capital of Aomori Prefecture in northern Japan, is considered the snowiest part of Japan. Its impressive 8 meters of snowfall often makes it the snowiest place on earth. Learn more about Aomori in my article: Aomori In Japan – The World's Snowiest City.
Which Japanese resort gets the most snow?
Myoko Kogen in Myoko, Niigata Prefecture in the West of Japan, gets at least 15 meters of snow every year. This powderhead's haven also has a high average snow depth and a percentage of slopes that are covered with snow-making. Heavy snowfalls in the region often take the snow depth past the four-meter mark.
What month is best for snow in Japan?
February is Japan's snowiest month; the peak of the snow season. The heaviest snowfall is in the north of Japan. Locations like Aomori, the northernmost city in Honshu, can have over two meters of snow by February. 
Does it snow in Tokyo?
There is very little snow in Tokyo. At most, there are a couple of days of light showers. Tokyo's average snowfall is less than 3 inches per year. 
Does Osaka get any snow?
Yes, Osaka gets on average 16 days of snow each year, with the heaviest snowfall between January and February.
Where is the best skiing in Japan?
Niseko in Hokkaido is widely considered the best place for skiing in Japan and even the world. Its four connected ski resorts offer perfect power quality, with well-groomed terrain that accommodates the full range of skiing abilities. Plus the off-piste vibe is amazing with English widely spoken by an international crowd. 
Is skiing expensive in Japan?
Skiing in Japan has comparable costs to resorts in Europe and the Americas. Famous resorts like Niseko, and Rusutsu Resort are going to cost more but the typical cost of a one-day ski pass in Japan is 4000 to 5000 yen ($35). 
Which ski resort is the largest in Japan?
Japan's largest ski resort is Shiga Kogen. It comprises 18 individual ski areas with an overall size of  425 hectares. It also has the highest elevation of any ski resort in Japan with a 2307-meter chair-lifted ski run at Yokoteyama.
Where is the best place to snowboard in Japan?
The Hakuba Valley, just outside Nagano is considered by many advanced and professional snowboarders to be Japan's best destination for snowboarding. This Northern Japan Alps location has great powder. There is also beginner-friendly terrain with experienced guides and instructors at the Hakuba Snow Sports School.
Rounding Up
Japan's varied seasons and spectacular natural beauty is the perfect setting for a snowy adventure.
These stunning resorts are the perfect destination for a Japanese winter break. Be sure to pack your Uniqlo thermals, Montbell jacket, and drink plenty of warm Amazake. 
Organize the Japanese ski holiday of a lifetime with access to Japan's best chalets, ryokans, and resort hotels for an amazing ski season. Book flights, car rental, and comprehensive travel insurance for a hassle-free trip.