Nagano is a prefecture—an administrative jurisdiction traditionally known for being governed by a prefect— located in the Chubu Region, two hours north and west of Tokyo.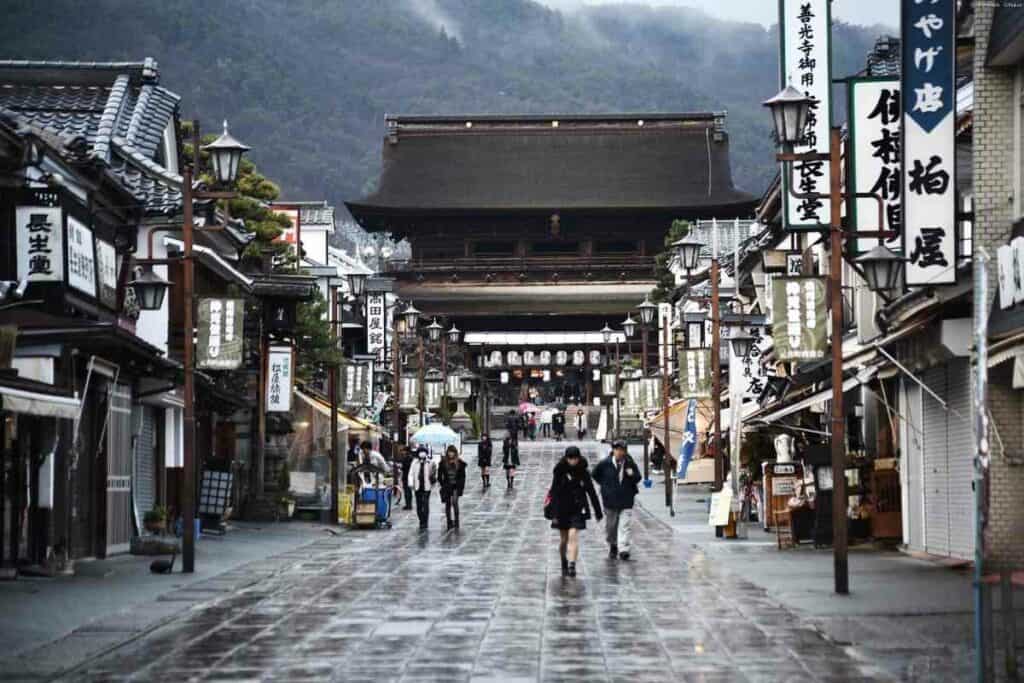 If you were to label Nagano, in terms of what it is as a prefecture, it's one of the most subtly beautiful regions in the world.
The beauty of Nagano is intrinsic and almost secretive – Odds are, you've probably never heard of Nagano, although it's a popular holiday terminus.
The town is quite literally a scene from an artist's portfolio; the kind of place that you only see in fantasy movies.
What to Expect from Nagano in Winter
In the winter, the region experiences a lavish amount of snow, turning the flaming reds, oranges, yellows, and gentle breezes of the fall season into an icy wonderland of subdued and finespun elegance.
In short, it's the perfect spot to intertwine yourself with the wonderment of nature, find some peace and relaxation, and just absorb the natural beauty of this serene location.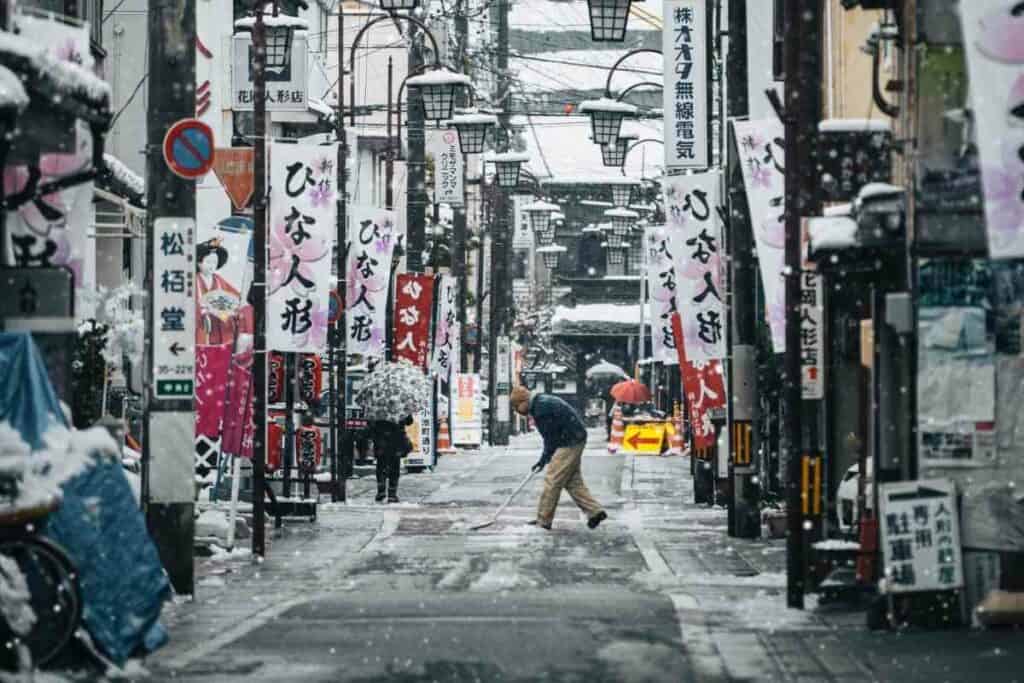 If you already have your bags packed and ready to go, you may want to take a moment and look over all of the things that you can do while visiting Nagano.
---
With That Being Said: Here is a list of the five, best things to do and visit while on vacation to Nagano. 
---
1. Matsumoto Castle
If you're interested in Japanese architecture, visiting Matsumoto Castle exemplifies Asuka and Nara architecture.
Also known as the Crow Castle, it is the oldest castle in the entire country, dating back to the 16th century. It's designated as a national treasure and it's not difficult to see why. 
The astounding nature of its pristine location, with five stories, towering over the water, which reflects this ancient castle from the Momoyama and Edo era with almost perfect clarity.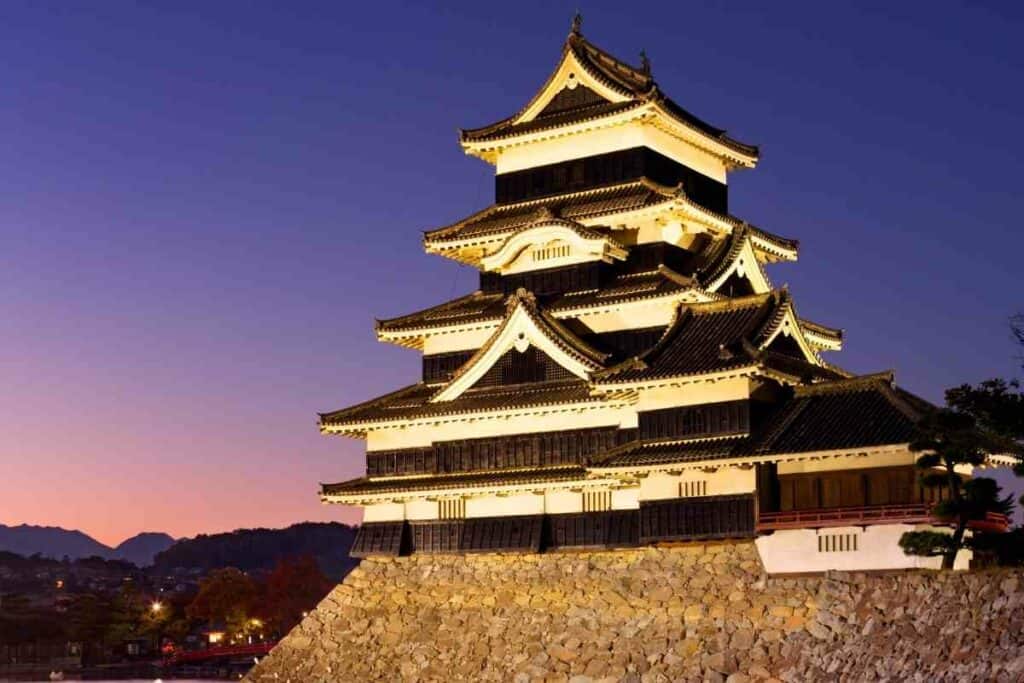 It is nestled amongst the Northern Japan Alps and is a must-stop for anyone who is interested in Japanese history and the arrival of Buddhism into the country.
It is one of only 12, original castles in Japan and it earned the nickname "Crow Castle" because of its black walls.
Over its long existence, the castle exchanged hands through violent sieges and it even survived an attempt to have it razed to the ground in the 1800s. 
Some believe that the curse of Tada Kasuke hovers over the castle like a thick fog and is primarily responsible for the degradation and eventual leaning of the Tenshu, during the Meiji period.
There is a lot of history to be found here and it only adds to the inherent and lasting beauty of the place and its surroundings.
It is strategically located, practically on a peninsula, and what was once the architectural result of war and combat, directly resulted in the stunning view and gorgeous landscape that serves as the castle's backdrop today.
2. Nosawa Onsen Hot Springs
Warmth is always what one seeks in the middle of a cold and relentless winter.
Nothing provides a better and more tranquil warmth than submerging into the soul-fulfilling depths of the hot springs at Nosawa Onsen.
Despite the fact that it is a ski town, outside of Nagano, it is well within even the most limited travel constraints and belongs on your list of places to visit while in Nagano.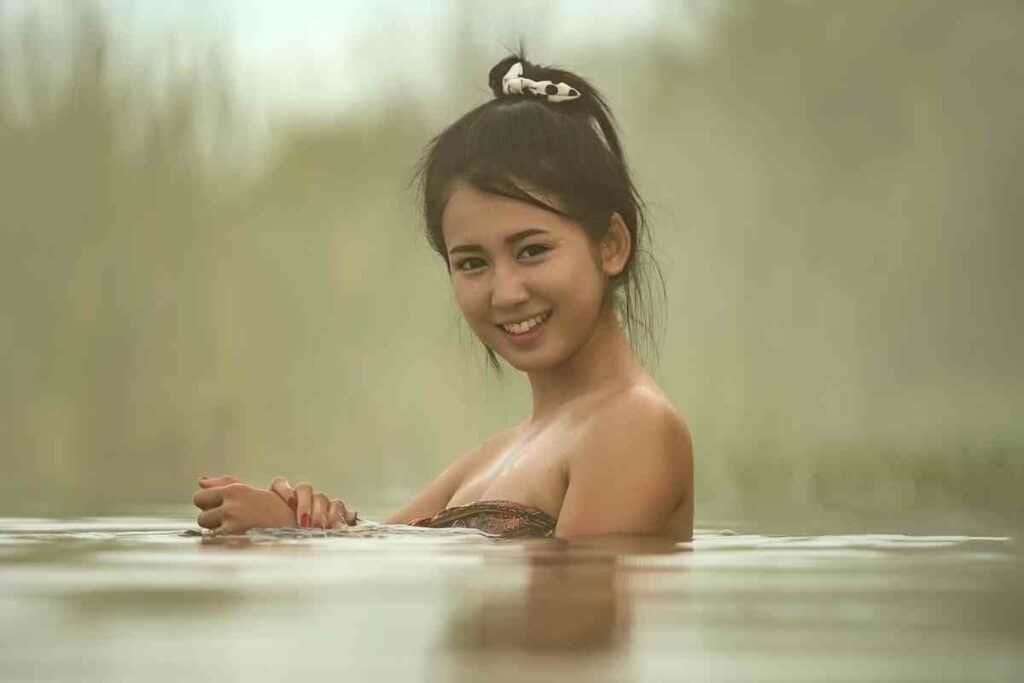 When you are on location in Nosawa Onsen, the hot baths are all within walking distance of one another and won't be hard to find, seeing as they are a primary attraction for tourists in the area. 
Better Yet – The springs lie at the foot of Mount Kenashi, so you will be afforded breathtaking views wherever you go within this sleepy little town's parameters. 
The waters of the Nosawa Onsen hot springs are drawn directly from the famous Ogama Spring and some are housed within the interior of several wooden facilities, while others are outside.
Of course, the hot springs are what makes Nosawa Onsen a popular destination and they have been there—at least in the historical record—since the Edo Period from the early 1600s to the mid to late 19th century.
The springs are freely open to the public, so unlike many tourist destinations in the area, you don't have to pay to access them. 
3. Kamakura no Sato
Kamakura no Sato are snow huts that are obviously only available during the cold winter months. They are located in Iiyama City, which itself is located within Nagano.
While the huts don't resemble anything extraordinary, in terms of architectural complexity, they are wonderful on the inside.
Touring these minuscule snow huts is an exercise in fine dining, where you can even try that local favorite, "hot pot" which is made from all-natural and locally gathered ingredients and includes pork and vegetables.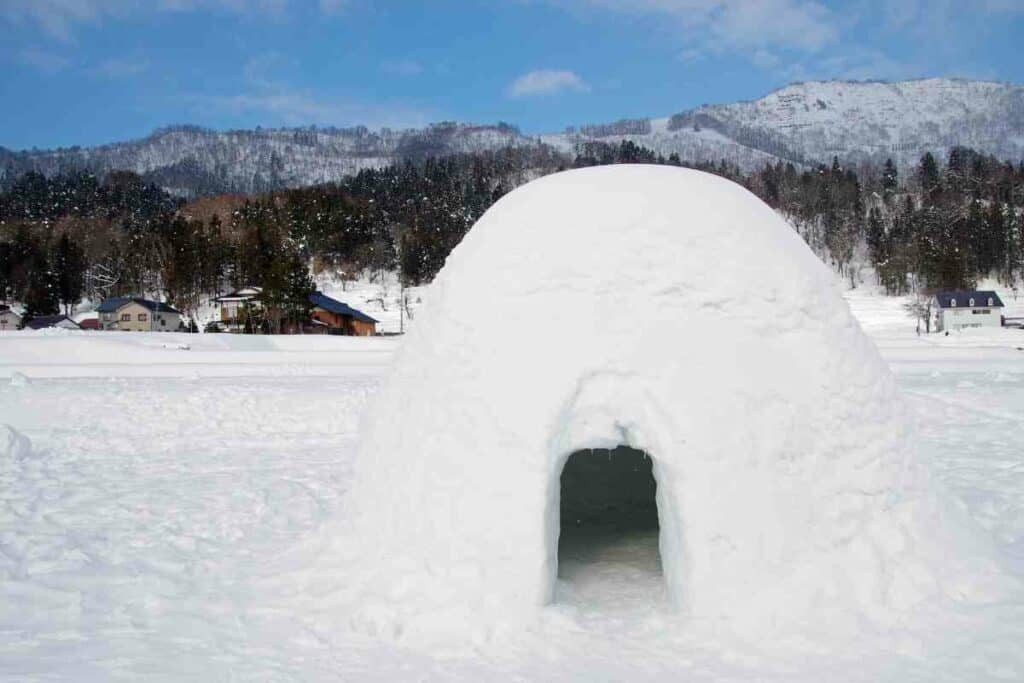 It's the perfect meal for draining the cold from your bones after a long day in the cold. 
If you plan your visit for mid-February, you'll have the opportunity to catch the Kamakura Festival.
Kamakura stands for igloo and the festival that shares its moniker is an entertaining event with a ton of activities for the kids and a fireworks show.
---
Amazing Experience: For all of the other nights of the year, the Kamajua no Sato are lit up at night, presenting awe-struck tourists with a landscape of frozen, snowy color as the lights reflect off of the snow. It's like an icy village of Hobbits come to life, straight out of a fantasy fairytale.
---
4. Togakushi Shrine
If you're looking for a little magic on your journey to this striking and beautiful destination, you have to visit the Togakushi Shrine at the base of Mount Togakushi.
There are five shrines at this location and their mystical properties are only heightened when their tops are covered in a fine layer of white snow.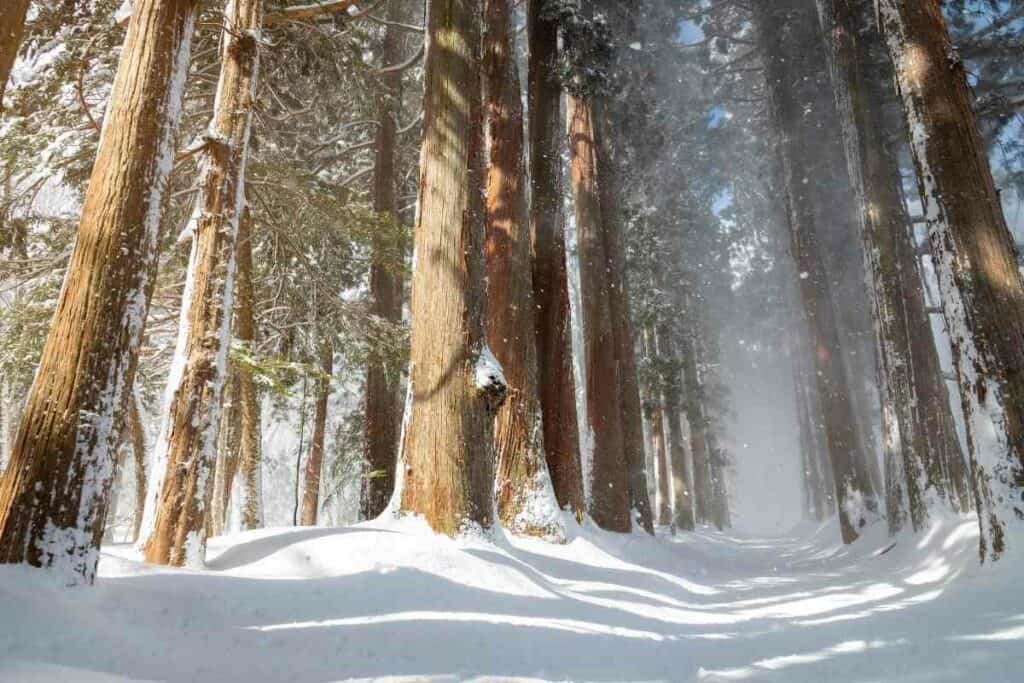 Before you start your hike over miles of territory that is covered in ancient cedar trees, you can stop at the shrine's tourist center for a hot meal of Togakushi Soba Noodles.
The best part about this area is the snow caps.
You'll Love It – Coming here in the winter will give you a heart-stopping view of an entire world that goes back for several millennia, all covered in blankets of crisp, white snow.
If the historical wonderment and shrouded mystique of these historic shrines fail to impress, the view certainly will. 
5. Nakasendo Trail
One of the best reasons to travel to Nagano is the jaw-dropping wonderment of the scenery.
It's quite literally breathtaking in its subtle beauty and you can only, truly appreciate it through quiet contemplation. 
The Nakasendo Trail is the perfect excuse to get out and try to take in all of the wonderful sites and sounds of Nagano.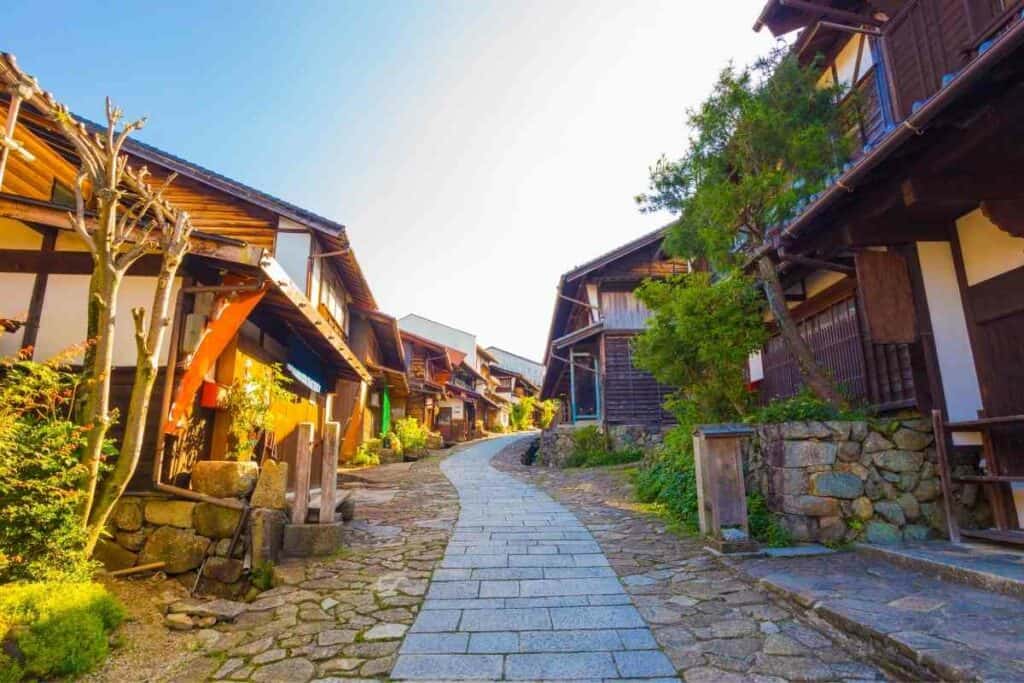 You had better prepare yourself before you set out. These trails are numerous and were originally designed to connect Tokyo and Kyoto.
---
What to Expect: While you will be impressed with massive and open views of the local town and scenery, there is a ton of real estate to cover, so it's important to pack well for the journey.
---
Final Thoughts
If you're looking for things to do in Nagano in winter, it is one of the most beautiful locations in Japan and well worth your time.
You will want to explore everything and, indeed, this geographical location is full of places to see and things to view.
In fact, a list of five doesn't even begin to cover the entirety of this historic and gorgeous slice of heaven on earth. 
Read Next