Tadashi Yanai, the founder, and president of the fast-fashion giant Uniqlo is Japan's richest person in 2023.
Learn more about Japan's pre-eminent multi-billionaire businessman in this guide to Tadashi Yanai's net worth and the story of how he accrued such wealth.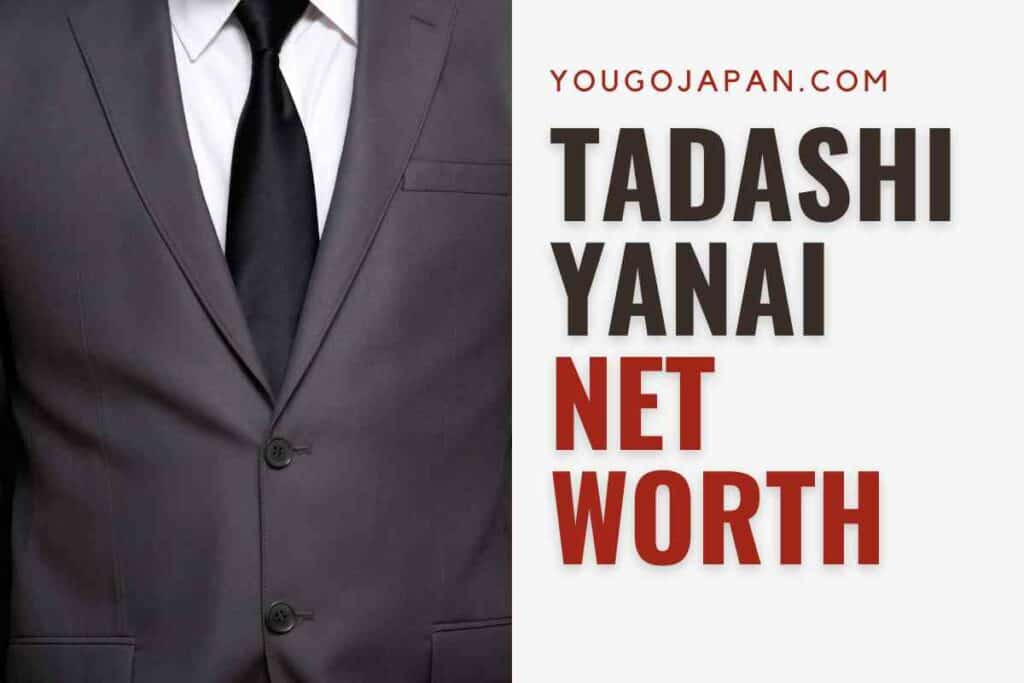 The net worth of Tadashi Yanai 柳井 正
According to Forbes, Tadashi Yanai is currently the 54th richest person on the planet with a net worth of over $26.1 billion.
This fashion and retail behemoth is still going strong at the age of 74 and continues to control the parent company of Uniqlo,  Fast Retailing, as its president and chairman. 
Yanai's wealth climbed in 2020 from $19.7 billion to a peak of over $44 billion in 2021.
This has since declined to a current estimated net worth of between $26 and $31 billion in Q1 of 2023. Currently, Yanai's wealth is equivalent to 0.14% of the entire U.S. economy.
A breakdown of Tadashi Yanai's net worth
The majority of the Yanai family's wealth comes from being the biggest shareholder of Asia's largest clothing retailer, Fast Retailing.
Yanai holds at least 44% of the shares directly, alongside his wife and two sons.
With over 2,300 stores worldwide and $19 billion in revenue in 2022, it's easy to see how this parent company that owns labels that include Theory and Helmut Lang is feeding Tadashi Yannai's billions. 
Other assets of the Yanai family include:
2 luxury golf courses on the Hawaiian island of Maui.
A 16,586-square-foot property on the outskirts of Tokyo, worth $50 million
Tadashi Yanai 柳井 正 biography
Tadashi Yanai was born in the mining town of Ube, Yamaguchi prefecture in 1949.
He grew up, living above the small roadside men's clothing store his father, a tailor ran. Men's Shop Ogori Shoji, his father's store, grew in the 1960s and 70s to include several outlets. 
After attending Ube High School and graduating in Economics and Politics from Waseda University in 1971,  Yanai joined the family business after just a year selling kitchenware at a JUSCO supermarket. 
Tadashi Yanai started the Unique Clothing Warehouse in 1984, with its first store in Hiroshima. The name was later shortened to Uniqlo.
Yanai also took the family business and changed its name to Fast Retailing in the early 1990s. The name of his literal parent company reflected the business strategy that made Tadashi Yanai wealthy. 
Tadashi Yanai 柳井 正 business model 
Tadashi Yanai aggressively pursued a rapid growth business model, funded by capital from existing stores and stock market investments.
Fast Retailing made its debut on the Hiroshima Stock Exchange in 1994. In the 1990s, Uniqlo quickly rose to prominence, becoming Japan's largest clothing retailer with more than 200 stores by 1996. 
Yanai took advantage of the nearby garment manufacturing base in China to produce own-brand Uniqlo clothing cheaply and quickly.
The brand's cheap polar fleece was a particular success with almost a quarter of the Japanese population owning a Uniqlo fleece by 1998. In 2000, 26 million Uniqlo fleece items were sold in Japanese stores in a single year.
In 2006, Yanai opened the discount clothing retailer GU in Japan. This business managed the feat of being even cheaper than Uniqlo. 
Overseas expansion of Uniqlo
The overseas expansion of Uniqlo began in 2000. He initially opened 21 UK stores, but 16 were closed due to poor sales.
The global flagship store in SoHo, NYC opened in 2006. This has not deterred Yanai which has over 600 international stores.
In China, its largest overseas market, the company was opening Uniqlo stores at a rate of 100 stores per year. 
Tadashi Yanai business acquisitions
The Fast Retailing group also accelerated its growth through some notable fashion retail acquisitions, which included:
Shoe retailer Onezone in 2005.
The 2006 acquisition of Comptoir des Cotonniers (France) via stock purchase. 
The 2007 acquisition of CABIN CORP.
An 89% stake in Theory (U.S.), after acquiring Link International in 2009.
Princesse Tam Tam, Fast retailing group's most recent acquisition in 2022.
Tadashi Yanai 柳井 正 personal life
Tadashi Yanai is married to Teruyo Nagaoka, his first and only wife.
Together they have raised two sons:
Kazumi Yanai, born in 1974. After college, Kazumi worked for Goldman Sachs (1997), then moved to the family business. He is currently the CEO of Theory and the Chairperson of the US Uniqlo subsidiary. In addition, Kazumi is a director at 12 other subsidiaries held by Fast Retailing.
Koji Yanai, born in 1977. After finishing college, Koji worked for the Mitsubishi Corporation from 2001 to 2012, when he also joined Fast Retailing. Koji is currently a director at Fast Retailing. 
Facts about Tadashi Yanai
According to Forbes, Uniqlo is one of the world's most valuable brands.
In 2001, Tadashi Yanai became an external director of  SoftBank.
Tadashi Yannai has written two books about how he built the Fast Retailing group: "Twenty-Three Article Management Philosophy" covers the period between 1984 to 2003 and "Success to Throw away in a Day" explores the growth of the company from 2004 to 2009. These books have been bestsellers in Japan.
The global headquarters of Uniqlo is in the Tokyo Midtown Tower, which was Tokyo's tallest building until 2014.
Uniqlo's super successful fleece delivers warmth because of a unique windproof film between its inner and outer layers that works as a barrier to cold air.
Uniqlo has come under fire because of its fast fashion credentials. Fast fashion is a massive consumer of natural resources and an environmental polluter. Cheap clothing is poor quality with a short lifespan. Uniqlo has pledged to change this by adopting more environmentally sustainable business practices.
Tadashi Yanai interview
In this rare interview with Japan Forward, Tadashi Yanai discusses his life and how he founded Uniqlo. 
Tadashi Yanai quote
'Without a Soul, a Company is Nothing'
Rounding Up
Tadashi Yanai is a self-made billionaire with a fascinating life journey that holds valuable lessons for anyone. As Uniqlo continues to go from strength to strength, the net worth of the Yanai family will likely continue to rise.