Japanese surfing heartthrob Kanoa Igarashi has put Japanese surfing on the map.
His silver medal in surfing at the 2020 Tokyo Olympics earned him hero status among the Japanese, and he has continued to excel as a world-class surfer!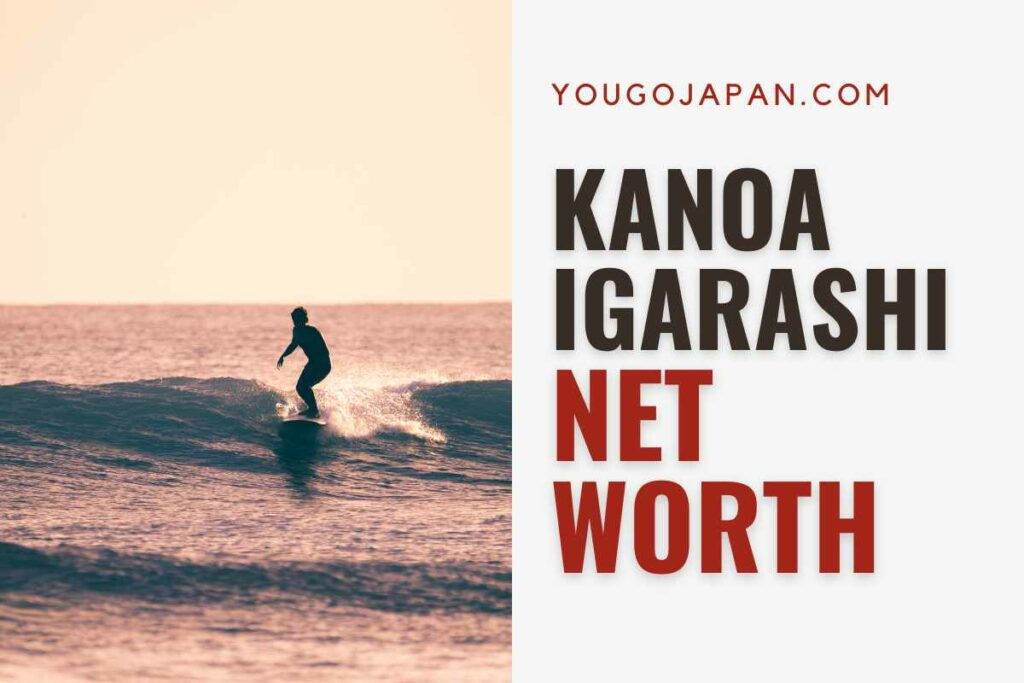 Here's everything you wanted to know about Kanoa Igarashi's Net Worth and his journey to becoming Japan's most famous surfer. 
The net worth of Kanoa Igarashi
Kanoa Igarashi has many more years to keep ranking on Forbes 30 Under 30 Asia!
His net worth is currently under wraps but sports management experts estimate that Kanoa Igarashi has a net worth of at least $10 million, earning at least $1 million per year.
A breakdown of Kanoa Igarashii's net worth
Kanoa Igarashi is a phenomenally successful surfer and is well on his way to becoming a billion-dollar global brand.
This is because he was a child reality TV star, making him a famous face and pin-up in Japan even before his major accomplishments in surfing.
Here is a breakdown of Kanoa Igarashi's publicly declared income and assets:
Prize money from competitive surfing
Between 2016 and 2019, Kanoa Igarashi earned over $900,000 from competing in the WSL Championship Tour. 
Sponsorships
Kanoa Igarashi earns at least $1 million per year through sponsorship deals with surfing's biggest brands. His sponsors include Quicksilver, Oakley, RedBull, BeatsByDre, G-Shock, and Shiseido.
Property
Igarashi has an international property portfolio, including homes in the US and at least two properties in Portugal, where he currently resides.
Kanoa Igarashi biography
Kanoa Igarashi is the son of Tsutomu Igarashi, a Japanese surfer, who wanted to raise a competitive surfer.
He and his wife Misa left Tokyo in the 1990s to move to Surf City in California so that Kanoa would get maximum exposure to surfing as he grew up. 
During his childhood, Kanoa was featured in a Japanese reality TV show about growing up Japanese in America. This is also a source of his celebrity in Asia. 
Kanoa started surfing at age three and could often be found on the beach at 5 am to practice his surfing before school.
By age seven Igarashi has won his first surfing trophy. His younger brother Keanu Igarashi is also a talented surfer. 
Professional career
Kanoa started his competitive surfing career in 2016 at just 19 years old. Representing Japan, Igarashi became the youngest rookie in the World Surf League Men's Championship Tour.
In 2017 and 2018 he won the Vans U.S. Open WSL event in Huntington Beach, California.
He also took first place at a World Surf League event in Indonesia in 2019, which qualified him to represent Japan at the 2020 Tokyo Olympics. 
Silver at the Tokyo Olympics
Kanoa Igarashi's Olympic debut took place on Tsurigasaki Beach in Ichinomiya, Chiba Prefecture.
Igarashi noted the special meaning of the beach where he competed as it was a surf spot that his father had discovered with friends.
Taking home silver cemented Igarashi's future as a global phenomenon and Japan's ambassador for surfing. 
Kanoa Igarashi personal life
Kanoa Igarashi has never been married and does not have children.
However, the eligible 25-year-old has been associated with Portuguese fellow surfer, Teresa Bonvalot who lives in Portugal where Igarashi has made his home.
The surfing power couple are often spotted together at surfing events. 
Facts about Kanoa Igarashi
Kanoa Igarashi was the youngest-ever surfer to win the under-18s section of US National Championships
Igarashi holds dual Japanese and US citizenship
Kanoa Igarashi owns properties in the coastal towns of Ericeira and Cascais Portugal
Igarasgi aspires to compete at the Paris 2024 Olympic Games
Kanoa Igarashi's height is 5 feet 11 inches and he weighs 171 pounds
In 2008, Kanoa achieved 30 contest wins in a single year, an NSSA record for the most victories in a single season.
Igarashi was crowned Best Dressed Athlete of the Year in the GQ Men of the Year Awards
Kanoa is known to attend fashion shows and loves to wear Dior
Kanoa Igarashi speaks four languages: Japanese, English, Portuguese 
Kanoa Igarashi interview
In a World Surf League interview with AJ Mccord, Kanoa Igarashi breaks down his aspirations for his upcoming surfing season:
Kanoa Igarashi quote
"Whenever I came to Japan, this is where I always surfed. It always has the best waves and everything, and my dad grew up surfing this wave."
"With all that's happening in the world right now, it's nice to just make the most of your surroundings and be grateful" 
Rounding Up
Japan is not the first place you associate with surfing, but Kanoa Igarashi has permanently changed that.
He really is a fruit of Japan's surfing community and carries their passion and values well. He has a long future ahead as a championship surfer, with the accrual of sponsorships and wealth to go with it.