Japan is an archipelago consisting of over 6,000 islands. However, five major islands make up the East Asian country: Hokkaido, Honshu, Kyushu, Shikoku, and Okinawa.
The country is one of the leading exporters of fish, thanks to its extensive coastline covering a remarkable 3,000km.
Japan is home to a wide variety of fish, from massive whale sharks to tiny jellyfish.
This is because the country has a favorable climate – each island has a unique flora and fauna.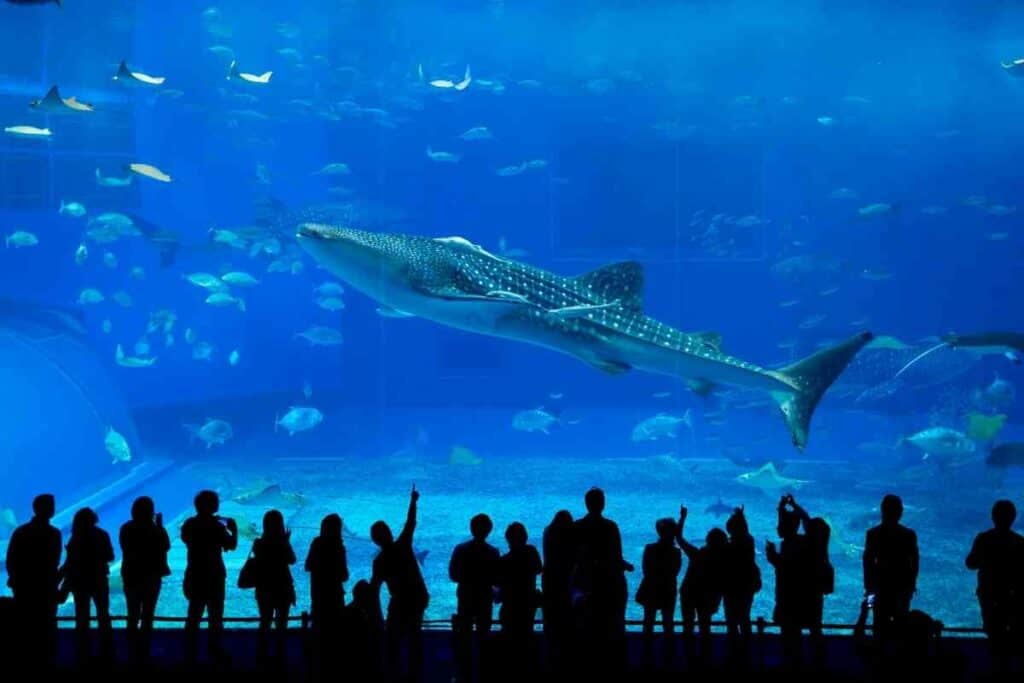 What's more, the sea has varying temperatures that suit different fish species. 
Many people travel to Japan to see some of the biggest and rarest forms of sea life.
However, it takes luck and expensive machinery to get a glimpse of these creatures, as many of them live in the deep sea.
Fortunately, the country has several aquariums that negate the need for deep-sea diving or boarding a submarine to see the sea life.
Here are the best aquariums that you should visit while touring Japan. 
1. Okinawa Churaumi Aquarium
The Okinawa Churaumi is a gigantic aquarium in Japan. It sits on the Motobu Peninsula on the northern side of Okinawa island and is two hours from the Naha Airport by car.
Interestingly, the main entrance, which leads you to the coral lobby, is on the third floor.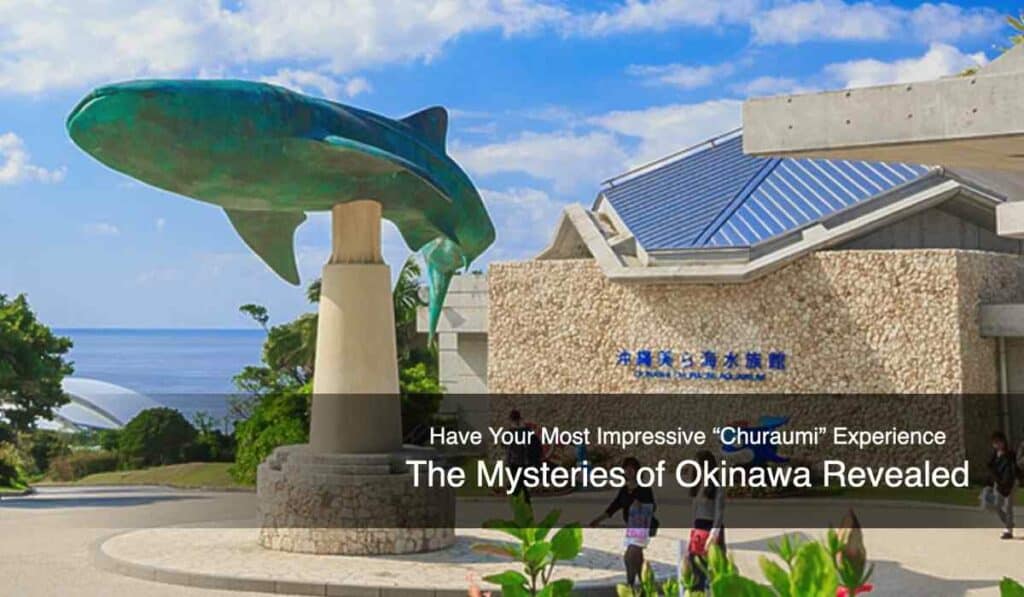 As you descend to the first and second floors, you feel like you're going underwater.
Walking through the aquarium is eerily similar to swimming towards the deep sea from the shore.
The standout feature of this aquarium is the Kuroshio Sea, which is Japan's largest water tank.
It is 35 meters long, 27 meters wide, and 10 meters deep.
As the name depicts, it has fish from the real Kuroshio, including manta rays and whale sharks. It's the only aquarium that purposely keeps these species for breeding.
After taking a walk around the Kuroshio Sea, you can relax and enjoy Okinawan treats such as purple yam tarts and taco rice.
You'll still be able to see the sharks and manta rays as you eat your food.
Another attraction at the Okinawa Churaumi Aquarium is the Coral Sea. Although it isn't as huge as the Kuroshio Sea, it has hundreds of colonies of 70 different coral species.
These have been bred for more than a decade, and you can see them spawning between May and July every year.
The best time to visit the Okinawa Churaumi Aquarium is after 4 p.m. You're likely to encounter large crowds and long queues if you go earlier.
Operating Hours
Off season
Peak season
Okinawa Churaumi Aquarium,Churaumi Plaza
8:30~18:30
(Last admission17:30)
8:30~20:00
(Last admission19:00)
Okichan Theater,
Dolphin Lagoon,
Sea Turtle Pool,
Manatee Pool
8:30~17:30
8:30~19:00
P7 multilevel parking lot
8:00~19:00
8:00~2030
Inquiries
Okinawa Churaumi Aquarium
905-0206
424 Ishikawa, Motobu-cho, Kunigami-gun, Okinawa Prefecture
TEL:+81-980-48-3748 FAX:+81-980-48-4444
Prices
| | |
| --- | --- |
| Adult | 1,880 Yen ( $16.21 ) |
| High School | 1,250 Yen ($10.78) |
| Juniors | 620 Yen ($5.34 ) |
| Under 6 | Free |
2. Tokyo Sumida Aquarium
Like the Churaumi, the Tokyo Sumida Aquarium is one of the country's oldest and most popular aquariums.
It has been in existence for almost ninety years and houses over 7,000 fish. Before the pandemic, the facility had an average of two million visitors yearly.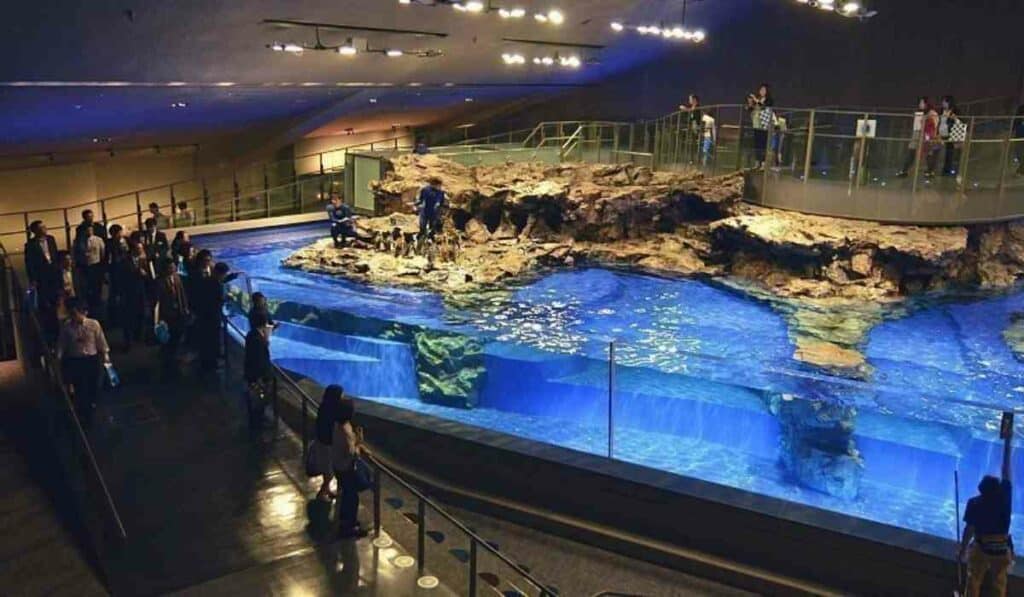 Its inclusion in the 'One Day in Japan' campaign is the main reason behind its popularity.
If you love dolphins, you can't leave Japan without visiting the Tokyo Sumida Aquarium.
Its most significant attraction is the dolphin show, where you can see the dolphins swimming alongside their trainers. This show happens after every 30 minutes.
During the intervals between the shows, tourists can throw food at the dolphins. This perk makes the aquarium appealing to animal lovers.
Besides dolphins, you can also see other sea creatures, including jellyfish and sea turtles.
Access and Directions
Short walk from Tokyo Skytree Station on the Tobu Skytree Line
5 minutes' walk along direct accessway from Oshiage (Skytree-mae) Station on the Tobu Skytree Line, Tokyo Metro Hanzomon Line, and Toei Subway Asakusa Line.
Operating hours
10:00-20:00*Admission ends one hour prior to closing time.
*Subject to change due to seasonal factors.
Open 365 days a year
Inquiries
5-6F, TOKYO SKYTREE TOWN Solamachi
1-2, Oshiage 1-chome, Sumida Ward,
Tokyo 131-0045
TEL : 03-5619-1821(10AM to 20:00PM)
Prices
General Admission
Annual Passport
Adult
2,300円 ( $19.83 )
4,600円 ( $39.66 )
High School
Students
1,700円 ( $14.66 )
3,400円 ( $20.69
Junior High
School and
Elementary
School Students
1,100円 ( $9.48 )
2,200円 ($18.97 )
Children
(Aged 3 and over)
700円 ($6.03)
1,400円 ($12.07 )
3. Aquamarine Fukushima
Aquamarine Fukushima is one of the newer aquariums in Japan, which opened in 2001.
Regardless, the facility, which sits on the Fukushima Prefecture, is home to various species of marine life sourced from many parts of the world.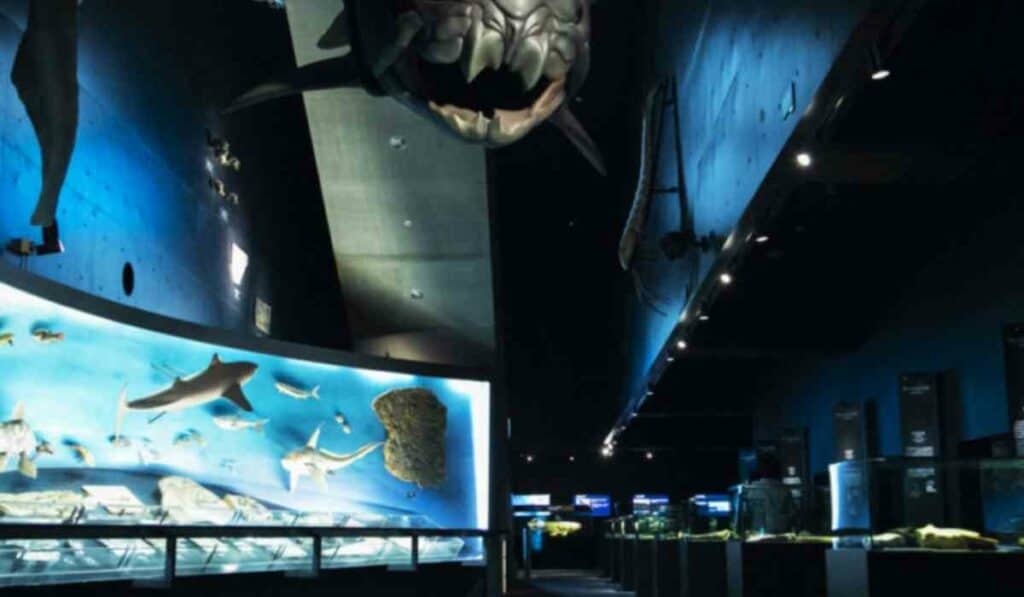 Notably, this aquarium is under the management of Toshihiko Kinoshita, a renowned actor, and film director.
It is famous for its contemporary design, interactive shows, and immersive experiences, appealing to younger visitors.
The primary attraction at this aquarium is the whale shark tank, where you can get an up-close view of the mammoth sea creature.
This giant tank sits at the facility's basement and has a massive glass dome that lets in sunlight, creating an illusion of space.
Additionally, the Aquamarine Fukushima has an underwater tunnel that passes through many water tanks filled with sea life.
Walking through this tunnel allows you to see over 16,000 species of marine life in their natural habitat.
Operating Hours
| | | |
| --- | --- | --- |
| Period | Opening hours | Admission deadline |
| Normal period March 21st- November 30th | 9: 00-17: 30 | 16:30 |
| Winter December 1st- March 20th | 9: 00-17: 00 | 16:00 |
Inquiries
Aquamarine Fukushima Personal Information Customer Service Center
50, Tatsumi-cho, Onahama, Iwaki-shi, Fukushima 971-8101
TEL: 0246-73-2525
Prices
General
Groups
<20 people or more>
Annual 
passport
adult
1,850 yen ($15.95)
1,550 yen ($13.36 )
4,250 yen ($36.64)
Elementary to high school students
900 yen ( $7.76 )
750 yen ($6.47 )
2,100 yen ($18.10 )
Preschooler
FREE
FREE
FREE
4. Shinagawa Aquarium
Since its creation in 1984, the Shinagawa Aquarium has undergone several facelifts to keep it pristine.
The most recent revamp occurred in 2008 during its 25th anniversary. The facility is located on Tokyo Bay.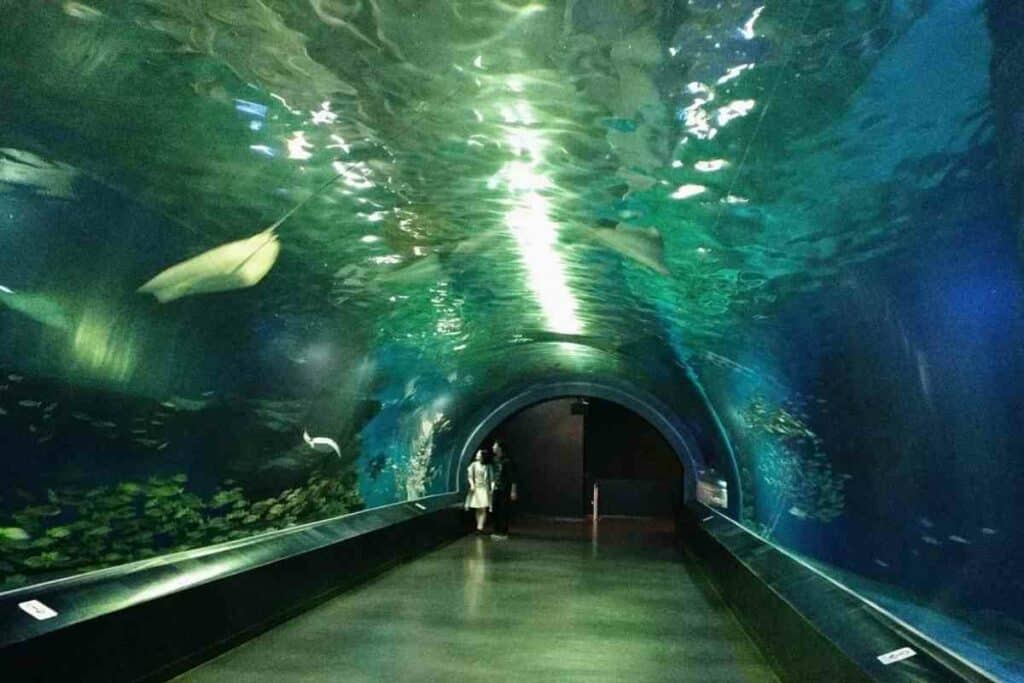 The facility received giant whale shark tanks during the revamp, making it the third aquarium (besides Okinawa Churaumi and Aquamarine Fukushima) to house this creature.
It also has 300 different aquatic organisms, both from freshwater and saltwater.
Visitors can walk through several water tanks and enjoy the variety on display.
There's an interactive centre where you can learn more about sea life for the curious.
Here, you also get a chance to see sea lions at close range.
That said, this aquarium's location is perhaps its most attractive quality. It is easily accessible in Tokyo's CBD and a short distance south of the Shinagawa railway station.
Here, you will have a beautiful view of the nearby Tokyo Bay.
Operating Hours
Everyday 10:00 a.m. to 5:00 p.m., except for Tuesdays (closed). * Admission ends at 4:30 p.m.
Inquiries
3-2-1 Katsushima, Shinagawa-ku, Tokyo 140-0012
TEL: 03-3762-3433
Prices
| | |
| --- | --- |
| Infants (4 years and over) | 300 yen ($2.60) |
| Junior high school student | 600 yen ($5.20) |
| Adult (above high school student) | 1350 yen ($11.70) |
| Seniors (over 65 years old) | 1200 yen ($10.40) |
5. Toba Aquarium
With 12 designated water tanks, the Toba Aquarium is one of Japan's most visited aquariums.
The facility is famous for housing the 'ama' free-divers.
Ama is Japanese for women who dive for abalone, oysters, pearls, seaweed, and shellfish.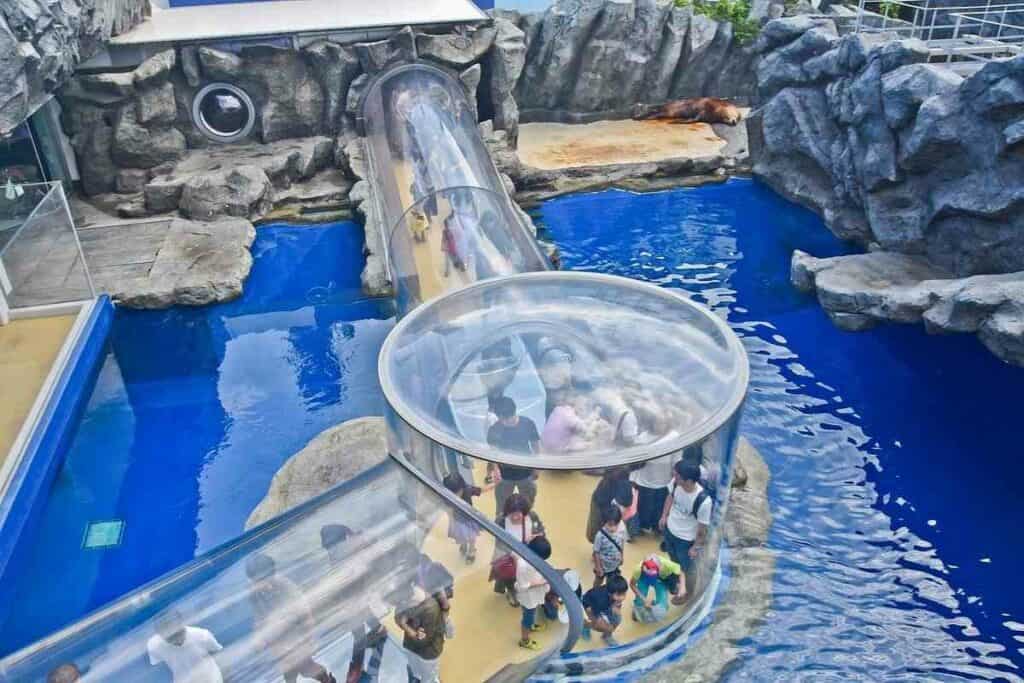 Interestingly, these divers don't wear traditional gear, such as oxygen tanks and masks. Instead, they go into the water with goggles and loincloths.
People who appreciate history will find the Toba Aquarium appealing.
Besides the free-divers, you can visit traditional Japanese shrines and Toba Sea Folk Museum to learn more about the local culture.
Operating Hours
9:00 a.m. to 5:00 p.m. Daily. *
From July 20th to August 31st 8:30 a.m. to 5:30 p.m.
Admissions end one hour before closure.
Inquiries
3-3-6 Toba, Toba City, Mie Prefecture 517-8517
TEL: 0599-25-2555
Prices
| | | |
| --- | --- | --- |
| | Individual | Group (25 or more) |
| Infants (3 years or more) | 600 yen ($5.20) | 500 yen ($4.33) |
| Children (elementary and junior high school students) | 1300 yen ($11.26) | 1200 yen ($10.40) |
| Adults  | 2500 yen ($21.66) | 2300 yen ($19.93) |
6. Hakkeijima Sea Paradise
The Aqua Museum was established in 1993 as the Hakkeijima Sea Paradise. It sits next to Tokyo Bay, and it takes one hour to reach it from the city center.
The structure itself is the symbol of Hakkeijima. It has a unique pyramid design on its roof and has over 500 different species of marine life.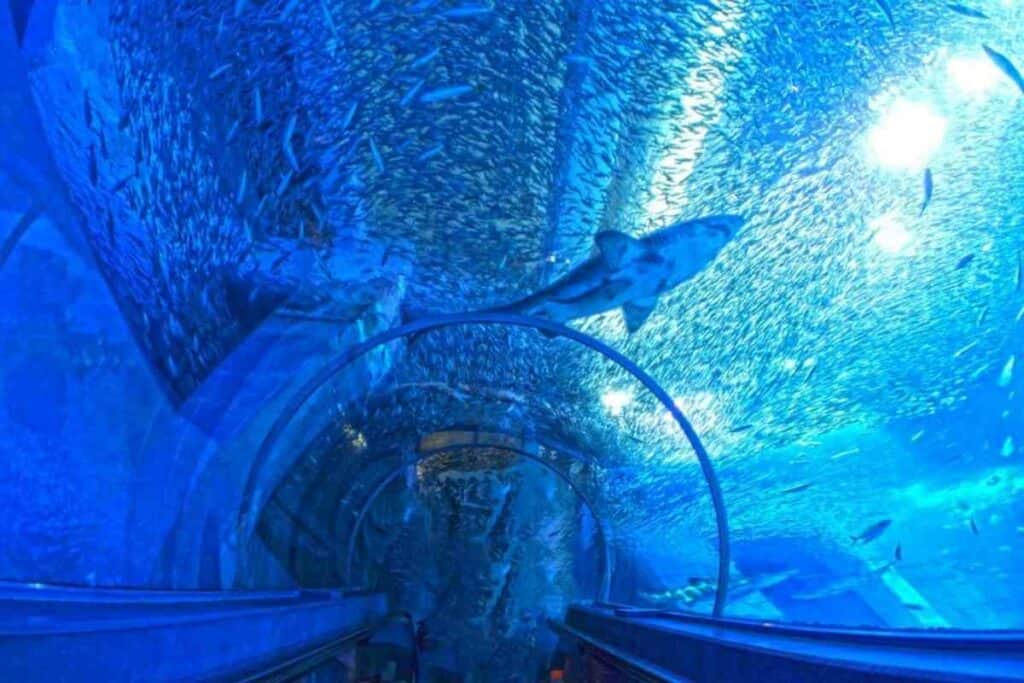 Of these, the most abundant are sardines, as the facility has over 50,000 schools.
One of the museum's major attractions is the Super Iwashi illusion.
Here, you can see the sardines racing inside the tanks after the lights are switched on. This is the largest show of its kind in Japan.
You can also see sea lions, penguins, and other marine creatures performing exciting shows at the Aqua Stadium, which has a seating capacity of 2,000. 
There's the Dolphin Fantasy, a huge water tank that houses these beautiful creatures.
Since it has no roof, you have to pass through a tunnel that gives you a more immersive viewing experience.
The condition resembles their natural habitat on rainy days, making you feel like you're walking underwater.
Operating Hours
Weekdays 10:00 a.m. to 5:00 p.m.
Weekends 10:00 a.m. to 6:00 p.m.
Inquiries
Yokohama Hakkeijima Sea Paradise〒236-0006 Hakkeijima Kanazawa Ward, Yokohama City, Kanagawa Prefecture
TEL: 045-7889632
Prices
Here are the prices for a One-way Pass (includes a visit to the four aquariums + other attractions in the facility. Visitors aged more than 65 are eligible for discounts.
Denomination
Period
Tickets for today
Advance ticket
Adult / High school student
Winter
5,000 yen ($43.32)
4,800 yen ($41.59)
Regular
5,500 yen ($46.65)
5,200 yen ($45.05)
Senior (65 years old or older)
Winter
3,600 yen ($31.19)
3,400 yen ($29.46)
Regular
3,900 yen ($33.79)
3,700 yen ($32.06)
Elementary and junior high school students
Winter
3,600 yen ($31.19)
3,400 yen ($29.46)
Regular
3,900 yen ($33.79)
3,700 yen ($32.06)
Infant (4 years old or older)
Winter
2,000 yen ($17.33)
1,900 yen ($16.46)
Regular
2,200 yen ($19.06)
2,200 yen ($18.19)
7. Osaka Kaiyukan Aquarium
The Osaka Kaiyukan Aquarium has over 11 floors, making it one of the country's most magnificent structures.
It has several 30-meter-deep water tanks that house a variety of species, sourced from the Pacific and other water bodies within Japan's territory.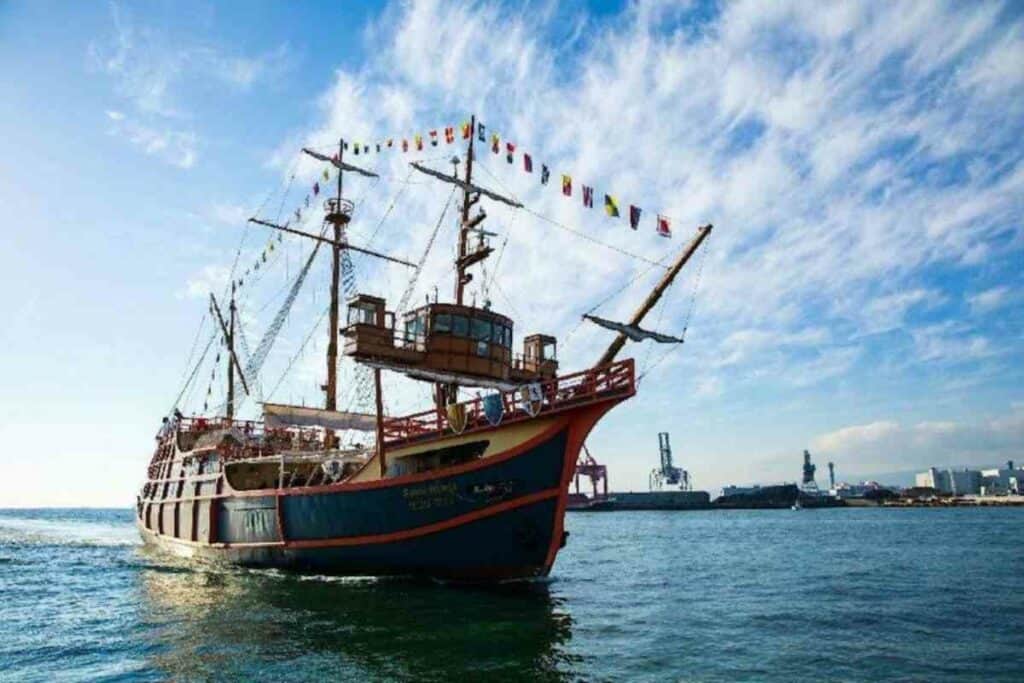 Some of the creatures you can find include sea lions, fishes, otters, sea turtles, etc.
Even better, there are several touch-pools where you can get a hands-on experience and interact with the sea life.
There are several scheduled programs to keep you busy throughout the day if you like shows.
The most popular show starts after 5 p.m. and allows you to view fish in night mode. 
Regarding accessibility, this aquarium is located at the city's port, near the Osaka Station.
Next to it are the iconic Japanese restaurants, renowned for their delectable meals such as sushi.
Operating Hours
From February 1st to February 13th – Weekdays – 10:30 a.m. to 7:00 p.m.| Weekends and holidays – 9:30 a.m. to 8:00 p.m.
From February 14th to February 28th – Weekdays – 10:30 a.m. to 6:00 p.m. | Weekends and holidays -9:30 a.m. to 7:00 p.m.
*Admissions end one hour before closure. Further opening hours to be announced later.
Inquiries
1-1-10 Kaigandori, Minato-ku, Osaka City 552-0022 Japan
TEL: +81-6-6576-5501
Prices
| | |
| --- | --- |
| Children (3 years or less) | FREE |
| Children (4 to 6 years) | 600 yen ($5.20) |
| Children (7 to 15 years) | 1,200 yen ($.10.40) |
| Adults (16 years and above) | 1,600 yen ($13.87) |
| Seniors (over 60 years old) | 2,000 yen ($17.33) |
Wrapping Up
These are only a few of the aquariums you can find in Japan. Of these, the Okinawa Churaumi Aquarium is the largest and has the widest variety of species.
However, if you fancy modernity, you'd be better off visiting the Osaka Kaiyukan. For those who love history and would like to see the 'ama' free-divers, visit the Toba Aquarium.
That said, all of the facilities mentioned above have their distinctive perks.
There's more to Japan than viewing fish. After touring the aquariums, you can get an adrenaline rush by engaging in water sports such as snorkeling, surfing, wreck diving, etc.
If not, you can take a nature walk and admire the rugged and mountainous terrain stunning cliffs or relax by the beach.
You Might Also Read