Yufuin Floral Village is currently lighting up social media with its unique take on a charming Cotswolds Village in England.
People are 100% certain that  Yufuin Floral Village is in fact the real Ghibli village and flock to  Yufuin, in Ōita prefecture in their thousands to take selfies in this intriguing theme park.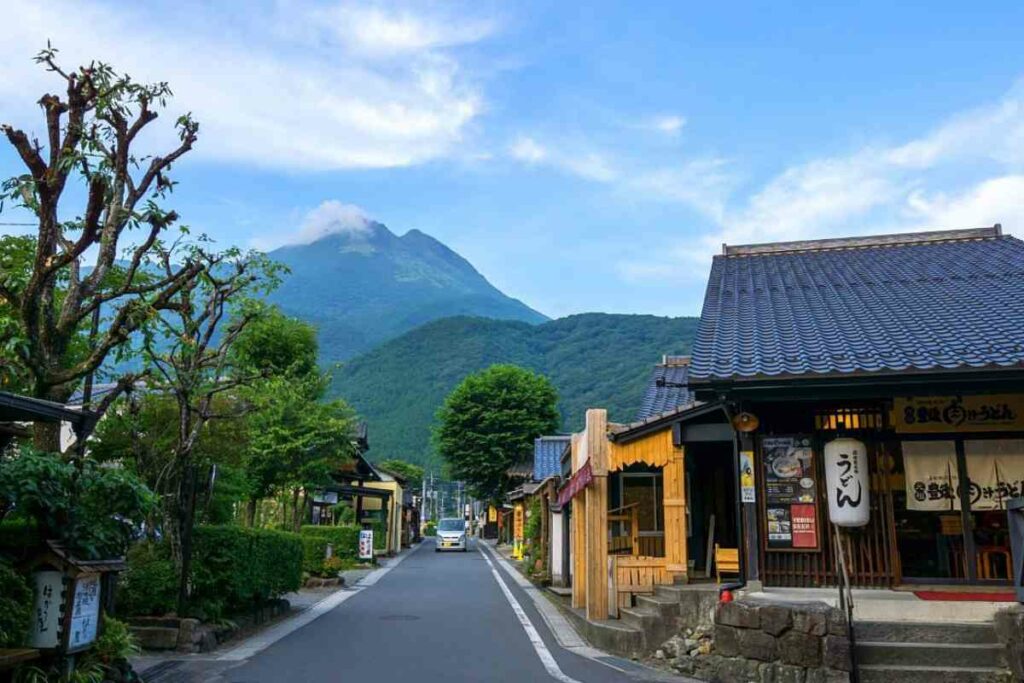 So what's up with Yufuin Floral Village, does it have anything to do with Ghibli Studios, and how can you see it for yourself?
Find out everything you need to know in this informative guide!
What Is Yufuin Floral Village
Yufuin Floral Village is a small whimsical village theme park in the onsen resort town of Yufuin in Ōita prefecture.
It has a strange 'English' countryside aesthetic, replicating the thatched cottages, stone walls, and charming stone buildings of the Cotswolds, a region of the UK that the Japanese love. It has got a quaint cartoonish feel with lopsided walls, unusual proportions, and narrow streets.
The buildings are functional but tiny, with even the Japanese having to stoop to enter the stores and houses. It is a super kawaii place that is perfect for a selfie!
The History of Yufuin Floral Village
Yufuin Floral Village was built in 2012 by a Yufuin businessman.
CEO Hiroyuki Ueda and his team of 78 employees maintain the park and welcome visitors throughout the year.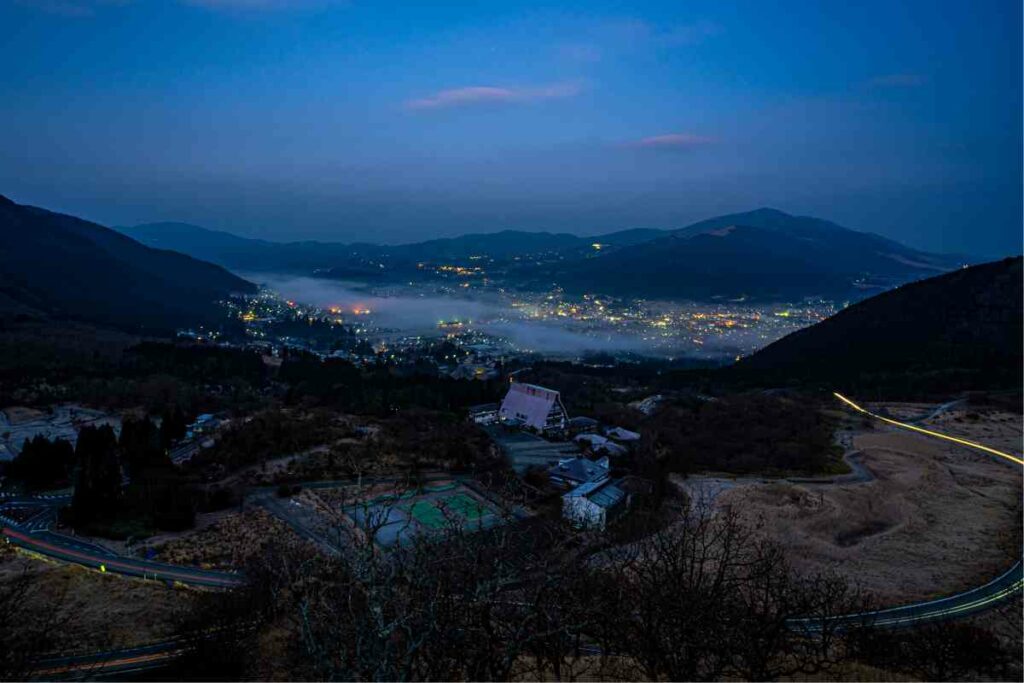 As it was self-funded, it had to be super-small, but that has only added to the cuteness which attracts crowds from all over Japan.
Each building is functional and built with remarkable attention to detail, including floral displays and quaint lamps.
The English-style architecture is perfectly set against the hills and mountains of Yufuin.
Here and there is a nod to the British with Union flags on cars and doors. 
The Delightful Attractions of Yufuin Floral Village
Tourists can wander a range of attractions that are quintessentially English, such as the Peter Rabbit animal garden which features English plants and ducks.
A Beatrix Potter costumed character is on hand to greet visitors. There are also delicious bakeries and restaurants with English food.
In fact, the only detail that lets you know you're in Japan is the signage throughout the village. 
Is Yufuin Floral Village Ghibli Village?
No, Yufuin Floral Village is not the same as Ghibli Village.
Yufuin Floral Village is a tourist attraction located in Yufuin, Japan, which features various shops, restaurants, and gardens.
On the other hand, Ghibli Village is not a real place, but a nickname given to the town of Totoro, which was the inspiration for the setting of the movie "My Neighbor Totoro" by Studio Ghibli.
This has become a common question since footage of this unusual place started to go viral on Instagram and other social media platforms.
The similarities are definitely there. Both places have that imaginative 'other-worldly' feel and cartoonish proportions.
And with so much demand for Ghibli Park tickets, it's not surprising that some Studio Ghibli fans get their selfies and video tours in Yufuin Floral Village.
In fact, the island of Kyushu is thought to be the inspiration of Studio Ghibli's founder, Hayao Miyazaki due to its spectacular natural scenery like the cedar forests of Yakushima which inspired Princess Mononoke.
Yufuin Floral Village has unashamedly taken advantage of its similarity with its own Kiki's Delivery Service Bakery. This real-life version also sells bread and pastries.
Take a closer look at this peculiar Yufuin landmark:
What Are the Best Attractions of Yufuin Floral Village?
Yufuin Floral Village is perfect for a day out in this beautiful region. Click here for a map of the theme park.
The best attractions of the Floral Village include
Gorgeous flower fields: After all, this is a floral village. You can wander beautifully landscaped flowerbeds and floral displays with blooming lavender, sunflowers, and cosmos.
Gallery Alice's Tearoom Cheshire Cat Forest: a quirky cafe inspired by the Cheshire Cat in Alice in Wonderland. 
Lots of cute animals: including fluffy lambs, goats, cats, ducks, and owls.
You can also rest and rejuvenate in the onsen that is located within the village, or shop for themed gifts and souvenirs in shops that stock Moomin, Pokémon, and The Very Hungry Caterpillar.
Where to Stay for Yufuin Floral Village
A visit to Yufuin Floral Village is the perfect reason to spend some time in Yufuin, and perhaps even head to the nearby hot spring city of Beppu (here you can check out the best hotels in Beppu).
There are lots of accommodation options in the area that give great access to Yufuin Floral Village and surrounding attractions. 
YUFUIN FLORAL VILLAGE HOTEL
The Floral Village has a hotel where park visitors can enjoy an overnight stay.
The hotel does not serve food but has the large Floral Village Onsen, which is fed directly from hot springs. Guests can enjoy a restorative hot spring bath free of charge.
The hotel is in an elevated position that gives wonderful views of the entire village when it is illuminated in the evenings. The rooms are furnished in the Japanese style.
Other Hotels in Yufuin, Ōita, Japan
There are so many great hotels to choose from in this onsen resort town.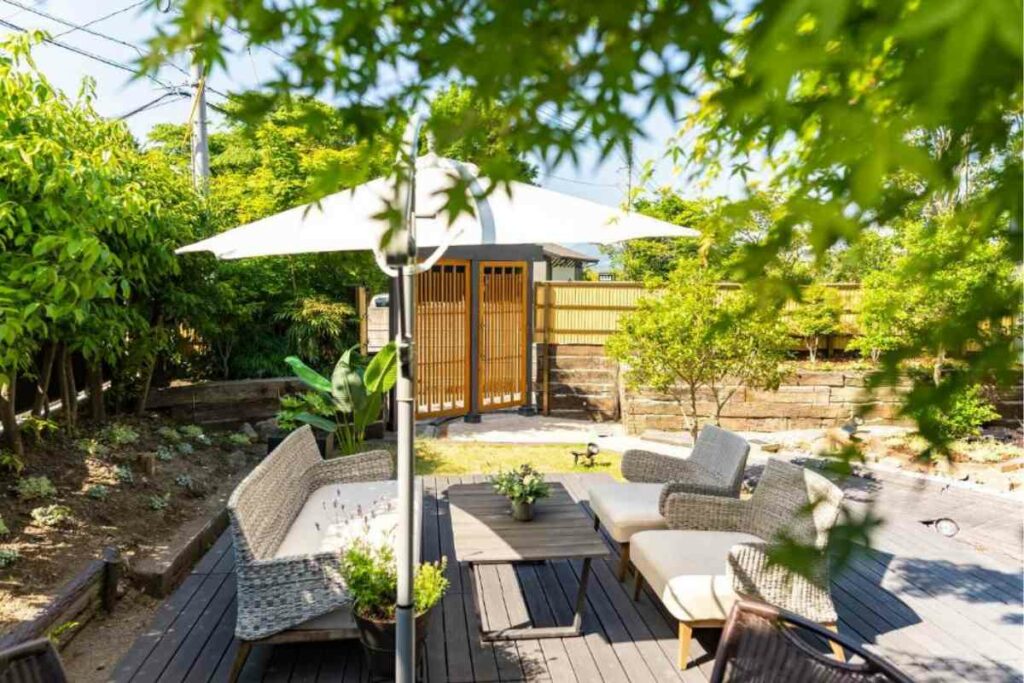 Some of the best hotels for Yufuin include:
ETAVIA Yufuin Kinrinko: A three-star ryokan with a beautiful terrace and onsen, just 15 minutes away from Yufuin Station. (Compare the latest prices on expedia.com and booking.com)
Yufudake Ichibo no Yado Kirara: A sustainable ryokan with outstanding mountain views and a hot spring bath. (Compare the latest prices on agoda.com and booking.com)
Yufuin Onsen Hinoharu Ryokan: A four-star luxury ryokan with outstanding cuisine including tea ceremonies, wagashi sweets, Wagyu beef, and kaiseki ryori (multi-course haute cuisine). (Compare the latest prices on agoda.com and booking.com)
How to Get To Yufuin Floral Village
The Limited Express Yufuin No Mori, one of Japan's most scenic train routes travels to Yufuin from Hakata Station in Hakata-ku, Fukuoka.
The two-hour journey is covered by the JR Pass. Once you get out of Yufuin Station, the Floral Village is under 15 minutes away on foot. 
Rounding Up
The REAL Ghibli Village, also known as Yufuin Floral Village is the perfect destination for kawaii lovers and serious Studio Ghibli fans.
This storybook destination offers visitors a unique and imaginative experience in one of the most beautiful parts of Japan.