Asakusa is a hot tourist destination for anyone who is considering taking a trip to Tokyo, Japan.
Here you will find tons of great ways to entertain yourself and your family or friends for days without ever finding yourself bored without a tightly packed itinerary. 
In This Article – You will find tons of great places to go when looking for a delicious Japanese meal, a place to learn about Tokyo's history and culture, or for a fun night out shopping on the streets or relaxing in a rickshaw.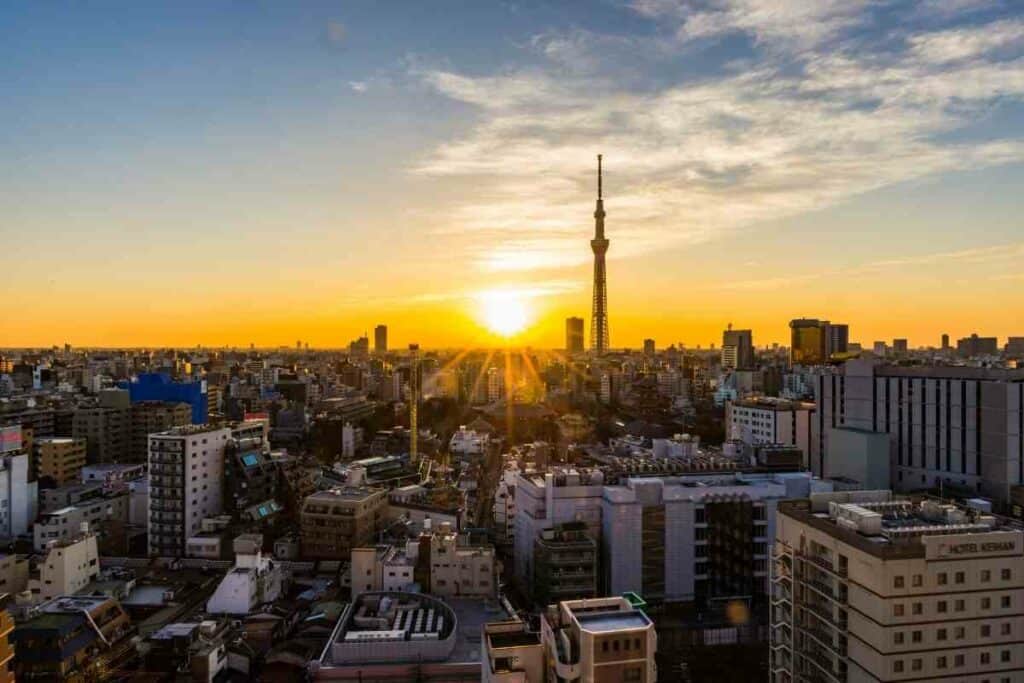 If you are visiting Asakusa and not quite sure where you should go, consider swinging by one of the following fifteen attractions listed below.
1. Tsukiji and Asakusa Food and Drink Cultural Walking Tour 
Take this five-hour tour with your friends and family, walking through the streets of Asakusa, sampling professional chef-cooked meals, delicious sweet treats, and other Japanese food.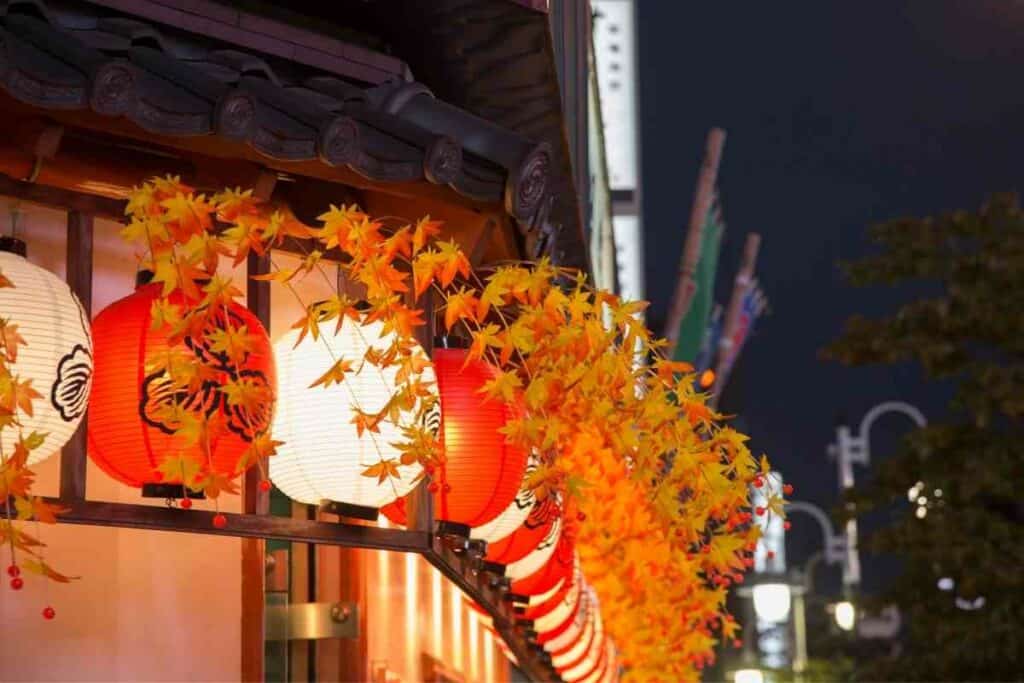 A friendly and professional guide will direct you along a planned route, stopping at the best location for a full day of fun and food while seeing every great location in the area.
2. Visit the Senso-Ji Temple
The Senso-Ji Temple is one of the oldest and most prolific ancient Buddhist temples in Tokyo and is beautifully constructed, making it a must-see.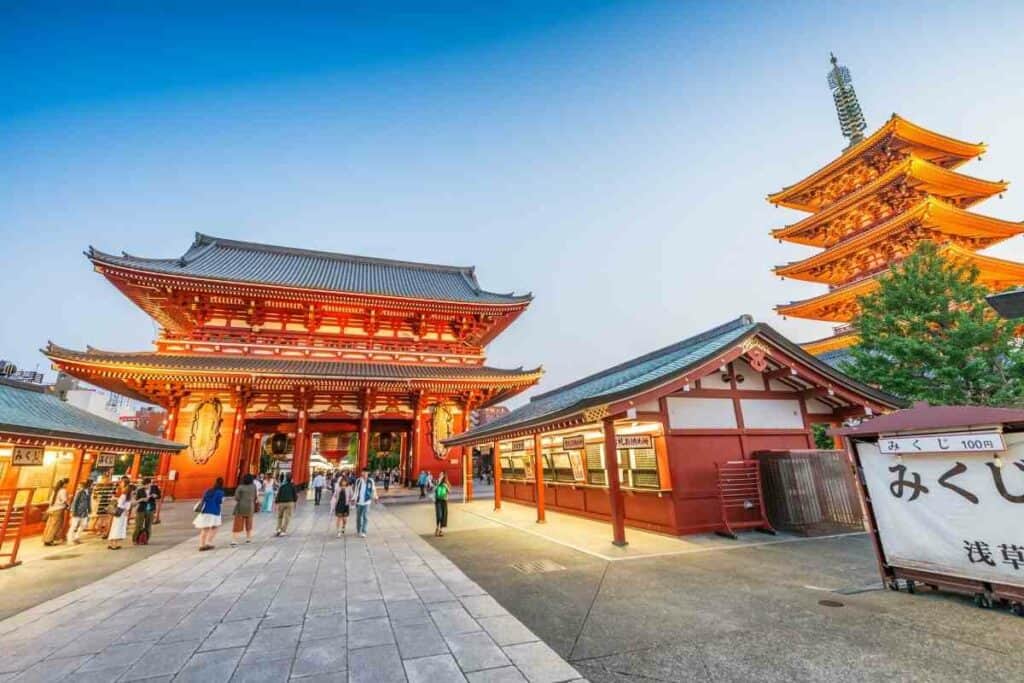 Visiting the temple during the day gives you access to plenty of information regarding the importance of this landmark, but visiting at night while completely lit up is an unforgettable view. 
3. Ninja Cafe Bar Asakusa
With a ninja-themed entertainment cafe and bar, it is no wonder this place is one of Asakusa's most popular tourist attractions.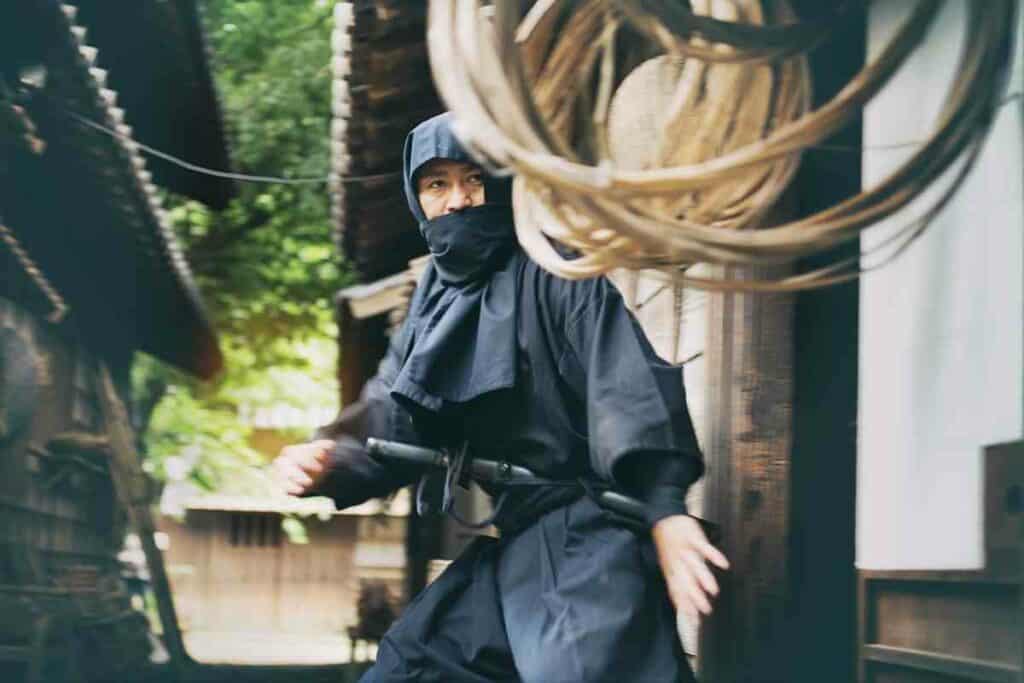 This is not a restaurant to hang out in if you plan on sipping drinks while quietly chatting with a friend. 
At the Ninja Cafe and Bar, you are encouraged to dress the part of a striking Warrier, take ninja lessons, wear the proper gear, and enjoy some ninja rice and desserts while using ninjutsu tricks and skills.
4. Nakamise Shopping Street (Kaminarimon)
Nakamise is the largest and one of the busiest shopping streets in and around Asakusa, connecting the main gate of Sensoji Temple ; Kaminarimon Gate.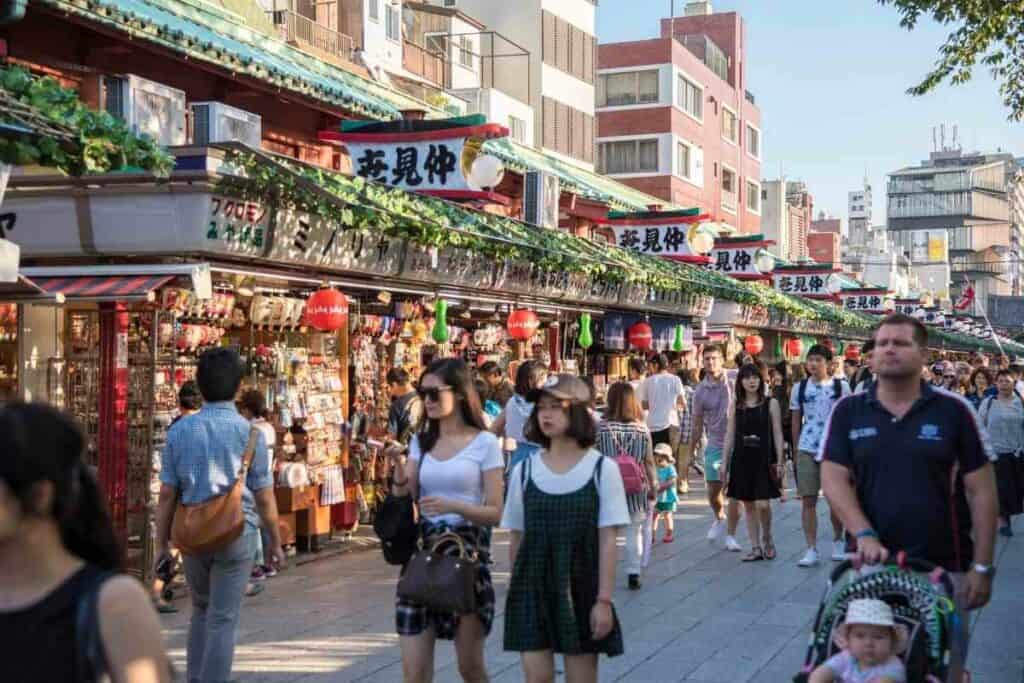 This is one of the oldest shopping streets, with roadside stands being run by generation after generation, providing customers with delicious treats, fabulous souvenirs, and some of the most delectable Japanese dishes out there.
This isn't your typical shopping strip.
While you may find a few designer pieces, this location is more of an old fashion street shop with handmade items that are unique in nature. 
5. Demboin Temple Garden
The Demboin Temple Garden is located alongside the Senso-Je Temple.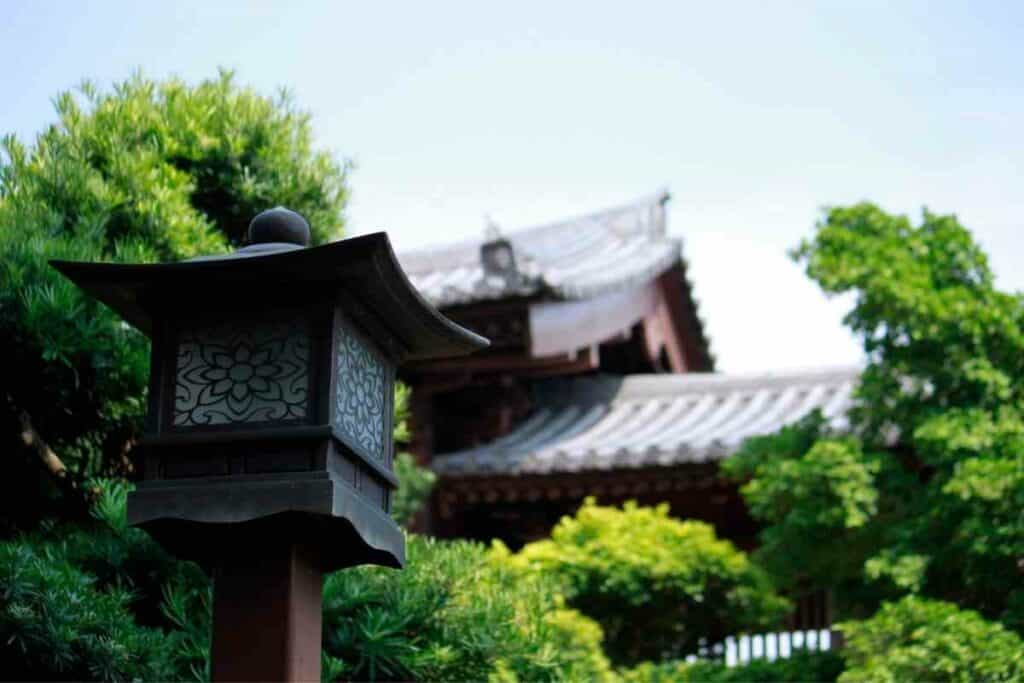 This is a very large garden area full of beautiful plant life and serene scenery, making it the perfect place for some downtime or to capture some of the most astounding photos of nature at its best.
The garden includes an amazing heart-shaped pond, which is home to many turtles and carp and has a tea house nearby you don't want to miss seeing.
6. Asakusa Kagekijo
If you are interested in theater, you should add Asakusa Kagekijo to your itinerary.
On stage you will see fantastic performances from concerts to martial art acts, and so much more. All of the performances are full of life, theatrics, and excitement.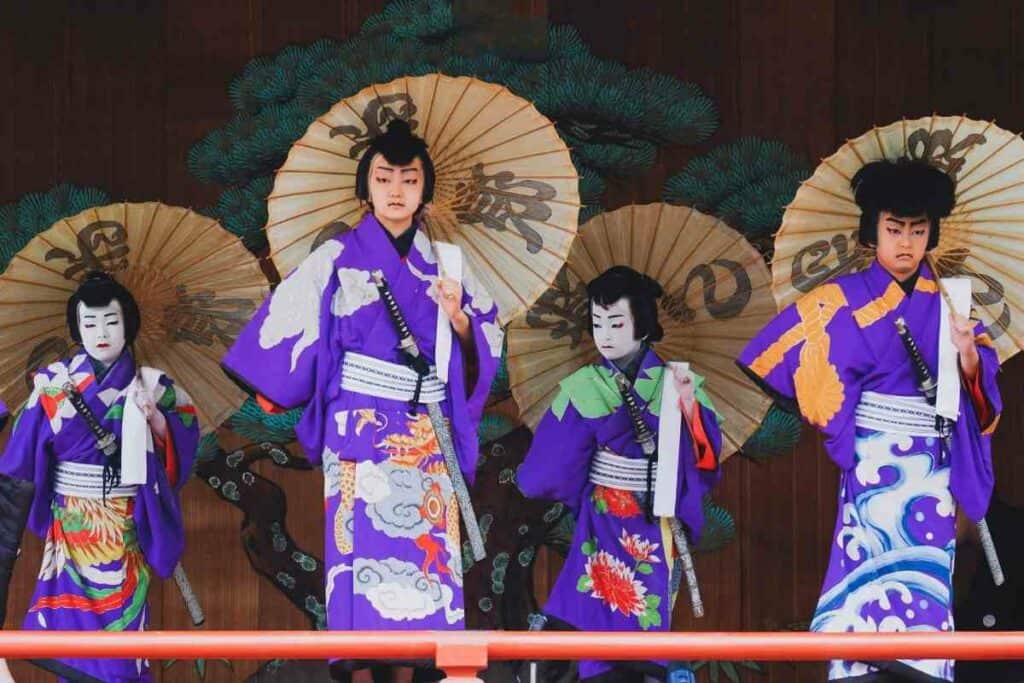 Here you can learn a lot about Japanese tradition and culture on one of the massive buildings on four floors.
You can also enjoy drama, sports, and dance, in an entertaining and interesting way. 
7. Sanja Matsuri
If you plan on taking your trip to Asakusa in May, you should plan on swinging by the Sanja Matsuri.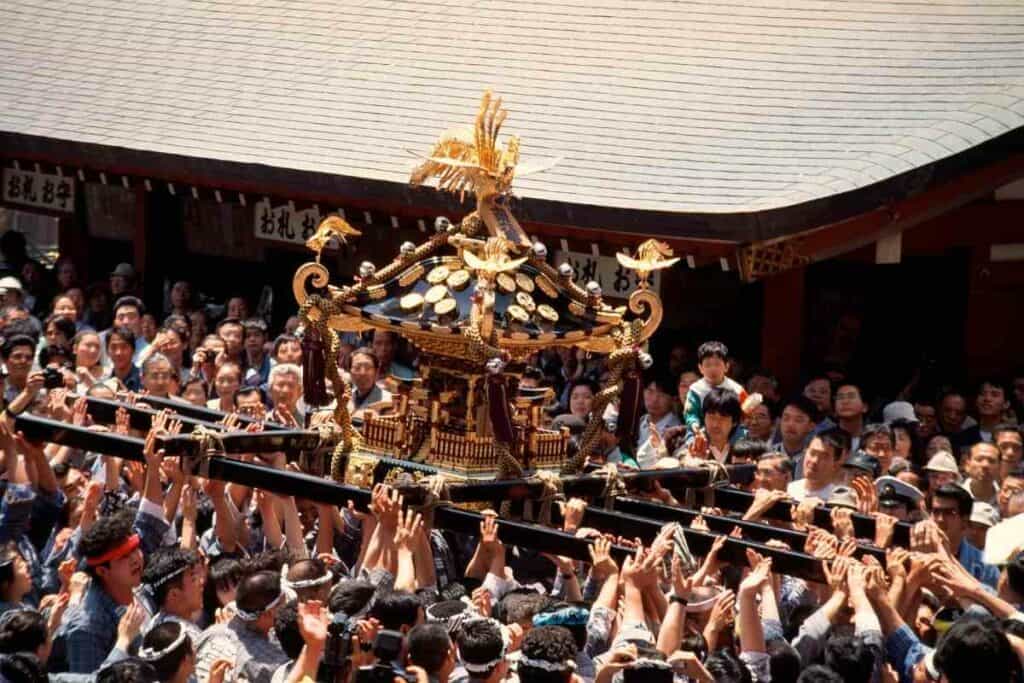 This is one of Tokyo's three fun-filled summer festivals that has been celebrated for more than 700 years.
Join in on the amazing tradition as this weekend party brings locals to the streets chanting, singing, and cheering day and night, enjoying great food, drinks, sweets, and friends.
8. Asakusa Engei Hall
You cannot leave Asakusa without visiting the Asakusa hall and seeing some of their talented actors perform.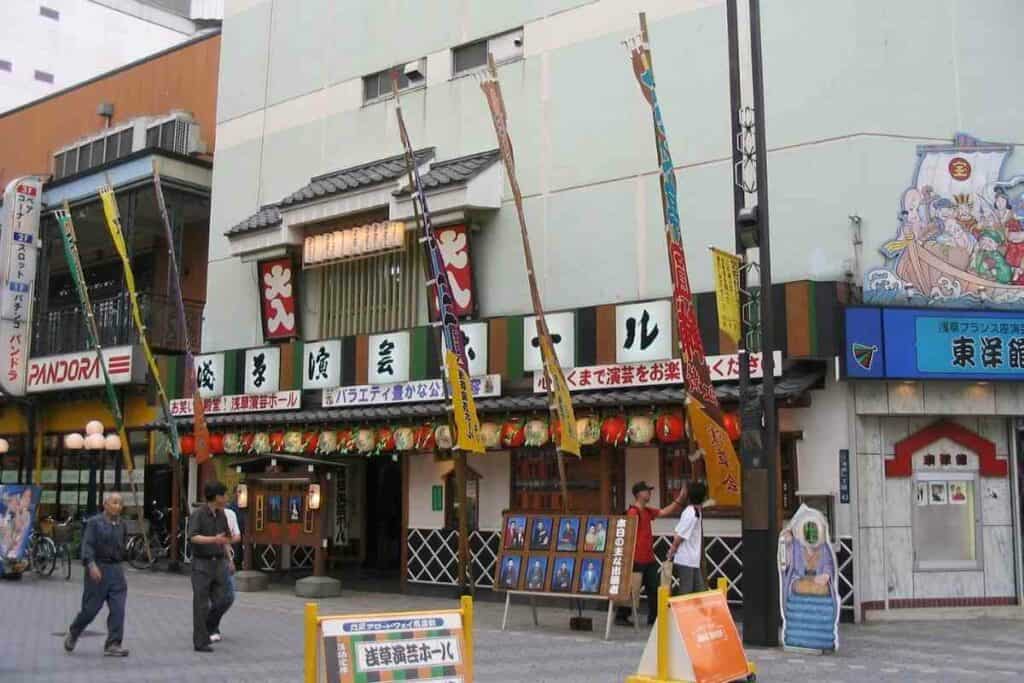 This performing arts theater is where the ancient art of storytelling is put on display for all to see, with actors entertaining their audience through comedy, musicals, and dramas. 
9. Asakusa Underground Shopping Street
The Asakusa Underground shopping street is a unique way to shop while on vacation.
The entrance is a little tricky to find, but once you do, you are guided towards an underground hidden shopping center full of fun fortune tellers, barbershops, cafes, and more.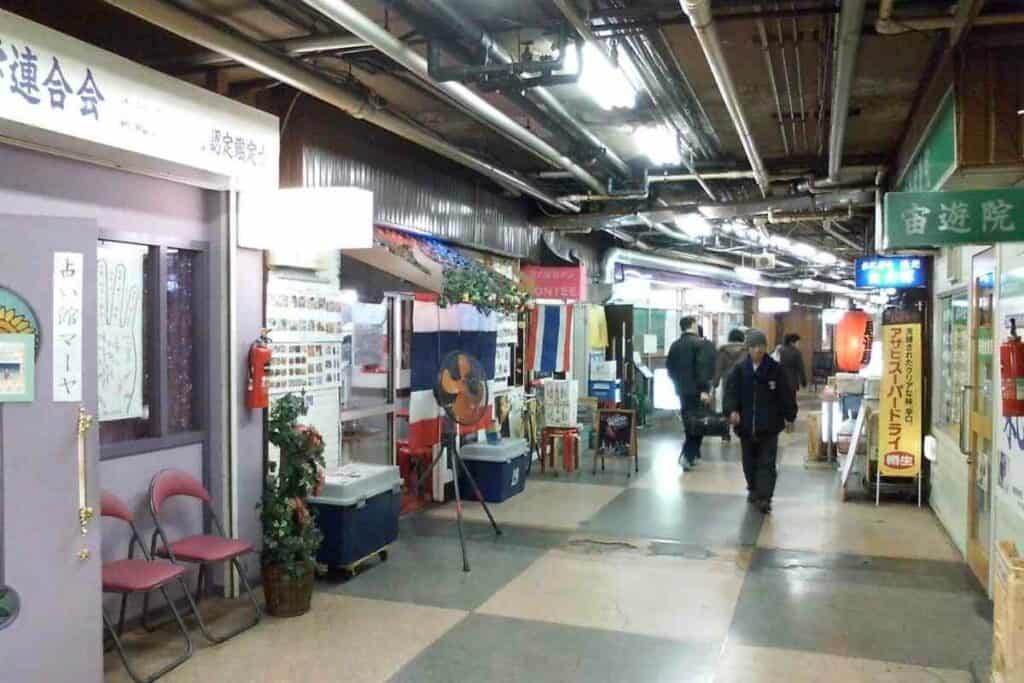 This is the largest underground shopping street in Japan, where you will find many unique and "interesting" items, such as vending machines full of insects.
10. Asakusa Nishisando Shopping Street
These wooden paved roads are home to upscale shops selling high-end costumes, Japanese swords, and gourmet foods.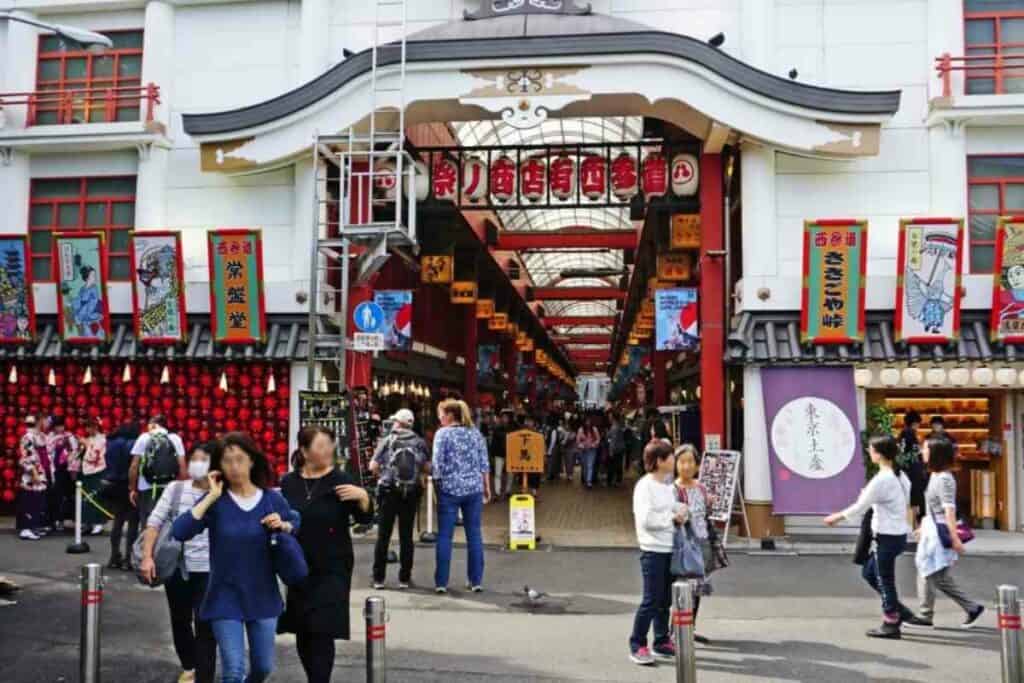 This shopping area has an amusement park feel with goldfish scooping, fun food vendors, and other fun adventures.
If you are looking for some great, unique souvenirs or gifts to take home to your loved ones, you are sure to find a little something for everyone at the Asakusa Nishisando shopping street location.
11. Statue of Ichikawa Danjuro IX
If you are ever n Asakusa, Tokyo, Japan, you do not want o miss out on visiting one of the most interesting and fierce statutes sitting there today.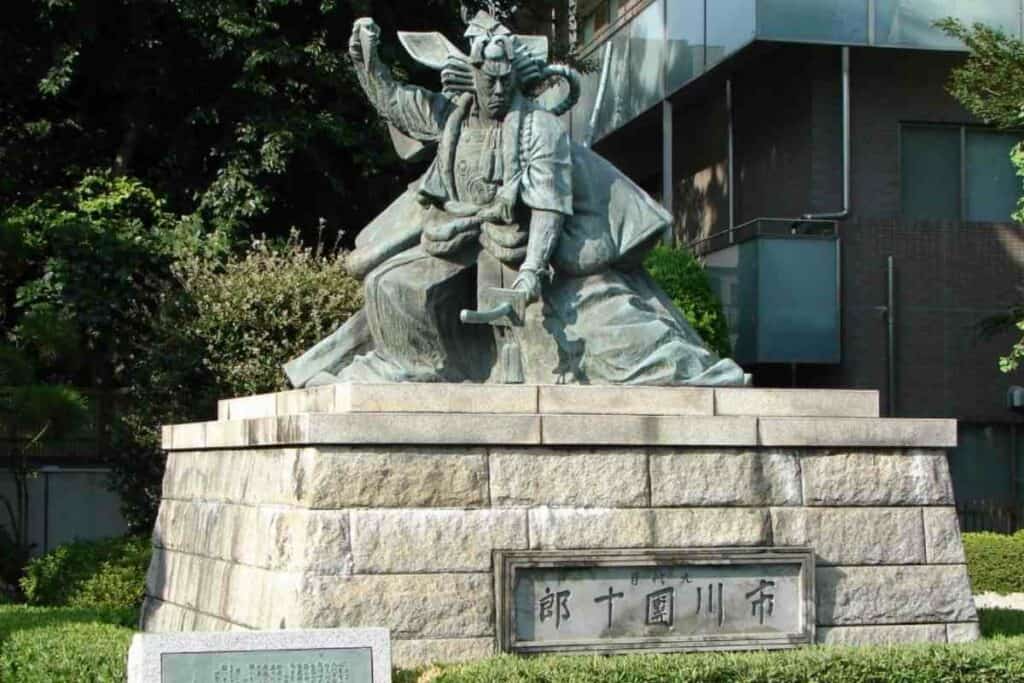 The Statue of Ichikawa Danjuro IX can be found on the grounds of the Senso-Ji temple and is dedicated to Ichikawa Danjūrō, a popular  kabuki actor, who was a strong  Kabuki dancer (classical Japanese drama form of dance.)
12. Tokyo Asakusa Gallery Gei
The Tokyo Asakusa Gallery Gei is an art gallery where artist of all types can display their work with pride.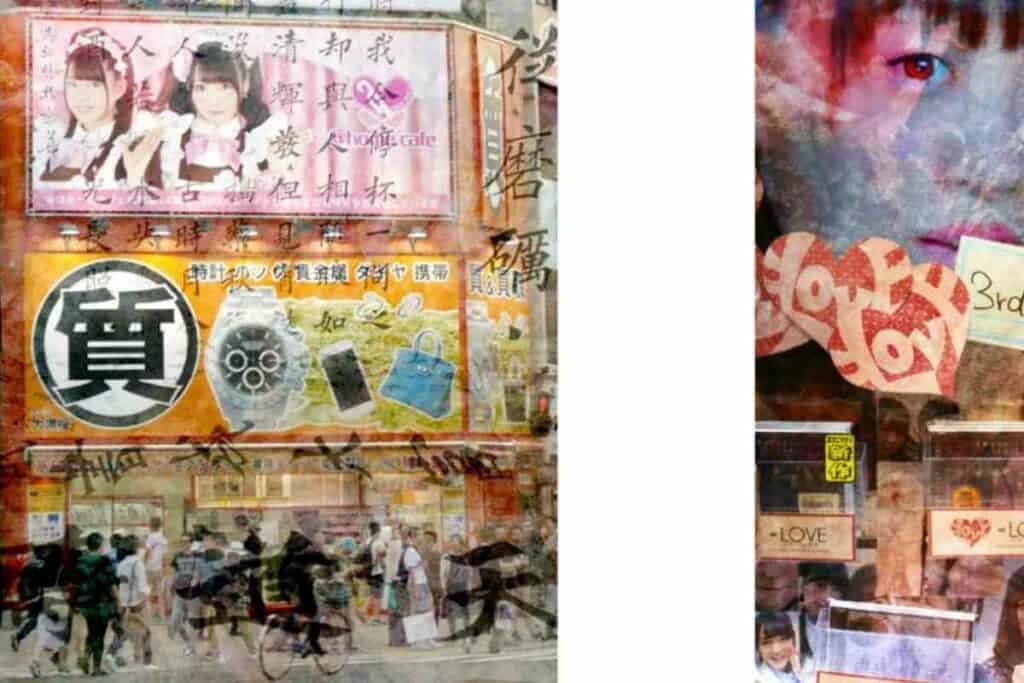 When visiting this art museum, you will find plenty of pieces that will impress you to the core, from modern pop art to intricate pieces that provide tranquil and peaceful vibes.
You will find yourself shocked, excited, and entertained the entire time you are there.
13. Marugoto Nippon
Marugoto Nippon is a must-see while visiting the Asakusa area in Japan. Here you will find plenty of related cultural crafts, delicious delicacies, and products made by hand that you will never find anywhere else.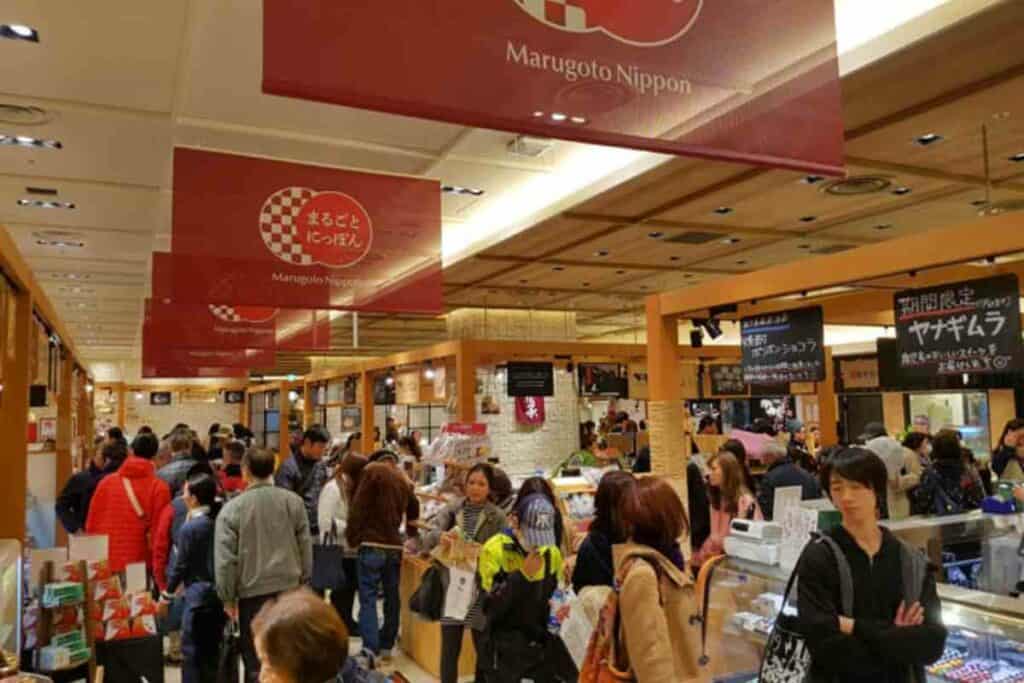 When planning a trip to Marugoto Nippon, be prepared to spend some money, as this place is a little pricier than the average tourist shop; however, the products are some of the best options available.
14. Asahi Beer Hall D's Diner
The Asahi Beer Hall is a beer diner where you have the ability to taste test different beer flavors from the top four beer companies in Japan.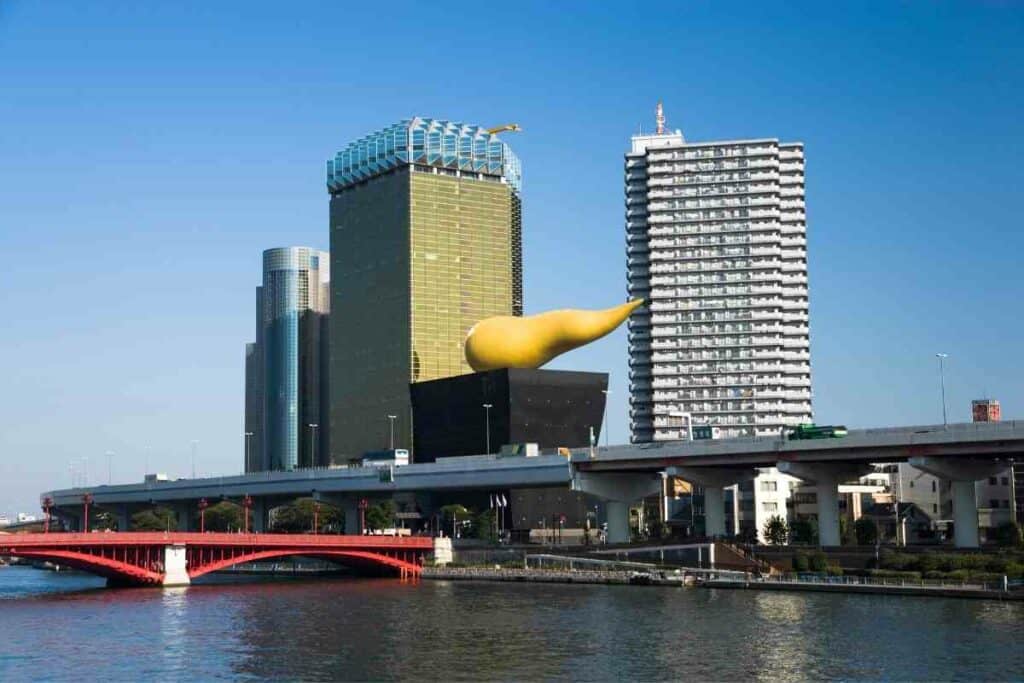 No matter what your beer of choice may be, there is something for everyone at Asahi Beer Hall.
This diner is a great place to go to for a drink as well as dinner while you are planning your next stop on your Asakusa vacation.
15. Take a Rickshaw Tour
Why not combine your top destinations into one traditional rickshaw tour, allowing a professional and knowledgeable guide to lead you from one site to the next, providing information while you sit back and relax?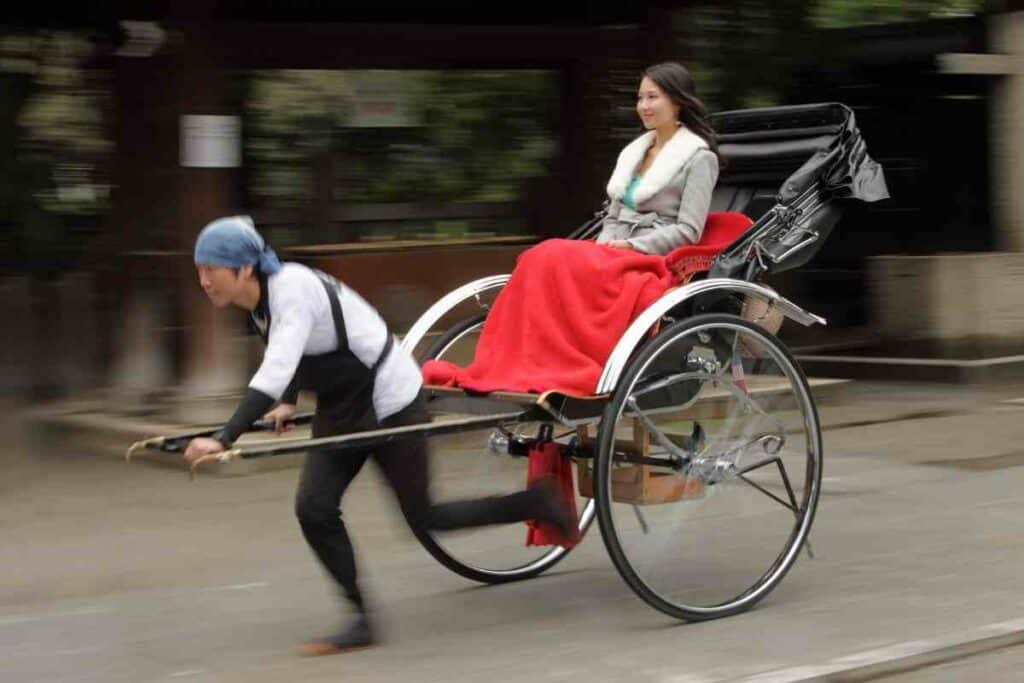 There are many places you can go, taking an old fashion rickshaw ride through the entertaining streets of Asakusa.
Remember, always be kind to your driver and keep your eyes peeled; you don't want to miss a single thing.
Summing Things Up
There are hundreds of things to do in Asakusa.
You'll find many places to go and sights to see when you are visiting Asakusa, Japan.
Whether you are interested in its history, looking for traditional dinners or desserts, or looking forward to shopping in the streets, there are plenty of options out there.
Consider adding a few of the recommended destinations listed above to your list of places to visit; we promise you won't be disappointed.
You May Also Read