Osaka is one of Japan's most vibrant and exciting cities.
While there's plenty to see and do during the day, this place truly comes to life after the sun sets.
Comedy shows, 24/7 ramen stalls, nightclubs—Osaka has it all. It offers the perfect mix of food and entertainment for people who love nightlife.
And with its dazzling neon lights and signs, this city is also mesmerizingly beautiful.
If you're unsure where to start your adventure, we got you covered.
Here are our picks for the most exciting things to do in Osaka at night.
1. Eat on Dotonbori Food Street
For some of the best eating in Japan, look no further than Dotonbori Food Street.
Many tourists consider this place a food-fanatics Mecca.
While there are luxurious dining options available, Dotonbori is all about street food. You can find a myriad of stalls and restaurants offering beef bowls, ramen, and more.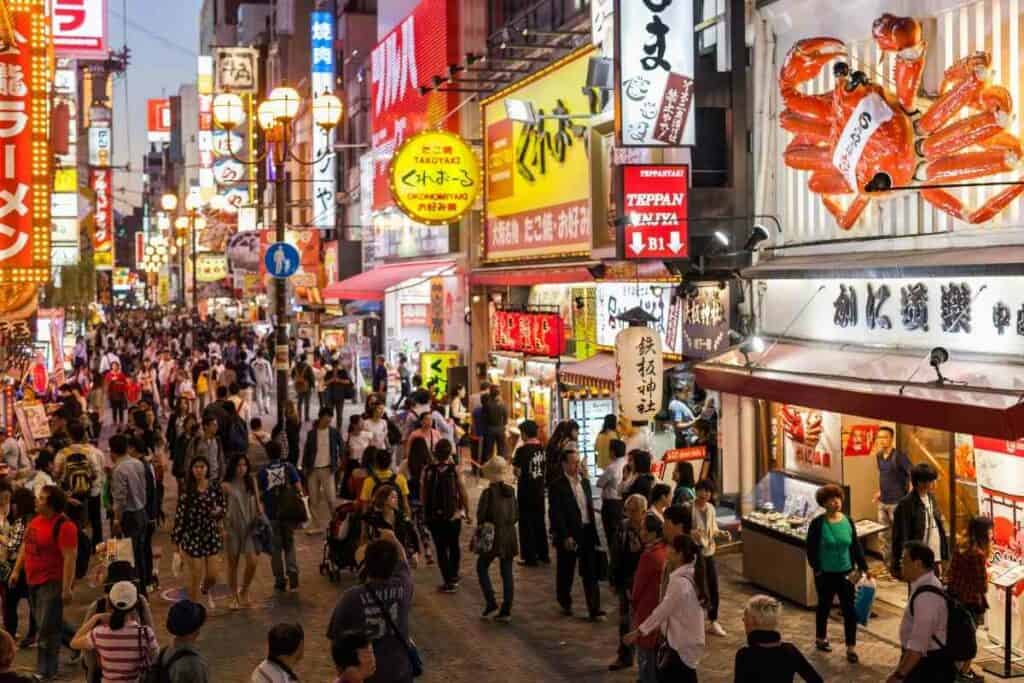 But it's not only the food that makes Dotonbori memorable.
All of the buildings are also decorated with elaborate art. You'll see everything from giant octopuses to a life-sized spiderman crawling over the facades. 
Combined with all the neon lights and paper lanterns, Dotonbori looks like something out of a wild dream.
---
You Should Try: An excellent dish worth trying here is takoyaki, which is diced octopus rolled in batter and fried. These delectable bite-sized snacks often come filled with green onions and ginger.
---
2. Get Lost in Shinsekai
Shinsekai is where modern and retro city life collide.
This part of Osaka has retained much of its pre-war architecture, giving it a lovely anachronistic look.
When combined with the modern digital displays, Shinsekai feels like a place uniquely lost between times.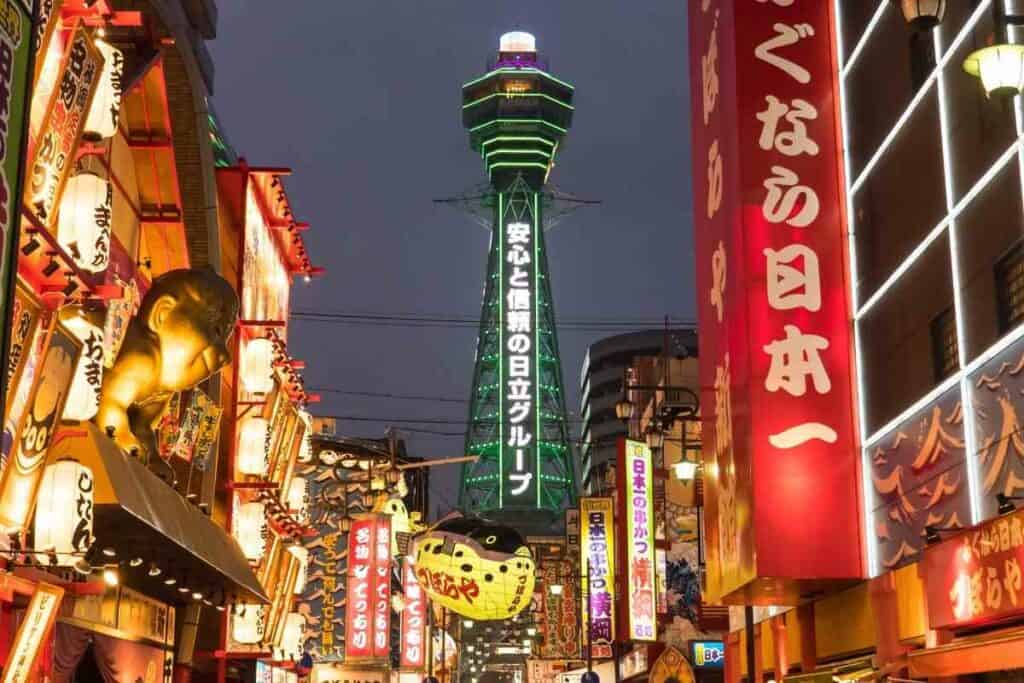 Shinsekai is also one of the most gorgeous places in Osaka. The vibrant array of signs and lights give it an almost daytime-like glow.
Not to mention the excellent shopping options make it easy to spend a whole night there.
Enjoy The View – The most prominent feature of Shinsekai is Tsutenkaku Tower, which stands 91 meters tall. This impressive tower is strikingly illuminated at night, and visitors can visit the top to enjoy the Osaka skyline.
And if that wasn't cool enough—there are plans to build a 60-meter slide leading down the tower!
It will come complete with windows so people can see Shinsekai as they ride down.
3. See Osaka Castle at Night
Osaka Castle is perhaps Osaka's most iconic attraction.
At night, the castle and its ground are beautifully illuminated. And visitors are able to catch breathtaking pictures from outside the moat and gates. 
You can also enjoy the one-of-a-kind Sakuya Lumina night walk around Osaka Castle Park.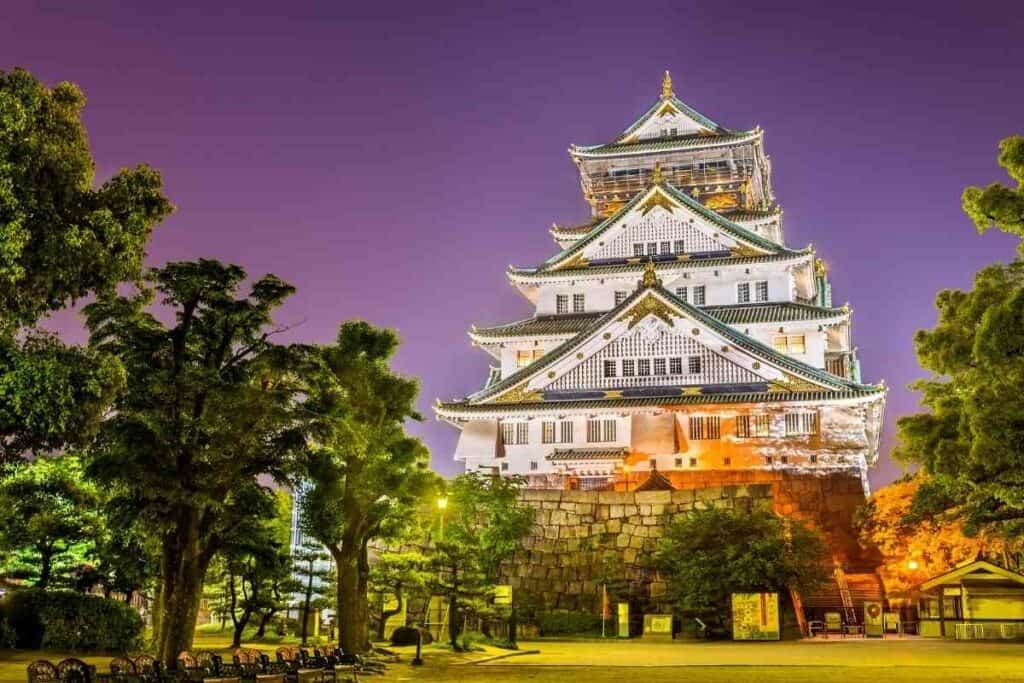 The Sakuya Lumina is an enchanting blend of art and storytelling. It focuses on Akiyo, a girl from the future, and the spirits who help her find a way back home. 
The walk features glowing halos around trees, dazzling interactive games, and backlight paintings only visible at night.
Tickets typically go for ¥1000, but prices vary.
---
Your Choice: So if you want a magical night in Osaka without partying or drinking, visit Osaka Castle. The serene castle grounds make for a perfect escape while still being exciting and enchanting.
---
4. See the Views at the Umeda Sky Building
One of Osaka's most stunning and impressive features is the Umeda Sky Building.
Standing at 173 meters tall, it consists of two towers linked by a massive observatory at the top.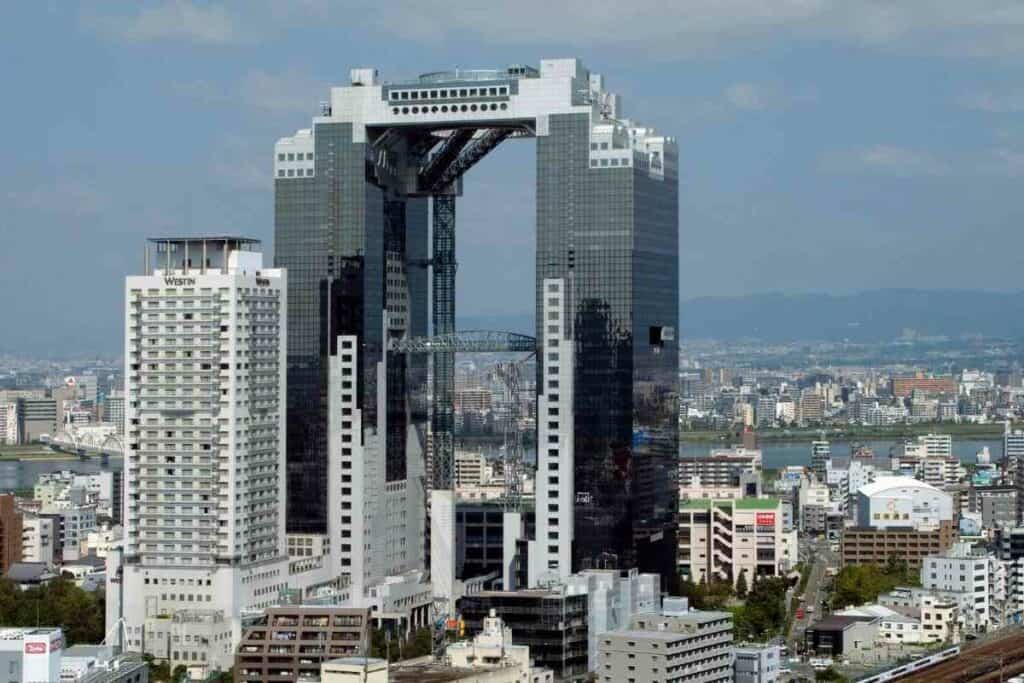 This observatory, known as the Floating Garden Observatory, provides a 360-degree panoramic view of Osaka.
It's the best way to enjoy the city's mesmerizing skyline at night. 
Amazing View – On the 39th floor is an excellent Chinese restaurant called "Stardust" that offers mixed drinks. Combined with the stellar views, this makes for the perfect romantic night out.
Not to mention the building itself is a unique piece of architecture unlike anything you'll ever see. 
5. Hit the Nightclubs 
Osaka is a city known for its high-energy nightlife.
And nothing proves that more than the city's thrilling and dazzling nightclubs.
The most popular ones for tourists are found in the Namba district, which is full of bright lights and excitement.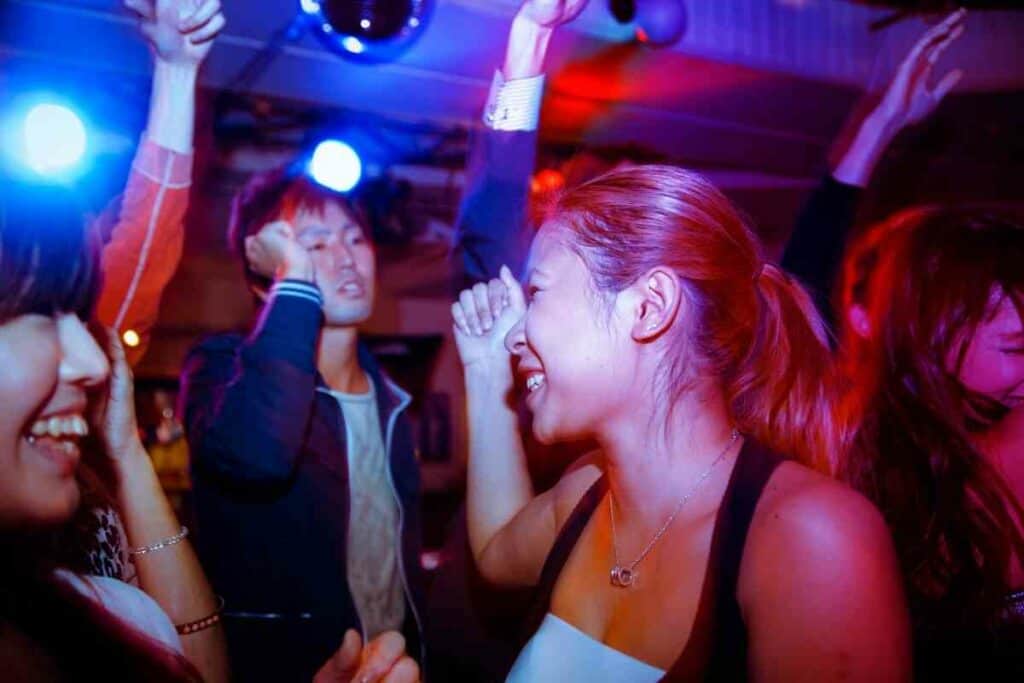 You can dance the night away here at clubs with locals and tourists alike while enjoying drinks and music.
Best for Partygoers – Osaka's arguably best nightclub is known as "Giraffe." With three whole floors of clubbing fun, you could easily spend an entire evening partying here. Plus, the staff are accustomed to tourists and often speak English well.
When you're ready to leave, Dotonbori Street's excellent food options are only steps away.
You should also visit the more mellow but just as fun Club Pure.
It's the city's longest-running club and offers free drinks all night long once you pay the cover charge. 
6. Stroll Around Osaka's Bay Area
Osaka's location on Osaka Bay offers scenic vistas of the distant islands and skylines.
To get the best view, take a trip on the Tempozan Ferris Wheel.
This stunningly lit ride is located along Osaka's waterfront and lets you absorb all the bay area has to offer.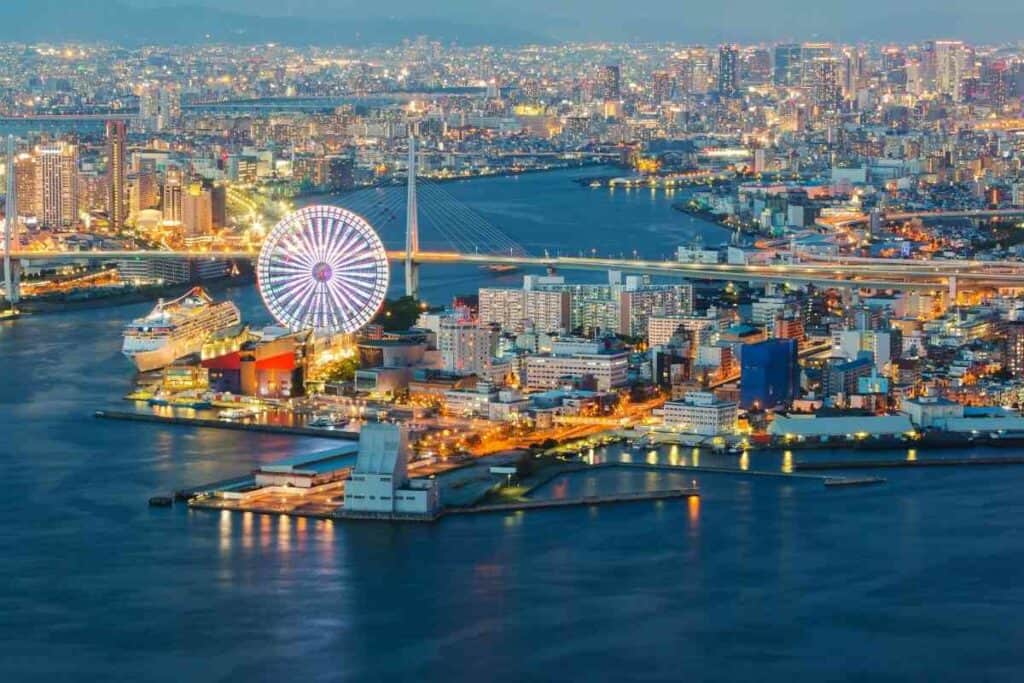 From the top, you can even see the dazzling city lights of Kobe.
Once you're done, stroll through the Tempozan Marketplace. It's full of delectable restaurants and quirky little shops to grab souvenirs in.
You're bound to have fun perusing the oddities and trinkets they have for sale.
---
Time to Relax: And for a more laid-back time surrounded by nature, head to Maishima Ryokuchi Park. There, you can fish, enjoy the flowers, or gaze at the stars while you lay next to the bay.
---
7. Have a Laugh at ROR Comedy Club
In Japan, Osaka is considered the unofficial capital of comedy.
The best comedians in the country perform hilarious shows at night in the numerous comedy clubs that dot the streets.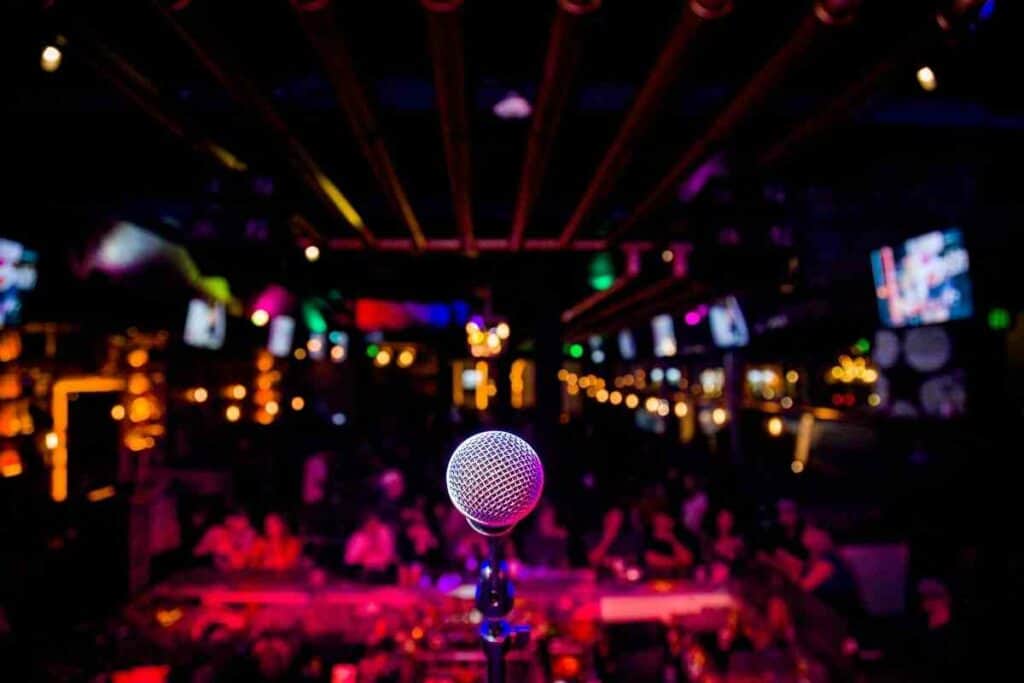 The ROR comedy club is the perfect stop for tourists looking for a laugh. Because unlike some of the others, this club offers shows in English!
In 2011 – ROR became the first place in Osaka to offer stand-up catered towards English-speakers.
And since then, it's grown to become one of the city's most popular and successful comedy spots.
They also offer cocktails and drinks to enjoy while you're there. So, you can't go wrong stopping in while you're visiting Osaka.
8. Top Off Your Night With Ramen
After a wild night in one of Japan's liveliest cities, you'll likely be exhausted and hungry. 
And what better way to cap off such a night than with a hot bowl of traditional ramen? 
All around Osaka, you can find cozy little ramen shops.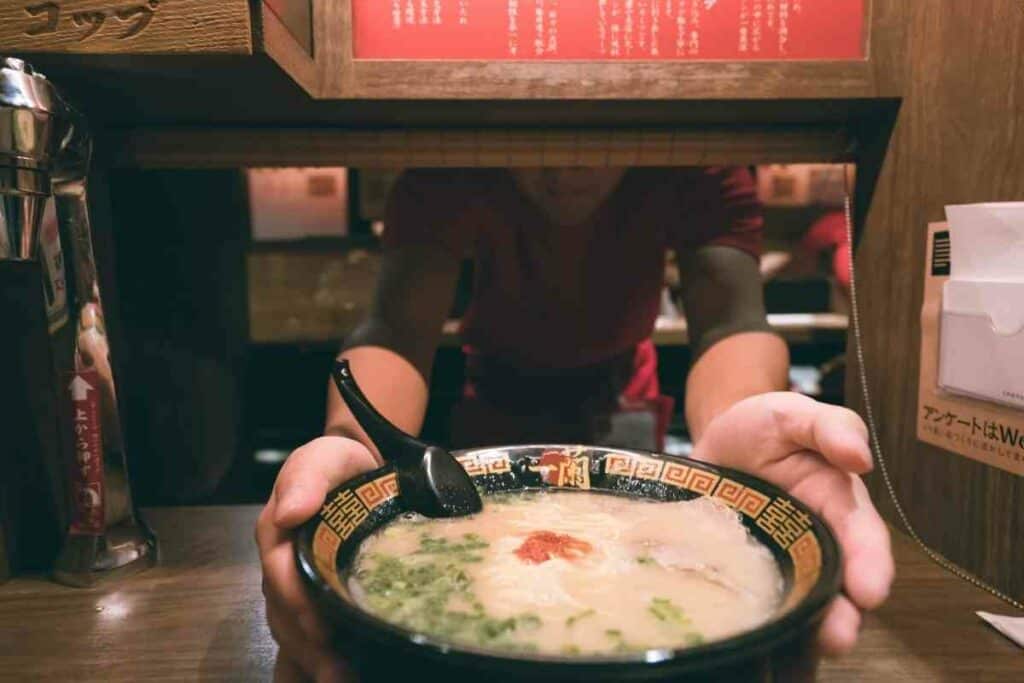 They offer tourists a taste of delicious and authentic Japanese street food. And even better, they're usually relatively cheap compared to other restaurants.
Many stands are open 24/7, so you don't need to worry about getting out too late. Osaka is a city that never sleeps.
---
Good to Know: And while you're eating, make sure you slurp! In Japan, doing so indicates that you think the food is delicious. While you might feel strange at first, it's a polite way to partake in the culture.
---
Final Thoughts
Osaka's nightlife is equal parts exhilarating and unforgettable.
It truly has something for everyone—from nightclubs to party the night away in, to tranquil walks with breathtaking views of the city skyline.
And if you ever get hungry, there isn't a better place to be than Osaka.
With the myriad of food trucks and 24/7 ramen stalls offering delicious dishes, this city is a food lover's Mecca.
In Case You Missed It