Double Olympic and World Championship figure skater Yuzuru Hanyu has enjoyed phenomenal success at an extremely young age.
His skating performances have astounded the world and made him a hero in his native Japan.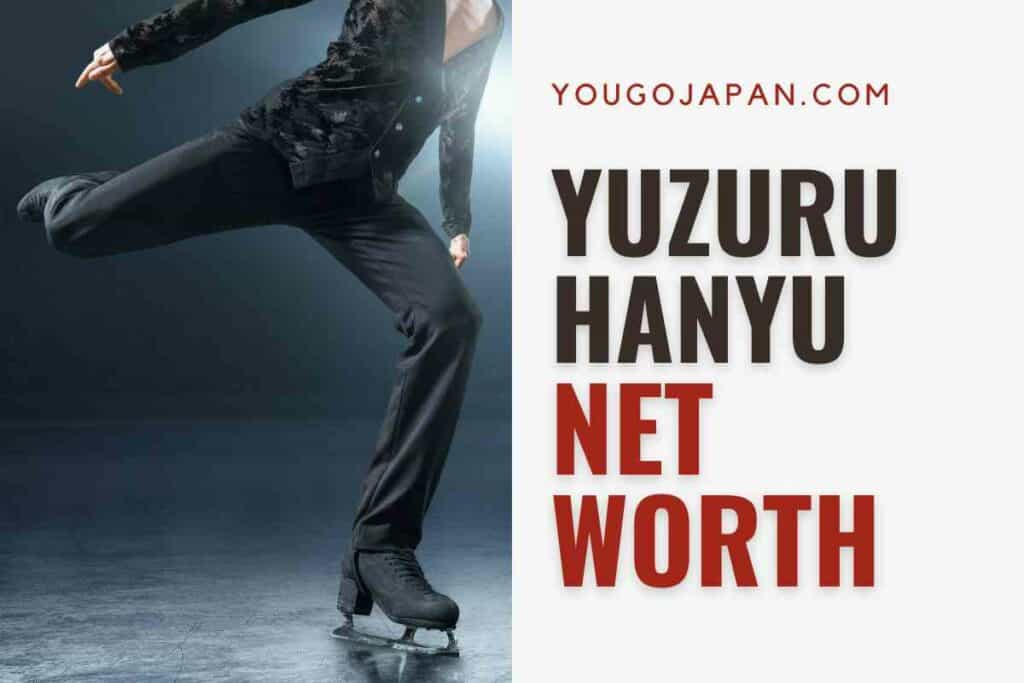 Hanyu's skating chops have also made him a multi-millionaire.
In this article, we will look at the net worth of Yuzuru Hanyu, his amazing talent, and his 2023 career move. 
The net worth of Yuzuru Hanyu 羽生 結弦
In 2023, Yuzuru Hanyu had a net worth of more than $30 million.
NBC Olympics suggests that his annual income may be as high as $13 million because of the large number of endorsements that he has and the demand for his image in Japanese and sporting media. 
A breakdown of Yuzuru Hanyu's net worth
Hanyu's net worth is so high because of his exceptional sporting achievements.
His success has led to several lucrative deals, expertly handled by his management company. Here are some of the areas in which Hanyu is likely to be earning. 
Payments for Olympic Gold
Competitors in the Olympic Games do not receive prize money, but Japan is known to award at least $45,000 for each Olympic Gold.
Sponsorships and endorsements
The majority of Hanyu's earning power comes from Yuzuru Hanyu's varied endorsements and sponsorships.
His World Championship and Olympic wins were earning him $13 million per year from sponsors that included:
Citizen Watches
Towa Pharmaceutical
Sekkisei Cosmetics
Procter & Gamble, Ajinomoto
Lotte Chocolate
Tokyo Nishikawa Bedding
Income from professional ice shows
Since going professional in 2022, Yuzuru Hanyu is already performing his own ice show, ICE STORY 2023 "GIFT" at the Tokyo Dome.
His performances are also streamed on the Disney+ channels with more shows to come.
Here is a taste of Hanyu in action.
Yuzuru Hanyu 羽生 結弦 biography
Yuzuru Hanyu was born in December 1994 in Sendai, Tohoku prefecture.
He is the youngest of two siblings born to school teacher Hidetoshi Hanyu and his wife Yumi, a clerk. The name Yuzuru means 'bowstring'. It was given by his parents in hope that he would lead a disciplined and dignified life. 
Yuzuru comes from a physically active family. His father introduced him to baseball, but Hanyu instead chose figure skating, with his mother making his costumes. He started ice skating at age four after interrupting his sister Saya's ice skating lessons. 
Saya's coach noted Hanyu's willingness to learn and ensured that his talent did not go to waste by referring him to Shōichirō Tsuzuki, the former Minoru Sano, Japan's first world medalist figure skater. 
As a child, Yuzura suffered from asthma which improved with time and training. He considered the training regiment of Tsuzuki to be extremely strict but persevered to build a strong foundation in the discipline of figure skating and particularly the Axel jump. 
As Hanyu's capability and promise in figure skating became apparent, his mother traveled with him so he could train full-time in Toronto, Canada while his father remained at home with his older sister.
Hanyu's competitive skating debut
Hanyu's novice career began in 2004 when he impressed judges and won gold in the Novice B category of the Japan Championships.
During this period he was coached by Nanami Abe and Tsuzuki, traveling between Sendai and Yokohama. He progressed with further wins in the Novice category of the Japan Championships in 2006 and received an invitation to compete at the Japan Junior Championships in 2007, placing seventh overall. He later won a bronze medal at the Junior level and prepared for an international debut.
By 2009 Yuzuru Hanyu had competed at the ISU Junior Grand Prix in Italy, placing fifth. He also became the youngest-ever male skater to win at the Japan Junior Championships.
With a gold medal under his belt, he qualified to compete in the Japan Senior Championships and the World Junior Championships in 2009 where he placed eighth and 12th respectively.
In these competitions, Yuzuru also began to execute, albeit poorly, the triple Axel jump that eventually made him internationally famous. 
Yuzuru Hanyu went on to become the youngest Japanese male to take gold at the World Junior Championships in 2010. His triple axel had also immensely improved. 
Skating at senior level
By age 15, Hanyu was competing at senior level against notable Japanese male figure skaters like Nobunari Oda, and Daisuke Takahashi. Yuzuru upped his game with his first successful quadruple jumps and appearances in many national and international Grand Prix events. 
The 2011 earthquake that devastated his hometown and the wider Tohoku region was a major setback as his family was evacuated and his training rink was damaged.
Yuzuru traveled to Yokohama to keep up his training but eventually decided to switch coaches and head to Canada to be coached by Brian Orser and Tracy Wilson at the Toronto Cricket, Skating, and Curling Club (Toronto CSCC).
His improved performance in the 2012 to 2013 season, which included world records, a first quadruple Salchow in international competition, and finishing second in the 2012 Skate America was enough to secure him the third spot representing Japan at the 2014 Winter Olympics.
Yuzuru Hanyu's Olympic career
Yuzuru Hanyu competed at the 2014 Sochi Winter Olympics in Sochi and became the youngest gold medalist since the American male figure skater Dick Button in 1948.
During his Olympic debut, Hanyu broke world and Olympic records with his score of 101.45 in the men's short program and a combined program score of 280.09. 
In the PyeongChang 2018 Olympic Winter Games, judges and audiences were amazed by Hanyu's flawless short program which set a new Olympic record of 111.68 points.
In the combined program his score of 317.85 set another Olympic record and earned Hanyu a second Olympic gold! In interviews, Hanyu revealed that he had completed his programs while on painkillers after an ankle injury and subsequently took time off from competing for a full recovery. On his return to Japan Hanyu was honored with a People's Honour Award from prime minister Shinzo Abe, recognizing his outstanding performance. 
At the 2022 Olympic Games in Beijing, Yuzuru Hanyu used a new short program that he had never competed with before. Unfortunately, his programs were beset with problems including missed leading to Hanyu only placing eighth overall. Injuries also led to falls that contributed to his off-podium finish.
Going pro
Later in 2022, at the age of 27, Hanyu announced that he would turn professional.
He said that he achieved all that he could achieve as an amateur and would work as a full-time professional athlete. He has already developed and performed in his ice shows showcasing his skill and stunning choreography.
To mark the professional stage of his career, Yuzuru set up social media accounts which he had avoided previously: 
Yuzuru Hanyu 羽生 結弦 personal life
Yuzuru Hanyu is currently single with no children, understandable given so much of his life has been dedicated to skating and competing. 
Facts about Yuzuru Hanyu
In 2010, Yuzuru Hanyu began carrying a Winnie the Pooh tissue box to skating competitions. Fans responded by throwing Winnie the Pooh plush toys onto the rink at the end of his performances. Hanyu would collect the toys and donate them to charity.
During the 2011 earthquake in his hometown, Hanyu skated at several special performances to raise money for survivors. 
Yuzuru studied Human Information Science via an e-course at Waseda University, graduating in September 2020. 
In 2022, Hanyu was the sixth most-searched athlete on Google. 
Figure skating is Japan's most popular winter sport.
Yuzuru Hanyu quote
"If I can't do it, I will work on it until I can. If I become able to do it, I will work on it until I can do it perfectly. If I become able to do it perfectly, I will work on it until I can do it perfectly any number of times."
Rounding up 
Yuzuru Hanyu is a one-in-a-generation ice-skating prodigy who is now at the cusp of a new stage in his career.
As a professional performer, demand for his stellar performances will only increase. With the right management and continued fitness, his bank balance should soar as well.