Shinji Kagawa is a Japanese soccer player who is considered by many to be one of the greatest Japanese players of all time!
At just 34 years old, Kagawa's career has seen him play for Japan and travel to Europe to play for some of the world's leading soccer teams.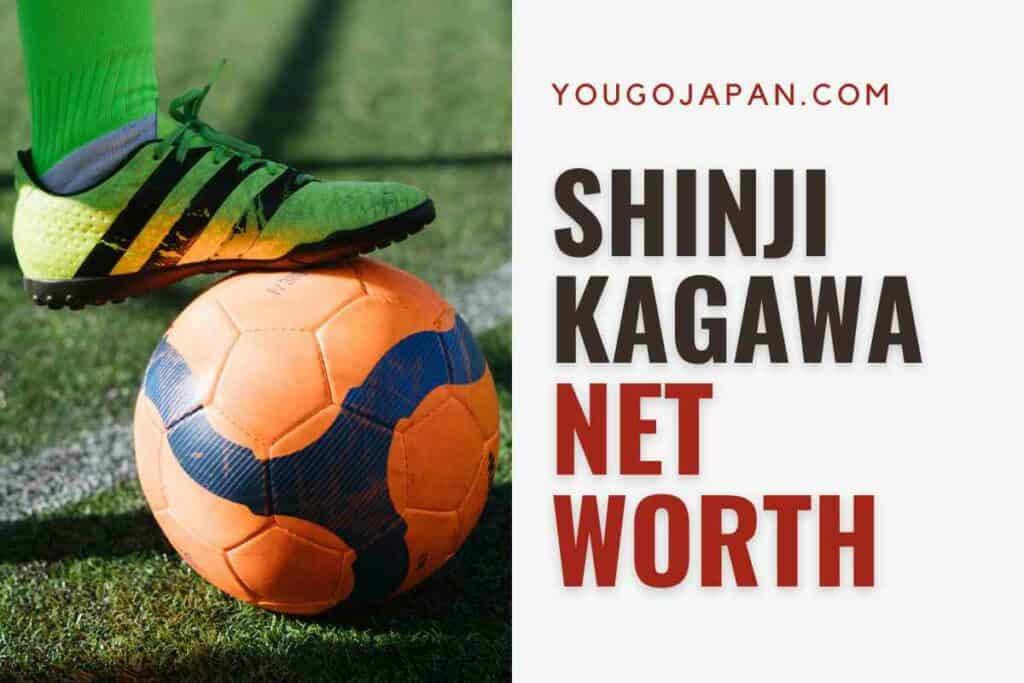 His outstanding accomplishments have earned Kagawa fans around the world a massive payday.
In this article, we look at the net worth of Shinji Kagawa and the passion for soccer that has made him rich.
The net worth of Shinji Kagawa 香川 真司
Attacking midfielder Shinji Kagawa has had an impressive run as an international sportsman.
So far his stellar career in the beautiful game has earned him an estimated net worth of over $25 million.
The attacking midfielder who currently plays for Cerezo Osaka earns approximately $200,000 per month and $2.5 million annually. 
A breakdown of Shinji Kagawa's net worth
Shinji Kagawa's net worth is primarily derived from his 17-year career as a professional soccer player. Like any other soccer player, Shinji's career has seen highs and lows, with his earning potential changing accordingly. 
His peak market value as a player was in 2012 when he played for Borussia Dortmund in Germany. At that point, he was worth more than $24 million on the transfer market. Today in Japan as his career wanes, he is unlikely to be worth more than $1 million. 
Shinki Kagawa is managed by UDN Sports, who also ensure that his earnings stay high through sponsorships and endorsements in his native Japan and abroad.
He has lucrative deals with Addidas and Audi. Like many soccer players, Kagawa also has an impressive collection of sports cars including Mercedes, Lamborghini, and BMW vehicles.
Shinji Kagawa 香川 真司 biography
Shinji Kagawa was born in 1989 in the city of Kobe, Hyōgo Prefecture.
From an early age, Kagawa showed a love for the game of soccer, going everywhere with a soccer ball and even crying if he was separated from it.
Seeing his enthusiasm for the game, Kagawa's parents registered him at age five with the local soccer academy. 
Early promise
His skill and proficiency in the sport were noted by scouts and at age 12, Kagawa received an invitation to join one of Japan's most prestigious professional soccer academies.
Before he finished high school, Kagawa had been spotted and signed by the Japanese soccer team Cerezo Osaka. He was the first Japanese player to be signed before completing high school. 
Cerezo Osaka debut
Kagawa played for J. League Division 2 team Cerezo Osaka from age 17, gaining a regular position in 2007.
Though the team missed out on promotion to the 1st division, Shinji Kagawa stood out as an outstanding scorer in Division 2.
Transfer to Borussia Dortmund
In 2010,  Borussia Dortmund snapped up Kagawa for a mere €350,000!
This was because of a clause in Kagawa's contract with Cerezo Osaka that allowed him to leave the team cheaply if an opportunity arose in Europe.
His Bundesliga debut was in the summer of 2010. Early on Kagawa emerged as a confident striker, scoring multiple competitive goals. He began to win many fans in Germany and Japan.
While playing internationally for Japan he picked up an injury but scored an impressive eight goals in his 18 appearances with the team and was honored by being named one of that season's Bundesliga Best XI.
His goal-scoring streak continued through subsequent seasons with Borussia Dortmund with multiple goals and assists. In his 2012 season, Borussia Dortmund scored record points and won the Bundesliga, thanks in part to Kagawa's prolific goal-scoring.
Kagawa's strong performance undoubtedly brought him to the attention of even bigger clubs and soon Manchester United came knocking!
A move to Machester United
Man U announced their purchase of Kagawa in June 2012, reportedly for more than $14 million plus add-ons. Kagawa was the first Japanese player to join Manchester United, playing number 26.
Almost immediately Kagawa's capabilities as a striker were demonstrated with goals scored in a pre-season friendly against South African team Ajax Cape Town in July 2021. 
Kagawa continued with assists and scoring but injured his knee in a Champions League match against Braga in 2012. He returned to play in early 2013 and by March had scored his first hat trick for the club. He even had the honor of being in the lineup of manager Sir Alex Ferguson's last home game before he retired.
While with the premier league, Kagawa was voted Man of the Match and received a Premier League medal.
A return to Borussia Dortmund
After 2 seasons with Man U, Kawaga was ready for a move and returned to Borussia Dortmund in a £6.5 million transfer deal.
He played with a number 7 shirt and returned to form as a strong attacking midfielder. This time around, Kagawa extended his contract with B. Dortmund to 2020.
However, injuries and a preference for other midfielders reduced the number of times he played. Kagawa was even loaned to the Turkish team Beşiktaş in 2019. 
Joining Real Zaragoza
Shinji left B. Dortmund early with a 2019 transfer to the Spanish Segunda División club
Real Zaragoza on a two-year contract. Sadly Real Zaragosa terminated Kagawa's contract after just one season. 
Subsequent transfers
Kagawa went through further transfers to the Greek soccer team PAOK and subsequently the Belgium club Sint-Truiden.
In early 2023, Kagawa returned to Japan and is currently playing for Cerezo Osaka after a free transfer. 
What's Shinji Kagawa doing now?
Kagawa continues to play for Cerezo after a career that saw him achieve the most appearances and goal of any Japanese player in Europe.
He has 90 international caps and scored more than 30 goals for Japan.
Shinji Kagawa 香川 真司 personal life
Shinji Kagawa is not currently married and does not have children. He was most recently associated with the Japanese-Canadian model Margaret Natsuki. 
Facts about Shinji Kagawa
Shinji was included in Forbes' 30 under 30 Asia – Entertainment & Sports list in 2017.
Kagawa is currently ranked #7726 among all professional soccer players globally.
So far in 2023, Kagawa has had 23 appearances and scored 3 goals for Cerezo Osaka. He has also had 4 yellow cards.
Kagawa is the only child of his parents.
Shinji Kagawa quote
Of Borussia Dortmund: "I will carry this club, their great fans, and the whole city in my heart forever and will follow their results with great interest.
Rounding up
Though Shinji Kagawa is getting old by soccer standards, the 34-year-old shows zero sign of wanting to hand up his soccer shoes.
For a Japanese soccer player, Kagawa has had amazing international success and put the nation on the map when it comes to soccer. His net worth certainly reflects his achievements.