Kosé Corporation 株式会社コーセー is one of Japan's biggest cosmetics companies.
This multi-billion dollar firm produces beauty brands like Jill Stuart and Decorte. 
Interestingly, Kosé Corporation is run by not one but two of the descendants of its founder, Kozaburo Kobayashi.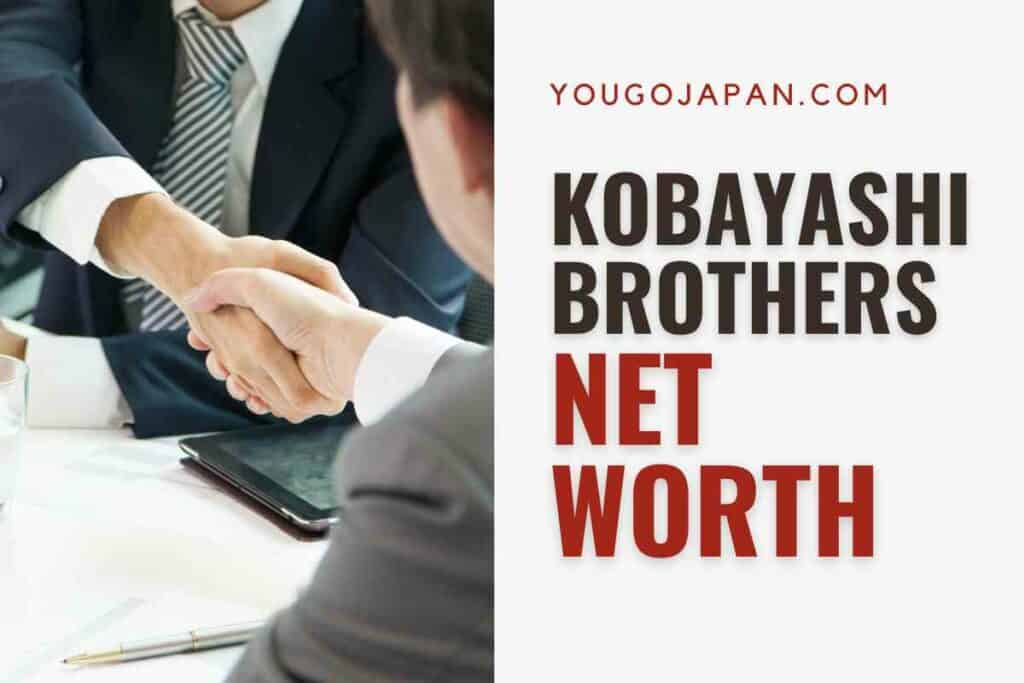 In this article, we'll take a look at the net worth of Yasukiyo Kobayashi and Kazutoshi Kobayashi, better known as the Kobayashi Brothers. 
The net worth of Kobayashi Brothers
The Kobayashi brothers Kazutoshi, Takao, and Masanori Kobayashi have a combined net worth of over $2.3 billion.
In 2022, this placed them at joint number 18 on the Forbes list of Japan's 50 richest by net worth. 
Individually,
60-year-old Kazutoshi Kobayashi has a net worth of just under $1.2 billion. He jointly holds the position of currently being the 2378th richest person in the world. 
58-year-old Takao Kobayashi, the middle sibling, has a net worth of just under $1.2 billion. He jointly holds the position of currently being the 2378th richest person in the world. 
48-year-old Masanori Kobayashi, the youngest brother, has a net worth of just under $1.2 billion. Along with his elder brothers, he jointly holds the position of currently being the 2378th richest person in the world. 
A breakdown of the Kobayashi brother's net worth
The Kobayashi brothers have received their vast wealth through each inheriting a minority stake in the family company Kose.
As grandchildren of Kozaburo Kobayashi, who founded Kose Corporation in 1946, they are now controllers of the company with a combined 36% stake. 
Kose Corporation is worth more than $7 billion (988.26 billion JPY). In 2021, Kose Corp had net sales of $2.05 billion (224.9 billion JPY), a +0.4% increase from the previous year. 
Their combined stake is where their net worth comes from. The company is listed on the Tokyo Stock Exchange with a 2023 share price of $121.88 (16,310 JPY)
Their father Yasukiyo Kobayashi has been the honorary Chairman of Kose Corp since 2020 after a long career at the company working in various roles.
Together, the brothers now run Kose Corporation and hold the following positions: 
Kazutoshi Kobayashi is the President, CEO, and Director of the Executive Board. He has held this position since 2007. He is also the Director of ALBION CO., LTD, a skincare brand that is a subsidiary of Kose. 
Takao Kobayashi is the Senior Executive Director of Kose Corporation. He is also the President & CEO of KOSÉ Cosmeport Corp, a subsidiary of Kose Corporation.
Masanori Kobayashi is the Executive Director of Kose Corporation and has oversight of the company's marketing headquarters.
In addition to their stock holdings, the Kobayashi brothers have also accrued significant wealth through the salaries they are paid as members of the executive board.
For example, CEO Kazutoshi Kobayashi receives the following remuneration, that is separate from his inherited wealth:
A salary of $2,979,624  (327,000,000 JPY), of which $1,913,520  (210,000,000 yen) is his base salary. Though he does not receive stock or option awards. Kobayashi does receive bonus and incentive pay of $974,984 (107,000,000 JPY) and other compensation of $82,008 (9,000,000 JPY).
The Kobayashi Brothers' leadership of Kose Corporation
Eldest brother Kazutoshi Kobayashi, a graduate of Keio University, has led Kose Corporation for over a decade.
He became  President & CEO during the 60th anniversary of the company. By this time, Kose Corp was well established as a market leader for cosmetics in Asian markets. 
However, the 2008 recession created challenges for the company that Kazutoshi and his brothers had to respond to as the third generation working in this prestigious family firm. 
The market downturn led to a period of 'Defensive Reform' for the company with Kazutoshi and the Executive Board making far-reaching changes to the company's internal operations. The company was also hampered by massive difficulties in procurement and supply caused by Japan's earthquake in 2011.
Kazutoshi was in a position to launch his 'Offensive Reform' process in 2012, which strengthened the company's performance in the domestic market. 
Kose has had multiple failed attempts to penetrate the American market but has yet to acquire or develop a brand that can achieve this.
In 2014 they purchased Tarte Cosmetics which is still run by its founder Maureen Kelly. Tarte became the most successful brand in the Kose Group and Ms. Kelly provides them with advice on launches for their other brands.
The Kobayashi brothers have also sought to take their longstanding Decorté brand with supermodel Kate Moss as its brand ambassador. There is also European interest in the very Japanese mid-priced Sekkisei line of cosmetics. This has led to the brothers achieving sustained growth with a year-on-year increase in net sales and operating profit.  
Kose Corp also has longstanding relationships with international beauty companies like L'Oréal. This has inspired the Kobayashi brothers to seek to diversify the range of cosmetics lines they sell. They are also seeking to develop new skincare and makeup technologies that they hope will expand their global imprint.
Facts about the Kobayashi Brothers
Kose Corp is Japan's third-largest cosmetics company.
Kazutoshi Kobayashi is one of the beauty industry's highest-paid CEOs. 
According to PeTA, Kose Corporation is not animal-cruelty free. The company is believed to test on animals directly, via its suppliers, or using third-party data.  Kose Corp has stated that it has a policy for 'eliminating' animal testing. 
Kobayashi Brothers quote
"Our philosophy is a combination of intelligence and sensuousness so that in the creative process, we don't just think about technology but also the sensory experience. It's a precise Japanese-style method, where the final result is a very carefully fine-tuned product to give the customer the highest level of satisfaction."
Rounding up 
The Kobayashi brothers head up a family firm that has amassed a massive market share and phenomenal wealth.
As third-generation heirs, they are doing a great job of growing Kose Corp's market share and exploring the opportunities offered by emerging markets around the world.