Yuta Watanabe is one of a new generation of amazing Japanese ballers.
The 28-year-old has been tearing up courts in the NBA since becoming the first male Japanese player to go straight to the top of American college basketball.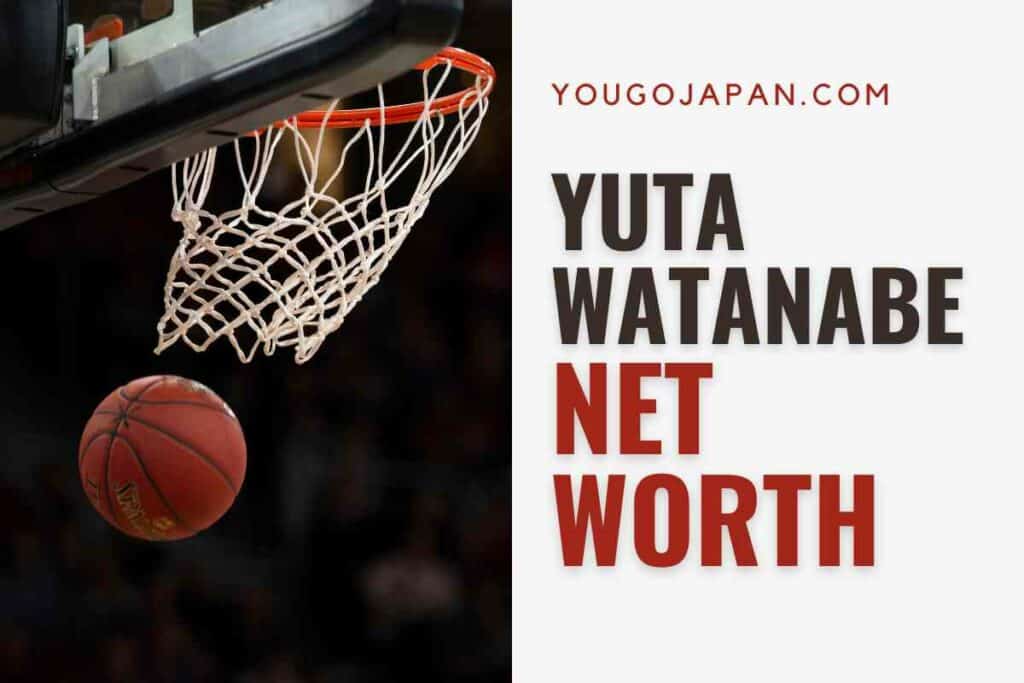 His fame in Japan and the US means that his wealth is on an upward trajectory right now.
In this article, we share the net worth of Yuta Watanabe.
The net worth of Yuta Watanabe 渡邊 雄太
Yuta Watanabe is one of Japan's most famous basketball players.
He is already a top pick for Forbes 30 under 30 for Asia entertainment and sports. This has Watanabe's earnings and sponsorships accrue to a net worth of over $18 million in 2023.
A breakdown of Yuta Watanabe's net worth
About one-third of Yuta Watanabe's net worth comes from the salaries he has earned playing college and NBA basketball.
Since playing in the NBA, his earnings have gradually increased to $4,052,864 in total.
In 2020-21 Yuta Watanabe earned $321,893 playing for the Toronto Raptors
In 2021-22 the Raptors upped Yuta's salary to $1,762,796
In 2022-23 Watanabe earned $1,968,175 with the Brooklyn Nets
But where Watanabe is earning big is in his lucrative sponsorships and endorsements. Currently, Yuta Watanabe is managed by Joe Smith and Thad Foucher (Wasserman).
They have helped him to hold down amazing endorsements that include Sun Chlorella Corporation and Rakuten. This means that Yuta Watanabe has to hold down a wide range of engagements in Japan for his many sponsors.
Yuta Watanabe 渡邊 雄太 biography
Yuta Watanabe was born to a basketball family in October 1994 in Yokohama, Kanagawa prefecture. 
Watanabe's mother, father, and siblings were all keen women's basketball players. In fact, Mom Kumi had played for the Japan women's national team, while his father was a pro basketball player with the Japanese team the Kumagai Gumi Bruins. Even his sister, Yuki, was shooting hoops for the Aisin AW Wings Women's basketball team in Aichi, Japan. 
Growing up Yuta aspired to be a professional baller like Kobe Bryant he spent hours watching Lakers games. Of course, he started playing basketball at an early age, and by high school, he was able to lead the Jinsei Gakuen High School to a runner-up position in the All-Japan High School Basketball Tournament. 
As a high school student, Watanabe expressed his desire to play US college basketball and go on to play in the NBA. To further his desire, his parents moved him to a prep school in Connecticut for his final year of high school. At St. Thomas More Preparatory School he played on the high school team, averaging 13 points and six rebounds, scoring school records and helping the team win the National Prep Championship game for that season.
By the time Yuta Watanabe had graduated high school he was already being called the 'chosen one' by the Japanese press. Scouts were all over him as he was rated a three-star recruit, making him a likely prospect for college and the NBA.
Yuta Watanabe's college basketball career
Yuta Watanabe attended George Washington University playing for the Colonials as a freshman with a full season in 2014. This made him the first Japanese male to secure an NCAA Division I basketball scholarship and the fourth to play NCAA Division I basketball. 
Watanabe proved to be an incredibly popular player, closely followed by the Japanese and American media.  The George Washington College athletics website received the second-most Japanese pageviews for that year.
Yuta's Freshman debut was against Grambling State, wowing the crowds with eight points and seven rebounds.
Along with a block, Watanabe contributed to the largest team win since the late 1990s. Other highlights of his first year included being named Atlantic Rookie of the Week multiple times and a career-high of 21 points against Massachusetts, earning him the favor of coach Mike Longergan.
Yuta's 2016 sophomore year included more career highs including 22 points and six assists against Davidson. That year, George Washington won the 2016 National Invitation Tournament, with Watanable achieving the team's fifth-best points average.  
As a junior Yuta Watanabe continued to excel with his first double-double against Siena. By this point in his college career, Yunta was the second-leading scorer at George Washington averaging 12.2 points per game. He also received the accolade of being named to the Atlantic 10 All-Defensive Team lineup of the season's best defensive players. 
Watanabe became George Washington's leading scorer as a senior. He was the first Colonial ever to be honored with being named Atlantic 10 Defensive Player of the Year. He also received George Washington's Mike Brown MVP Award and Patricio Garino Defensive Award. 
Going pro with the Memphis Grizzlies 
In the 2018 season, Watanabe went undrafted but played for the Brooklyn Nets in the Summer League. Towards the end of 2018, he signed with both the Memphis Grizzlies and the Memphis Hustle in a two-way contract. 
His NBA debut was in October 2018 with the Grizzlies against the Phoenix Suns. In that game, Watanabe scored two points and two rebounds but spent the remainder of the season with the Memphis Hustle, an NBA G league team.
Despite playing in a minor league, Watanabe was responsible for the Memphis Grizzlies making massive merchandise sales in Japan, second only to the Lakers and Golden State Warriors.
A highlight of Watanabe's 2019 season was sharing the court with fellow Japanese NBA player Rui Hachimura when the Grizzlies played the Washington Wizards.
A move to Toronto
In 2020, Watanabe joined the pre-season roster of the Toronto Raptors. By the end of the year, Watanabe had signed a two-way contract enabling him to debut for the Raptors in a 100-83 win against the New York Knicks.
2021 career highs included clocking up 12 points, two assists, and two steals in just 24 minutes of action against the Sacramento Kings.
He also sustained an ankle injury that saw him miss several games but returned to form clocking up numerous rebounds against the Milwaukee Bucks and Detroit Pistons. His strong performance led to the Raptors converting the two-way contract to an exclusive one.
A new home with the Brooklyn Nets
In late 2022, Yuta Watanabe was able to sign with the Brooklyn Nets as a free agent.
So far this has proven to be a career-building move with Watanabe having the highest three-point shooting percentage so far in the 2023 season.
Playing for the Japan national team 
Watanabe also plays for Japan and has been representing his country since high school. Japanese national team head coach Kimikazu Suzuki called him to compete as a senior in the East Asia Basketball Championship in 2013.
Since then he has played in the FIBA Asia Championship, the FIBA Olympic Qualifying Tournament, and the 2019 FIBA Basketball World Cup.
Yuta Watanabe 渡邊 雄太 personal life
Yuta Watanabe is a newly married man, having married the Fuji TV announcer Akiko Kuji. They announced their engagement in May 2022. So far no little ballers are on the way! 
Kuji now divides her time between Japan and New York City, chronicling life with her husband Yuta on Instagram: 
Facts about Yuta Watanabe
Yuta Watanabe's height is 6 ft 8 in (2.03 m) and he has a listed weight of 215 lb (98 kg)
In early 2023, Watanabe had five steals, an NBA career-high, playing against the  Charlotte Hornets.
Mom and dad, Kumi and Hideyuki are still courtside, cheering on their son!
Yuta Watanabe is one of Shohei Ohtani's biggest fans!
Yuta Watanabe quote
"There is no such thing as garbage time, in my opinion."
Rounding up
Yuta Watanabe is already a sporting legend in Japan. His outstanding performances on the court and great sportsmanship have endeared him to fans on both sides of the Atlantic. Along with Rui Hachimura, Watanabe is leading the breakthrough of Japanese basketball players into the NBA, a trend that is unlikely to wane.