74-year-old Haruki Murakami is a distinguished Japanese author, but his books are anything but establishment.
His strange fantasy writing has made him famous around the world with numerous adaptations and translations of his prolific writing.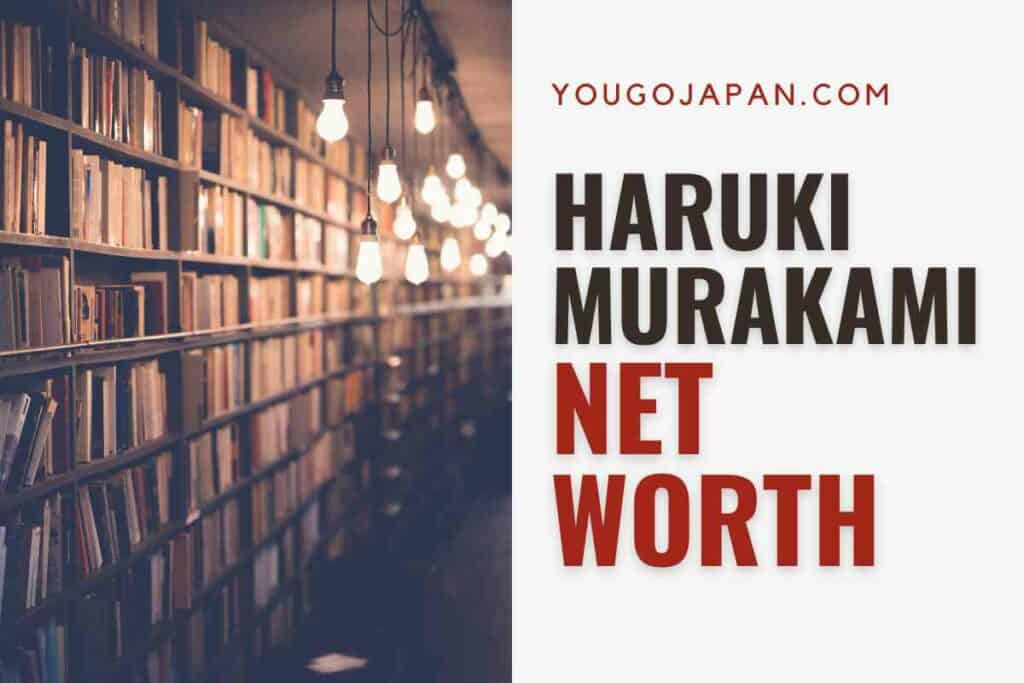 With more than 34 published books you can be sure that Haruki Murakami is a wealthy man.
In this article, we take a closer look at the net worth of Haruki Murakami and how his fiction writing made him a multi-millionaire!
The net worth of Haruki Murakami 村上 春樹
In a country where the leading manga-ka are earning millions drawing comic books, traditional authors are not always as well paid.
However literary legend Haruki Murakami has a 2023 net worth of more than $10 million.
A breakdown of Haruki Murakami's net worth
Haruki Murakami's wealth comes from his prolific writings.
With over 34 novels already published and translated into numerous languages, he is earning a significant sum in royalties in Japan and overseas. 
Haruki Murakami 村上 春樹 biography
Unashamed baby boomer Haruki Murakami was born in January 1949 in post-war Kypto. He was the only child of his parents who came from prominent Japanese families.
His father, the son of a priest, had participated in the Second Sino-Japanese War and was affected by his experiences. His parents were teachers of Japanese literature, so Murakami grew up amongst books in a literary home. 
Like many Japanese young people growing up after WWII, Murakami had a heavy Western influence in his life. He grew up reading European, Russian, and American classics including Dickens and Dostoyevsky. This exposure influenced Murakami's later writing. 
In the 1970s, after studying drama at Tokyo's Waseda University where he met his wife, Murakami married and opened a Jazz bar called Peter Cat in Kokubunji, Tokyo.
He ran it alongside his wife for over a decade. Haruki also showed physical prowess as a triathlete and ultramarathon runner, which is also included in some of his writings. 
The start of Haruki Murakami's writing career
At age 29, Haruki Murakami started fiction writing. Before that, he had been running his club and participating in sports, pursuits that he considered non-creative. While watching a baseball game, he became inspired to write his 1979 debut novel, Hear the Wind Sing.
Murakami described the realization that he could write as a warm sensation that he felt in his heart. He immediately commenced writing, working on his novel by night over 10 months. Once the novel was completed, he entered a literary contest and was shocked to win the first prize. 
Buoyed by the positive reception to Hear the Wind Sing, Murakami continued to write. He followed up Hear the Wind Sing with Pinball. This novel was closely followed by a Yume de Aimashou, a short story collection, collaborating with Shigesato Itoi. 
Subsequent novels like A Wild Sheep Chase (1982) were a critical success. People connected with Murakami's narrator and his compatriot known as 'the Rat'. Despite the first three novels known as the Trilogy of the Rat being extremely successful, Murakami does not consider these novels his best work. 
Becoming a multi-million-selling author
In 1985 Haruki Murakami wrote his breakthrough novel Hard-Boiled Wonderland and the End of the World. This novel and his 1987 novel Norwegian Wood became a cult classic among the Japanese youth with millions of copies sold.
Norwegian Wood in particular brought Murakami massive fame in Japan, to the point that he would be mobbed in the streets. He even had to leave Japan for a period in 1986.
Breaking America
Murakami became a writing fellow at Princeton, Harvard, and Tufts University.
He wrote three novels in the US while a visiting fellow:
South of the Border
West of the Sun
The Wind-Up Bird Chronicle
As Haruki Murakami has matured as a writer he has faced many traumatic events in Japan with non-fiction writing.
A notable non-fiction book by Haruki Murakami was his volume  Underground which dealt with accounts of victims of the Tokyo subway gas attack in 1995. Another book dealt with the aftermath of the 1995 Great Hanshin earthquake in Kobe. 
The positive Western reception of Murakami's writing was due to his active participation in translating his books into English.
Haruki was keen to adapt the translated work to American or Western reality. This means that many English and European language translations are quite different from the Japanese originals. 
Later works
Here are some of Haruki Murakami's most recent works: 
1999 – Sputnik Sweetheart
2002 – Kafka on the Shore
2005 – Tōkyō Kitanshū (Mysteries of Tokyo)
2006 – Blind Willow, Sleeping Woman
2007 – After Dark (English Translation)
Haruki Murakami's latest novel
In 2023, Haruki Murakami is still writing. His most recent novel The City and Its Uncertain Walls runs to more than 1200 pages. It was released by his publisher Shinchosha in Japan on 13 April 2023. 
Haruki Murakami 村上 春樹 personal life
Haruki Murakami married his wife Yoko after meeting her at Waseda University.
Early on in the marriage, the couple decided not to have children, but she worked with him on running their Tokyo jazz cafe and she has been supportive of his literary career. When his fame got too intense, Yoko traveled to Europe and the US with her husband. 
Facts about Haruki Murakami
In 2007, Haruki Murakami released a memoir What I Talk About When I Talk About Running.
Haruki is a fan of the Tokyo Yakult Swallows, a Japanese baseball team.
Understandably, Haruki Murakami is a fan of jazz. He cannot play any musical instruments though he once aspired to be a musician.  
Haruki Murakami holds honorary degrees from Yale, Princeton, and Tufts University.
In 2006, Murakami won the Franz Kafka Prize, fitting given he was an avid reader of Kafka. 
Murakami currently lives in the town of Oiso, Kanagawa prefecture. He also has an office in Tokyo.
Haruki Murakami quote
"You're you, you see, and nobody else. You are you, right?"
Rounding up 
Haruki Murakami has risen to become a literary giant in Japan.
His fantastical narratives have earned him a cult following in Japan and abroad. With such success, it is no surprise that his net worth is high, leaving him financially set for life!