Rui Hachimura is a young Japanese basketball player who has made it big in the NBA.
Right now Hachimura is starting 2023 wearing a world-famous Lakers jersey.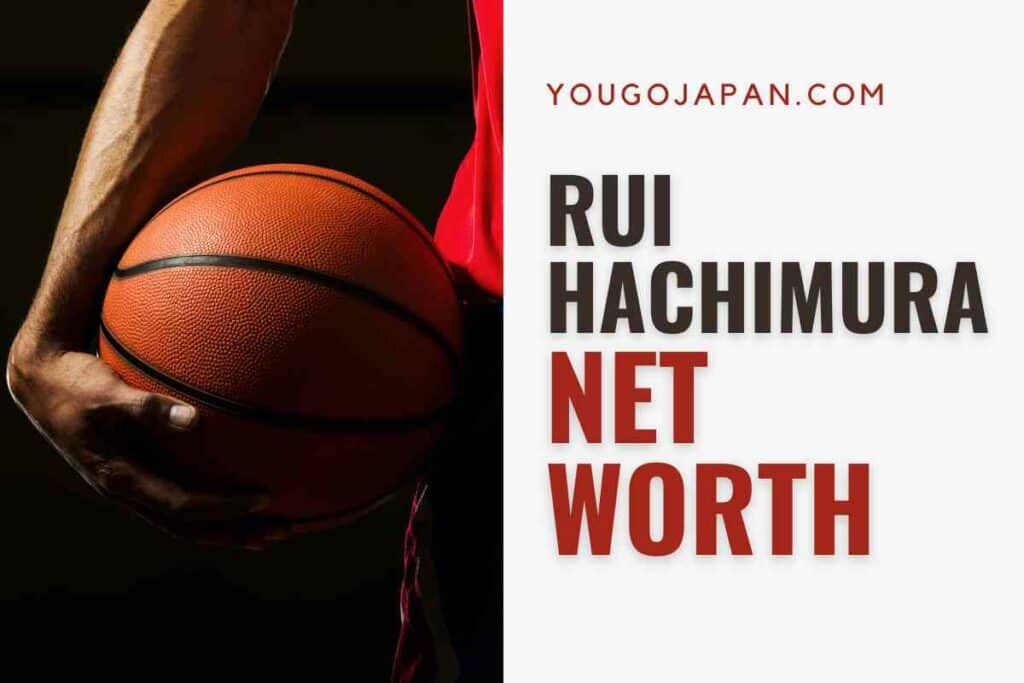 Along with professional play comes professional pay and as a US baller, Hachimura is building phenomenal wealth.
In this article, we'll take a look at the net worth of Rui Hachimura and his amazing rise to NBA stardom.
The net worth of Rui Hachimura 八村 塁
Rui Hachimura not only aced US college basketball but has also rocketed to fame in the NBA.
He now plays for the Los Angeles Lakers, one of the richest basketball teams in the world. His wealth is climbing accordingly and Rui Hachimura's net worth is currently $30 million.
A breakdown of Rui Hachimura's net worth
Rui Hachimura's wealth comes from his outstanding skill in playing basketball. After finishing college he entered the NBA immediately, playing for the Washington Wizards and lately the LA Lakers.
According to sports analysts at Spotrac, Hachimura earns approximately $4.6 million per year, with an uplift to more than $6 million through his transfer to the LA Lakers in 2023.
In addition, he has some extremely lucrative endorsements including a recent signing with Nike's Jordan Brand, making him the first Japanese Jordan athlete. 
Rui Hachimura 八村 塁 biography
LA Lakers power forward Rui Hachimura was born in 1998 in Toyama prefecture to Makiko Hachimura and Zakari Jabil.
He is the eldest of four siblings, with a younger brother and two sisters. Because his father was from Benin, Rui was raised in Japan with his mother's Japanese surname, while his grandfather, a keen sports fan, gave him the name Rui, meaning 'fortress'.
Growing up Rui played baseball, due, in part, to his grandfather's love of the sport. However, his basketball skill became apparent at Meisei High School in Sendai, where he helped his school team win the All-Japan High School Tournament for two years running in 2013 and 2014. Before graduating, Hachimura led Meisei High School to a third All-Japan High School Tournament win in 2015.
His success in basketball led to an invitation to participate in the Jordan Brand Classic in the USA.
During this famous high school All-Star basketball game, Rui's talent was showcased with nine points and five rebounds. By November 2015, Hachimura was set on playing college basketball in the US, signing a National Letter of Intent to play for the Gonzaga Bulldogs.
Rui Hachimura entered the US college system, considered one of the leading international players. However, he faced significant challenges in gaining the fluency required to pass the American SAT.
Though Rui claimed to understand 80% of English, he could not speak it well. Redshirting was a proposed solution, but Hachimura was keen to play as a true freshman.
Throughout 2016, Hachimura prepared for the SAT and met the SAT and GPA requirements in the fall of that year and became only the fifth Japanese basketball player to play NCAA Division I basketball ever.
Hachimura's college basketball career
By November 2016 Rui Hachimura had made his college basketball debut against Utah Valley with one point recorded.
A month later, he achieved a season-high of 10 points in just 13 minutes, playing against Mississippi Valley State.
He played 28 games as a freshman, averaging 2.5 points and 1.4 rebounds per game. The following year, Hachimura had 37 appearances, with two starts and an average of 11.6 points and 4.7 rebounds per contest.
In his junior season, Rui's numerous assists during the Maui Invitational finals helped to upset favorites, Duke. His performance led to him being named MVP of the tournament.  In 2019 he was named West Coast Conference (WCC) Men's Basketball Player of the Year.
Going pro
In 2019, Ryu Hachimura became the second Japanese player ever to enter the NBA draft. He was drafted ninth in the first round by the Washington Wizards.
Hachimura debuted with the Wizards in October 2019. Career highlights included scoring 30 points in a 125-150 loss to the Los Angeles Clippers, and competing against fellow Japanese player Yuta Watanabe of the Memphis Grizzlies, the first such encounter in the NBA.
In December 2019, Hachimura underwent surgery for a groin injury, leaving him on the bench for several games. 
In 2021, Rui was indefinitely excused for personal reasons, but later made a season debut in 2022 playing 42 games in total and improving his three-point shooting. 
A move to the Los Angeles Lakers
Early this year, the Washington Wizards traded Rui Hachimura to the Los Angeles Lakers.
Within two days Hachimura had delivered an impressive 12 points and 6 rebounds contributing to a  113–104 Lakers win over the San Antonio Spurs.
Hachimura continues to play for the Lakers hammering the nail, attacking closeouts, and beating switches, with great West Coast support from his teammates and fans. 
Playing basketball for Japan
Rui Hachimura also plays basketball for the Japanese national team.
He first represented Japan in the U16 Junior national team in 2013. He also competed in the U18 team in the Albert-Schweitzer Tournament in Germany.
Hachimura stands out as a player in World Championship matches with his high points rate and rebounds. He also participated in the 2020 Olympics, with 34 points earned against Slovakia in the early rounds. 
Rui Hachimura 八村 塁 personal life
Rui Hachimura is not married and doesn't have children. He has been romantically linked to the model and influencer Briana Delgado.
He continues to have a close relationship with his parents who are often courtside supporting their son. 
Facts about Rui Hachimura
Recently Rui and his brother opened up about the racist abuse they often receive because of their skin color and bi-racial heritage.
Rui's younger brother Aren Hachimura is also a power forward and plays basketball for Gunma Crane Thunders in Japan.
Hachimura has his brand of wine, Black Samurai Cabernet Sauvignon. It is served at an exclusive selection of US restaurants including Voltaggio Brothers Steak House in Fort Washington, Maryland.
Rui Hachimura has more than 644K followers on Instagram. Take a peek at his world online.
Rui Hachimura quote
"By finding what makes you unique and different from others, you can seize power to believe in yourself. With this in his heart, I stand on the court today."
Rounding up
Rui Hachimura has managed to break America with his skilled sportsmanship and determination. With his move to the Lakers, Hachimura is certainly headed to becoming a household name around the world. And his net worth will certainly soar.