Shohei Ohtani is a contender for Japan's greatest baseball player of all time. At just 28 years of age, this pitcher and position player has been setting world records in Major League Baseball.
Ohtani is famous in America and Japan and has amassed a fortune fitting his athletic accomplishments.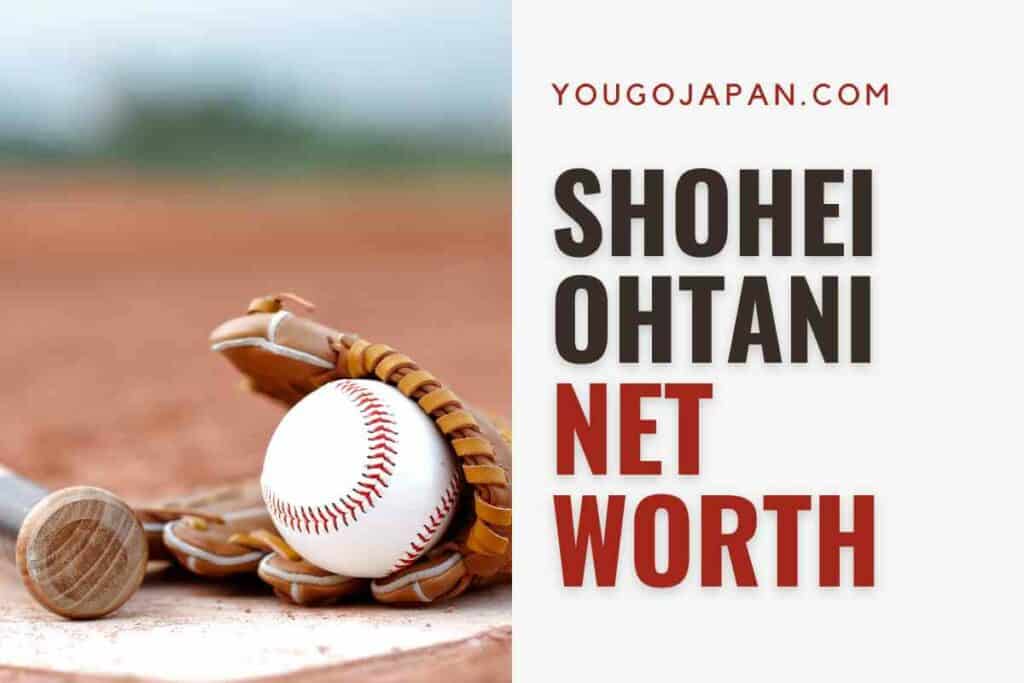 In this article, we take a look at the net worth of Shohei Ohtani!
The net worth of Shohei Ohtani 大谷 翔平
In 2023, Shohei Ohtani currently has a net worth of over $50 million. Given his outstanding performance in MLB, you'd expect Ohtani to be a lot of cash.
However, the contract he signed when he transferred to the Los Angeles Angels from Japan capped his earnings for a long-time because of his young age.
This has only recently been upped to more than $30 million in his latest deal with the Angels that lasts until 2024. 
A breakdown of Shohei Ohtani's net worth
Shohei's net worth is primarily from his stellar baseball career which has seen him play professionally from the age of 18 to the present day.
His finances are managed by his parents. Other sources of income for Ohtani include $20 million in endorsements with companies that include Porche, Mitsubishi Bank, New Balance, Hugo Boss, and Nintendo.
Shohei Ohtani 大谷 翔平 biography
Shohei Ohtani was born in 1994 in what is now Ōshū in Iwate prefecture Japan.
He is the youngest of three children. His parents were both sporty, with his mom Kayoko playing badminton at a national level and his father playing amateur baseball. 
Ohtani was obsessed with baseball from a young age, and was known among friends and family as 'yakyū shōnen', a kid who lives for baseball! Recognizing his potential, Shohei's father coached him alongside his older brother, Ryuta, who now plays in the amateur Japanese Industrial League. 
By elementary school level, Shohei Ohtani was showing real promise as a baseball player while playing in regional championship games.
In his high school years, his capabilities for the sport were noticed, but he opted against playing for leading high school teams in the big cities, preferring to stay local, swimming, and playing baseball at Hanamaki Higashi High School in Iwate.
As a teen Shohei was coached by Hiroshi Sasaki at high school and underwent an intensive, residential training regimen that only saw him return home for six days per year. To keep the young baseball players humble, they were assigned chores like cleaning toilets. 
Shohei's skill and power were apparent in his fast pitching. He could throw a fastball at speeds of up to 99 MPH, as fast as an 18-year-old.
His performances in the Summer Koshien Japanese national high school baseball championship tournament were similarly impressive and earned him interest from Major League Baseball teams that included the New York Yankees, Boston Red Sox, and Los Angeles Dodgers.
Going pro
In 2012, Shohei Ohtani announced that he wanted a Major League Baseball career, rather than playing in Japan. Despite this, the Nippon Professional Baseball League team the Hokkaido Nippon-Ham Fighters drafted him.
In the end, Ohtani played for the Fighters as he was allowed to play as a pitcher and position player, whereas the Los Angeles Dodgers did not offer the opportunity to play both ways.
Playing for the Hokkaido Nippon-Ham Fighters
Shohei Ohtani made his career debut for the Fighters at 18. This made him the second-ever rookie pitcher and position player straight out of high school in the NPB League.
In his first season, he played 51 games as a right fielder as well as a pitcher in more than 200 plate appearances. He also wowed crowds with impressive batting skills alongside his strong throwing arm. 
While playing for the Hokkaido Nippon-Ham Fighters, Shohei Ohtani threw the fastest official pitch of any Japanese player, with a speed of 161 KPH (100 MPH).
Fame followed with an Ohtani jersey being sold for more than $17,000 at the 2014 All-Star Charity Auction. In 2016 he was also named the Pacific League MP and won the inaugural Japan Professional Sports Grand Prize. 
Heading Stateside to the Los Angeles Angels
In 2017, Shohei Ohtani underwent surgery for an ankle injury. During his recovery, he again expressed his wish to play Major League Baseball.
Due to his age, he was subject to signing rules that not only capped his signing bonus to $3.557 million but also saw him join an MLB team on a rookie salary scale.
At the end of 2017, Ohtani signed with the Los Angeles Angels, who paid him a $2.315 million bonus and a $20 million posting fee to the Fighters. 
His first season with the Angels was hampered by injuries to his right elbow and hand which saw him placed on the disabled list for a period. However, he still managed an outstanding performance as a hitter and pitcher. In his April 2018 pitching debut, Ohtani managed to strike out six batters in six innings in a winning game. Within a week he had hit his third MLB home run. 
In subsequent years, Ohtani set many club and world records with the Los Angeles Angels, surpassing fellow Japanese baseball player Ichiro Suzuki for MLB performance.
Some of Ohtani's achievements so far include:
Becoming the first MLB player with more than 100 innings, strikeouts runs batted in and runs as a batter in just one season. 
Becoming the first player to start an All-Star Game as a pitcher and hitter
At least eight multi-homer games
Becoming the third Japanese player in the MLB to achieve more than 100 home runs in the Majors.
Shohei Ohtani 大谷 翔平 personal life
28-year-old Shohei Ohtani is not married and does not have children.
However, was associated with the pro-baseball athlete Kamalani Dung just because she took pictures of herself with him and other team members.
Because of his fame in Japan, he lives under intense scrutiny from the press and is known to live a baseball-focused, semi-monastic existence. 
Facts about Shohei Ohtani
Shohei Ohtani can speak English but is currently not fluent. For interviews and press conferences, he prefers to use an interpreter. 
Shohei Ohtani's nickname is Shotime!
Ohtani has matched legendary baseball player Babe Ruth's record of hitting more than 10 home runs and winning at least 10 games as a pitcher in a single season. 
Shohei Ohtani quote
"No one has done it before, only I am doing it, and there may be "a thing that only I can do", so I am playing as a pitcher and a fielder."
Rounding up
Just when you thought Ichiro Suzuki had put Japan on the map of American baseball, Shohei Ohtani came along to rip up the rule book and take the sport to its limits.
The Los Angeles Angels got an absolute bargain when they purchased the young Ohtani. However, his outstanding performance as an athlete has made him one of MLB's most valuable players.