Noriaki Kinoshita is a Japanese American football player who dreamed big.
His desire and determination to play professional football have taken him around the world.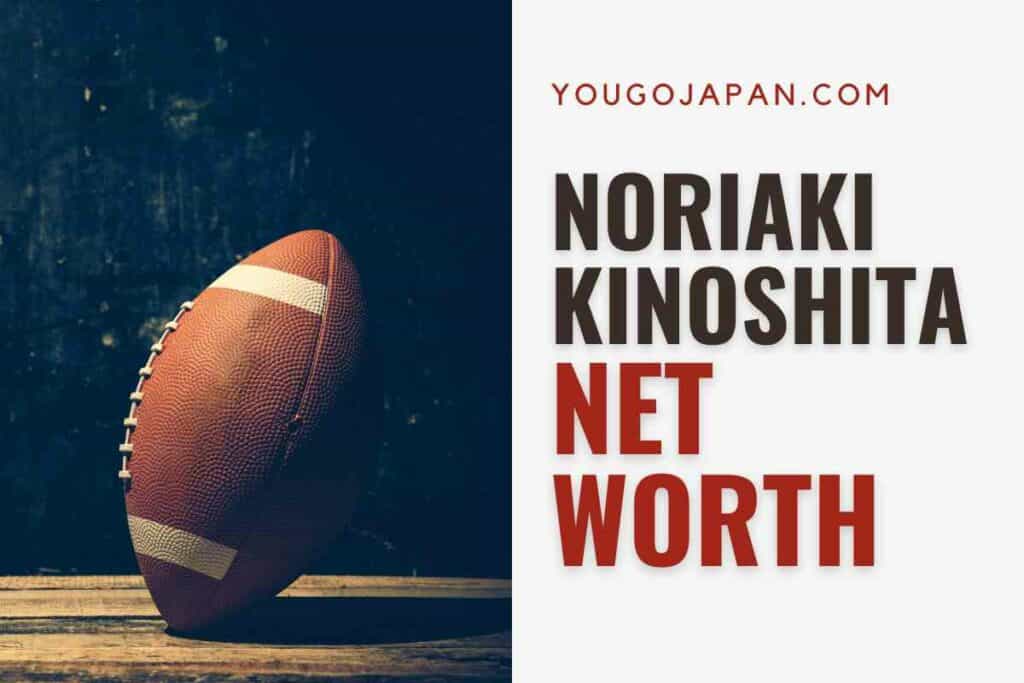 Despite missing out on an NFL spot with the Atlanta Falcons, Kinoshita has earned fans and income in Japan and overseas, because of his love of the game.
In this article, we look at the net worth of Noriaki Kinoshita.
The net worth of Noriaki Kinoshita 木下 典明
Professional American football player Noriaki Kinoshita impressed European fans during his NFL Europe career and after reaching an NFL practice squad has won thousands of fans playing with the Obic Seagulls. 
At age 40, his career is sadly over, but Noriaki continues to keep himself immersed in the sport through the organization he runs. The 2023 net worth of Noriaki Kinoshita is estimated at $3 million.
A breakdown of Noriaki Kinoshita's net worth
Despite not hitting the big-time in the NFL, Noriaki Kinoshita will have earned a decent living as a professional American football player.
If he invested his earnings wisely, his net worth may be even higher than the $3 million estimated. 
NFL Europe (now defunct) players earned a base salary of $20,000, with performance incentives up to a maximum of $100,000 per season.
NFL practice squad players earn over $11,000 per week.
Senior-level Japanese American football player who plays in the domestic league in Japan earns a maximum annual salary of $50,000 (¥7,000,000)
Noriaki Kinoshita 木下 典明 biography
Noriaki Kinoshita was born in 1982 in Osaka, Japan. His ability in American football was apparent from a very young age, so his parents let him play the sport from age five. 
Coaches and scouts were impressed with Kinoshita's remarkable aptitude for American football.
Noriaki was able to master the major positions of the sport including quarterback, receiver, and running back.
His promise meant he was snapped up quickly by Ritsumeikan University where, on the advice of his coach, he became a receiver. 
At Ritsumeikan University, Noriaki was a standout wide receiver for the Ritsumeikan Panthers, while pursuing an undergraduate business administration degree.
He powered his team to win three Koshien Bowls and a further two Rice Bowl Japanese championship games. While playing college American football Noriaki earned awards including the MVP and  NFL Special Award. 
Going pro in the NFL Europe
After graduating, Noriaki Kinoshita went pro, signing with the NFL Europe team, the Amsterdam Admirals in 2005. As well as being a wide receiver, Kinoshita was a capable return specialist. 
His debut season was hampered by an early broken finger. Kinoshita also struggled with his limited English and crowd noise.
However, highlights of the season included posting 21 yards on a single kickoff return, and being part of the team when the Admirals won their first-ever World Bowl. 
His 2006 season was much better with more time on the field leading to Kinoshita leading in the NFL Europe stats for kickoff returns.
He also achieved an impressive 12 receptions for a total of 188 yards and a 59-yard punt return for a touchdown. His consistency and drive led him to be named to the all-NFL Europe team for that year. 
Kinoshita continued with the Amsterdam Admirals for a third, 2007 season. He clocked up a 15.9-yard punt return average, a kickoff-return average of 23.2 yards, and a further 23 receptions. 
A dream singing with the Atlanta Falcons
Noriaki Kinoshita's performance in NFL Europe piqued the interest of US NFL teams.
In June 2007, Kinoshita fulfilled his dream of moving to America, signing with the Atlanta Falcons. This was an amazing accomplishment that elevated the sport of American football in the eyes of the Japanese. 
Kinoshita completed the training camp for a roster spot but was sadly released by the Falcons at the end of the camp. Falcons head coach Bobby Petrino spoke highly of Kinoshita's time in NFL Europe and felt that he deserved the opportunity to try out for the Falcons. 
A year later he was the first Japanese player to be assigned as an International Practice Squad player.
Despite the disappointment of not making the NFL, Kinoshita persisted, spending an entire season in the practice squad despite the roster being beyond his reach. This earned him a lot of respect from fans who saw his passion for the sport. 
Signing with the New York Sentinels
In 2009, Kinoshita entered the UFL after being drafted by the New York Sentinels, aged 26. He played in the UFL for two seasons.
Moving back to Japan
In May 2011, Noriaki Kinoshita returned to Japan. He joined Chiba team, the Obic Seagulls, playing in the X-league.
He is still with the Seagulls and caught a memorable three touchdowns against IBM Big Blue in the 2019 Pearl Bowl.
What's Noriaki Kinoshita doing now?
Noriaki is the founder of the American football organization called Japan American Football Dream (JAD).
He has been running JAD since 2016. JAD has the objective of giving back to Japanese society through the promotion of American football to the youth.
Kinoshita is keen to encourage young Japanese people to take up American football and provides training and support to help future players go all the way in the sport.
Even if children do not want to become professional players Kinoshita believes that they can benefit from playing this team sport. 
Noriaki Kinoshita 木下 典明 personal life 
Noriaki Kinoshita is married with at least one daughter. Father and daughter often share Instagram clips of them playing and training together:
Facts about Noriaki Kinoshita
Noriaki Kinoshita is 5'10" and has a weight of 179 pounds.
Kinoshita also represented Japan in American football in 2011 against Austria and in 2015 against the USA.
Noriaki Kinoshita is one of only 16 international players ever to make it onto the NFL practice squad.
Kinoshita also has a YouTube channel where he reflects on his career and shares training clips.
Noriaki Kinoshita quote 
"I want to show the Japanese people how exciting the great game of football is."
Rounding up 
Noriaki Kinoshita is the greatest American Football player Japan has ever produced.
His prowess as a wide receiver was able to get him close to an NFL signing. Despite not playing in the NFL, Kinoshita has profited from playing the game he loves.