Kanazawa is a beautiful city located in the Ishikawa Prefecture of Japan. It's well-known for its stunning temples, traditional gardens, and samurai districts.
While it may not be as popular as some of Japan's other tourist destinations, Kanazawa is definitely worth visiting if you're looking for an authentic Japanese experience.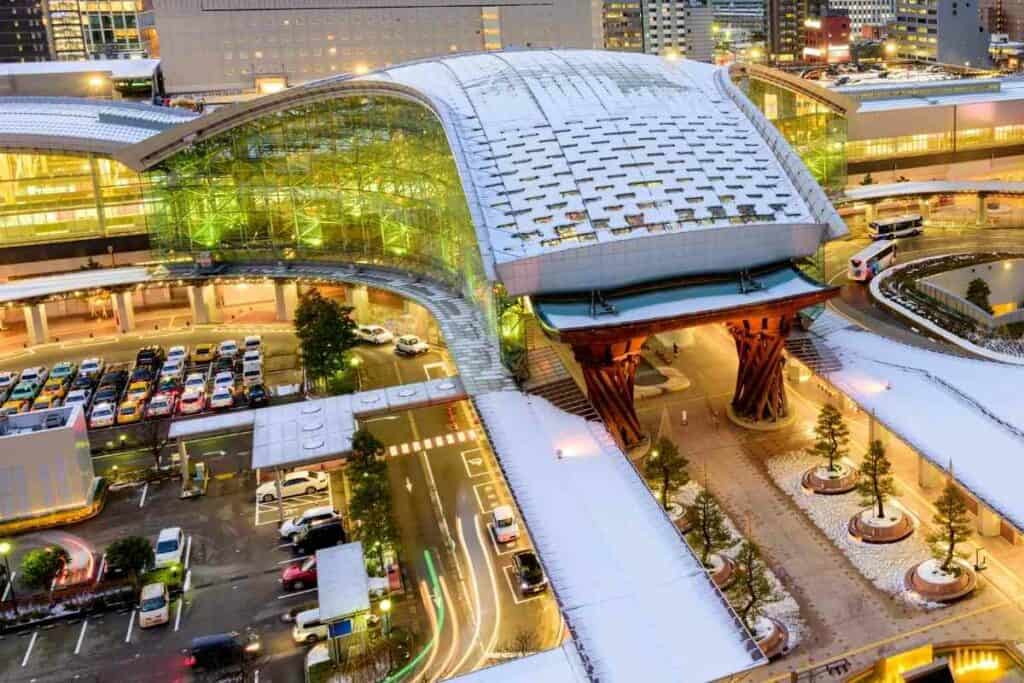 Plus, it's much less crowded than cities like Tokyo or Kyoto, so you'll be able to enjoy all the sights and sounds without having to deal with huge crowds of people.
So if you're thinking about visiting Japan, make sure to add Kanazawa to your itinerary.
But is it worth visiting?
In This Blog Post – We'll take a look at some of the best things to do in Kanazawa and help you decide if it's the right destination for you.
A Short History of Kanazawa
Kanazawa is a city located in the Ishikawa Prefecture of Japan.
The city has a long history, dating back to the 16th century when it was founded by Maeda Toshiie, a warlord of the Sengoku period.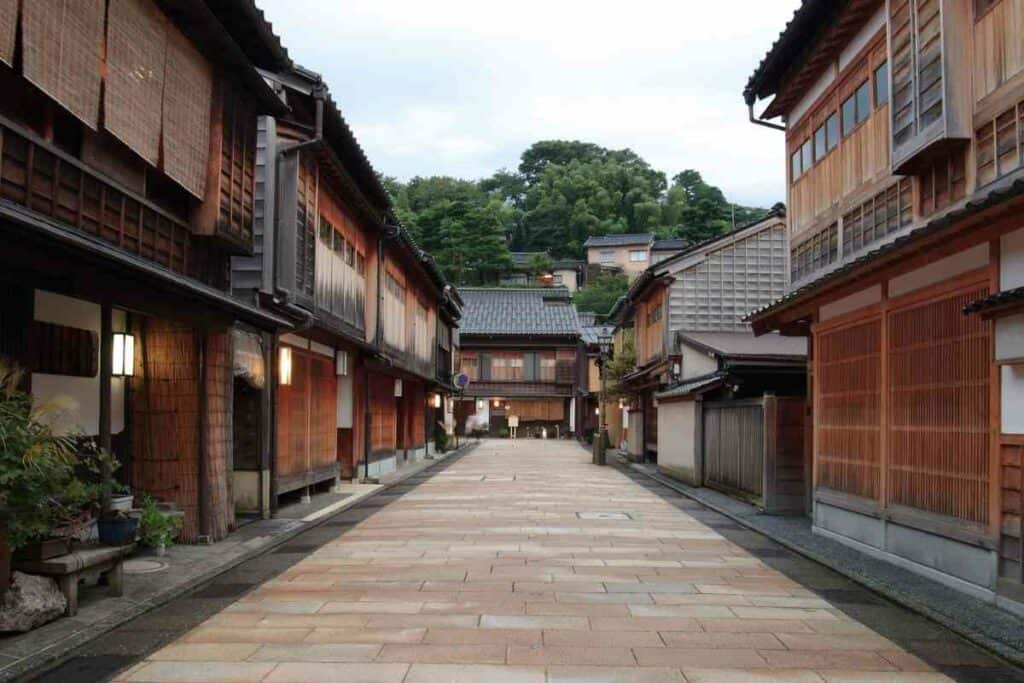 Toshiie chose the site for Kanazawa Castle, which served as the center of the city for many years.
Kanazawa prospered during the Edo period (1603-1867) as a castle town and a post station on the Hokkaido highway.
The castle was destroyed by an earthquake in 1881, but many of the city's other historic buildings survived and Kanazawa remains a popular tourist destination for its traditional architecture and gardens.
Kanazawa was largely untouched by World War II and still has many preserved homes and castles from the Edo period.
The city's main attraction is Kenrokuen, one of Japan's Three Great Gardens, which dates back to the 18th century.
Kanazawa is also known for its traditional crafts, including gold leaf, lacquerware, and silk.
Secure your spot at our top-rated hotel in Kanazawa. Book your stay today at booking.com
What To See At Kanazawa?
Kanazawa is a beautiful city in Japan that offers a plethora of sights and activities for visitors to enjoy.
From stunning gardens and temples to traditional crafts and delicious food, there is something for everyone in Kanazawa.
Here are just a few of the many things that you can see and do while visiting this wonderful city.
Kanazawa Castle
Kanazawa Castle is one of the most famous landmarks in the city.
The castle was built in the 16th century and has been meticulously preserved.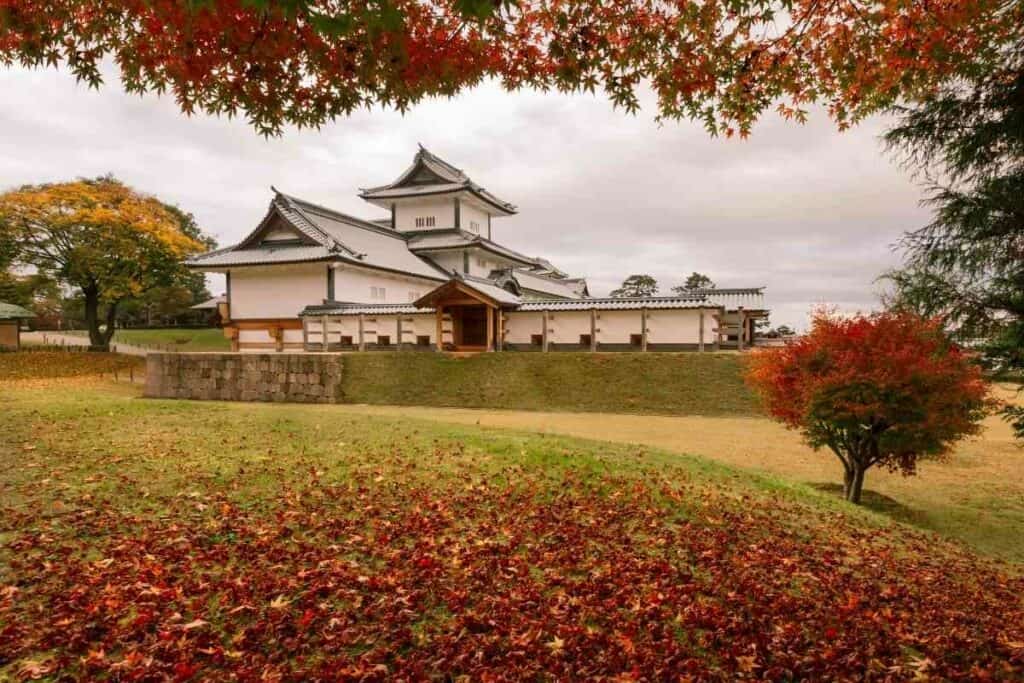 Visitors can explore the castle grounds, which include a beautiful garden, as well as the inside of the castle itself.
Prepare for your journey to Japan and browse the Japan Objects Store to select items for your trip.
See Kenroku-en in All Four Seasons
The castle is also directly across from Kenroku-en, a Kanazawa garden that has become one of my favorites in Japan over the years.
Locals say you should visit in all four seasons, and I'm glad I got to see one of the most unusual (winter) during my most recent visit.
The shore of Kasumigaike Pond is one of my favorite places in Kanazawa.
The Kanazawa Geisha Districts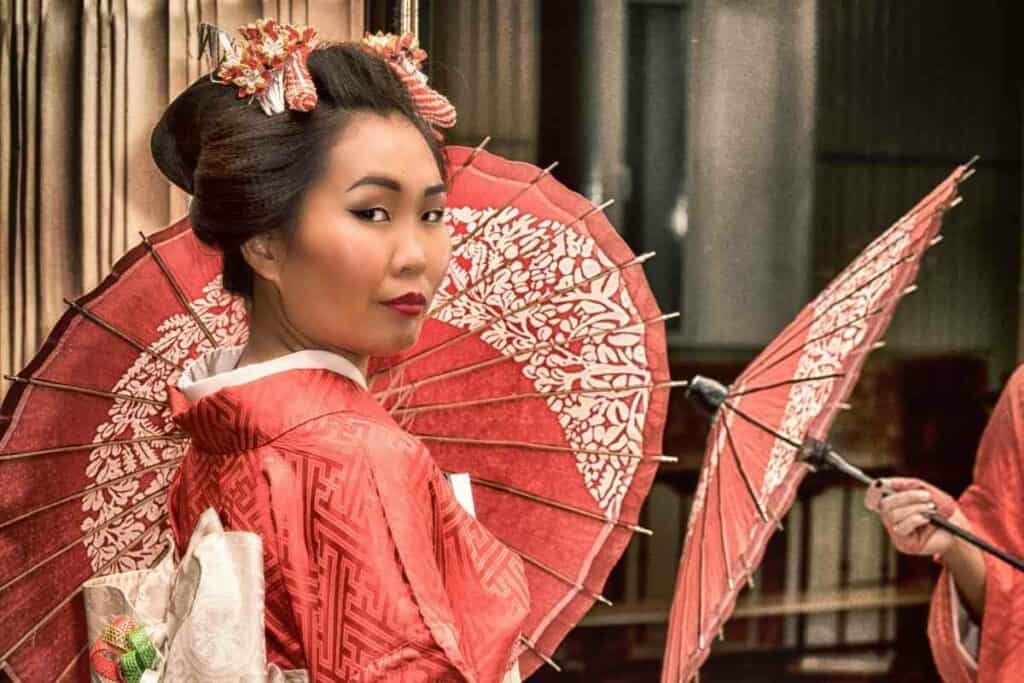 Kanazawa is one of the few places in Japan where geisha still ply their trade, and visitors can catch a glimpse of these elusive entertainers in two different geisha districts:
Kazuemachi
Higashi Chaya
The former is the larger and more commercialized of the two, with plenty of shops and restaurants catering to tourists, while Higashi Chaya is a more traditional and atmospheric enclave where time seems to have stood still.
If You're Lucky – You might even catch a glimpse of a geisha or two on their way to an engagement.
Tour Samurai Homes in Nagamachi
For those interested in Japanese history and culture, a visit to the Nagamachi samurai district is a must.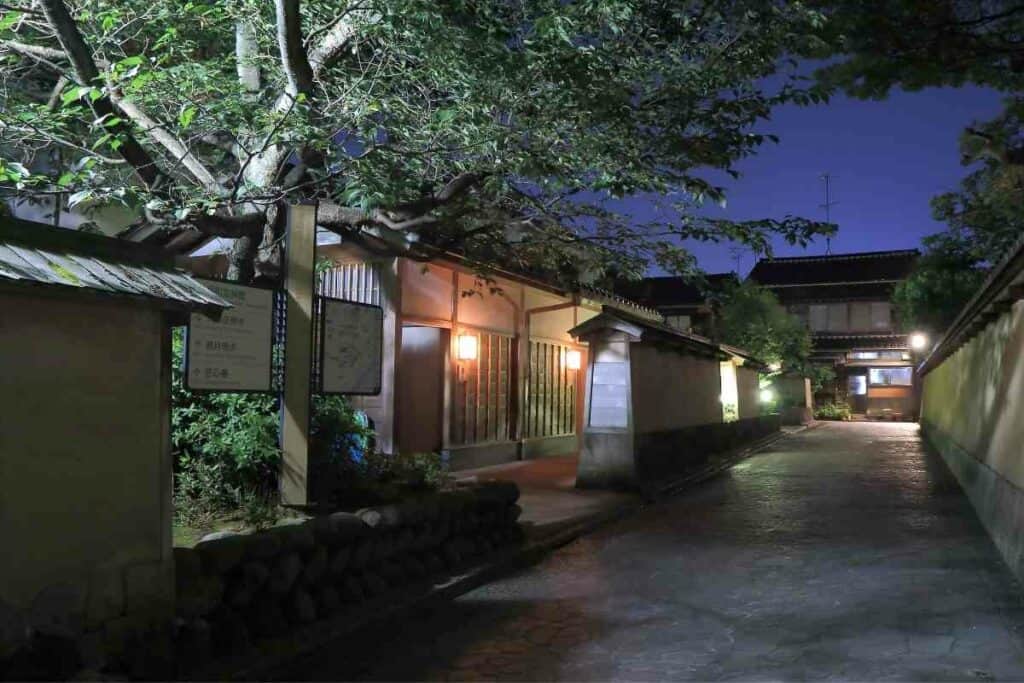 This atmospheric neighborhood was once home to Kanazawa's powerful samurai class, and many of the traditional residences (or "machiya") have been well preserved.
Several of these homes are open to the public and offer a fascinating insight into the lives of Kanazawa's former warrior elite.
Visit The Omicho Market
Kanazawa's bustling Omicho Market is a great place to sample some of the local produce, as well as to pick up any picnic supplies you might need for a day out at one of the city's parks or gardens.
This is also a good place to try some of Kanazawa's famous seafood, including delicacies such as:
fugu (pufferfish)
uni (sea urchin)
Explore The Outer City
Kanazawa's outer city is a great place to explore on foot, especially around the Higashi Chaya district where you'll find a number of well-preserved geisha houses (chaya), some of which now operate as teahouses and restaurants.
This is also where you'll find the city's famed gold leaf shops, where you can observe the painstaking process of applying gold leaf to various surfaces, and even try your hand at it yourself.
When to Visit Kanazawa?
The best time to visit Kanazawa is fall (from September to November) and spring (from March to May.
Kanazawa is a beautiful city located in the Ishikawa prefecture of Japan.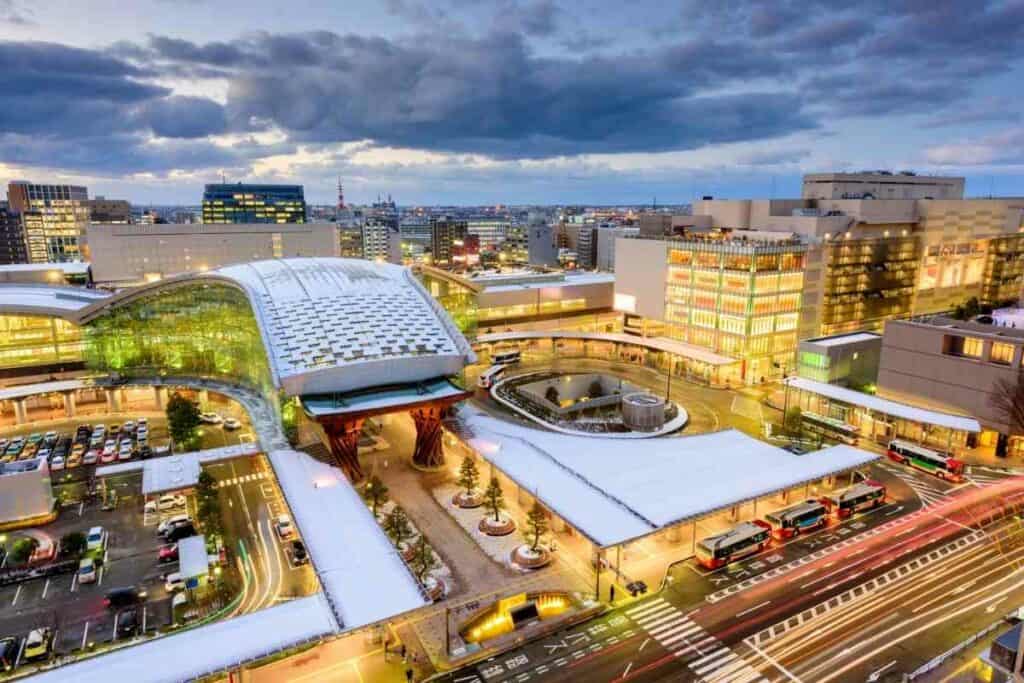 It's well known for its traditional arts and crafts, as well as its stunning gardens.
The best time to visit Kanazawa is during the cherry blossom season in late March to early April.
The weather is mild and the flowers are beautiful. If you're interested in seeing the leaves change color, autumn is also a good time to visit.
Winter can be cold, but it's a great time to enjoy Kanazawa's winter sports scene.
Where to Stay in Kanazawa?
The following are some of the best places to stay in Kanazawa.
Kanazawa has an increasing number of stylish ryokan and boutique hotels, but I prefer to keep things simple. Hotel Pacific Kanazawa is one property that has recently piqued my interest.
Hotel Pacific Kanazawa is located between the geisha district of Kazue-machi and Kanazawa Castle Park. It is chic, comfortable, and convenient.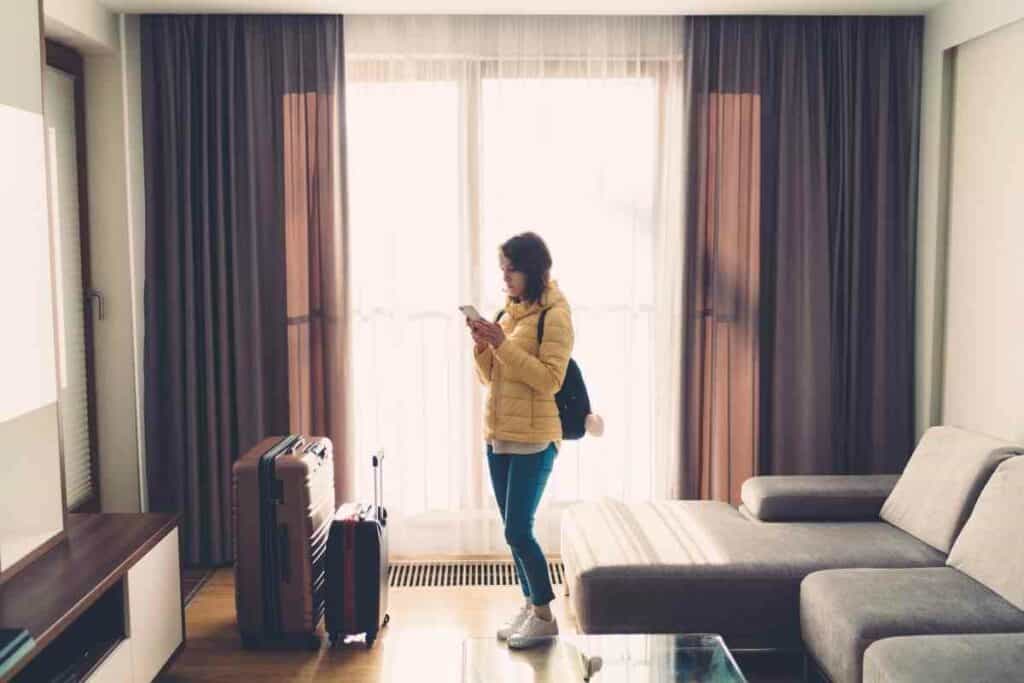 Of course, if you're not traveling alone, or if you're here for a special occasion (such as the Kanazawa sakura) or other extraordinary examples of what to do in Kanazawa, you might want to stay somewhere even more special.
Yamanoo is perched on a hill overlooking the iconic Higashi Chaya district, whereas Kanazawa Chaya is just steps away from JR Kanazawa Station.
Getting around Kanazawa
Kanazawa does not have a subway system, but its efficient bus network makes moving about the city a piece of cake.
Hokuriku Rail Road is the main bus firm in Kanazawa.
There are city buses and intercity buses. City buses have one fare for all rides, while intercity buses have a pay-as-you-go system where you need to purchase a card in advance and then top it up with credit.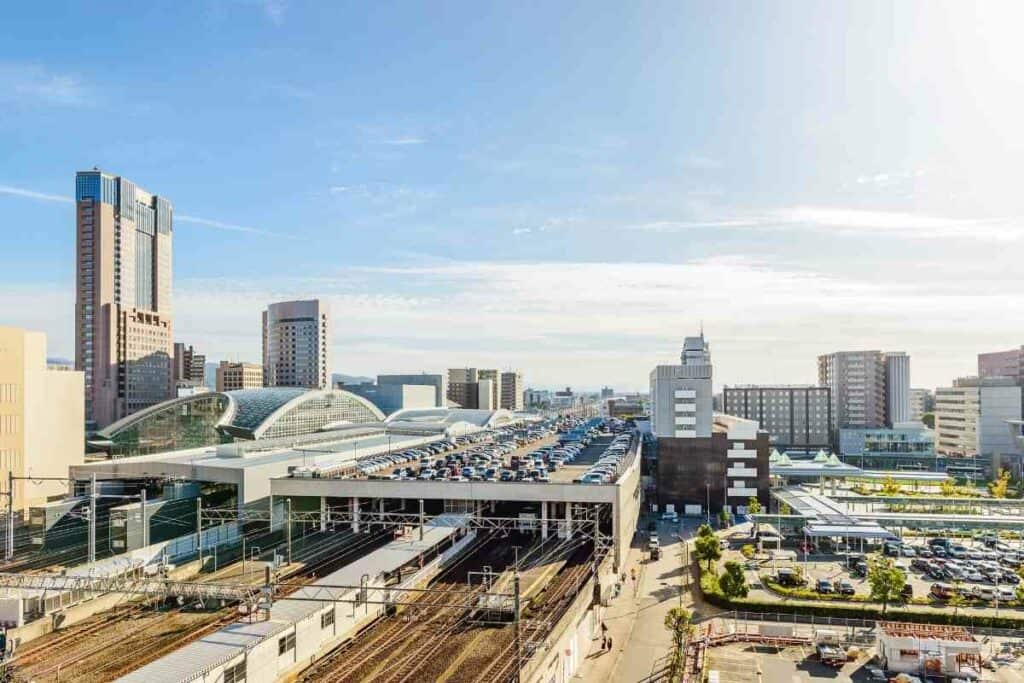 To ride the city bus, simply board the bus and drop the correct fare into the farebox.
For the intercity bus, you will need to purchase a card from the driver when you first board the bus. You can then top up this card with credit as needed.
When exiting the bus, simply tap your card on the fare reader and the correct fare will be deducted.
If you are planning on doing a lot of sightseeing in Kanazawa, you may want to consider purchasing a one-day or two-day bus pass.
These passes allow you unlimited rides on both city and intercity buses for the duration of the pass.
Kanazawa also has a number of taxi firms operating in the city. Taxis can be hailed from the street or booked in advance.
If you are planning on using a taxi regularly during your stay, it may be worth considering purchasing a taxi voucher book.
These books can be bought from the tourist information office and allow you to pre-pay for 10 or 20 rides.
Finally, Kanazawa is also served by a number of airport shuttle buses.
These operate between the city and both Komatsu Airport and Toyama Airport.
If you are flying into one of these airports, this may be the most convenient way to get into Kanazawa.
How Many Days Should I Spend in Kanazawa?
The ideal duration in Kanazawa is two days. It allows you to take things easy and appreciate everything worth seeing.
Kanazawa is a beautiful city in Japan that is definitely worth spending some time in.
However, how long you should spend there really depends on what you want to do and see.
If you're interested in exploring the city and its many sights, then you'll need at least a few days.
However, if you're just looking to relax and enjoy the scenery, then a day or two may be sufficient.
Ultimately – It's up to you to decide how long you want to stay in Kanazawa.
Why Is Kanazawa Popular?
Kanazawa is popular because it is a beautiful city that offers a lot of culture and history. It is also well-known for its seafood and cuisine.
If you are looking for a place to visit that is off the beaten path, Kanazawa is the perfect destination.
Kanazawa offers a unique blend of old and new, with a historic downtown area full of traditional Japanese architecture, and a modern skyline featuring skyscrapers and shiny new shopping malls.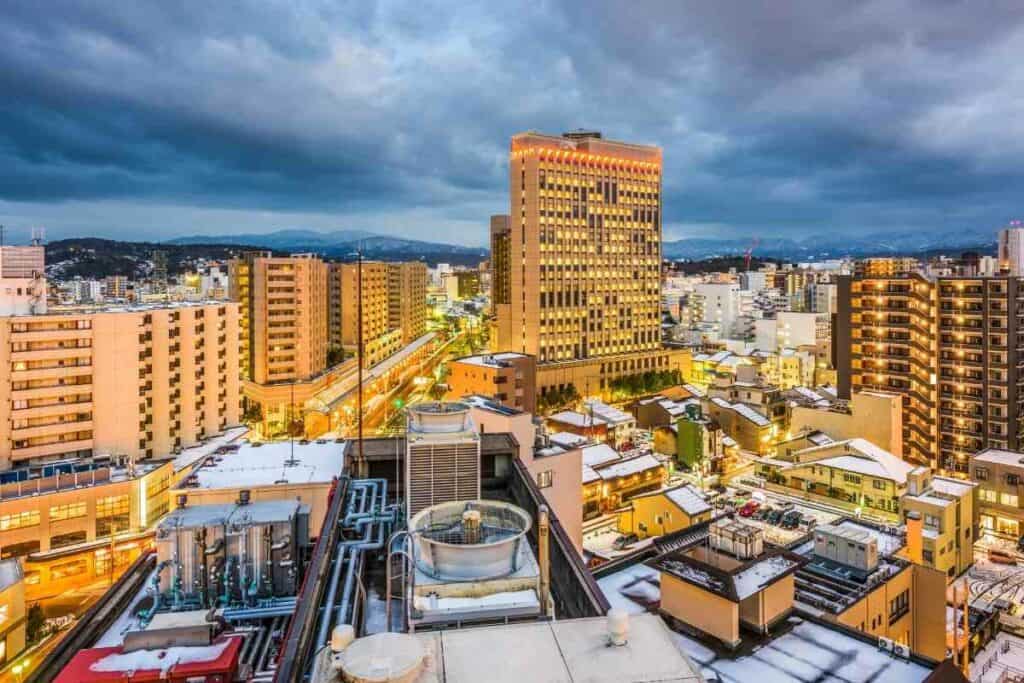 The city is also home to a number of museums and art galleries, as well as a live music and nightlife scene.
Kanazawa is an ideal place to visit if you are interested in Japanese culture and history.
The city has a number of temples and shrines, as well as traditional gardens and homes. You can also find several castles in Kanazawa, including the famous Kanazawa Castle.
If You Love Seafood – Kanazawa is the place for you. The city is home to a number of seafood restaurants, as well as a fish market where you can buy fresh seafood to take home with you.
Kanazawa is also a great place to shop.
The city has a number of department stores and malls, as well as a variety of smaller shops selling everything from traditional Japanese goods to modern fashion.
What Kind of City Is Kanazawa?
Kanazawa is a major commercial center and transportation hub for the region and is home to several universities and other institutions of higher education.
The city is also a popular tourist destination, known for its historic sites and museums, as well as its proximity to the scenic Japanese Alps.
Is Kanazawa a Small Town?
Yes, Kanazawa is a relatively small city when compared to other major Japanese cities.
It has a population of around 465,699 people.
However, it is still larger than many small towns in other parts of the world. Kanazawa is located in Ishikawa Prefecture on the west coast of Japan.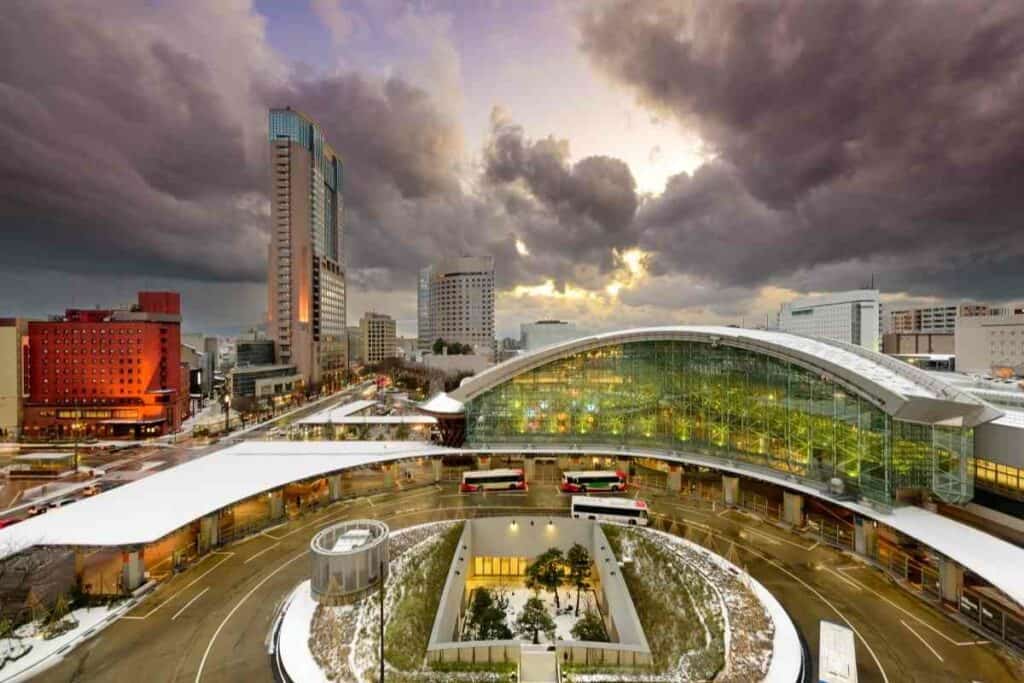 It is about 3 hours by train from Tokyo.
The city is known for its traditional arts and crafts, as well as its modern architecture.
Kanazawa is a popular tourist destination for both Japanese and foreign visitors.
The city has a wide range of attractions, including:
traditional gardens
temples
and museums
It is also home to a number of restaurants and cafes.
Is Kanazawa Worth Visiting?
Yes, Kanazawa is definitely worth visiting! It's a beautiful city with a lot to see and do.
The people are friendly and there's a great food scene. I would definitely recommend it to anyone looking for a place to visit in Japan.
Japan is a country of great variety, and it's not hard to find something that will suit every taste.
If you're looking for the ultimate cultural experience while visiting Japan though – head out there.
Kanazawa city has plenty in store: from old Buddhist temples with serene gardens perfecting landscaping techniques dating back centuries ago; to elegant shopping, streets lined by unique boutiques selling one-of-a-kind pieces made exclusively just how we know them now…
And don't forget about all those delicious food options too!!
Kanazawares really worth seeing if only because it's got such beautiful scenery around every corner.
The city is filled with rows of traditional Japanese houses, and you can often catch a glimpse of Mount Fuji in the distance.
It's also home to a number of important historical sites, such as the castle where the last shogun resided.
Conclusion
Kanazawa is a city that offers visitors a unique cultural experience.
With its well-preserved samurai district and beautiful gardens, the cityscape provides an interesting juxtaposition of traditional and modern elements.
If you're looking for an off-the-beaten-path destination in Japan, Kanazawa is definitely worth considering.
Read Next