Located in the western suburbs of Tokyo is a museum that's truly unique: the Ghibli Museum. Dedicated to the film studio of the same name, this is Japan's equivalent to Disney.
The museum was founded by Studio Ghibli film studio's director Hayao Miyazaki, who is behind the most loved anime movies in Japan (and the world).
These include:
Princess Mononoke
My Neighbor Totoro
Ponyo
Spirited Away
The Ghibli Museum pays tribute to the film studio's numerous creations and allows visitors to experience the anime world like never before.
You'll get to watch anime films and spot well-known characters here.
Huge numbers of visitors enter the Ghibli Museum each year, which makes it difficult to get hold of tickets!
About Tokyo's Ghibli Museum
The name itself is not Japanese at all.
In fact, Ghibli is an Italian word for a hot wind in the desert. Hayao Miyazaki wanted Studio Ghibli to blow a new wind right through the film and anime in Japan.
This anime director wanted to create fantastical worlds that were lush and intricate.
The idea was that with so much attention to detail, viewers could believe that the worlds he created were real no matter the storylines they presented.
The museum dedicates itself to Studio Ghibli's work, and it also sheds light on how animation works.
Though the museum presents many references to Studio Ghibli's works, you don't need to be a fan to appreciate the exhibits here.
The building was built in 2000 with the museum first opening its doors on October 1st, 2001.
Ghibli Museum Location
The Ghibli Museum borders Inokashira Park in Tokyo.
It is a three-story mansion that's full of:
winding staircase
twists and turns
a rooftop garden
and tiny doorways
The building itself was designed by Hayao Miyazaki who wanted to recreate the universe of Studio Ghibli's anime.
Exhibits at the Ghibli Museum
Since photography isn't allowed inside, it's full of wonder and mystery when you walk through the doors!
The main hall has exhibits that demonstrate the magic and wonder of animation. There are intricate contraptions as well as oversized ones.
Aside from this main hall, there are many smaller exhibition halls. Some of these are permanent displays, while others change.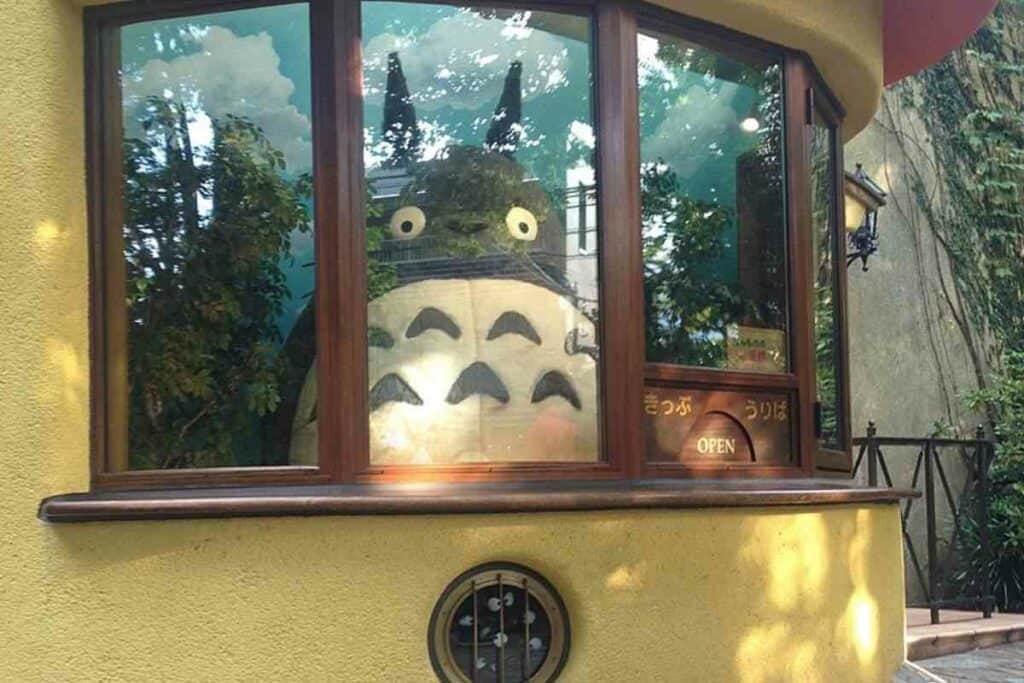 One of the permanent exhibits recreates Hayao Miyazaki's art studio down to minute detail.
There are:
pots of paint
paint brushes
and even real candy in bowls
The walls are adorned with fine art too. In this exhibit, you get a true sense of the effort that creating an anime takes.
Studio Ghibli's productions are unique in that they place a big emphasis on the background of the anime.
The world is just as important as the characters.
Another exhibit room has life-size, interactive film setting recreations.
You can see the insides of the "Laputa" flying ships. It's all real – you'll even find utensils and ingredients in the galley!
As you head to the top floors of the museum, you can play with the beloved Catbus character from the anime My Neighbor Totoro. If you're twelve or under, you can even climb inside!
Other Museum features
The Saturn Theater
As well as all of the exhibits, you'll find a small theater near the entrance.
This shows animated shorts from Studio Ghibli.
The great thing about these is that you'll never see them outside of the museum! It's a real treat to see such animations exclusively here.
There are eighty seats inside this theater, which means you get an intimate experience while watching an original, exclusive anime.
Each visitor is given a ticket to the theater on entry but you can only go once to see the movie.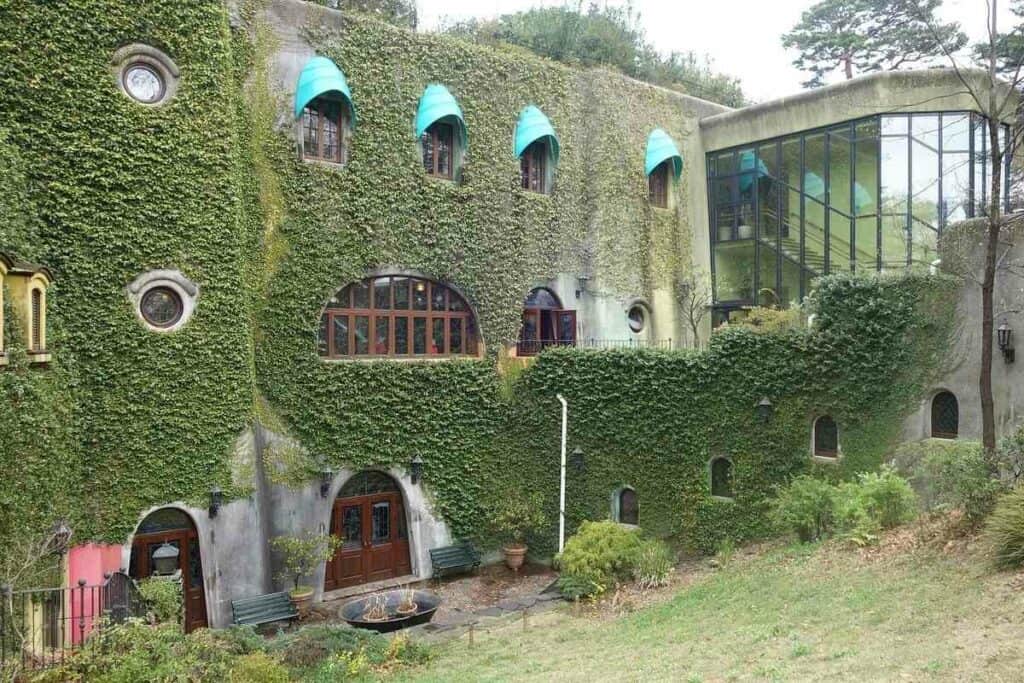 To add to the experience is the sky-painted ceiling and flowers on the walls.
Also, don't worry about everything being in Japanese! You'll find lots of English-speaking staff here so don't be put off if you don't speak Japanese.
Rooftop Garden
If you've managed to find your way successfully to the top of the museum, you'll be able to access the rooftop garden via a spiral staircase located near the Catbus room!
Here, you'll find a statue of the Robot Soldier from Castle in the Sky and Lupin III Part II. This statue measures five meters and was designed by Kunio Shachimaru.
It was made from hammered copper plate and took over two years!
From the rooftop garden, you can admire the views over Inokashira Park.
The Straw Hat Café
If you're wanting a sit-down meal, the Ghibli Museum's Straw Hat Café serves snacks, cold and hot food, and desserts.
There is also an exclusive Valley of the Wind beer that was created especially for the museum.
Some specialties here include the Katsu Sando, which is a pork sandwich.
It comes with a tiny flag that displays an anime character. They also do a blue cream soda and beautifully presented cappuccinos here.
The line can get quite long here, so it's a good idea to head there first.
Tri Hawks – bookstore and reading room
This is a bookstore and reading room that opened in 2002.
Inside, it is lined with books that Hayao Miyazaki has recommended.
Tri Hawks is a pun that is based on the name of the city – Mi-taka, where you'll find the Ghibli Museum, which means 'three hawks' in Japanese.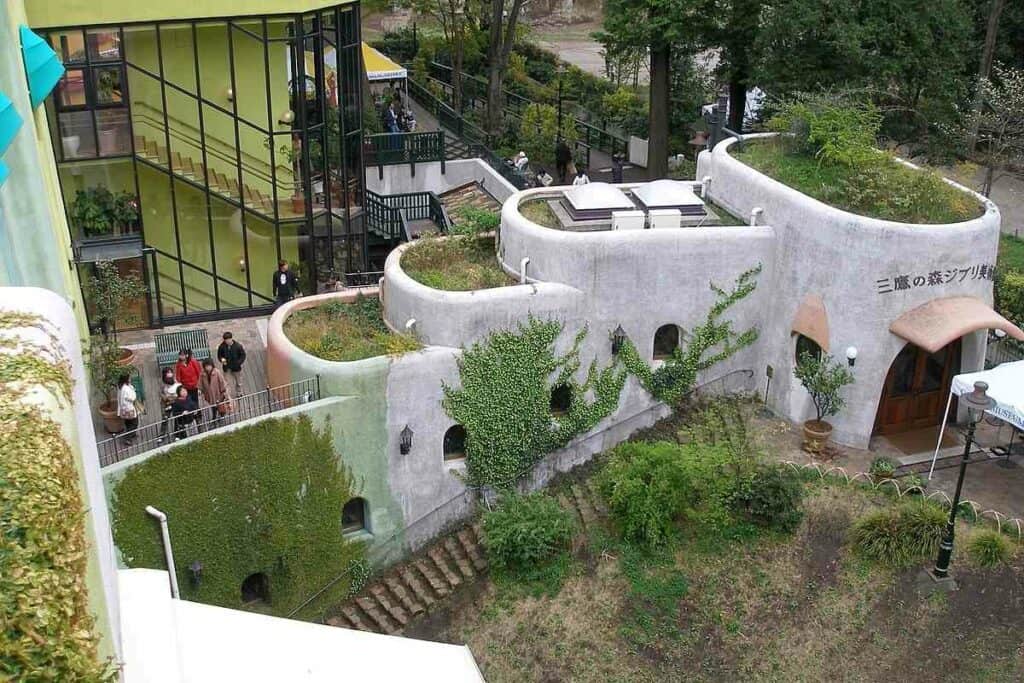 Mamma Aiuto – souvenir shop
This is the museum's souvenir shop. It's named after the movie Porco Rosso and the band of sky pirates.
Mamma Aiuto means 'mom, help me' in Italian.
The souvenir shop sells animated movies – both Japanese and non-Japanese, as well as other typical souvenir shop items.
You'll find tons of merchandise too.
Some of the best buys include:
Cookies with Ghibli Studio character on. These come in a variety of flavors including almond, chocolate, sesame, maple, and tea! They also come in a beautiful tin.
Tabi-shita socks (thong socks) that are meant to be worn with jika-tabi (thonged) footwear. These socks have great Studio Ghibli illustrations.
The Ghibli Museum Tickets
Unlike many museums around the world where you can rock up and buy tickets on the door, you can't do that here!
To gain access, you'll need to buy tickets in advance.
There are three main ways of buying tickets to the museum.
1. Buying tickets online
The most convenient way to buy tickets is online using this website.
For anyone aged nineteen and over, it costs 1,000 yen ($8) to enter.
Between 13 and 18, you'll pay 700 yen, between 7 and 12 years old, you'll pay 400 yen, and for ages four to six, you'll pay 100 yen. Children aged 0-3 are free.
Tickets go on sale on the first day of the month for entry three months in advance.
2. Buying tickets at a Lawson convenience store
Lawson tickets go on sale on the 10th of the month for the following month.
So if you want to visit in October, you'd have to buy your ticket in September.
To get tickets this way, you'll need to use a Loppi ticket machine that can be found inside a Lawson convenience store.
However, you'll need to have been in Japan for at least a month due to when the tickets are released.
For Most Travelers – This just isn't possible. What's more, the machines only work in Japanese, which adds another element of difficulty!
3. Go on a guided tour
If buying a ticket on your own is confusing and difficult (it is!), then taking a guided tour is an easy way to get inside.
Once you've booked a tour, you don't need to worry about getting your own tickets.
A guided tour will usually include lunch and a transfer to Mitaka too.
A final note on tickets…
No matter the type of ticket you buy, you'll need to make sure you submit your personal details correctly.
If you're buying tickets for friends and family too, you'll need their details. All tickets are individual and personalized – you can't transfer them.
You'll also need to bring your state-issued ID or passport with you.
What to Expect? The museum is open between 10 am and 6 pm each day apart from Tuesdays. You will have a time on your ticket and the Japanese really appreciate punctuality!
Also, the museum will close for New Year, so you won't be able to visit then.
Getting to the Ghibli Museum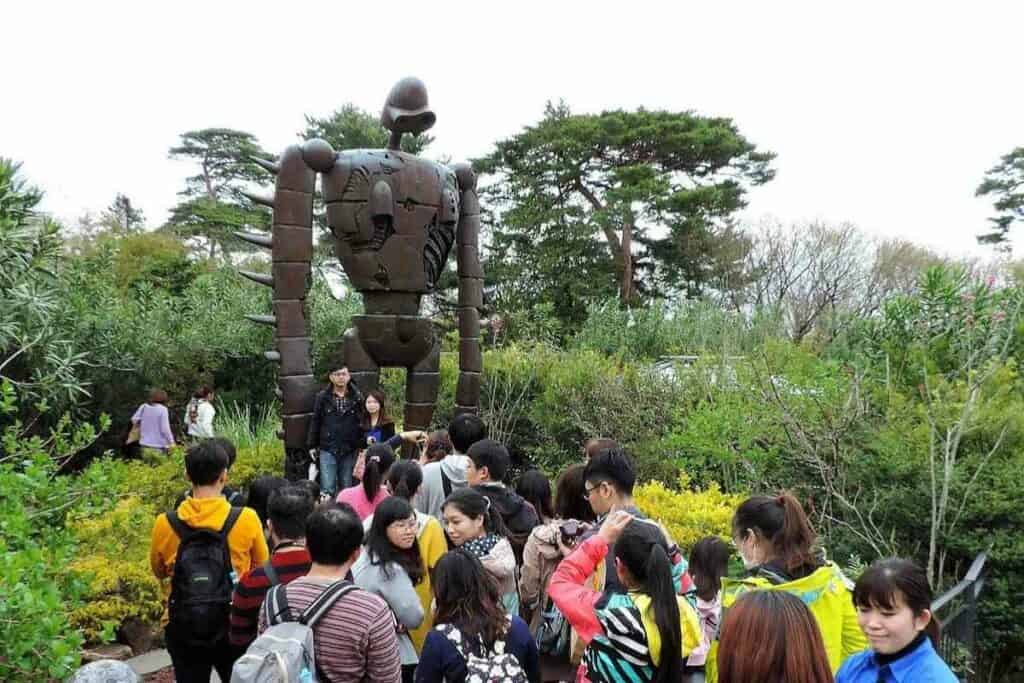 The address of the museum is:
Ghibli Museum
1-1-83 Shimorenjaku, Mitaka-shi, Tokyo-to
181-0013
Public Transport
For anyone making their own way to the Ghibli Museum, it's pretty easy to access via public transport.
The museum is situated next to Inokashira Park in the west of Mitaka.
The quickest way to get to the museum is from Shinjuku Station on the JR East Line. From there, the journey takes around half an hour.
On arrival at Mitaka Station, you need to exit via the Minami or South Exit where there will be signs to the Ghibli Museum.
It's around fifteen minutes on foot or you can take the museum shuttle bus. This costs around $2 each way.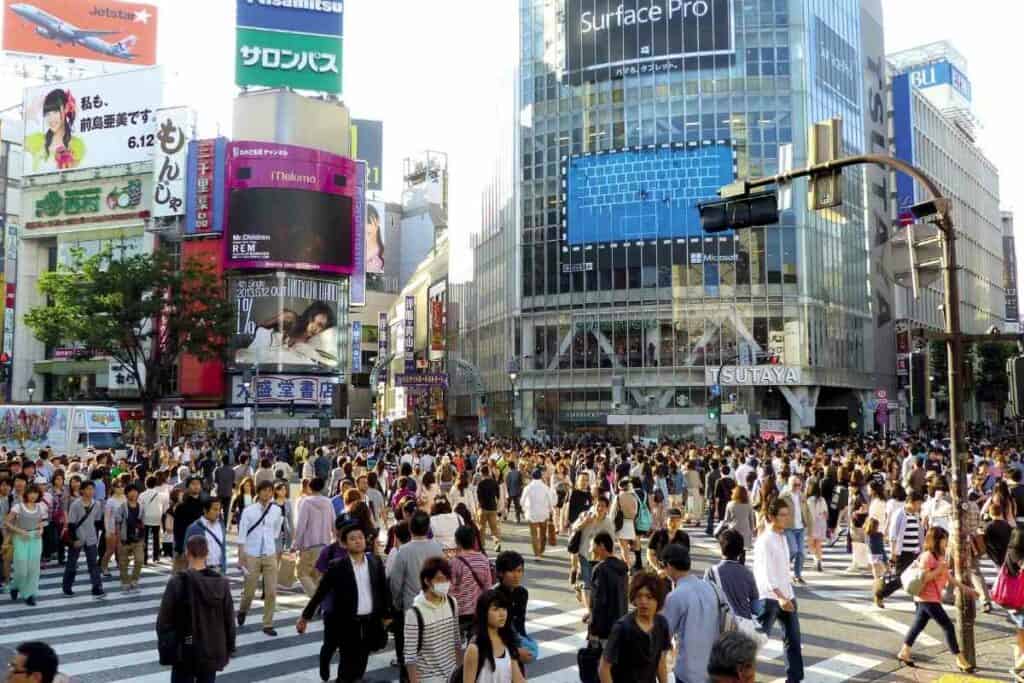 The museum is also a similar distance away from Kichijoji Station.
The JR Chuo Line goes from Shinjuku Station to both Kichijoji and Mitaka. You can also go from Shibuya Station on the Keio Inokashira Line to Kichijoji.
If you choose to use Kichijoji Station, leave time either before or after your visit to the Ghibli Museum to explore this area's great food and shops.
One final way of getting to the Ghibli Museum on public transport is by bus. There is a local bus that runs directly from the south exit of Mitaka Station every twenty minutes.
Taxi/Uber
You'll find a lot of taxis in Japan and it's possible to hail one or use a taxi-hailing app like Uber.
You're not expected to tip your taxi or Uber driver like you are in other countries.
Ghibli Museum by Car
It is not recommended to travel to the Ghibli Museum by car as there are no parking facilities at the museum.
After arriving, you'll have to queue before you can enter. You'll have your tickets (and ID) checked while you're waiting to go in.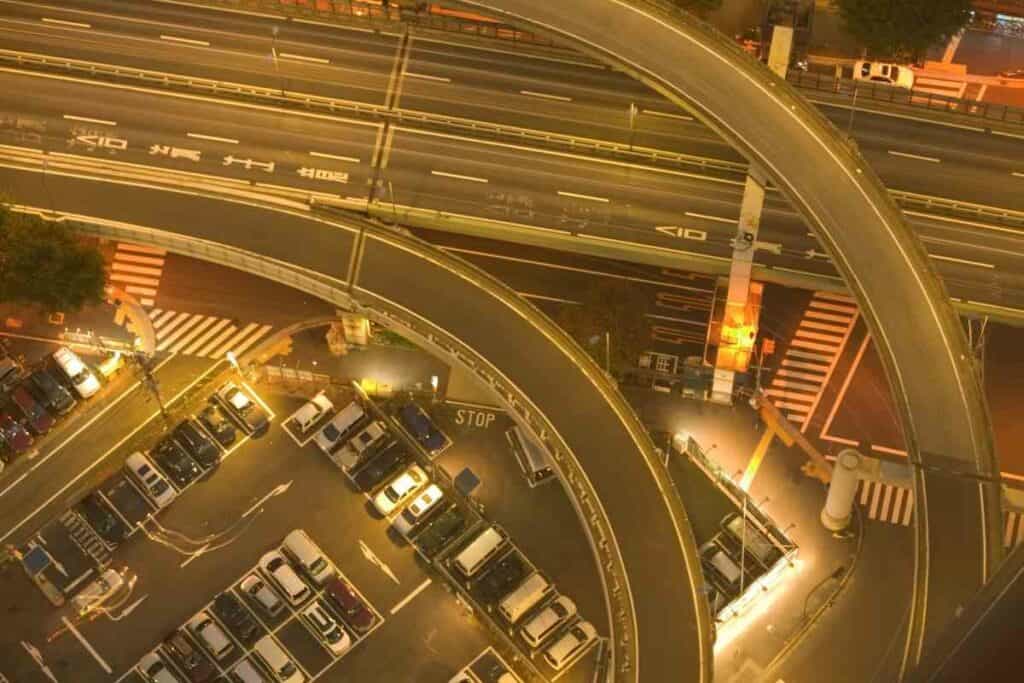 Combining other trips with a visit to the Ghibli Museum
 A visit to the Ghibli Museum can be combined with other activities in western Tokyo.
There are lots of interesting things in this area, including:
Visiting Inokashira Park and its pond. If you go in spring, you'll witness beautiful cherry blossom blooming all over the park. There are also festivals here in April and October.
Strolling through Kichijoji (and sampling the food and drink on offer).
Checking out the Nakano Broadway shopping district and its frenetic energy.
Checking out Shimokitazawa and Koenji's alternative scene with their cafes, record shops, and vintage stores.
FAQs
Can you take photos in the Ghibli Museum?
No. There are no photos allowed. This is because the museum wants people to be fully immersed in their visit, without distractions. It also adds to the mystery!
Is there wheelchair access?
Yes. Every aspect of the museum is wheelchair accessible, and you can even hire a wheelchair inside.
Does the Ghibli Museum have restrooms?
Yes, you'll find restrooms at the Ghibli Museum and they're all wheelchair-accessible too.
Does the Ghibli Museum have lockers?
Yes. You can use the coin-operated lockers on-site to store your things during your visit.
Is there anywhere to get food inside the Ghibli Museum?
Yes, there is a café and a food truck selling hot dogs.
How long do people usually spend at the Ghibli Museum?
It's entirely up to the individual. To fully appreciate the museum, you need at least two hours.
Final thoughts – is it worth visiting the Ghibli Museum?
If you're not sure about getting tickets either because you're worried about actually being able to get them, this makes it all the more exciting.
Getting hold of these hard-to-get tickets is an excitement in itself!
If you're visiting Tokyo, you really should visit this museum as it's considered one of the top attractions in the city – even if you're not an anime fan!
Also Read