Fukuoka is Japan's sixth-largest city and is the capital of the Fukuoka Prefecture.
This famous city sprawls along Hakata Bay and has been an important port city for centuries.
In fact, Fukuoka is often considered as the gateway to Japan since it is the closest point to mainland Asia.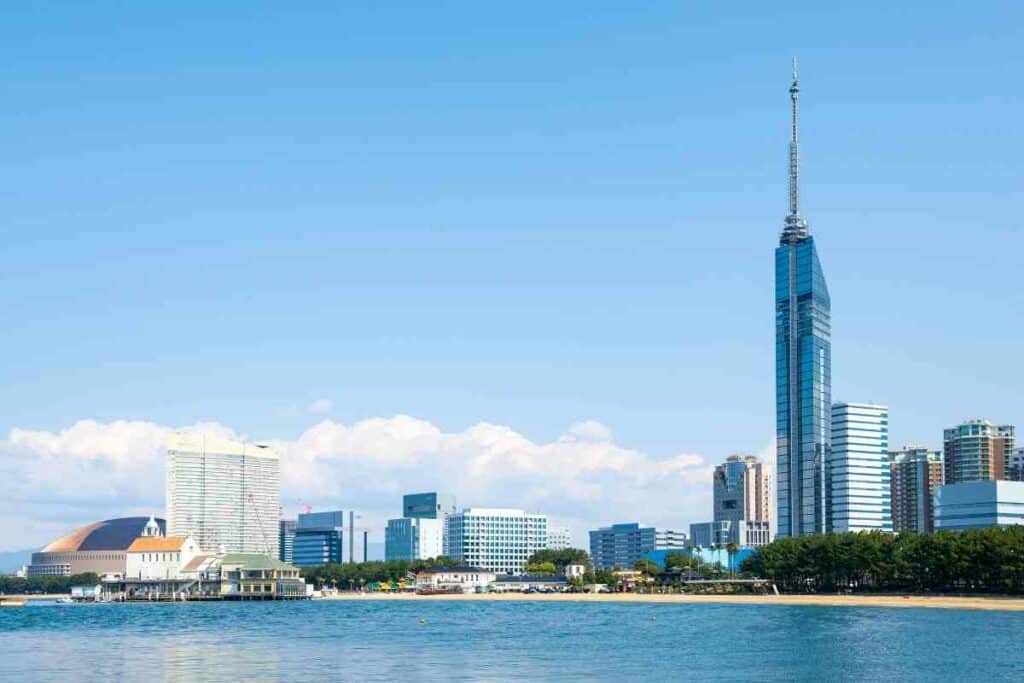 Although the area has been inhabited since Jomon times, Fukuoka rose to prominence through the Yamato period.
Did You Know? Because of this city's distance from other major cities, it has developed a unique dialect and culture that exists to this day. The city covers 132 square miles and has 1.6 million inhabitants (2.6 million in the metropolitan area).
Fukuoka in history
The modern city of Fukuoka started being formed in 1889, encompassing the neighboring Hakata.
Before this, there is evidence that the city was involved in exchanges from mainland Asia dating back to the Old Stone Age.
There have been ancient texts found in the area that suggest this place was critical in Japan's founding as a country.
The first records of the city date to 57 AD.
Read next – 5 Best Hotels in Fukuoka
Fukuoka in the modern-day
Fukuoka is a relaxed, friendly, and spacious city, which has a great balance between nature and urban living.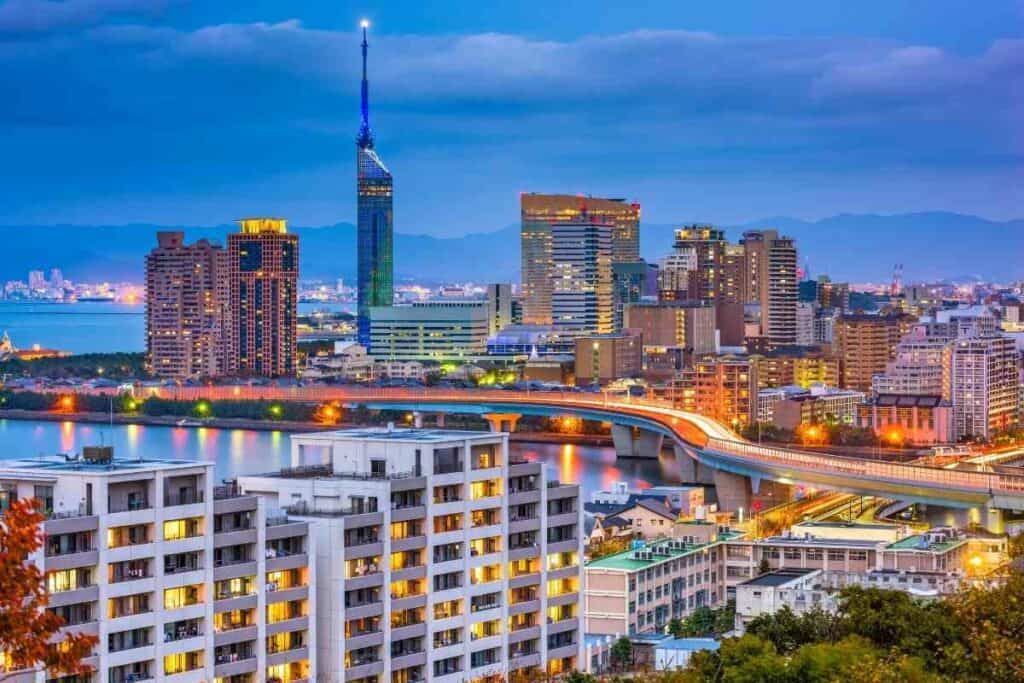 There is a great nightlife, fantastic public transport accompanied by science shrines, beaches, rivers, and parks.
So why is Fukuoka famous?
Here are five main reasons.
1. Parks in Fukuoka
There are many scenic parks in this city.
One of the best is Ohori Park.
This park was originally the moat of Fukuoka Castle, and it was opened as a park around 100 years ago.
The park has a pond with three small islands and interconnecting bridges. There are many paths and so lots of people enjoy strolling, walking, cycling, and jogging here.
Momochi Seaside Park
This is a beautiful seaside park that is north of the Fukuoka Tower.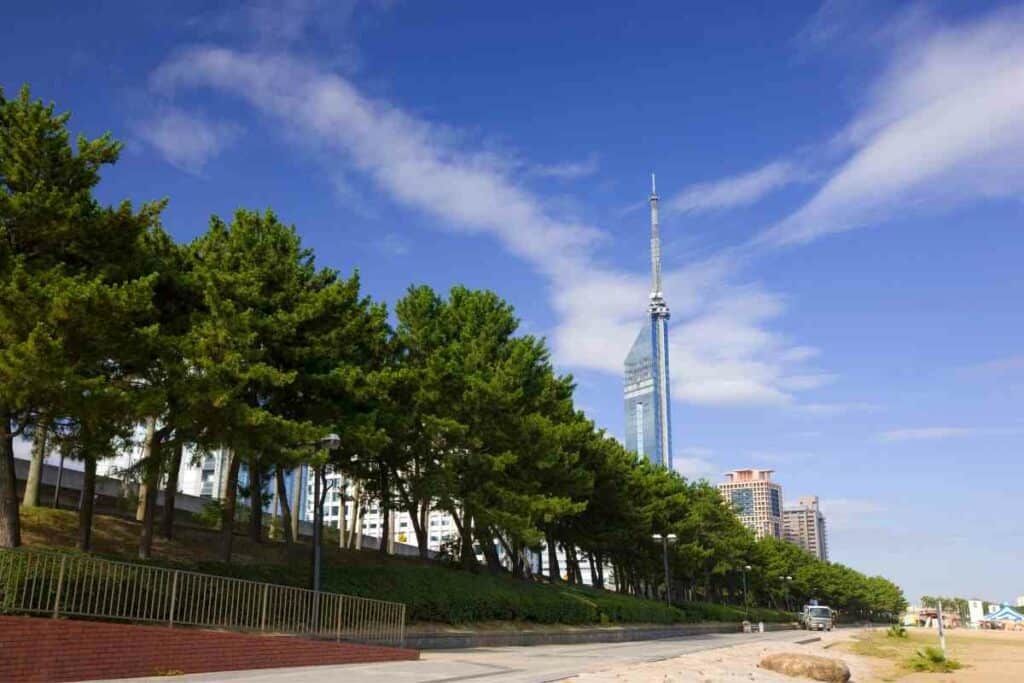 It is close to lots of landmarks, including the public museum and public library.
The beach is artificial and has restaurants and even a bridal shop in the center.
You can play beach sports like soccer and volleyball, or go jet skiing.
This is a popular area for going on dates.
Uminonakamichi Seaside Park
This is another popular park in Fukuoka.
It is located on the sandbar terrain between the Genkai Sea and Hakata Bay.
This is a national park sprawling six kilometers and covering around 350 hectares.
Depending on the season, you'll enjoy wonderful displays of flowers and the park is also awash with kangaroos and capybaras in its Animal Forest.
2. Shrines in Fukuoka
Arguably the most scenic shrine is the Dazaifu Tenmangu Shrine, which is home to beautiful plum blossoms in spring.
This shrine is dedicated to Sugawara Michizane who was a poet, politician, and scholar in the Heian Period.
In the shrine, there is a pond that forms the shape of the heart in characters. The bridges connect the land and represent the present, past, and the future.
Kudisha Shrine
In the Nakasu-Kawabata area of Fukuoka is the Kudisha Shrine.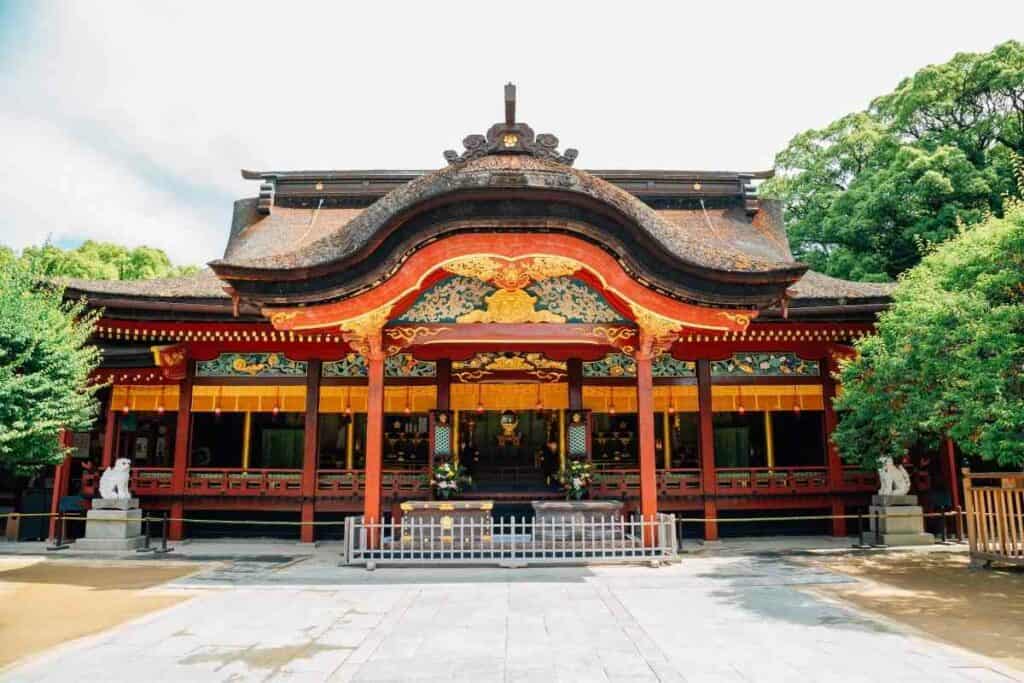 It is often referred to as Okushida-san and is dedicated to the gods of:
Susannowo-no-mikoto
Amatersau-omikami
and Ohatanushi-no-mikoto
Kashii Gu Shrine
This shrine is over 1800 years old and was built to enshrine the Emperor and Empress.
It has an original style that has been referred to as Kashii style as both the ends of the roof stick out.
Here, you'll also see a guardian dog-lion called Komainu at this shrine.
It has a solid body, a thick head, and a very small head.
The expression is somewhat intimidating, but it's what you'd expect from something that's supposed to keep away evil spirits from this sacred place.
3. Famous Foods in Fukuoka
Fukuoka is famous for many dishes and eating out is cheaper here than in other areas of Japan.
Lots of people say that Fukuoka is home to the best ramen.
---
In Fact: Two international ramen chains called Ippudo and Ichiran both originated in Fukuoka.
---
Hakata Ramen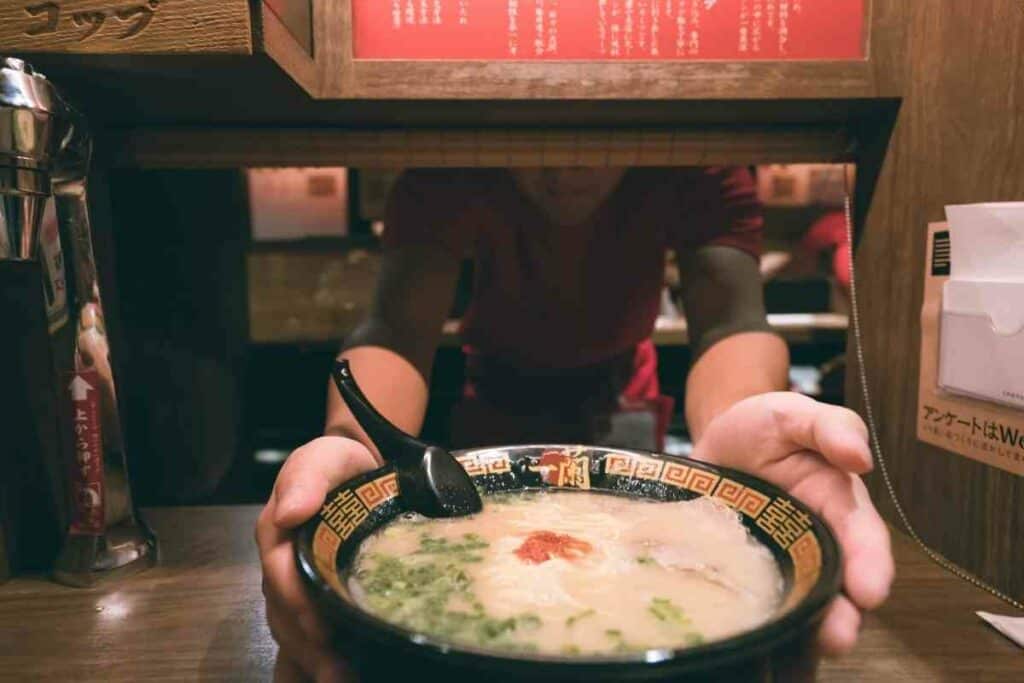 One of the most famous Fukuoka dishes is Hakata Ramen.
This is a tasty soup with a rich pork bone broth and thin noodles.
The dish gets its name from an area of the city, which used to be a separate city.
Karashi Mentaiko
Another specialty is Karashi mentaiko.
This dish is made up of pollack roe that has been marinated in red peppers. It's enjoyed with pasta or rice.
The roe is soaked in chili but the dish isn't particularly spices. This soaking gives a certain rich umami flavor.
Motsunabe, Yatai, Tonkotsu & More
Motsunabe is a pork or beef offal hotpot stew that's enjoyed all year round.
The stock is usually made from soy sauce, miso, kelp, or katsuo.
One thing not to be missed food-wise in Fukuoka is the numerous street food stalls or yatai, of which there are about 150.
You'll find them along the riverfront, in parks, and along roads.
Because Yatai are small, they're a very intimate experience and you're really close to the people cooking your food, which is great.
These food stands are concentrated mainly in the Nagahama, Nakasu, and Tenjin areas of the city.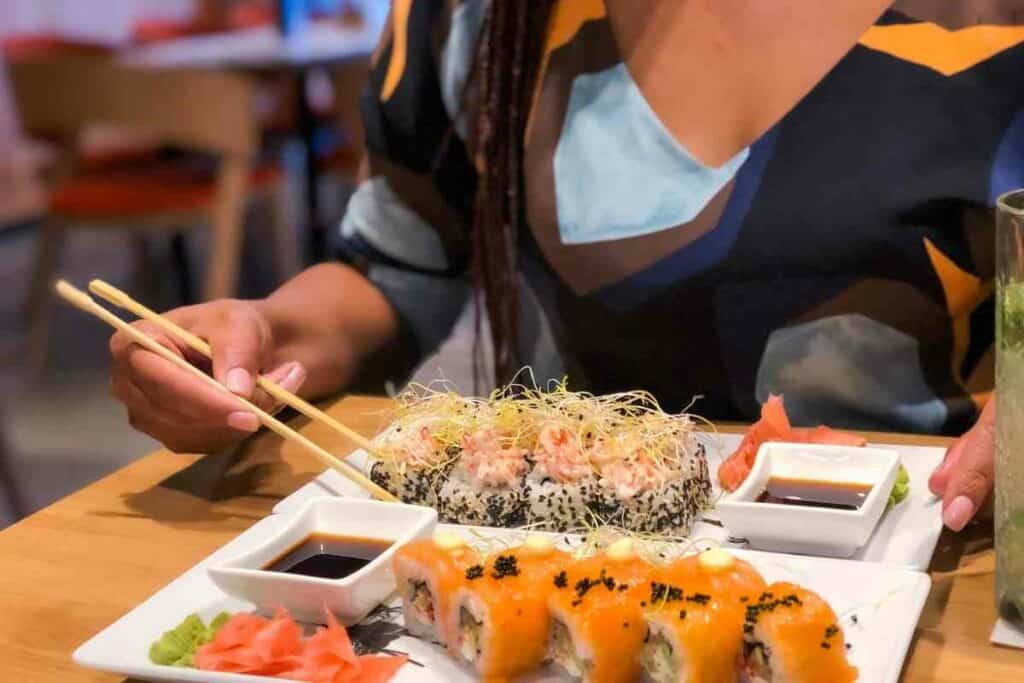 They offer a huge range of foods and drinks including:
the famous pork-bone broth called tonkotsu ramen
tempura
gyoza (Chinese dumplings)
and oden (foods in hot broth)
Fukuoka is also famous for its sushi, thanks to its location on the coast.
The fish market in Nagahama contains a huge variety of freshly-caught fish from the East China Sea, the Sea of Japan, and the Genkai Sea.
The fish from the Genkai Sea is particularly superb for sushi as there is a lot of lean meat.
4. Culture in Fukuoka
There are lots of popular museums in the city.
These include the Fukuouka Asian Art Museum, the Fukuoka City Museum, and the Fukuoka Art Museum. The latter is situated just by Ohori Park.
It is home to modern paintings including works from the likes of Salvador Dalí and Joan Miró, and also houses some ancient sculptures.
In terms of other cultural aspects of the city, Fukuoka has been coined the "Retail City".
There are many big brand fashion boutiques and shoppers even travel from mainland Asia to buy these top Japanese brands.
If you're looking for local boutiques, the Imaizumi area of the city is great. Here, you'll find handmade items including stationery, and clothing.
Hakata Traditional Craft and Design Museum
This is open between 9:30 am and 5:30 pm every day except Monday.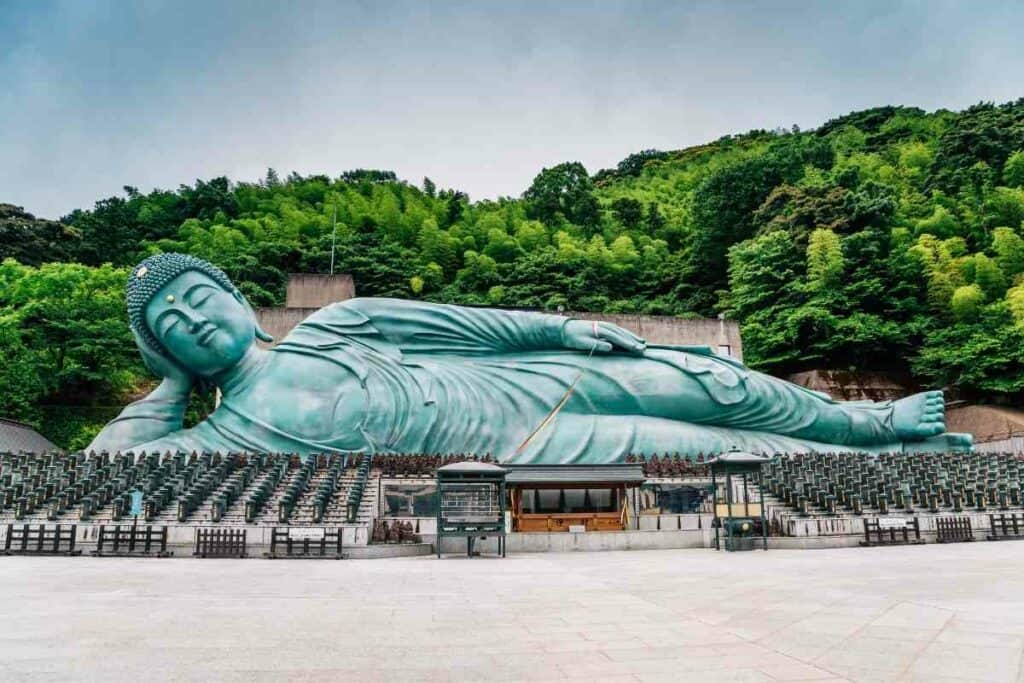 It is free to enter. This museum is a place where everyone can enjoy the traditions of Hakata and Fukuoka.
It depicts the traditional crafts of the area.
Hakata Gion Yamakasa
If you happen to be in Fukuoka for the first half of July, you can't miss the Hakata Gion Yamakasa festival.
It has been going for 750 years and is a real feast for your eyes.
The festival originates after a Buddhist priest attempted to defeat a plague by scattering holy water on the streets of the city.
Now, the festival participants are splashed with water. The festival starts at around 5 am at sunrise.
5. Fukuoka Tourism
There is a big bus culture in Fukuoka and this is also great for tourism with Fukuoka's famous open-top bus.
Visitors can take a ride around Fukuoka's major tourist attractions as well as the areas of Momchi, Hakata, and Tenjin.
Hakata Sennon-no Mon
This is a welcome gate that leads visitors to the temple town area of Hakata.
Within, there are many remaining historical assets, though the gate itself was only completed in 2014.
The gate is made of wood and has four pillars, being reminiscent of medieval Hakata.
The wood was taken from a 1000-year-old camphor tree that was donated by the Dazaifu Tenmangu Shrine.  
This gate is five minutes on foot from the Gion subway station and is located on Jotenji Street.
Yame Central Tea Garden
If you travel inwards to Yame City, there's a huge swathe of tea fields that are home to the Yame Central Tea Garden or Yame Chuo Daichaen.
There are seventy hectares of fields that produce a fragrant, rich green tea that has been developed over centuries.
It is a high-class tea brand called Yame-cha.
The Fukuoka Tower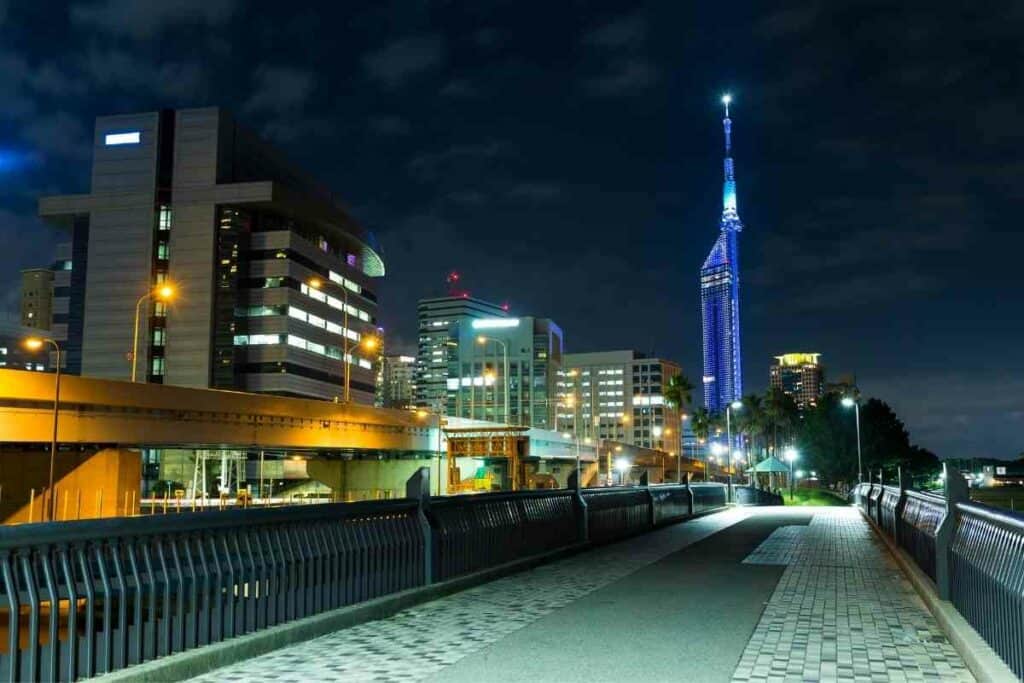 You can't miss this prominent tower as it stretches up high above the city offering views of the surrounding area.
You can visit between 9:30 am and 22:00. Also, there are illuminations in the evenings.
The top floor of the Fukuoka Tower is 123 meters above ground and there is an observation deck offering a 360-degree view of Fukuoka and Hakata Bay.
Final thoughts on why is Fukuoka famous?
It's safe to say that Japan's sixth-largest city has so much to offer.
For anyone wanting to know why Fukuoka is famous, you'll find many reasons.
This beautiful city has tons of parks, shrines, food, culture, and tourism to explore.
You can easily spend a couple of weeks exploring this city – and if you time it right and go in July, you get to experience its famous festival too!
Posts You Might Like