Situated in the westernmost part of Japan, Nagasaki is a large city known for its port and business center.
This beautiful, modern city has lots to offer tourists, including:
Mount Inasa
Megane Bridge
Kazagashira Park
the Dejima Museum of History
the Basilica of the Twenty-Six Holy Martyrs of Japan
and the Nagasaki Atomic Bomb Museum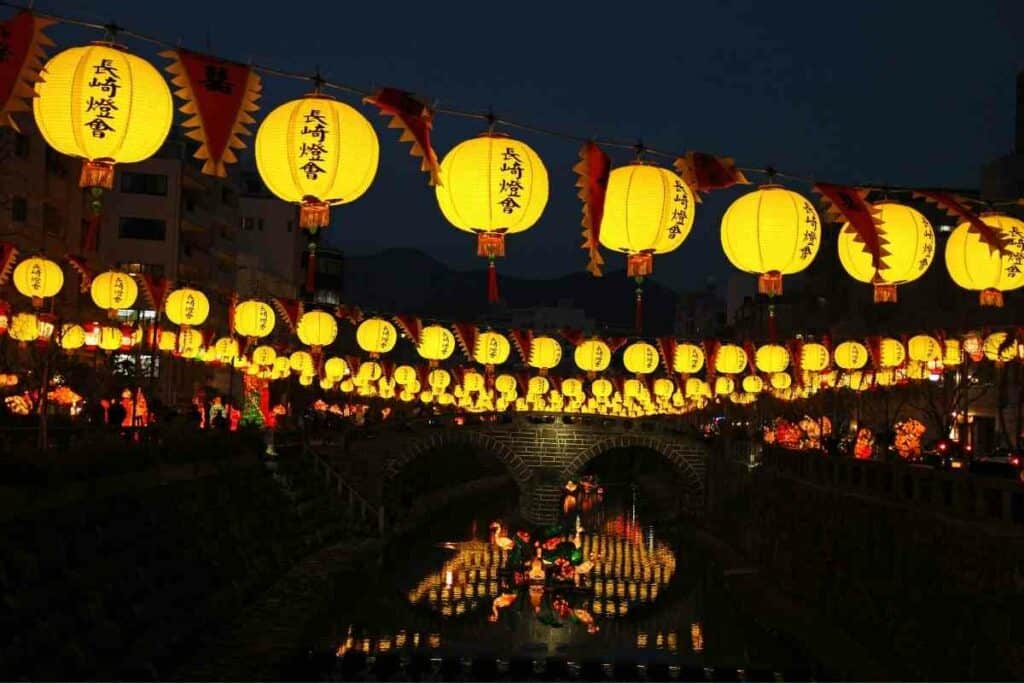 One major tourist attraction in the city, though, is the annual Nagasaki Lantern Festival. But what is it and why is it celebrated?
Let's find out.
The Nagasaki Lantern Festival
Occurring in early February, the Nagasaki Lantern Festival actually came about as some Chinese merchants wanted to have a Chinese New Year Celebration.
This small-scale celebration later took hold and became a fully-fledged festival in Winter 1994.
Nowadays – more than a million people visit Nagasaki during the festival. Over the two-week period, more than 15,000 lanterns light up Shinchi Chinatown in Nagasaki, as well as Chou Park, Hamanomachi, and other areas of Nagasaki.
This festival is rare in that it is one of the only times that China has such an influential role in a festival in Japan.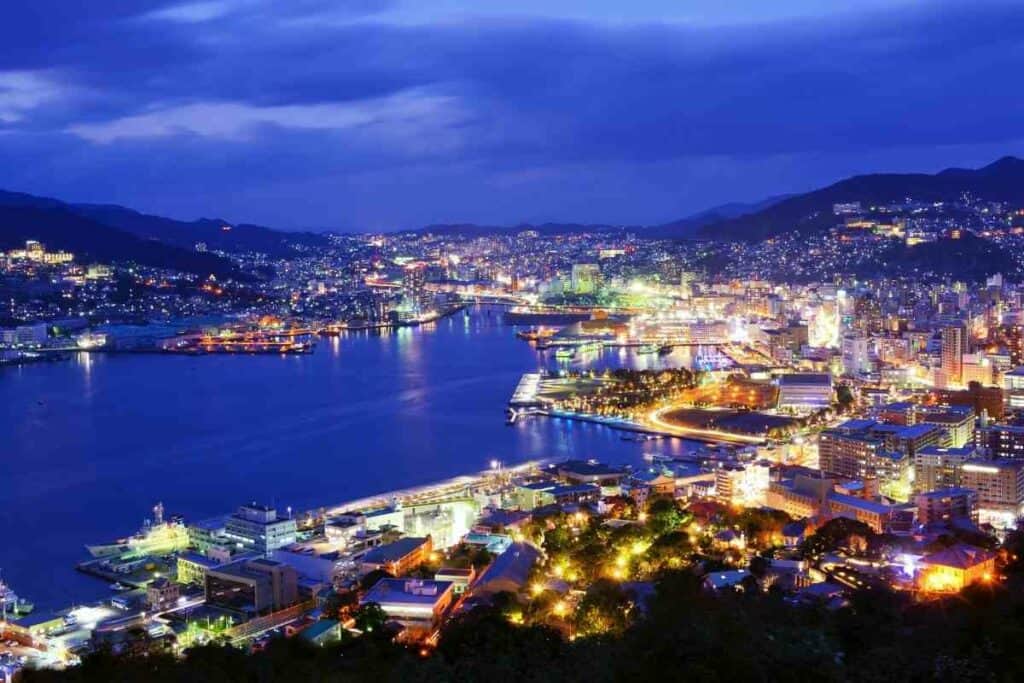 This includes huge zodiac characters measuring as much as eight meters in height.
Most of the festivities are centered in Chuo Park and Minato Park.
Here, you'll see:
fireworks
lion dancing
acrobatics
and beauty contests
In addition to this is the Dragon Dance. For this, participants adorn Chinese traditional dress and call to the clouds asking for rain.
The Mazu Procession
Watching the Mazu Process, a parade that was originally carried out by Chinese crews who had just entered the Nagasaki port is like going back to the Edo period.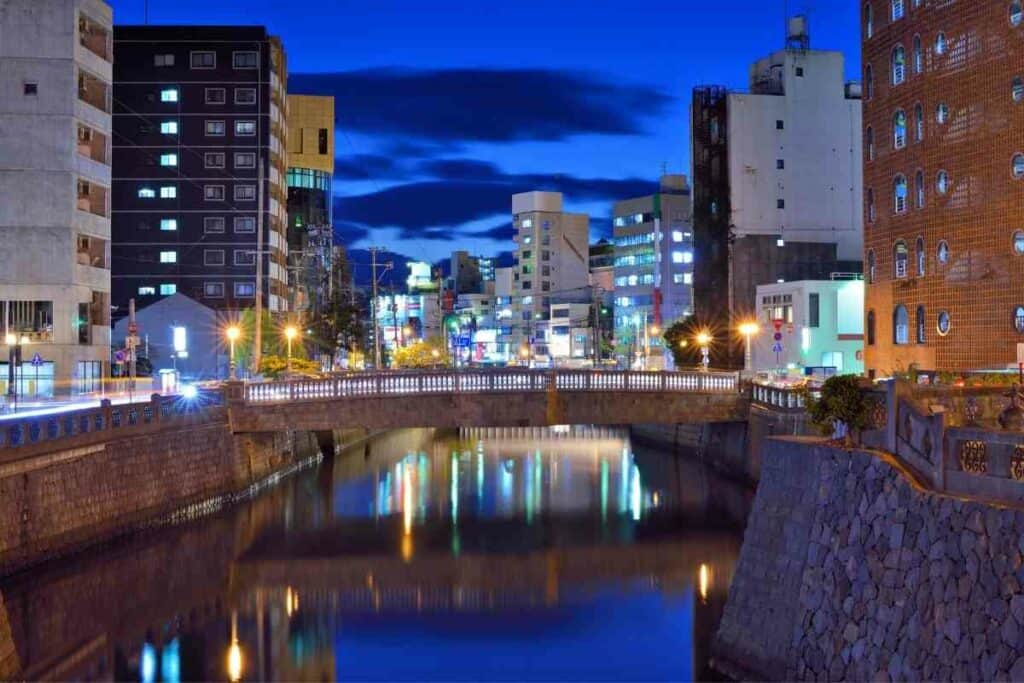 The Emperor's Parade, on the other hand, is reminiscent of the era of the Qing dynasty as you'll see an Empress and an Emperor palanquin hoisted along the street with lots of participants and flag bearers wearing traditional Chinese dress.
These parades usually begin in Chuo Park from 2 o'clock and go on to Minato Park.
Where is the best place to see the Nagasaki Lantern Festival?
In total, there are eight different sites that display lanterns in the city. If it's not possible to visit them all, the three best places are the two parks (Chuo Park and Minato Park) and Chinatown.
Despite being the best three places, you'll pay nothing to get into these areas and see the sights.
Minato Park
Minato Park has one of the best lantern displays in Nagasaki.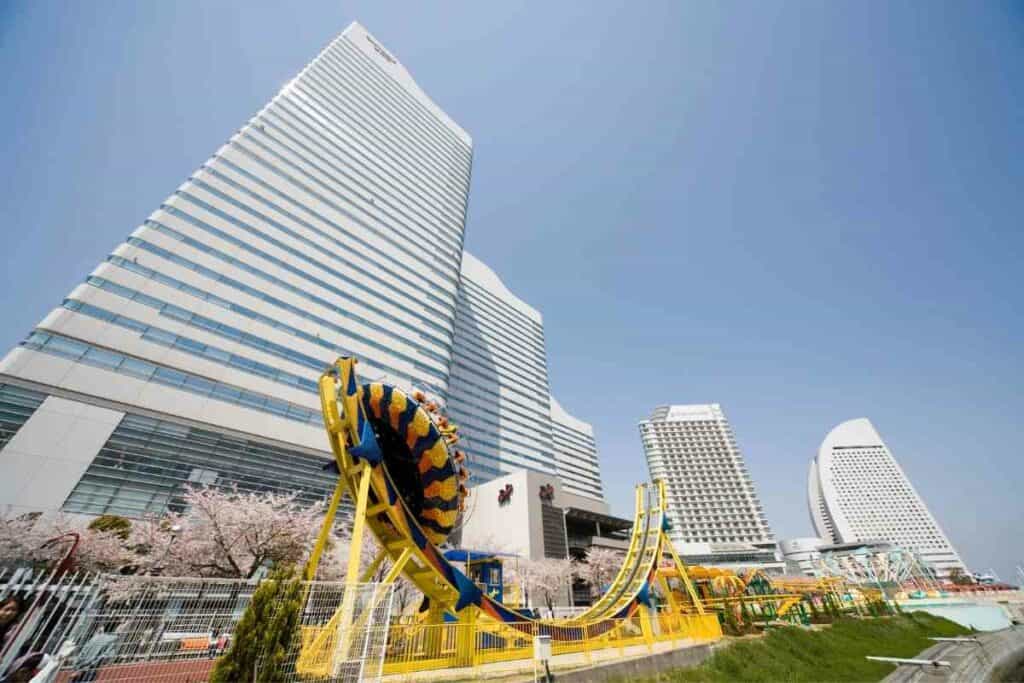 As you approach the gates, they'll take your breath away.
Here, you'll also have to enter the park passing two intimidating and enormous warriors.
The park's interior is awash with lanterns, and you'll see other marvelous visions too, including lion stances.
After taking in the dances and the lanterns, why not head to a shrine?
These have roasted pigs' heads as offerings to the gods – perhaps one to avoid if you're vegetarian!
Chinatown
Nagasaki's Chinatown is famous and is located adjacent to Minato Park. Here, you'll find strings of endless red lanterns overhead.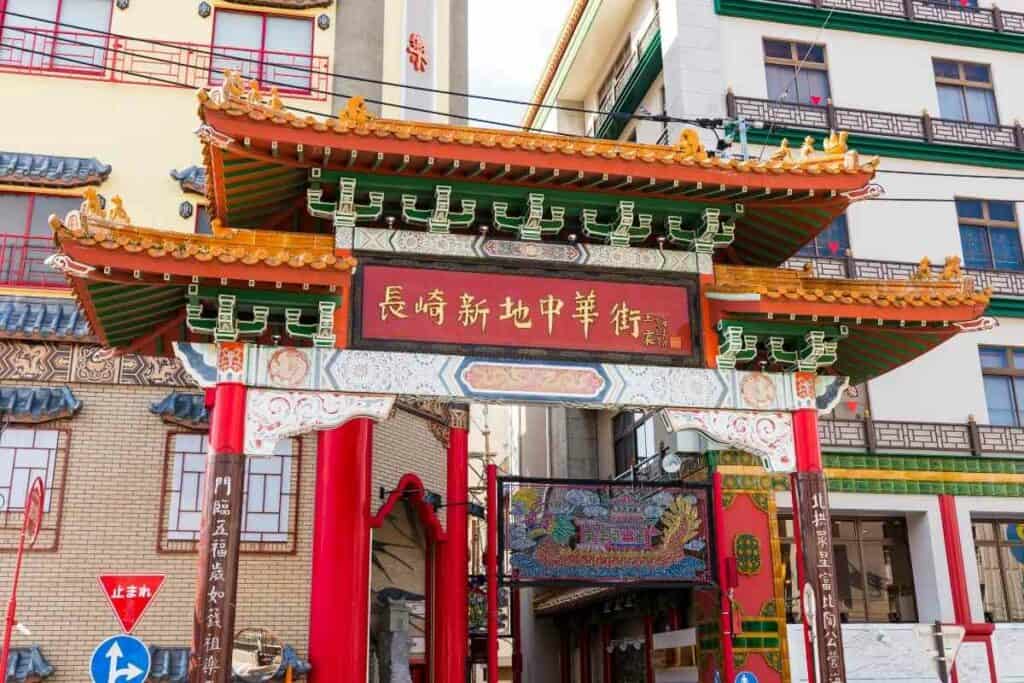 It's crowded here but you can still move around and visit the snack stalls, restaurants, and shops with ease.
For Example – If you want souvenirs, Chinatown is the place to go. It's also great for tasty snacks and authentic Chinese cuisine.
It's one of the most genuine Chinatowns in Japan and the atmosphere is fantastic during the Nagasaki Lantern Festival.
Chuo Park
Chuo Park is just as charming as Minato Park, though it's a little smaller.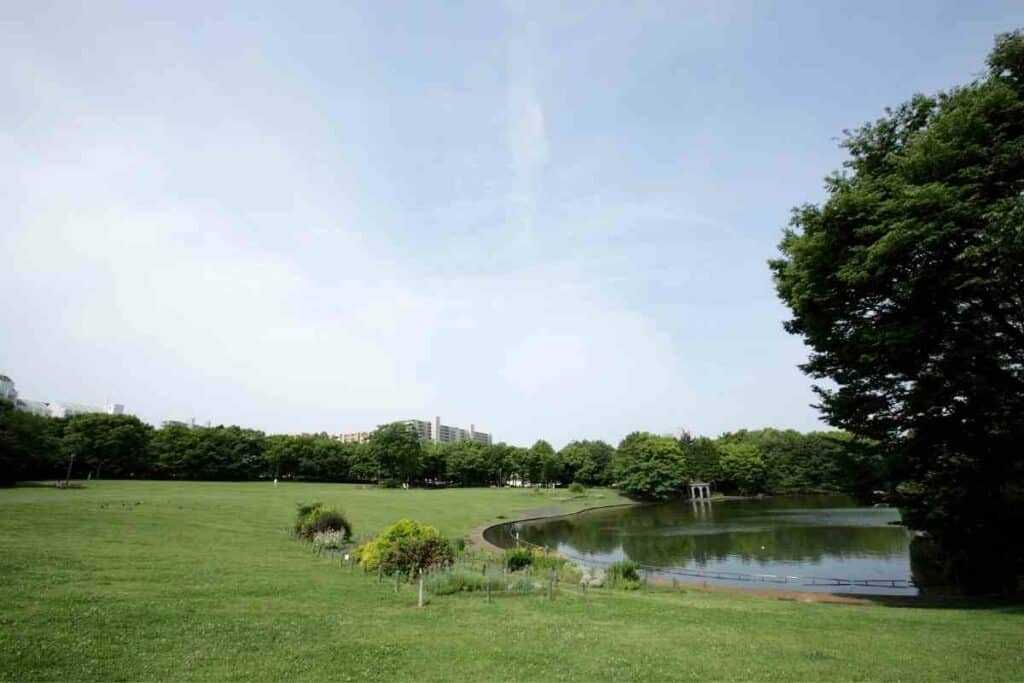 Here you'll witness displays of fire-breathing dragons, Chinese goddesses, and writhing snakes.
At Chuo Park, there is also an impressive stage that is capable of entertaining tens of thousands of people. It's on this stage where some of the greatest Chinese performers come.
You'll hear traditional music and see captivating acrobats and contortionists.
How do you get to the Nagasaki Lantern Festival?
If you're coming by train, you can easily navigate around the city on foot or by tram from Nagasaki Station.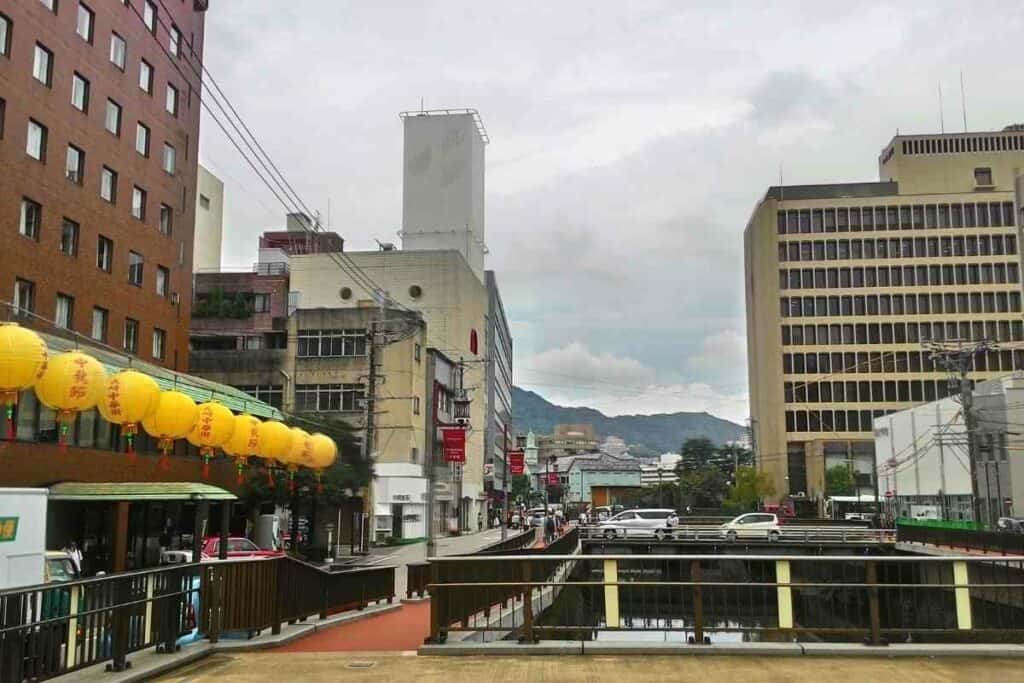 Most of the best tourist attractions are within one kilometer of the station, including Chinatown.
The train station usually has copies of the festival program.
This has loads of information and is understandable even if your Japanese isn't good. The station will also have lanterns too.
If you do want to take the tram, there are four lines, which provide access to the main attractions in Nagasaki.
The trams run between 6 am and 11 pm and have a flat fare.
For Chinatown – You'll need to get off at Tsukimachi, which is on line 1 and line 5.
Why does the Nagasaki Lantern Festival change dates each year?
Because the festival celebrates the first fifteen days of the lunar new year in China, the dates change each year as per the phases of the moon.
It's always around the first two weeks of February, however.
What else is Nagasaki Famous for?
Historically, Nagasaki was the only port in Japan that did trade with the Dutch and Portuguese from the 16th to the 19th centuries.
Nagasaki is also home to many hidden Christian Sites that have made their way onto the UNESCO World Heritage List.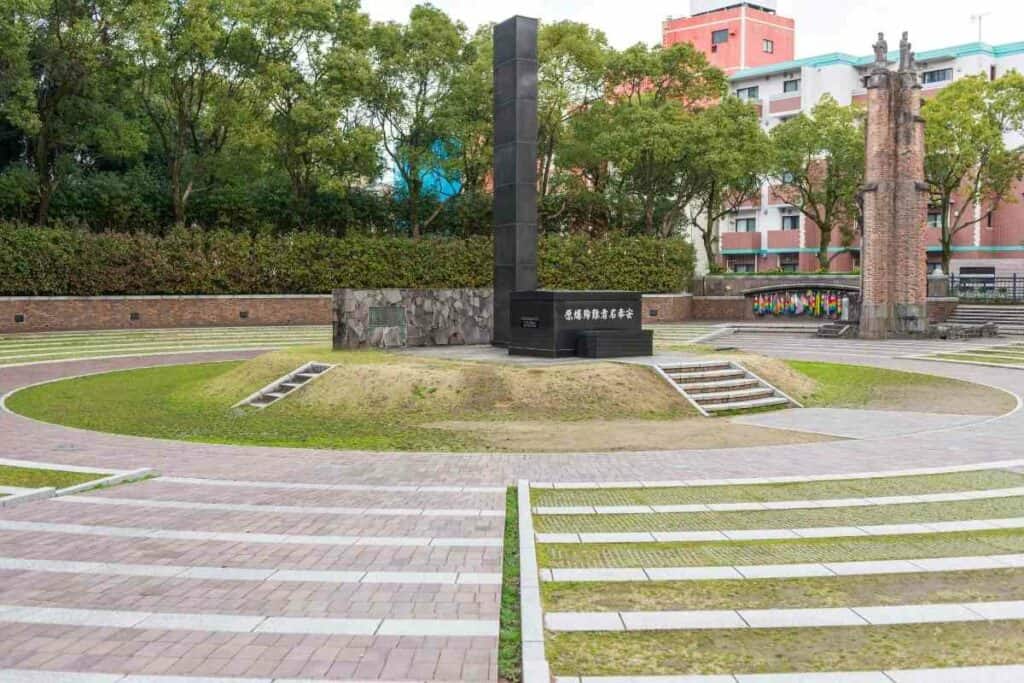 These include the remains of Hara Castle, Sakitsu Village (Amakusa), the remains of Christian villages on Kuroshima Island, and Oura Cathedral, among others.
In More Recent Times – Nagasaki has become much more widely known after receiving an atomic bomb during World War II.
On the 9th of August 1945, there were around 263,000 inhabitants in Nagasaki with 10,000 being non-natives. The bomb was a plutonium bomb that went by the code name of "Fat Man".
This atomic bomb was destined first for Kokura, with Nagasaki being the second choice in case of cloudy weather.
The bomb was dropped onto Nagasaki's Urakami Valley. The bomb exploded at 1,800ft, some 53 seconds after being released. Around 35,000 people died.
Final Thoughts
For Japanese nationals and visitors alike, the Nagasaki Lantern Festival is an experience not to be missed.
With two weeks of celebrations, there's certainly enough time to see lots of lanterns and performances, and sample all of the delicious food on offer too!
You Might Also Read