Situated on the mainland (Honshū or Hondo – 本 土) and just over twelve-thousand feet high, stands the tallest mountain in Japan: Mount Fuji.
At the northernmost foot of this striking stratovolcano, sits an area entitled: Fuji Five Lakes, comprised of lakes:
Saiko
Yamanakako
Kawaguchiko
Motosuko
and Shōjiko
With visitors reaching high numbers in climbing season, July through August, this national treasure, and emblem of Japanese culture, attracts tourists from all over the globe.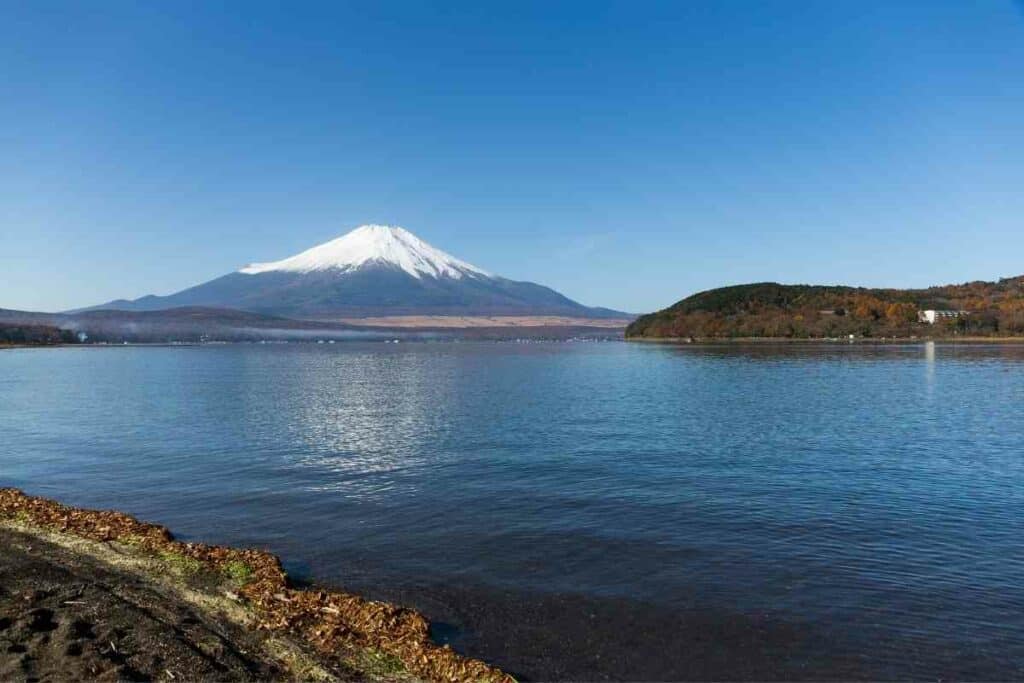 Its five lakes formed centuries in the past – following hundreds of thousands of years of volcanic activity – which reportedly ended in the 18th century.
However, some claim that this mighty mountain is still very much active today.
Why Go to Fujigoko?
Teeming with life and surrounding the heart of Japanese culture, Fuji Five Lakes is a tourism hotspot that is bursting with a multitude of interesting and exciting things to do.
As in many parts of Asia, there are a vast number of world and natural heritage sites to visit around Mt. Fuji.
In fact, most of the area was designated a World Heritage site by UNESCO in 2013.
The lakes themselves are places of pure pulchritude and are dotted with locations of spiritual and historical significance, such as religious shrines and places of worship.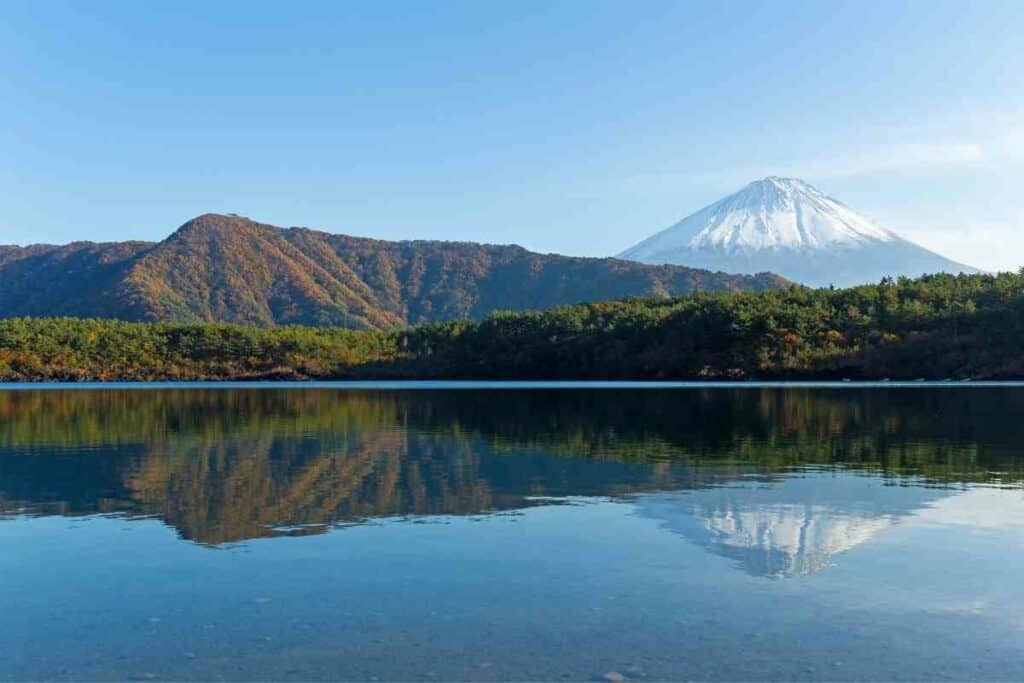 View magnificent lava tree molds, visit naturally steaming volcanic hot springs or go fishing on one Fuji's five lakes.
---
What to Expect: Here, we will highlight some of the best places to visit and give you a glimpse into this spiritually infused wonder of the eastern world.  
---
Local Parks
Yagisaki and Oishi parks are in close proximity.
Beautiful fields of lavender pervade the areas and are also places perfect for photography, exercise and walking the dog.
The view of Mt. Fuji is sublime, to say the least. Located in the park is the Kawaguchiko Muse-Kan, a museum of the work of artist Yuki Atae – a well-known doll craftsman in Japan – which was opened in the summer of 1993.
During the festival season, enjoy the smooth sounds of jazz bands and fantastic firework displays.
Panoramic views are also shared with Oishi park, similarly stunning and home to Kawaguchiko Natural Living Centre.
Stop for a coffee in their welcoming café or join a workshop, using berries to create your very own jam.
There is even a field of blueberries within just a couple of kilometers, from which you can pick your own ingredients before you go.
Itchiku Kubota Art Museum is also close by, along with a Music Forest Museum where you can be serenaded by live music box events.
The park is also lit by night, with lavish light displays so that you can enjoy a stroll in the evening.   
Lake Kawaguchiko
The epicentre of the Fujigoko area, lake Kawaguchiko is the perfect place to stay if you wish to tour much of Fujisan.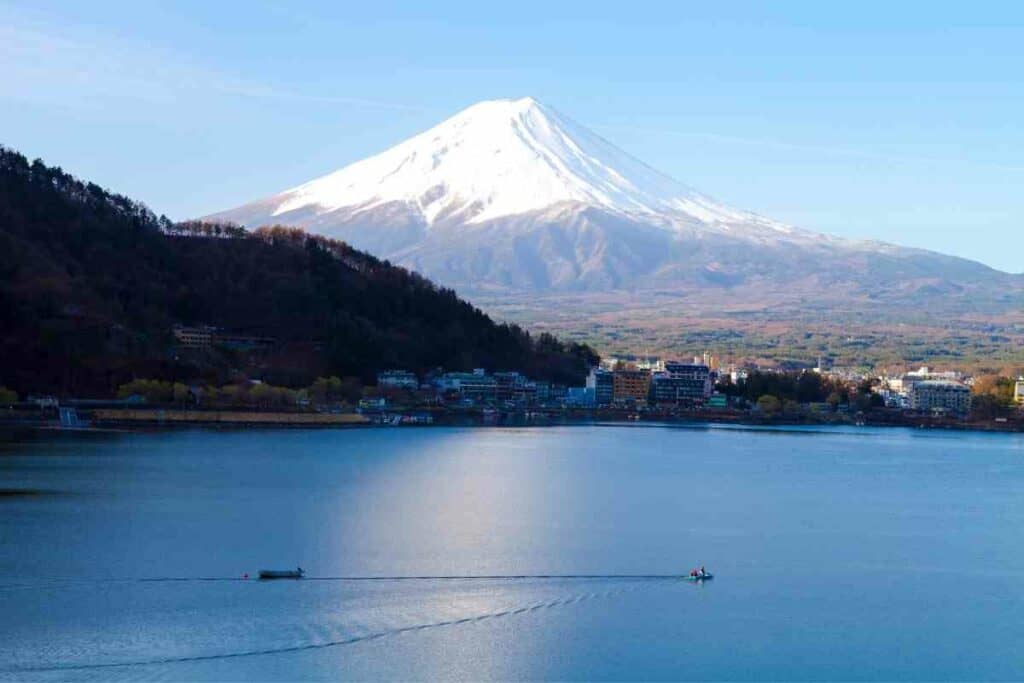 In the vicinity, Ohashi Bridge provides breath-taking views but the options for activities, as with most of the lakes, are practically endless.
Enjoy – Try your hand at rowing, windsurfing, aforementioned fishing or even yachting. Go hiking or cycling and you will also need your camera.
Even the views as reflected in the surface of the lakes' waters are worth a look. Photographers of all levels of experience would find this area a stunning subject of their work.
Visit in Spring and your eyes will be treated to a sea of the pinks of cherry blossoms in full bloom.
Local parks even host the Kawaguchiko Herb Festival, which attracts visitors from all over Japan, as well as the rest of the world, and is held annually from around the middle of June, until the end of the following month.
---
To Consider: Take a bus tour from around $80.00, a bike tour from $200.00, or splash out on a luxurious private tour in a chartered car for just over a thousand bucks!   
---
Lake Yamanakako
Largest of the five and in the direction of the rising sun, lake Yamanakako lies at an elevation of over 3,000 feet and is the third highest lake in the whole of Japan.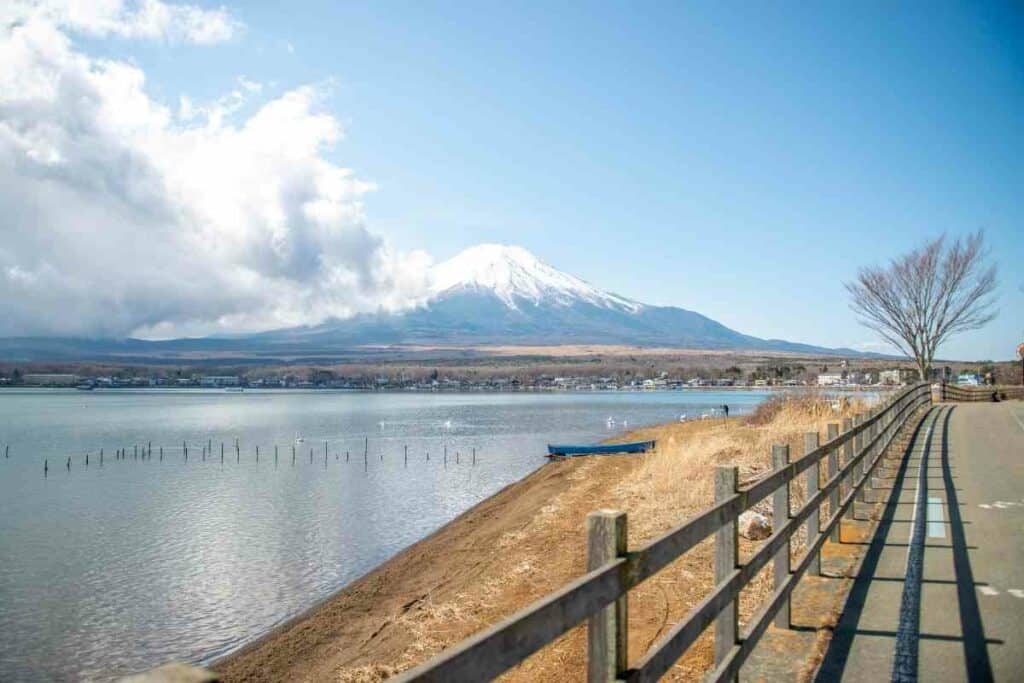 At such an altitude, the climate is slightly different, attracting more youth who take part in sports like:
tennis
windsurfing
water skiing
and boardsailing
Popular among sports clubs for training purposes, as well as those who enjoy hiking, the area also hosts two relaxing spas on the banks of the lake.
Though not unique to the area, spherical Marimo waterweeds were discovered in the mid-1950s, when they are only usually found in colder areas, and they are a sight to see on their own.
However, as with much of Japan, a plethora of flowers bloom around the lake, making the biodiversity vast and aesthetically pleasing.
Home to a collection of decadently luxurious hotels, lake Yamanakako is one to beat.
Lake Motosuko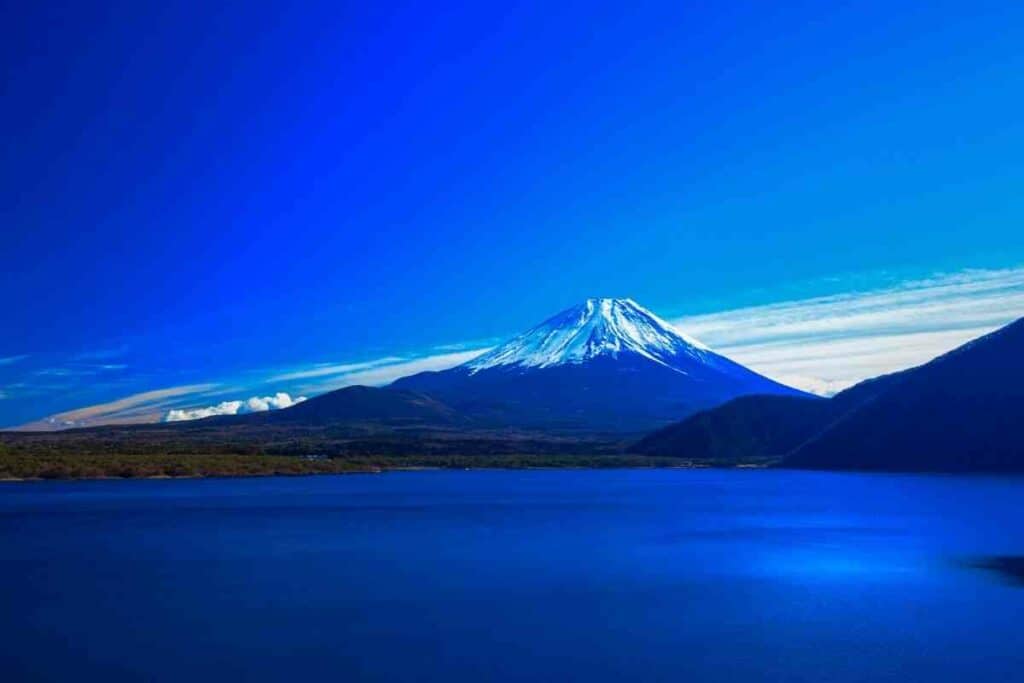 On the reverse of 1,000-yen bill, lies an image of the view of Mt. Fuji from the banks of lake Motosuko.
Iconic, its remarkably blue waters with a backdrop of the mountain are emblematic of Japanese culture.
As with most of the Yamanashi area, camping is popular around lake Motosuko – with a number of camp sites within the locality.
At a depth of little over 120 meters, it is not only the deepest but also the westernmost of the five.
A range of the usual water sports are available, along with scuba-diving, which is surprising considering it is fresh water.
Lake Saiko
Most tranquil of the five, lake Saiko is enveloped in a dense sea of trees.
Shrouded in superstition, its unusually blue waters are somewhat of a mystery.
Also known as 'The Lake of the Maiden', this area is another which is popular for camping, as a result of the fact that is quieter and has had Aokigahara Jukai forest at its fingertips for hundreds of years.
Aokigahara forest (Sea of Trees) – renowned for its popularity as the second most frequent place in the world to take your own life and made more prominent by the publication of Seichō Matsumoto's novel: Kuroi Jukai (The Black Sea of Trees, 2008).
Harrowingly, more than seventy bodies are discovered in the forest on an annual basis. It was also the featured setting of the movie: The Forest (2016) – starring Game of Thrones' Natalie Dormer in the leading role.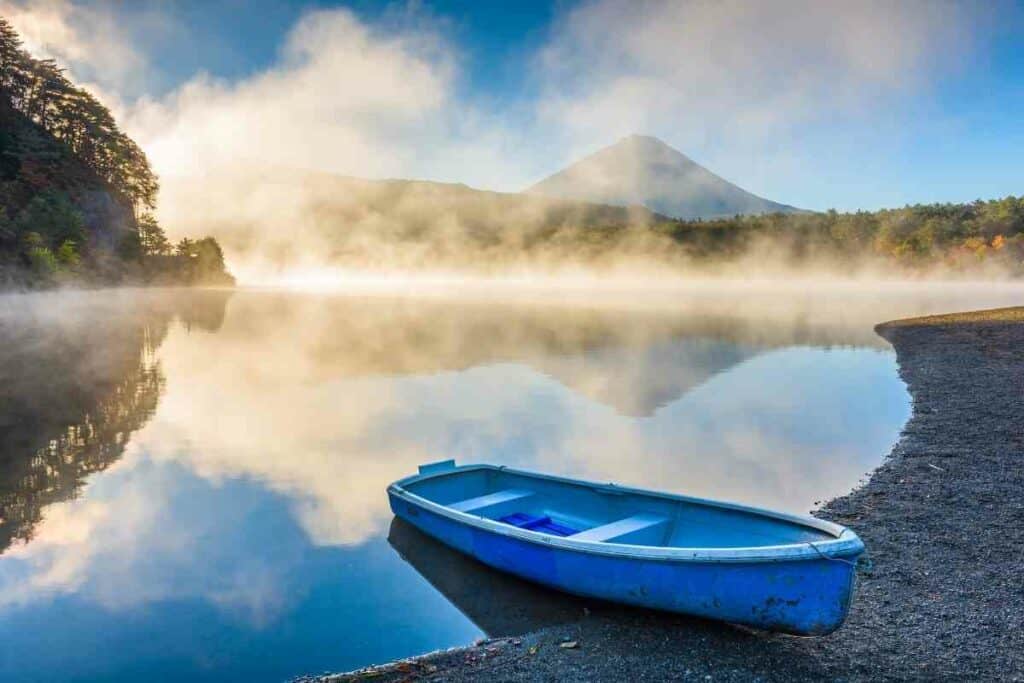 A little morbid, but many would argue an interesting if not harrowing place to visit.
But it is not all doom and gloom…you can also visit the famous Fujiten Snow Resort for some skiing or snowboarding.
With easy access from Tokyo, this is an incredibly popular resort where you can enjoy snow sports in the shadow of Mt. Fuji.
---
Even Better: There is even Chibiko Island for the little ones. With snow all-year-round, even in the Summer you can drift Mt. Fuji's snows on a speeding snowmobile at Fuji Subaru Land!  
---
Lake Shojiko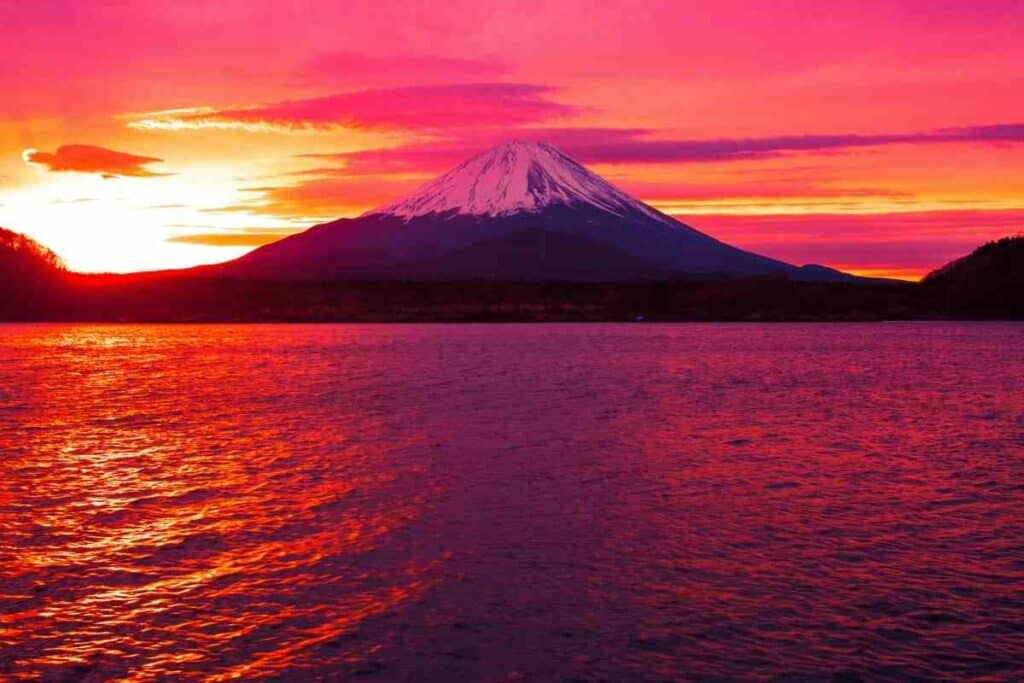 Smallest and providing the most uninterrupted views, Shojiko has a visually rewarding panorama platform, within hiking distance, from which you can see the mountain in ways you will fail to see it in any other place previously mentioned.
This is the reason the platform is known as 'Kodaki Fuji Viewpoint', the first two words meaning: 'Fuji cradling a child'.
Mt. Omuro, which you can observe along with more distant views of Aokigahara, can also be seen as part of this incredible vista.
With high levels of plankton, the lake's emerald waters are brimming with life, including a multitude of fish species and amphibians; most prominently, the Japanese Crucian Carp at certain times of the year.
Popular for canoeing, Lake Shojiko with its unique qualities is must-see, if you are visiting Fuji Five Lakes.
Fuji-Q Highland Theme Park
Located in the Fuji Five Lakes area, Fuji-Q is a theme park boasting two of the world's most extreme rollercoasters.
Frequenting the Guiness Book of Records, many rides are unrivalled – along with its bloodcurdling, scream-inducing Haunted Hospital attraction and the terrifying 'Labyrinth of Fear'.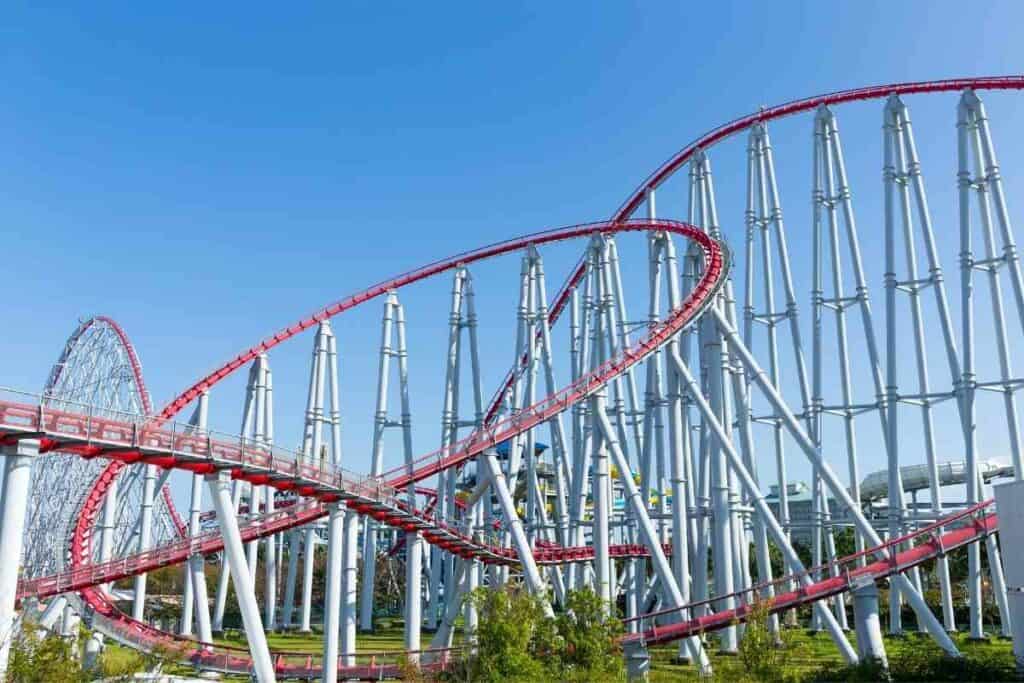 Fujiyama, Fuji-Q's highest rollercoaster has a stomach-lifting slope of 79 meters.
Takabisha is the steepest in the world, with a drop at an angle of a heart-stopping 121 degrees!
Dododonpa pulls at your face with 3.3gs as the fourth fastest in the world.
---
You'll Love It: Home to both hotel and spa, as well as delightful attractions for children of all ages, Fuji-Q should be part of anyone's itinerary.
---
Funatsu & Narusawas' Lava Tree Molds
In 864AD a colossal eruption of Mt. Fuji formed hundreds of lava tree mold caves, in both of these areas.
Situated on the Ken-Marubi lava flow lies Kawaguchiko Field Center, where over a hundred caves have formed which are unique to a limited number of places worldwide.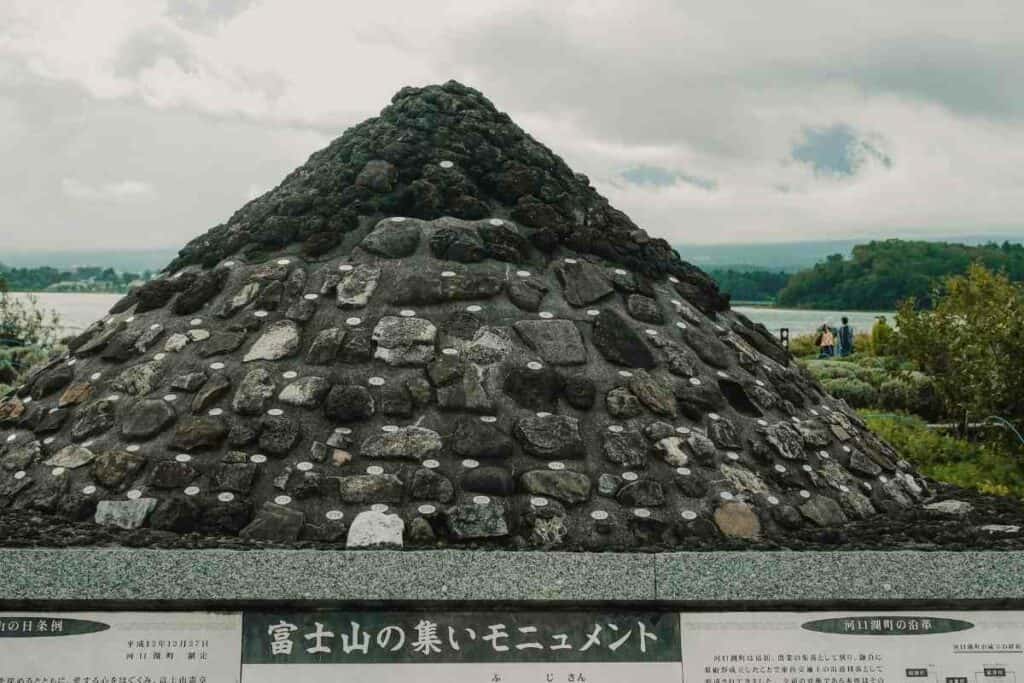 Hollow, lava-coated trees formed small, black forests which have been preserved for over two thousand years.
These astonishing sites are surely worth a visit.       
Final Thoughts
With so much to choose from, it is impossible to fit in all the cultural experiences, relaxing pleasures and adventures awaiting you at Fuji Five Lakes, here.
Whether you want to immerse yourself in Japanese culture, visiting an authentic onsen, or you decide to take the thrilling path of an adrenaline junkie on one of the world's fastest theme park rides, there is something for everyone in Fujigoko.
Try your hand at various sports, from Tennis to Snowboarding; from Jet Skiing to Scuba Diving.
Visit the spooky Saiko Bat Cave, where you will feel warm in the depths of Winter, or the ice caves of Narusawa where, in Summer, you will observe icicles still forming.
No matter what you decide to add to your itinerary, one thing is for sure: you will definitely need to pack that camera…
You May Also Like