The tenugui towel is a staple of every Japanese household. After all the word tenugui  (手拭い)literally means 'hand' 'wipe'.
These towels are put in the hours as hand towels, cleaning rags, makeshift hats, head ties, and aprons.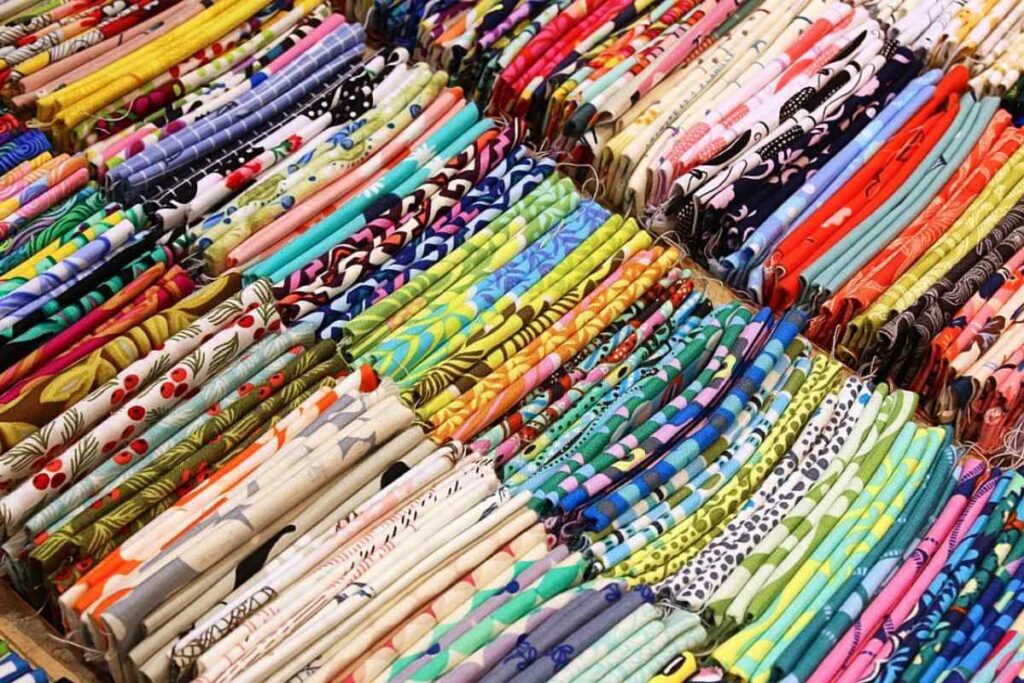 Their interesting block print designs also make great wall hangings.
So take a look at these 10 very cool tenugui towels including a few you can make your own!
10 Cool Tenugui Towels
You'll want a pile of these traditional Japanese hand towels in your home when you see these designs.
I love that tenugui are lightweight and perfect for travel as they dry easily.
09/15/2023 08:32 am GMT
So take a look at these great tenugui designs to find one that you'll love:
10. Engawa Tenugi by Japan Objects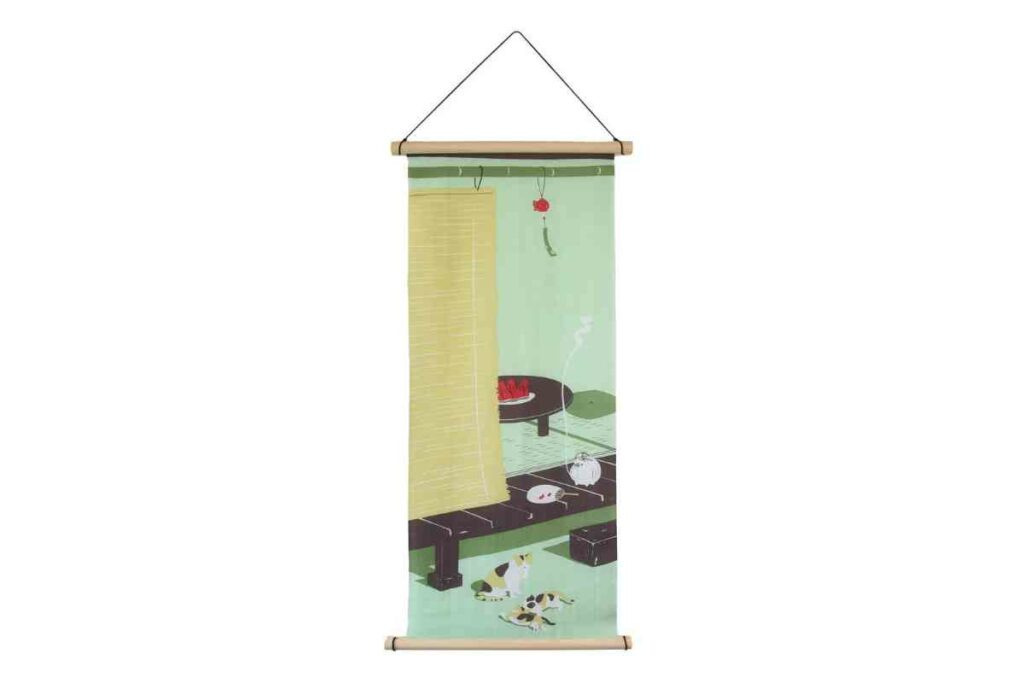 A tenugui towel is a perfect canvas for authentic Japanese art.
This modern stenciled design on 100% cotton cloth depicts the classic Japanese veranda or engawa, complete with chimes, uchiwa fans, and a couple of chilled cats.
100% Authentic Japanese Cotton Tenugui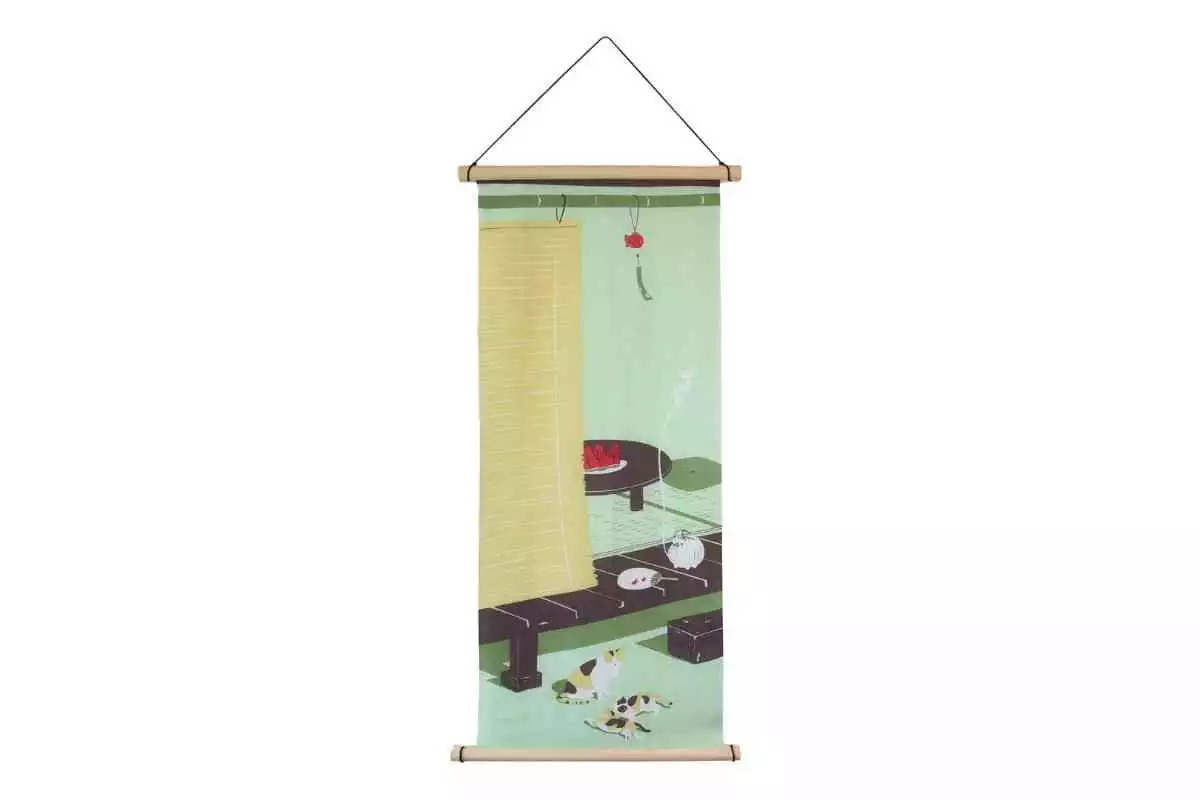 Engawa Tenugui Towel
Behold a quintessential depiction of an engawa, the iconic Japanese veranda, adjoining a room adorned with tatami mats. The allure of a lazy summer day in a Japanese garden is captured by elegant decorative pieces like the wind chime, uchiwa fans, and a cat-shaped incense burner.
Crafted with care in Japan
Dimensions: 36" x 14" (92 x 35cm)
Offer includes only the tenugui; tapestry hanger not provided.
Safe for machine wash – ensure it's separated from other colors. Avoid tumble-drying.
Be informed: The tenugui edges are customarily unhemmed. Fraying ceases after several washes. Loose threads can be safely trimmed using scissors.
We earn a commission if you make a purchase, at no additional cost to you. Thanks!
---
9. Tenugui dyeing in Adachi
Expert dyers dye 12-meter lengths of quality cotton with foundation colors that are subsequently built on, with a variety of stenciled patterns.
This technique only has limited mechanization and the cotton is left to air in the sun. 
---
8. Happi Coat Tenugui Towel
Check out this stunning Yokohama-made tenugui skillfully dyed using the Yokohama Nassen technique on special 'Wakaba' cotton.
You can use it as a personal towel or dishcloth as it is fully absorbent. Alternatively, display the funky happi coat pattern.
100% cotton
HAMAMONYO Tenugui 'Happi Coat'
This Tenugui Towel, sized at 35.4 inches by 13.4 inches, is made from 100% 'Wakaba' cotton. It's designed to fray at first but improves with use and trimming. The towel is absorbent, dries quickly, and doubles as a dishcloth. The colors, inspired by Yokohama's seasons, may vary based on lighting. Care is advised to avoid color bleeding when wet.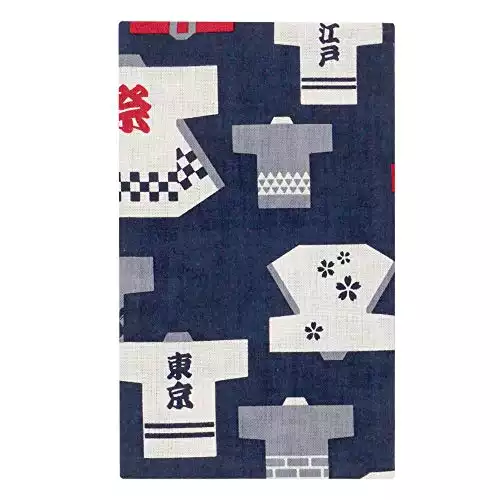 We earn a commission if you make a purchase, at no additional cost to you. Thanks!
---
7. Carl Kanai Tenugi
Japan's long-standing love affair with hip hop has been reciprocated with this super cool Carl Kanai Tenugi with signature print.
Hip-hop heads love to drape a towel, so it's easy to see that this tenugui will have strong crossover appeal!
---
6. Red Koi Tenugui by Japan Objects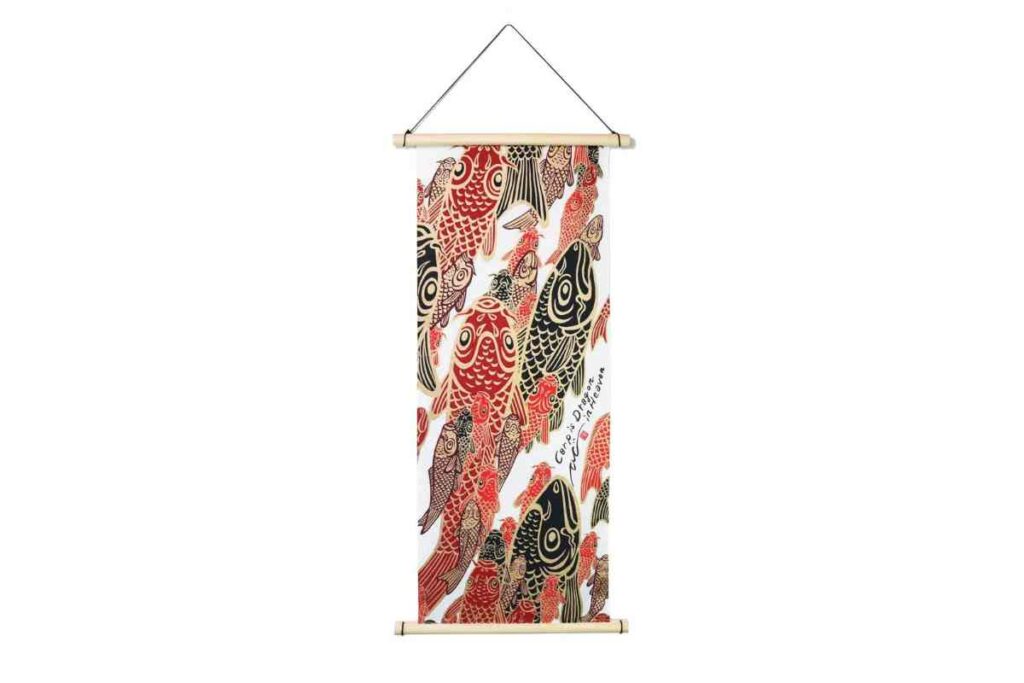 I love how versatile the Tenugi towel is. In fact, it is one of the best cheap souvenirs from Japan, so be sure to pick up interesting ones on your travels.
This vibrant red carp design by Japanese contemporary artist Hideki Kimura can be displayed in your home using a cypress tapestry hanger that allows the towel to hang beautifully.  
Handcrafted in Japan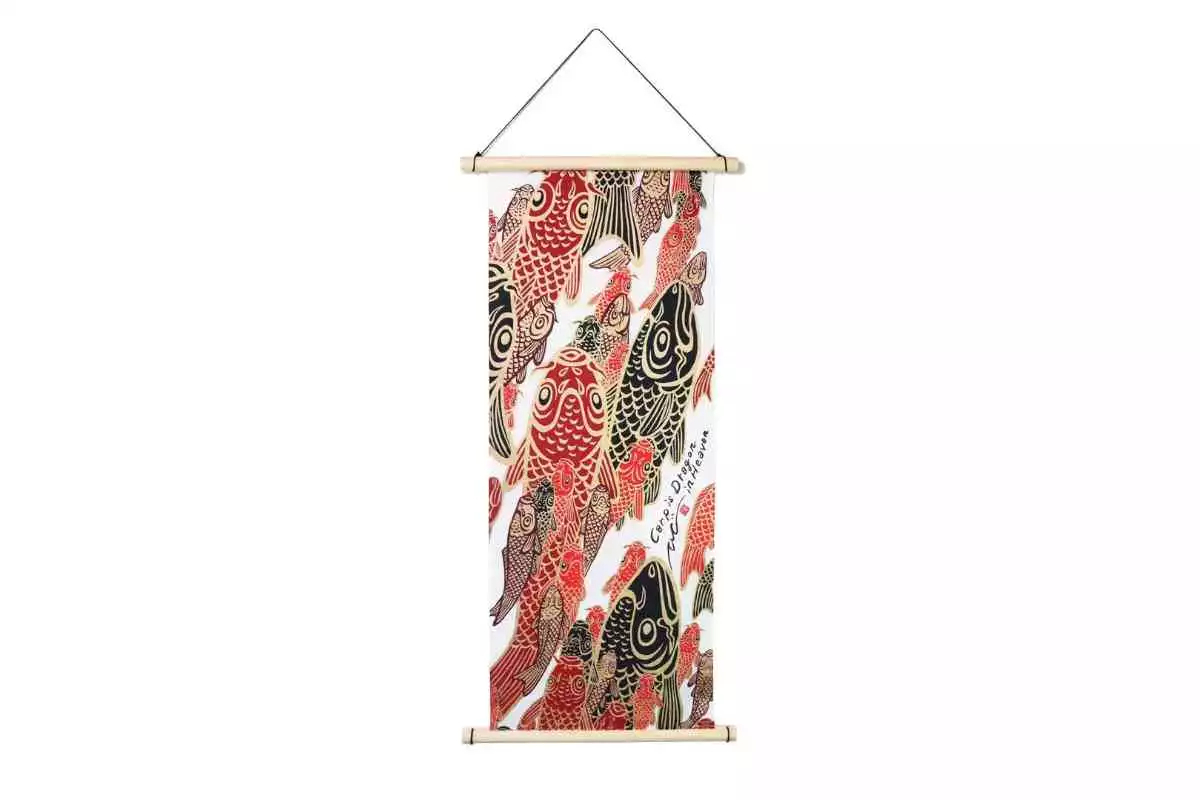 Red Koi Tenugui
This exquisite tenugui showcases a vibrant red carp design, a masterpiece by the renowned contemporary artist Hideki Kimura. In Japanese tradition, the koi carp represents luck, prosperity, and auspiciousness. Kimura's series of unique hand-painted murals can be admired in Taiko-En, a historic garden in Osaka. Crafted in Kyoto, each piece of this 100% cotton cloth is hand-dyed using techniques that date back to the early 20th century.
Specifications:
Material: 100% Cotton
Dimensions: 36" x 14" (92 x 35cm)
Package contains tenugui only; tapestry hanger not included.
Care: Machine-washable. Do not blend colors. Avoid tumble drying.
Note: Traditional tenugui edges are not hemmed and will cease fraying after several washes. Loose threads can be snipped with scissors if desired.
We earn a commission if you make a purchase, at no additional cost to you. Thanks!
---
5. Tenugi shirt
Tenugi can be repurposed into all sorts of craft projects including clothing. These cool handmade t-shirts have used a fish tenugui towel. 
---
4. Classic Indigo-Dyed Tenugui
The stately deep blue of indigo perfectly complements the crisp white cotton of this classic tenugui towel that is doing a great job as a table runner!
A plain white tenugui towel is excellent for trying your hand at Japanese indigo dyeing techniques that use wood, string, and folded fabrics to create unique and intricate designs. 
---
3. 'HATOU' (Billows) Tenugui 
In Japanese, Hatou means billows and refers to this iconic Japanese print that will make you feel all at sea!
The deeper meaning of this pattern is life and its many circumstances, but I just like the stylish finish of this soft household cloth.
Navy Blue
HAMAMONYO Tenugui 'HATOU(Billows)'
This Tenugui towel, made from 100% cotton, measures 35.4 in by 13.4 in. The unique 'Wakaba' fabric, specifically woven for Tenugui, offers softness and impressive water absorption. While initially, the towel's edges might fray, a simple trim will see it improve with regular use. To preserve its vibrant colors, it's advisable not to leave it damp, as the hues might either fade or transfer.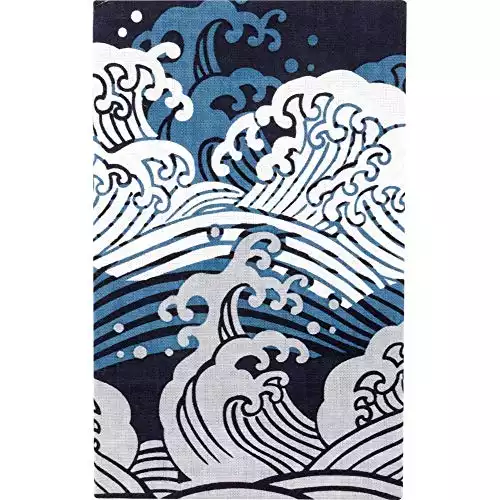 We earn a commission if you make a purchase, at no additional cost to you. Thanks!
---
2. The Yurakuza Tenugui Corridor in Fukui
This well-known Fukui gift and supply shop is a great stop if you are in Ono City.
It has a delightful corridor of over 200 hanging tenugui towels that flutter in a kaleidoscope of color between July and October every year. 
---
1. Tenugui by Sakai Kikumori
Japanese kitchen blade specialists Sakai Kikumori are also known for their fine kitchen accessories including these fine tenugui towels.
They have been made using a traditional technique called "chusen", one of Sakai's traditional crafts.
Cool Tenugui Towels FAQs
What is tenugui?
A tenugui is basically a Japanese hand towel, which has a range of uses and is known for bold designs. A standard tenugui is a long rectangle of fabric with dimensions of 12 inches (width) by 35 inches.
What are tenugui made of?
Authentic tenugui are made from 100% hand-woven cotton. Artisans then cut the fabric into strips which are hand dyed with a range of colorful designs and patterns. 
Can you machine wash tenugui?
It all depends on how much you love your tenugui. Ideally, these dyed towels should be hand washed initially as any excess dye in the towel will bleed.
They can be machine washed on a cold cycle and air dried. If you own an artisanal tenugui that is displayed on a tapestry hanger, washing it will affect its finish.
What is the history of the tenugui towel?
Tenugui towels are ancient, dating back to the Nara era (710 to 794 A.D). They were originally cleaning cloths but were later co-opted for religious practices and the aristocracy.
As cotton cultivation and production flourished in the Edo period (1603 to 1867 A.D.), the tenugui went mainstream with the stylish block-printed designs we see today. 
What is the difference between furoshiki and tenugui?
A tenugui is a thin cotton hand cloth, while a furoshiki is a thicker, foldable wrapping cloth.
Tenugui vs furoshiki are more for everyday use, as a towel, apron, headwrap, and cleaning cloth while tenugui are for wrapping gift items or carrying goods.
How do you wear a tenugui?
You can wear a tenugui as a Japanese head wrap. Fold and wrap the tenugui around your head and tie it at the back. You can also use a tenugui as a headband, or bandana. 
How do I stop tenugui from fraying?
Fraying is an expected part of the lifecycle of a Tenugui. Lean in and embrace the fraying you'll experience with your first few washes, as it does reduce with time. 
Can you iron tenugui?
You can do whatever you want with a tenugui, but ironing a hand towel may be overkill. Hanging a washed tenugui to dry usually keeps it wrinkle-free! If you must iron a tenugui, do it on a low setting as high heat is damaging to the fibers.
Rounding Up
Tenugui towels are a great value Japanese souvenir and a neat decorative item for the home. These fun and funky towels are really collectible and I'm sure you'll find a zillion uses for yours.