I'm going to level with you. I would love to own a kimono, but the costs for an authentic kimono and undergarments can run into thousands of dollars.
A much more accessible alternative is the Japanese yukata (浴衣), a lighter robe that is casually worn throughout Japan and is increasingly popular as streetwear.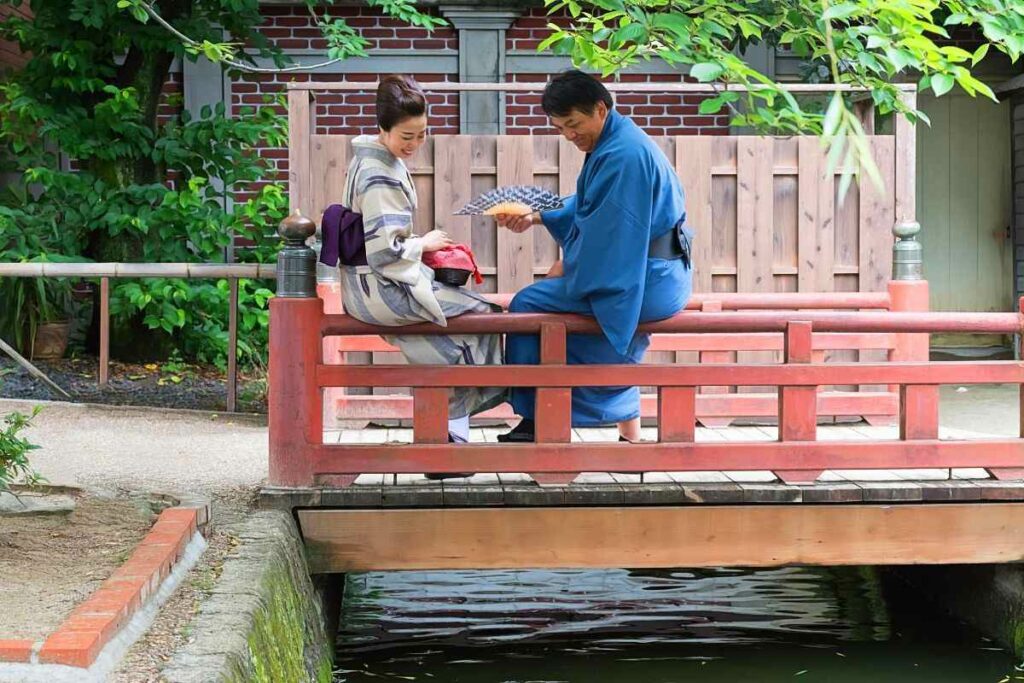 If you want to make a yukata part of your wardrobe, these 20 Japanese yukata ideas will provide inspiration for wearing this iconic and highly functional Japanese garment. 
A yukata could be the ultimate loungewear
A yukata is a comfortable yet stylish garment that looks great. Once you master how to wear a yukata you'll want to dress in one all the time.
Here are 20 Japanese yukata ideas to inspire you to find your own: 
20. Classic Men's Yukata
A yukata is basically an unlined kimono that is worn as a summer garment.
As you can see the yukata is not like the shorter-sleeved nemaki robe that is also casually worn. 
---
19. Yukata Style for All the Family
Yukata are very inclusive garments that everyone can wear.
The word yukata (浴衣) means 'bathing cloth' referring to its original use as a garment to cover up after a hot spring bath.
---
18. Stylish Women's Summer Yukata
This rich blue yukata with a bold white floral design will really stand out wherever you are in the world.
The breathable cotton fabric and bold color are less formal than a kimono, but I love the cute obi and uchiwa (Japanese paper fan) tucked in the back!
---
17. Ladies' Yukata with Obi and Fan
Yukatas were traditionally worn around the house, at a ryokan, or to and from an onsen.
However, they are now largely accepted as summer wear for many Japanese. 
---
16. Contemporary Men's Yukata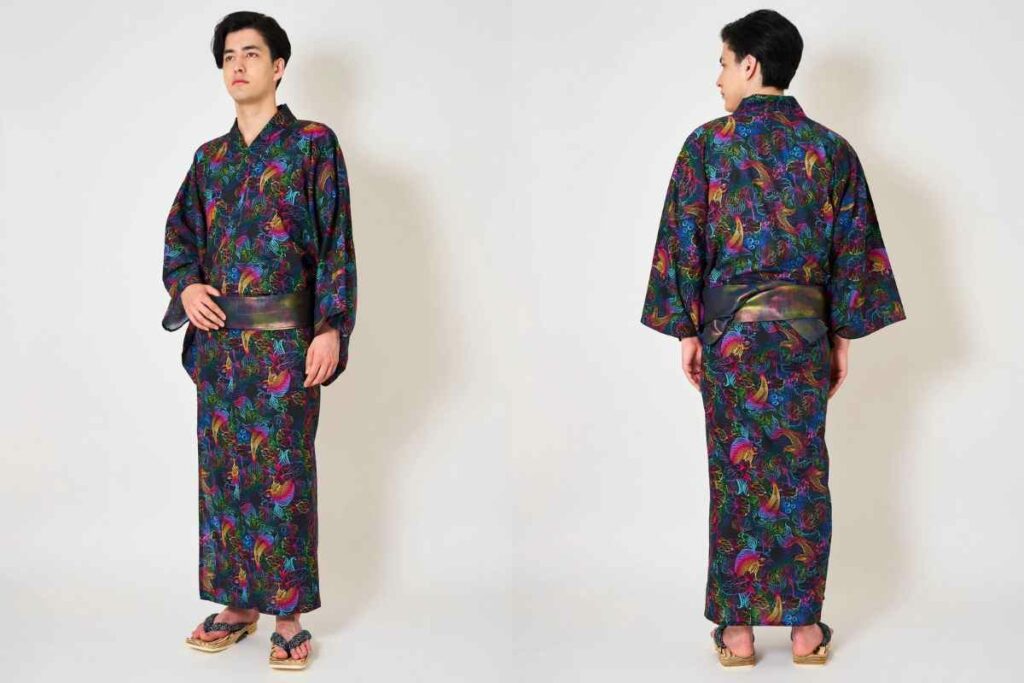 It has all the proportions of a kimono without the formalities!
If you're looking for unique menswear that looks really stylish, this funky men's yukata with neon koi is a smart buy. See more images on shop.japanobjects.com
100% pure cotton
Neon Koi Mens Yukata | Japan Objects Store
Dive deep into the heart of Japanese fashion with this exquisite Neon Koi Men's Yukata, exclusively from ROBE JAPONICA, the pinnacle of Harajuku men's kimono fashion.
Made in Japan, encapsulating authentic Japanese yukata craftsmanship.
Crafted from 100% pure cotton.
Purchase includes yukata only; belt and sandals sold separately.
Special touch: Free gift-wrapping in delicate Japanese washi paper.
Care recommendation: Hand wash for a longer life. If machine washing, kindly use a laundry net. Avoid tumble drying.
Size Availability: M, L, XL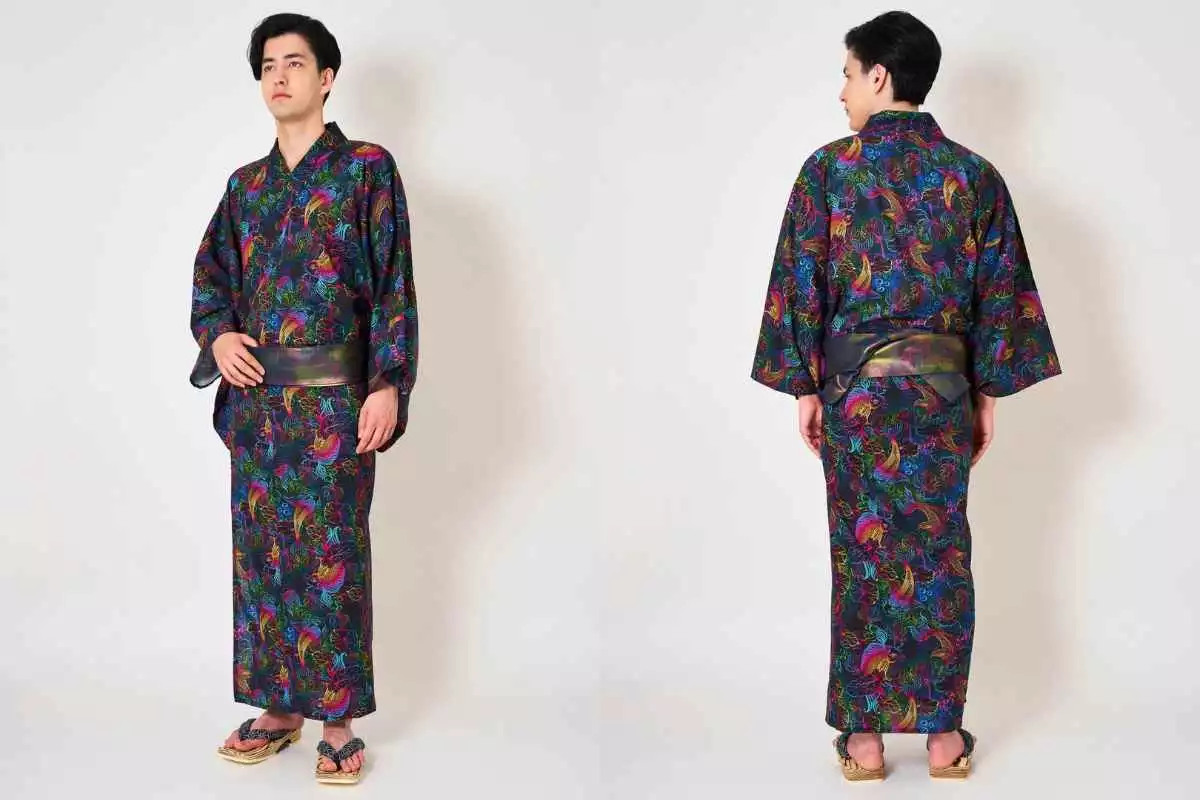 We earn a commission if you make a purchase, at no additional cost to you. Thanks!
---
15. Indigo Men's Yukata
Traditional yukata are made from richly-dyed indigo cotton. The men's yukata has slightly shorter sleeves than the female yukata. 
---
14. Traditional Indigo Women's Yukata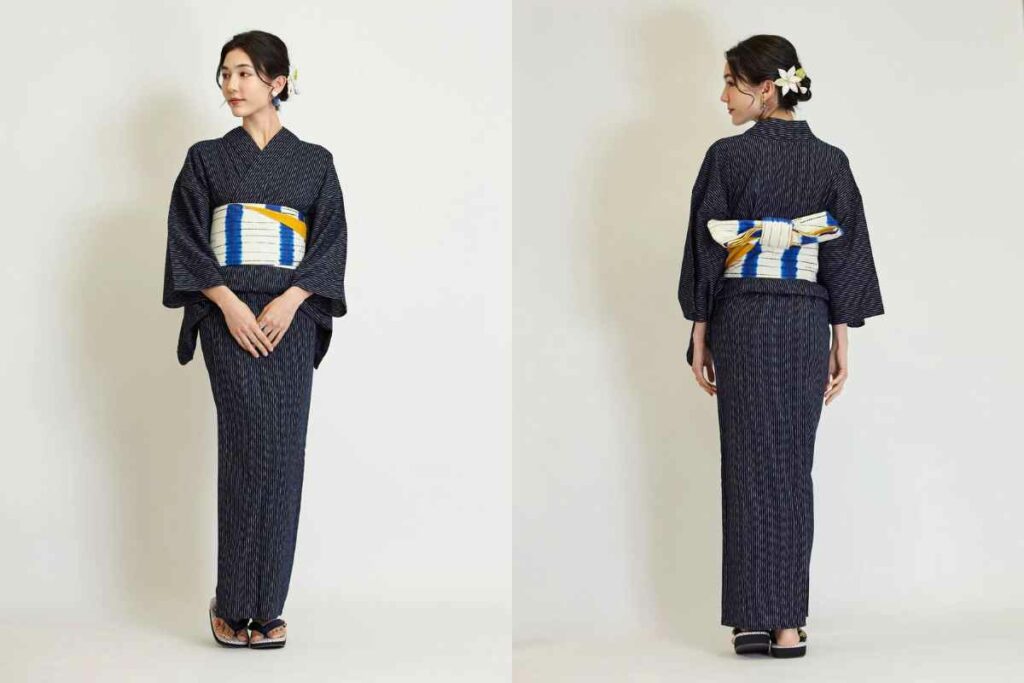 My my my, this classic indigo ladies' yukata ticks all the boxes for an authentic garment with long women's sleeves!
It is 100% handmade with gorgeous rustic cotton, which will pair beautifully with the obi of your choice. See more images on shop.japanobjects.com
100% Genuine Shijira Cotton
Indigo Shima Yukata | Japan Objects Store
Crafted in the very cradle of the finest Japanese clothing traditions, this yukata radiates with a design that's both refreshing and timeless. At its core lies the renowned shijira cotton, a signature of the Kurume region, celebrated for its distinctive weave. The meticulous weaving technique gives birth to a delightful rustic texture, providing an element of authenticity and elegance.
Product Highlights:
Authentic Japanese yukata, crafted in Japan.
Made from 100% genuine Shijira cotton.
Note: Purchase is yukata only. Belts and sandals are exclusive.
Enjoy a touch of tradition with free gift-wrapping in delicate Japanese washi paper.
Care Tips: Hand wash for longevity. When using a machine, a laundry net is recommended. Kindly refrain from tumble drying.
Dimensions: Length 64" (164cm), Width 53" (135cm), Yuki 25″ (64cm), Sleeve Height 19" (49cm).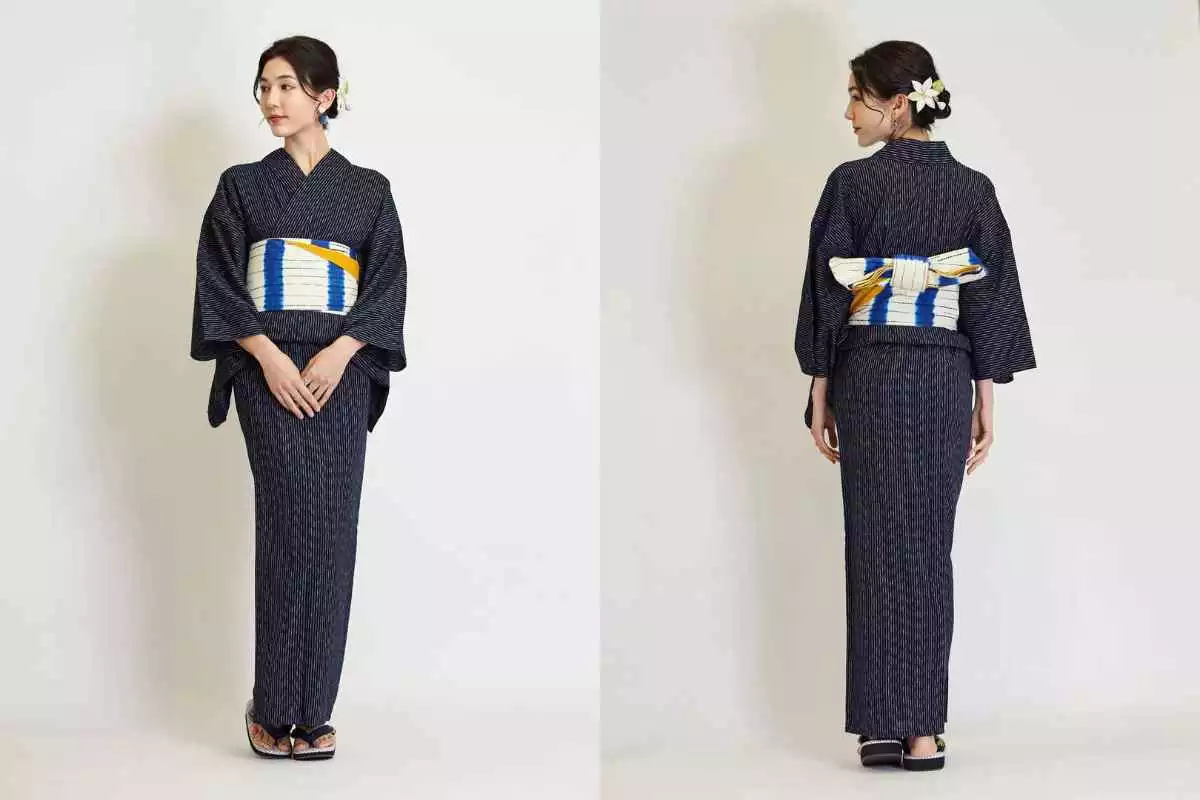 We earn a commission if you make a purchase, at no additional cost to you. Thanks!
---
13. Beautiful Floral Yukata
In the 1990s, yukatas became much more diverse and colorful.
Despite being straight-cut, they support good posture and offer great freedom of movement. 
---
12. Gion Festival Yukata
For the Westerner, a yukata is a completely different style of dress. In Japan, many stores, ryokans, and guesthouses will show you how to wear one.
Wrap the left side of your yukata over the right, and secure it beautifully with a soft or stiff single-layer cotton obi (belt).  
---
11. Onsen Yukata
If you don't want to wear a thick obi belt you can always tie a basic sash to secure your robe
---
10. Relaxed Men's Yukata 
In Japan, you can rent a yukata to see how it looks on you, take photos, and walk around town in Japanese dress.
---
9. Girl's Yukata
A yukata also looks great on kids. It's easy to wear and a great way for interested children to connect with Japanese culture!
---
8. Yukata Styling
Make your yukata your own.
Feel free to style the yukata any way you want! Popular accessories for a yukata include kanzashi hair pins, a fan, and a kinchaku handbag. 
---
7. Handmade Yukata from Kurume, Kyushu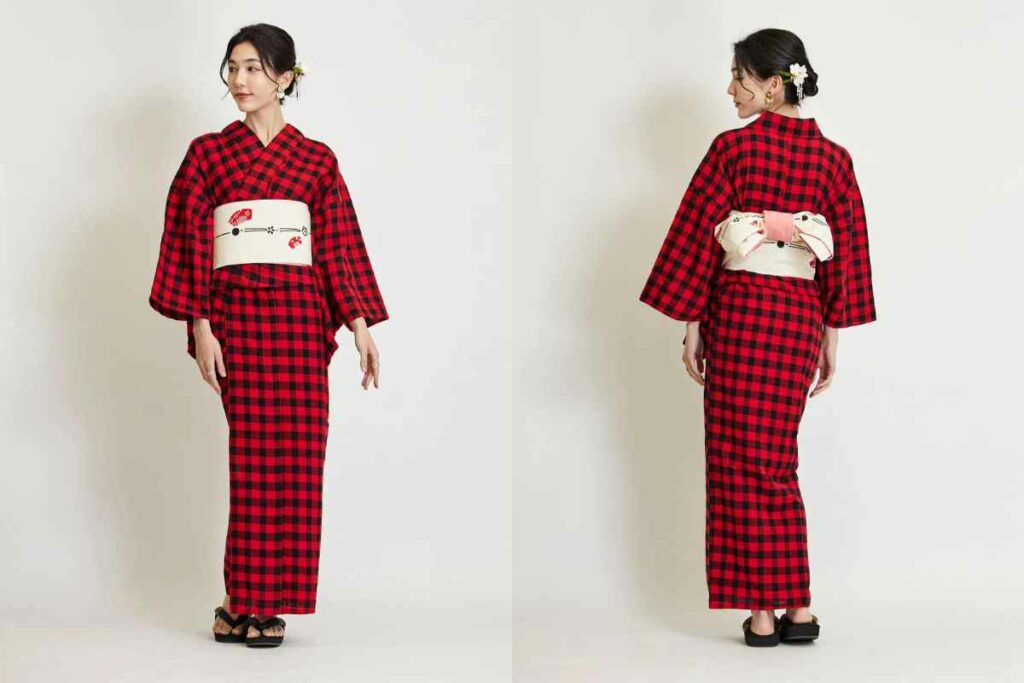 This red benkei shijira cotton fabric yukata from Kurume in Kyushu has a pleasing design and is extremely breathable.
You can dress this gorgeous garment up or down depending on the obi you choose to accessorize it with. See more images on shop.japanobjects.com
Authenticity guaranteed: Made in Japan
Red Benkei Yukata | Japan Objects Store
Renowned for its commitment to preserving the essence of Japanese culture, this yukata effortlessly marries heritage with contemporary flair. The design's heart lies in the famed shijira cotton of the Kurume region. Known for its distinctive weave, shijira cotton exudes a characterful rustic texture, a result of the intricate weaving process it undergoes.
Key Features:
Crafted from 100% pristine Shijira cotton.
The purchase includes the yukata only; belts and sandals are to be acquired separately.
Delight in the tradition: Each yukata comes with a complimentary gift-wrapping in artistic Japanese washi paper.
Care Instructions: Preferably hand wash. If opting for machine wash, ensure usage of a laundry net. Please avoid tumble drying.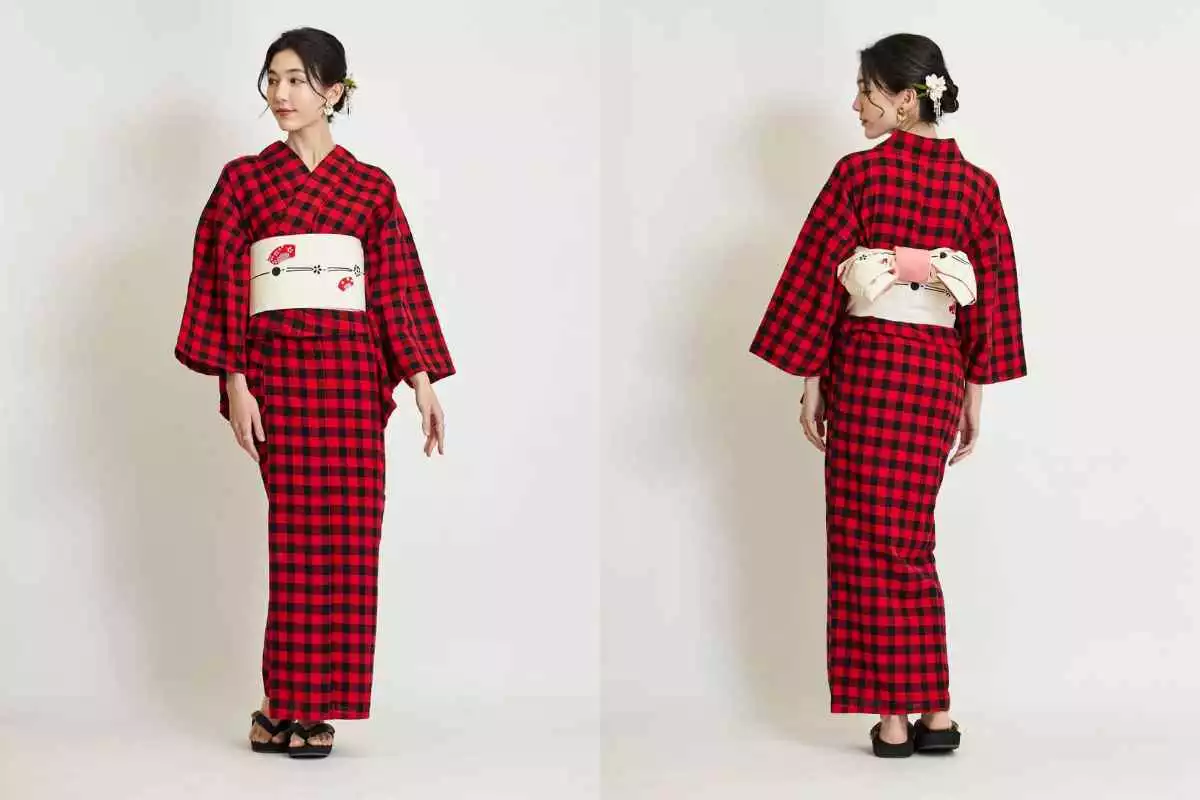 We earn a commission if you make a purchase, at no additional cost to you. Thanks!
6. Basic Men's Yukata 
What do you wear under a yukata? Go simple with light, cotton undergarments that wick away sweat and allow your skin to breathe.
Remember, a yukata is all about feeling comfortable. 
---
5. Lace Trimmed Ladies' Yukata
Yukata style is evolving in Japan and abroad. People are feeling free to add the details they desire to their yukata, like the sweet lace trim and statement bow shared here.
Older Japanese yukata wearers are usually more conservative, but the young continue to experiment with yukata fabrics and styling.
---
4. Yukata and Parasol
A wagasa (Japanese parasol) is another outstanding accessory for styling your yukata.
They are made from washi paper and shade you from the sun, while being lightweight and easy to carry.
---
3. ROBE JAPONICA Men's Yukata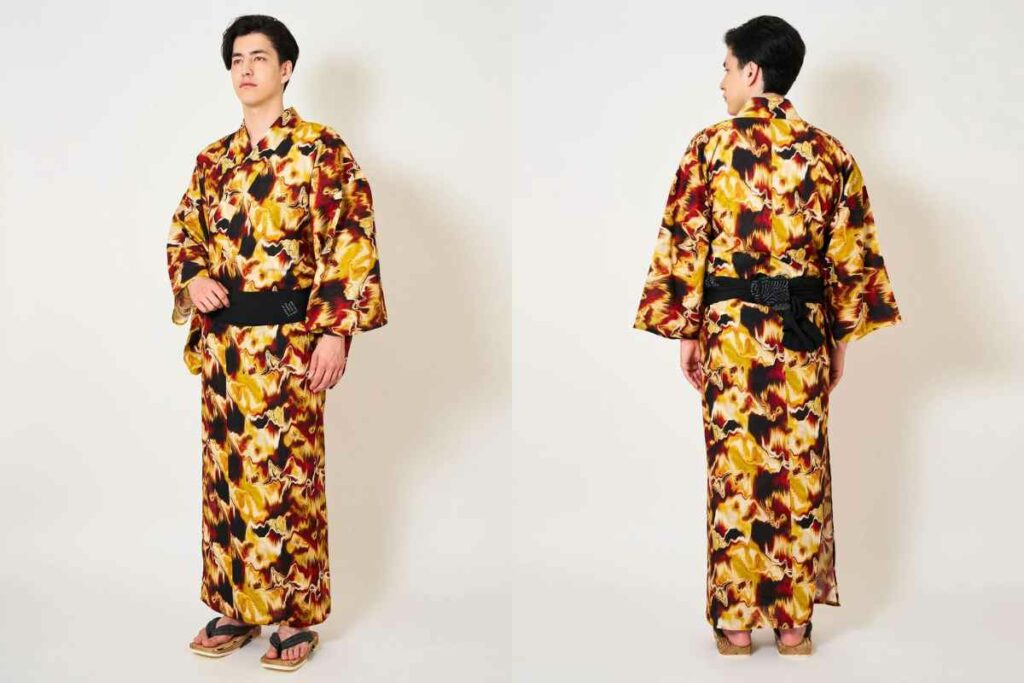 This bold men's yukata by ROBE JAPONICA is a statement garment that commands attention! 
ROBE JAPONICA is a Harajuku-based company that is known for its cutting edge yukata and kimono designs. See more images on shop.japanobjects.com 
100% Genuine Cotton
Gold Marble Mens Yukata | Japan Objects Store
Every fold, every layer, every stitch speaks of a craft honed over centuries, resonating with the profound depths of Japanese culture. The 100% natural cotton, sourced and woven with care in Japan, ensures that the yukata is not just a treat for the eyes but also for the skin. Its expert layering technique promises superior comfort and breathability, rendering it a perfect ensemble for the balmy months.
Noteworthy Features:
Authentic Japanese yukata, crafted with pride in Japan.
Fabricated from 100% genuine cotton.
The package contains the yukata only. Accessories like belts or sandals are not included.
As a gesture of tradition, enjoy complimentary gift-wrapping in exquisite Japanese washi paper.
Care Guidelines: For longevity, hand wash is recommended. If using a machine, employ a laundry net. Tumble drying is discouraged.
Sizing Options: Available in M, L, and XL.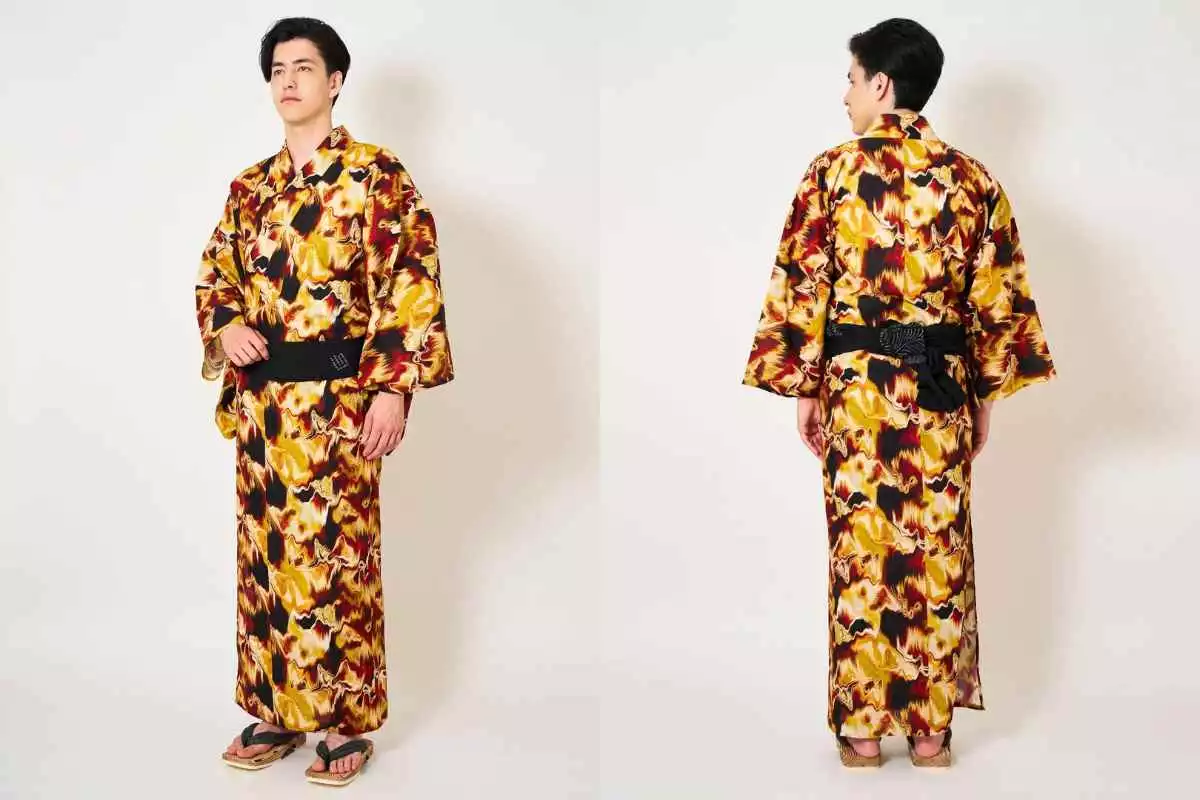 We earn a commission if you make a purchase, at no additional cost to you. Thanks!
---
2. Elegant Ladies' Yukata
Yakutas aren't just for the youth. Older men and women do a fine job of wearing these simpler kimonos with class. 
---
1. Yukatas for Men and Women
This lady's vibrant citrus-patterned yukata is set off perfectly by her companion's indigo robe. This pair could wear their yukatas to festivals or other events.  
---
Rounding Up
A yukata is a simple elegant garment that will really enhance your personal style.
Some people believe that wearing kimonos and yukatas is cultural appropriation, but these images show that these stylish Japanese garments look beautiful on everyone.
I'm definitely going to go ahead and make a Yukata and neat Obi part of my summer wardrobe, and I hope you'll find one that you'll love too!