Japanese cherry blooms are gorgeous flowering plants native to the Land of the Rising Sun.
Most people consider the plant the best ornamental tree, suitable for interior and outdoor décor.
When it blooms, it produces single or double flowers, which can be pink, purple, or white.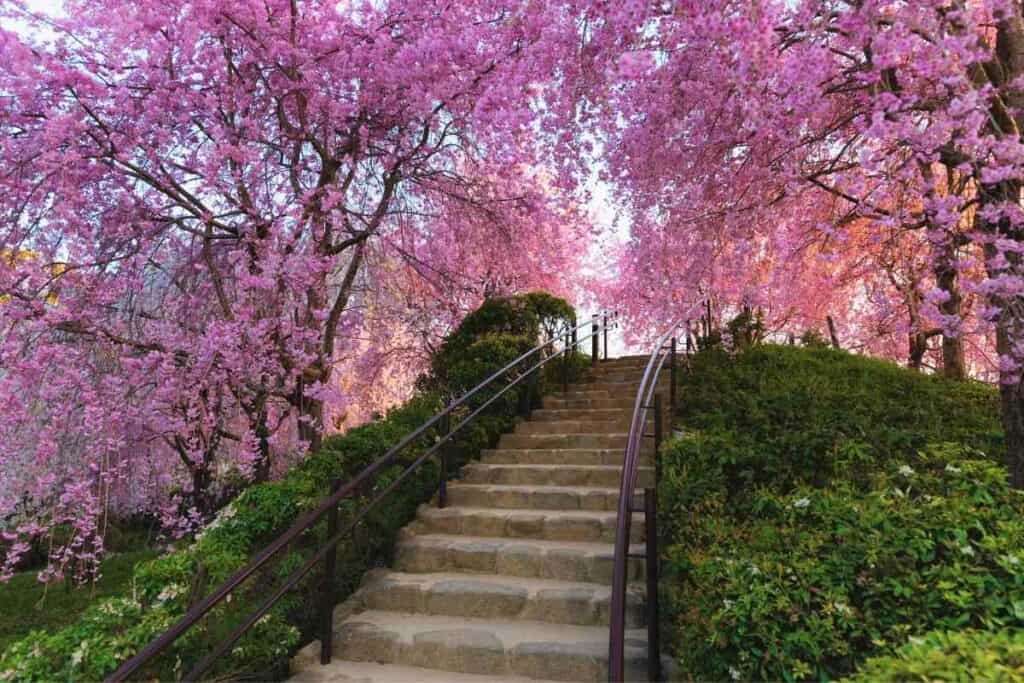 Different species have unique growth styles – some grow small and compact, while others become tall and provide shade. Other variants produce edible cherries, while others don't. 
A cherry blossom tree needs utmost care and substantial space to grow, bloom and beautify your yard with its stunning flowers and pleasant scents – most people don't have the time and the space.
Fortunately – There are a few low-maintenance alternatives that mimic cherry trees' fragrance and visual appeal. Here are the trees that look like Japanese cherry blossoms.
1. Apple
It's easy to distinguish mature apple trees from cherries because apples are larger than cherries.
However, the difference between the two trees isn't as apparent when looking at their spring flowers.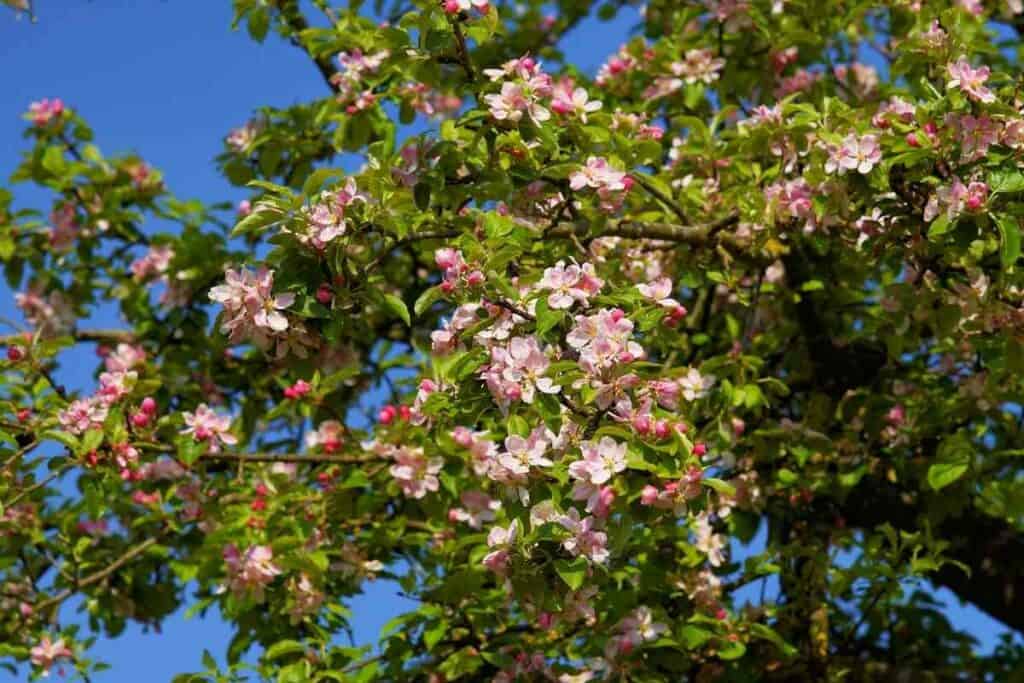 Their flowers bear a close resemblance. The most notable difference is that apples have large and robust flowers, while cherries have small and delicate blooms.
The best way to differentiate apples from cherries is to pick a flower and assess the female parts at its center.
Cherry blossoms have one female part. On the contrary, apples have multiple female parts. 
You can bisect the flower into two halves and evaluate the pistil for a clearer distinction. If it's below the flower's base, it's an apple. Otherwise, it's a cherry blossom.
Venturing off to Japan soon? Get your travel essentials and a taste of Japan's rich culture from our partner, Japan Objects Store.
2. Eastern Redbud
The Eastern Redbud is a primarily ornamental plant that grows up to 30 feet. It is native to eastern North America.
The tree has a peculiar outlook characterized by many trunks with horizontally aligned branches.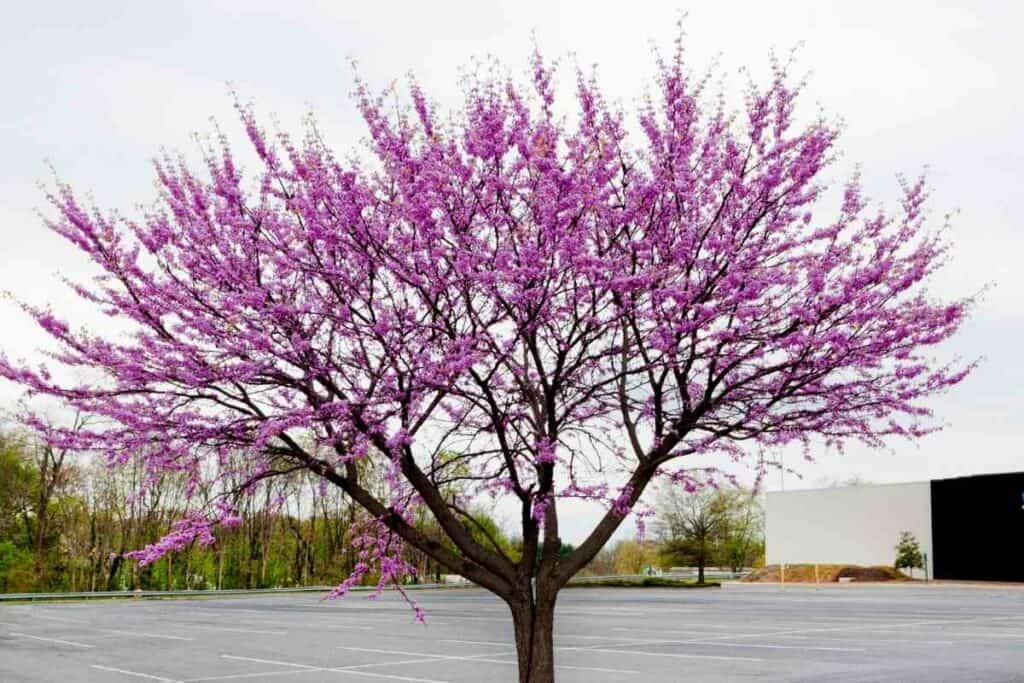 On the onset of spring, masses of rosy-pink blooms cover the layered branches before green foliage emerges. The result is dazzling scenery that beautifies any yard. 
Eastern Redbuds are tolerant to different soils, like cherry blossoms. The plants do well under direct sunlight and partial shades.
However, full shade impedes their development. To grow this plant, ensure you prepare well-drained soil and water frequently.
Even Better – Besides improving your home's aesthetic appeal, Eastern Redbuds have medicinal value. Their roots and inner backs are remedies to whooping cough and other respiratory complications. 
3. Magnolia Trees
Magnolia trees are almost indistinguishable from Japanese cherry blossoms. They produce stunning flowers with long petals.
These flowers have deep pink bases and white tips.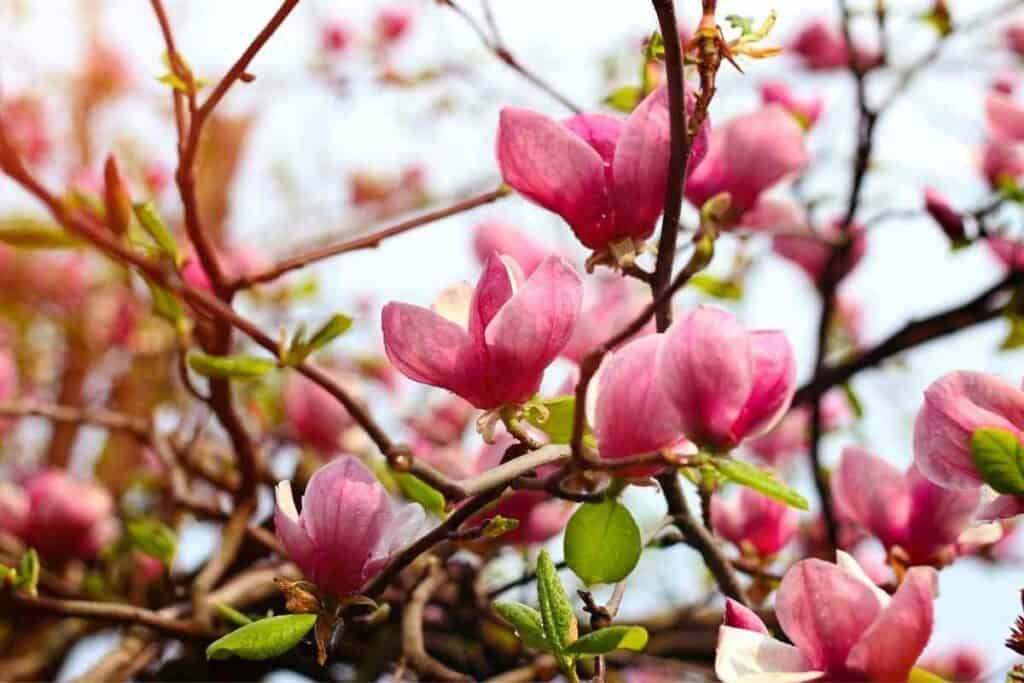 When you gaze at magnolias from afar, you can easily mistake them for Japanese cherries because of the pale pink hue of their blooms. 
The best growing conditions for magnolias are the full sun to partial shade, with temperatures ranging between 15 to 25 degrees Celsius.
The trees require frequent watering but do well with little fertilizer. It's best to apply slow-release fertilizers in spring when the first buds emerge.
To Grow Magnolias – You must have abundant space in your yard. A mature tree grows up to 80 feet tall and 45 feet wide.
Also, magnolias are deciduous and drop leaves and flowers in fall and summer. If you want to avoid littering your lawn, prune the lower branches. 
4. Pink Trumpet Trees
As the name suggests, the pink trumpet tree looks pink.
However, it has different shades of color, as the flowers vary from lighter hues of pink to deep magenta. Most are on the lighter end of the pink spectrum. 
The flowers on pink trumpet trees grow in long clusters.
Their appearance is similar to Japanese cherries, except for the many petals. It's the leaves that differ significantly from the cherries. 
The flowers grow in long clusters and look similar to those on a Japanese cherry tree, albeit with more petals.
Pink trumpet trees are ideal for arid regions that experience scorching summers and average temperatures exceeding 26 degrees Celsius.
They do well in well-drained soils and direct sunlight. 
On the Downside – Pink trumpet trees can grow up to 40 feet tall and achieve a similar width. This makes them unsuitable for small yards. 
5. Smoke Bush
Smoke Bush is a deciduous, hardy shrub native to Central Africa and Southern Europe.
It grows up to 15 feet tall and 13 feet wide, making it suitable for medium-sized lawns.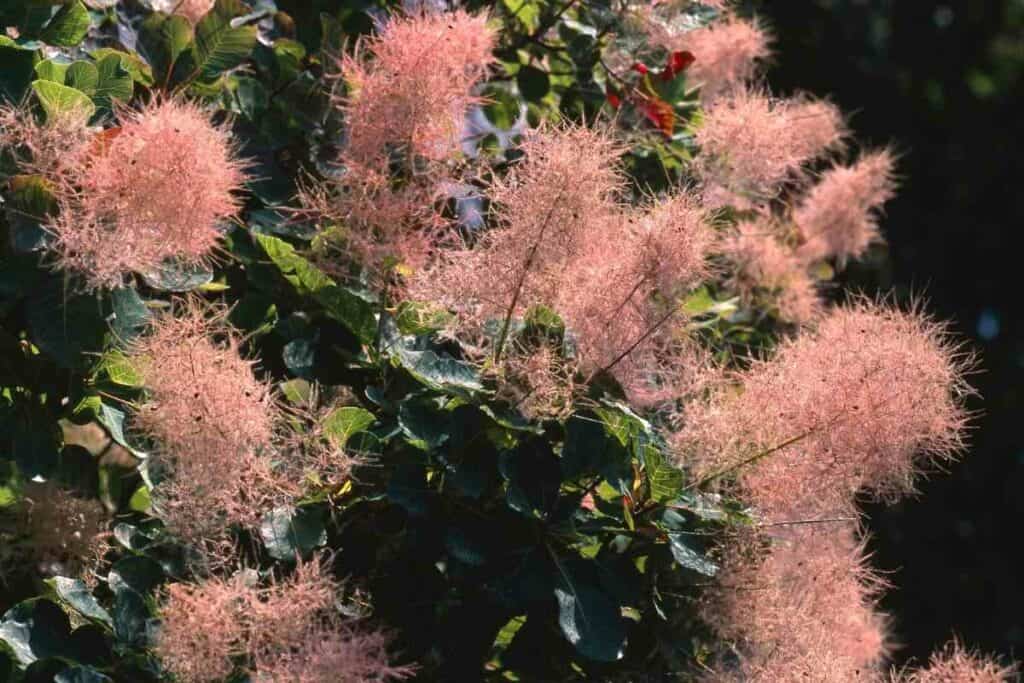 The plant grows upright and bears multiple stems.
In spring, Smoke Bush produces moon-red leaves that later change into a deeper, wine-like hue.
During Summer – The plant bears large and feathery pink flowers, giving it its puffy appearance. The pink outlook gives off vibes similar to Japanese cherries. 
Smoke Bush needs well-drained soil to thrive. The plant does well under the full sun since it is native to arid climatic conditions.
It doesn't need a lot of water for optimal growth – the recommended watering interval is ten days. 
Besides, Smoke Bush is also helpful in treating colitis, gastric ulcers, hair loss, and oral inflammation. 
6. The Empress Tree
The empress tree is deciduous and thrives in mild climatic conditions.
It is native to China and grows up to 40 feet tall. 
Unlike other Japanese cherry lookalikes, the empress is a fast-growing species. In spring, it produces flowers that resemble foxgloves and heart-shaped foliage.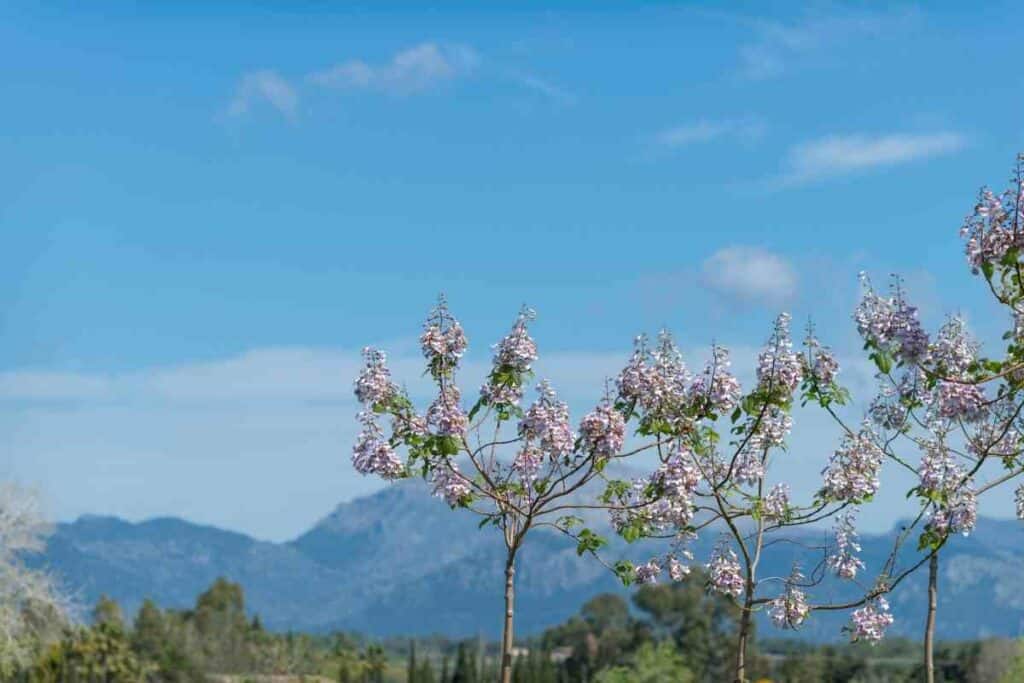 The sweet-smelling flowers are rich in color, with pinkish-lavender petals and purple spots with creamy yellow stripes inside.
When the blooms wilt, sticky green seed capsules emerge. These mature and turn brown in fall.
Like the Japanese cherry blossoms, the empress tree is adaptable to most soil types. The tree is relatively hardy and can survive cold winters.
It needs moderate watering and six hours of sunshine daily to grow optimally. Unfortunately, empress trees have no other use besides beauty.
7. Hydrangea
Hydrangeas are native to Asia and the Americas.
The plants can survive different climates and grow up to 15 feet tall.
Regarding appearance, hydrangeas bear thick, succulent leaves with large, round clusters of tiny flowers.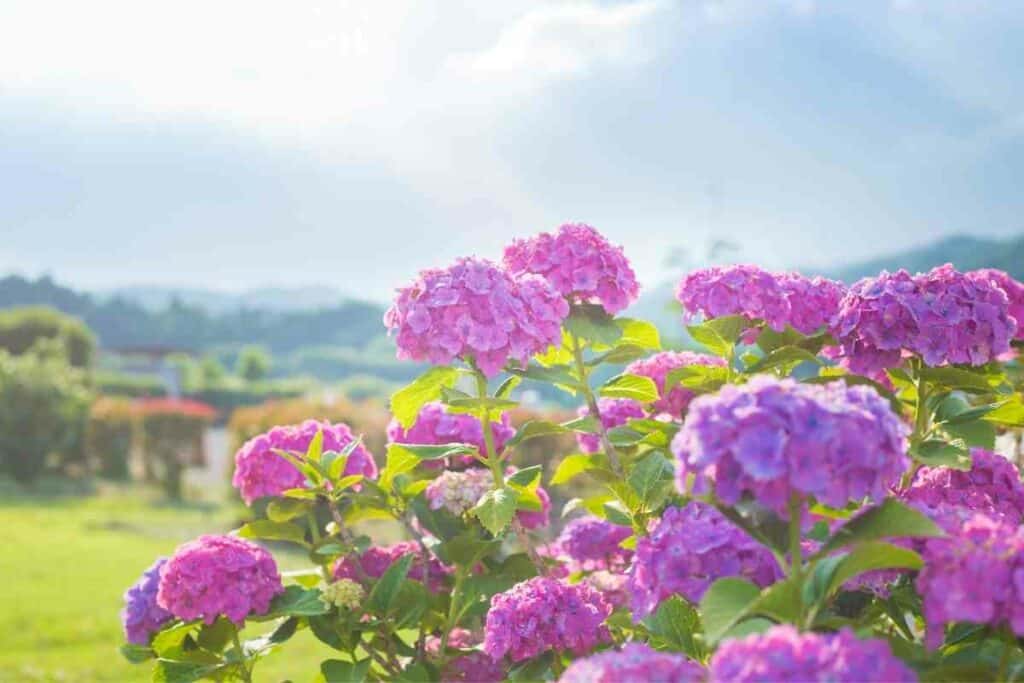 These blooms are available in bright blue, deep red, pale green, pink, purple, and white, making Hydrangeas colorful shrubs.  
Hydrangeas can survive several soil types, provided they have excellent drainage.
Although they can also withstand high temperatures, hydrangeas do best in mild conditions with little sun and partial shade. It's also advisable to water the plants once a week, with a lot of water.
The secondary use of hydrangeas is making drugs for treating urinary tract infections using its root extracts. 
8. Golden Bells
If you want a Japanese cherry lookalike that doesn't require ample growing space, try out the Golden Bells.
It's a flowering shrub originating in Asia and grows between two and ten feet tall, depending on the variety.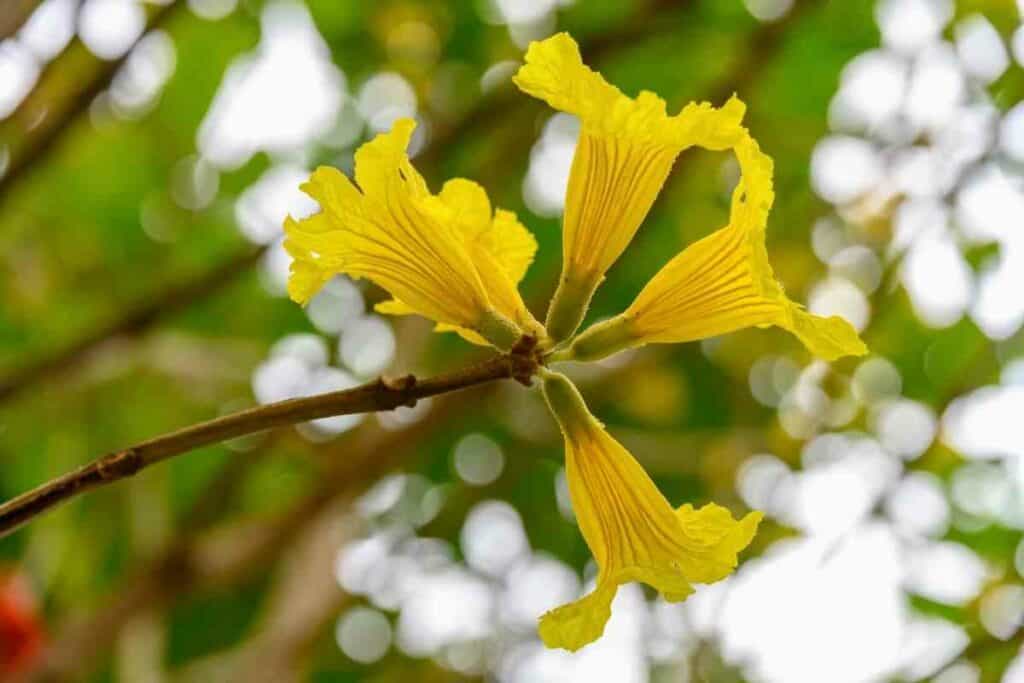 Golden Bells have distinctive long branches that produce bright yellow blooms at the onset of spring.
The flowers have a few pink specks that resemble Japanese cherry blossoms. 
Other similarities between Golden Bells and Japanese cherries include adaptability to many soil types, tolerance to direct sun and partial shades, and resilience to arid conditions.
Golden Bells are fairly drought-resistant but need occasional watering.
Did You Know? While the fruits borne by Golden Bells are inedible, they help treat chills, fevers, headaches, and infections and relieve muscle fatigue.
9. Peach 
Peach trees bloom from mid-spring to early summer, producing red, pink, or white blossoms.
It isn't uncommon to spot a plant bearing flowers of different colors. 
When pink flowers emerge, it can be challenging to differentiate peaches from cherries.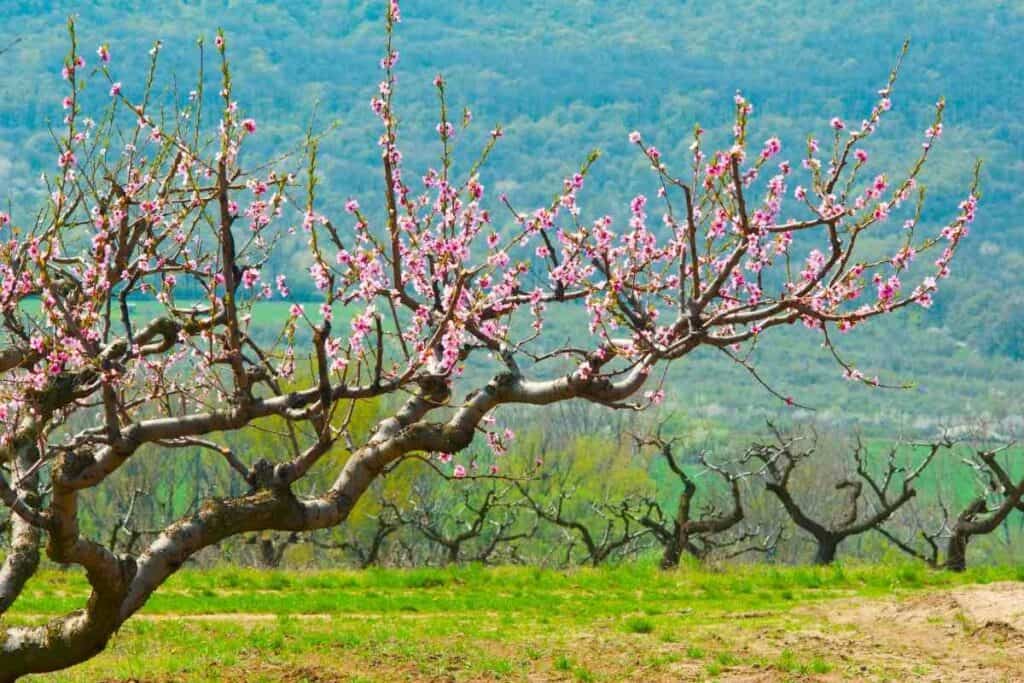 The solution is to look at the petals' shape and how flowers attach to the branches.
Peach blossoms have pointy tips, whereas cherry blossoms are notched at their apices. 
Besides, peaches have shorter stems with two flowers sprouting from each branch, while cherry trees have multiple flower clusters blossoming from each branch.
Ornamental peach trees do well in mild conditions. They need at least 4 hours of sunshine daily and regular watering. Like magnolias, they don't need excessive fertilizer application. 
10. Ornamental Plum Trees
In spring, ornamental plum trees produce flowers with various shades of pink, purple and white.
These flowers are almost identical to cherry blossoms, and a regular bystander can't tell apart the two trees.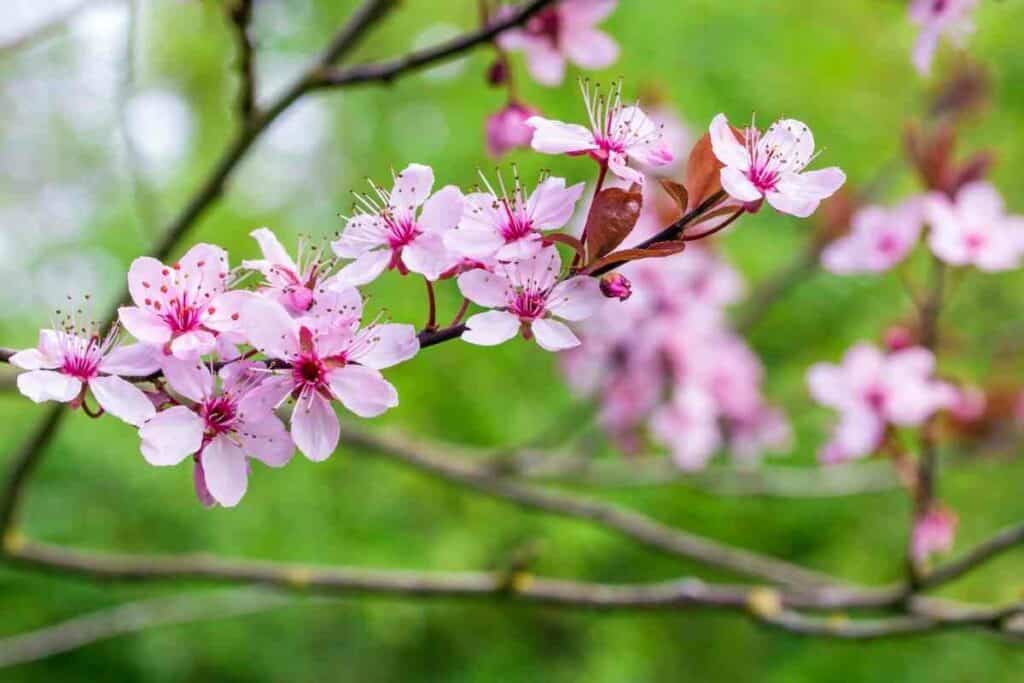 However, a seasoned florist will notice the differences, regardless of their subtlety. 
Ornamental plum trees produce clustered, more cramped flowers than cherry tree flowers.
Moreover, plum trees have deep purple leaves in-between the flowers, a property that cherry trees lack.
Like Peaches – Ornamental plums thrive in mild climates. The plants do well under direct sunlight and require regular watering and well-draining soils. 
11. 'Arnold Promise' Witch Hazel
'Arnold Promise' Witch Hazel is a medium-sized flowering plant native to China and Japan.
It's relatively hardy and grows up to 15 feet tall and 12 feet wide.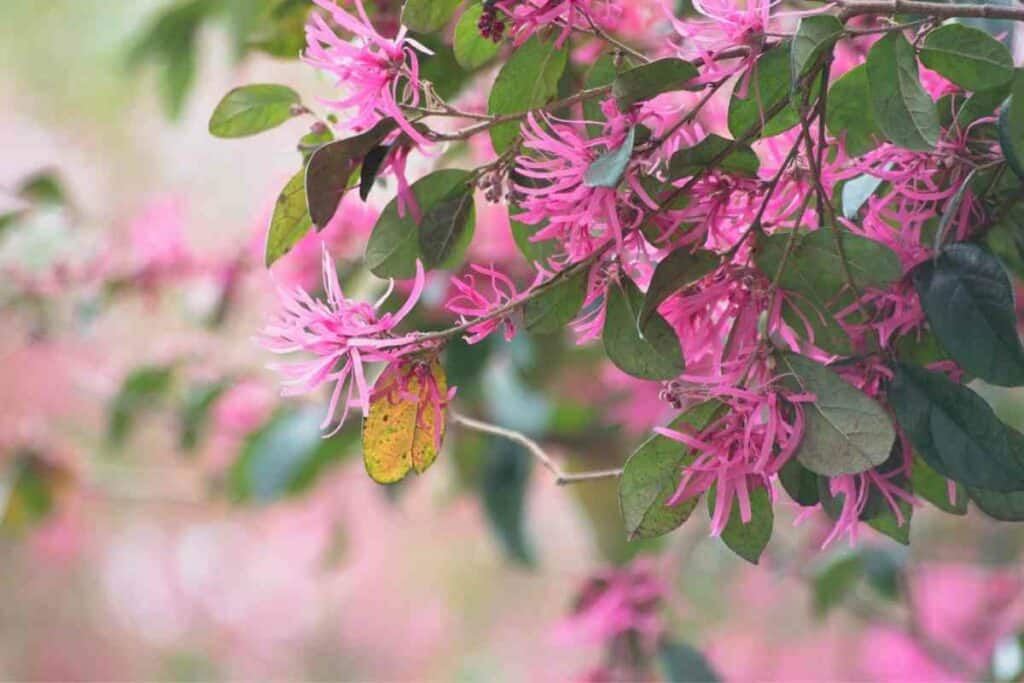 Witch Hazel matures upright, producing broad, oval leaves.
It has a peculiar blooming cycle that starts in winter and ends at the onset of spring.
During this period, the shrub produces aromatic bright yellow and pink flowers. Each flower has four petals that close on cold days and open on hot days.
Besides elevating your yard's visual appeal, Witch Hazel helps treat acne, reduce skin irritations, and relieve inflammation. 
Final Words
Nothing is as delightful as Japanese cherry blossoms' bright white or pink blooms.
The pretty flowers brighten up any space for weeks before wilting and falling. It's no coincidence that the cherry blossom is Japan's national flower.
However, your region might not have similar climatic conditions to Japan.
Sometimes, you might have a busy schedule that prevents you from growing the 'true' cherry blossoms.
Luckily, the above alternatives do a great job mimicking the Japanese originals. More importantly, they're hardy and require little maintenance.