Meet the factory automation magnate that leads the world of electronics without ever having attended college!
Takemitsu Takizaki, founder and owner of the electronics company Keyence, is one of Japan's richest people.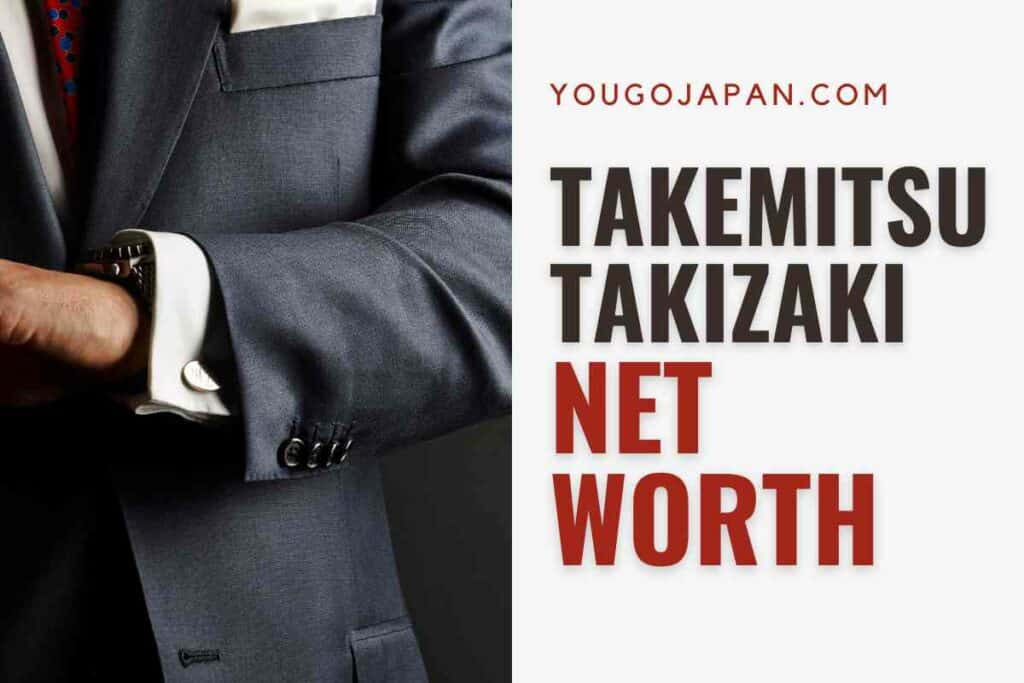 In this article, we share the net worth of an electronic sensor maker and how he made his phenomenal wealth!
The net worth of Takemitsu Takizaki 
According to Forbes magazine, Takemitsu Takizaki is the 56th richest person in the world, with a massive net worth of over $25.7 billion in the first quarter of 2023.
A few years ago Takizaki, beat Tadashi Yanai to the top spot of Japan's richest but is currently number two!
Bloomberg also closely tracks the net worth of Takemitsu Takizaki, noting that within the last 12 months, his net worth increased by a staggering $3.56 billion. His total net worth is equivalent to 0.110% of the US economy or a breathtaking 12.8 million troy ounces of gold.
A breakdown of Takemitsu Takizaki's net worth
77-year-old Takemitsu Takizaki is the founder and Honorary Chairman of the Japanese electronic sensor maker Keyence Corporation キーエンス.
His stake in this massive electronics company is the asset that drives his massive wealth. However, Mr. Takizaki is extremely discreet about his fortune.
When Bloomberg inquired back in 2020, Ryu Nakayama, a Keyence executive declined to comment on the net worth of Takemitsu Takizaki.
Takemitsu Takizaki owns 18% of Osaka-based Keyence with additional equity held through a holding company called TT KK.  His 6861 JP Equity (Keyence shares) are currently worth more than $463 per share. 
Back in 2015, when Takizaki retired from being chairman his net worth was  $7.2 billion. Over the interceding years, the value of Keyence grew fivefold leading to the massive jump in wealth that made him Japan's richest. 
Since 2021, Keyence Corp has been included in the 225-issue Nikkei average, the Japanese blue-chip equity index.
Right now, the runaway market capitalization of Keyence is almost incalculable at $112 billion, reflecting massive demands for his products from the manufacturing and technology sectors. 
Keyence sensors are essential to many industrial assembly lines. The company's customers include automotive businesses like Toyota and electronics companies like Toshiba.
In addition, Keyence has achieved sustained expansion overseas as international companies in a wide range of sectors add Keynce components to their production line. In 2022, Keyence had revenue of over $6.7 billion. International sales are now 50% of the company's revenue. 
Takemitsu Takizaki biography
Takemitsu Takizaki was born near Kobe in Kyogo prefecture in 1945, a few months before the end of WWII. He attended Amagasaki Industry High School and went straight into employment without attending college in 1963. 
Takizaki worked for a machinery company, but outside of work made several unsuccessful attempts to start a business. Two of the businesses went bankrupt, but Takizaki has said that the bankruptcies enabled him to build the business that became Keyence without taking on debt. 
The company that gave rise to Keyence was called Lead Electric. Takizaki founded this firm in the city of Itami, in 1974, starting with just three staff. A decade later in 1986,  the name of Lead Electric was changed to Keyence, with a company slogan, "Key to Science".
Keyence was not run using the traditional hierarchical company culture that was uncommon in Japanese businesses. Takizaki set company rules that abolished rules like holding doors and addressing colleagues by titles.
Lower-ranked colleagues were encouraged to contribute their knowledge and expertise to help solve problems and keep Keyence innovative. He has said that his unconventional approach was to increase efficiency in his firm.
Takizaki also shared his love of fossils with the staff at his firm. He was known to display his fossil collection around the company headquarters, telling staff that if they do not produce new products that can cope with changes, the company will become extinct, just like fossils. Keyence is also well known for the generous remuneration of its staff with an average salary of $137,000 for its employees and multiple bonuses every year. 
Keyence has been run as a fabless manufacturing company. This means that Keyence supplies the design, development, and testing of its diverse electronics, but does not actually make them.
The manufacturing is completed by a third-party semiconductor foundry. This unusual approach has kept the company noble and enabled it to produce precision sensors and chips for Toyota and Toshiba. In 2006, Keynce developed the first three-dimensional laser marker in the world.
Takemitsu Takizaki took Keyence through a 1987 initial public offering in Osaka and subsequent listing on the Tokyo Stock Exchange in 1989. In 2015, Takizaki stepped down from his position as Chairman to become the honorary chairman of the company.
Takemitsu Takizaki personal life
Takemitsu Takizaki is married with one son, Takeshi Takizaki. The family keeps a low profile, with their main home in Osaka, Japan.
Facts about Takemitsu Takizaki
Takizaki donated almost $3 billion of shares in Keyence to his foundation in 2022
Takemitsu Takizaki's wealth primarily comes from his public assets.
Since 2020, Keyence's share price has increased by over 90%. This led to Takizaki's sudden emergence as Japan's richest person.
Takemitsu Takizaki's business strategy has always favored growing the company's profit margin over its actual sales. Business analysts note the steady growth of Keyence over decades before its runaway success on the stock market. 
Outsourcing and a modular production process have lowered risk for the company and helped it to preserve its intellectual property from competitors. 
Keyence has offices in 86 countries worldwide.
The factory automation boom shows no signs of slowing down post-pandemic, indicating that Keyence will continue to grow in the coming years.
The Financial Times newspaper called Keysence one of the best examples of meritocracy in Japan. 
Keyence makes a point of paying its suppliers and manufacturers promptly on a NET-30 basis.
Rounding up
Takemitsu Takizaki has demonstrated great business instincts and perseverance to build a company that has become a 21st-century success story.
His unique approach to business and willingness to do things differently, have placed Keyence at a massive commercial advantage.