Masaru Wasami is the definition of a self-made billionaire.
His shrewd business instincts, self-belief, and willingness to take a risk lifted him from crushing poverty to Japan's rich list.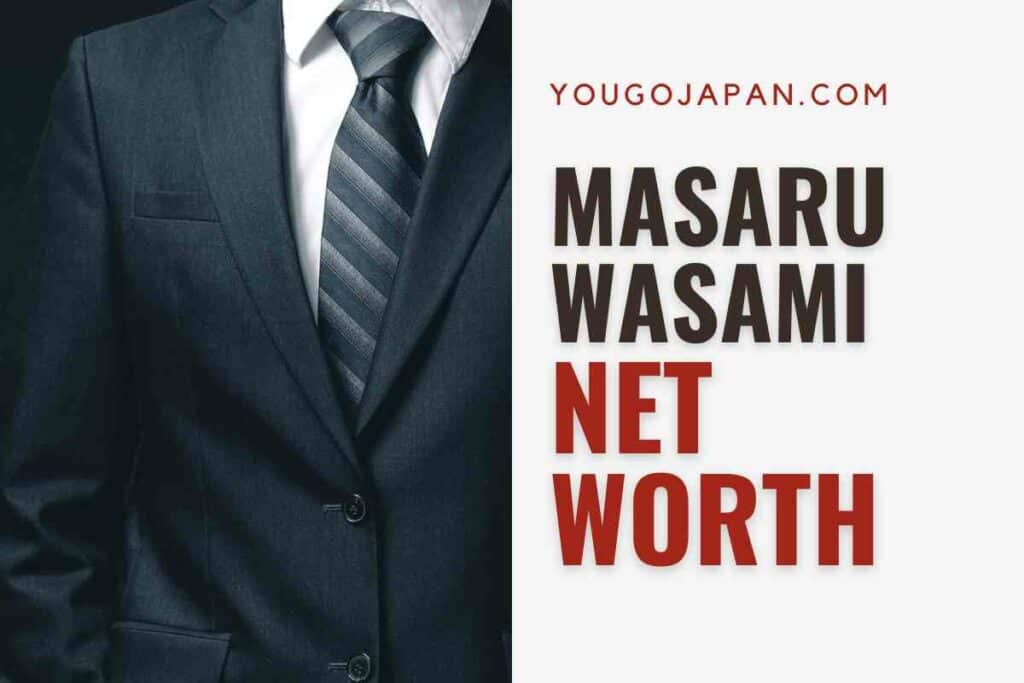 In this article, we take a look at the remarkable rise of Masaru Wasami and his staggering net worth!
The net worth of Masaru Wasami
Ex-truck driver Masaru Wasami is now on the pages of Forbes with a 2023 net worth of over $1 billion.
He is on Japan's top 50 rich list at #49 and is currently the 2600th richest person in the world. At the height of the 2020 Pandemic, Wasami's wealth peaked at $1.3 billion, but it has since declined. 
A breakdown of Masaru Wasami's net worth
Wasami has gone from driving his single truck on fruit and vegetable deliveries to being the President of AZ-COM, one of Japan's leading transportation and logistics companies.
AZ-COM 
AZ-COM started as Maruwa Unyu Kikan in 1970 and subsequently Maruwa Holdings.
The company is headquartered in Yoshikawa City, Saitama Prefecture, with additional offices in Tokyo. Masaru Wasami is the company's Representative Director and President.
It provides the following transport and logistics services:
Third-party logistics 
Distribution center-related operations 
E-commerce logistics
Cold chain food logistics
Medical logistics
Wasami has a 60% stake in AZ-COM which was listed on the Tokyo Stock Exchange in 2014.
Currently, AZ-COM has a market capitalization of over $1.85 billion. Its share price is $14. 
The company hit the big time when it started providing last-mile delivery solutions for the e-commerce behemoth Amazon. Post-pandemic, AZ-COM has been sustaining annual revenues of $1.3 billion. 
Maruwa has sought to build and strengthen its relationship with Amazon by keeping prices low. Larger competitors had struggled to meet the tight deadlines and high costs of a same-day-delivery business model, but Maruwa is confident that it can continue to excel.
This is reflected in its revenue climbing by over 15% in 2019 as e-commerce delivery became a third of the business's revenue. 
The staff has good remuneration, reportedly earning over $50,000 per year if they maintain a delivery rate of 150 packages per day. AZ-COM has 172 locations nationwide and more than 15,000 employees. 
Masaru Wasami biography
77-year-old Masaru Wasami has an epic rags-to-riches story. He was brought up by his mother in poverty while she struggled with debilitating tuberculosis.
This led to Masaru Wasami starting part-time work at age 12 in a vegetable store to support the household. By 15, he decided to pursue business full-time. He dropped out of school and never graduated, despite showing promise as a long-distance runner.
In 1970 Wasami started an extremely basic haulage and delivery company with just a single truck. The idea came to him by night, following his observation of how roughly, couriers were handling packages.
Within a few years, his business had grown to a fleet of more than 100. Wasami targeted produce delivery for his business and began to integrate his fleet into the transport and logistics of major Japanese supermarkets and drugstore chains.
In 2017, Masaru Wasami was approached by Amazon which gave his firm the amazing opportunity to handle its same-day delivery service across Japan. Maruwa had been approaching Amazon for years with little to no success. But Masaru Wasami believed that his firm could handle the job!
The opportunity arose when a bigger logistics company Yamato Holdings Co. stopped providing Amazon's same-day delivery service. Yamato Holdings has struggled with the increased costs and demands on staff that came with offering Amazon Prime delivery.
Amazon, therefore, had to search for smaller couriers to fill in the gap and Maruwa was able to step in. This massively transformed Masaru Wasami's business and personal wealth, setting him on the path to becoming a billionaire. 
His winning opportunity with Amazon made the share price of Wasami's company Maruwa surge, doubling and even tripling within a year. As Wasami owns 60% of the company outright, it was only a matter of time before he became a newly minted billionaire.
Further deals with Mickey (Hiroshi) Mikitani's Rakuten have strengthened Maruwa's position and growth trajectory as Maruwa is one of the few companies that now have the expertise and experience to handle same-day delivery in Japan. 
Masaru Wasami personal life
Little is known of Masaru Wasami's personal life. There is no information that is publicly available on a spouse or children. 
Facts about Masaru Wasami
In response to labor shortages and an aging population in Japan, AZ-COM is collaborating with Macnica Inc. to develop AI-powered demand prediction software that can help the logistics company optimize its deployment of personnel and vehicles.
Masaru Wasami's company has developed an in-house smartphone app for drivers called AZ-COM Pocket to help improve their efficiency in delivering parcels.
The Japanese are slow to adopt e-commerce, with only 6.2% of the nation's retail transactions being online. However, this percentage is increasing, making it likely that AZ-COM will be able to maintain its growth.
Wasami is not done with building his business and believes that after 50 years AZ-COM should be much larger. 
Masaru Wasami is known to have a keen eye for winning opportunities. 
Masaru Wasami quote
"I haven't done my best" 
"Diligence and thriftiness are the basis of business"
Rounding up
Masaru Wasami has hit the big time as one of Japan's richest business people. Likely, his wealth will only rise and rise given his fateful positioning on the cusp of Japan's e-commerce revolution!