Hall of Famer Ichiro Suzuki is Japan's most famous baseball player.
His remarkable 28 seasons as a pro baseball player included a stellar Major League Baseball Career and a record 10 consecutive 200-hit seasons.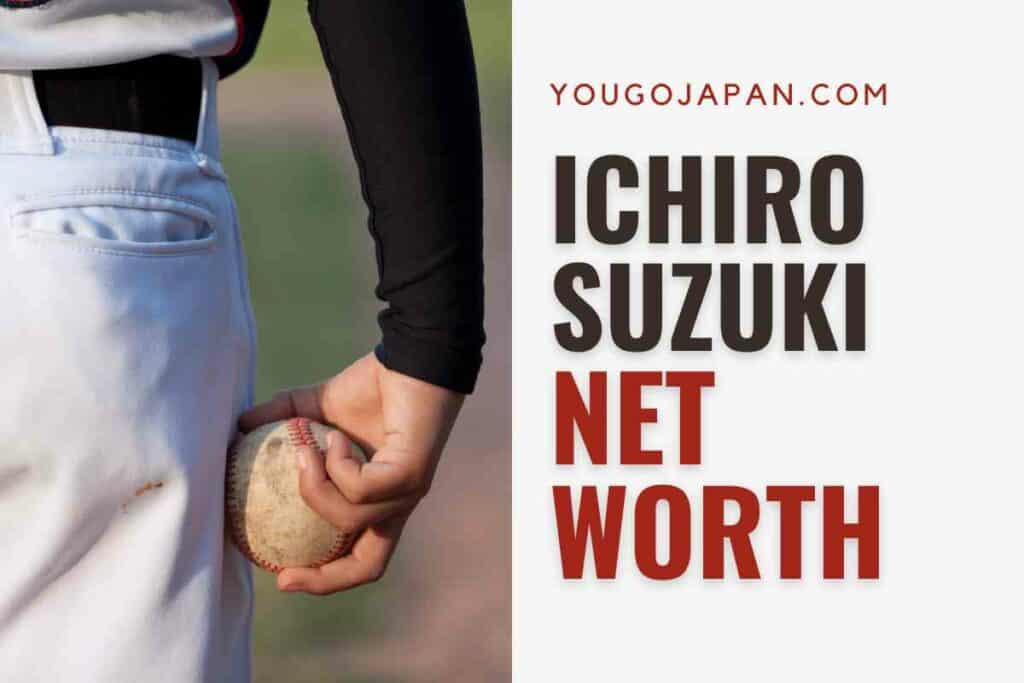 Play like that has got to be worth something, so in this article, we'll take a look at the net worth of Ichiro Suzuki!
The net worth of Ichiro Suzuki 鈴木 一朗
The retired baseball player Ichiro Suzuki has a breathtaking net worth of more than $200 million.
In 2013 when he was playing Major League Baseball Forbes listed him as one of the world's highest-paid athletes, with earnings that tipped $20 million per year, including $6.5 million from the New York Yankees. 
Ichiro as he is widely known is a Japanese citizen, but a U.S. resident.
He has primarily acquired his wealth through playing baseball along with sponsorships and endorsements that have earned him millions throughout his 28-season career.
As of 2023, Ichiro is the 4th richest baseball player in the world.
A breakdown of Ichiro Suzuki's net worth
Ichiro's phenomenal earnings primarily come from his stellar baseball career, earning up to $12 million per year playing for the following leagues:
Orix BlueWave (Nippon Professional Baseball league)
The Seattle Mariners (MLB)
The New York Yankees
The Miami Marlins
His 14-year stint with the Seattle Mariners is believed to be where the majority of his wealth was earned.
Just one 4-year contract was worth more than $44 million, with more than $10 million in team-related endorsements.
Ichiro also published a book called Ichiro on Ichiro in 2004. 
Ichiro was and continues to be extremely valuable as a player because of the massive draw of Japanese fans that brings with him.
At one point during his Mariners run, Japanese firms were buying prime signage at the stadium because of Ichiro and the 80,000+ Japanese tourists he was bringing to the stadium each year. 
Ichiro Suzuki endorsements
In 2005, Ichiro's manager, Tony Attanasio of ADA Financial Inc. a San Diego-based sports marketing firm gave some insights into Ichiro's many lucrative endorsements which include:
Mizuno
Oakley
Asics 
Nikko Cordial
Shin Nippon Oil Company
Sato Pharmaceuticals
NTT Communications
Ichiro is extremely discerning about the endorsements he accepts, and in one year rejected over $40 million in potential endorsements.
MLB also has used the Ichiro image widely to market its brand and sponsors in Japan. 
Mishandling of his finances by his father led to a large bill for unpaid taxes in the early 2000s. It was settled for an undisclosed amount. 
Ichiro Suzuki 鈴木 一朗 biography
Ichiro Suzuki was born in 1973 in the small town of Toyoyama near Nagoya.
He started playing baseball at age seven, asking his father Nobuyuki Suzuki to train him with a routine of throwing pitches, fielding infield and outfield balls, and hitting hundreds of pitches per day.
Suzuki later said his training bordered on hazing and he suffered a lot. From age 12 Ichiro actively sought to become a baseball player.
Suzuki played little league baseball and continued playing in high school with a prestigious baseball program.
Training as a pitcher for many years helped Ichiro develop an extremely strong arm. Ichiro also spent a lot of time developing physically with strength and endurance exercises. 
Ichiro Suzuki's professional debut
In 1991 Ichiro took four rounds to make the Nippon Professional Baseball draft.
This was because of his relatively small stature. By 1992 he had made his professional debut playing for the Orix BlueWave.
He initially ran into trouble and a prolonged period in the nursery team because of the unorthodox swing that earned him the nickname 'pendulum'.
With a change in management, Ichiro got much more play and remained with the team for nine years setting a Japanese season record of 200 hits in a single season.
He left Japan having won seven Golden Glove Awards, three consecutive MVP awards, and achieving 1,278 hits with a .353 career batting average. 
A move to the States
Ichiro has a long-held desire to play baseball professionally in the United States. In Japanese and American exhibition matches MLB players praised him and encouraged him to leave.
In 2000, he was able to free himself from his Orix contact to negotiate with Major League clubs, signing a $14 million contract with the Seattle Mariners within the year. In the MLB, Ichiro played for the following teams:
Seattle Mariners right fielder (2001–2012)
Ichiro proved a formidable player with the Mariners and remained with the team for 14 years, playing 95 games.
Ichiro was a star player delivering consistent performance and record numbers of hits in each season. Suzuki was described by Yankees manager Joe Torre as 'the key to Seattle's offense'!
New York Yankees outfielder (2012–2014)
Suzuki approached the Mariners asking to be traded to the New York Yankees. The trade went through in 2012.
While at the Yankees Ichiro celebrated his 4,000th professional career hit and his 100th home run. 
Miami Marlins right fielder (2015–2017)
Ichiro Suzuki also played for the Miami Marlins, making 439 plate appearances in his debut season.
He scored his 2,000 professional runs against the Atlanta Braves while playing for the team in 2015.
A return to the Mariners as an outfielder (2018-2019)
Suzuki's amazing U.S. career ended where it began with the Mariners for a final two seasons ending in 2019.
At the time of his retirement in 2019 at age 45, he was the oldest player in the MLB.
In 2022, the Seattle Mariners honored him with a spot in the Seattle Mariners Hall of Fame at the T-Mobile Stadium in SoDo Seattle.
Ichiro Suzuki 鈴木 一朗 personal life
Ichiro has an elder brother but is estranged from his father because of his experience of training and the financial issues encountered.
In 1999 he married his wife, Yumiko Fukushima, a TBS TV announcer in California. Since his tax issues, his wife has handled his finances and the couple lives together in Issaquah, Washington with their pet dog Ikkyu.
Facts about Ichiro Suzuki 鈴木 一朗 biography
Ichiro Suzuki has a sushi menu item named after him at Safeco Field called the Ichiroll.
Suzuki donated over $1.25 million to the Japanese Red Cross to help survivors of the 2011 Tōhoku earthquake and tsunami.
Ichiro wore the number 51 with the Seattle Mariners.
Ichiro wore number 31 with the New York Yankees.
Ichiro Suzuki 鈴木 一朗 quote
"There is nothing I will miss about Japanese baseball. Off the field, I will miss my dog."
Rounding up 
Ichiro Suzuki is a Japanese cultural icon. Yet despite his fame and high net worth, he is a modest and private person. His consistent performance over decades has led him to accomplish great things in baseball and even in his retirement he is still feted in Japan as one of the greatest players.