You know that the Japanese David Beckham ain't gonna be poor!
Hidetoshi Nakata, also known as Hide, is arguably one of Japan's greatest (if not the greatest) soccer players.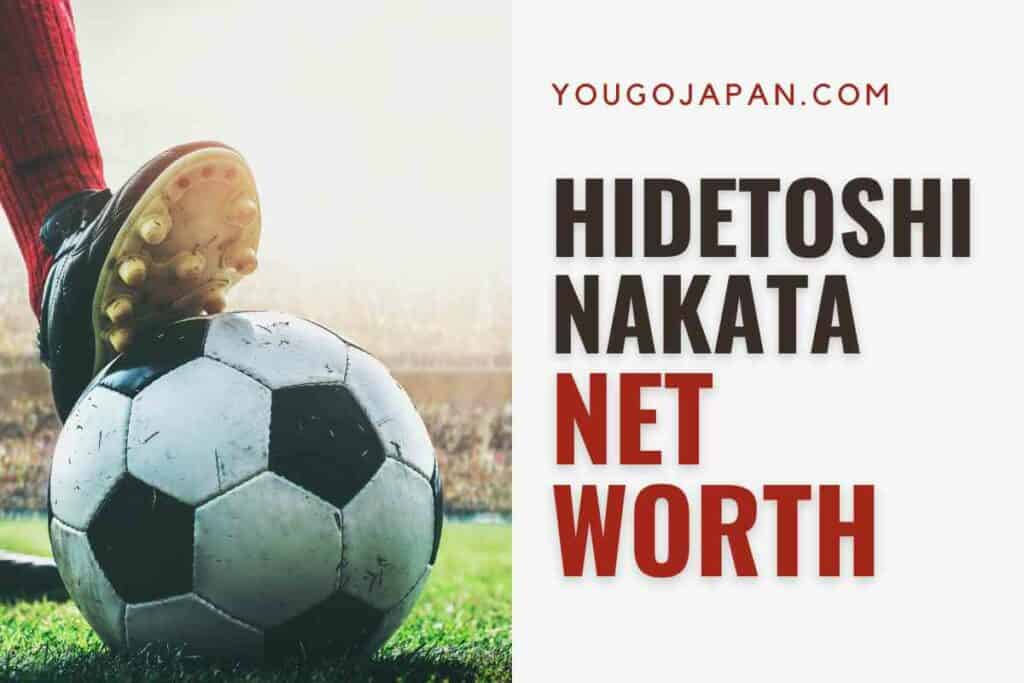 Not only has he put Japanese soccer on the map but his fashion sense and model looks have made him an international celebrity off the pitch too.
In this article, we investigate the net worth of Hidetoshi Nakata and his fabulous multi-millionaire lifestyle. 
The net worth of Hidetoshi Nakata 中田 英寿
17 years after his abrupt retirement from soccer, Hidetoshi Nakata remains Japan's most famous soccer player.
And his net worth is substantial with estimates of at least $35 million in 2023.
A breakdown of Hidetoshi Nakata's net worth
At his peak in the late 1990s and early 2000s, Nakata was earning as much as $4.5 million per year.
If he carefully saved or invested his earnings, these form the bulk of his net worth. As his market value declined from a peak of $14 million to less than $5 million when he played for Bolton Wanderers, his earnings similarly dipped.
However, Nakata's various endorsements have continued to prove lucrative and his premium sake business is also a source of income. 
Hidetoshi Nakata 中田 英寿 biography
Hide was born in Kofu, Yamanashi prefecture, Japan in 1977. Little is publicly available about his childhood but he did attend Nirasaki High School in Yamanashi in the early 1990s. 
Nakata told Forbes Magazine that he fell in love with soccer at a very young age. As a teen, friends saw him repeatedly kicking a football. When asked what he was doing, Nakata replied that he was kicking the ball with each toe and assessing the force and direction of the ball!
By age 18 he had already made his J1 League debut, playing for Bellmare Hiratsuka (currently known as Shonan Bellmare). 
J1 League debut
From the start of his career, Nakata has been an offensive midfielder.
In his first season at Bellmare Hiratsuka, he wowed the crowd by scoring an 81st-minute winning goal that landed the team the 1995 Asian Cup Winners' Cup for the first time in the club's history. From then on, Nakata was a regular player with the team. 
A move to Europe
Hidetoshi Nakata secured the opportunity for a much-anticipated move to Europe after his noted performance playing for Japan in the 1998 World Cup.
He signed with the Italian Serie A club Perugia for $4 million. Upon signing with Perugia, Hide became the second Japanese soccer player ever to play in Italy's top league.
His first season was phenomenal, with Hide achieving a personal record of 10 goals in a single season. 
All roads lead to Roma
Nakata made a $23 million transfer to Roma in January 2000, after just one and a half seasons with Perugia. His outstanding sportsmanship helped Roma achieve Scudetto.
In a 2001 match against Juventus, Hide shocked the crowds with an amazing 30-yard goal, scored just 11 minutes before the match ended.
He then followed by assisting an equalizer that saw Roma draw in the last minute!
Over to Parma
Hide was on the move again just a year later, signing a four-year deal with Parma Calcio. His transfer fee was a world record payment for an Asian player at over $31 million.
At Parma, Nakata scored many winning goals including scoring a goal that helped secure Parma's win in the 2002 Coppa Italia Final.
Further transfers
Between 2004 and 2005 Hide went on to play for Bologna and Fiorentina.
Later in 2005, he was loaned to the British Premier League team Bolton Wanderers. There, he only scored a single goal against West Bromwich Albion.  
Hidetoshi Nakata's international career
Nakata has been playing for Japan since he was a junior.
He first represented Japan at the 1993 U-17 World Championship and later the U20 World Championship, scoring goals in both tournaments. Nakata also played in the 1996 and 2000 Olympics, famously upsetting Brazil.
In Japan, Hide's fame comes from his long standing representation of Japan in the multiple World Cup tournaments, including 1998, 2002, and 2003, where he played in all matches. He earned 77 caps by playing for Japan.
2006 retirement
After the 2006 World Cup, Nakata announced that he would retire at just 29 years of age. This decision shocked Japan as it was very early in his career.
In later interviews, Hide explained that he was no longer enjoying professional football and would like to see the wider world.
The Japanese Beckham
Hidetoshi Nakata's style and flair in his play, have led to a long-running comparison with David Beckham.
Like Beckham, Nakata is a midfielder who has become well-known for his eye for a goal often shooting from outside the box.
His prolific goal-scoring was complemented by outstanding technical ability and offensive thrusts that penetrate the penalty area. 
Hidetoshi Nakata 中田 英寿 personal life
Apparently, Hide is currently single, it is not known if he has ever been married or has any children.
He was previously linked to the Japanese actress Ko Shibasaki, but this is no more than an unsubstantiated rumor. 
Facts about Hidetoshi Nakata
After his 2006 retirement, Nakata spent a significant amount of time touring Japan, to learn more about his identity and culture. 
In recent years, Nakata has proved himself a champion of Japan's declining sake industry. Through his company, Japan Craft Sake Company, Nakata has developed industry-leading technologies for the transport, storage, and marketing of sake with a particular focus on niche and craft brands. 
In 2020, Hide joined the faculty at Rikkyo University, teaching the marketing of traditional Japanese crafts.
Nakata played in a Number 7 shirt for Japan.
Hidetoshi Nakata is also a math genius who turned down opportunities to study math at Japan's most prestigious universities. 
Hidetoshi Nakata quote
"Living Means Doing What I Love."
Rounding up 
Hidetoshi Nakata was a phenomenal player, but now he is using his earnings from soccer to invest in the traditional crafts of Japan.
As a global celebrity, Nakata has elegantly transformed from a superstar soccer player to an entrepreneur and cultural ambassador of his homeland.