With over 14,000 islands in the Japanese archipelago, you're certain to find destinations with amazing beaches.
Japan is not the first country that springs to mind when you think of a beach holiday in Asia, but it boasts some breathtaking beaches that have to be seen and enjoyed.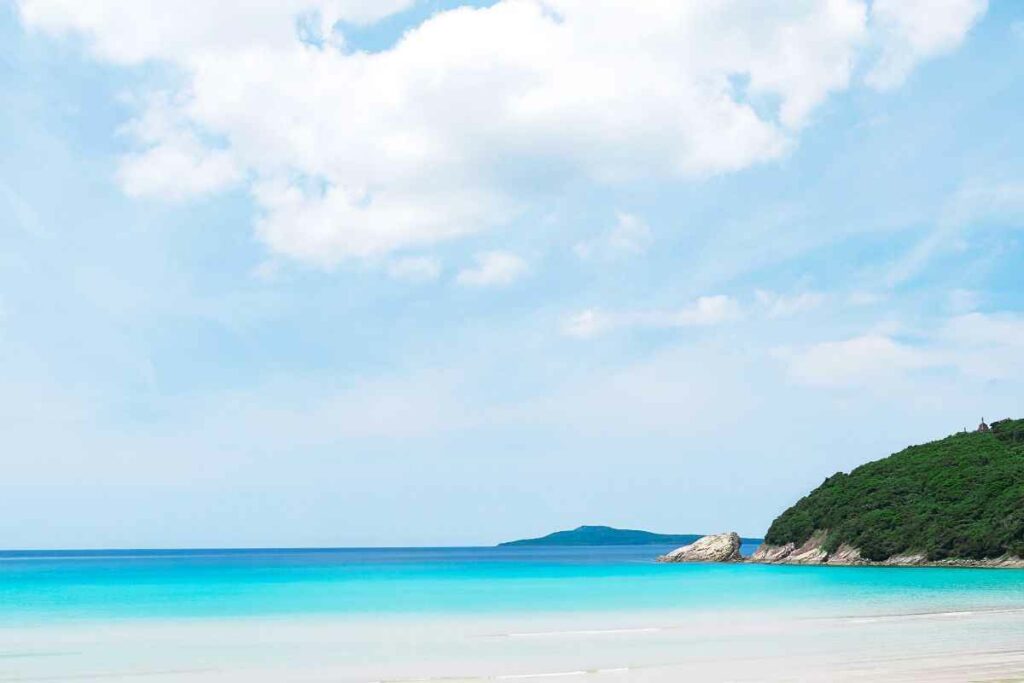 Get your Japanese holiday inspiration with my roundup of 10 of the best beach destinations in Japan. 
10 Best Beach Destinations in Japan
These 10 breathtaking Japanese beaches are the perfect escape.
During the swimming season between July and August, they will be packed with holidaymakers, but you are free to explore them at any time of year:
10. Shirahama, Shimoda, Wakayama Prefecture
Shirahama Beach in Shimoda, a port city on the Izu Peninsula is a popular beach destination from city folk escaping Tokyo for the weekend.
It's a beautiful sandy beach that is popular with snorkelers, and surfers because of its constant waves.
9. Karakohama, Shikoku, Ehime Prefecture
This Shikoku Island slice of paradise is one of the most popular beaches in Ehime Prefecture. It is ideal for watersports and there is a beautiful offshore lighthouse. 
8. Shiroyama Beach, Takahama
Shiroyama Beach is a beautiful beach with a laid-back vibe that is perfect for spending the day.
This Takahama beach has great amenities, with dedicated areas for camping and BBQs throughout the day. Also, check out the Meikyodo Cave while you enjoy the amazing sunset.
7. Yokino Beach, Tanegashima 
The island of Tanegashima is a tropical escape in the Ōsumi archipelago. This beach is popular because of its expansive sands and shallow water which is ideal for a family beach trip.
Find out all the great things you can do in Tanegashima in my article: 10 Things to Do and See on Tanegashima Island.
6. Ohama Beach, Awaji Island, Hyōgo Prefecture
Ohama Beach in Sumoto is the largest beach on Awaji Island.
Its name literally means big beach, with over seven kilometers of pristine sands, on-site snack vendors, and amazing sun-drenched scenery including mountains and pine trees. 
I share great accommodations for Awaji Island beaches in my article: 5 Best Hotels Near Nijigen no Mori.
5. Sunayama Beach, Miyako-jima
Miyako-jima is the largest island in Okinawa Prefecture, with thousands of tourists flocking to its amazing coastline and impressive beaches.
Sunayama, near the Hirara district of the island capital of Miyakojima City is a classic Instagrammable white sand tropical beach, set in front of sand dunes, with a beautiful rock arch.
4. Jōdogahama, Miyako City, Iwate Prefecture
If you're more interested in natural beauty than great snorkeling, head over to the delightful destination of Jōdogahama, meaning 'pure land beach' in Iwate Prefecture.
The beach is located within the Sanriku Fukkō National Park and boasts unique rock formations and great coastal paths to explore. The clear shallow waters are also ideal for bathing.
3. Moriya Beach, Kamogawa, Chiba Prefecture 
This idyllic cove is just a short train journey away from Tokyo, in the town of Kamogawa in Chiba. (Here you can check out top places to stay in Chiba).
Its sheltered position provides calm Pacific waters that are perfect for swimming, with beach huts, toilets, and other family-friendly amenities. The soft pink sand and lush vegetation make this beach a haven!
2. Shimao Beach, Toyama Bay, Toyama Prefecture
This is a calm bathing beach that is rated by Japan's Ministry of the Environment.
Its location within the Noto Peninsula National Park provides gorgeous scenery with fine white sands and shade-giving pine trees. The Nation Park provides a campsite adjacent to the beach.
1. Tottori Sand Dunes, Tottori Prefecture
The Tottori Sand Dunes, part of the  San'in Kaigan Geopark, is an epic beach right on the Sea of Japan. They offer amazing sand to explore and all the essential beach amenities.
In addition, there are cool camel rides, sandboarding, and paragliding.
Find accommodation for your Tottori Sand Dunes beach adventure in my article: 5 Best Hotels for the San'in Kaigan UNESCO Global Geopark.
Best Beach Destinations in Japan FAQs
Which island has the best beaches in Japan?
The island of Miyako in Okinawa Prefecture is considered to be Japan's best beach destination with more than 10 outstanding beaches. Its pristine beaches are perfect for swimming, snorkeling, and diving amongst the beautiful coral reefs. Yonaha Maehama is the best of Miyako's beaches due to its powder-soft sand and transparent waters.
Where are Japan's most swimmable beaches?
Here is a list of some of Japan's most swimmable beaches which are best visited during the swimming season between July and August:
– Emerald Beach, Okinawa
– Shimao Beach, Toyama Bay
– Ozuna Beach, Tokushima
– Shirahama Ohama Beach, Shizuoka
– Aragusuku Beach, Miyako Island, Okinawa
Can you swim in the sea in Tokyo?
No, swimming and bathing in Tokyo Bay are prohibited mainly because the water quality is poor with high levels of E-Coli. This is because of sewage effluent that drains into the bay.
Does Japan have warm water beaches?
Yes! The tropical waters that surround the Okinawa islands never drop below 60 degrees Fahrenheit (15 degrees Celsius). The swimming season is much longer, lasting between May and October. There are also beaches where there is geothermal activity that keeps the seawater warm. Check out the Mizunashi Kaihin Hot Spring in Hakodate, a natural hot spring bath that appears at low tide!
Do the Japanese enjoy going to the beach?
Yes, but primarily during the summer swimming season. Outside of the swimming season, mainland Japan is not a beach-friendly destination unless you stay at a resort hotel with private beaches.
Can you sunbathe on beaches in Japan?
Yes, during the swimming season, sunbathing is completely acceptable. However, the Japanese tend to be modest and prefer to stay out of the sun. Nudity is completely inappropriate.
Can you have tattoos on the beach in Japan?
No. Tattoos are banned at beaches, onsen, and swimming pools in Japan. If you want to go to the beach in Japan with tattoos, ensure that they are completely covered. 
What is the most beautiful coast in Japan?
The coastline of the San'in Kaigan Geopark, a UNESCO Global Geopark, is one of the most beautiful coasts in Japan. There are many beautiful beaches along the coast of the Sea of Japan including Uradome Beach, near the famous Tottori Sand Dunes.
Rounding Up
Japan has world-class beach resorts that are perfect for your next escape. Plan your perfect Japan beach trip with flights, car hire, and beautiful resort hotels with breathtaking ocean views.
As with any coastal destination, be sure to seek up-to-date information on beach etiquette and rules like strong currents, and hazardous marine life, and make sure you are fully insured.